Flywheel is one of the most popular Managed WordPress Hosts especially among freelancers. You can get one month free hosting when you sign up to pay annually.
Get 1 Month Free Of FlyWheel WordPress Hosting
Flywheel Discount Code 2020
This Flywheel deal lets you avail get 1 month free hosting no strings attached if you go for the annual subscription!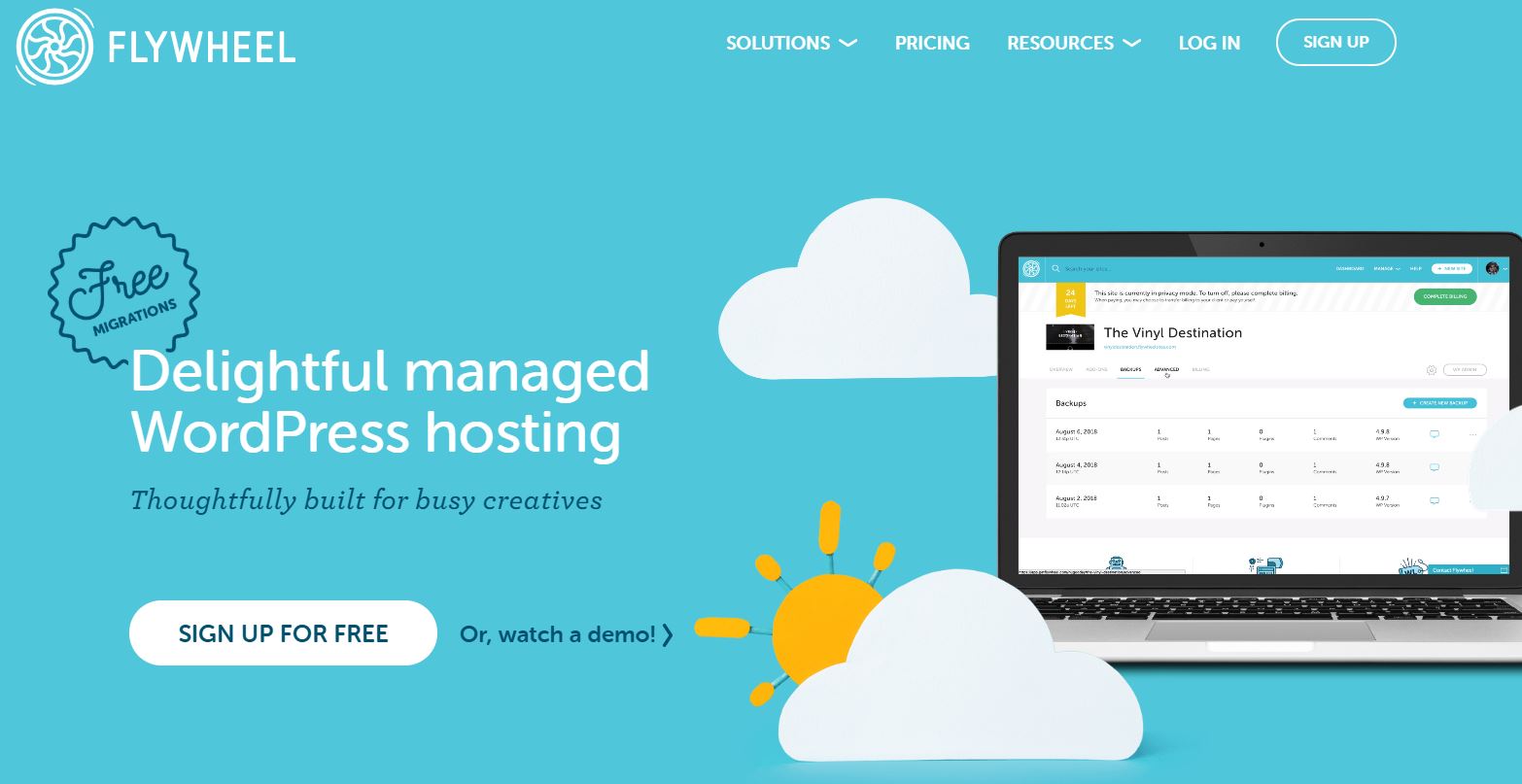 Get 1 Month Free Of FlyWheel WordPress Hosting
Flywheel Discount
Unlike other managed WordPress Hosting services Flywheel prices its services relatively lower.  Moreover, they have highly tailored plans for specific user groups whether you are a freelancer, blogger or a million dollar company there is a plan for you.
Flywheel Single Site Plans
These plans are perfect for individual installs, so you pay per website and as you keep adding websites. It's perfect if you don't really deal with more than one website
Tiny Plan ($15 per month) works on a single site
Monthly visits: 5000 visits a month
Disk Space: 5GB
Bandwidth: 250GB
Optional SSL Support, and a CDN.
Personal Plan ($30 per month) also works for one site
Monthly visits: 25000 visits a month
Disk Space: 10GB
Bandwidth: 500GB
Optional features: SSL Support, CDN, and multisite.
Professional Plan ($75 per month) is for one of your sites
Monthly visits: 100000 visits a month
Disk Space: 20GB
Bandwidth: 1TB
Optional Features: SSL Support, CDN, and multisite.
A custom plan is also offered, but you must contact the company for pricing.
Get 1 Month Free Of FlyWheel WordPress Hosting
Flywheel Bulk Plans
The Bulk Plans are designed for people that deal with many clients and many websites. There are custom plans for 30 installs and more however the general plans are as follows:
Freelance Plan ($100 per month) works for 10 WordPress installs,
Monthly visits: 150000 visits a month
Disk Space: 40GB
Bandwidth: 2TB
Optional Features: SSL Support, CDN, and multisite.
Agency Plan ($250 per month) is for 30 WordPress installs
Monthly visits: 600000 visits a month
Disk Space: 120GB
Bandwidth: 8TB
Optional Features: SSL Support, CDN, and multisite.
Custom Plans
They also have custom plans and are primarily for those companies that don't fit into one of the pricing plans discussed above.
Get 1 Month Free Of FlyWheel WordPress Hosting
Why signup For Flywheel Hosting?
For an online business to succeed online there's quite a bit that needs to be managed right from the marketing to the content to the technical nitty-gritty and then there is life and all this together can get pretty damn overwhelming.
While life is complex to manage WordPress hosting companies like Flywheel can definitely help you manage your websites. Sure they cost a bit more than shared and dedicated hosting but they literally save you a ton of time and hassle which pays off for itself.
If you're reading this you already know that and have made the decision of investing into Flywheel WordPress managed hosting which is awesome however what's even more awesome is saving some cash on the subscription.
First off let me explain the other two types of hosting in brief:
Shared WordPress Hosting
This is perfect for beginners and those just starting out and doesn't really need a lot of resources and more importantly, are on a strict budget. This ranges from usually $3 to $25 a month.
VPS WordPress hosting
This is perfect for bootstrapped startups and those with a little development experience. This is more of the DIY crowd typically people that are still trying to save money but still need to ensure good performance for their users.
Managed WordPress hosting
This is perfect for small to medium-sized businesses, popular blogs and those looking for special enterprise-level WordPress hosting. These are people that have money and can't be bothered to spend time on tasks like managing their WordPress website etc.
In short Managed WordPress hosting is a costly investment but it saves manpower, time and usually offers better services as it's more specialized towards a CMS like WordPress.
Moreover, if you're in this category saving on manpower and time alone will end up saving you a ton of cash which makes it a worthy investment to go for Managed WordPress hosting.
What makes Flywheel so Fly?
Flywheel is a Managed WordPress hosting that's designed especially for developers and designers that work with multiple clients. Their infamous staging environment is great for collaboration between many people.
What makes flywheel so great is its interface that's, in fact, the most intuitive and simple to use in the whole WordPress industry. Without rambling too much here's what makes flywheel so Fly:
Easy Client Billing:
If you deal with a lot of non-technical clients which is most often the case it's going to be a time-consuming process to teach them how to set up their hosting account.
However, with Flywheel, you have the option to create a new site in a minute and then transfer billing to your new client.
Staging Website:
One of Flywheels biggest selling points is its intuitive staging site and you also have the option of 1-Click staging making it
Easy Collaboration:
If you have a website project with many users currently working on you can easily create a free login and then add their username as a collaborator and even further manage how much they have to.
Affordable Pricing:
Lastly unlike other managed WordPress hosting Flywheel is actually priced pretty low. As compared to WPEngines $29 a month pricing plan Flywheels $15 is definitely a bang for the buck.
What's more, is you get almost the same features as a premium Managed WordPress hosting service for the same price.
Flywheel is for you if
You customize the backend of your website, server and like a fine-grained control
You use PHPMyAdmin a lot and manipulate the database
You need instant support
You want to spend the least
You deal with many clients
Bottom line if you have a website with many people like designers, developers working on at different points of time they will be able to work much better and efficiently without getting in your way.
Get 1 Month Free Of FlyWheel WordPress Hosting
Other Hosting Deals: