TLDR: If you're in a hurry the Unbounce is the Best Landing Page Builder according to Reddit!
JeremyNoronha.com readers can get a 20% Off on Unbounce. Simply click the link below and the discount will be applied automatically.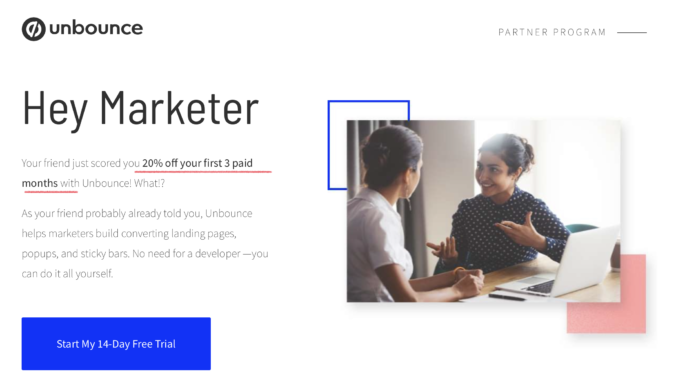 If you're running a website that gets traffic without building a landing page to convert that website traffic to leads and sales, you're definitely losing out!
To the uninitiated, building a landing page may seem like a daunting task.
But thanks to WordPress and some amazing Landing Page Builders in the market today, anyone can design a well optimized and focused landing page built for their website in minutes.
What Makes A Landing Page Builder Good?
A good Landing Page Builder can help you create custom landing pages with forms, images, and funnels that'll give your conversion rate a boost like never before.
A key factor when considering any landing page builder is looking at how 'easy to use' the software is. A Drag-&-Drop style Visual Builder is key to making Building Landing Pages easy and intuitive and I place a high amount of importance on this factor.
Having the ability to A/B test Landing Page performance so you can tweak pages to maximize conversions is also an important factor when considering landing page builders. A landing page builder without A/B testing directly limits your ability to design an optimized page which in turn affects your ability to convert visitors to leads.
Other key features I place emphasis on are mobile responsiveness, integrations, analytics and other features offered only by the developer unique to their software.
In this article, I've listed the top 10 landing page builder software in the market today and listed their pros and cons and key features so you can decide what works best for your website.
Best Landing Page Builder Reddit
1. Unbounce – Best Landing Page Builder According To Reddit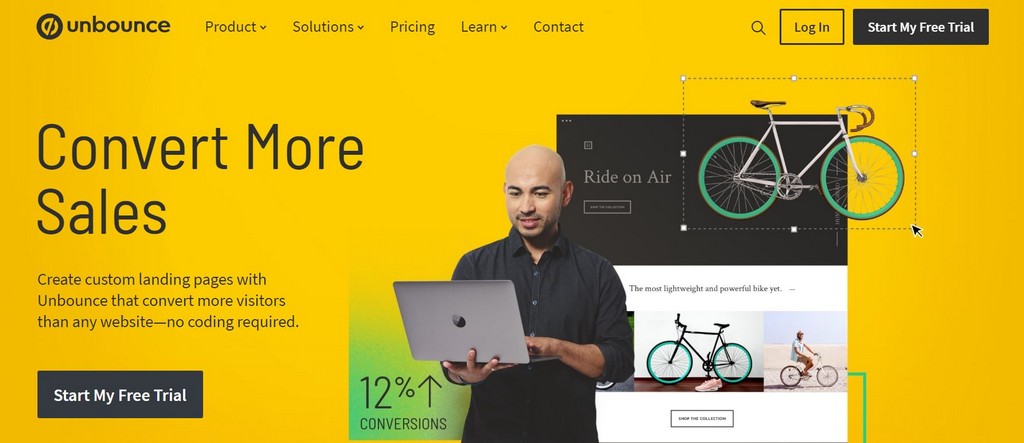 Click Here to Try Unbounce For Free
What Reddit has to say about Unbounce:
u/Lumiafan: My agency uses Unbounce, and they've got pretty much everything you'd need
u/fathom53: Unbounce is good and all the leading platforms have a 30 day free trial. Look for the platforms that will integrate with your technology stack and your org can afford. Then test out the one's that meet your needs.
u/xeno_sapien: Unbounce is incredibly fast. Our landing loads in the blink of an eye.
u/OneWhoDoubts: Used it for about six months and liked it, you can do a pretty good looking and effective landing page pretty quickly. Ended up switching to just editing templates, manly for the flexibility and at the time Unbounce was kind of expensive for my needs. Would definetily recomend it to someone how needs to deploy a good amount a landing pages without much hassel. It has useful features for analytics, conversion tracking, A/B testing and the support team is friendly and really helped me solve all my issues. 9/10 platform.
You can't talk about Landing Page Builders without talking about Unbounce first.
Being the THE original Landing Page Builder in the market, Unbounce deserves credit for first identifying and creating a category of Landing Page Builder software.
Having been the longest in the game, it goes without saying that Unbounce is also the best in the game. It's the most well rounded and feature rich Landing Page Builder in the market today.
You can easily customize landing pages to match your branding and integrate with major email marketing tools like MailChimp, Salesforce, HubSpot and more.
Pros
Super easy to build and publish landing pages
Readymade templates + third party templates from Themeforest
Fully customizable
Amazing Drag and Drop Landing Page builder
A/B testing to test what works for your pages
Solid security features
Cons
Unable to A/B test landing pages created outside of Unbounce
Doesn't let you add custom classes to buttons
Slightly Expensive
1. Drag and Drop Page Builder:
You can easily add, remove and fully customize your landing pages using their intuitive page builder tool. No coding required.
2. Popups & sticky bars:
Launch popups to prompt visitors to convert with a highly targeted offer on any page.
3. A/B testing:
Run A/B tests to see how your visitors respond and tweak pages to drive conversions.
4. Reports & analytics:
You can use real-time data to check performance and easily integrate with Google Analytics.
5. Dynamic Text Replacement:
Dynamically match your landing page text to your visitor's search terms.
6. Smart Traffic™:
Utilize the power of AI to match visitors to pages they're most likely to convert.
7. Mobile responsiveness:
Fully responsive pages to ensure your visitors convert across all devices.
8. Lead form builder:
Unbounce lets you easily create and add forms to your landing pages.
9. Security Features:
Automatic SSL, GDPR compliance, 2FA, and 99.96% uptime make Unbounce extremely reliable.
Verdict – Unbounce is without a doubt an extremely intuitive and well-rounded landing page builder.
Being the oldest in the game, Unbounce is extremely versatile yet rock solid in terms of security so you can rely on 100% performance without compromise.
With a ton of Support Documentation, Email and Live Chat support, you're guaranteed to get full support when you choose Unbounce as your Landing Page Builder software.
2. LeadPages – Cheap Landing Page Builder
Click to Try LeadPages For Free
What Reddit has to say about Leadpages:
u/trackingdesk: It really depends the complexity of the funnels. If you need up sell, down sell, and/or split according to "if then that", clickfunnels might be the right solution. If you just need a landing page with ab testing variations, then leadpages might just be enough and cheaper.
u/tk4087: Leadpages was easy to use but has a few limitations that I found hindered the user experience. I wouldn't really recommend it. I've heard some good things about Instapage, but if you can afford it I like some of the all-in-one marketing automation platforms that allow you to build quality landing pages
With over 150+ free templates and 40+ integrations, LeadPages is next on our list of 10 best Landing Page Builder out there today. With user friendly features and some of the fastest page load speeds, you can build stunning campaigns that will capture leads and convert visitors to customers easily.
Integrate with your digital marketing tools and fully tune your campaigns to maximize conversions using A/B testing to figure out what works best on your landing pages.
Pros
User-friendliness
Time Saver
Template options
Easy sorting
Integrations
Mobile responsive
Cons
Lacks Flexibility
Slightly Buggy
Poor support
1. Unlimited page publishing:
With LeadPages, there's no limits to the number of landing pages you can design.
2. Fast Page Load Speeds:
Page load speeds 2.4 seconds faster and performance scores 30% higher than most of the leading page builders in our list.
3. Mobile responsiveness:
Fully responsive across devices so you don't lose out on conversions no matter what devices your visitors use.
4. Code-free Drag and Drop:
Ease of drag and drop that allows you to build landing pages that convert without any code.
5. A/B Testing:
A necessity when looking to optimize landing pages for maximum conversions
6. Unlimited Lead Collection:
There are no limits to the visitors or leads you collect with LeadPages so you don't have to pay for your success.
7. In-Built Conversion Guide:
LeadPages' exclusive technology predicts landing page performance and prompts tweaks to help you improve your page BEFORE you publish.
8. Integrations:
Some of the highest numbers of integrations in a landing page builder, you can connect to CRMs, Video platforms and much more.
Verdict – LeadPages is a mixed bag with a ton of features and templates that are a bit limited when it comes to customizations.
While many love the plugin, there are some who find the UI clunky. Fortunately, with a Free Trial option, you can easily try LeadPages before you spend any money on it.
Overall, it's a budget friendly option that suits basic requirements.
3. Instapage – Powerful Enterprise Landing Page Builder

Click Here to try Instapage for free for 14 days
With unique features like Thor Render Engine, Ad Conversion Cloud and InstaBlocks, Instapage is a great landing page builder for anyone looking for a fast and versatile landing page builder.
My favorite feature of Instapage is surely their page builder that lets you easily position elements anywhere on the page WITHOUT restrictions, which means you have 100% control over how your landing pages are customized. No more having to stick to grids and lines. Let your creativity run free.
Pros
Drag-and-drop editor
Insert lead forms, CTA buttons, video, images, etc.
Thor Render engine
Advertising Conversion Cloud
Integrations with Salesforce, Mailchimp, HubSpot, Zapier, etc.
Codeless integrations with Google Analytics, Facebook and Google Ads
200+ landing page templates and InstaBlocks
Add custom code.
Cons
Default library of design elements is limited
Known to be a bit buggy at times
Lacks integration options
Slightly expensive
Poor support
1. Powerful Page Builder:
Unlike top page builders, Instapage's page builder lets you position elements anywhere on the page without restrictions to grid or columns.
2. Page A/B Testing:
Optimize conversion rates and improve campaign results with A/B testing.
3. Reporting and Tracking:
Instapage offers advanced reporting and tracking by passing post-click landing page data to Google Analytics.
4. Thor Render Engine™:
Their trademarked Thor Render Engine loads landing pages 3x faster which is key for conversions.
5. InstaBlocks™:
With InstaBlocks you can easily create blocks to be used across multiple landing pages without having to start from scratch each time.
6. Exit Intent Popups & Lead Capture Forms:
You can create customizable pop-ups based on specific triggers with OptinMonster to maximize your conversion rates.
7. Heatmaps:
Get detailed insights into how visitors interact with your pages to get more out of A/B testing your landing pages
8. Server Up-Time:
Dual servers offering 99% uptime which means your campaigns are capable of converting 24×7.
Verdict – Although their customer service has been reported to be unreliable at times, with some fantastic features like InstaBlocks, Thor Render Engine, and a nearly perfect uptime, Instapage is a great option for those looking for a basic reliable landing page builder that's fast and easy to use.
4. GetResponse – Best All-in-one Marketing Landing Page Software
Click to Get 10% OFF GetResponse For Life
Not just a Landing Page Builder, GetResponse is an All-in-One marketing software that can help you with content creation, increasing website traffic and boosting sales.
The best part is, you can easily integrate email marketing, autoresponders, and landing pages to automate essential tasks and maximize your marketing efficiency. With easily customizable templates, there's no coding necessary.
Pros
Powerful email marketing software
Integrated webinar software
Automated sales funnel generator
Autoresponder Emails
Spam testing
Great design
Cons
Too many options
Complicated implementation
Pricey
1. Winning email campaigns:
You can increase sales with beautifully designed and responsive emails in a few easy steps.
2. Auto funnel:
Create sales, leads or webinar funnels to transform your landing page into a lead funnel machine with ready-made and automated funnel generations.
3. Fully responsive templates:
GetResponse offers a wide range of fully responsive, free, mobile friendly templates for building high conversion landing pages that are fully customizable.
4. Ecommerce Integration:
Integrate your online shop and populate your product inventory to promote products directly on your landing pages.
5. Marketing Automation:
GetResponse lets you visualize your customer's journey and deliver relevant emails and experiences automatically so you can sell with less effort.
6. Hydra AntiSpam:
GetResponse's in-house anti-spam system helps you identify potential threats posed to your reputation and deliverability.
7. Abandoned Cart emails:
Easily set up follow-up emails to customers who added items to your shopping cart but didn't proceed with an order.
8. Dedicated Account Manager:
An enterprise only feature, you get a dedicated account manager to work with you to optimize your online marketing campaigns.
Verdict – All things considered, GetResponse is an amazing and well-rounded marketing software that mainly offers a landing page software as an additional feature. You can get started with building attractive landing pages at a low price point of $15/month but you're forced to upgrade to their pro plan once you cross 1,000+ page views. It's a reasonable option for someone starting from scratch and looking for something more than a landing page builder alone.
5. ConvertKit – Best Landing Page Builder + Email Marketing For Bloggers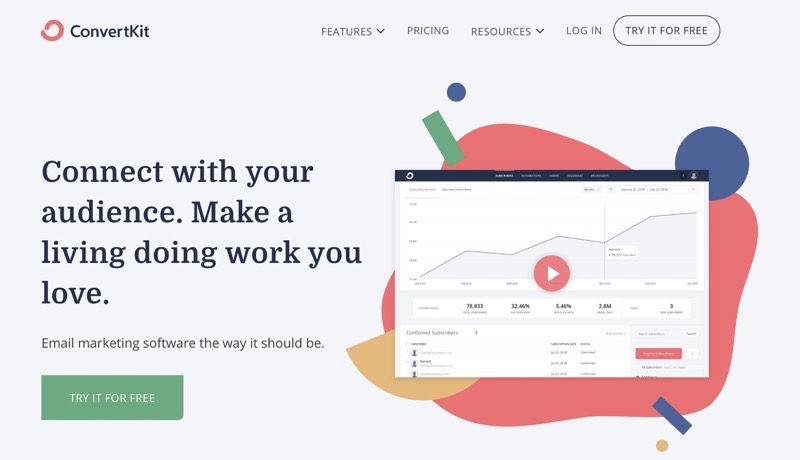 Click Here To Try ConvertKit For FREE
A comparatively newer player in the world of the landing page builders, ConvertKit is similar to GetResponse in the sense that it's primarily an email marketing software with a landing page builder feature.
ConvertKit has a simple goal, to let Content Creators create while they handle everything from the landing pages to the email subscribers and inboxes to make email marketing simple.
Pros
Easy to use
Easy to integrate with WordPress
Dynamic emails
Visual Automation Builder
Tag-based subscriber system
24×7 Live Chat and Email Support
Frequently updated
No charge for duplicate views
Cons
Limited customizability
No test email for autoresponders
Limited A/B testing
1. Visual automation:
ConvertKit's Visual Landing Page Builder lets you build beautiful landing pages in minutes.
2. No charge for duplicates:
You don't get charged twice for the same subscriber, which works great since ConvertKit is a plan that charges you based on subscriber count.
3. Easy WordPress integration:
ConvertKit provides a plugin you can install in your WordPress website so you can use ConvertKit while in WordPress.
4. Subscriber tagging:
You can easily tag and categorize subscribers based on interests making it easier to send targeted emails for better conversions.
5. Reliable support:
ConvertKit has a huge knowledge base and 24×7 multilingual support via Live Chat and email making iteasier for you to reach out to them if you run into issues.
6. Customizable forms:
Unlimited, fully customizable and responsive forms for all types of creators.
7. Free Plan:
One of the best features, they offer a free plan so you can try their software before you make your purchase.
Verdict – ConvertKit is a solid product that comes with great features beyond a landing page builder alone.
With a free plan for up to 500 subscribers and a paid plan that's backed by a 30-day refund policy, you can use ConvertKit to build beautiful and fully responsive landing pages and automate your entire email marketing strategy at the same time.
6. ClickFunnels – Best Sales Funnel Landing Page Builder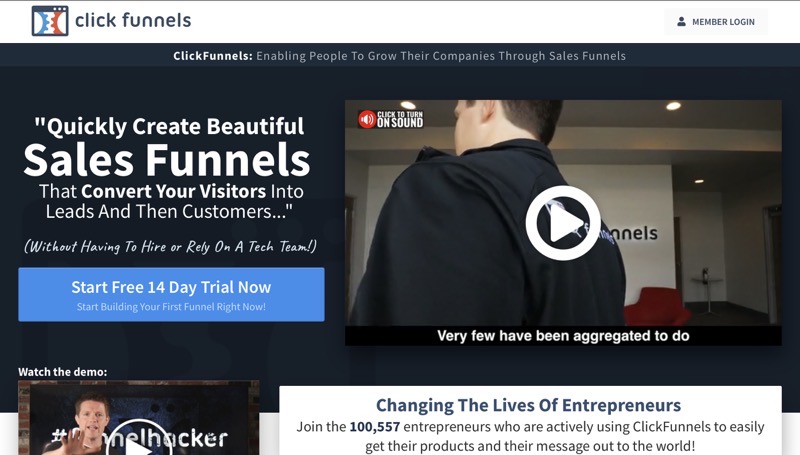 Click Here To Try ClickFunnels For Free
What Reddit has to say about Clickfunnels:
u/tenantreport "ClickFunnels is worth the investment if you're planning to build funnels and send traffic through them for your business. The first funnel you should build is the lead generation funnel. Here you offer a piece of free content in exchange for someone's email".
u/bootstrapspecialist "I've used ClickFunnels for many years and find it an extremely valuable tool".
u/finous "ClickFunnels is pretty straightforward to set up, just like legos. I have had some success using it with Facebook ads".
ClickFunnels lets you design customized sales funnels around your product to help you convert your traffic in the right ways.
The reason its not higher up in this list is because ClickFunnels is more than just a landing page builder and email marketing software, it's a complete website and marketing funnel built into a single package.
Pros
A/B Testing
Analytics
Drag & Drop
Form Creation
Real Time Editing
Responsive
SEO Management
Templates
Cons
No Page Ownership
Expensive
Overwhelming for new users
1. Preset funnels:
ClickFunnels comes with presets for lead generation, events and sales promotions designed to drive conversions.
2. The CookBook Builder:
A relatively newer addition, it helps guide you through the funnel creation process based on your industry and chosen funnel type.
3. Easy to use:
ClickFunnels is ridiculously easy to use with their preset templates.
4. Membership Areas:
You can create exclusive membership areas to host special content.
5. Order forms:
You can easily create a non-confusing check-out process for customers and reduce cart abandonment.
6. Affiliate Centers:
You can start your own affiliate programs behind any of your sales funnels in a matter of minutes.
7. Onboarding Videos:
ClickFunnels is super easy to use from start to finish thanks to their well explained onboarding videos.
Verdict – ClickFunnels is great for newbies looking to build sales funnels in minutes, but as a landing page builder, it doesn't compete with our top choices and a major flaw in ClickFunnels is the lack of ownership, which means if you choose to leave ClickFunnels, you stand to lose everything you've built on your website.
7. Elementor – Best WordPress Landing Page Builder 2023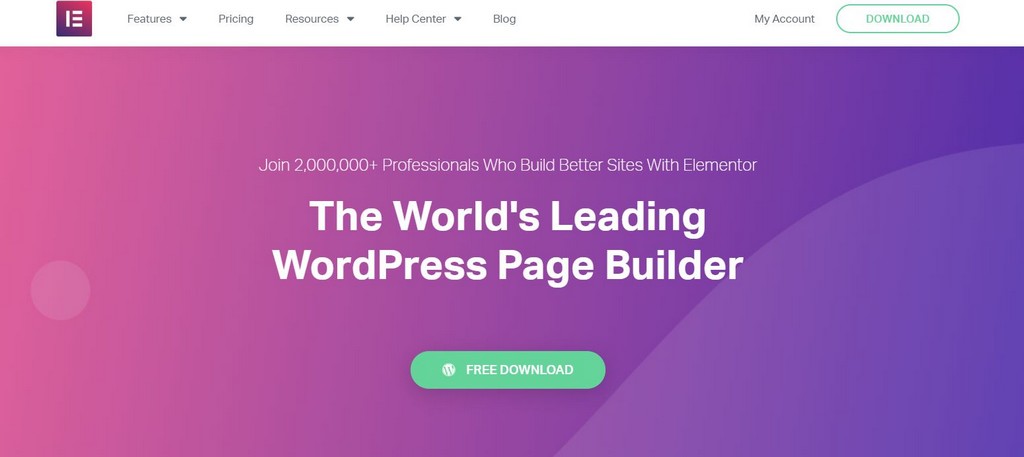 Click Here to Get Elementor Pro
What Redditors had to say about Elementor:
u/ssmihailovitch "I have built a website utilizing the Elementor Page builder and it has plenty of plugins that make it easy to use and operate. I had no issues at all, and I highly recommend it".
u/Rizzywow91 "Elementor is the best site builder by a mile. The code is clean, so adding and editing assets is very easy and straightforward".
u/L0lig123 "Elementor definitely helps me a lot with things like templates, loops, and post widgets. Here it makes the post you want and lists it in a more dynamic design. Also, I'm able to customize everything I want".
Anybody who's been around a WordPress website has heard of Elementor. Although it's a complete website builder, Elementor is a great option if you're looking to design your landing page from scratch.
With Elementor you can easily create an unlimited number of landing pages with one of the most powerful landing page builders in the market – all without touching any backend code.
Pros
Drag & Drop Editor
No Coding Needed
Blank Canvas to start
100+ Professional Templates
Pixel Perfect Design
Optimized For SEO
Cons
Limited Free Version
Header builder lacks Schema
No in-built A/B testing.
1. Powerful Drag & Drop Builder:
One of the best page builders in the market today without a doubt. Extremely intuitive and easy to use.
2. Form Widget:
Say Goodbye to back-end editing, with Elementor you can create forms live on the front end using the Elementor editor.
3. Testimonial Carousel Widget:
Boost your social proof by adding a rotating carousel of your testimonials from your most supportive customers.
4. Countdown Widget:
Add a countdown timer to increase the sense of urgency of offers to drive more sales.
5. Rating Star Widget:
Add even more social proof by displaying star ratings and styling it to your liking.
6. Action Links:
Easily Connect with your Audience using WhatsApp, Waze, Google Calendar & more.
7. Popup Builder:
Create pixel perfect popup and add advanced targeting options using Elementor's Popup Builder.
Verdict – Offering complete customizability, Elementor is a great landing page builder for anyone looking to start out for free. To maximize Elementor's capabilities you can upgrade to PRO and max out your ability to build high conversion landing pages. Although it lacks in-built A/B testing functionality, you can easily use a tool like Google Optimize to start A/B testing your landing pages.
8. Elegant Themes – WordPress Landing Page Builder for Beginners

What Redditors had to say about Divi:
u/sonofmo "I like Divi as it is easy to teach. I can accustom a designer or client with no experience in website management and get them updating their own sites in no time, while I can enjoy more free time".
u/ParadoxAndConfusion "Divi generates Press Pro and Blocks. It is the leanest and fastest app anywhere with great developer support".
u/beingwp "Most beginners on WordPress are bewildered when it comes to picking a reliable theme for their website. There are several free and paid options. Which one should I pick from the crowd? The answer is the Divi theme, as it is simple to use and highly responsive in its functionality.
Similar to Elementor, Elegant Themes offers Divi – an extremely powerful website builder that duals as a landing page builder.
Elegant Themes also offer additional plugins like Bloom – an email opt-in plugin and Monarch – a Social sharing plugin to address every requirement you may have from a landing page builder.
Pros
Super easy to use front end page builder.
Wide range of ready templates.
Supports 32 Languages.
Built-in A/B testing tool.
One of the best Support teams + Community Forum.
Bloom Email Opt-in plugin
Monarch Social Sharing plugin
Cons
Lacks free option
Reported to be a bit glitchy on large pages
Way too many options
1. Advanced Visual Builder:
The Divi Builder by Elegant Themes is an incredibly advanced landing page builder with a Drag-&-Drop feature.
2. Pre-Designed Landing Page Templates:
Elegant Themes have heaps of beautifully designed responsive landing pages ready to use out of the box.
3. Landing Page Kit:
You can directly import 23 key components for your landing page by importing the Divi Landing Page Kit Master Layout from Divi's library.
4. Opt-in Forms:
Automatic Opt-in forms that come with the Bloom plugin let you 6 unique styled opt-in forms and alsolet you restrict access by requiring users to sign up before accessing content.
5. Automatic Triggers:
You can set automatic popup and fly-in triggers for different pages and post and even create targeted offers based on user interactions.
6. Email Marketing Integrations:
You can integrate your opt-in forms with 19 of the most popular email marketing systems in the market.
7. Customizability:
Everything from your landing page to the opt in forms and popups is fully customizable and 100% responsive with Elegant Themes.
Verdict – Although there's no free option, the value delivered by Elegant Themes with their suite of plugins is guaranteed to make your buying decision a lot easier if you're looking for a premium landing page builder for your website.What's better is, they offer a 30 Day Refund policy that covers you in case you have second thoughts or feel the plugin lacks functionality you required.
9. Wishpond
Wishpond is a platform that's designed for growth and it offers an intuitive yet powerful landing page builder as part of its package of marketing tools that's as easy to learn as any other builder in the market today.
With pre-designed templates that are geared to generate clicks, it's super easy to maintain a clean and powerful landing page without having to worry about managing an entire website.
Pros
Easy drag-and-drop builder
User-friendly, intuitive components
Mobile-responsive pages by default
Easy to read analytics and lead list exports
One-click A/B testing
Unlimited Custom form fields
Custom CSS/JavaScript
Cons
Lacks dynamic Content
No audience targeting
Limited SEO management
Poor support
1. Pre-designed templates:
Extensive range of pre-designed templates sorted by industry.
2. Lead Management:
Create segments and track the activity of your leads on your website using Wishpond's leads database.
3. Easy Form Builder:
Wishpond makes it super easy to create and publish forms and offers over a dozen mobile-responsive templates.
4. Marketing Automation:
With a powerful and easy to use marketing automation features, you can nurture leads and retain customers automatically.
5. Website Pop-up Tool:
Easily create popups, welcome mats, slide-in popups, and opt-in bars to add to your website, blog or online store.
Verdict – Wishpond lacks key features that I would have liked to see in a landing page builder and isn't as versatile as some of its competitors, however, it's still appealing as a marketing service software. If they could work on their customer support and offer a free trial version, I could see it climb up the list, although not by much.
That said, Wishpond offers advanced and technically sound users the ability to really dig in and design everything exactly as they want with custom CSS and code wish does give it an edge over some of its competitors.
10. Landingi
Click Here to Try Landingi Now
Marketed as "The Landing Page Builder for Non-Programmers", Landingi stays true to its claims and lets you create and customize landing pages without any programming skills.
Tailored to suit most industries, customers, products and services, you can choose form over 200 stunning templates and use their drag-and-drop builder to design campaigns that deliver.
Pros
A/B Testing
Analytics
Drag & Drop
Form Creation
Real Time Editing
Responsive
SEO Management
Template options
Cons
No blocks feature for premade elements
Support
Basic analytics
Difficult mobile editor
1. Drag-and-Drop builder:
Landingi's Drag-and-Drop builder really shines and is a great builder to work with that lets you create, pages, manage leads and automate key tasks.
2. Fonts library:
You can choose from over 800 Google fonts, free of licensing or bring your own too.
3. One-Click Publishing:
Building and publishing pages quickly is key for any landing page builder and Landingi makes it instant for you with zero coding required.
4. Lead Management:
Easily manage all your leads with an in-built inbox that acts like a mini-CRM.
5. Flexible Forms:
Create forms and set field formats to get the data you want from your visitors.
6. Integrations:
Integrate with the likes of MailChimp, HubSpot, Salesforce and more in an instant to pass leads to your CRM.
7. Landingi Smart Sections:
Landingi's version of blocks, you can create 'Smart Sections' and use them across multiple landing pages on your website.
Verdict – A solid contender in this list of landing page builders, Landingi only loses a few ranking positions because of the higher price you need to pay to access features that other landing page builder software are offering for a lot less. Their customer service has room for improvement, however, with a decent range of features, it acts as a good alternative to the likes of InstaPage and hence deserved a mention on our list.
Found Your Next Landing Page Builder?
When you're building a business, you don't want to spend money on unnecessary things and a poorly chosen landing page builder can do more harm than good to when it comes to driving conversions for your website and increasing sales for you.
While I'm a big fan of Unbounce and highly recommend trying them, there are some good landing page builder software in this list that offer features that Unbounce doesn't and vice versa.
So take your pick and let me know in the comments below which one you liked or didn't, and which is your favorite Landing Page Builder Software in this list!
Read Next: