Webinars are become an integral part of digital marketing strategy for businesses today. If you want to make the most of your webinars, then you require a webinar hosting platform to assist with marketing and promotion.
WebinarJam is the biggest web-based platform that helps create a live webinar. It is used by more than 50,000 people globally across 40+ industries to create engaging live and hybrid webinar events. The platform offers a complete end-to-end hosting and marketing solution that provides tools for lead generation, list building, webinar hosting, audience engagement, and payment processing, all under one roof.
Click Here To Try WebinarJam For Free
WebinarJam is an all-in-one cloud webinar platform that is the best alternative to Zoom and GoToMeeting due to its easy setup and low prices. Owned by Genesis Digital, who also owns EverWebinar- a webinar automation tool, and Kartra- a sales and marketing tool with lots of integrations that is ideal for selling digital products.
Its exceptional webinar hosting and management, coupled with the best landing pages, sales funnel, and email marketing from Kartra, make it very powerful. So, it not only fulfills your webinar hosting but also helps enhance your marketing section. In this article, I've explained in-depth about the platform and how it can help with webinar hosting and management for your business.
Who is WebinarJam Ideal for?
WebinarJam is an ideal solution for small as well as enterprises that want to create stellar webinars for their business. It is a great solution for users that are looking for a long-term webinar strategy, and the all-in-one webinar tool with comprehensive features can help them achieve it.
The platform is also great for those looking to organize large online events, training seminars, and online courses with up to 5,000 webinar attendees. It is a good choice for those looking to expand their content creation outside blog posts, videos, and infographics to increase their brand authority.
WebinarJam works well on all devices and helps businesses deliver high-resolution video content to their users. Further, if you are looking to sell a product through a webinar, then it is a great tool. Finally, if you are looking for an affordable platform, then it is designed for you.
Click Here To Try WebinarJam For Free
WebinarJam Review Reddit
U/socialmktgadvice- "WebinarJam is awesome, and they offer you landing pages and reminder tools to increase attendance".
U/marckq- "Other comments have shared the most common ones, but WebinarJam is a gem to consider".
WebinarJam Review 2023
If you are interested in investing in a webinar software, then I've listed some features that make WebinarJam stand out from others within the market.
1. Ease of Use
WebinarJam is designed with advanced marketing and engagement features. The platform has a user-friendly and intuitive interface that makes it easy to use and work with.
The admin setup of WebinarJam is smooth, which makes the creation of webinars simple for beginners as well as advanced users. With a simple Express Configuration, you can easily be up and running within 30 seconds. Even the Standard Configuration doesn't take more than 5 minutes.
The platform allows you to display and share all types of media in a different forms. You can select from options like:
Screen share
Picture-in-picture
Inclusion of annotations
Face-to-face
Video injections
Slide shows
Polls and surveys
Its stand-out feature is that it has enhanced control and efficiency. The platform has helpful tutorials to hand-hold beginners to help them use it with ease. Managing and conducting attendees for your webinars on WebinarJam is efficient. It is a great tool if you want to scale up their sales and revenue where real-time analytics and performance checking is of utmost importance. We'll talk more about this below.
2. Attendee Management
Management of attendees for webinars is crucial, may it be before, during, or after. WebinarJam can make the process automated, making webinar attendee management easier and more efficient. This is crucial for managing up to 5,000 people in a single presentation without breaking a sweat.
Click Here To Try WebinarJam For Free
WebinarJam allows you to send messages to your attendees- invites, registration forms, managing secure gateways, and much more. This ensures that everything is under control and that all your customers are satisfied. The platform allows you to add a maximum of 6 presenters, so you host solo or have a roundtable of experts to share the knowledge on screen.
You can control the chat and Q&A sessions which lets you better understand and take control of the attendees and engagement of the webinar.
Information users can access about your registrants?
First and last name
Phone number
Email id
IP Address
Webinar users have registered for the session and registration date.
Check if they attended live
The time they spent in the room after they entered
If a user has purchased an item during the webinar and capital earned from it
Have they interacted in the Replay Room
3. Live Chat
It is no secret that live interaction with your attendees is crucial to make your webinar event engaging and lively. WebinarJam lives up to its expectations and is a great engagement tool.
The platform empowers you with flexible options for chatting with your audience and editing or deleting any of their messages. You can efficiently moderate communication, such as private comments, highlighted comments, sticky announcements, and much more.
The Live chat feature lets you interact with a whole group of attendees to fully hook them up to the webinar. You can work with each of them and answer their questions individually. Apart from this, you can also communicate with the administrators of the webinar. Here, you can communicate with them efficiently without the attendees noticing something is going on in the background.
4. Automated Recordings and Webinar Replay
The automated recording feature is designed to automatically record your live broadcast into a video file. The last thing you would want is that somebody forgot to hit the record button and have no recording of the webinar. WebinarJam ensures that this won't happen. Once you start an event, all the live broadcasts are automatically recorded, including chats, surveys, polls, announcements, etc.
The platforms Replica Replay will mimic what has happened with the live room. For example, during the replay, the chat comments will roll at the same time as they are posted. Product and survey efforts will be offered at the same moment they popped into the original presentation. More importantly, the replays are as engaging as your live sessions.
After the live session is finished, you can easily download the video file and open it to the replay page. Once you have downloaded it, then a link becomes available to run the webinar.
Plus, you also can schedule the replay rooms as you wish. Here, you can schedule an encore replay event to be played out 24 hours or 72 hours immediately after the live session.
5. Flexible Scheduling
WebinarJam allows you to run your webinars exactly when and how you need them. The platform allows you a great deal of flexibility that makes it highly versatile in the market.
You can run a webinar:
Right now- go live instantly
Schedule webinars- go live in the future
Recurring series- schedule a series that can repeat regularly
Always-on- you can set up a dedicated room just for your webinars
WebinarJam allows you to schedule sessions as
1. One single session
The single session lets you run multiple sessions of the same content on the platform. So, people will register for only one session and not all of them. This allows you to give your users the flexibility to attend a webinar that aligns with their schedule. Here, you can run a session at 10:00 AM and another one at 3:00 PM on the same day.
2. Multiple sessions
WebinarJam allows you to run multiple webinars over a period of a few days. Users can subscribe to all the individual events just by signing up just once. You can easily set a different date and time combination. Here, they will be bundled back into an indivisible multi-event presentation.
3. Recurrent series of presentations
Recurrent series of presentations allow you to create a series of webinars. Here, you can have a webinar that builds on a previous one and runs on a fixed and recurrent schedule. For example, you can set a schedule to air your session from 8:00 AM to 10:00 AM every day. However, you can also run your sessions every day at a select time for the whole year. It is that simple, and you can register only once to gain access to all the webinars.
6. Campaign Management
WebinarJam comes with an array of features that allow you to manage your webinar campaigns, like live room management, customizability on the registration pages, analytics dashboard, and much more. Here, you will have access to all your marketing capabilities to enhance your sales funnel to keep you a step ahead. However, it is important to be able to control your campaigns and be straightforward.
You can decide when you want to run your live webinar with flexible scheduling that helps make things easier. Here, you will get complete control with the in-built campaign management tool. The platform allows you to customize and personalize every aspect of the webinar platform like a pro.
WebinarJam allows you to run a webinar no matter the time, date, and location you are situated. The platform provides a countdown timer according to the user's local time zone. This ensures that they never miss out on any webinars.
WebinarJam lets you simply decide what campaign you're interested in:
1. Live webinar
You can host a standard live webinar in HD quality. As mentioned above, this feature allows you to interact with your chat or attendees live to respond to their queries and much more.
2. Series
WebinarJam allows you to create a multi-course session through webinars. The series section lets you make a complete guide or series that you can feed your users.
3. Replica Replay
A replica replay is automatically recorded, and a replay can be played whenever you want. All chats and offers that occur during the webinar are repeated during the replay, and you can get the experience as a live webinar.
4. Hybrid webinar
In a hybrid webinar, you can play a pre-recorded video during a live webinar. Here, you can easily interact with your attendees and discuss the previous webinar or find strong points.
7. Surveys and Polls
Surveys and polls offer a great way to drive your engagement and interaction to the next level during your webinar. Asking your attendees for feedback is great too to provide content for discussion during the webinar itself. Here, you can use it to understand the needs of your audience and personalize future webinar campaigns.
Polls are a great way to prove and emphasize the message you're trying to convey with your webinar. Showing the poll results will encourage attendees to participate in the polls. Whatever you do, interacting with your attendees is never a bad thing.
WebinarJam allows you to include surveys and polls easily in your webinar. You can click on Full Configuration during the setup process, so you can create a poll before the webinar starts and air it whenever you want it. However, you can click on Express setup for your webinar, so you can easily create a new poll whenever you want it.
Once the poll is finished, you can share the results with your audience. You can easily set up surveys and send them to your registrants on the Thank You page. Here, users can reply to these survey questions with one, multiple, or short/long answers.
8. Q&A Sessions
Simply speaking and putting your points in front of your customers is not enough. You would want them to engage with you as you want to conduct a webinar and not settle for video conferencing.
WebinarJam has a Q&A section that allows you to set questions, and any response will be marked as an answer. The platform allows you to set up Q&A sessions where attendees can question you during your webinar.
If you are thinking of hosting a live Q&A session, then it is a perfect platform. It is a great feature to increase your customer engagement, but it also gives you the chance to clear any doubts that they might have during the session.
Any attendee using WebinarJam can use the Request to Speak button at the top of the chat bar to raise their hand. Once you see their request hover over their name, and you can grant them access to speak. After you have answered the query, you can eject them from the live room, and they will return the attendee to the webinar.
9. Attendee Spotlight
WebinarJam allows bringing people from the audience onto the virtual stage. Users can participate in your live webinar discussion as a speaker or presenter at any time. Wielding the power of a mouse and a sense of purpose, your invitee can speak, screen share, and even broadcast on their webcam. And once you've done that, you can easily switch them over to the attendee-only mode.
In case an attendee requests to participate in a live webinar, then you can accept or deny the request in the Speak tab. This person will allow users to temporarily share their views with the audience.
WebinarJam also allows you to send an invitation to anyone who wants to present for your webinar. You simply have to invite additional presenters by clicking the plus icon and entering their names and email address. Users will send a link to enter the webinar as the presenter. This is ideal for running coaching and mastermind events to bring your audience to the stage to share their insights, experiences or gain valuable live testimonials.
10. Password-Protected Rooms
Sometimes you would like to restrict your live room to certain customers and peers. The topics discussed in this room may be of sensitive nature or for paying customers only. Generally, these rooms are designed for corporate meetings for high-level executives only.
Whatever may be the issue, if you want to restrict access to your live room, then the password feature is at your disposal. You can give them access to webinars by giving them the password or by invite only.
11. Landing Page Builder
WebinarJam allows you to maximize your registration with professionally designed pages. The platform has a library of built-in templates that helps in the creation of robust landing pages, similar to registration pages.
Just point and click on different sections of the templates and customize every aspect of the webinar landing page. Here, you have full control to edit text, font styles, sizes, color, registration button, upload images or videos and display your logo and banners.
Click Here To Try WebinarJam For Free
You can easily edit the pre-designed templates, which literally takes a few minutes. The customization feature makes it one of the best in this space. However, if you are not sure, then you can A/B test the design. The smart feature ensures that your landing page is built for conversions and enhances your performance in the long haul.
If you want to create your own design, then you can utilize your favorite funnel-building software like Kartra. Kartra belongs to the same company as WebinarJam, so it offers a simple integration. The platform is a great marketing operation tool that helps run your business using a single tool to maximize profitability using its pre-built funnel campaigns.
12. Full Email and SMS System
One of the best features that come with WebinarJam is its email and SMS system. You can easily send timely emails and SMS notifications to always keep your subscribers in the loop. The platform lets you customize messages for your webinar funnel to schedule a series of reminder notifications via email and phone texts so your registrants don't miss out on your events.
You can send a maximum of 10 notifications before and 10 notifications after each webinar that includes some of the following messages:
A welcome message immediately after an attendee signs up for the webinar.
A pre-webinar reminder by sending a message at specific hours before the webinar.
A last-minute reminder can be sent to users 15 minutes before the start of the webinar.
You can also send messages after the end of the webinar, asking users why they missed your webinar, left early, or didn't stay until the end.
WebinarJam has an auto-responder that automatically sends follow-up personalized emails to different segments. You can easily segment your registration list based on different behaviors.
If you have signed up with the WebinarJam account using Gmail, Yahoo, Hotmail, or other free email accounts, then the emails will be sent to @webinarjam.net. If you want to send out customized emails to your users, then you can easily integrate with several email marketing platforms, like MailChimp, Kartra, ConvertKit, Drip, etc.
The platform can easily send reminders through SMS and phone calls. Twilio is a great integration tool that can help you send SMS and phone reminders directly to your customers. This is an optional feature, and you don't necessarily need to run it on your webinars.
13. Language Compatibility
WebinarJam comes with several multilingual capabilities. This means that you will not miss out on tapping across the world due to language barriers. All you have to do is simply select a preferred language, and all the pages that your audience interacts with will be translated with a click of a button. These are the languages supported by the platform, and it continues to grow, and you can constantly increase your reach.
14. Scale Faster by Giving Team Members Privileged Access
WebinarJam allows you to reserve a 24/7 dedicated branded room for your business. Whatever you can do inside the platform, your team members can do it as well. You no longer have to share your password, payment details, or give any other sensitive information.
This feature allows you to delegate webinar-related tasks to anyone on your team. You can run two or more live streams without burning out. The platform lets you quickly create, optimize and publish more evergreen webinars. The possibilities and opportunities that come with this are endless.
15. Post-Webinar Communication
You cannot limit your communication to just before or during a webinar. Just like marketing, you have to reach out and extend communication to engage with your attendees once the webinar is done. This plays a pivotal role to make the webinar more successful. Post-webinar communications can encourage customers to take the final action and increase your conversion rate.
WebinarJam has powerful features that allow you to send post-webinar notifications to different people who've signed up to attend your webinar. You can segment the webinar list into the following categories:
All registrants
Users that did or didn't attend
Users who attended but left before the timeframe you specify
Users have attended and stayed within the timeframe you specify
Those who attended and did or didn't order or purchase a product
WebinarJam is great for contacting people who didn't attend your live session or purchased your product. This helps you to reach out better and enhance your functionality. For those who've attended or purchased your product, contacting them will only make them desire more content and products from you.
16. Webinar Attendee Registration
WebinarJam has several ways that allow people to sign up for your webinar. You can easily email a registration link, promote it on social media or embed the link to the webinar on your website.
The default fields are designed containing the first name, last name, E-mail, and phone number. You can customize the fields and add other questions to the registration form.
The one-click registration feature of WebinarJam makes it incredibly easy for people looking to register for your webinar. It comes with a customizable hotlink that allows you to quickly register leads into an autoresponder list.
A quick registration means that people are more likely to fill out the forms and sign up. You can easily enable the auto-subscription feature so that registrants can automatically register for any new webinar you conduct later.
WebinarJam allows you to receive an email notification whenever somebody registers for your webinar. When you have enabled to receive notification, each of the emails will notify you about the details of the attendee you want to choose to watch. Here, you will know which people watch your webinars, peak sign-up, and check which webinars have the best sign-up and lead conversion ratio.
17. Device Compatibility and Video Quality
WebinarJam can be used on any device- desktop, phone, tablet, and laptop. So, anybody can use it anywhere around the world. What if you can't be at a desk for a scheduled live event? No problem, join in and broadcast your signal without a problem. All you require is a stable internet connection to connect with the webinar.
With WebinarJam, you no longer have to worry about compatibility issues. The platform is compatible with platforms like Windows, Mac, and Linux, alongside numerous browsers like Chrome, Internet Explorer, Firefox, and more. WebinarJam is even compatible with Opera, which is commonly used in Scandinavian countries.
WebinarJam offers webinars in HD quality video and audio. You no longer have to worry about pixelated images or choppy frame rates to make it all silky smooth. Whether you're broadcasting from your webcam, screen share, PowerPoint presentation, or anything in between, the platform has superb high-definition video capability.
I would suggest the following to ensure the highest quality webinar presentation.
Free up more internal space as possible. You shouldn't run programs like Spotify or Netflix.
Don't slow your internet connection by running games and downloads.
18. Video Injection
WebinarJam allows you to plug in a video to run your presentation on autopilot. You can easily inject the videos into your presentation, so you can use a pre-recorded portion of your previous webinar to ensure that you effectively engage with all your attendees. This is especially great for those who haven't watched the webinar.
The platform allows you to seamlessly integrate into your webinar, which helps minimize pauses or any technical difficulties during your presentation. You just have to simply link to an mp4 file or a YouTube video during the webinar configuration, and you are all set to go. This ensures that there is no feeling of disconnect with the webinar.
19. Easy Presentations
Just like videos, you can easily upload a PowerPoint presentation to use during the webinar. PowerPoint and Keynote slides are the holy grail of presentations. You can present like a pro using these tools. WebinarJam allows you to easily import your presentation file and share it efficiently with your audiences seamlessly in high definition during the webinar configuration process. With the platform, you can easily scroll forward and backward through the presentation with ease during the webinar.
More importantly, uploading a slide before a webinar starts helps prevent overloading your internet bandwidth during the webinar. This helps maintain the image quality of the slides.
After the slides are uploaded, you can get access to the feature for your slides, such as creating them in different options. However, it is important to note that the PPT, PPTX, Keynote, and PDF of up to 80 Mb are acceptable on WebinarJam.
20. Drawing Board
Presentation slides offer a great way to share information; however, there is something even better to reach the exact attendee engagement. A drawing board feature allows you to enhance your presentations with your own personal touch.
WebinarJam's drawing board feature lets you draw or write notes on your slides, ensuring that it can be displayed during your presentation while being able to share it directly on the webinar. This helps strengthen the points you want to put to make and helps explain concepts better and make give a unique touch to the presentation.
The transparency of the whiteboard can be adjusted with a slider. Its opaque setting makes your screen look like a blank whiteboard that syncs well with the presentation. If you keep the whiteboard in its midway, then you can write anything and draw different shapes and lines across your slides or video presentations.
21. Handouts
Just like sharing the screen, handouts allow you to share a PDF or any file of up to 80 Mb with your attendees during the live webinar. This allows you to pass your homework, distribute an application for coaching, a brochure, or other downloadable content. This can help supplement the information that you are talking about in your webinar.
Upload the handouts directly to your hard drive and click Share, and the system will automatically display them to your attendees across their screens. This allows them to download it, and it is very easy.
22. Control Panel
Imagine that you have hundreds of people in your webinar room, and managing all of them is a whole different thing. From speaking, and conducting the presentation to moderating the live chat or publishing polls, offers, and much more is a daunting task. Fear not the Control Panel of WebinarJam has you sorted. You can easily control all your operations on the platform; however, this feature is only available with the Enterprise Plan.
The Control Panel can be defined as a separate room for a colleague or a staff member who will operate all the logistics of the event as you comfortably focus on the presentation content. This is a great way so you won't feel overwhelmed, and the event will run smoothly in the background. The feature is ideal for professionals that are running large webinars that require a hands-on experience from a staff member.
23. Monetized Webinars
The rule of marketing is to generate as much money from as many sources as possible. This rule applies to webinars also. It is great to offer webinars for free; however, if you are a coach, teacher, or consultant providing a paid service, you should charge a fee for your live sessions. If you are providing any paid service or selling products through sales webinars, then you'll have to focus on this section.
WebinarJam comes with different payment gateways that allow users to complete the registration process. This includes PayPal and credit cards-Visa, MasterCard, and American Express.
The setting up process of these webinars is super simple and efficient. You just have to click on the Registration Tab and click on the Charge to register for your webinar in the panel.
The process can be set into 4 different steps:
Choose a webinar to charge money
Link to the payment checkout
Decide the registration fee for a particular product or webinar
Enter a post-payment URL
WebinarJam will offer you several monetization statistics that show how sales are converting, earnings per attendee, and various other parameters. You can easily check how many people have signed up and see how much revenue is generated during the live session and the replay.
24. Active Offers
WebinarJam lets you convert your webinars into the fully-fledged money-making event having live offer displays. When it is time to make an offer, you would want your audience to take instant action. This action has to be simple but eye-catching, which would glitter their eyes. With just a click of your mouse, you can easily pop in a pre-configured, visually appealing offers directly in front of your audience.
You no longer have to be more clunky on web addresses that get misentered or non-clickable displays in your presentation. Once the offer is shown on the screen, you can simultaneously continue speaking while answering and performing at your best.
If you want to infuse a sense of urgency or scarcity, then you can encourage the attendees to avail of your offer. For instance:
Add a countdown timer to create a certain sense of urgency.
Show that x units are left on the counter to create a sense of scarcity.
Showcase a notification whenever someone makes a purchase.
25. Always-On Room
The feature allows you to reserve a 24/7 dedicated branded room for your business. If you need to conduct recurring live sessions, then this is a feature that is a must-have for you. However, this feature is only available with Professional and Enterprise plans.
The room is open during all the hours of the day, and you can log in at a moment's notice. You can have your own room that's always on to conduct webinars anytime you need. Users can jump right into the room at any time. Since the webinar settings are preset, the room is ready, and the link never changes, making it very convenient to use.
You just have to go to the branded room, click the Go Live button, and you are on air. The URL is branded with your company name to create your own touch to it.
26. Broadcast on YouTube
By default, you will host your webinars on the WebinarJam platform. But you can simultaneously broadcast on a YouTube channel. Since YouTube is the second largest search engine, what better way to increase your customer access; than to host on YouTube.
You cannot install the actual WebinarJam live stream on your website; however, you can embed it on the YouTube page. So, you can hit two birds with one stone.
27. Panic Button
No matter how robust a webinar platform is technical mishaps, your webcam not turning up, audio issues and poor connection, and other issues can occur. Whatever it may be, the Panic Button is the Plan B to escape from unexpected technical difficulties. The feature is included with the Professional and Enterprise plans.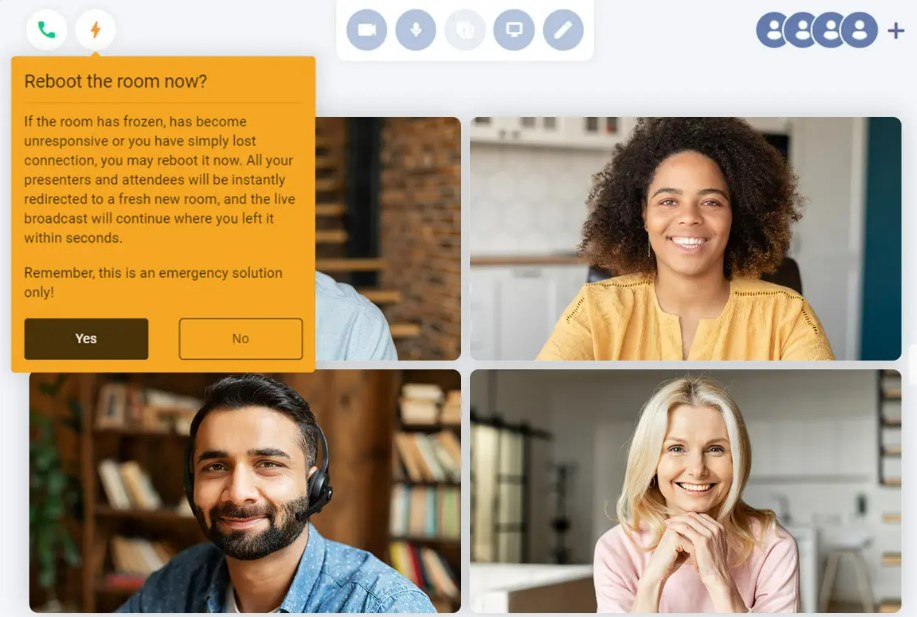 If you think that something is not running right, then you should simply click the button. The reboot button is a get-out card, and you can immediately get back to your new live room and automatically transfer attendees and presenters into it. This process takes around 10 to 15 seconds, and you can easily carry on with your broadcast. It is a versatile feature and plays a pivotal role to enhance the functionality of your webinar.
28. Ban Inappropriate Words
Inappropriate words in your chat messages can ruin your entire presentation. You can prevent that from happening by banning specific words- like scam, idiot, and other inappropriate words in the chat message.
The bad word filter, once activated, can prevent these words from popping up on your webinar. When you are next live or automated webinar, then the system will detect and automatically delete any chats containing these words.
You can be assured and relieved that even scammers, haters, or even trolls can't mess up your live or evergreen webinars now.
29. Thank You Page
Sending a thank you to email everyone who signs up for your webinar is a great way to welcome potential customers. It is also a great tool if you want to send a friendly reminder about your webinar.
A Thank You page can include:
Successful registration message
Webinar topic and host name
Add a link to your calendar
Select a date and time for the webinar
Send a link to join the webinar
Trailer video
Custom text to hype your webinar
You can use WebinarJam's default Thank You page templates or create a custom page to add to your autoresponder. The page allows you to include a survey to ask registrants what they are expecting from the webinar. This will help you personalize the content and provide you with discussion material.
30. Analytics
Every owner needs to understand their customer better. WebinarJam has a robust data analytics feature to find desired metrics. The advanced analytics tools give you access to rich data that offers in-depth insights about your audience.
The metrics that you have in your fingerprints are:
Registration ratio and show-up ratio (total visitors, number of clicks, etc).
Check whether attendees are dropping out early or staying until the end.
Financial metrics- dollar-per-registrant and dollar-per-attendee.
Email open rate and registration rates
Attendee statistics during webinar replay
User ratings of the webinar
Audience connectivity quality
The latest update of WebinarJam is monitoring the quality of the connection of your attendees to check their experience in real time. All these statistics allow you to take better decisions to influence the targeted leads, feature webinars, and overall marketing campaign.
Webinarjam allows you to get more sign-ups and higher quality leads with split testing between two registration pages to determine which page is generating more sign-ups or providing the best lead conversion. You may be a beginner or even an expert but be assured to consistently create high-converting webinar registration pages for your live and evergreen webinars. You no longer have to guess and hope but only get better conversions.
31. Integrations
WebinarJam offers extensive third-party integration with the top brands in the industry. The platform has developed smart API connections so you can configure different rules based on the registrant's behavior.
For example, if you want to subscribe to a different mailing list, assign a different tag, depending on whether they have to show up at the live event or not. To top it off, you might want to assign a different tag, whether they will want to show a live event or not. To top it off, you will want to assign a different tag if they watch the presentation all the way to the end.
It is the level of granularity that helps segment your leads with the highest accuracy. This allows you to craft your follow-up marketing message based on their behavior.
32. Customer Support and Service
WebinarJam has 24×7 support throughout your journey to resolve issues efficiently. The platform gives you access to online documentation that can help resolve most of the issues efficiently. The Jam Academy is a learning center offered by the platform to get step-by-step video training on how WebinarJam functions so you can start running profitable webinars from scratch.
If you still have issues, then you can contact the customer support representative to get desired answers to your problems. You can also reach out to customer support via email tickets. The platform has a community on Facebook that helps find answers on how to use webinars and learn strategies for engaging and converting audiences into customers.
33. Custom Designed Webinar Rooms
WebinarJam allows you to create a custom room with your own design to suit your brand identity. This makes it look professional and efficient at the same time.
WebinarJam allows you to coordinate the design of your webinar room to suit your website's design colors. This is something basic; however, it adds little something that pulls all the aspects of your brand together. The templates used to create all these landing pages can be customized from scratch. This gives you superior flexibility and performance compared to standard designs.
Click Here To Try WebinarJam For Free
How to use WebinarJam to Create Webinars
After reading this review, are you ready to get started? Great, here is how you can get started.
Though WebinarJam is accessible on your phone, I recommend using it on your laptop or PC for better results. Even with adequate memory, your phone may lag during the video streaming and affect your video quality. To top it off, the software is easier to use and manage on a PC or laptop. Once you've signed up and selected a plan, download the plugin for a seamless experience.
Follow these steps to set up a webinar:
Log in to your WebinarJam account
Go to My Webinars
Click on Your Links and enter all the relevant information
Test the audio, video, and other settings
Once you consider that everything is set, you are ready for the live room. Click on yes when asked to start the event. You can expect a lag time of 40-60 seconds for the software to load completely and for all these attendees to appear. And this is as simple as it gets to go live using any platform in the market.
Using WebinarJam with EverWebinar
WebinarJam is one of the best platforms when it comes to a live webinars. But if you want to generate more revenue, then you should consider upgrading to EverWebinar.
EverWebinar is the sister platform of WebinarJam that is designed for creating evergreen and automated webinars. It is suitable for rebroadcasting live webinars and in the creation of on-demand webinars. The powerful automation software tool- EverWebinar is an excellent solution for small and growing business owners that are vested highly in webinars.
To run an automated webinar, you will require to work in conjunction with EverWebinar. You can easily host your live webinar in WebinarJam, by simply recording it from it and converting it into an automated webinar in EverWebinar.
Now with your recorded sessions, you can mimic a live session so that attendees will feel as if they are attending a live event.
WebinarJam Pricing
WebinarJam is an amazing platform with flexible pricing plans. It comes with four premium plans that are suitable for beginners as well as advanced content creators. All these plans are billed annually, and it has a 30-day money-back guarantee if you don't like what you purchased. The plans are listed below:
Click Here To Try WebinarJam For Free
1. Starter Plan
The Starter plan is designed for beginners that want to try the platform. It is priced at $39 per month and can accommodate 100 attendees. The features of the plan include:
Unlimited webinars
1-hour maximum webinar duration
Includes 1 host
Live chat functionality
Replica replay
Flexible scheduling
Pages are fully-customizable
Email and SMS system
Engaging polls and surveys
Attendee handouts
Live offer displays
Video injections
On-screen whiteboard
Custom backgrounds
Broadcast on Facebook and YouTube
Bad words filter
1 additional team member
Registration notification
A/B split testing
24×7 customer support
2. Basic Plan
The Basic plan is the most popular and is ideal for online course creators and product sellers who are looking to grow their business with webinars. It is priced at $79 per month and can accommodate 500 attendees. It has all the features of the Starter Plan plus:
Includes 2 hosts
2-hour maximum webinar duration
5 additional team members
Attendee spotlight
Automated webinars
3. Professional Plan
The Professional plan is well-suited for experienced webinar hosts that are looking to organize larger virtual events. It is priced at $229 per month and can accommodate 2,000 attendees. It has all the features of the Basic plan plus:
Includes 4 hosts
3-hour maximum webinar duration
10 additional team members
Panic button which triggers an emergency response to major problems with your webinar
Always-On live room
4. Enterprise Plan
The Enterprise plan helps large corporations and organizations looking to host engaging virtual events smoothly. It is packed with premium features compared to other plans offered by the platform. The plan is priced at $379 per month and can accommodate 5000 attendees. It has all the features of the Professional plan plus:
Includes 6 hosts
4-hour maximum webinar duration
25 additional team members
Control Panel
Click Here To Try WebinarJam For Free
WebinarJam Free Trial
Free trial plans always get abused and get used by the wrong type of customer, so WebinarJam's $1 is the next best thing. It's as close to free as you can get to trying WebinarJam out.
Click Here To Try WebinarJam for Free
WebinarJam Free Trial – Auto Applied
WebinarJam Pros and Cons
Pros
Host unlimited webinars
Easy to use with an intuitive interface
Live-stream simultaneously on YouTube
Helpful tutorials for beginners
Records every webinar session
Duration time is generous
Customizable templates for registration and a thank-you page for personalized messages
Integrations with CRM, email marketing, and other essential tools
Multi-language communication capability
24/7 support
Cons
Only offers yearly subscription plans
No automated webinars (everwebinar solves this)
There is no option to add a feedback questionnaire for attendees
Click Here To Try WebinarJam for Free
Is WebinarJam Worth It?
WebinarJam is a great engagement tool for webinars with outstanding follow-up features, making it arguably one of the best webinar software available in the market today. This review will definitely tell you that this lives up to its hype.
The user-friendly interface and powerful features make it hard for marketers to look anywhere. It is an excellent choice for those that are looking to create an amazing webinar for small as well as large audiences at affordable prices.
WebinarJam allows you to:
Host webinars with a small or large audience
Automatically record every webinar
Inject video slides, whiteboard presentations, offers, and other features in your live session
Live chat Q&S sessions
Spotlight attendees
Automate emails and SMS reminders
Stream directly on Facebook Live and YouTube Live
Post-webinar communication
Access to advanced analytics
And much more, as we've explained in the article.
If you want to host Evergreen webinars, then you can easily upgrade to its sister company EverWebinar. So, you can be assured that you'll get everything you need in a single spot.
Click Here To Try WebinarJam for Free
WebinarJam Review FAQs
1. Can you do hybrid webinars on WebinarJam?
Yes, you can record and upload the webinars on the platform. You can later host them with live Q&A sessions. However, you cannot host automated webinars on its starter plan.
2. Can I cancel my subscription at any time?
WebinarJam allows you to update or cancel your subscription by submitting a ticket on the website. However, the cancellation should be initiated 10 days prior to the next billing cycle.
3. Are WebinarJam and EverWebinar the same products?
No, WebinarJam and EverWebinar are owned by the same company. However, WebinarJam is designed for live webinars, while EverWebinar is a great webinar automation system.
4. Is WebinarJam the same as Zoom?
No, WebinarJam has quite different features compared to Zoom. It is a robust webinar hosting and management solution for businesses.
WebinarJam Alternatives
If you are not sold out on WebinarJam or have doubts about the prospect of using it for hosting your next webinar, then here are some alternatives for you. I've listed some of the alternatives below.
1. Demio
Demio is a great webinar platform available in the market today. The webinar solution makes it easier for anyone that wants to register, attend and revisit a webinar. It is very simple and offers a no-download webinar experience for your audience. Users just need a browser that eases the burden on the part of their audience.
Demio has versatile tools that help organizers to make every event unique to its own. You can easily insert your branding but also have the opportunity to customize every aspect of your webinar. All these events can be optimized for your business growth. With the platform, you can easily build a lasting relationships with your leads and customers.
The platform has a plethora of marketing tools to offer the best results and is best suited for live events and conducting your marketing campaigns.
Demio is well-polished, interactive, and visually attractive but lacks some email customization options that go against it. Further, if you are a beginner or want to start out, then its prices may be a little expensive for you, given the size of your events. If you want simplicity, then Demio is undoubtedly worth it.
Pricing
Demio charges are based on the number of attendees that can enter the room. The platform is priced starting at $59 per month and goes up to $109 per month. If you want premium features, you can select its Premium plan for $3,300 per year. The annual plan offers a discount compared to its monthly plans.
2. ClickMeeting
ClickMeeting is a browser-based webinar software that offers audio and video-based webinars. It has an intuitive interface that makes it easy to navigate and use. The service offers unlimited meetings, and you can utilize up to 4 cameras during the webinars.
Click Here To Try ClickMeeting
The platform gives users access to a wide range of features that include a waiting room, automated webinars, interface customization, presentation tools, chat functionality, and much more. However, ClickMeeting can only have up to 25 participants in the conference call, no matter the plan you have selected. Finally, this makes it slightly expensive for the features it offers.
Pricing
ClickMeeting has a 30-day free trial allowing you to host 25 attendees. The premium plans start at $25 per month and can go up to $40 per month. If you want a high level of customization and scalability, then you can get in touch with the team.
3. EasyWebinar
EasyWebinar is a versatile cloud-based webinar that assists businesses of all sizes with live streaming, real-time chat, and event schedule. It boasts over 6 million attendees and is essentially a fully-fledged webinar suite that offers HD quality, no latency streaming with stream sharing up to 4 people.
The application's live webinar model allows you to stream videos, share screens, record sessions and arrange group sessions buffer-free. The presenters can easily stream videos across different time zones and help visitors register at multiple time segments.
The platform allows users to use the dynamic scheduling feature that allows them to run one-time, recurring, and evergreen webinars. The teams can use the system to efficiently acquire customers by making use of polls, event invitations, email notices, and much more.
EasyWebinar easily integrates with several third-party; however, the platform can't use Google Slides directly, and the support is slow to respond. They can be sometimes slow to upload and have error messages with video content. Further, they have no internal payment option, which makes it difficult to use and operate.
Pricing
EasyWebinar has excellent flexibility and powerful features that are enough to run your business and stay within your budget. The platform is priced starting at $99 per month and can go up to $499 per month. If you want more functionality, then you can contact the team to get enterprise-level features for your webinar hosting.
Read Next: