Elegant Themes is a powerful WordPress theme shop that is recommended by top WordPress experts and enthusiasts. You may have come across its name as you explore the internet for themes or plugins. It comes packed with features for both beginners and professionals to get them going on their journey. Today Elegant Themes is a premier theme in the market and offers an all-in-one solution under one roof.
Elegant Themes are centered around the idea of community rather than other existing companies. It is powered by a team of people across the globe with a hugely popular Divi Theme and Divi page builder. These themes are highly intuitive and aesthetically appealing to the wider audience. It is a go-to solution to create a website and offer stellar customer support to its site owners. Elegant Themes has managed to maintain its popularity in the saturated WordPress plugins and theme marketplace today because they are not in the market to break your bank account. The theme shop offers a list of powerful plugins like Monarch and Bloom that will help you to add enhanced functionality to your website.
Before you invest your money and time into Elegant Themes, you should understand if it is worth it and suitable for your website. In this article, I have explained in-depth about the platform and shown how it will help you with your website design and performance.
Get 10% OFF Divi By Elegant Themes
Click Here To Activate The Deal
Divi Discount Code: Auto Applied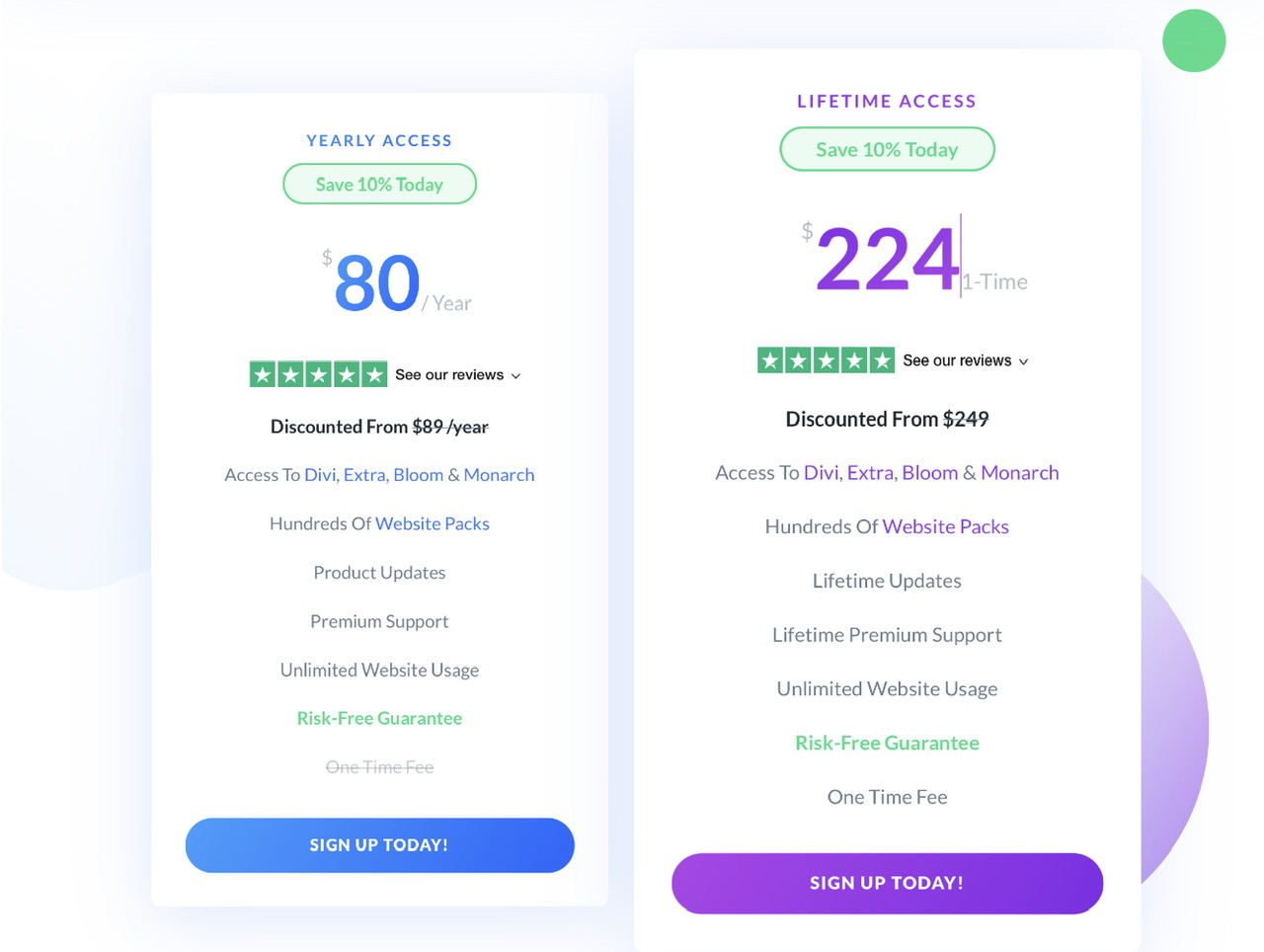 About Elegant Themes
Elegant Themes was founded by Nick Roach in 2008, and today is the CEO of the firm. Over the 14 years, it has served more than 800,000 customers and, in this process, has grown a workforce of over a hundred employees that are distributed over 20 countries. This is a far cry from its humble beginning of the founder Nick Roach working out of his college apartment.
Elegant Themes previously had an extensive library of WordPress themes but now only offers its two popular themes, Divi and Extra. Today, Divi is used to create almost any type of website with WordPress, thanks to its huge library of templates and powerful customization features.
You may say customers are missing out due to the availability of fewer themes to choose from, but that is not the case. Since Elegant Themes has fewer themes to maintain and support, it has allowed them to put all its resources to try make Divi and Extra the best WordPress theme available in the market today. In addition to Divi and Extra themes, Elegant Themes has a few plugins you can get access to when you become a customer. Two of those plugins are Bloom and Monarch. The powerful drag and drop website builder- Divi Builder has helped make these themes very popular choices in the market today.
Elegant Themes Review Reddit
U/Low_Pan- "I use Elegant Themes on several sites. It is easy to use for users with little to no coding experience to effectively create a site".
U/codimentia- "I have used Elegant for quite a long time. 7 websites, 3 of them are from Divi, while the others are from ET themes. I have bought a lifetime license, and I've used it without much complaint ever since. The ease of using themes and support when I've needed it, and it is always quick. Now compared to AppThemes, which I used before, that was a major selling point for me. These AppThemes sucked big time on support. Elegant Themes are very responsive and do require any super coding skills".
U/marksou- "I got an Elegant Themes lifetime membership when they were running a promotion 3/4 years ago. For 99% of the people. I do sites for; I use Divi as a quick and easy to get a professional looking site to go up and running. Remember that your clients don't care how their site is created, just that it gives them what they require.
Elegant Themes WordPress Themes
Let's get started with Elegant Themes WordPress themes before we can head over to the plugins. As mentioned, Elegant Themes gives you access to two themes when you sign up with them: Divi and Extra.
1. Divi- A Multipurpose All-in-One WordPress Theme
Divi is the flagship theme offered by Elegant Themes that was launched in 2013, and it is truly multipurpose. The theme has helped propel Elegant Themes to success in a short amount of time. From blogs, business sites to eCommerce stores and everything in between, Divi is an excellent website-building tool.
Divi is capable of creating any type of website with ease and efficiency. You can customize every part of your website design, whether it is your header, footer, navigation menus, etc. All this can be done without having to look at or edit a single line of code, making it ideal for beginners. However, the tool is not limited to beginners, as it is an outstanding choice for professional designers that are looking to build sites for their clients. One of the major reasons it is liked by web designers is that they have a set of high-quality templates and a versatile drag and drop website builder tool that lets you build your dream site without any hassle.
It is easy to jump into Divi and start designing your websites. The platform offers users product tours right into its interface, which allows beginners to learn while using the builder. Product tours are great for your clients as it saves the time of designers when they are handing off websites to their clients.
Divi's interface is one of its kind and is known for its incredible fluid and unobstructed nature. You can easily move elements in its interface around and use them to reposition your tools to create a workplace that best suits you. It doesn't lock you down to a specific UI convention, but you have the ability to choose the mode that is best suited for you. It will easily adapt to the screen size, and it will never get in your way.
Divi lets you assign roles to your team members so they can be assigned specific tasks and restricted from other resources. This is a great feature if you want to give access to your clients to check how the progress on their website is going. This simplifies the experience of your customers and keeps your website design under control.
Get 10% OFF Divi By Elegant Themes
Click Here To Activate The Deal
Divi has ensured that all front-end elements are the best, and also its websites are translated into 32 languages. This is not only the front-end elements but also expanded to the localization to cover the Divi Builder interface that includes all types of forms and descriptions.
Divi Layout
A standout feature of Elegant Themes- Divi theme is its pre-designed layout packs. With over 250 layouts to choose from, you can easily import one of the packs and jump start to initiate your project.
Once you find a layout that you want, you can directly import the content to your WordPress site. And don't worry; you will not have to pick from a single template. Divi will provide pre-made template designs for landing, home, about, and a range of other pages. The templates that you get will be based on the niche you have chosen; however, there is no shortage of variety if you use this theme.
This website covers a wide range of projects ranging from agency sites to health blogs that will efficiently help you incorporate homepages and eCommerce stores, to name a few. To create a website with Divi more efficiently, you can easily browse and import these packs and templates inside your WordPress dashboard.
Website Building Efficiency
Divi lets you design your websites with better efficiency than ever before. The theme has a multi-select and bulk editing feature that you can edit multiple elements of a page at once. You can sweep changes across your page using the find and replace feature that allows you to change any design value, like colors or fonts, across an entire page within specific locations.
The Magic Color Manager keeps track of colors that you have used and stores them for easy access. Here, you have access to your own customizable color pallet. Divi also has an advanced color theory to give you a range of suggested colors that will look great on your page.
The copy and paste styles of elements are an absolute game changer, and you can copy an element from one section to the other. You can easily copy individual settings, groups of settings, or even copy your entire design to it and use it for other elements on the page.
Divi's extendable styles functionality brings your design efficiency to a whole new level. If you have a design style that you have created, then you can use it on the page or even the entire page. The Divi Quick Action system is an all-in-one finder and doer. If you need any help in finding the setting or how something works, then just type your query in the search section to help you find videos and other Divi options. With this feature, you can perform advanced actions like adding elements or loading layouts quickly.
Divi supports drag and drop uploading, and you can directly drag and drop your media files on your page. They will upload instantly on your page and appear inside the specified design. You have the ability to import entire layouts directly without requiring a WordPress media library. Divi also has a Layers view panel to see a hierarchical structure of your content. You have the ability to interact with layers inside the layers panel, allowing you to work on the page simultaneously. Here, you can drag, drop, copy, paste, or use the layers panel to quickly navigate through different areas within long pages.
Keyboard shortcuts are key for ultimate efficiency. Divi has a full range of keyboard shortcuts that advanced users can use to speed up the workflow significantly. Once you have gotten used to using the shortcuts, then you will start wondering how you have managed to live without them.
All the settings of Divi are searchable, and instead of hunting through different options, you can type the name and get access to the particular option that you are looking for. These settings are also filterable, and you can set different search filters that will trim down the results to organize these settings into different groups.
Speed
Divi is made to be fast and ensures that you get the best performance out there. It eliminates any bloat by removing unused resources automatically and only loads CSS needed for the modules and features you use. Divi also ensures that it eliminates any form of render-blocking in the system.
Divi has tons of speed-boosting options that are used to defer cache requests, unneeded resources, and blocking assets. It has integrations with JavaScript deferral, Google Fonts caching, and more. This greatly reduces loading times, so your content will load right away.
Inline Editing
One of the best reasons to use the Divi theme is its front-end and inline editing feature. You can select from a set of pre-designed, high-templates to help guide your web design. The newly improved Divi Builder can be used to customize the front end of your site using its intuitive WYSIWYG drag and drop interface. So, you won't have to worry if you are planning to create custom designs from scratch.
Full Theme Building Support
When Divi was first launched, you could only use its visual drag and drop Builder to design the content of your pages and posts. This has completely changed due to the Divi 4.0 version, thanks to its theme-building feature.
Divi's theme builder allows you to edit the design of your website fully, that include: its header, footer, and templates for individual pages, blog lists, blog posts, and more. Essentially you have complete control of every part of your website. With this feature, Divi gives you two ways to build your site:
1. You can make use of the Divi Builder to design 100% of your site.
2. You can utilize the Divi theme options to control your footer, header, etc while using the Divi Builder to design your page content.
Customization
Divi gives you complete design control for every aspect of your website. Using Elegant Themes, you can unleash your creativity with hundreds of no-code design options. The different customization options are listed below.
Hover State styling- Hover options are used to create stunning hover effects and help transform Divi modules into fun and interactive elements. The interface of hover styling is unique and easy to use. Every design setting in Divi can be customized on hover with ease.
Responsive Editing- Divi ensures that website editing is easy and it is responsive by default. However, it takes responsive design to a whole different level giving every aspect of your design setting on mobile devices. This lets you perfectly tailor the appearance of every element on computers, smartphones, and tablets.
Fonts and Text Styling- Divi has hundreds of web fonts, or you can upload your own. You can customize text sizes, letter spacing, line height, etc. Control all the standard text elements, such as lists, anchor links, block quotes, etc.
Shape dividers and border options- Divi lets you add custom shapes and effects to create dynamic transitions between blocks of content to add a flare to your website. Dividers can be placed above or below each website section, allowing you to build stunning transitional effects. The border editor lets you add elements to different pages. You have the ability to control border sizes, colors, and styles for each element individually.
Transform controls and effects- Divi powers you to transform elements right in ways that would only be possible in design programs like Photoshop and Sketch. You can easily scale the elements or move them around and transform them with ease. All this is possible due to its slick interface that makes the transformation easy to perform and understand.
Advanced code editing- The versatile code editor allows you to edit and write code with ease and makes the process enjoyable. You can add custom CSS code to any element or add your own code to any page, making use of the Divi code module.
Filter and effects- You can enhance the appearance of every element using a range of filters and effects offered by Divi. Here, you have the ability to create stunning designs using background blend modes.
Shadows- Add depth to your page by creating custom drop shadows. You have full control over the intensity, color, and position of the shadow. They are easy to create, and you will not have to mess with any graphic design programs. You also have the ability to add stunning text effects using text shadows.
Animations- Add animations to any element on your website by simply adding Divi's animation presets or building customizable animation types with optimum speed and direction. Wow, your visitors as they scroll down the page using animation triggers. The advanced animations and scroll effects let you efficiently interact with your visitors as they scroll down the page. Divi's static animations allow you to create motion effects to create stunning designs to grab the attention of your visitors and keep them engaged.
Background images, colors, gradients, and videos- Divi allows you to mask background images, gradients, or videos to create new shapes.
Sticky headers and stacking content- Divi supports sticky elements that stick to the screen as users scroll up and down the page. You can stick the elements to the top or bottom of your browser and highlight relevant information in it.
Advanced display conditions- Divi lets you apply advanced display logic to an element. Here, you can hide or display elements to a set of conditions that define user role, date, time, etc. The advanced features let you do much with its advanced conditions based on the products they have purchased.
Built-In Marketing Features
Divi allows you to boost your marketing efforts efficiently. The theme comes with a powerful built-in email marketing feature that ensures that your website will perform well and you will get the desired results. It has support from popular email marketing services like Mailchimp, ConvertKit, AWeber, and more.
Another great feature of Divi is its Leads tool. Divi Leads lets you run split tests to optimize your site content and design. If you want to know which color or headline scheme your visitors will respond to, then Divi Leads eliminates the guesswork. The themes allow you to display multiple variations of the website and its content while you are sitting back and waiting to get the results.
If you need to build websites that will convert against their goal, then Divi Leads is an invaluable addition to your toolkit. This helps users make better data-driven decisions. Further, it has integrations with eCommerce, conversion insights, lead generation, etc.
Divi offers pricing tables which is one of the many page elements that is offered by them. Having a full range of design and content settings, you can easily create compelling sales pages for your products.
Divi has a full-feature contact form builder that lets you create custom form fields to help connect any type of information from your visitors. There are so many creative ways that conditional logic can be used to create dynamic forms to adapt easily to your visitor's information that allows you to capture relevant data from different types of users. You can hide and display input fields by making use of advanced conditional logic. Style the inputs using a wide range of design options.
The contact form module now contains all the input that you need, which includes dropdowns, checkboxes, and radio buttons. The new interface makes it easy to manage sub-items having new field types. You can add and subtract dropdown and ratio items with ease and even have the ability to choose which items have to be pre-selected. The new conditional UI is very easy to use, and once you enable it for a given field, you can determine when the field is displayed and hide fields based on the information visitors place into your form. Here, you can add, subtract and combine the complex rule sets right from inside Divi's Builder setting window.
WooCommerce
Divi offers an ultimate WooCommerce solution that you can easily build and customize your store using dozens of custom modules and design settings. WooCommerce is a great eCommerce tool if you are looking to build an online store making use of WordPress. The WooCommerce integration is free, which means that anyone using Divi can start selling products online without any additional cost. You can showcase unlimited items in your store, so users are available to browse and purchase your products online. The feature lets you make selling your products on WordPress simple.
Divi gives you full control over the design of your product pages, having custom WooCommerce modules. You can create and control each element of WooCommerce anywhere on your website. Decide what you can show up on your product listing, move things around or even mix WooCommerce modules with Divi modules to help you create anything you want. With Divi, you have the ability to take WooCommerce to a whole different level. Further, Divi lets you build your own custom cart and checkout pages. The platform has 8 cart and checkout modules, so users can easily customize their cart and checkout experience.
Overall, Divi is a good choice for individual creatives that plan to build a custom WordPress website without requiring any technical abilities. The several pre-built website packs and individual templates work well for people looking for an off-shelf resource that is ready to go. Divi's is not just a theme, and it isn't a framework. It is a community of thousands of developers that are constantly filling in with amazing third-party extensions and layouts to help take Divi even further.
Get 10% OFF Divi By Elegant Themes
Click Here To Activate The Deal
2. Extra- Magazine WordPress Theme
Extra was launched after Divi's release and is brought to you by Elegant Themes. The magazine theme is fully powered by the Divi Builder plugin, which makes the site-building process simple and efficient. While Divi is mostly a multipurpose theme, Extra is designed for blogs, online magazines, and different types of content-rich websites.
The default homepage layout on Extra is a perfect choice for creating news or magazine websites, and you have the ability to display the best content in a stylish grid format. It offers a range of post carousels, mini-article sliders, tabbed areas, and custom widgets to display a preview of your content.
Extra extends upon its Divi Builder foundation with its brand-new set of post-based modules. You can simply choose your desired content elements and design them to arrange them in your desired order to build just about anything.
The Extra theme is easier to use compared to Divi, and there are no complications for even novice beginners to create your website. It also has a good ability to combine the power of Extra with Elegant Themes products.
Extra is built to look great, no matter how you are viewing it. Everything is built on a fluid and responsive grid, which means that it will look great on a small or big screen and every device.
Extra Design and Layout
The best place to start with the Extra WordPress theme is its design and appearance. The theme is created for bloggers and organizations who are going to publish a lot of articles, so the main goal of Extra is to allow your content to take the center stage. It has 800+ pre-made layouts that are packed right inside the Divi builder for free. Here, brand-new layouts are added weekly alongside royalty-free photos, illustrations, and icons.
Extra comes with a powerful Divi Builder tool, and its intuitive drag and drop interface lets you easily design different pages and posts. Its library of modules helps you create a custom design for every post you publish on your site.
The key area where Extra excels is the way you have the ability to connect efficiently with your readers. This is greatly achieved by the various options available for publishing long-form content on your website using a range of formats. Instead of simply using a WordPress editor to create standard text and images. This approach to publishing lets you combine a range of layouts, effects, and elements to create a versatile platform for storytelling to elevate your content efficiently.
There are also new possibilities for presenting individual page layouts when it comes to setting up your homepage or other category pages. Extra offers excellent flexibility across all these fields. While Extra has a strong visual appearance, its style and appearance are backed by several customization options that let you customize your site to stamp your personality on it. Further, they have additional features that will help visitors easily navigate through your site; so they are able to discover more content.
Extra comes with a social media integration feature out of the box. All your posts can be integrated with share buttons. The Social Follow widget places your social profiles and follower counts in close range. Each of the posts is augmented with lists of related articles or author boxes, which are placed below each post.
Multiple Custom Page Layouts
After the update, Divi Builder has successfully integrated into the Extra theme and comes with a huge library of pre-built content. Currently, there are 115 website layout packs to select from, which contain a total of 859 individual layouts. Each website pack is used to create a certain website type, such as blogs, agency websites, or sites for a store, to name a few.
Each of the layout packs will give you the template that your site needs, such as home, contact, about, and other page templates. You can mix and match the layouts together from the packs, which allows you even more options to build your website. All these layouts can be customized using the Divi Builder for greater possibilities.
Even if you don't want to use the integrated Divi Builder, then Extra comes with good features to support bloggers and online magazine sites. The template library lets you add important pages to your site with little effort. With a range of page templates to select from, you can save a lot of time when setting up a new website.
Post Categories
Creating a new homepage with the Category Builder enables you to use the power of the Divi Builder to design a custom layout. This layout can be later used for feed posts from specific categories or the homepage layout of your website.
The default category layouts are included with the theme, and you have the ability to simply apply them across all its categories. However, you can create multiple layouts and then assign them to every individual category on your blog.
The New Extra Category modules are built specifically keeping the needs of bloggers and online publications in mind. These new modules can be used to build a variety of category layouts. You can easily build a post feed with it to meet the needs of your unique content.
All these modules are fully customizable, and you can quickly adjust their fonts, colors, spacing, and more with a few clicks. You don't need any coding or other expertise. Making use of the advanced design settings, you have complete control over the style and appearance of your page. If you want, then you can easily add custom CSS code to fit your brand identity.
Extra is now no longer only a theme; you are no longer limited to a single static design or a set pre-made layout. The Divi Builder gives you complete control over the content and the structure of the category layouts they are built on. You can create a combination of different column structures and modules from a wide range of categories to create versatile designs.
When you consider the modules, you can easily add them to your category layouts which are featured as post sliders, post carousels, ads, custom codes, etc. The possibilities for the layout and appearance of your home and category pages are limitless. There are a few plugins that give you the ability to create custom category pages, but some of the pages are not effective. This is a great feature that comes included in this theme.
Widgets and Locations
If you want your visitors to find more of your content, then Extra has got you sorted with its selection of widgets. These widgets can be inserted into any support area of a theme. Some of the common types include:
1. Advanced mega menus- Extra has a set of custom mega menus that are built to meet the requirements of bloggers and online publications. You can easily display your favorite or recent posts directly in the drop-down menu.
2. Secondary and footer navigation- Extra comes with three different menu locations. Users have the ability to add it to the primary navigation menu and links, but it can also be added to the footer and secondary header locations.
3. Back to top, fixed navigation and smooth scrolling link- Navigating through your website is easy due to its fixed header, which ensures that the most important links are always accessible. In case the fixed header is disabled, then the back and top buttons allow you to efficiently return to your main menu after reading long posts.
You can create your own custom widget areas and then decide where you want to display them on your website. When it comes to custom widgets, you can easily display them in a range of locations that include:
Advert display
Front-end login form
List of authors
Recent posts
Recent Tweets
Recent comments
Recent reviews
Recent videos
Social network followers
Some of these widgets help you simply replace the functionality found in the core WordPress widgets. However, they come with added features that allow them to become more useful and also ensure that they slot right into the Extra theme.
Speed
Elegant Themes had made sure that its themes are seriously fast and are good for SEO. About a year ago, Extra, alongside Divi, was optimized to offer the best loading times and speed. Extra has a dynamic framework, and there is no rendering of the modules and features used on the page. They also bolster dynamic CSS, where they are broken down into small components to form a unique stylesheet. Further, they ensure that there is no bloat and that all your content loads quickly.
Product and Projects
In addition to standard blog posts, Extra gives users complete support on these two other important areas of Projects and Products. If you are a designer that is looking to showcase your work, then with Extra, your work will be simplified. If you are looking to sell items, then you will have access to its built-in WooCommerce integration.
WooCommerce
If you require eCommerce functionality for your website, then Extra is 100% compatible with the WooCommerce plugin. It also supports other eCommerce plugins, but WooCommerce is considered to be best for its feature set, code quality, cost, and support.
Everything on Extra is re-designed to make WooCommerce look right at home inside of its sleek and modern design. Extra comes with custom post types for projects that make it easy to create beautiful portfolio pages that help showcase your most recent work.
You can display your top products in the sidebar or add a filter by price slider that makes finding the perfect products easy for your customers that showcase thumbnail images, description, and prices of items in your online shop. Each product page will be appealing as any other webpage on your site, thanks to Extra's consistency.
To help boost your sales and generate higher revenue, the Extra theme comes with eCommerce shop features like:
Product zoom
Social share icons
Accordion product descriptions
Related products sections for up and cross-sells
Customer reviews, complete with different testimonials and star ratings
Post and Product Reviews
Extra is built to meet the requirements of a blogger from the ground up. To take your experience to the next level, it has a built-in system that can be adapted for reviewing any product or service. Extra has its own review system that allows you to write detailed reviews with your custom breakdown. All your recent reviews, which are displayed in Extra's custom review widget and review scores, are integrated across all your post feeds.
Extra also gives your readers a chance to rate products or products in the system. Posts are usually sorted by their ratings, and the ratings received give you insights into how well each of your articles is performing with a particular customer base.
Support for Post Formats
Post formats is a feature of WordPress that was considered to have great potential when it was launched. However, its uptake doesn't appear to have been great, and they are not supported by many themes in the market. Extra is in the market to ensure that this changes and includes support for most post formats. This includes standard videos, blog posts, quote, galleries, and any link formats. Based on which format you select from the WordPress editor, its corresponding input box is displayed for you to enter the appropriate information. Once you publish the post, the content will be formatted based on the chosen post format. Extra has post formats with individual templates. This is a quick and fast way to publish a range of content using a purpose-built layout.
Elegant Themes created the Divi theme with the goal to have multipurpose functionality and the best WordPress theme website. Extra, on the other hand, was created to be the best theme for bloggers and online publications, and it has so far met those expectations.
Get 10% OFF Elegant Themes
Click Here To Activate The Deal
Elegant Themes WordPress Plugins
Elegant Themes has a host of WordPress plugins that can enhance the overall performance of your website. The high-quality WordPress plugins are available on both its pricing plans. We will take a look at them below.
1. Monarch- Social Sharing WordPress Plugin
The Monarch plugin is a great tool that helps increase the social sharing feature to increase the number of times your content is shared on social media. Social share not only helps you to drive more traffic to your site, but they also help your content to rank more prominently on search engines like Google.
Once Monarch is live, you have the ability to display a range of social sharing buttons on your website. The plugin supports over 35 social networks, and you can display the buttons in five key locations, which are listed below.
Floating Sidebar- The floating sidebar is a great tool to promote sharing across your website. It is a very common, effective, and sleek way to add share social sharing icons on your website. The sidebar places floating buttons on the side of the screen that follows the visitor as they scroll. This lets your readers easily share material, no matter where they are placed on the page. On mobile devices, these buttons break down into a sliding toggle that helps improve user experience. You can include a unique hover style for the vertical and browser edge orientation of your social sidebar. If you are going to enable a single sharing location on a website, then it is a great choice.
Automatic Popups- Monarch lets you create an automatic pop-up on your website that can be triggered by time delays, especially when a user reaches the bottom of a post/page or upon leaving the page. This gives you complete control over how these popups are displayed and what type of visitors they will be displayed for. Perhaps this is the most effective integration, as it is an outstanding way to grab your visitor's attention.
Automatic Fly-ins- The flying feature is similar to the pop-ups and offers a great way to grab your reader's attention when they are most engaged. It can slide up from the bottom of the page, giving your visitors a clear queue to share your content. Further, these fly-ins can be triggered based on different user interactions. The common triggers are timed delay, scrolling to the bottom of a post, after commenting, upon scrolling, after purchasing, and after inactivity on a page for a long time. Using these triggers, you have a unique opportunity to capture lost shares and help promote sharing from your most engaged visitors.
On Images and Videos- Media is one of the most shared contents on the web, and with Monarch, media sharing is very easy. When a user hovers over media elements, then your social sharing buttons fade in for quick and easy sharing. If you run a photography or art blog, then this feature is a perfect way to engage efficiently with your visitors to promote more sharing activities.
Above and Below Content- This is one of the most basic of the 5 sharing options. The Inline sharing feature lets you place your sharing buttons above or below your content, giving your readers an easy way to share content after they finish reading your article. This is one of the cleanest and simplest ways to add social sharing to your website.
Monarch Social Following Locations
Social following is different from the Social Sharing methods that I have covered so far. Instead of sharing your individual posts with your visitors and their friends, the social follow portion on Monarch is aimed to seek more followers on your online social profiles. You have the ability to display your social follower count on each network, giving your visitors social proof of how popular you are. These buttons are displayed by making use of two different methods listed below.
Widget- The Social follow widget lets you place links on your online social profiles and display the follower counts from your profiles within your sidebar and other widget-ready areas of your website. Place large enticing social follower buttons on top of your website sidebar, which is a great way to get more followers to show off how many people are already following you.
Shortcode- The shortcode feature lets you display social profile links and social profile counts anywhere on your website. The shortcode generator allows you to build customized codes and then paste them into your posts or page to deliver your follower button.
Monarch Dashboard
Managing and setting up Monarch settings is very simple and straightforward. It has an intuitive dashboard that gives you access to the Monarch setting, data, stats, and more.
Monarch lets you configure all of your display settings which help you refine your display settings to meet all your needs. You can use lazy loading animations, share count, and column structures. These are just a few of the things that you can control with your dashboard.
The dashboard allows you to see Monarch statistics that can be accessed anytime using the dashboard. You just have to click on the stats icon in the upper right for statistics around its shares, follows, and other said metrics.
If you have multiple websites, then you would want to display Monarch configurations. Here, you can easily and quickly import-export Monarch settings from one WordPress website to the other.
Customization
Monarch has a clean and customizable design, and you can efficiently implement plugin elements into your site. It is packed with a design option for seamless design integration. Like other tools on Elegant Themes, Monarch gives you complete control over how your social media buttons and links are displayed. The customization has a user-friendly interface and comes with many options and settings, ensuring the plugin works like you want it to.
Monarch comes with 3 button shapes, 5 sidebar button hover effects, and it has 4 inline button hover effects. You can select any of the button types and color choices. This appearance option lets you fit your social icons perfectly to fit into the design of your theme. Further, you are able to display the social network icon across different sections of your page to meet the right requirement. Whether you are displaying your icons in a vertical or horizontal orientation, then you have great potential to take advantage of the space.
Monarch is a great social media plugin for WordPress, and you get access to it with the Elegant Themes membership. All its features make it highly reliable, giving it an edge in the industry.
Get 10% OFF Elegant Themes
Click Here To Activate The Deal
2. Bloom- Email Optin and Lead Generation WordPress Plugin
Bloom is an outstanding lead-generation tool that lets you connect with your target audience even when they leave your website as you build your own email list. With email marketing, you are able to reach your audience each time you publish a new article, launch a product, or want to make an important announcement. Generally, building a list of email subscribers is not easy, but Bloom encourages your visitors to sign up and hand over their email addresses to get updates.
Bloom gives you the power to empower users to display opt-in forms using the most popular email marketing systems. It has integrated 19 email marketing service providers, some of which are MailChimp, ConvertKit, Mailster, etc.
Once Bloom is activated on your WordPress site, you can pick from 6 different display types.
Automatic Opt-in Pop-Up- Bloom helps you create automatic opt-in pop-ups to create a lightbox on your page that has an opt-in form. They are generally triggered using different Bloom triggers, like time delay, scrolling, inactivity, commenting, the bottom of the post, and after a purchase. This gives you complete control over when your users are presented with the pop-up.
Automatic Opt-in Fly-Ins- A fly-in is a bit smaller and more subtle than pop-ups. Instead of creating a full-screen lightbox pop-up, here you can create a smaller form that slides from the bottom corner of a page. They are triggered by the same factors seen in pop-ups.
In-line Opt-In- Forms- Sometimes, there is a requirement for a specific location approach, which is not available with pop-ups or fly-ins. These opt-in forms automatically generate a shortcode that can be easily passed inside your posts and pages to display a form anywhere on your WordPress post editor.
Below Content Opt-In Forms- These forms are perfect for blog posts or content-heavy pages. With Bloom, you have the ability to place opt-in forms below the page or content to capture the attention of your engagement readers without dampening their reading experience.
Widget Area Opt-In Forms- A sidebar or footer is a great place to add an opt-in box. With Bloom, you are able to add opt-ins to any widget area, making use of the Bloom widget. You can create many widgets as you like and add them to any widget area on your website.
Require Opt-In To Unlock Content- Requiring users to sign in or subscribe to your email list before they can access a free feature is a great way to build your email list. Bloom is a paywall between your free resources and visitors. This is a great choice for quickly turning your traffic into loyal followers.
Bloom Dashboard
The Bloom dashboard makes setting up and managing your settings anything but complicated. The platform has a custom panel in WordPress with its easy and intuitive access to your accounts, lists, opt-ins, conversion rates, etc. The dashboard offers a range of templates that can be customized using the plugin's editor.
You can add an unlimited number of email marketing accounts, and it will organize your accounts by provider and also aggregate the lists and subscriber counts which are associated with those accounts. When you are building opt-in forms, you can choose from any of these lists or even set up your account on the fly.
The dashboard also gives you access to actionable insights around when and how the forms are converting the best. That is why the statistics dashboard helps give you a real-time overview of Bloom's performance.
Bloom supports split testing to compare the performance of multiple variations of the same opt-in form. This helps you figure out which is the most effective way to increase your conversions. These variations will tell you about different visitors, and their conversion rates will be compared to each other to see which is the highest-performing variation.
Bloom allows you to easily import and export your data from one site to the other. In addition to migration, it offers a great way to back up your Bloom settings and your data on regular basis.
Design and Customization
A well-designed opt-in form is key to creating trust amongst your users. Bloom comes with 100+ pre-designed templates that come with different design settings. You can easily adjust and customize just about every aspect of your opt-in form.
Bloom lets you select from 3 opt-in form orientations depending on the opt-in location and the type you want to place below or on the side of the opt-in. Here, you can choose from the bottom, left, and right orientations. The border styles of Bloom allow them to choose which edges to apply to them. The customization features let you define an edge style that separates your opt-in content from its form fields.
Bloom has unlimited color options, and you get full control over the different elements. You have the ability to enjoy unlimited color options for all your elements within your opt-in form. Further, you can also add an image to your opt-in while having the option to display it to its left, right, above, or below your opt-in text content.
The display setting gives you global options for displaying your opt-in on selected posts and page types alongside specific categories within them. If you want an advanced level of display targeting, then you can even specify specific pages and posts to either display or not display an opt-in form.
Bloom's opt-in forms are readable and accessible on all devices, allowing your visitors to view the opt-in no matter how they are viewing your website. So, you can be assured that your website or dashboard is accessible on a small mobile device as well as high-resolution screens.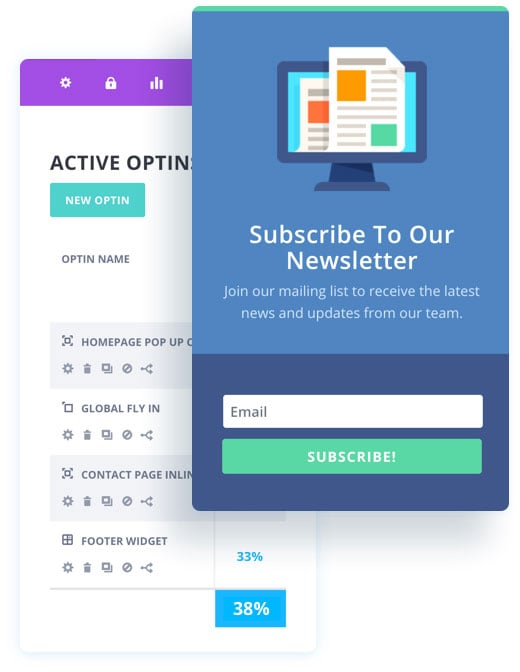 Every type of website can benefit from having a list of email subscribers, and Bloom is a very capable WordPress tool that can help you grow yours.
Get 10% OFF Elegant Themes
Click Here To Activate The Deal
3. Divi Builder- A Versatile WordPress Page Builder Plugin
Divi Builder is a standalone plugin that is incorporated into themes like Divi and Extra. The builder goes hand-in-hand when designing your websites. The versatile page builder allows beginners and professionals to bring a spectacular design to life with excellent efficiency and ease of use. The Divi builder lets you design your entire website and not just posts and pages.
The latest version of Divi features a front-end interface, so whatever theme you choose or install the plugin, you will be able to create custom pages making use of its versatile drag and drop visual editor. The front end of the Divi Builder interface lets you drag and drop modules in place. You have the ability to change the size of page elements and enhance the appearance of your website.
There are a multitude of ways you can build with Divi. You can freely switch over to different view modes, selecting the one that best suits your project currently. Zoom in and out, easily toggle through mobile device views, and switch between unique interaction modes. Here, you have the ability to build your page structures quickly in a wire-frame mode, and it is all up to you.
Divi allows you to customize everything on the front end of your website. When you are editing a page or post, you have the ability to customize everything you want, including its templates. This means that you can easily edit headers and footers in context with one visual editing experience. You don't have to jump back and forth to the Theme Builder.
All the Theme Builder templates can be easily imported and exported using the feature. This lets you import and export entire bundles ore pre-made templates and use them on the website of your choosing. These templates and sets can be saved to Divi cloud and accessed on every website you build.
Divi Builder helps you customize your website with Global Website styles helping you overreach design systems by editing the default design of any element. When you modify a module's default design, then it will upgrade across your whole website at once. The site-wide theme building plus site-building design editing is the best combo.
The Divi Builder comes with a global color palette for your website. These colors are dynamic and can be easily changed when you need them. This is a great way if you want to transform your website's color scheme in a few moments. The feature is better than designing websites making use of static colors.
Divi advanced condition options are built into every element of Divi Builder. This means you have complete control of the visibility of content utilizing advanced conditional logic. The builder lets you display promotions at a specific time, date and showcase premium content members only and much more. These rules work well with and inside the Theme Builder templates that give you complete control over when and where your content appears on the website.
Building a dynamic website with Divi is easy to pull off. The dynamic content available on your site is specified as Divi modules. The dynamic builder templates power the design dynamics without any limitations. Use this feature to create dynamic blog post templates, about sections, product pages, etc. When a part of dynamic content is updated, like your post title, then the change is automatically reflected in the template where the dynamic content is used.
Divi Builder compares well with other drag and drop page builder plugins on WordPress. So, if you want to use a theme from Elegant Themes or somewhere else, then this is a great choice for adding a visual editor to your website.
Get 10% OFF Elegant Themes
Click Here To Activate The Deal
4. Divi Cloud- Dropbox for Your Divi Websites
Divi Cloud is a new service that is available to all Elegant Themes customers. A limited service is added, which has no extra cost, while those requiring to store more than 50 items may pay $8 per month or $72 per year.
Cloud storage helps save your favorite layouts, headers, footers, content blocks, etc. You can easily save content directly from pages that you are ready to sync items from your local Divi Library and bulk Divi layout to your Cloud. Divi lets you easily build and manage your Cloud library while you work.
Divi Cloud is safe and secure with authenticated Elegant Themes username and password. You can use it on any website without giving your clients website access. The cloud lives right inside your Visual Builder, and you can easily manage your Divi Cloud items and give them access while you are building a page. Here, your layouts are always where you need them. You can create new websites quickly than requiring the use of premade elements. So, your layouts are organized and available when and where you need them.
Divi lets you organize your entire Cloud library using the Visual Builder. You can easily edit, delete, restore, copy, categorize, preview, tag, and favorites in the builder. The favorite layouts are categorized and organized in different folders. It is easy to locate layouts and import them to pages you are currently building.
When you plan to save a layout to Divi Cloud, then it takes a screenshot automatically and saves it to the cloud. This ensures that you can find your layouts easily while browsing your list. Browsing through Divi Cloud is much easier than browsing a list of posts on a WordPress dashboard. You can filter or switch modes and re-order the list, and it is very easy.
Divi Cloud lets you collaborate with your team in the Cloud. Divi Teams and Cloud work seamlessly together to help control the permissions granted to each. Here, team members can share their libraries, and allows users to work together on a set of assets. You can share these libraries with your clients, and you are able to add extra value to your web design package.
Divi Cloud is just getting started, and soon you will be able to save much more than just layouts. This includes Divi libraries, customizer settings, presets, Third-party integrations, website exports, etc.
Get 10% OFF Elegant Themes
Click Here To Activate The Deal
5. Divi Marketplace- Free and Paid Themes
Elegant Themes has a Divi Marketplace, which has over 1200 products to help you build a better web. You can select from a range of free and paid child themes and layouts for Divi that has been created by third-party designers and developers. It also has some extensions that allow you to offer more features to Divi and its builders. Divi is already packed with features, and it's great to see several third-party add-ons available for it.
6. Divi Hosting
You can host your website with different hosts, but Elegant Themes is partnered with some hosting companies, which include
Cloudways- Great choice for agencies that offers more choices and powerful tools for teams and collaboration.
SiteGround- Fast performance for business websites and developers.
Pressable- Get the performance, support, and reliability from the people behind WordPress.com.
Flywheel- A delightful managed WordPress host to build for busy creatives.
The benefit of signing up to any of the partner hosts of Elegant Themes is that Divi comes pre-installed on your website for you. This saves you some time and effort that you would otherwise require to install the theme.
If you are not sure which host to use, then you can check my recommendations on the best hosting solutions in the market in 2023.
Regular Updates
A well-coded WordPress theme is no good if it doesn't get regular updates. Many shop themes have failed to provide proper updates to their customers, despite the high prices they command. However, a member of the Elegant Themes club can be sure that their theme will get all the updates to be compatible with the latest version of WordPress. You will also get routine updates to improve security and get access to advanced features for your theme.
Updates on the themes are generally automatic via the WordPress update system. Whenever a theme is updated, notifications will appear on its Dashboard. Updating them is essential to keep them updated with the latest policies and get the latest features.
Before you are able to update, you must first authenticate your Elegant Themes subscription by inputting your API and Username into the updates tab of your dashboard. Only active members of Elegant Themes are given access to the latest versions of the products.
Customer Support and Documentation
Customer support is a very important parameter if you want to pick any theme or plugin. Good customer support helps you save time and effort that you would spend otherwise to manually figure out things if you don't get reliable customer support.
Elegant Themes has one of the best customer teams across all WordPress theme shops. If you have any problems when building your site, then you can contact your customer support team through chat or email. To get the desired support, you have to be an active Elegant Themes member.
In addition to this, Elegant Themes runs a powerful blog that is made up of tutorials and guides. They are encompassed and made up of steps and screenshots to help you learn how you can do everything and anything using the platform. You can also join Facebook groups or communities to get all the answers to your questions.
If you select a lifetime plan, then you can get access to the help center and get support for life. The yearly subscription plan gives users access to free resources. However, if you want personalized support, then you must grab the Lifetime Access plan.
Elegant Themes Pricing
Elegant Themes keeps its pricing simple and believes in providing a structure without complicating user choice. There are two plans you can pick from- Yearly and Lifetime Access. Both these plans give you access to all themes, themes and also offer a range of other features. No matter the plan you choose, you will get a 30-day money-back guarantee, so you will be 100% satisfied being a member of the club and get a full refund. I've gone in-depth about both plans below:
1. Yearly Access Plan
The Yearly Access plan is designed for beginners or intermediate-level designers. The plan is priced at $89 per year and gives you access to hundreds of website packs and themes. It gives users access to unlimited websites and product updates. Further, they also give users access to premium support.
2. Lifetime Access Plan
The Lifetime access plan is designed for users or freelancers that are looking to build websites for different clients, so you will save a lot of money with the Lifetime plan. The plan is priced at $249, which is a one-time payment plan. The plan gives you access to unlimited websites, hundreds of packs, and lifetime updates. It also offers premium lifetime support, unlimited website usage, and a risk-free guarantee.
The Lifetime Access plan lets you own multiple websites, or if you are someone that owns multiple websites, then you should invest in the Divi Lifetime plan. This will allow you to build new websites and grow your email list and social media following using the Bloom opt-in plugin and Monarch social media plugin. So, if you already Know how to use Divi and like it, then you can purchase the lifetime subscription for 2.5 times its price.
Elegant Themes Coupon Code
Get 10% OFF Divi By Elegant Themes
Click Here To Activate The Deal
Divi Discount Code: Auto Applied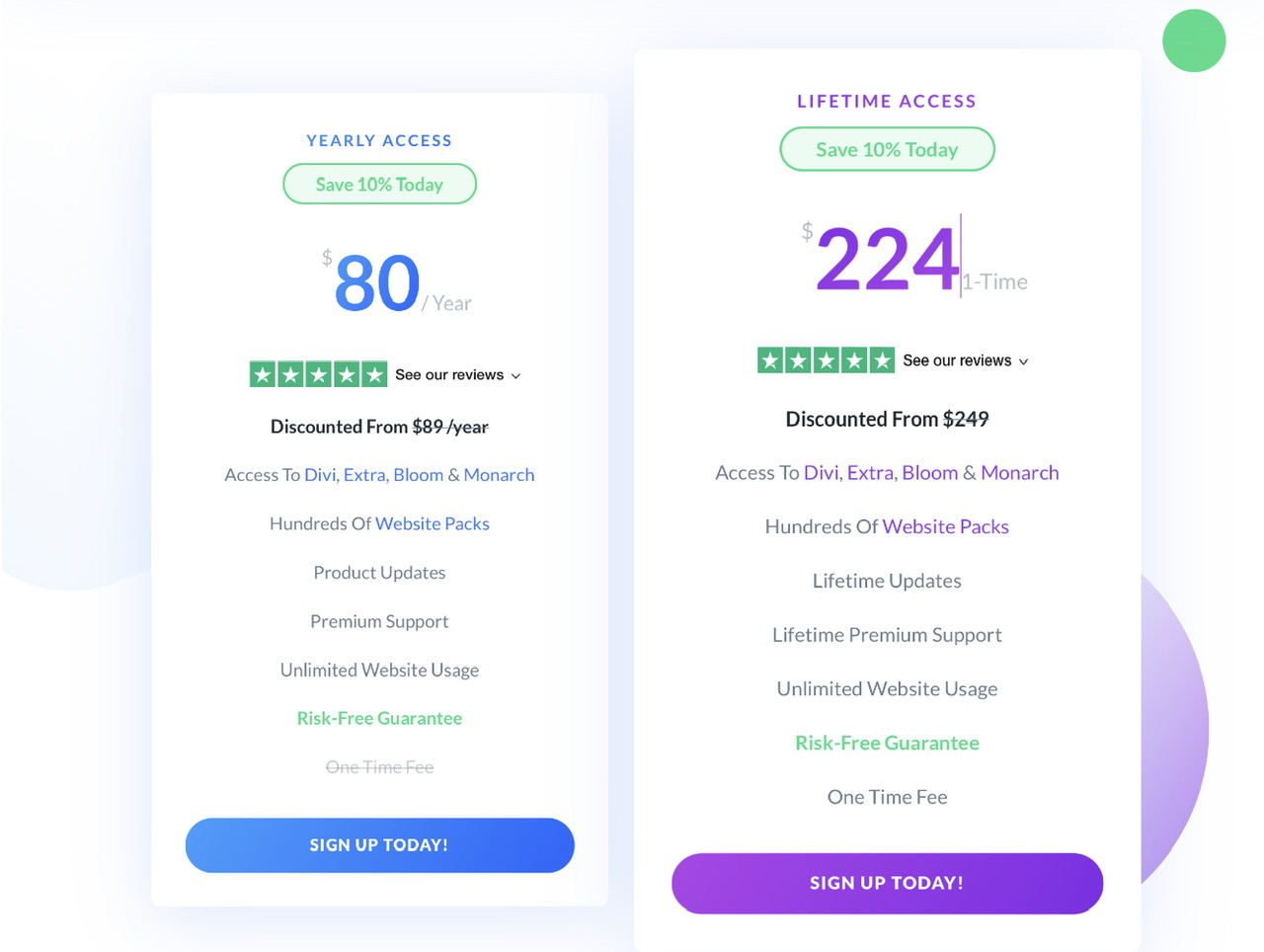 Elegant Themes Pros and Cons
Pros
It is a very robust WordPress Theme- Divi, which gives your website a unique look
Access to the Divi page builder that gives you a total website creation experience
A complete website-building kit
Beginner friendly with an intuitive interface
Excellent customer support to help you with every aspect of website building
Supports your eCommerce journey
Outstanding third-party integrations
Ability to combine all Elegant Themes products to get the best experience
The lifetime license offers incredible value compared to other theme shops in its space
Constant updates are offered to always stay updated
Cons
You cannot purchase individual products with Elegant Themes. You will have to buy it using a membership.
There is no monthly subscription on its plans
Is Elegant Themes Worth the Hype?
There are plenty of WordPress themes available on the internet today, but nothing can come close to Elegant themes. It has two amazing themes, Divi and Extra, which you can get access to at just $89 per year. These themes give you a unique and fresh look to your WordPress website. This is why Divi is one of the most popular multipurpose WordPress themes around.
The updated Divi Builder is the core part of the Divi and Extra theme. It is one of the best page builders in the market today. Everyone that is planning to create a new website, may it be a seasoned web designer or a beginner, can get benefit from the power of the Divi Builder. Its new Divi Cloud add-on is a great tool that has helped users save their website design and content, which can be accessed anywhere they want.
In the past, the amount of creative control provided by Elegant Themes and the inability to import complete website packs or demos into your site made it a bit overwhelming. However, things today have completely changed, and today you have access to ready-made website packs and individual templates that can be imported directly to your WordPress dashboard in a few clicks, and you can launch your website using these themes easily. The interface of the dashboard is very intuitive and is packed with several features to get you started without much hassle.
Elegant Themes not only comes with themes but has two popular plugins- Monarch and Bloom. Both these plugins help you empower your social sharing and email opt-in form, respectively. Here, you have the ability to customize each and every aspect of your website to suit your brand identity. Elegant Themes doesn't have the required quantity, but they have a quality that makes it one of the best theme-builder in the market.
Elegant Themes Review FAQs
1. Is Elegant Themes worth it?
Elegant Themes offers excellent value for money and gives you access to all its products through its membership plans, giving you access to unlimited sites for a flat fee. It comes with all the best WordPress themes, and its visual builders are the best, giving you the best website creation experience.
2. Can you use Elegant Themes on WordPress?
Yes and no. You can install the Elegant Themes plugins and themes if you are on the Business and eCommerce plan of WordPress. However, you cannot install Elegant Themes or its plugins if you are on a cheap or free plan on WordPress.
3. Does Elegant Themes offer a free trial?
Elegant Themes doesn't offer a free trial, but it offers a 30-day money-back guarantee. This makes the purchase risk-free for a month.
4. Can I use Elegant Themes on client websites?
Yes, you have the ability to use Elegant Themes using its licensed plan. You can utilize its products for both personal and client websites.
Read Next: