Writing a stand-out piece of content alone cannot help you rank first or on the first pages on Google. One of the essential elements to rank higher is to focus on SEO and pick the right keywords. This will allow you to rank and track the keyword position in the search. Many individuals neglect this, but it is necessary for individuals to check their Google Keyword ranking for target keywords to get the best results.
To help you rank your content or website higher on Google, we have listed some popular tools that will help you find keywords, competitor analysis, and check various other metrics to get your blog or website to rank better on the internet.
TLDR: If you are in a hurry, here are my top picks
What is a Rank Tracking Software?
A rank tracking software tracks a website's search engine ranking position based on a set of keywords or search queries. If your business is relying on organic traffic and search engine rankings to help attract leads and sales, then it is important to rank high for critical keywords in your industry.
The rank tracking software allows you to see what is working and what is not. You can adjust your SEO optimization efforts accordingly. The software gathers all these rankings and metrics from Google and other search engines and allows you to precisely monitor your domains, URLs, and subdomains for any keywords you want to track.
This will ultimately help you improve your rankings, track keyword performance, and find different ways to outperform your competitors. All in all, you will be able to grow your business better using all the SEO insights. Read the review below to discover the best ranking-checking tools available in the market.
Features of a Rank Tracking Software?
Keyword tracking by device and location- Most rank-tracking software allows you to perform separate checks for different devices. You can achieve the best keyword rank for your blog or website with this. Select a software that has all the functionality to boost your SEO performance.
Update frequency- Rank tracking software provides updates on a daily, three days or weekly updates. You have to select a platform that can help find the right frequency to track your keywords.
Reporting functionality- If you are working with a team of people, the reporting feature is a crucial feature. Different SEO tools come with a range of SEO functionality. Select a tool that allows you to easily create graphs and other visual metrics which can be accessed by your team.
Platform monitored- The majority of searches online today take place on Google and are analyzed with Google ranking based on which countries you are working in. Choose a platform that can help you track both your local as well as international markets.
SEO integration options- You have to check whether your keyword rank tracker allows you to integrate directly with Google Analytics or other add-ons. This is very beneficial and lets you understand how successful your SEO efforts are.
Pricing- Different rank tracking tools come with a range of pricing structures. You will likely want to select a tool for a very long time as you will add more websites and keywords as your business will grow. That is why you should opt for software that is straightforward and has an affordable price point.
Best Rank Tracking Software 2023
1. SE Ranking – Best Rank Tracking Software with Great SEO Tools
SE Ranking is a great SEO rank-checking software that balances affordability, functionality, and ease of use. It is an all-in-one SEO tool that gets you more than just a search engine rankings tracker when you sign up to create an account.
Click Here To Try SE Ranking For 14-Days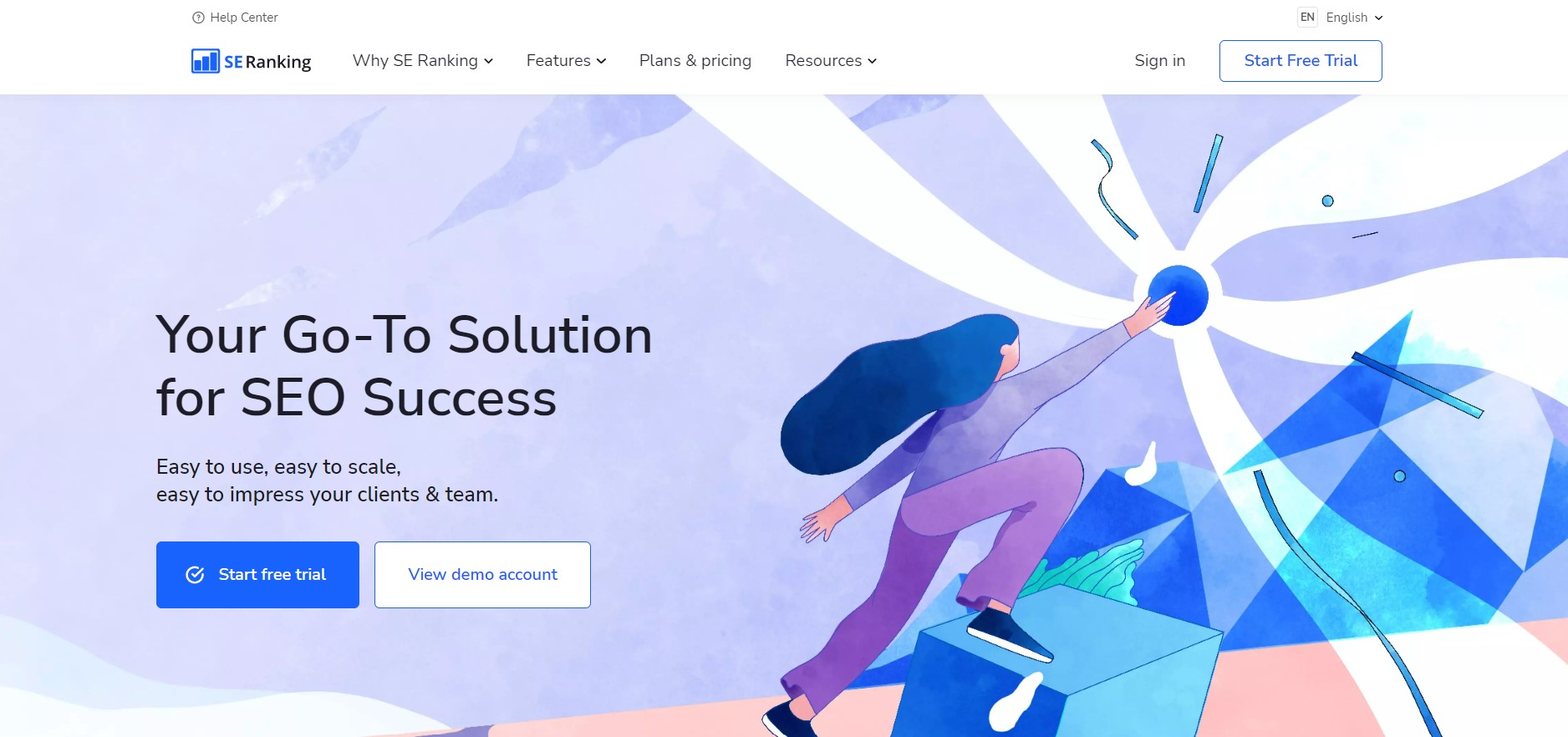 The platform helps simplify the process of keyword rank monitoring and comes with an array of analysis and marketing tools all in one place. You can track results from Google, Bing, YouTube, and Yahoo. You can specify the country, city, or zip code to get the desired results. Further, you can easily track your users either on a desktop or mobile devices.
SE Ranking also looks at Google Maps results with Google Ads rankings. It can go as far as to check various performances for SERP features like snippets and videos. Further, you can add up to five competitors to see how they are performing on Google search and compare the results against yours.
What Redditors say about it
U/MichelleTorres73- "I love SE ranking because it has everything required to manage the SEO of your site or your own customers or tools that puts at your disposal are very complete and offer reliable results".
U/sheva_mytra- "I am using SE Ranking. For backlinks and keyword research absolutely enough".
Features
All-in-one SEO software- SE Ranking comes with all the tools that are necessary for marketing, SEO analyzing, keyword optimizations, and various other features to get higher rankings.
In-depth website audit- SE Ranking's website audit allows you to get a detailed technical SEO report for your entire site. This can be done either manually or automatically at set intervals. You can suggest fixes for on and off-page issues.
Competitor SEO Research- The competitor's research module of SE Rankings gives you insights about your rival websites. You can carry out in-depth competitor analysis, discover keywords they are targeting, website traffic data, and much more.
Backlink checker- The Backlink checker lets you analyze the backlink profile of any domain, even your competitors. It is a very powerful tool, and you can uncover every backlink a website has.

Report builder- SE Ranking comes with excellent reporting functionality, and you can build reports from pre-made templates to create one from scratch by dragging data modules into the builder. You can export the reports in various file formats or send them by email.
Content marketing tools- You can get access to several tools to help assist with your content creation efforts. The content editor helps optimize content as you write it and generate topic ideas based on target keywords.
Pros
Comprehensive SEO tools
Accurate data delivery
White labeling
Collaboration tools
Track maps, SERP, organic search, engine rankings, etc
Customizable reports
Access to competitor data
User-friendly interface
Affordable pricing
Cons
Limited social media tracking
Lacks customer support
Few integrations to work with
Pricing
SE Ranking comes with a flexible pricing system. It offers a 14-day free trial where you can check different features of the platform. The premium plan starts at $39 per month, and the highest plan is priced at $189 per month. If you want more functionality, then you can go for custom plans to cater to all the requirements of your business.
However, the amount you pay will depend on how often you want to check your ranking during the subscription period. If you check your rankings daily, then the above pricing is applied. But if you check every 3 days, then you get 20% off with 40% off if you check it weekly. You can get additional discounts on the plans by paying quarterly or annually by adjusting the keyword refresh rates.
Click Here To Try SE Ranking For 14-Days
2. SEMrush – Premium SEO and Rank Tracking Software
SEMrush is the gold standard of online marketing platforms. It is one of the top recommendations for professionals, large businesses, marketing teams, and anyone who needs a complete SEO toolkit. It offers unparalleled features with some of the most advanced tools you will find anywhere.
Click Here To Try SEMrush Free For 7-Days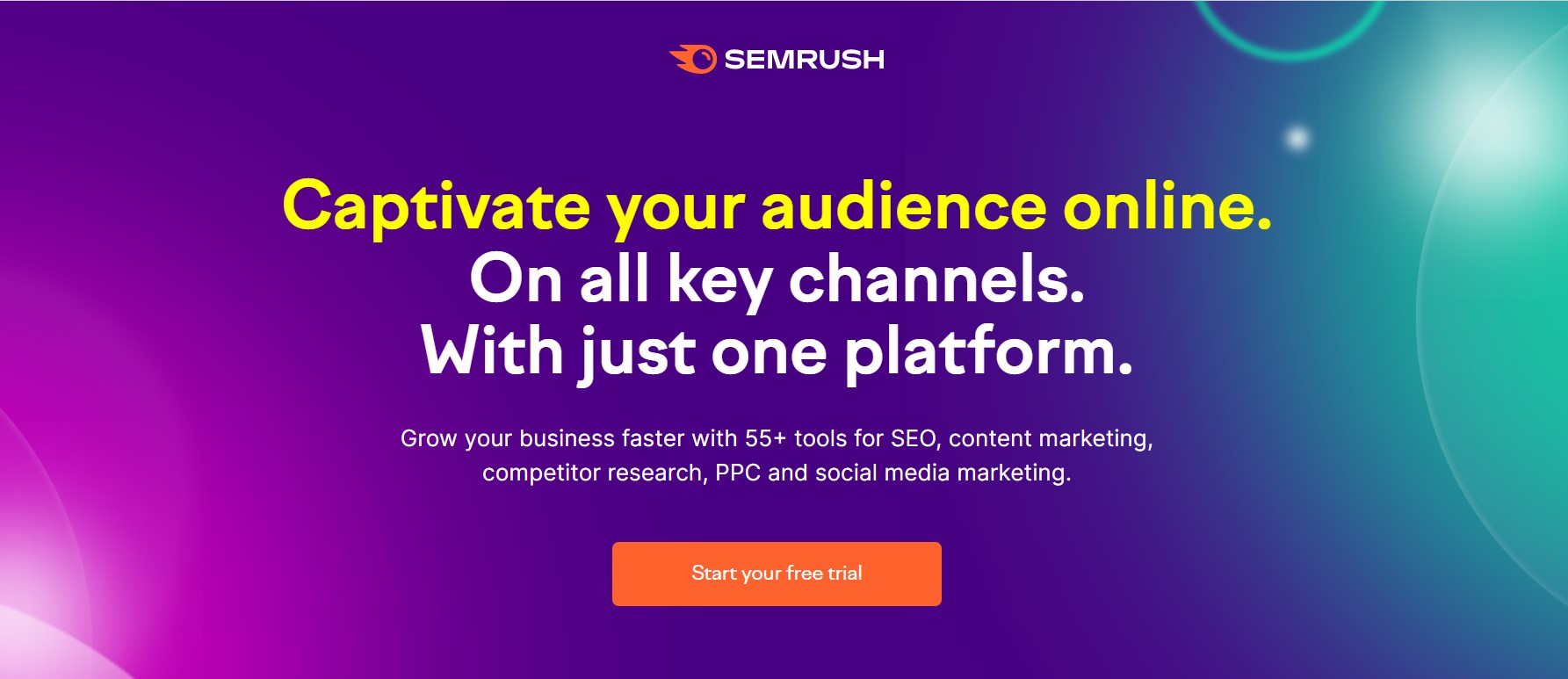 SEMrush includes a fantastic set of SERP tracking tools, and you can track any keyword or domain in search engines like Google and Baidu. You can utilize the valuable data to help measure your campaign progress and fix any keyword cannibalization or problem.
As many marketing experts would say, tracking keywords alone is not the right indicator of success. You'll need tools to ensure that these keywords bring a lot of relevant traffic for higher conversions. SEMrush has all the tools to combine keyword tracking with various metrics. This allows you to create an easy SEO workflow to help efficiently grow your business without any issues. It is slightly more expensive than some other options; however, if you have the budget, there is no better option.
What Redditors say about it
U/steveV24- "SEMrush is truly awesome; it may be a bit expensive, but it can really help you with SEO".
U/richardjohnpaul- "SEMrush is a great tool, and you won't go wrong using it. I have used it for a little over 10 years now, close to when they launched. They have some tools that you won't get on other platforms, and the value of those tools is going to be dependent on your experience and business goals. Not everyone understands their value, and not all businesses can utilize every tool".
Features
A complete SEO toolkit- SEMrush has a host of ranking tools that gives you complete access to market research, content marketing, advertising, content auditing, and much more.
Instant SEO recommendations- SEMrush comes with a massive database of keywords across a massive list of industries. The platform gives you instant recommendations to improve your SEO ratings.
Competitor research toolkit- The tool allows you to discover keywords and any backlink gaps in the strategies of your competitors. You can leverage these features to improve your SEO.
Backlink analytics- SEMrush comes with a handful of tools to analyze backlinks to find link-building opportunities and manage different outreach campaigns. The tool lets you evaluate and compare any domain within a few clicks.
Link-building tool- The link-building tool of SEMrush allows you to prospect new backlink opportunities that help you validate link prospects and conduct different outreach campaigns.
Site audit- Site audit is SEMrush's useful tool, and you can crawl through various pages on the site to uncover issues that are impacting the ability to rank.
Pros
Simple learning curve
Huge database with different SEO metrics
A rich feature base in comparison to other platforms
Extensive backlink and keyword metrics
Enterprise-level features
Accurate and reliable data
Daily ranking and data updates
Powerful link-building features
Generous usage allowances
Cons
Traffic analytics data isn't always accurate
Data only covers Google
The UI is cluttered
Pricing
SEMrush is a little expensive, but it is an industry-leading toolkit that offers access to the most extensive databases and the very best of futures, so the price reflects that. However, it is great value for money for the features it offers.
SEMrush comes with a free plan that lets you test different features of the platform. The Pro plan ($119.95 per month), Guru plan ($229.95 per month), and Business plan ($449.95 per month) are its three standard plans. You can contact the team to get a customized plan to suit your business requirements.
Click Here To Try SEMrush Free For 7-Days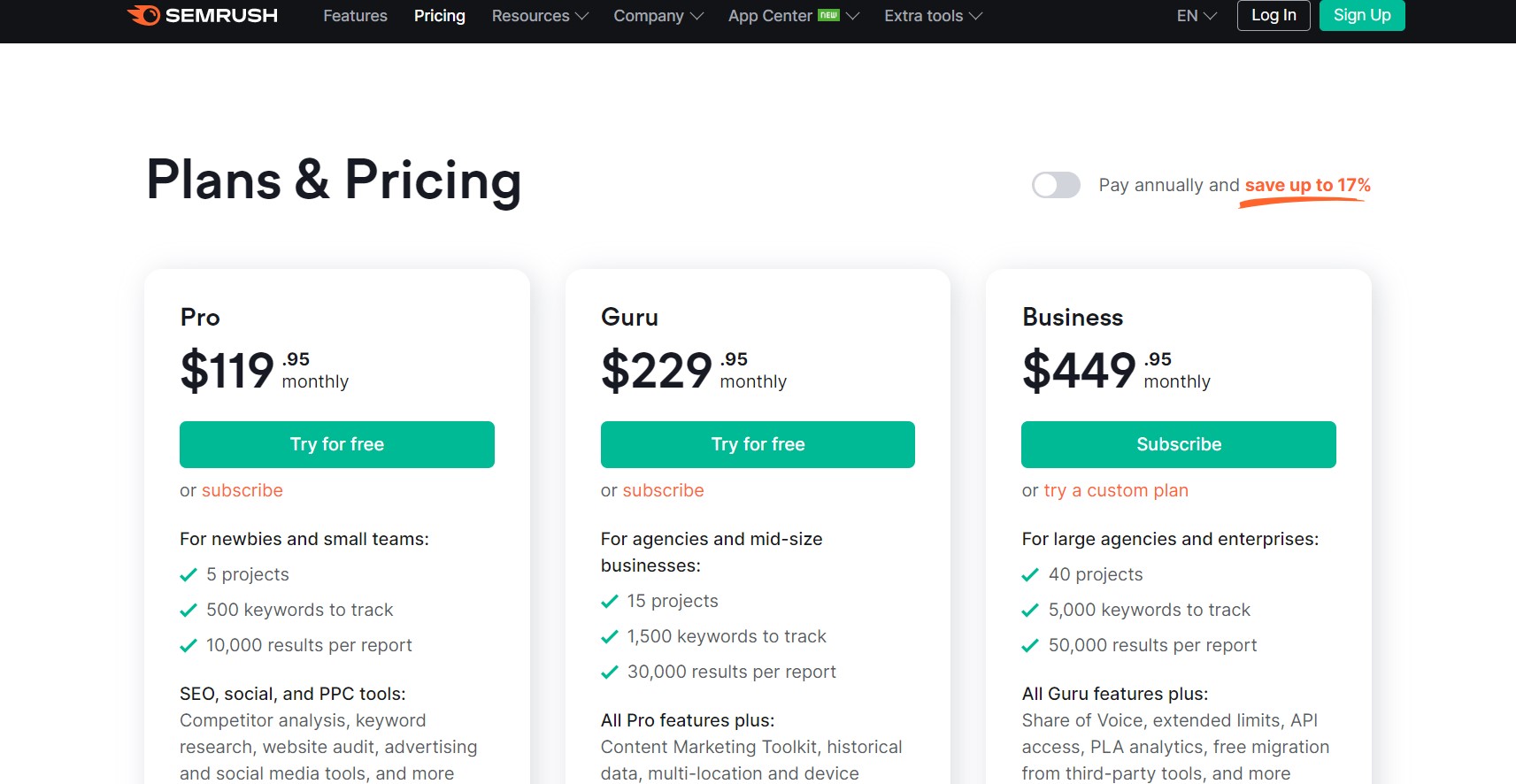 3. SERPWatcher – Beginner-Friendly Rank Tracking Software
SERPWatcher by Mangools is one of the most straightforward and accurate SEO rank-tracking tools in the market. With the platform, you can work out the organic traffic potential of your website without any headaches. It is not very complicated compared to other rank-tracking software and has a simple interface.
Click Here To Try SerpChecker Free For 10-Days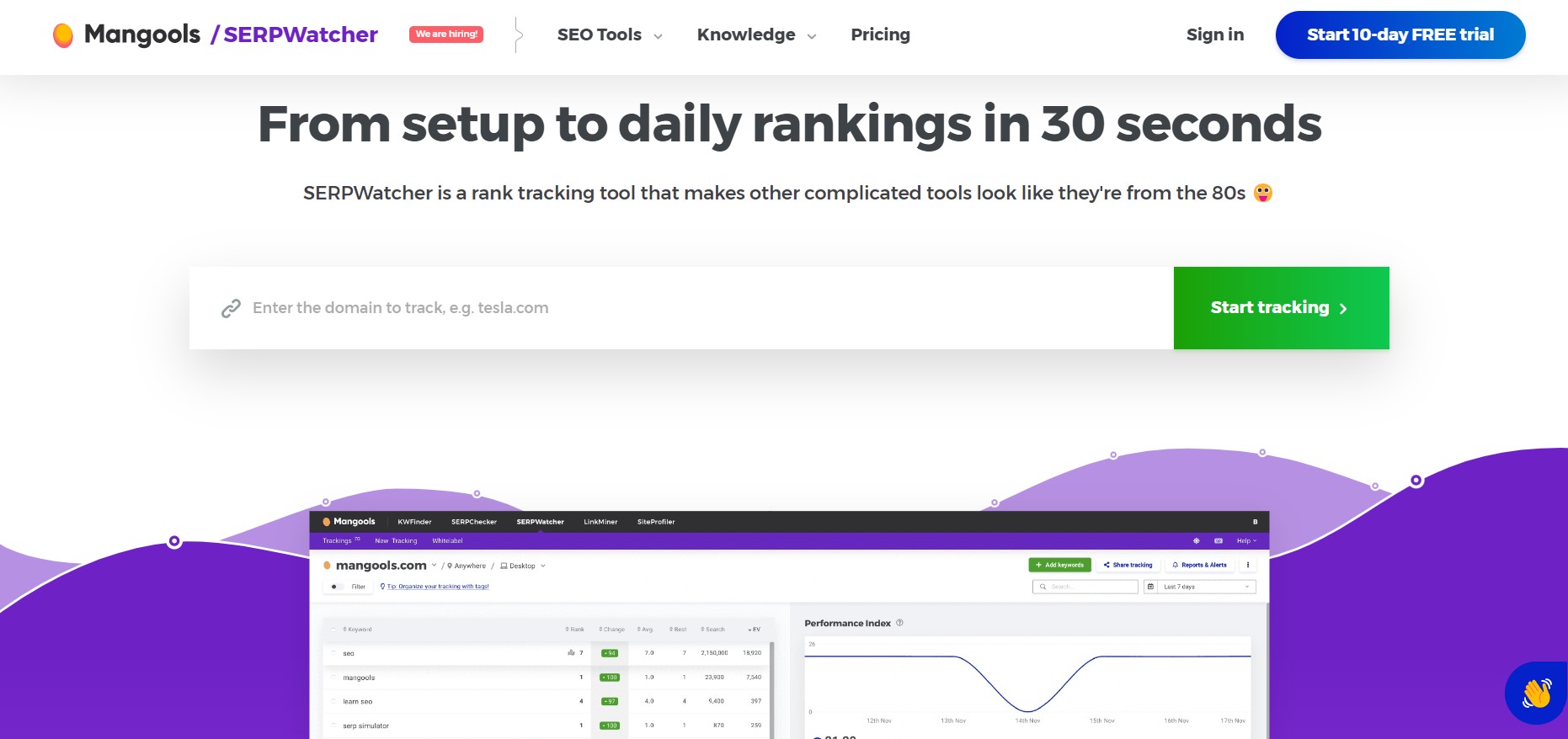 The platform gives you an idea of neat little features for your website. The performance index is the heart of the platform, and it tells you about the true performance of SERPs and other metrics at a glance.
SERPWatcher offers daily updates to track different movements in the organic keyword position every day. If there are any important rank changes, then you'll be notified by email alerts. Here, you get precise rank tracking data across different locations around the world for all devices. In addition to this, it also has a mix of simple and advanced data for both beginners and advanced users to work with.
What Redditors say about it
U/Vaneeop- "SERPWatcher is incredibly easy to set up and use. It is able to see critical rank-tracking data on a single screen. It offers interactive reports which can be shared with clients or anyone. That way, they are free to see the data they are interested in the result. No, out-of-date practices and increased efficiency. Of course, there are many other attractive features, such as localized SERP result tracking, daily position updates, and email alerts for you to know right away whenever your ranking positions change dramatically. The great part is that you can easily test all these features for free with the SERPWatcher demo".
U/seochatter- "I use mangools, and it has good keyword research and checks the ranking sites in the SERPs quickly. But then you have to apply your observations to the on-page SEO of your site. I don't use the link miner much at the moment. SERPWatcher is a basic keyword tracker".
Features
Tracking management- SERPWatcher has an excellent tracking management system. You can check the analysis of different keywords, domains, and other features to help rank your website higher. However, you aren't confined to this, and you can track competitor analysis to see what they are doing and how you can implement it on your website.
Device and location-based results- SERPWatcher allows you to check and track ranking on any device in any location across the world.
Interactive reports- SERPWatcher allows you to efficiently share reports with your clients or team members with a link or schedule it with regular periods.
Keyword shortcuts- The platform lets you speed up domain tracking with a set of keyboard shortcuts. The functionality of the tools differs, and the keyboard shortcuts are also slightly different.
Event-based alerts- You get event-based notifications on the platform, so you can be always updated with any critical changes that may affect your rankings.
Pros
Easy to use
Superior link index
Superb UX design and dashboard
In-depth information to track domain and keywords
Facilitates complete SEO analysis by linking it to other tools
Extracts data from different devices
Affordable price point
Cons
Takes time to gather data after details are fed to it
Separate analysis tab for both mobile and desktop SERP data
Free trial is very limited
Pricing
SERPWatcher by Mangools comes with 3 plans- Basic ($49 per month), Premium ($69 per month), and Agency ($129 per month). The platform also has a free 10-day trial period where you can check all its features. If you go for the annual plans offered by the platform, you can get 35% off on all its plans.
Click Here To Try SerpChecker Free For 10-Days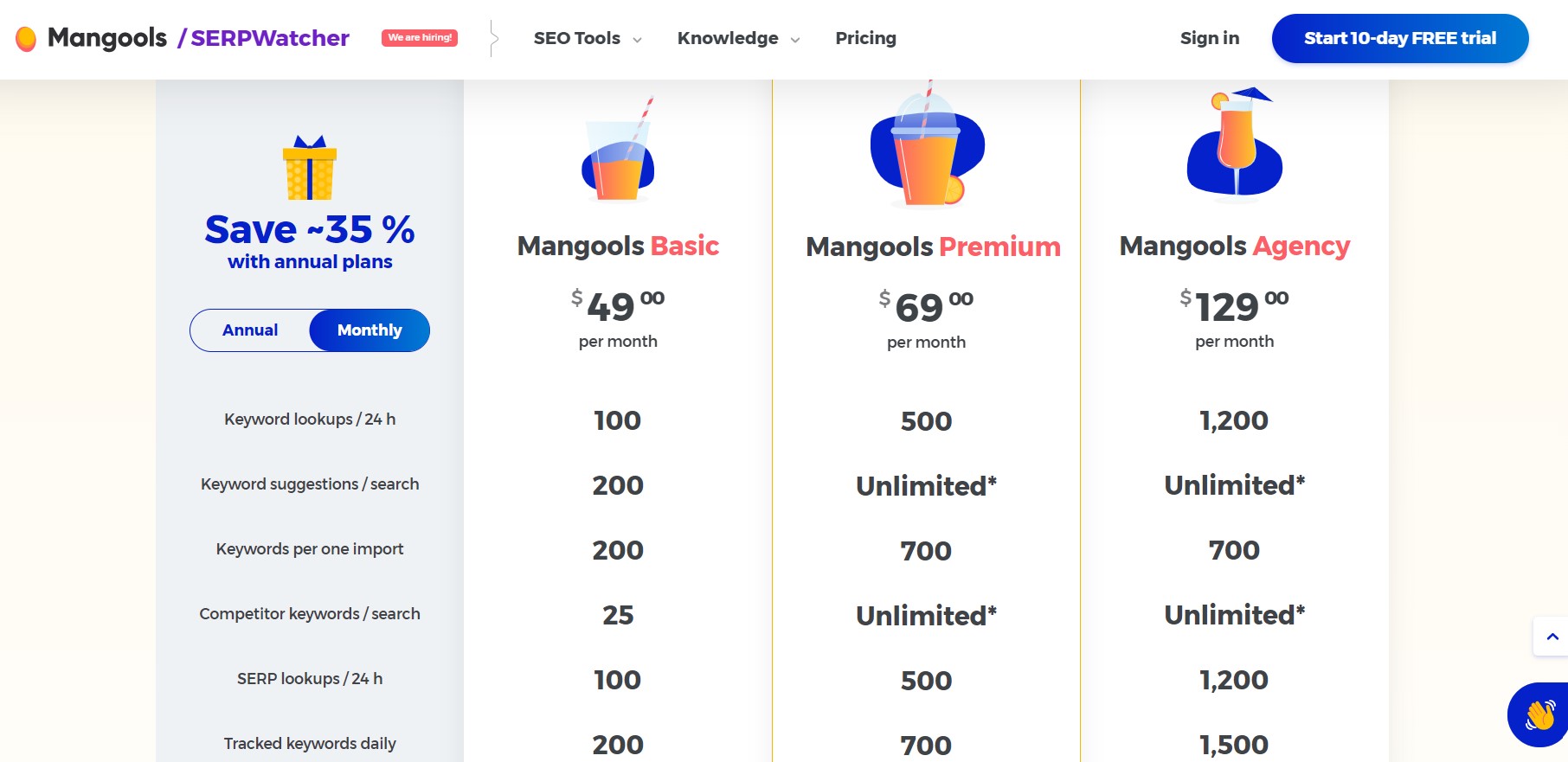 4. Wincher – Great to Track Informative Insights
Wincher is a powerful keyword rank-tracking tool that is packed to help monitor your performance and search results. Its primary aim is to optimize your content for search engine optimization, allowing you to rank higher on Google and other platforms. With the platform, you will be able to get quality organic search traffic while keeping a close eye on the keyword's performance.
Wincher has a clean interface that allows you to monitor your progress efficiently. You can easily check all the metrics of the SERPS and other relevant information. It is scalable and comes with a solid standalone rank-tracking tool at affordable pricing. This makes it a viable choice for small businesses or one-person teams.
You can monitor your competitor data as well to help keep tabs on the sites in your niche. If you want local rankings, then you'll be happy to know it supports over 100,000 locations and get rankings across 180 countries. Another great benefit of the platform is that you can easily integrate with a WordPress plugin without having to bounce between tabs on your internet browser.
What Redditors say about it
U/INSConstant86- "Try Wincher. Easy to set up, allows you to add competitors, and you can see its comparison side by side per keyword".
U/CuteSA3591- "Hey all, I am using the Wincher tool for keyword tracking. It is simple to use and shows whether the keyword is ranking in a top snippet, image, or person".
Features
Track your keywords- Wincher gives you a complete overview of the entire website and sees how your keyword works and ranks.
Easily track competitors- In addition to a keyword research tool, you can track your competitors. Here, you get insights into the different metrics that your competitors are doing and implement them on your website to get the best performance.
WordPress plugin- Wincher helps you easily integrate with WordPress. This is great to see how your keyword is performing on your website without having to bounce from one to the other.
Daily ranking updates- Wincher keeps you updated with your daily rankings. If there is a critical keyword change or update, then you will be updated through email notifications. You can choose the frequency and time when you receive the reports.
Discover new opportunities- You can easily find and focus on new high search volume keywords that help you for higher rankings to get more traffic and efficiency.
Pros
Simple and focused
Impressive data accuracy
Annotations feature
Keyword and page rank statistics for mobile and desktop version
Automated alerts when search engine rankings change
Flexible pricing model
Good support team
WordPress plugin
Cons
Lack of intuitive navigation throughout the site
Not easy to use
Estimated search volumes don't always match other platforms
Pricing
Wincher offers a plan-based pricing model, which is pretty flexible, and you can select the right option based on the number of keywords you wish to track and the functionality to have.
The premium plans are- Starter ($39 per month), Business ($74 per month;), and Enterprise plan ($289 per month). You can also access its free trial for 7 days to see what it offers. If you go with the Annual plan, then you can get 2 months for free, which is cheaper than the monthly plans.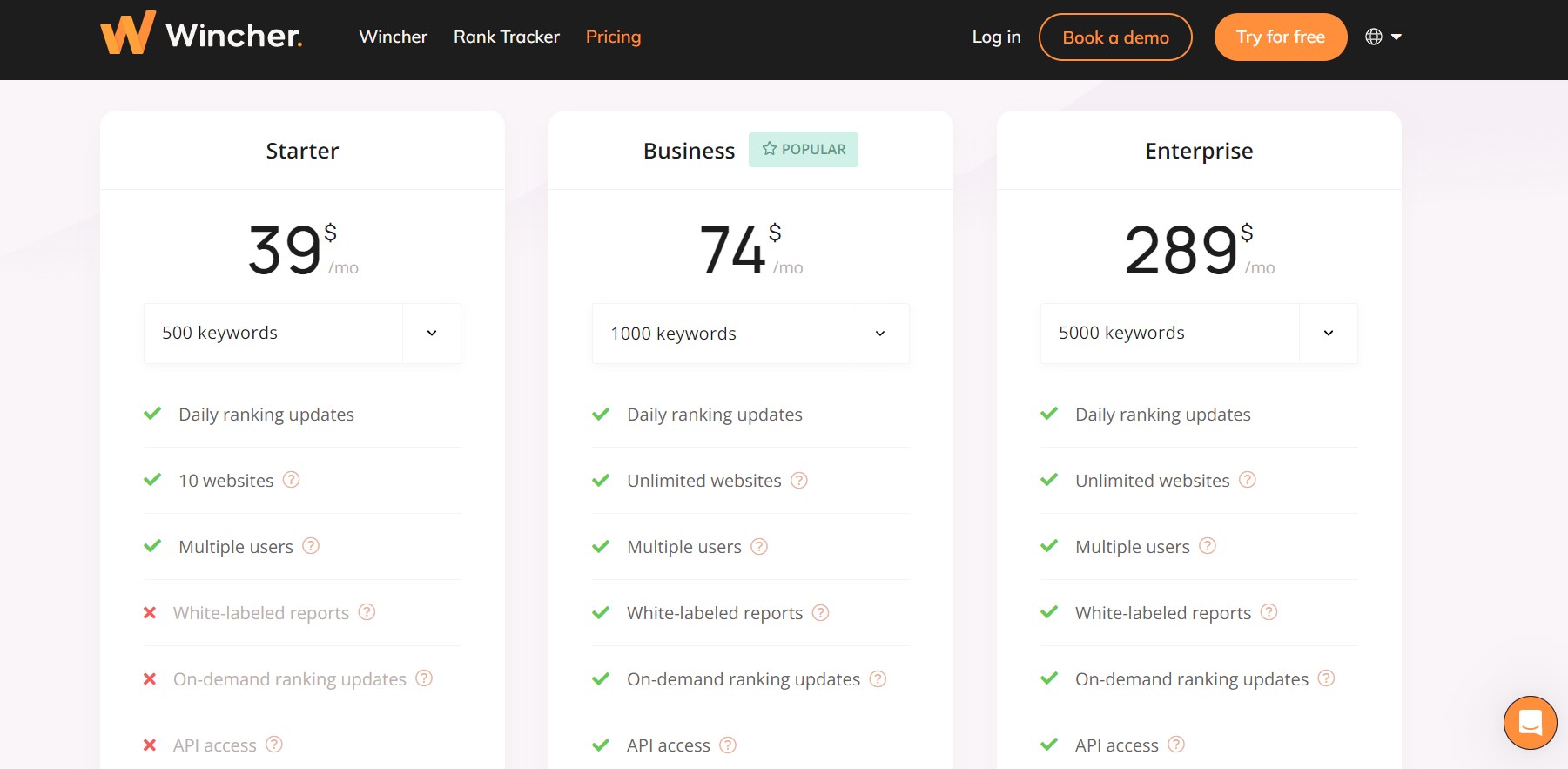 5. SEO PowerSuite – Free Rank Tracking Software
SEO PowerSuite is a downloadable SEO software solution to help you fully you're your campaigns. One of its stand-out features is its forever-free plan, which allows you to track unlimited websites and keywords to get you going. The platform very unique, and you can access data online, but you can view reports offline, making it ideal for people who can't go online while on the move.
Click Here To Try SEO Powersuite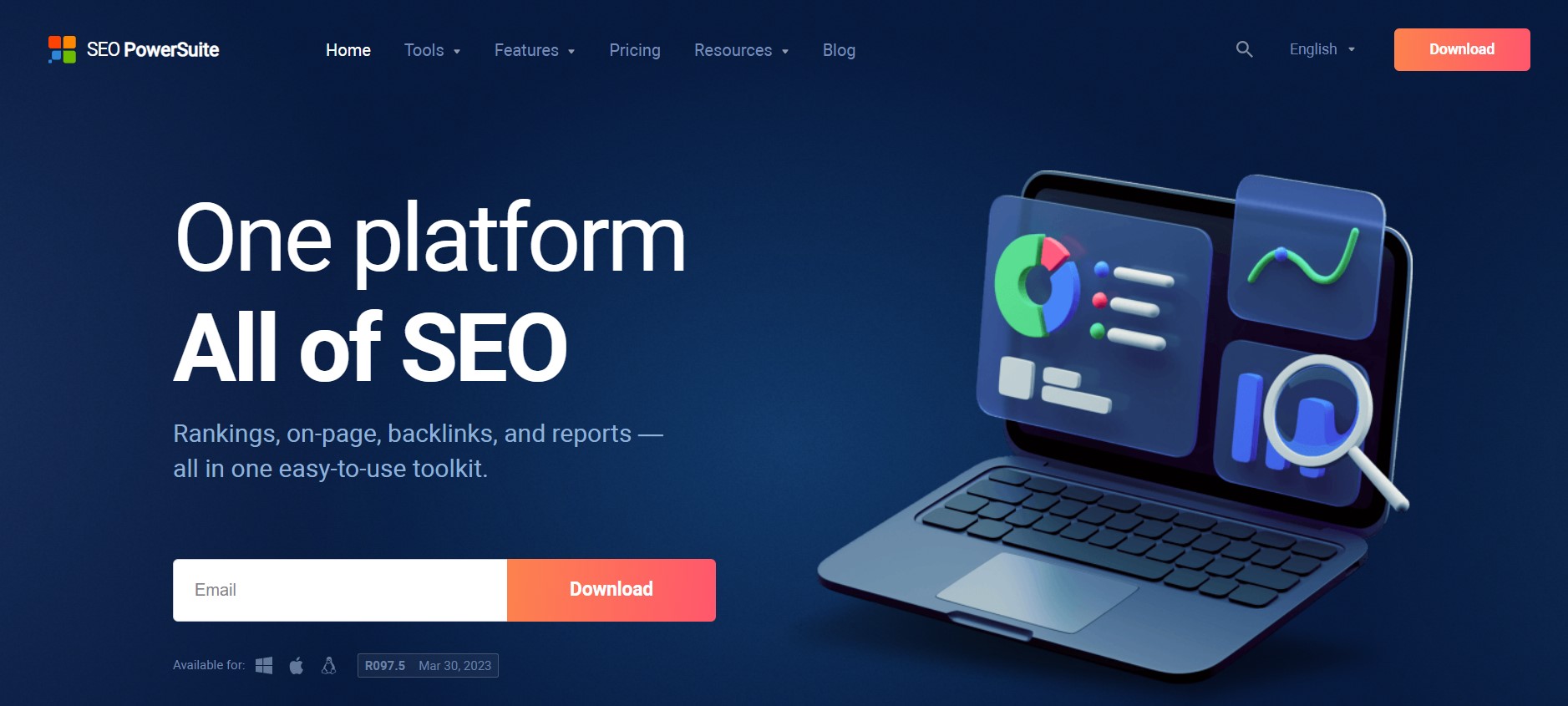 SEO PowerSuite comes with a built-in rank tracker, website auditor, LinkAssistant, and SEOSpyGlass to help you rank your website better. It is unbelievably affordable, which makes it a great choice for organizations that have a lot of clients.
The software is easy to use and helps newbies use an effective yet powerful enough SEO tool to conduct accurate rank monitoring for in-depth analysis, keyword research, and much more. Further, it also comes with a white-label feature that allows you to send professional ranking reports to your clients.
What Redditors say about it
U/louisasnotes- I love SEO PowerSuite, but I will have to admit that it is possible only after a while of getting used to the platform. Dirt cheap compared to Premier League platforms. I deal with 2-3 people, small businesses with local prospect marketplace, and it helps me with those kinds of clientele perfectly".
U/gabrieldee- "Check out SEO PowerSuite they have a rank tracker which is perfect for keyword research too. And it is quite cheap".
Features
Advanced rank monitoring- SEO PowerSuite is a platform that provides you with search volume alongside the specific rankings and graphs to see the keyword optimization of your website.
Link analysis- It comes with extensive backlink indexing online to help analyze different links. The platform has over 50 backlink factors to help give you new link-building opportunities to identify and implement any backlinks.
Competitor analysis- The software allows you to reverse engineer the SEO features that are used by competitors to efficiently rank your content higher by checking what is working for your competitors that have pushed them so high in the search metrics.
Website audit- The effectiveness of SEO starts with your website. The usability of the platform will not be any good if your site slows down or has technical issues. SEO PowerSuite lets you identify these problems and fix them before it gets any worse.
Content analysis- Content analysis is another great tool that is extremely helpful when it comes to performing a detailed analysis of the content to ensure a proper strategy for content optimization.
Link assistant- The link assistant feature helps find prospects and their email addresses to reach out to help link build your outreach campaign.
Pros
Detailed keyword research
Generous free plan
Supports over 300 search engines
Local and global rank tracking
Affordable premium plans
Run unlimited tasks
A suite of SEO tools
Helpful support
Cons
The database is not very comprehensive
Separate installation of software
No monthly subscription option
Pricing
SEO PowerSuite comes with a forever free plan that doesn't require a credit card to register. There are no limitations on most of the features of the free plan; however, if you want robust functionality, then you will have to upgrade to its paid plans. It has 2 premium pricing plans- Professional plan ($299 per year) and the Enterprise plan ($499 per year).
Click Here To Try SEO Powersuite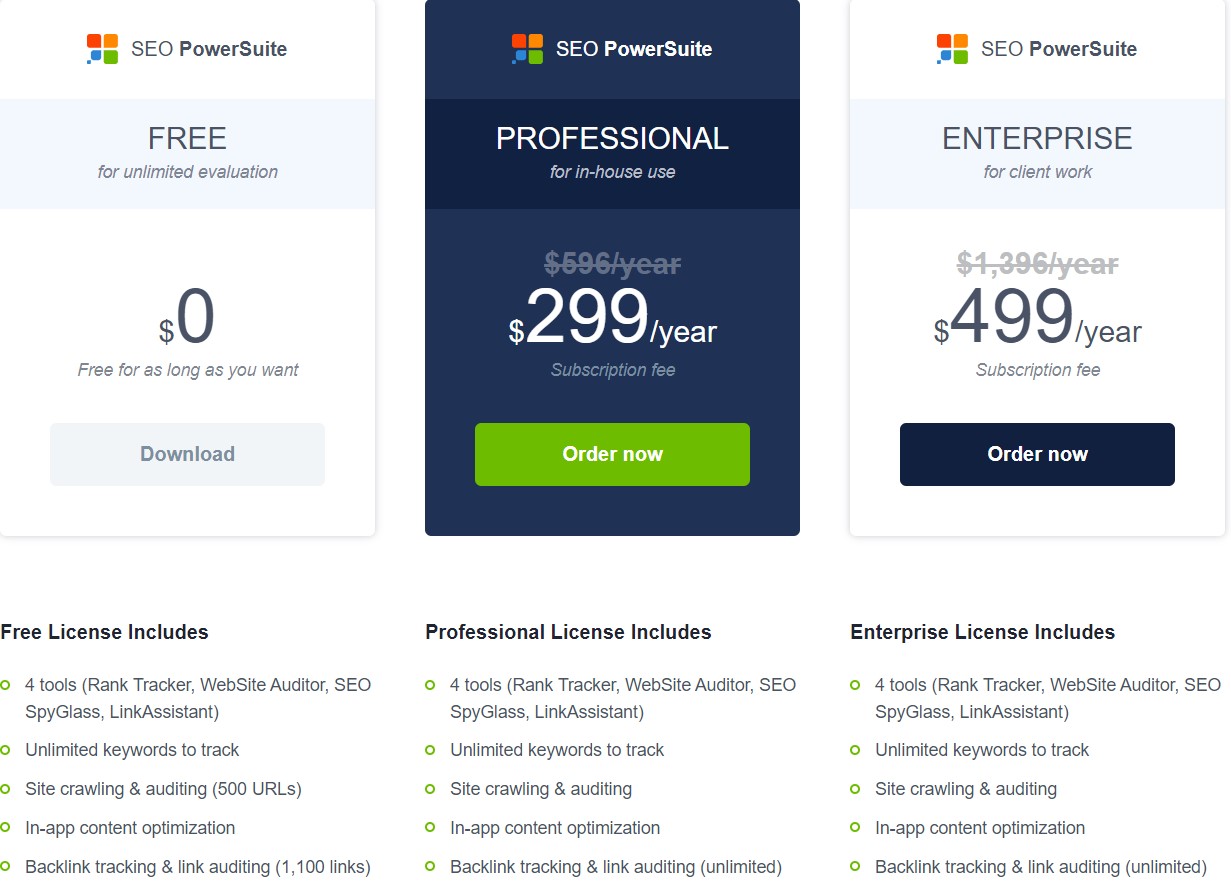 6. SiteChecker – Great Rank Tracking Software
SiteChecker is a comprehensive SEO platform that is very simple and straightforward. You can easily track changes in position by keywords, degree of visibility, and different search indexing. It offers a range of recommendations to help improve the performance of your website.
Click Here To Get 25% Off SiteChecker
Unlike most other SEO audit tools, the platform offers a complete list of data and SEO factors and encompasses all this data generously for users to experience. You can get a step-by-step guide to encompass good SEO practices. The platform automatically generates reports and notifications about important changes made on your website.
SiteChecker comes with an effective and affordable way for small businesses and agencies to track your keyword rankings over several weeks. At first glance, the Rank Tracker on SiteChecker is a little overwhelming because of the large amount of data on-screen. This is ideal and highly reliable to rank higher on google and other platforms.
What Redditors say about it
U/Ivan_Palii- "SiteChecker is great for on-page SEO, and it has a tool to track backlinks, but you can't research them in competitors. For off-page SEO, you can use some other tools. But SiteChecker will give you more insights into how successful your SEO efforts are. Integrations with GA, GSC, and easy Rank Tracker help in it.
U/Kevinn94- "I use SiteChecker daily and found it to be very helpful to improve my rank on Google. I found a lot of technical issues with it on my website, which helps me resolve them on my website".
Features
Site tracking- SiteChecker lets you check different keywords in any region. This can be done on mobile, desktop, and other devices across search engines on the internet.
Rank tracking- The platform has excellent rank tracking that gives you outstanding control over the tracking and reports. The SEO tracking can be efficiently customized to meet all your needs and focus. This helps make the tracking tool very powerful for your site presence and reach.
Site audit- The website crawler tool can identify any broken links, SEO issues, and other metrics that are causing a negative impact on your website's performance and ranking.
Backlink tracking- The process of building backlinks is time-consuming, so the platform builder alerts you if the links are ever listed. You can easily address the issues and get the links active again so you can enjoy the benefits of the work that is already done. The platform lets you easily add backlinks to the tracker and helps rank them in real time.
SEO chrome extension- The chrome extension helps streamline the process of identifying and fixing any of your SEO issues on the website. The extension is free, and you can add it quickly without any hassle.
Pros
User-friendly interface having intuitive control
Instant alert update when you make changes to your site
Centralized platform to track keywords, backlinks and monitor your site health
White-label reports are ideal for marketing agencies
SEO chrome extension helps save your time
Detailed guides to help improve your site performance
Cons
The information provided can be overwhelming
Subscription plans are expensive
Long update times
Pricing
SiteChecker comes with 3 standard pricing plans, which are well-suited for beginners. The plans are the Basic plan ($49 per month), the Standard plan ($149 per month), and the Premium plan ($249 per month). You can also get access to the Enterprise plan to meet all your custom requirements for your business. If you purchase the annual plan, then you get 2 months free and also get 20% off on them.
Click Here To Get 25% Off SiteChecker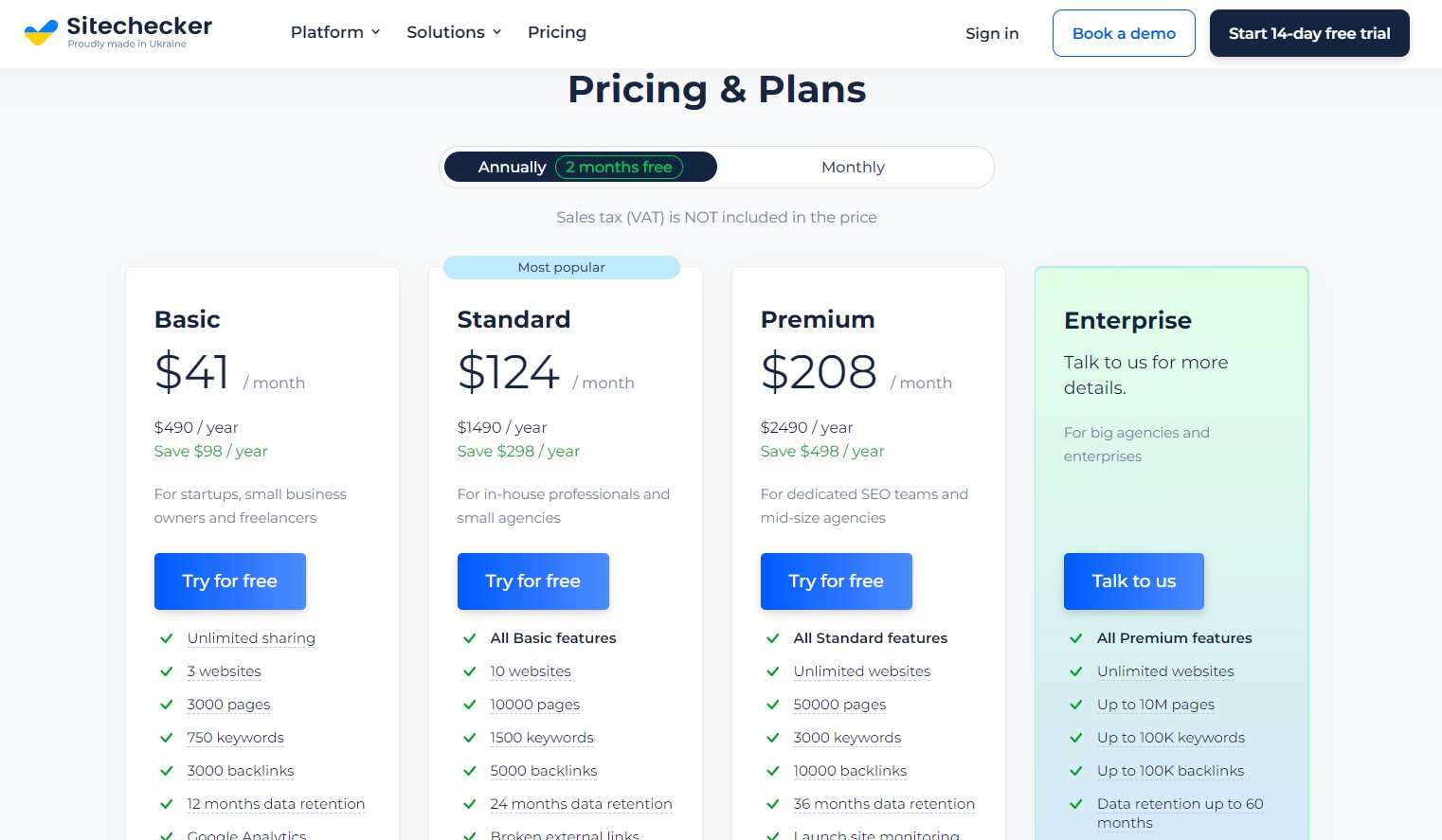 7. Serpstat – Affordable Premium Rank Tracker Software
Serpstat is an all-in-one growth hacking SEO platform. It offers excellent value for money and allows you to get features like keyword research, competitor analysis, and site auditing on top of the ranking tool. In simple terms, it is a platform that offers many tools in a single spot.
Click Here Try Serpstat For Free
The Rank tracking tool helps you with organic and paid search results of your domain or its competitors. If you are a big brand, then you can be assured that you can check your rankings globally. However, if you are a local business, then you can check the search rankings for a specific region that you set.
The keyword research feature is also very good, and you can generate a list of missing keywords for any domain or input broad keywords to search strings and questions your customers are searching for. You can further check different metrics to help decide whether or not to target them.
What Redditors say about it
U/SEOpunk- "Serpstat is a good solution and has the bare essentials of auditor, keyword suggestions, rank tracker, and link checker. It is great for the price you are paying".
U/NamanModi12- "Serpstat is a complete SEO tool, and I would recommend it for keyword research. It is a smart and powerful tool for backlink analysis, rank tracking, Keyword Research, competitor analysis, and site audit. And yes, it is a good search tool".
Features
Clean interface- Serpstat has a simple and intuitive interface that helps you gain valuable insights based on domain analysis, backlinks, keyword research, and much more.
Keyword clustering- You can enhance the structure of the website using the keyword clustering feature. The tool helps put your work in sync and direction. For the research industry, you can collect relevant keywords to analyze the competition. This allows you to perform all the tasks to rank your site well.
Unique algorithm- Serpstat has a unique algorithm that gives you the ability to discover the market share of the domains which belong to the top 100 search results of a particular keyword or group. With this, you can determine certain pitfalls in the visibility of the domain.
Site audit- Serpstat has a unique feature for its users which means that you can check given pages for any technical error that has occurred in them. Site audit allows you to conduct technical monitoring on your site and web pages to detect any issues that are impacting the page's ranking.
Team management mode- The team management mode was initially directed to monitor user tasks, limit distribution and focus on team building. Nowadays, the feature helps you detect team statistics to monitor the team history. This helps users control the team members better to avoid problems with regard to the project.
Pros
Organic and paid rank tracking
Easy to use
Competitive analysis feature
30+ SEO tools
Automated rank tracking
Multi-user mode, including analysis of the teamwork
White label and brand reports
Multiple support channels
Cons
Too many features can confuse new users
Slightly higher learning curve
The backlink analysis report is a bit limited
Pricing
Serpstat comes with a free plan, where you sign up for basic access and credits. If you want advanced features, you can upgrade to the paid plans. The paid plans are- Lite plan ($69 per month), Standard plan ($149 per month), Advanced plan ($299 per month), and Enterprise plan ($499 per month). If you want more data, then you can go for its custom plan. However, if you purchase the annual plans, then you can get a discount on the price.
Click Here Try Serpstat For Free
8. AccuRanker – Fast Rank Tracking Software
AccuRanker is a keyword rank-tracking tool that helps enhance your SEO strategy. The platform claims that it is the fastest rank tracker in the market, making it an ideal solution for enterprises and SEO agencies. Customers can easily upload and monitor the SERP position for thousands of search terms to drive traffic to their websites.
Click Here To Try AccuRanker Free For 14-Days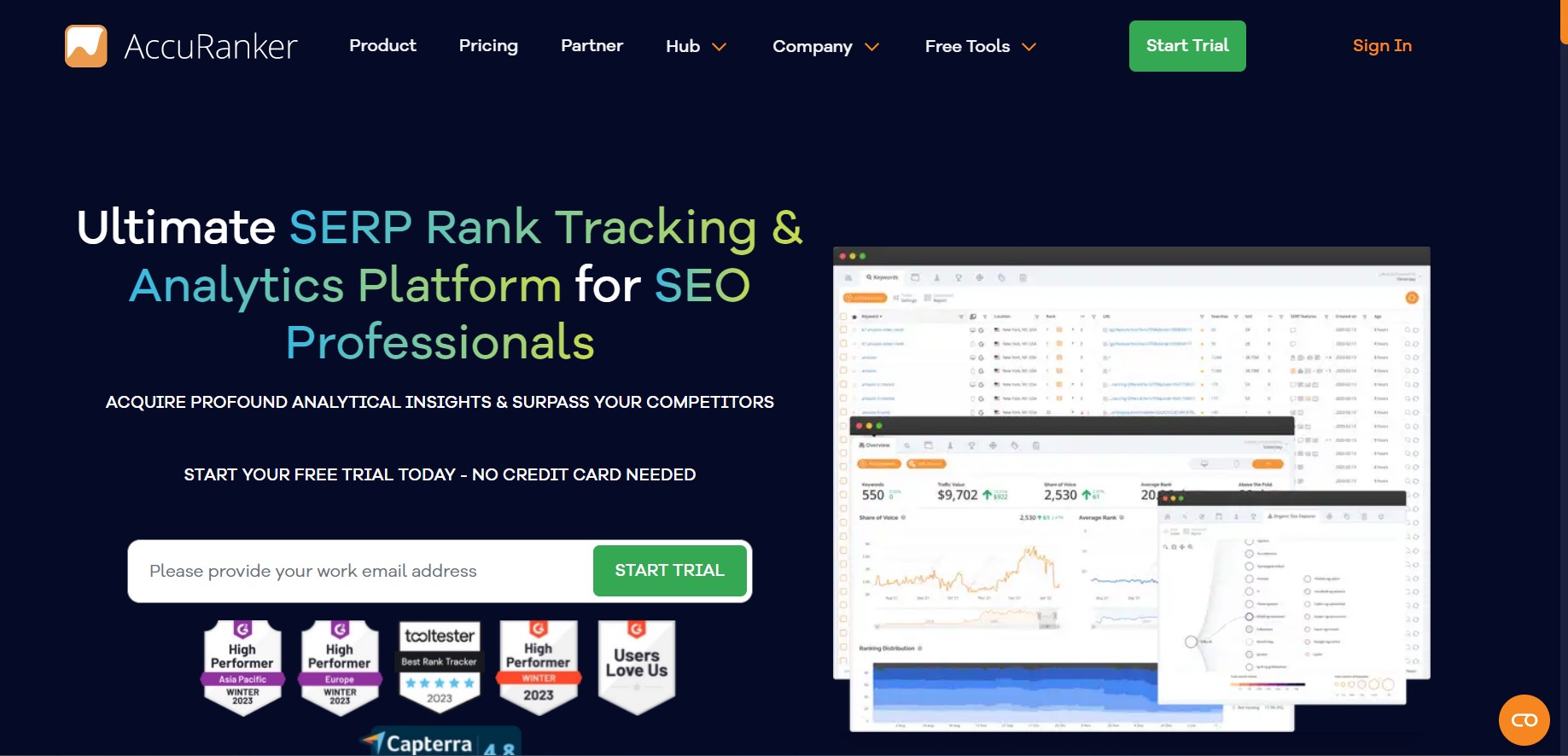 It is one of the best tools to monitor your target keywords. The versatile platform comes with on-demand ranking updates, keyboard refreshes every hour, and get data updates in seconds. The higher plans allow you to add many keywords with as many users or clients as you need.
You also have the ability to use a custom reporting template to customize your company logo. It comes with in-depth analysis and different metrics that you can filter in countless ways. AccuRanker supports third-party integrations with an array of digital marketing tools. Furthermore, they have excellent customer service with free practice sessions when you sign up for one of its premium plans.
What Redditors say about it
U/CriticalCentimeter- "I love AccuRanker, and I was fortunate to get it on a lifetime deal a couple of years back. It has some great dashboards and graphs. However, these reports can't be manually exported to them".
U/concisehacker- "I am using AccuRanker, which is pretty solid. These are big keywords that get you between 6 to 20k a month".
Features
Fast keyword tracking- Accuranker updates keywords every 24 hours; however, you can refresh every second hour and get on-demand ranking updates within a few seconds.
Reporting- Reports are fully automated and customizable, which allows you to see the information that matters the most. You can easily reduce the time you spend, which helps you pull the reports together.
Competitor analysis- Accuranker allows you to track the details of your competitors and see what is working for them and not. You can easily input competitor domains and see what is working for them.
Feature analysis- The platform helps report when you are acquired as a SERP feature and tells you when there is an opportunity to rank for one.
Affordable enterprise features- You can easily access data using an API to get insightful analysis to get advanced metrics across a range of multiple landing pages at affordable prices. If you don't want advanced features, then you can easily downgrade the plan to get the desired pricing.
Integrations- You can track everything in a single place and on any device, thanks to the robust integrations that are offered on the platform.
Pros
Simple interface
On-demand ranking
Track keyword rankings
Automate ranking and reporting data
White label capability
Fast response customer support
Effortless integrations with multiple tools
Import Google Analytics and Search Console data to calculate advanced metrics
Cons
Pulling data studio reports can be slow
No flexibility on how often the tool checks keywords
Keyword tracking only
Not very beginner-friendly
Pricing
AccuRanker pricing is based on how many keywords you want to track. For 1K keywords, the pricing starts at $129 per month. If you need more keywords, then you will have to pay a higher rate. You can save 10% if you pay annually. AccuRanker comes with a 14-day trial period to see how it works before switching over to one of its paid plans.
Click Here To Try AccuRanker Free For 14-Days
9. Google Search Console – Free Rank Tracking Software
Google Search Console is a multifunctional tool that is used to track the rank of individual pages to keep tabs on your queries and see how pages are performing in the SERPs. It is slightly limited, but it is absolutely free, making it a great choice for those starting out.
To track your rank on the platform, you have to select the query, and it will track the top queries list and then average the ranking position for the page, which will be displayed above the graph. This makes it beginner-friendly and highly robust at the same time.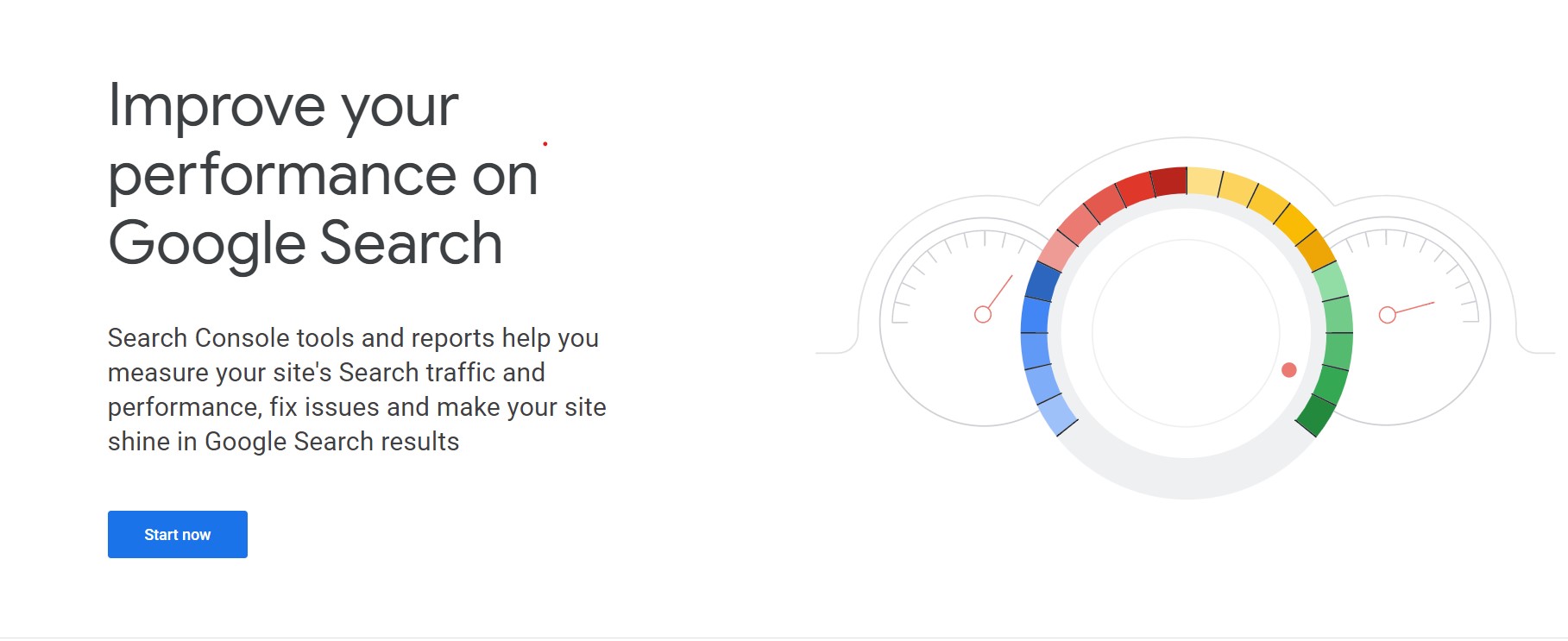 You can also view data with the average click-through rate, clicks, and impressions. The platform allows you to get a detailed view of how your pages are performing in the SERPs, which countries clicks are coming from, and what devices are being used to access your pages.
Additionally, the Google Search Console allows you to submit sitemaps to help your pages rank better and gain insight into your page experience and core web vitals. You can generate and export the reports.
What Redditors say about it
U/ajitahan3- "Google Search Console is a great tool to measure your website metrics. It is beneficial for checking indexing and crawling on your website. Considering robots.txt and sitemap.xml are very necessary for your website to get crawled by spiders or crawlers".
U/Karakoyunn- "Google Search Console helps you to rank higher. Not because you simply submit your website to it, but because you see the website and mobile issues, warning and fixing them. You analyze data, and make necessary content and title updates and rank higher".
Features
Intuitive dashboard- Google Search Console has a simple dashboard with an innovative interface, so you'll not be confused while you are trying to improve your performance on Google Search.
Optimize your content- Search analytics allows you to see which queries bring users to your site. Analyze your site's impressions with clicks and position on Google.
Get alerts on issues- You will receive email alerts when Google identifies issues on your site. With Google Search Console, you can see which URLs are affected by these issues.
URL inspection tool- The tool helps you understand how Google Search sees your pages. You can get detailed crawl, index, and serving information about your pages directly from the Google index.
Pros
Accurate results
Excellent filtering options
Built-in quick tools
Easily track website links and growth easily
Neat and clean UI and UX
Saves a lot of time and resources
A good tool to keep on top of multiple websites
Completely free
Cons
Only provides average rank positions
No real-time rank change updates
Errors can repeat if they don't get updated
Pricing
Google Search Console is a free service offered by Google and helps you monitor, maintain, or troubleshoot your website's presence in Google Search results.
How can you Grow your Business with Rank Tracking Software?
If you are handling all your SEO on your own or working with a team, rank-tracking software can help supercharge your search results and tracking in the following ways:
Identify what works with free trials of the tracking tools
Monitor competitor backlink analysis and monitoring
Troubleshoot traffic drops and have high SEO performance
Find new opportunities to boost revenue
Fix issues on the website that slows it down and other issues
Generate reports that can be easily understood
I have outlined some of the top rank tracking software to track your keyword rankings to optimize your site for organic search. With all the tools, you can enjoy these features and get the best features for your website.
Read Next: