While building a fast and attractive WordPress website gives you an edge over your competition, in 2021, having a great website alone isn't enough.
When visitors first land on your website, whether it's from Paid ads or Organic search, you need pages that they land on to be designed in such a way that every visitor is directed towards a singular goal that you've predetermined instead of letting them wander aimlessly on a site full of distractions.
What is a Landing Page Builder Platform?
A landing page builder platform is a platform or software that helps you design landing pages for your website visitors that are tailored to the visitor's goals and aims to guide the visitor towards an actionable goal on your website, whether that may be signing up to your newsletter, or making a purchase of your product or service.
Most landing page builder platforms that are worth their salt have a few basic features in common like a Visual Drag-&-Drop style builder, A/B testing tools, Integration with top marketing tools and analytical tools, etc.
In this article, I'll be reviewing the OG Landing Page Builder Platform – Unbounce and I'll quickly run through its features, drawbacks, and pricing to make it a touch easier for you to make your choice if you're looking for a Landing Page Builder Platform.
Exclusive Offer For JeremyNoronha.com Readers
JeremyNoronha.com readers can get a 20% Off on Unbounce. Simply click the link below and the discount will be applied automatically.
Click to Try Unbounce For Free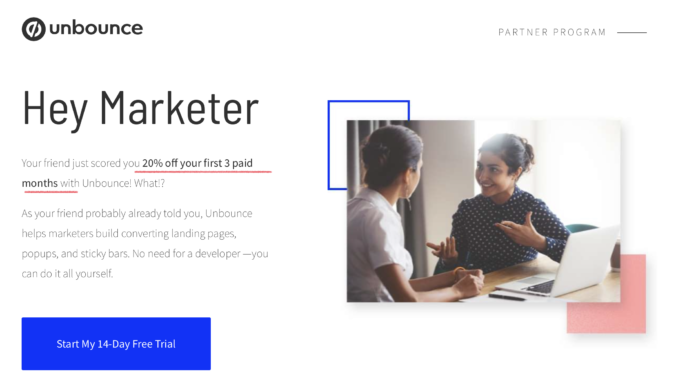 Unbounce Review
Unbounce is an amazing Landing Page Builder Platform that's well designed and supported by an experienced team. With integrations available for almost every Major Marketing and CRM tool out there, it's a complete package to give your advertising campaigns a boost. With a focus on performance and security, while offeringtrademarked AI powered features like Smart Traffic, Unbounce is without a doubt the best Landing Page Builder Platform in the market today.
About Unbounce
Built way back in 2009, for a market that didn't exist, when "landing pages" were just buzzwords, Unbounce was created with a simple goal of making it easier for marketers to build their own landing pages without having to wait on a developer to assist.
Today, Unbounce is one of Canada's fastest growing tech companies and one of the best landing page builderplatforms that is used by over 15,000 brands world-wide.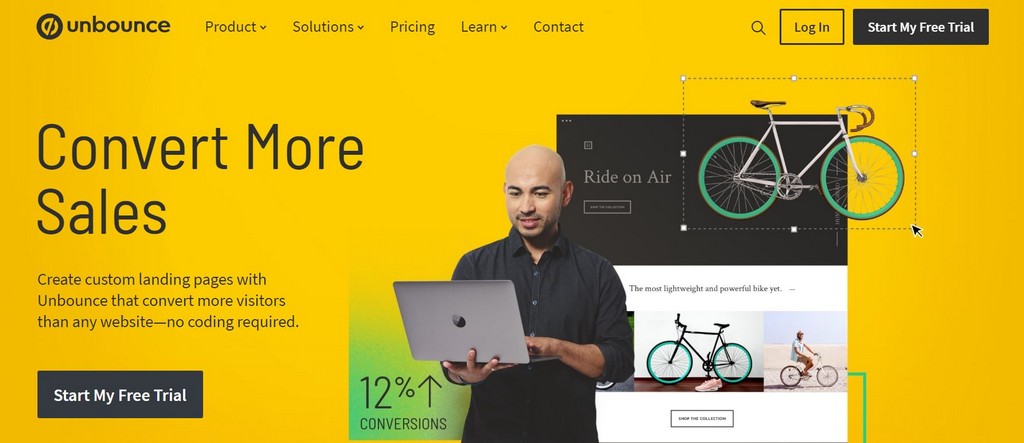 As a landing page builder, Unbounce is packed with features that set you up for success and is fully integrated with top marketing and analytical tools to give you maximum performance on every campaign. With top of the class security features in place, you can easily rely on Unbounce to protect your business data and your customers' privacy.
While it does have a few drawbacks, Unbounce has some great features that really shine through and easily make it one of the best landing page builders in the market today.
Before we dive into the review, let's take a quick look at some of the PROS and CONS of using Unbounce.
Pros
User friendly and Intuitive UI
Extensive list of features
100+ Easy to use templates
Heaps of documentation
Great support
Emphasis on security
Multiple options to test page performance
Ability to add custom code
Cons
Steep pricing could be restrictive for Small businesses
Too many features could be overwhelming for some
Mobile pages need to be optimized separately
Now that you've got an idea of what the PROS and CONS of using Unbounce are, let's dive straight into the Unbounce review and take a closer look at some of its features in a little more detail.
Click to Try Unbounce For Free
Unbounce Features
Like any well-designed piece of software, Unbounce offers an extensive list of features as part of its package. While listing every single one of them can take a while, in this Unbounce Review, I've split the primary features into 4 sub-categories so you can choose to only focus on features you're looking for in a landing page builder.
1. Unbounce Landing Page Features

The abilities of Building, Customization, Conversion and Optimization are all equally important in a landing page builder. Let's look at how Unbounce stacks up in each of these –
1. Building Features
Drag and Drop Builder: With Unbounce's drag and drop builder, you can easily drag and drop primary elements, popups and sticky-bars or use advanced features like lightboxes and embedded videos while allowing you to add in custom HTML as well.
Template Options: You can choose from a gallery of over 100+ beautifully designed templates based on the type of agency or campaign you're running, or design one from scratch if you like.
Mobile compatibility: Unbounce lets you create AMP ready, 100% mobile responsive and fully customizable mobile landing pages with their Mobile layout assistant.
WordPress Plugin: With Unbounce's WordPress plugin, you can easily publish any landing pages created with Unbounce directly inside your WordPress admin panel.
2. Customization Features
Match your branding: Unbounce gives you complete design control so you can always stay On-Brand and match the styling of your landing pages to that of your business and website.
Free Offerings: Unbounce provides more than 850,000 free professional grade images and lets you choose from over 950 Google fonts to provide maximum value.
Multiple Media Format Support: Unbounce lets you use everything from Images, Videos and even SVGs that WordPress doesn't support inherently so you can use graphics that won't slow your landing pages.
Lightboxes: Clean up your pages and showcase extra text and images using targeted lightboxes for your visitors. This helps keep your website visitors focused on your call to action at all times.
Click to Try Unbounce For Free
3. Conversion Features
Two-step opt-in forms: You can let your visitors show when they're ready to convert using a 2-step opt-in form that appears in a lightbox on click.
Custom Thank You Message: You can use a customized form confirmation message to offer value-adds or just say thanks to your visitors.
Form Re-directs: Direct your visitors to a page of your choice after successfully filling up your form and even link to whitepapers, eBooks or additional content to customize your buyers' journey.
Gated Content: Restrict access and gate content behind forms to nurture leads and link to any content type – eBooks, whitepapers, infographics and much more.
4. Optimization Features
A/B Testing: Key to every successful campaign, run A/B tests to see visitor response to landing page variations and use results to tweak pages and drive conversions.
Smart Traffic™: Currently in beta mode Smart Traffic™ is Unbounce's AI powered software that dynamically sendsvisitors to a page that's right for them. Unbounce claims an average lift of 20% compared to an A/B test when using Smart Traffic™.
Dynamic Text Replacement: One of the best features they offer – Dynamic Text Replacement helps you boost your landing page relevance by matching your landing page text to your visitor's exact search terms.
Real-time data dashboard: Unbounce has its own dashboard where you can check real time data to see how your pages are performing. If you're looking for more, you can even connect it to Google Analytics for more in-depth analysis.
5. Popups and Sticky Bars

Most website visitors usually visit websites to browse and not buy, which is why using pop-ups and sticky bars to present relevant offers can help incentivize visitors to convert.
Customizability: You can easily use Unbounce's Drag and Drop builder to create and launch pop-ups and sticky bars on your landing pages with Dynamic text replacements enabled on popups to boost relevance.
Setting Triggers: You can easily trigger popups on events like when a customer arrives on a page, abandons a page, clicks a specific element on the page or scrolls down/up – whatever scenario you can think of.
Scheduling and Frequency: With Unbounce, you can schedule offers based on your seasonal campaigns or promotions and also set the frequency of how often you'd like to show your visitor a popup – once per visit, every alternate visit or whenever you want.
Targeting: You can target visitors with offers based on their location (country, region, city etc.), referring URLs like Google, Facebook, or organic search or even based on cookies that contain data of the visitor's previous actions, browsing history and more.
Click to Try Unbounce For Free
2. Unbounce Integrations

While Unbounce offers a plethora of features and functionality, it also integrates with almost any marketing automation tool or CRM out there and lets you utilize in-app integrations of thousands more through Zapier and it's webhooks.
Let's look at some of the integrations Unbounce offers.
Google Analytics: Just add your tracking ID into the Unbounce Script Manager and start monitoring your website traffic and event like clicks and form fills.
Zapier + Webhooks: Unbounce keeps your workflow intact by integrating with Zapier to send leads and data from your landing pages to over 1000 apps supported via Zaps. You can also create your own integrations and send Unbounce form integrations to any server using webhooks.
Direct lead integrations: You can easily send leads to your CRM and marketing tools like Salesforce, HubSpot, Zoho, MailChimp and more from inside of Unbounce.
Branded lead email notifications: Unbounce lets you customize emails and lets you notify your team or clients in real time every time a new lead comes in or takes an action on your website.
Even more tracking and analytics: If your analytical needs go beyond just Google Analytics, that's not a problem. With Unbounce you can easily add and manage tracking like Facebook Pixels across all your website pages with Unbounce's Script Manager.
Embed third-party tools: If you're still looking for more, Unbounce also supports custom code so you can add 3rd party tools like Hot-Jar, Drift and Calendly.
3. Account Management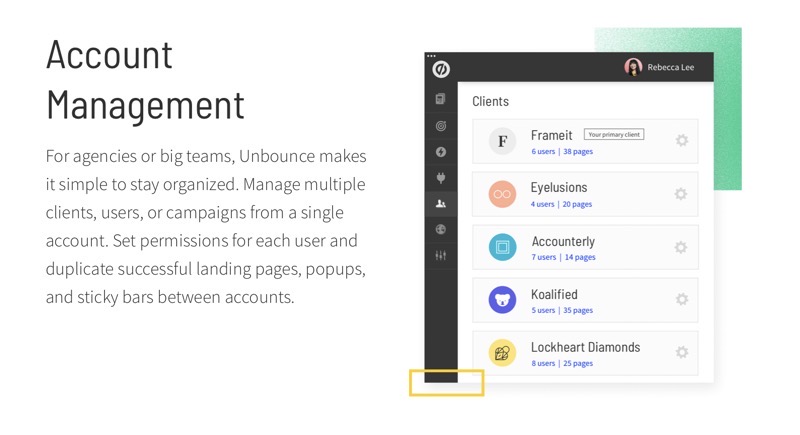 If you're an agency or have a big team, being organized is key to making sure things operate smoothly. With Unbounce, you can manage multiple clients, users, and campaigns all from a single account. You can also set permissions for each user and duplicate successful landing pages, popups and stick bars between multiple accounts.
Let's take a closer look at some of Unbounce's Account Management features.
Manage multiple clients: With Unbounce you can easily manage all your clients from a single account while keeping details from each account separate.
Single sign-on (SSO): Unbounce's Single Sign-on gets rid of having to juggle passwords, so you can keep and manage all your usernames and permissions from a single place.
Unlimited users: There are no limits to the number of users you can add, so you can include as many people from your agency or team as you want.
Give everyone access: Similar to WordPress, Unbounce lets you create user access roles like Admin, Author and Viewer to provide and control access while sharing previews of your pages with your team or clients.
IP filters: You can create IP filters to exclude IP addresses if you want to test and visit campaigns from anywhere without messing up your tracking data.
Audit logs: Gain insights into your entire team's actions in the builder with a complete log of user activity directly from your account or export reports if you'd like to view it later.
Version control: If you think your recent changes aren't converting too well, with version control, you can easily go back to an older version of your page in a few easy clicks.
Copy pages between clients: You can easily copy landing pages between multiple client accounts to reuse your agency designs and other assets across clients.
Free hosting: You don't need to worry about hosting or additional fees for landing pages, popups and sticky bars, because your Unbounce plan covers everything.
Click to Try Unbounce For Free
4. Performance and Security
While making sure your landing pages perform is important, what's also important is making sure the platform you're using is secure enough to safeguard both your data and your client's confidential information to keep them from getting into the wrong hands.
Unbounce takes both Performance and Security seriously and offers some robust features that are sure to win you over if you aren't already sold by their extensive list of features.
Speed Boost: Everyone knows page load time matters. Even before a website or a landing page has been deployed, page load speed is a key metric when you're looking for factors that contribute to a successful campaign. Unbounce follows Google's best practices and makes sure it delivers the best performance under the hood every time a visitor clicks on your campaign.
Data centers: While Unbounce works under the hood to keep your pages loading in a snap, they leverage 5 data centers across the world to make sure you're able to deliver speedy results no matter which country you're targeting.
Content Delivery Network: To make sure they leave no stone unturned when it comes to performance, Unbounce leverages Amazon's CloudFront for their Content Delivery Network to allow landing pages popups and sticky bars to load quickly across the globe.
Reliability: Unbounce prides itself over its ability to provide rock-solid reliability that ensures a 99.6% uptime of your pages and content. You can even monitor live status and error reports from their website directly.
Privacy: Unbounce goes the extra mile to ensure everything from your forms to transactions are kept secure and the privacy of your business, visitors and leads are taken care of.
GDPR compliance: Unbounce offers a Data Processing Addendum to all its customers in addition to its publicly posted privacy policy. They've also moved all their data storage into the EU, so no form submission data leaves the EU. Addressing key requirements like having a DPO, giving the right to be forgotten, cookies disclaimer and more, Unbounce is fully GDPR compliant as well as compliant with CASL and PCI-DSS.
Two-factor authentication: One of the best ways to secure access, Unbounce lets you add Two-Factor Authentication on a trusted device in addition to a password, so your login process remains completely secure.
Automatic SSL encryption: To assure your website visitors that all data is coming from a secure source, Unbounce automatically creates an SSL certificate for your landing pages without disrupting your original HTTP links to eliminate mixed content warnings allowing for seamless navigation between pages.
Click to Try Unbounce For Free
Unbounce Drawbacks
As good and feature rich as it is, Unbounce isn't flawless and has a few drawbacks that deserve mentioning –
Steep pricing Although they offer a massive amount of features in their starting plan, for a small business that's just starting out, their pricing can be a bit restrictive. While the costs may be justified by the benefits it offers and a small business is in the ideal position to maximally benefit from their features, there's always a possibility some may be turned away by it even before trying it out.
Way too many features: While having a big list of features is great, sometimes too much of a good thing can be bad. To their credit, Unbounce try to make their UI as easy as possible to navigate, however, for those who're just getting started and aren't too technically sound, having too many features to choose from can be a bit overwhelming and could make it difficult for them to fully use the platform the way it's meant to be.
Mobile pages optimization: While Unbounce is completely mobile responsive, it automatically converts a desktop design to a mobile version. Unbounce's automatic desktop to mobile conversion has been known to be a bit 'finicky' and takes some getting used. Occasionally, landing pages designed for a desktop may have issues with alignments or elements not showing up correctly when automatically optimized for a mobile device. It can be a bit annoying to have to come back and fix up the mobile view every time this happens, and I wish Unbounce would tweak their mobile optimization to make it a bit more intuitive.
Click to Try Unbounce For Free
Unbounce Pricing
Unbounce offers 3 feature rich plans to access their platform so you can choose what works for you based on the features most important to you.
Essential
$99/month
75 Landing Pages
8 Popups and Sticky Bars
500,000 Monthly Visitors
100+ Customizable Templates
Unlimited Domains
WordPress Integration
Free Professional Photos from Unsplash
Dynamic Text Replacement
A/B Testing
Zapier Integration
HubSpot Integration
Infusionsoft Integration
Customer Support
Google Single Sign-On (SSO)
Unlimited Users
Speed Boost
GDPR Compliance
Two-Factor Authentication (2FA)
SSL Encryption
Premium
$199/month
Everything In Essential
150 Landing Pages
16 Popups and Sticky Bars
500,000 Monthly Visitors
5 Client Sub-accounts
AMP Landing Pages
Launch Scheduling
Advanced Popup & Sticky Bar Targeting
Marketo Integration
Salesforce Integration
Page Redirects
Enterprise
$499+/month
Everything In Premium
375+ Landing Pages
40+ Popups and Sticky Bars
500,000+ Monthly Visitors
15+ Client Sub-accounts
Audit Logs
Customer Success Manager
Dedicated Launch Specialist
CTAConf Ticket Included
Page Migration Services
You can change plans or cancel your account at any time.
For those that aren't sure if Unbounce backs up their claims, they offer a 14-Day Free Trial with zero restrictions and no obligations so you can take Unbounce for a spin before putting down any money for it.
Which Unbounce Plan should you pick?
Essential Plan: If you're just getting started, the Essential plan comes packed with everything you would need to build, test and optimize your landing pages for conversions.
Premium Plan: If you're looking to scale up with more features than the Essential plan, the Unbounce Premium Plan should address your needs.
Enterprise Plan: If the Premium plan doesn't fully cover your agency level requirements, the Unbounce Enterprise Plan is guaranteed to maximize your ROI.
Exclusive Offer For JeremyNoronha.com Readers
JeremyNoronha.com readers can get a 20% Off on Unbounce. Simply click the link below and the discount will be applied automatically.
Click to Try Unbounce For Free
Unbounce Review Final Thoughts
After going through every feature it offers and considering its drawbacks, I have zero reservations in recommending Unbounce as one of the best landing page builders of 2021. It's certainly one of the most well designed platforms out there today.
Yes, there are a few issues they need to address before I can call it perfect, but I think the features it currently offers addresses most of the requirements of a good and reliable landing page builder.
Considering how easy it is to use, it's guaranteed to save anyone who uses it a lot of time when they're just getting started with building their first campaign and I'd highly recommend you give their 14 day trial a shot if you still aren't convinced how good it is.
Click to Try Unbounce For Free
If you think you've used a Landing Page builder that's better than Unbounce, I'd love to hear about it in the comments below!
Read Next: