If you own an online business, website, or affiliate blog, then you've surely built a landing page to monetize it. The purpose of landing pages is to increase your conversion and generate more leads and customers to grow your business. In the huge marketplace, Unbounce is one of the top landing page builders in the market.
The popular platform has been around since 2009, and while other companies have moved to offer other features, it is dedicated to providing the resources that will deliver the best landing pages within a few clicks. I don't want to pre-empt myself; however, in this article, I will cover some of the features that make it the best that the industry has to offer.
Click Here To Try Unbounce For Free
Unbounce Coupon Code: Auto Applied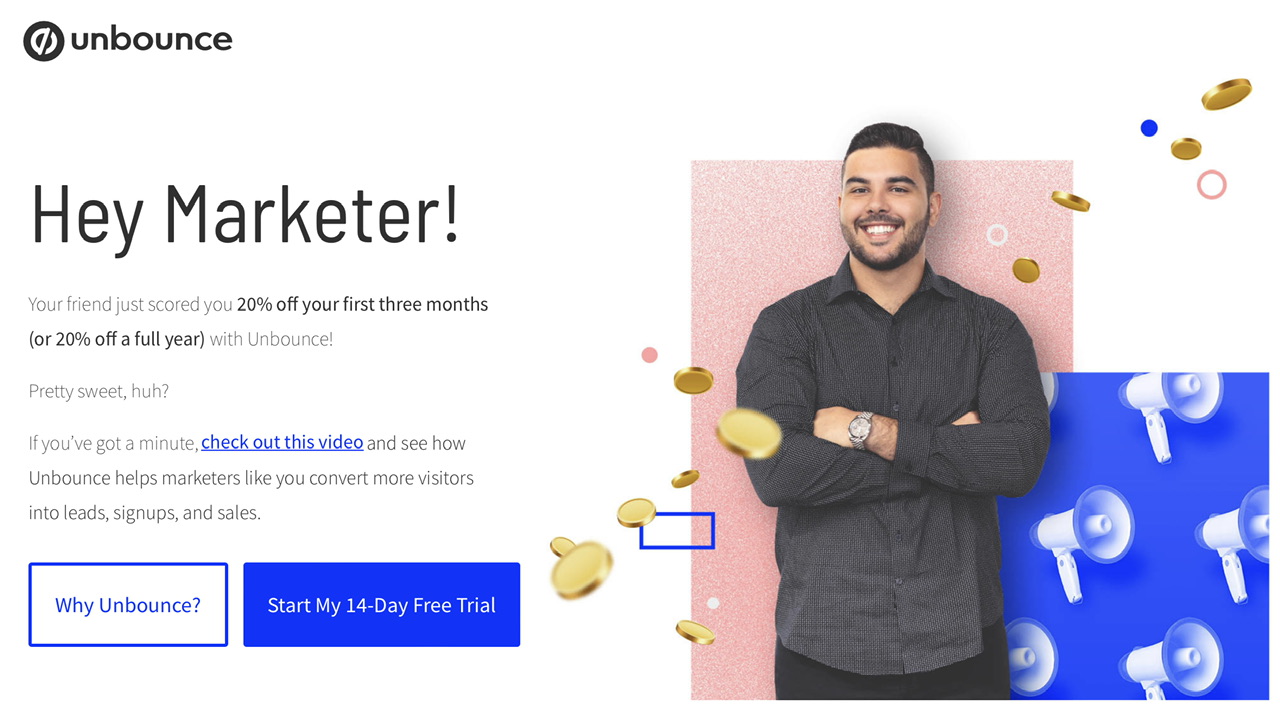 How was Unbounce Started?
Landing pages in the mid-200s were just another buzzword that marketers used to flex to look smart in front of others. Most buzzwords die immediately, but six guys, including the CEO of Unbounce, Rick Perreault, believed in landing pages and knew that this would be the next thing in marketing. Starting in a small room, they ensured that their dream became a reality. Today, Unbounce is responsible for over half a billion conversions across its vast customer base. Comprising of an intuitive team that shares unique and diverse values with its customers, there is no question it is a unicorn and the most reputable landing page builder in the world today.
Unbounce Reddit
It is one thing to be the best in the market, and it is another thing to be suitable for your business. To help you find the answers to this, we took the reviews of Redditors who have expressed why Unbounce is one of the best platforms in the business to rapidly grow your leads and make them into your customers.
u/xeno_sapien- "Unbounce is incredibly fast. Our landing page loads within a blink of an eye".
u/uzairkharawala- "I have been using Unbounce 3 years now. Great software with good support. No bugs, and it all works great. I have tried other software as well, but Unbounce is the best out there".
u/DeepStatic- "Unbounce is a superb platform. I was introduced to it in my department a few years ago. It's turned PPC specialists into PPC and CRO specialists. We have been able to offer a fast and cost-effective alternative to on-site development, which has extended to help our customer relationships by a significant amount".
How Easy is it to get started with Unbounce?
Unbounce is easier to use and helps in the creation of intuitive landing pages. The builder may look complex at first glance; however, it is super simple to understand. Every widget, button, and element has a useful purpose to build the best landing pages. Its templates are also very aesthetic, and you can create professional websites without requiring any technical or coding knowledge. With this platform, you can be assured to create the best pages within a few minutes.
What stands out about Unbounce is that it is very easy to use. Here are 6 simple steps to create your landing page with the platform listed below:
Sign up for a free trial and start creating your landing page
Select a platform suitable for your business and edit it
Customize the selected template with its intuitive tools
Add unique elements to your landing page
Save your landing page
Integrate, adjust and publish your landing page for others to view.
Unbounce Review
Unbounce is a great platform to help you create a better marketing experience for its customers. It is important to note that it isn't just a landing page builder, but it has a variety of features that helps users generate more leads and customers. The platform allows you to create different elements on your site to turn more of your site visitors into clients.
Before we dive into the review, let's take a quick look at some of the PROS and CONS of using Unbounce.
Pros
Quick and easy to use
Highly customizable dynamic text replacement that allows you to increase your ROI on ads
Efficient drag and drop editor
Conduct A/B testing to check variants within a few clicks
Great UI/UX
Good focus on security
Diversify your lead generation to increase your conversion rates utilizing popups and sticky bars
The smart traffic feature removes the guesswork from testing whose variants convert the best
Cons
Limited choice of templates
No A/B split testing available for the launch plan
Now that you've got an idea of what the PROS and CONS of using Unbounce are, let's dive straight into the Unbounce review and take a closer look at some of its features in a little more detail.
Click Here To Try Unbounce For Free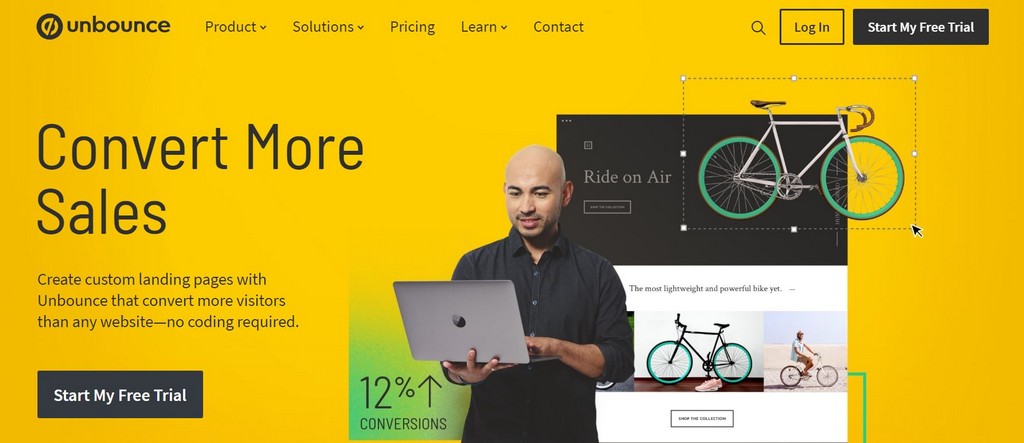 1. Landing Page Builder – For Quickly Designing Landing Pages
The heart of Unbounce is its intuitive, easy-to-use landing page builder. The builder lets you build landing pages and customize them to suit your brand identity. The landing page can be sorted based on its popularity, name, age, and other options. If you don't have any experience creating landing pages or you are just short on time, then Unbounce has over 100 standard landing page templates that are primarily aimed to increase your conversions. These templates are already optimized, having maximum conversion by experts. Unless you are a seasoned marketer, it is advisable to keep the fundamental setting intact. On the platform, you can create multiple landing pages for different services and Ad campaigns within 15 minutes. You can also add lightboxes, HTML, videos, and other features and customize your templates.
Before you start creating your page, you have the option to choose between Unbounce Classic Builder or its Smart Builder. If you have some experience, then you should go with the classic builder; if not, then select its versatile Smart Builder, which will make the process a lot easier for you.
In the Classic Builder, you will have access to pre-designed landing page templates that you can easily filter based on campaign type, industry, or use case. All you have to do is select a template and start customizing it with the drag and drop landing page editor. This is one of the original builders that was offered by Unbounce to its users in the early days. Here, you can craft your campaign and customize it perfectly to fit your brand identity. Further, you can play nicely with your core marketing tools and publish them to your own domain. Here, you can think bigger with custom scripts to match your visitor's search intent.
Unbounce has recently launched its conversion intelligence platform. This a powerful AI-powered solution that allows you to effortlessly create higher converting marketing campaigns. The platform lets you quickly optimize your campaigns by attracting more visitors to take action. Smart innovation is part of the conversion intelligence platform that is equipped with features that will guarantee your business growth and success. The Smart Builder is a tool that helps users curate the perfect page and section components based on your industry, audience, and campaign tools. It has a dynamic layout that covers your visitors and helps create new variants in a snap. The recommended template of this platform is usually sparse, but you have access to some copy images and CTA to work with.
Click Here To Try Unbounce For Free

2. Drag and Drop Builder – For Customizing Landing Page Templates
Most landing page tools have an intuitive drag and drop builder that allows the page and templates to be easily customized. Some page builders have a block builder system that only allows the movement of elements in a fixed horizontal or vertical manner. I can say that this is not the case with the tool offered by Unbounce. Here, you can select from hundreds of blocks that help in the creation of attractive landing pages.
Using the blocks of Unbounce, you can add things like texts, images, videos, popup lead forms, buttons, content boxes, lightbox optin forms, CTAs, Lightbox optin forms, custom HTML, and other conversion-optimized widgets.
Rearranging elements is super easy, and it's not too complex, and that's what makes it very easy to use. Of course, a lot comes down to personal preferences, but if someone likes to create landing pages by themselves, then this platform allows for a quick and easier way to custom-make your landing page. All this can be done by beginners without requiring any technical or coding experience. I definitely think this is one of the most pleasant page builders out there.
3. Speed – Fast Performance and Optimization
Unbounce takes your landing page speed very seriously. They have a 99.99% uptime guarantee and are highly reliable. Unlike other platforms, it optimizes across all recommendations, from hosting to image optimization. All these features covered by it help deliver good load times that will keep you ahead. Here, you can expect high-speed scores and happy visitors with more conversions. With Unbounce, you don't have to mess with its server configuration or try to figure out which plugin is slowing your page down.
4. Smart Copy- For Generating Landing Page Copy
After recommending a landing page template, Unbounce gives users an AI-powered copy assistant. This is an all-one-one solution for content creation; you just need to enter a description of your company, brand style, product benefit, and target audience to help it generate appropriate copy based on what works in your industry.
Smart Copy helps users also create content for your blog or website. You have to highlight the copy of any platform or page, and the Smart Copy Google Chrome Extension will help you write or expand the copy further. The AI tool will help you understand the context of the copy you need. It is capable of generating content in English, Portuguese, Spanish, German, French, and Dutch that helps you expand your customer reach.
5. Smart Traffic- For Increasing Targeted Traffic
Smart Traffic is an AI-powered conversion tool that helps users analyze each visitor's attributes and automatically direct them to your landing page, which will help convert them into paying customers. The reporting feature allows you to see high and low-performing traffic segments on your website. This is a great way to optimize your campaigns faster and save time on A/B testing. Here, you can create as many landing page variants as required, and it will test them simultaneously.
Smart Traffic has enough information about your visitors, including their location, operating system, devices, and browsers. The platform will utilize the information to efficiently determine its conversion patterns, followed by routing visitors to the page variants they are most likely to convert. This is a great tool if you are a one-person show whose copywriting skills are not the best and you require help.
6. Pop-ups and Sticky Bars – For Generating Leads
All the audience you have will not come straight from your landing page, some of it will go to other pages of your website. With that in mind, you will need to have a way to capture them into leads by setting up your own pop-ups or sticky bars on your site. Pop-ups may be annoying, but there is no denying that they work to get you more leads and customers. A pop-up form is very popular among conversion marketers for its targeting capabilities. Just like landing pages, there are several templates for this that can be customized with its robust builder. You can create multiple variants of pop-ups and also advertise different ads on different pages, which is the biggest reason for its high conversion.
The Sticky Bars on Unbounce were initially called as notifications bars, and they appear either on the top or bottom of your landing page. They act as an alternative to pop-ups on mobile devices due to their small but attention-grabbing appearance. Sticky Bars are the same as pop-ups in every sense, but they are slimmer and look like they are part of the page. If there are any seasonal offers, then you should try to put them on both pop-ups as well as Sticky Bars. If you want to know what works then the A/B testing feature can be used to test them simultaneously.

Pop-up and sticky bars can be used to create a set of a custom triggers, so you can choose who will see them and when they will appear. There is also an option of scheduling and running your campaigns automatically while also showing the most relevant offers or promotions to your visitors based on their browser history.
7. Security – for utmost platform security and reliability
Data security is of the utmost importance for online businesses, and Unbounce ensures that all your data is secure. The platform has a solid set of protective attributes with a 99% uptime guarantee which means you will have access to the service at most times. Some of the security features include
SSL encryption- A good indicator that a landing page is safe is that it has an SSL certificate. This ensures that your data is secure and safe from malware and scammers. If a site is SSL-secured, you will see HTTPS in the browser's URL alongside a lock icon. If you see this then you can safely browse the landing page without any worries.
IP filters- You can filter out IP addresses all you know so that you can easily view your pages without messing up your tracking feature. This feature helps users to keep their conversion data clean and accurate.
2-factor authentication- Unbounce ensures that nobody can access your account even if they come to know its password without passing the security step you set. However, the feature is only available with premium plans.
Audit logs and automatic backups- This feature is only available for higher-end plans. Here, the system keeps records of all the system activities and backup of important data.
8. A/B Testing- For Conducting Experiments on Landing Page Variants
Unbounce has a robust A/B testing feature that allows you to do a split test to check what works for your landing page. This will help you optimize your standard landing pages, pop-ups, sticky bars, AMP landing pages, and other features to get the best performance. Users can easily set up the A/B testing feature within a few clicks to check any variations in your landing pages. This includes headlines, CTAs, forms, bodies, or your entire landing page. The results of the test will be shown on the analytics dashboard, and you can see what works for you and has the most potential to turn your leads into customers.
9. Dynamic Text Replacement- For Personalizing Landing Pages
It is not possible to create pages that meet all the requirements of your visitors all the time. To get around this, Unbounce offers a workaround with the dynamic text replacement feature. Dynamic Text Replacement is a real-time solution that allows users to add personalized content to your landing page using different keyword parameters. The feature allows you to match the copy of your landing page that people have typed out in their search results or any ads that brought them to your landing page. You can also set a default value in your case if the visitors don't enter a keyboard.
To get the attention of a specific crowd, you can use the Dynamic Text Replacement feature to show the exact message based on the user's search query. Unlike the A/B testing feature, you are not guessing if the page would work for you. Since the content is already matching with the customer query and you are presenting a message that is highly personalized for them.
The best part of the feature is that it works well with email campaigns as well, making it highly effective for email marketers. It is important to note that the feature would only work if the URL on each landing page matches the parameters. Also, don't make the mistake of not utilizing a Dynamic Text Replacement, especially with AdWords. This will make you more money than you will save.
10. AMP Landing Pages- For Increasing Mobile Page Speed
Nearly all users today will view your landing pages from their phones today, so you know that your page should be optimized for mobile devices to be relevant in the market. The attention span of mobile users is very low, and they will close the tab if the landing page doesn't load in under 2.5 seconds. To maximize your conversion, you will need to create a lightweight mobile-optimized landing page that loads quickly.
Accelerated Mobile Pages or AMP is a mobile framework that is designed to load your landing pages 4 to 5 times faster than normal pages. Unbounce was the first landing page software that introduced AMP after WordPress and custom websites. So, they have slowly evolved the technology to make it more user-friendly over the years.
AMP configuration can be slightly tricky if you haven't done it before; however, Unbounce provides over 15 pre-built Amp templates that can be customized to suit your business type or target audience to meet your goal. After the page goes live, you have to be assured that Unbounce will keep the code updated with the latest standards.
11. Statistics and Reports- To Check Various Site Metrics
Unbounce gives users access to a wide range of reporting and statistics feature that tells you how your landing page is performing. This includes traffic, generating leads, conversions, and views on your website. One of the best benefits of the system is that it has an increased ability to detect any filter spam from incoming traffic. This change helps create an accurate data and statistics tracking system for your landing pages. Less spam traffic equals higher-quality leads, so the data on your landing page is accurate overall. Currently, you cannot download the reports; however, if you want your clients to look at them, then you can add them as view-only users so they can view the statistics themselves.
12. Third-Party Integrations – To Guide Leads Down Your Sales Funnel
If you are not new to lead generation, then you will be aware that you need third-party tools, like marketing automation and email marketing software, to allow you to collect leads for your work. Once you have integrated the apps with Unbounce, you can easily place them on your lists. From here, you can automatically send emails or create drip campaigns to keep the wheels running.
Unbounce natively integrates with a ton of marketing tools and CRMs that include Salesforce, Campaign Monitor, Keap, HubSpot, etc. If you don't like this native integration, there is an option to integrate with Zapier, which gives you access to a range of tools that Unbounce cannot directly integrate with.
Click Here To Try Unbounce For Free

13. GDPR Compliant – Check Compliance with Governing Bodies
All pages on Unbounce are designed to be GDPR compliant. This means that it falls under the scope of the General Data Protection Regulation that meets the requirements for properly handling personal data as defined by the law.
14. Client Support and Resources – Solve any Issues or Problems Instantly
Unbounce has a ton of self-help features, and you can contact the team via phone, email, and chat. They solve most of the issues within a short period. The platform also has several self-help resources in its help center. Here, documentation is split based on topics, including integrations, community, Ecourses, etc.
15. Easy Client Management and Collaboration with Unbounce
The reporting and ease of management are one of the key features why Unbounce is a preferred choice for agencies. The platform has some of the best client management services. Here, you can help your clients get the best marketing budget by creating high-converting landing pages that they and their consumer base will love.
You can share the real-time data of your clients via email notifications with your brand logo on it, and they will know about the work you have put in to give the desired results. There is also an option to add sub-accounts, and you can manage multiple clients and handle their marketing campaigns efficiently. Here, users can restrict access to the campaign using the platform's multi-user permission. This is good when you need to share a campaign just to get approval.
Unbounce also allows you to duplicate landing pages making use of one-click cloning and sharing them across sub-accounts. There is a real-time data analytics dashboard that allows you to keep an eye on the performance of the campaigns.
And using Unbounce as a preferred tool for your agency will help you deliver better results for your clients. You also have access to conversion-optimization tools and features that allow you to create efficient and fast marketing campaigns.
With Unbounce, you will save time as well as additional capital that you would otherwise require to hire team members to take care of the demands put forth by your clients.
Click Here To Try Unbounce For Free
Unbounce Coupon Code: Auto Applied
Unbounce Pricing
Unbounce seems like an expensive option on its own; however, the value it brings to your business is tremendous. It is an inexpensive platform with all the tools, features, and teams it gets to the table. You may have to pay more for the same set of features plus multiple tools if you go for a cheap platform. It is best suited to medium to large enterprises, bloggers, or businesses. To fit everyone's budget, the platform has a plan that suits everyone's budget and requirements.
Unbounce has four pricing plans, which can be purchased either on a monthly or yearly subscription. If you go for the yearly plans, you will get a 25% discount. The price of each of the plans is based on the volume of conversions, visitors, and the domains that you will require throughout the month. The four plans are listed below, along with their features.
1. Launch Plan
The Launch plan is the basic plan offered by Unbounce, and it costs $99 per month ($74 paid annually). This is an ideal choice for small businesses that are looking to find a way to build leads for their business. The features of the plan include:
Unlimited landing pages, popups, and sticky bars
AI copywriter
Up to 500 conversions
20,000 visitors max
Up to one connected domain
2. Optimize Plan
The Optimize plan is priced at $145 per month ($74 paid annually), where A/B testing and conversion features are included. They are an ideal choice for marketing teams planning to scale up their practice. It has all the features of the launch plan plus:
Up to 1,000 conversions
30,000 visitors max
Up to 5 connected domains
A/B split testing
3. Accelerate Plan
The Accelerate plan has the ability to create an AMP version for building landing pages with advanced targeting features. The plan is priced at $240 per month ($180 paid annually). It has all the features of the Optimize plan plus:
Up to 2,500 conversions
50,000 visitors max
Up to 10 connected domains
4. Concierge Plan
The Concierge plan is a premium feature that is catered to meet the demands of enterprise-level businesses. All its features are custom designed, as per customer needs, and it starts at $469 per month ($625 paid annually) + additional implementation fees. They have all the features of the previous plans plus
More than 5,000 conversions
More than 100,000 visitors
Above 25 domains
Published popups and sticky bars
Chance to schedule popups and sticky bars
Ability to manage multiple clients with your client sub-accounts
Page redirects
Dedicated success manager
Two-factor authentication
Page migration services
Launch specialist
AMP landing pages for lighting fast landing pages with Google's AMP framework
Additional integration with Marketo and Salesforce
A ticket to call to action conference
To know more about this plan, contact a specialist at Unbounce to know more about their terms of conditions and other additional features.
Unbounce doesn't come with a free plan; however, they offer a 14-day trial for the Launch, Optimize and Accelerate plans. Here, you will get full access to all its features, with no restrictions, and you won't be billed after the period. If you don't like to continue, which is highly unlikely, you can cancel the plan.
Is Unbounce Worth it?
Unbounce was the first landing page in the market, and over the years, it has evolved and grown into a unicorn in this space. Amongst different landing page builders in the market, only a few focus on creating landing pages that convert. Unbounce falls in that category, and it has helped more than 15,000 businesses to grow their business to great heights. Overall, it is very easy to use and convert leads into conversions online. However, it also has advanced customization options to create anything you want these days. Recently, with the addition of sticky bars and popups, it is like Unbounce has 3 tools fitted into one. Further, they have good support and are a great choice for small or big business enterprises.
If your company is serious about converting your visitors into potential leads or clients, then Unbounce should be a great choice for your business.
Unbounce Review Reddit FAQs
1. Is Unbounce easy to use?
Unbounce is easy to use and allows the creation of great landing pages efficiently. Its templates are very intuitive, so someone who is new to the game can easily create professional websites up and running within a few minutes.
2. Can your sell products on Unbounce?
Unbounce helps connect to most eCommerce tools that allow you to showcase and accept payment right on your landing page. All this can be achieved without requiring any coding or technical expertise.
3. What is an Unbounce tool?
Unbounce is a versatile AI-powered landing page builder that has excellent features that allow you to create beautiful and high-performing marketing campaigns in just a few minutes.
4. What happens if you exceed the conversion or traffic limits on your plan
If you are at risk of exceeding your conversions or traffic limits, you'll be informed via mail or through in-app messages by the technical team. In case you go over the limit, Unbounce will upgrade your plan to a higher limit and bill you for the next billing cycle.
Unbounce Alternatives
1. Leadpages
Leadpages is a popular landing page builder that is catered towards small businesses to connect with them efficiently with different audiences. It has the major features required for landing page builders that help create landing pages with ease. You can easily collect leads and convert them into sales and all this without having any qualifications or expertise.
Click to Try LeadPages For Free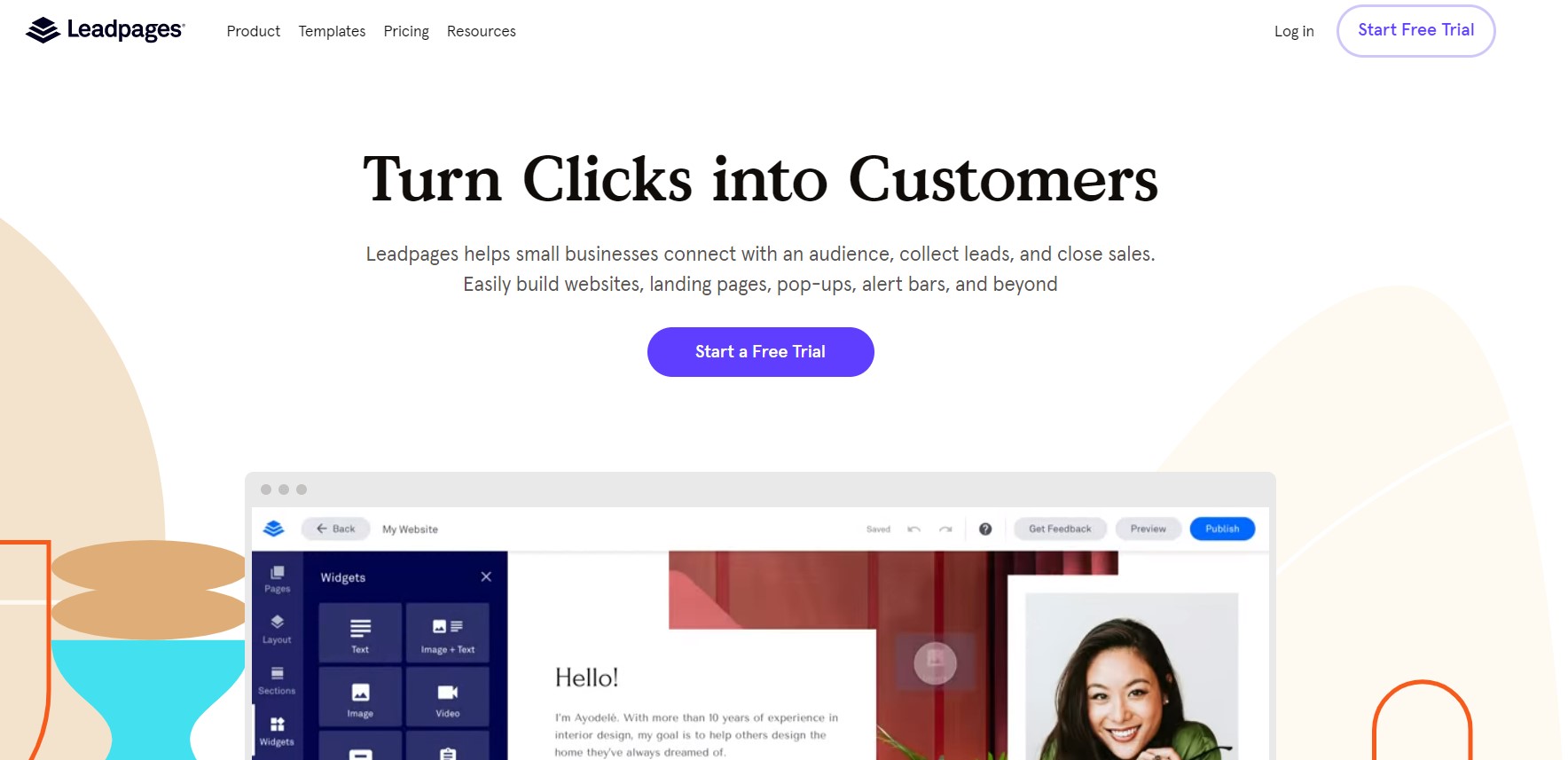 Leadpages comes with a library of above 200 templates that can be customized with a drag and drop interface to build your landing page. One of the main selling points of the platform is its free library of themes available on every plan. This makes the entire process of designing your website without any hassle.
It comes with good customer support and has excellent split testing to see what is working for you. You can integrate with an array of apps or CRMs like WordPress. If you don't use WordPress, it provides formatted HTML that you can copy and paste into the back end of your website.
What Redditors say about it
U/web_design- "You should check out Leadpages.com; it is a good landing page builder"
U/chrismcelroyseo- "To build your landing page, you can get a membership at leadpages.net. It is very simple to create landing pages there. The commentator was correct; there is a difference between landing pages and web pages. The people at leadpages.net provide great support, so if you have questions, they can help you with them. If you can use Word on PC, then you can build landing pages on leadpages.net".
U/justforthis2222- "Leadpages is great. It is the one I ended up selecting and staying with after trying 3 different other ones".
Features
Drag and drop builder- The intuitive drag and drop builder offered by Leadpages is really easy, and you can create landing pages really fast. You can customize every aspect of the page, giving superior flexibility out there, and there are no issues with lag.
Templates- Leadpages has a huge market of 130+ free templates to quickly create your landing pages. It also comes with a rich list of paid templates to create aesthetically looking pages. Each of these templates is mobile responsive, which makes it ideal for SEO.
A/B split testing- Easily spin up a new split test to see whether the versions of your landing pages work the best. This is important, as you can check various parameters and get a better grip on your landing page.
Tons of marketing integrations- Leadpages has integrations with an array of email marketing services, webinar software, CRM, payment gateways, etc. It also integrates with several website plugins, integrations, and much more.
Testing and analytics- It has dashboard analytics to check different metrics without having to shift other tabs. You can also test different metrics with Facebook Pixel, Google Analytics, and other tools.
Pros
Easy to use without requiring any coding expertise
A/B testing
Creation of lead generation magnets
Third-party integrations with different tools
Filter templates using the highest conversion rate
Checkout features allow you to sell products from your pages
Actionable analytics
No traffic limitations
Cons
Lacks some features and customization options
Limited form options
The cheapest plan has limited features
Pricing
Leadpages offers two tiers of plans to get you going. The plans are the Standard plan ($49 per month, billed annually) and the Pro plan ($99 per month, billed annually). If you need more, then you can go for their Advanced plan, which comes with custom pricing and features to suit your business needs. Before committing to Leadpages, you can see how it works by signing up for its 14-free trial.
Click to Try LeadPages For Free
2. ClickFunnels – Sales Funnel Builder Designed for Entrepreneurs
ClickFunnels is a popular online sales funnel platform that is designed to scale businesses by attracting targeted leads. On the platform, you can easily create beautiful landing pages to automate the sales process from A to Z. The platform lets you create unlimited landing pages via campaign-specific features.
Whether you are planning to drive organic or paid traffic, you can easily send your audience to a spot that leads them to take specific action without the distractions of a traditional website. You can easily create professional pages without requiring any coding or technical expertise.
Click Here To Try ClickFunnels For Free
ClickFunnels allows you to build regular websites, landing pages, opt-in pages, and much more. You can easily build a versatile sales funnel having a large selection of customizable pre-designed templates. All this can be done with a few clicks of a button without any hassle. The platform has an excellent support team and supports A/B testing to get the best features and performance.
IMO I find that Clickfunnels is better than Unbounce for sales funnels
What Redditors say about it
U/red8reader- "Right, ClickFunnels is basically an easy landing page optimizer that connects buyers to sellers on the buyer journey rather quickly. This type of page could be built as a website too. If done right, it can work for any business. These ClickFunnels that you are familiar with have their customer, and they know what the customer needs to convert".
U/bootstrapspecialist- "I have used ClickFunnels for many years, and I think it is an extremely valuable tool".
u/finous "ClickFunnels is very simple and straightforward to set up, just like Legos. I have had some success using it with my Facebook ads".
Features
Drag and drop builder- The tool allows the creation of professional-looking landing pages without requiring any technical expertise or coding skills. The editor allows you to create multiple pages within a few minutes. It comes with several pre-designed sales templates to do the heavy lifting of your business to create efficient sales funnels.
Upsells and downsells- ClickFunnels supports the upsell and downsell features, so you can get a higher price or offer a lower-priced product if the customer refuses to upsell. These features help increase your overall sales and profits.
Share Funnels- The feature is a unique offering offered by ClickFunnels to its users. You can share the entire funnel with users who can later duplicate and use it for their accounts. Everything can be cloned using it; however, integrations will not be copied with it.
Analytics and tracking tools- ClickFunnels allows users to keep track of sales and other metrics to get essential statistics. The feature allows you to check the performance via conversions, opt-ins, click-throughs, and much more.
Connect multiple domains- Users can connect multiple domains and subdomains to make the most of a single platform. You can purchase the domain from the platform's dashboard or purchase it elsewhere.
Pros
Clean and simple interface
Software is consistent and reliable
Mobile device optimization is easy
Funnel setups are highly effective
Build all landing pages using drag and drop functionality
All-in-one marketing solution
Works great with third-party integrations
Sharing funnels between accounts is very easy
Cons
Too simplistic for some people
Setup can be time-consuming
Email marketing is not its strong point
Pricing
ClickFunnels is an online tool that comes with 3 plans for users. They are the Basic plan ($147 per month), the Pro plan ($197 per month), and the Funnel Hacker plan ($297 per month). The platform doesn't come with a free plan but has a 14-day trial period to check what it offers.
Click Here To Try ClickFunnels For Free