Since ChatGPT burst into the scene, AI writing tools have become big news in the market. They aren't taking over the world yet, but they have become useful for content writers, copywriters, and businesses. If they are used properly in the right circumstances, these AI text generators can help you work better to create a faster and more polished copy.
The AI writing software needs human supervision to deliver the best results. Left on its own, it tends to produce fairly generic and frequently incorrect content, even though it can pass something a human wrote. However, AI writers and assistants are not going anywhere, so it is best to research early and find the best tools that are disrupting the writing industry. We'll talk about the best AI writing software in this article and help you make the right choice for your business.
How AI can help your Writing Workflow
AI writing tools provide various solutions that are useful considering the different types of writing and writing tasks people encounter daily. For instance:
There are AI writing tools used for rewriting existing content so your content is fresh and relevant.
There are AI copywriting tools that help your marketing strategy to generate high-quality content for product description, marketing, etc.
The SEO AI tools utilize NPL based on keywords to create quality SEO content. The best SEO tools already use AI to help with advanced SEO techniques.
Proofreading AI tools that offer spelling, grammar, and plagiarism checkers to ensure content is fit for publishing.
Story and creative writing software to quickly generate innovative ideas to help write illustrative content.
If you are someone writing or editing multiple content types, you will benefit from various AI writing assistants. We will look at some of the best AI writing tools below:
What are the best AI Writing Tools?
AI writing tools can speed up virtually any writing task. By selecting the right one, you should be able to increase your editorial output. I've done some unbiased research to show the best AI writing Apps you can choose today. These tools are organized into different categories.
1. General AI Writing Tools
a. Jasper AI- Best Overall AI Writing Software
Jasper AI, formerly known as Jarvis, is one of the leaders in the AI writing software space. It has some of the most powerful features that allow you to write long-form content, SEO copies, sales emails, blog posts, newsletters, and much more. You can easily generate high-quality content in a short time frame using this tool.
Use my exclusive Jasper AI Discount Link below to get a free trial and a 10,000 word for FREE!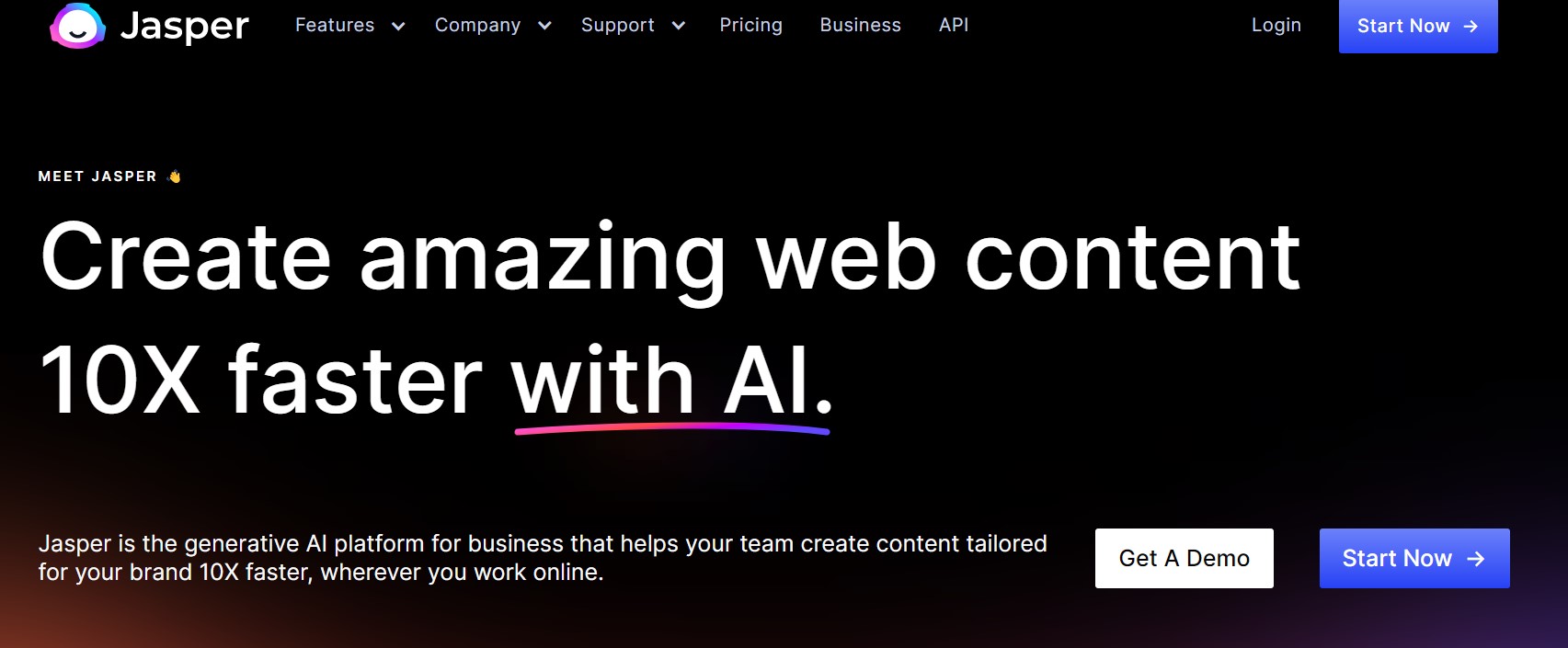 Jasper AI has launched its GPT-3 to generate AI content and has over 50 templates to create different content types for your business. Here, you just have to give a command in human language, and the platform will start writing. It is more than just a document editor with templates, recipes, and add-ons that make it very useful. The platform has recently acquired Headline and Shorty AI writing software, which has made it one of the best AI writing software in the market. Since content generation in the marketing world has become very important, Jasper AI has become an invaluable tool.
What Redditors say about it
U/lexus250beast- "It's alright. I only started using it 2 days ago, and it has helped me pump out content faster. It looks human-written too.
U/Regillio14- "Overall, Jasper AI is a great investment for individuals looking to save time and money. The tool gives you higher-quality content with few mistakes and reduces the risk of making errors. It has 50+ templates that are fit for different niches and produces 99.99% original content that is free from plagiarism. The SEO-optimized content helps rank your content quickly. The real power lies in the Boss mode for long-term assistance.
Features
Advanced long-form document editor- A powerful tool that can help you write documents utilizing AI-assisted outputs.
Automated writing software- Jasper has parameters and content creator AI to easily create articles, blog posts, and much more.
Plagiarism detector- Check your content with a dedicated plagiarism checker and compare its phrases to determine any similarities in the text.
Speed writing- Just hit start and give a little information, and Jasper will create a masterpiece for you.
Integrate efficiently with a range of tools to enhance the performance of the platform.
Good customer support. They also have a Facebook community where you can connect with other users utilizing the tool.
Multiple language support.
Pricing
Jasper AI comes with 3 pricing plans starting at $49 per month and can go up to $99 per month. If you want premium features, then you can select its Business plan to get advanced features. The platform comes with a 5-day trial on its plans to check how the platform works.
Use my exclusive Jasper AI Discount Link below to get a free trial and a 10,000 word for FREE!
Pros
Intuitive interface
Supports more than 25 languages
50+ content templates
Create long and short-form content quickly
Comes with a 5-day free trial
Access to a plagiarism checker
Integrations with various other tools
Cons
Slight learning curve
The content generated from Jasper requires some form of editing
Slightly costly
b. Rytr- Best Budget-Friendly AI Writing Software
Rytr is an AI-powered writing tool that helps write content for you. Its algorithm is trained on historical data that allows you to produce unique and compelling articles with the right style and tone. The platform is simple to use and can magically generate content using its rich text editor.
Click Here To Try Rytr For Free
The Rytr uses GPT-3 to create content in a short time without requiring any human intervention. Currently, the platform allows you to create text on a variety of topics, including sports articles, business articles, blog posts, technology, and much more. It is the most affordable AI tool if you need AI writing software.
What Redditors say about it
U/synthaesthetics- "Rytr. me is a great AI-based copywriting tool. Here, you can input keywords and tone to get different results. The output it gives offers a nice base for you to build upon".
U/KeepTheCamino- "After testing the GPT-3, Jarvis, and a few others, Rytr offers a brilliant implementation. It isn't just magic but allows users to save tons of time. I used the platform to write the skeleton of 500-word posts that includes technical terms in a fraction of the time. It is worth it, and you can calculate the time to write 500 words several times and multiply by its cost. We can easily revise and improve it faster than we would spend at writing".
Features
Document editing- The closest thing that comes to Jasper's assistant is Rytr's on-document edits. You can easily select a piece of text and has plenty of tools to rephrase it.
Use cases- Rytr helps create unique material by selecting a template of the use case on what you want to write.
Grammatically check your writing to make it look professional.
Plagiarism checker to ensure you have the highest quality of content.
A vast library of ideas to generate content. It also comes with a rephrasing tool to generate improved content.
Basic keyword research tool and SERP analysis.
Rytr has an AI image generator to create original images from articles or content.
Pricing
Rytr has a Free plan that helps you generate 10k characters per month. However, it has limited features, but if you want advanced features, you can select its other two plans, which start at $9 per month. If you want a discount, you should select its yearly subscription.
Click Here To Try Rytr For Free
Pros
Great tool to generate short-form content and outlines
Ease of use
Helps create content with 20+ tones in over 30 languages
Utilizes proven AIDA and PAS frameworks to develop high-quality content
The free version is available
Great value for money
Cons
Lacks some features that are offered by Jasper
The quality of the writing needs some improvement
Limited input options
c. Sudowrite- User-Friendly Writing Tool
Sudowrite is a versatile AI writing software that is built to generate content, rewrite existing material into something new, elaborate on something when you require more words, or brainstorm ideas.
Click Here To Try Sudowrite For Free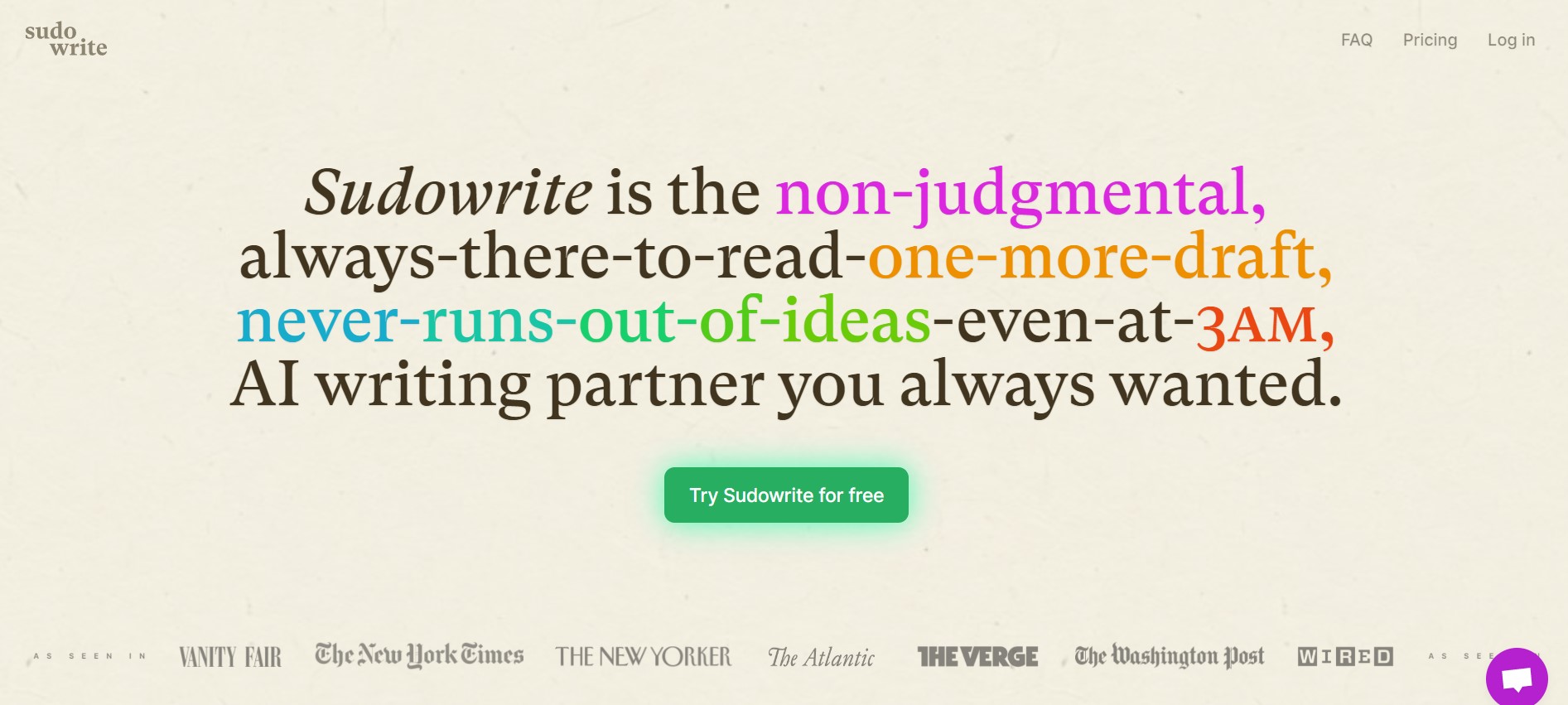 The platform has some excellent features that help make the writing process interesting. The AI helps act as a beta reader and gives constructive feedback and new ideas to try. It is a great choice for writing friction, but you can also use it to write non-fiction. The platform has a user-friendly interface, making it great for beginners or novice users.
What Redditors say about it
U/monsterfurby- "Just started using Sudowrite and find it extremely useful so far. It's more geared towards specific co-writing use-cases rather than generating a whole story on its own, but I really LOVE the ability to give it an outline and let it expand that into prose".
U/Odd-Cat-5650- "Honestly, I can't confirm any of this. Sudowrite is still far superior to any alternative for story writing, and it never balks, even in most graphic scenes. I also think that the outrage here is blown completely out of proportion".
Features
Create content- The AI assistant helps you to create content efficiently.
Rewrite tool- If you don't like how something has turned out, you can easily rewrite using this tool.
Expand feature- This is also called a Wormhole that helps expand and autocomplete content for writers.
Describe feature- The button helps writers when they are at a loss for words. If you can't describe an object, then it will give you suggestions for having sensory details.
Brainstorming feature- Create plot points for complex content ideas.
Summarize feature- Helps efficiently summarize chunks of texts into simpler details.
Character Generator- Efficiently come up with new character ideas.
Poetry tool- Sudowrite also has a poetry tool to generate contemporary free verse poems.
Pricing
The pricing options are broken down into the number of words you want to generate. It has 3 pricing plans, with the initial plan starting at $19 per month with the highest plan priced at $129 per month.
Click Here To Try Sudowrite For Free
Pros
The brainstorm feature is a great tool for story writing
Designed specifically for creatives
Great rewrite tool to give sections of content in an appropriate tone
Get beta-reader feedback on your writing
Affordable plans
Cons
No plagiarism checker
Some features are experimental and may not work as intended
Can be slightly overwhelming
2. Best AI SEO Writing Tools
a. Surfer – Premier SEO Writing Tool
Surfer is the best tool if you want to create SEO content without any hassle. The on-page optimization helps optimize existing content to rank higher to get better visibility. It easily compares your content with top-ranking articles with more than 500+ tracking factors.
Surfer gives users data-driven SEO analysis and gives you keyword suggestions to efficiently plan your content strategy and generate outlines or briefs of your content strategy. Its document editor allows you to copy and paste directly into your CMS without any reformations. Surfers AI writing tool offers a well-rounded solution to all your SEO needs.
What Redditors say about it
U/ProffesionalAds- "I usually go with SurferSEO for its all-around integration with other tools. It is easier to navigate tools such as WordPress, SEMrush, and Google Docs while using Surfer. It is great for on-page optimization, especially with keywords research".
U/ok_Operation_9292- "If someone wants to improve their copywriting skills, they should definitely get acquainted with the SurferSEO tool".
Features
Content Editor- The core feature of Surfer allows you to write, outline and optimize the pages for your websites.
Content Planner- Surfer allows you to plan your content and has versatile tools to generate clusters of related content.
Keyword Research- The tool helps you to plan your content by just inserting seed keywords and geographical areas to pull the best results. The feature lets you generate related keywords into a group of clusters.
SERP analyzer- SERP analyzer is a great feature to deep dive into the competition for a specific keyword from a content point of view. The feature has a super detailed breakdown of results from search engines across different pages for a given keyword.
Auditing tool- It helps optimize content from your website to improve your search performance.
Pricing
Surfer offers 4 plans to their users to help rank their content efficiently. Its Basic plan is priced starting at $59 per month and can go up to $239 per month. If you want advanced features, you can select its Enterprise plan. The platform offers a 7-day money-back guarantee across all its plans if you don't like what you are getting.
Pros
Rank faster and save time
Good interface and easy to use
Fantastic content editor
Great customization options
500+ ranking metrics to analyze your content
Seamless integration
Easily export content with WordPress
Topic clustering
Excellent Support
Cons
Difficult for beginners, and the UI needs improvement
Minor bugs
Some suggestions can be irrelevant in certain cases
b. Writesonic – Budget-Friendly SEO Writing tool
Writesonic is an AI-powered software that empowers you to create SEO-Optimized content. The platform provides comprehensive features to create anything from blog posts, short descriptions, social media content, ad copy, and much more. It has pre-written content to outline what you can utilize to create your own write-up.
It is a great choice for content marketers to push past writer's block and reach their desired audience. The platform is the ultimate choice for a writer that is struggling to come up with new ideas. The content can be easily shared across a range of social media platforms.
What Redditors say about it
U/G_Art33- "I have used the exact combination of words to describe AI written product descriptions on my company's website not 2 hours ago. Writesonic is a crazy good AI writing software".
U/vexba- "I agree on some level. I actually was just like you and felt the same way. However, if you have tried Writesonic as I did, then I'm sure you would change your mind or at least give it a shot".
Features
Comprehensive AI writer- The AI writer helps write different content types to create top-notch marketing material.
SEO-Optimized content- Create perfectly optimized content so articles rank well on search results.
Art generator- The art and image generator helps users to generate unique art to complement your text.
Paraphrasing tool- The tool can rewrite content to make it better. This is great if you are taking content from somewhere else.
Writesonic has multiple free tools that can be used for free.
Creates formidable marketing copy within a few clicks.
Pricing
Writesonic offers flexible plans that give users a great taste for AI writing. It comes with 3 plans that can be purchased on a monthly or annual basis. The Free plan is great to check the features of the platform. The paid plans start at $19 per month; however, if you want a Custom plan, you can contact the sales team and get customizable features to get you sorted.
Pros
Simple user interface
50+ advanced writing tools
Help generate content that reads naturally within seconds
SEO-Optimized, plagiarism-free content
Great social media content
Versatile AI art generator
Offers a free trial
Cons
Word limits across all the plans
The copy may not always be 100% accurate
Requires human intervention to ensure writing makes sense
c. Scalenut- Powerful AI Writing Assistance
Scalenut is a versatile AI writing tool that helps manage your entire search engine optimization from start to finish. Its AI writing algorithm combines both SEO and NLP techniques to create engaging content to boost your overall page rankings. You have to just enter your keyword, and it produces the content and directs it to the document editor centered around it.
Click Here To Try Scalenut For Free
Scalenut is powered by a mix of technological stacks and heavily relies on GPT-3 model. This is considered the gold standard of language models. Another factor that allows it to stand out is its SERP analysis and keyword clustering.
What Redditors say about it
U/xavierpenn- "Yes, it requires editing, and the one I use is amazing and called as Scalenut. Its devs are super active, and engaging with the community can save a ton of money to get a better product".
U/mjain_mayank-"Purchased Scalenut a few weeks ago, and it is absolutely amazing for content creators. Also, I found a list of great writing tools which marketers can use on their website".
Features
AI copywriter tool- The tool helps in the creation of different types of content.
SEO Research- It has great SEO features that allow you to rank your content higher on search engines.
Editing tools- Powerful editing tools to rephrase, edit, or convert to other content forms to make it rank better.
AI templates- Scalenut has dozens of AI templates that help create your own touch.
Keyword planner- It comes with a powerful keyword research tool that allows users to identify search terms and topics you want to target in your content marketing strategy.
Great collaboration tools and has no word length restrictions on any plans.
Pricing
Scalenut comes with 3 pricing plans that start at $39 per month and can go up to $149 per month. The platform offers a 7-day free trial to check what it can do.
Click Here To Try Scalenut For Free
Pros
Great user interface
Short and long-term templates
Excellent optimizations tips
Cluster builder is useful
Good Cruise mode
24×7 support
Cons
No customizable templates
Sometimes produces poor-quality output
UI builder can be better
3. Best AI Copywriting Tools
a. CopyAI- Best AI tool for Copywriting
CopyAI is an AI-powered copywriting assistant that utilizes machine learning algorithms to generate compelling and human-like marketing copy within seconds. It comes with a wide range of AI-created templates to help get you efficiently started on your project.
The platform has an enormous library of 90+ use cases that help deliver premium AI content. It also has a long-form document editor, which allows you to easily work on your ideas in one place. The product description workflow of CopyAI is very intuitive and gives great tips and ideas.
What Redditors say about it
U/sadcrackhead- "I love copy.ai though it may not be perfect by any means. Working in an agency on the same brands and talking about the same old things runs my brain dry quite often. And this has the tools like changing the tone or rewriting a sentence, and sometimes a simple word sparks a whole new tangent for me to create. I'd personally really like more ideation tools/brainstorming tools that don't sound like gibberish, sure I can come up with creative concepts for xyz platform in an innovative format, but everything is so done, and if I'm doing something, how can I spruce it up?".
U/going2throwwaway- "I find copy.ai to be super useful for initial outlines, social media posts, and re-writing. Of course, it's not perfect, like, I don't expect you to write it all for me, but it gives me a good starting point. Sometimes the results surprise me because they're so good! Depends on the topic and how much info you give it".
Features
AI templates- CopyAI has several templates that help with the format or the content.
Paraphrasing tool- The free paraphrasing tool is a great feature that helps you rephrase sentences or paragraphs quickly.
Freestyle content- If you can't find a template or use case for the content, you can use the freestyle template. Here, you can command whatever you wish the AI tool to generate.
Ability to create- Design digital ad copy, social media content, website copy, product description, and much more.
Long-form document editor and supports multiple languages.
Pricing
Copy AI is a versatile AI tool having 3 plans, giving users a great choice. The Free plan is a great choice to help you check what the platform has to offer. The Pro plan starts at $49 per month, giving users access to unlimited words. If you want customizable features, you can go for their Enterprise plan to automate your workflow efficiently.
Pros
The dashboard is simple and intuitive
Great copywriting AI tool
Several templates to work with
AIDA and PAS frameworks are supported
Refined results for short and long-form content
Offers a generous free trial
Create custom tones
Comprehensive help center
Cons
Fact-checking and human intervention are required
May lag sometimes
Endless templates look intimidating at first
No plagiarism or Grammar checker
b. Frase – Best Combination for Copywriting and Research
Frase is an all-in-one AI copywriting tool that helps SEO and content teams to write, research, or optimize content better and faster. It is a great tool for long-form content and has different features to create a powerful content creation tool.
The advanced AI technology used by Frase helps take your content to the next level. The SEO tools ensure that the content is optimized for search engines. It has a special mix of both AI and research tools to get the desired output.
What Redditors say about it
U/FLNI- "I'm a user of Frase.io, and the tool has a lot of benefits for content writers at any level. The area in which it helps the most is in the research phase, and the more you're familiar with the tool, the more hours it saves you during the process. The suggestions are awesome if you know how to tweak and adjust the tool to follow your preferences. Ultimately, you'll end up with heaps of research being done in no time, which improves your overall time management/delegation tasks. That has been my experience".
U/DemiLiveandwingit- "I have used Frase AI, and it is quite the workflow facilitator. It simplifies your research process, helps keep tabs (news and latest updates) on your choice of keywords, collates from different sources, and summarizes content in a unique way. It is software, which means you can edit to suit your style or needs at the time. What makes it awesome is; it's free (for now)".
Features
In-depth research- Frase takes your keywords and delivers topics, SERP, and community research based on them.
10+ content templates- Frase has content templates that allow you to create sentences, paragraphs and create content around it.
Document editor- The fully-fledged document editor lets you check SEO, grammar corrections, and rudimentary task management.
Integrations with different apps to deliver better overall performance.
Efficiently export PDF, HTML, or Excel files.
Pricing
Frase offers 3 pricing plans, which can be paid either on a monthly or yearly subscription. The initial plan starts at $14.99 per month and can go up to $114.99 per month on its highest plans. The platform offers a 5-day free trial for only $1, and you can cancel it anytime.
Pros
Simple interface
Advanced topic modeling and natural processing algorithms
Create content briefs easily
Easily fill content gaps
Concept map and questions feature helps in idea generation
Keyword volume help select the right search items
Excellent support and development team
Cons
Lacks accuracy
Doesn't provide internal link suggestion
Only offers single-page optimization
c. Peppertype – AI writing software Focused on Speed in Delivery
Peppertype is an AI-powered copywriting tool designed for creatives to create high-quality content without any hassle. It is easy to use, and its latest technology helps provide the most relevant responses to the user.
The platform offers valuable insights into a user's mood and emotions while also offering suggestions on what they should do next. Its artificial intelligence has been trained with over 100k+ of content and understands what is best for your audience. The platform is a great writing assistance for writers without having to spend time learning how to use it.
What Redditors say about it
U/Own_Chocolate_3882- "I am trying out Peppertype, and so far, I like it".
U/Southernnskirt- "Some of the use cases of Peppertype include product review generator, personal bio, Amazon product descriptions, cold emails, Google Ad copy, meta descriptions, and a lot more. You can easily organize your content projects to make it easier to find and repurpose the content".
Features
Use Cases- The platform has several use cases that allow you to create content for different media types.
Longform editor- If you wish to automate the process of creating articles, then Peppertype helps you to make notes or expand content around it.
Engagement metrics- Peppertype has a powerful engagement metrics feature that allows you to analyze your content on the fly.
Sentence formatting helps provide better readability and engagement across different mediums.
Advanced plagiarism checker to prevent any issues of copyright ensuring that content is unique
The advanced style editor helps design content with ease without requiring any complex technical knowledge.
Pricing
The plans offered by Peppertype are very straightforward. It has 2 plans; the Premium plan starts at $399 per month. The Enterprise plan is the custom plan having premium perks and advanced features. You can try the platform with its 7-day free trial.
Pros
Modern and Fast UI
Generates tons of quality copy in a matter of seconds
Focus more on tasks that are important to your business
Saves time in the writing process
Refined algorithm
Efficiently specifies target keywords
Cons
No additional language support
Doesn't have a plagiarism or Grammar checker
No use cases for fictional content
4. Best AI Article Generators
a. Copysmith- Best AI tool for eCommerce
Copysmith is an AI tool that helps users generate compelling copies for their blogs, websites, and other content forms. The platform has pushed the boundaries of what digital intelligence can do. It comes with a series of tools to generate different content types, with the popular being its article builder, which helps writers build articles from scratch.
The unique AI algorithms it uses makes your campaigns effective for both customers and your business. You can easily create high-quality content for any language. The possibilities are endless to ensure your campaigns are effective.
What Redditors say about it
U/m_c__a_t- "Copysmith has been doing this for a long time before Chat GPT3. It's a great software for marketers, but pretty bogus for news."
U/greyscale46- "Definitely, Copysmith – its copy is always much better than the alternatives I've tried. Also if you have the time/know-how, their API and integration options are game changers".
Features
Powerful software- Copysmith has a powerful editor that allows you to create, organize and edit your entire content copy in a single spot.
50+ templates- The platform has versatile templates that are classified based on different segments that can be used to create your own use cases.
Content expander- To create long and informative information, it is important to write detailed information, and this tool makes it possible.
Content rewriter- This is great to repackage your old content and use it elsewhere. The tool helps in rewriting and paraphrasing your content.
Understand writing tone- There is no way to train AI; however, you can use the output generated by AI by clicking the like button. This will ensure that the same writing tone and structure are used to generate future content.
Built-in integration that is designed to enhance the functionality of the tool.
Pricing
Copysmith has 3 plans- two are for individuals and one for enterprise customers. Its Starter plan is priced starting at $19, and you can select its Enterprise plan if you want premium features and performance. Further, you can get access to its forever free plan to try out the platform.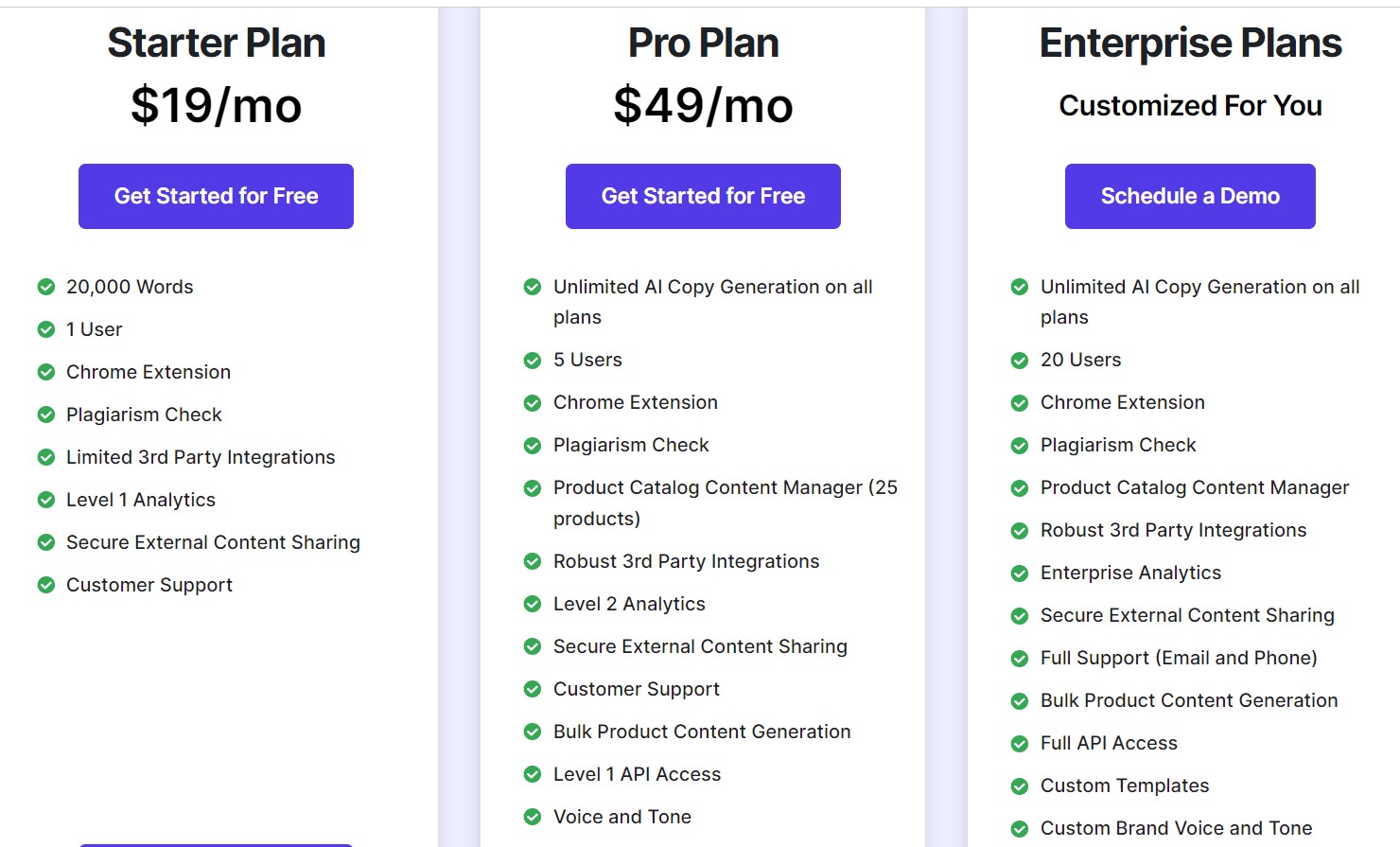 Pros
Convenient and easy to use
Optimized content for SEO
Affordable pricing
Easy content exporting
Learn and remember user preferences for tonality and phrasing
Seamless integration
In-built plagiarism checker
Cons
The quality of information can be questionable at some times
Credits don't roll over to the next month
May require some time and effort to launch
b. Hypotenuse AI- Top AI Content Platform for eCommerce
Hypotenuse AI is a writing tool that uses artificial intelligence to aid the creation of premium content. It is a great choice for e-Commerce sites that are planning to sell their products by creating compelling product descriptions. Here, you can also generate content for landing pages, google ads, etc.
The platform makes use of AI to generate unique pieces of content that are relevant to each niche. Not forgetting to mention, the generated content is of the highest quality and free from plagiarism. The best part of the platform is that you just need to add a keyword or keyword cluster, and the AI writer will do the rest.
What Redditors say about it
U/chuaofthesky- "I'm currently using hypotenuse.AI and have found their copy to be the most human-like and realistic! Saves me buttloads of time for a small fee".
U/ineedadeveloper- "Same here. But recently, I discovered hypotenuse.ai it's more accurate than ChatGPT and connected to the internet. So, it knows current events. Plus, I think they fed it more scientific books".
Features
Batch generation- When you have a lot of products and want descriptions in bulk, this tool will generate high-quality content without requiring you to import it using CSV or Shopify.
Product descriptions- Easily generate high-quality product descriptions for your campaigns.
Product catalog- Organize and store all your products in a single place so you don't have to manually update product availability.
Blog and article writing- It has a guided blog writing workflow to easily generate titles, outlines, and full articles with better control.
Social media captions and ad copy to generate Instagram captions, Google, Facebook ads, and much more.
Rewriting and summarization tool- Easily rewrite or summarize content to improve the final output.
Image generation- AI art can be used to easily create compelling images to stand out.
Pricing
Hypotenuse AI has three standard plans for users that can be purchased on a monthly or yearly subscription. The yearly subscription plan offers a 17% discount on its plans. The initial plan starts at $29 per month and can go as high as $59 per month. If you want custom plans for organizations, you can select its Enterprise level plans.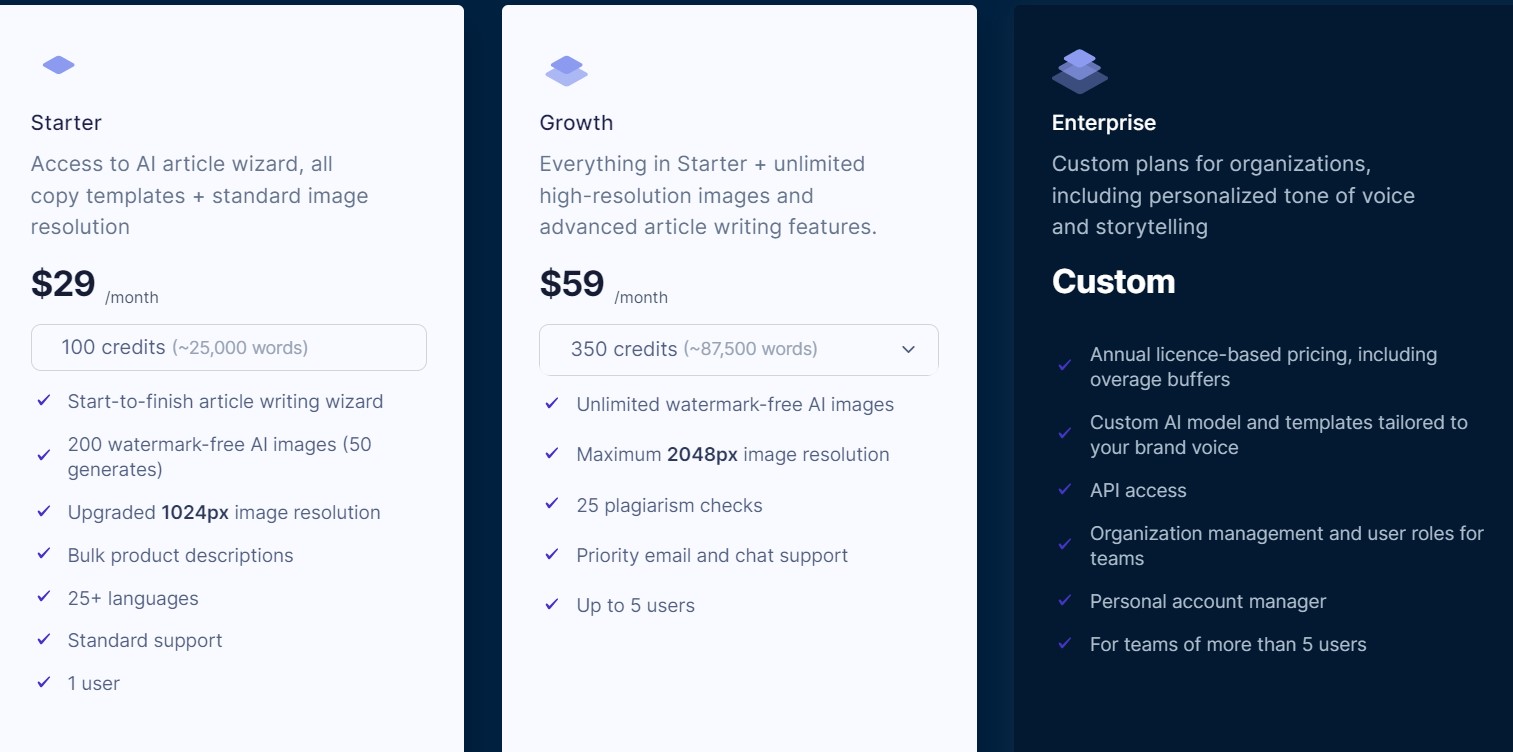 Pros
Simple interface with intuitive design
Fast content generation
Flexibility in language options
Plagiarism checker and detection
Added bonus of AI image creation
Amazing price and affordability
Cons
Limited scalability
Requires proofreading of the AI-generated content
Limited templates
c. Ink AI- Great Paraphrasing AI tool
Ink AI is a comprehensive AI solution that is designed to write content and optimize it for better ranking. It is powered by Natural Language Optimization AI to create high-quality content for your project using this software.
Click Here To Try INK AI For Free
The platform allows you to produce content faster than manual writing. This will help save a lot of time that you can invest in enhancing your content creation process. Further, it has in-built SEO optimization tool to rank higher on different search engines.
What Redditors say about it
U/Claudionet- "INK is the first Al Content Optimization Editor made specifically for content creators. Write 10X faster! Free courses, videos, support, and community make it easy for everyone to master content performance".
U/Deeditre- "The next-generation tool for content producers is Ink AI. Ink AI is the ideal tool for authors, bloggers, and content creators wishing to elevate their work. It is powered by the most advanced artificial intelligence (AI) and natural language processing (NLP) technology. With its sophisticated skills, Ink AI can speed up the creation of interesting content for your audience".
Features
AI writer- The AI writer helps to start from scratch or rewrite an existing piece of content.
SEO optimizer- The tool allows you to rank higher on search engines to increase organic traffic. This helps improve the article's meta optimization, content readability score and offers topic recommendations.
Paraphrasing tool- It is a great choice for writers looking to paraphrase their content to create compelling copies efficiently.
Content planner- The content planner does a basic research on keywords to implement and find metrics to track performance over time.
AI image generator- Ink AI is not a writing tool alone but also offers a tool to create images from simple text inputs.
Pricing
Ink AI has simple and flexible plans to get you going. It has 2 plans starting at $45 per month and can go up to $119 per month. The platform has a 5-day free plan where you can instantly activate 10000-word credits and try the software out.
Click Here To Try INK AI For Free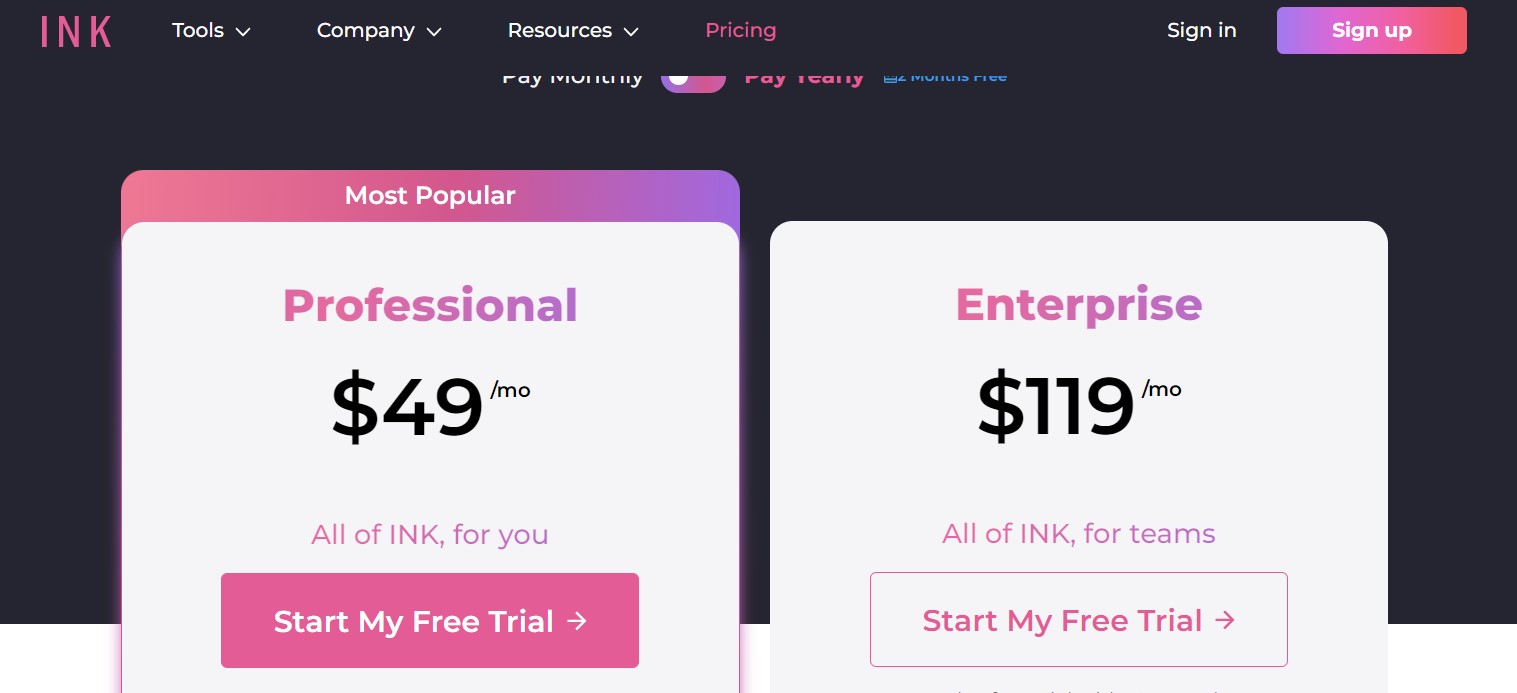 Pros
Comprehensive content creation tools
User-friendly interface
Content planner and topic research tool
Library of templates
Offers topic suggestions and instructions
Email support
Free trial for every product
Cons
Some features are in beta testing and can produce irrelevant content
Only supports the English language
Is confusing at times
5. Best AI Writing Apps and Browser Extension
a. Grammarly- Best Grammar Assistant
Grammarly is an AI writing tool that is a game-changer in the content writing space. It is something that you didn't think you needed, but you actually need it. The platform is a great AI tool as it doesn't just focus on grammar but also looks at its overall tone and style. This ensures that your content fits the audience you want.
The platform offers easy explanations to enhance the overall content quality. Even on its free version, Grammarly is very customizable, given its limitation in features. It is simple to use, and you just have to install the plugin or browser extension, and you are good to go.
What Redditors say about it
U/Southernnskirt- "Grammarly is an AI-enhanced program that goes beyond spell-check, improving cohesion, flow, and word choice. It can be accessed in various formats such as Chrome extension and desktop app. It's very convenient because it corrects your text as you write and presents you with drafting suggestions".
U/UReadthatWrong- "I use Grammarly daily. The free, not paid version. It is my starting point, making manual proofing quicker later on. I'm satisfied with the performance it gives, allowing me to concentrate on creating my written work rather than being distracted by basic errors which interrupt the flow".
Features
Grammar checker- Efficiently eliminate grammar mistakes to improve your content.
Contextual spelling checker- Spell-check your words to ensure you offer the right context.
Punctuation correction- Easily resolve all the punctuation needs of your content to deliver better accuracy.
Style suggestions- Deliver content in different tones and styles to suit your niche requirements.
Long-form content editor.
Integrate easily with platforms similar to Google Docs.
Error-free proofreading.
Pricing
Grammarly has 3 standard plans that users can use to create content or edit it for better efficiency. Its free plan is a great choice that offers basic writing suggestions and is very reliable. If you want Premium plans, then you can select the plans starting at $12 per month.
Pros
Explanations are easy to understand
Highly accurate
Real-time grammar correction
High customization features
Plagiarism checker, style, and voice correction feature
Seamless integrations with browsers
Forever free plan
Cons
The paid plans might be slightly expensive
Sometimes offers an inaccurate suggestion
Aggressive advertisement on the free plan
b. Quillbot – Excellent Proofreading, Citations, and Plagiarism Checker
Quillbot is a comprehensive writing tool that helps users generate content. If you are a student that is looking for an AI essay writer or requires to research and writing citations, you don't want to miss the tool.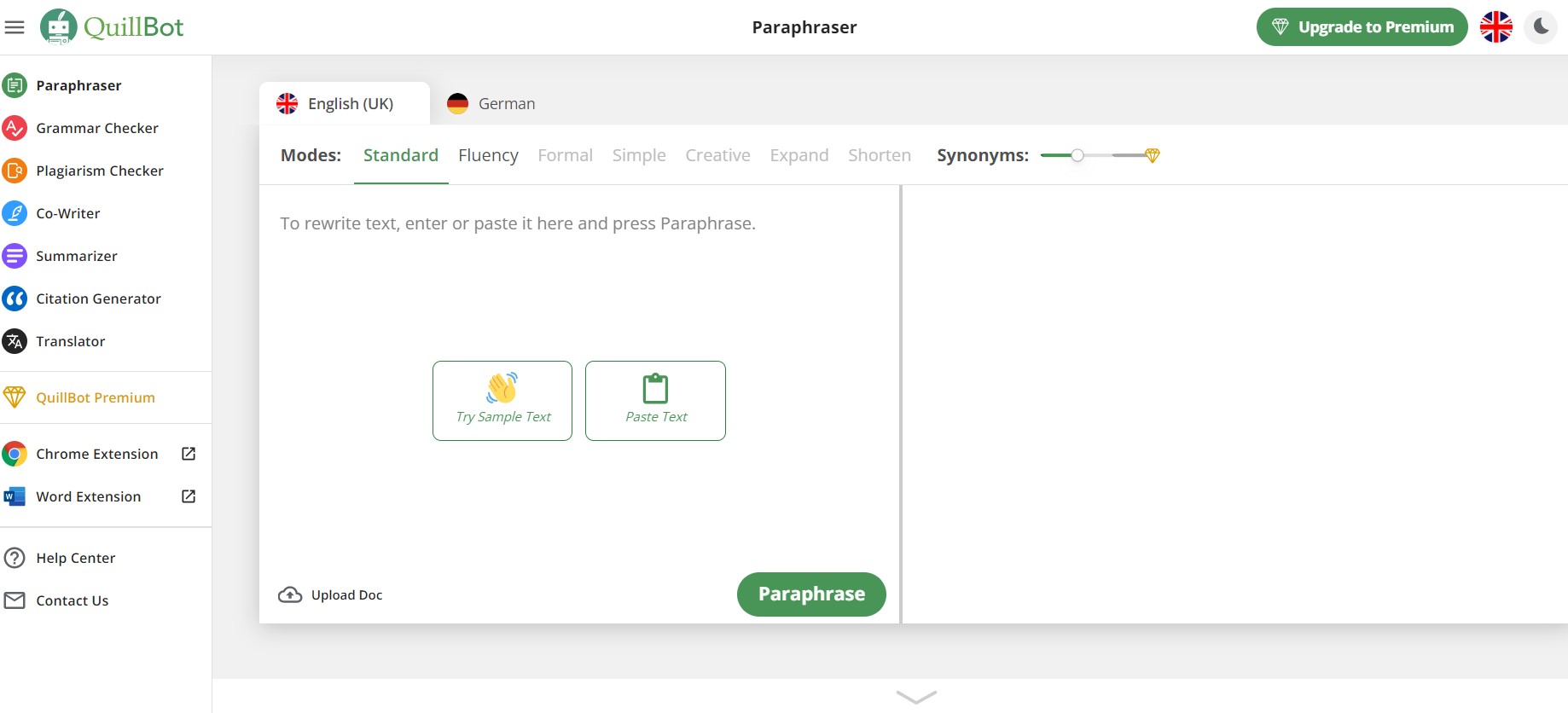 The platform is the best essay checker and paraphrasing tool that is a great choice for academics, content writers, and essay writers. The free plan is easy to use, and you don't have to sign up to try it out. There is no need to mess with a marketing copy, just get in and start using the tool.
What Redditors say about it
U/rainey8507- "Through its word choice, Quillbot makes materials simple for me to understand. Although I'm not sure if the premium version is worthwhile, I've found the free version to be quite helpful. I like Quillbot better than Grammarly".
U/Corrie_W- "Quillbot is great when you are stuck on how to phrase something. It doesn't always rephrase it in a better way, you definitely still need to make sound judgments, but it is a useful tool".
Features
Paraphrase tool- Easily paraphrase the content to improve it to meet all your requirements.
Grammar checker- The grammar checker makes sure your content sounds professional and is grammatically correct.
Plagiarism checker- Check your content for plagiarism by simply pasting the text or uploading the file.
Citation generation- Help track and cite your data to offer better information to users.
Co-Writer- The AI writing assistant helps generate new ideas based on what you have written.
Summarizer- The summarizer tool helps you to summarize content better to easily send the message through the end-user.
Extension with powerful tools.
Pricing
Quillbot has a free plan that allows users to check the features of the platform. If you want premium features, you can choose its paid plans. The paid plans are priced starting at $9.95 per month. You can pay for the plan on monthly, semi-annual, and annual subscriptions. If you don't like what you are getting with it, then you can get a 100% money-back policy within 3 days of purchase.
Pros
Easy-to-use interface
No sign-up to use the platform
Great summarizer tool
Grammar checker
The export feature helps makes downloading the output easy
Versatile captions generator
Reasonable free plan with affordable paid plans
Cons
Manual intervention is required to pick the correct sentence structure
The free plan is limited
Support is available only on weekdays
c. Wordtune – Great Tool for Paraphrasing
Wordtune is a robust AI-powered writing assistant that can create content quickly. It promises the writing to be clearer, making it more concise and easier to read. The platform is a novel writing software designed to create compelling copy.
Wordtune allows you to improve your writing with several tools. This helps enhance the clarity, tone, and other features to convey your messages efficiently. Since it works with different tools, anyone can write anything online.
What Redditors say about it
U/Yazstradamus- "I find Wordtune excellent to give sentences structure".
U/Keshav_25- "Use Wordtune to tune your big sentence into smaller ones. This has helped them a lot while preparing SOPs".
Features
Expand feature- Change the length of the text to match your writing format. The shorten and expand features allow you to change the length of the text so that it works better.
Rewrite tool- The rewrite tool offers several choices when you highlight a sentence you want to rewrite.
Tone- Change the tone of your text to rank better on different search engines.
Integrations with a range of tools.
Efficiently check your content for grammar and spelling.
Pricing
Wordtune has some great pricing plans. Its free plan is great to transform your writing to the next level. The Premium plan is priced starting at $24.99 per month. For teams, you can contact the sales to get desired features.
Pros
Clean user interface
Easily write content and improve your writing skills
Edit your writing in a single place
Offers a lot of features that are helpful for writers of all levels
Make writing clearer and more concise
Great desktop editor or browser extension
Cons
Sometimes offers suggestions in repetitive patterns
The interface can be slightly distracting and frustrating
Offline use is not available
What is the State of AI Writing Tools Today?
AI writing software helps streamline your writing process. Most AI writing assistants allow you to pick the template, describe your product and get a decent snippet of a copy. With some editing, the snippet of content is great to enhance your marketing efforts.
AI content generation tools allow you to improve your process by training the AI to understand your content better. However, the current generation of GPT-3 AI writing tools are not yet capable of replacing actual human writers.
To start off, the content is mostly not factual, and these tools like to make stuff up. Further, it offers a buggy output, which is not reliable. So, most of these writing assistants today are limited in their functionality and struggle with long-form content. Always do your research before taking a decision before buying or purchasing the AI writing software.
Best AI Writing Tools FAQs
1. How do AI writers work?
Artificial intelligence writers combine artificial intelligence with machine learning algorithms to create neural networks. The AI software training helps users teach these networks to read the text and experiment with themselves. Once knowledge is acquired through intensive repetition, the computer can easily mimic actual writing having astonishing accuracy.
2. Is AI writing good for content creators?
AI writing software helps complement content writing to allow users to compose blog posts, advertisements, landing pages, etc. The best AI tools help fulfill every content marketer's dream. There are different types of AI software that easily learn from previous writing to generate bulk content to help content writers. It also helps upgrade the simple Google Docs into advanced features that can be found in AI writing software tools.
3. Are AI writing tools free?
Most AI writing tools come with a free version, which people can test to check its features. However, if you want advanced features and unlimited credits to write content, you will probably have to purchase the paid version of AI writing software.
Read Next: