SurferSEO is an on-page optimization tool that helps users create SEO content and optimize existing content to rank higher and have better visibility. The cloud-based platform helps you compare your content with top-ranking articles using more than 500+ tracking factors.
Slawek Czajkowski started Surfer in 2008, which started an agency focused on bringing data to every step of the SEO process. As it grew, his team built an internal tool for optimizing the content on websites. This tool slowly became more and more powerful, which ultimately led to the creation of Surfer SEO, which he shared with people around the world.
Using the platform, you no longer have to rely on your gut as you get access to data-driven SEO analysis of what it will take to rank higher on the SERPs. The basic gist is that Surfer will discover keywords, plan your content strategy and generate outlines or briefs for individual posts.
The platform allows you to write around these outlines and rank them using different factors based on target keywords. It will offer real-time insights into what you need to do to improve your chances of ranking. Of course, there is more to this, and I will go in-depth about it in this article.
Who is SurferSEO Best for?
SurferSEO is one of the best on-page SEO optimization tools that is designed to optimize your pages and your content. The platform comes with versatile features, like keyword research, content planner, SEO audit, and much more. Users can use SurferSEO to improve the ranking of their website page and generate more organic traffic for their website.
The platform is a great choice for content writers, copywriters, freelancers, small businesses, and agencies to create SEO-optimized content to rank higher on Google and other Search engines. It also offers integration tools and a lot of features that make it unique. We'll talk more about it below.
SurferSEO Review Reddit
U/Interesting_Tune2042- "Yes, SurferSEO is good for on-page SEO for big keywords. Make sure your course score is above 85, and you will rank better than others".
U/jiljarter- "Yeah, I like SurferSEO a lot. It is my secret weapon, and it cuts research time to half or more".
U/ProffesionalAds- "I usually go with SurferSEO for its all-around integration with other tools. It is easier to navigate tools such as WordPress, SEMrush, and Google Docs while using Surfer. It is great for on-page optimization, especially with keywords research".
U/ok_Operation_9292- "If someone wants to improve their copywriting skills, they should definitely get acquainted with the SurferSEO tool".
Surfer SEO Review
SurferSEO has some powerful features that can help you in every aspect of content creation when combined. We'll talk about this below.
1. Content Editor
The Content Editor is the core part of SurferSEO and is pretty straightforward. With this feature, you can write, outline and optimize the posts and pages for your websites. To get started, you just have to pick a keyword(s) that you want to target. You can easily import your content from a URL or add topic clusters from the keyword research tool.
Surfer will scrape through the top results to analyze them to generate a detailed content outline and give you a brief about the target keyword, which is completed with SEO guidelines to help you write it efficiently.
In the main window, you can write your content, while the sidebar allows you to view optimization recommendations. The main editor window works like any text editor, and you can type the sentences on the page or change the formatting using the toolbar at the top.
As you write, the content score will be shown based on how well-optimized your written content is with regard to the target keyword. Here, your content will be compared to the other entries on the SERP alongside recommendations for formatting. A higher score ensures that your chances to rank on Google are higher.
The platform will get in-depth suggestions on the right of the editor. First, you will get structural guidelines that will tell you about the word count and number of paragraphs to aim for. Here, you will also see how many images and headings you need to include in the text. These suggestions are based on the NLP and SERP analysis of the content. Surfer doesn't limit you to writing content in English and Spanish. You can write in an array of languages to rank high anywhere in the world.
In simple terms, Surfer analyzes search results for your target keyword and checks how often you use it. This will dictate recommended terms that you should include too. After you fix the suggested terms, the needle on the content score will go higher and so will your chances to rank higher.
However, you don't have to worry about it being hard rules. These are merely guidelines and don't represent 100% of what Google deems important. But they are useful to steer clear in the right direction. So, don't take anything at face value and get your own insights into it.
Besides these options, you also have access to an Outline and Brief tab.
Brief Tab
The Brief tab is useful if you are outsourcing work to content writers or working as part of a team. You can easily add notes about the content that your writer can access, like benchmarks or deadlines. It also contains a list of competitor articles that your writer can research about to give them an edge.
Outline Tab
The Outline tab is a very basic AI writing software that gives users the ability to create sections of content based on your competitor's content. You can easily edit the content that is generated and cater to suit your brand identity.
This is great and helps save time; however, this will not replace the content generated by a real person. It will speed up your workflow and help get some ideas for your page, which you can later use to create your content.
Now that you have seen and are familiar with what everything it does, there is another important part of the interface you would want to be aware of- the customize button.
Before you even think of writing anything, you would want to customize the content to fit the specific niche SurferSEO is optimizing against. Initially, the tool will guess the content it makes sense to optimize your content against. However, it doesn't always get it right. So, it is important to find a suitable page or website to compare with to get better insights and a higher ranking in the niche of choice.
Once you have finished writing and optimizing the content in its editor, you can easily copy and paste it into your CMS or export it to WordPress using a plugin. After this, just mark it as Done so that Surfer can start tracking it to enhance it further.
Plagiarism Checker
A great feature that comes with the Content Editor is the Plagiarism Checker. This a new tool on the platform and allows you to check your content to ensure that it is 100% original before you publish it anywhere. This is important as it helps with SEO and ranking your content higher. Here, you just have to add the text, and the platform will scan it instantly to check whether plagiarism is detected or not.
Optimize Content with Google Docs and WordPress
If you write your content in Google Docs, then you'll be surprised that you can get the Surfer's optimization suggestions and content score there as well. You just have to install the Google Docs Chrome extension and integrate both of them together.
To get this from the content editor, just click share > get Chrome extension for Google Docs, and the landing page will open. Follow this by adding Google Chrome and installing it via the Chrome store. From here, it will automatically load the Surfer sidebar. Now you just have to select the keyword you want to target, and you will get all the optimization guidelines and score.
2. Keyword Research
Once you sign up with Surfer, you'll be brought to the dashboard area. The Keyword Research tool helps you to plan your content strategy to discover new topic ideas within minutes. To start off, you just enter a seed keyword and select the geographical area you want to pull the results. Once you are done, just click on the results tab and open up the report.
What is super cool with these features is that it just doesn't generate a list of related keywords alongside search volume history but also groups them together in topic clusters that are related to the main topic.
Each of these clusters is like a bucket that has around a dozen of closely-related keywords. Inside these clusters, you can see all the individual related keywords alongside their monthly search volume and keyword difficulty. You will also know what to target to rank higher using the Google algorithm.
Search engines today, like Google, understand the intent behind search queries to serve better results on how they cover the topic a user is interested in. So, targeting individual long-string keywords doesn't make sense anymore. The tool allows you to cover lots of closely-related keywords in the same post.
The keyword research tool is not the best in the market, but it is not outright bad. It is slightly limited in terms of data as of now. Hope they will improve it to get it on par with some other tools in the market.
3. SERP Analyzer
SurferSEO SERP analysis app is a great tool to dive deep into the competition for a keyword from a content point of view. This is one of the standout features offered by Surfer.
The feature gives a super detailed breakdown of results from search engines across different pages for a given keyword. This is great as you can quickly see how different on-page factors are correlated with various other organic ranking positions.
The SERP analyzer fetches the following data:
The average word count for the keyword
Keywords density and its term frequency
Page Speed
Time To First Byte
Structured data
Hidden Content
Long tail and partial match keyword usage
Any questions related to the keyword
No links pointing to the top-ranking competitors
Meta-title, meta descriptions, image alt tags,
Search visibility — for URLs and domains
Backlinks — for domains and URLs.
Apart from this, there are other aspects, and in some instances, it looks like Surfer is providing more data than other on-page SEO tools available. This is super helpful and allows you to quickly assess how competitive the term is and what are the chances of you ranking with it.
You can also access data on common and popular words, phrases, and questions that will appear in other SERPs for the target keyword and common backlinks that are used by competitors to rank sites that have in common and much more.
If you want more specific data, you can dig into data about specific things. For example, you can dig into data on how characters in the heading and meta description correlate with the SERP ranking position.
It is crazy impressive how granular you can get, and at times it can be slightly overwhelming. The sheer number of variables is great if you are a data scientist; however, for a beginner, it could be hard for them to understand. Trying to factor all this data into your strategy may not be practical, and presenting everything as a single report can give you a headache.
4. Content Planner
If you aren't sure where to start writing, then SurferSEO can sort you out. You have to just give it a broad keyword you want to focus on, and it will generate clusters of related content. Here, you are provided with different filters like keyword search volume, content score, and much more.
SurferSEO connects your domain to the content planner that will help you find relevant content keywords from existing pages. After you connect your domain to the Google Search Console data, it will give you more relevant keyword ideas.
This is great to kickstart your keyword research process, but I wouldn't recommend the suggestions it generates. It is not always good, especially for affiliate sites.
5. Keyword Surfer Extension
Surfer offers a reliable keyword extension- Keyword Surfer, that you can install directly in your Chrome browser. It can be used by anyone, even if you haven't purchased a paid subscription. Once you have installed it, through the Chrome Web store, you can see the estimated monthly search volumes directly into the SERPs alongside other metrics like CPC, keyword suggestions, and on-page data. You just have to pull the search results from the country you want.
When you find a keyword that has to be targeted in your content strategy, you can easily add it to your keyword collection in a single click, making it easy for bookmarking. The file can be later exported into a CSV file and downloaded.
It is one of the only free keyword research tools that will show you the keyword volumes in SERPs. For every other tool or Chrome extension, the feature is not available or charges a subscription fee. This is great for users who are just starting out and are not cash-strapped or don't have a budget to invest in a paid subscription.
6. Content Audit
SurferSEO not only helps write new content, but it also helps you optimize your existing website pages utilizing the audit tool. Click on the Audit tool in the sidebar and enter the URL of the page you want to optimize and the keyword you want to optimize around it, followed by creating the audit.
SurferSEO allows users to analyze the page to easily identify opportunities to improve its search performance. The platform will present them with a simple report to understand all the things. This gives them a lot of suggestions to improve the overall performance of your content.
In the report, you can get the page's content score and find any issues that are impacting the SEO performance and offer insights to fix them. Here, it might include missing backlinks from domains or internal link suggestions and important terms to include page structure recommendations, suggestions, or speed optimization to improve your meta description.
Similar to a content editor, you can efficiently filter competitors to get accurate results. The tool is great for filtering useless entries on its own. It is particularly useful, and it is great to put your older content through it and optimize it to efficiently rank higher.
7. Domain Planner
The Domain Planner is a great tool to analyze the existing content on your website. It is very similar to the audit tool; however, instead of analyzing a single webpage, it analyzes the entire domain to help identify quick wins and any missed SEO opportunities.
You just have to enter your domain and hit Create a domain in the search tab to open up the report to get you started. It optimizes your content scores for multiple pages from your domain.
The report will give you a complete list of the top 100 best-performing pages on your website alongside their content score, traffic, monthly search volume, impressions, and ranking position. This is very helpful for users to rank better on Google.
The results from the report can be filtered and sorted out in different metrics.
Sort by the content score- The low to high filter helps you to identify the pages on your site that need the most editing. This allows you to get them up from scratch to the best in terms of SEO.
Long-hanging fruits filter- The filter helps you find the easiest optimization wins that will have a big impact on your SEO visibility without much effort.
Once you click on the Advanced View underneath each page you will get better intel about the keywords the pages rank well for alongside other data points. After you have found a page you want to work on, just click the purple icon, and it will direct you to the Content Editor, where you can edit it based on Surfer's suggestion and publish it back on your CMS.
8. Grow Flow
Grow Flow is the newest feature offered by SurferSEO to its users. The AI-driven assistant helps improve your SEO presence with simple and actionable tasks. It analyzes your site utilizing data from Google Search Console and presents it with weekly or small tasks to improve your website's SEO performance. This allows you to know what you need to work on next.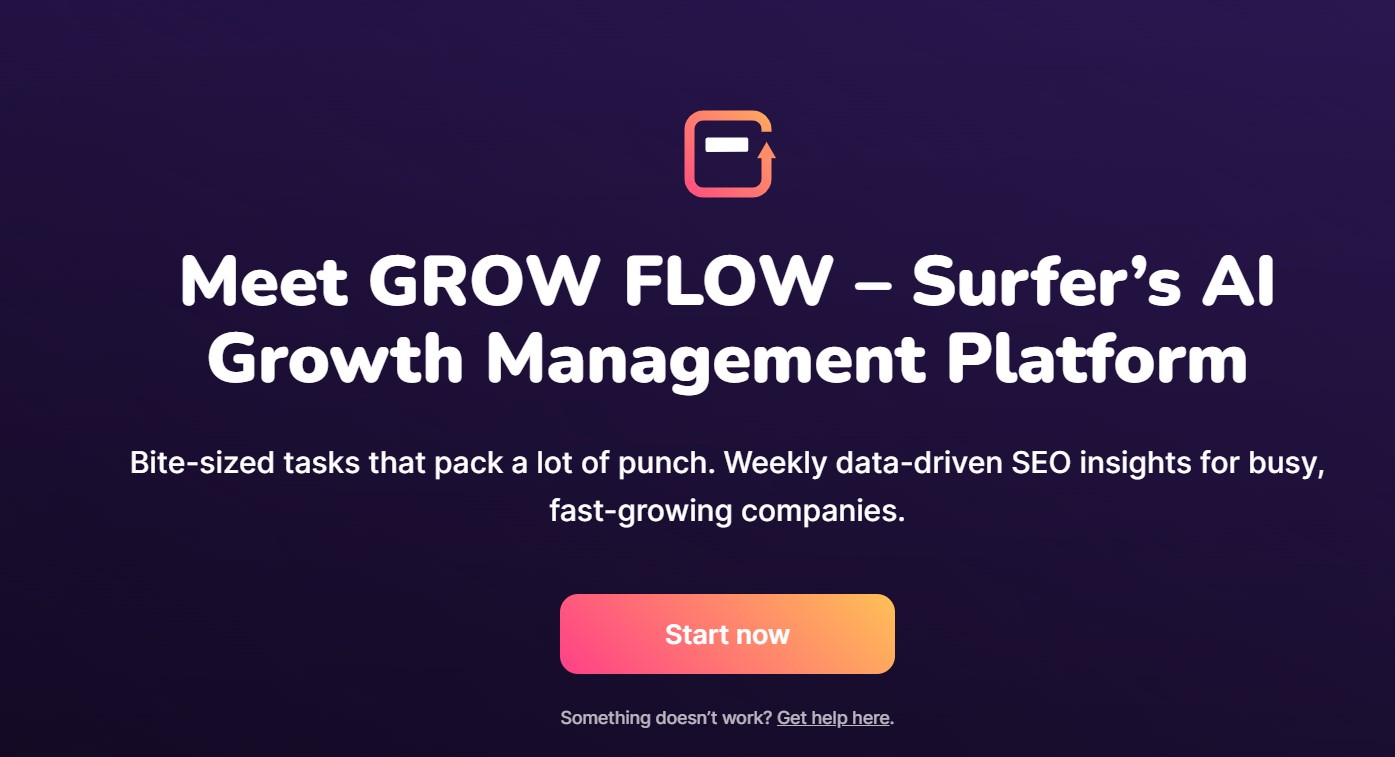 Grow Flow is a big game-changer, and the task it serves up is genuinely useful. It usually only takes minutes to complete the content, which is very useful for busy marketers or owners that are short on time and prioritize the effort that will enhance your overall SEO performance.
It can serve up different tasks, and the main ones are:
Adding missing keywords to your post, pages, or sections on your site.
Write and publish articles about the topic cluster Surfer is recommending you should target.
Add internal links to improve the architecture of your site
Grow Flow allows you to streamline your workflow so most tasks are super quick to complete. For example, if you want to add some missing keywords just click on the task to open it up and then copy all the keywords to save them to your clipboard. Simply open your CMS and add them in and go back to Surfer and Mark as done. It is that easy.
If you are not sure how to efficiently complete a task. Grow Flow offers a short 1-minute video tutorial to show you what you need to do.
9. AI Outline Generator
The AI outline generator is great to get an outline or unique paragraphs of the content. You can create an article within minutes, and it is very helpful. Surfer has partnered with Jasper AI, which helps create outlines on the go. You can create the AI-generated outline using three simple steps:
Subscribe to Surfer and automatically start a 7-day trial.
Select the location and click on the content editor to create content.
Head over to the Brief section and select one of the many relevant headings and paragraphs you want to add to the text.
10. Directory of SEO Writers
SurferSEO allows you to outsource your SEO needs to Surfer-certified experts. The writers have to go through a rigorous screening process to get the best in the market. You can filter these writers based on languages, price, words, and type of users having verified skills. There are no hidden fees, and you don't have to go through time-consuming registration. All you get is an on-demand SEO solution for your content needs.
11. Interface and User Experience
One of the best perks of SurferSEO is its user-friendliness. You can easily create a new and extremely powerful content editor which can create content in 2 to 3 clicks. If you haven't used too many SEO web apps, the options it offers are very intuitive. All dashboards in SurferSEO are easy to use and well-designed. The most important setting is conveniently placed to make going through it very reliable. Here, you can run any search, choose the device and the language that you want Surfer to focus on.
12. Integrations
SurferSEO has integrations that help enhance the overall performance of the platform. These integrations help share important data and provide updates to one another in real time. To enable the Grow Flow feature, you'll need to integrate the Search Console into Surfer SEO to provide deep analysis.
The most common type of integrations available with the platform are SEMrush, Surfer AI, Google Docs, WordPress, and Jasper. The platform offers a Google Chrome extension that can be installed directly through the Chrome Web Store. You just have to open your post in WordPress to activate the Chrome Extension and connect to the relevant content editor. From here, you can optimize your content directly on different social media channels.
13. Customer Support
SurferSEO has excellent customer support to resolve any of your issues or queries. Asking a question to them is easy as they have a little Intercom chat button at the bottom of every page. Most queries are answered within a short time span to give optimum performance. If you are not satisfied with the answer, you can ask them to clarify, and the answers are pretty good. If you are not sure how to do something, then Surfer will provide an explanation, so you no longer have to be worried if you're inexperienced.
If you want more insights, then you can join the Surfer Academy or head over to their blog to check the different features of the platform. Its huge knowledge base can resolve any of your queries without any hassle. Finally, there is a Facebook group with over 10000 surfers to get more insights and information about it.
SurferSEO Public Roadmap
SurferSEO has shared a public roadmap with its users where they have to show what features are currently in development and what are future plans of the platform are. They have recently released Content Editor 2.0, which is the beta version of Content Planner, a WordPress plugin for Content Editor, and tags of all created queries.
The platform is also working on keyword search intent, a user-friendly dashboard for better management, a tool for featured snippets optimizations, audit 2.0, a content planner for a domain, and an extended number of languages where the natural language processing feature is available.
Suurfer SEO Pricing
SurferSEO offers 4 pricing plans but doesn't offer a free plan to try out the software. However, it has a 7-day money-back guarantee across all its plans in case you don't like what they are offering. These plans can be paid either on a monthly basis or an annual subscription. The annual subscription gives users a discount of 17% compared to paying on a monthly basis. We'll talk more about the plans below
1. Basic Plan
The Basic plan is designed to suit freelancers and bloggers with minimal SEO needs. If you are new to this space, then this plan is ideal for you. Priced at $59 per month, it offers the following features:
Ability to write and optimize articles with 10 content editors per month
Audit a maximum of 20 pages per month
Optimize and track 2 websites
Perform advanced keyword research
Deep SERP analysis
Invite 1 team member
Guidelines enhanced with NLP
2. Pro Plan
The Pro plan on SurferSEO is the most popular plan subscribed to by most people. It is best suited for organizations managing multiple websites or freelancers catering to multiple clients. It is priced at $119 per month and has all the features of the Basic plan plus:
Ability to write and optimize articles 30 content editors per month
Audit maximum of 60 pages per month
Optimize and track 5 websites
Invite 3 team members
3. Business Plan
The plan is best suited for SEO agencies and large organizations that have a big bunch of clients and users with increased content needs. It is priced at $239 per month and has all the features of the Pro plan plus:
Ability to write and optimize articles for 70 content editors per month
Audit maximum of 140 pages per month
Optimize and track 10 websites
Invite 10 team members
4. Enterprise Plan
If you want a personalized experience to manage a large business and people, then it is right for you. It has all the features of the above plans, which are customized to suit your requirement. Get in touch with the team to get a custom quote and features to use this plan. The features of the plan include
Customizable content editors, audit pages
Optimize and track 10+ websites
Invite unlimited team members
White labeling of shareable links and reports
Access to Surfer API
Dedicated customer success manager
Personalized product training
VIP Support
Legal Assistance
If you are not sure, get in touch with the sales team to get a personalized solution to suit all your needs.
Surfer SEO Pros and Cons
Pros
Easy to use
The user interface is clean
500+ ranking metrics to analyze content
Gives relevant keyword suggestions
Competitor analysis using the SERP analyzer tool
Fantastic content editor
Seamless integration
Rank faster to save time
Find profitable link-building opportunities
Good topic clustering
Excellent support
Cons
Slightly difficult for beginners who have no idea how SEO works
Suggestions can be irrelevant in some cases
No free trial
Is SurferSEO Really Worth the Hype?
SurferSEO is a great tool for bloggers, freelancers, and businesses looking for data-driven options to optimize their content. The tool helps write fully SEO-optimized articles and pages that give users the ability to tweak their content by comparing it with other articles from the top SERP results to improve their rankings.
The platform has a great interface, and users can analyze their articles based on an array of ranking factors. Plus, its Grow Flow is a game-changer that will help you prioritize your SEO efforts with weekly tasks that will bring a great impact on your overall performance.
SurferSEO Review FAQs
1. What is NLP in SEO?
NLP is Natural Language Process, and they are the relevant words and phrases that Surfer suggests you should use in your content to show the Google Search Engine that your content is relevant to the main keyword. This is a great way to rank higher on Google.
2. Does SurferSEO offer a lifetime deal?
No; however, it offers yearly plans, which offer a 17% discount compared to its monthly plans.
3. Can I increase my money-back guarantee with SurferSEO?
Surfers have a 7-day money-back guarantee on their plans. If you are not satisfied with them still, you can drop an email to the support team. Here, you can ask them to increase your money-back guarantee for up to 30 days.
4. What does SurferSEO offer?
SurferSEO is a powerful tool that offers different features, including the SERP Analyzer, content editor, Keyword research, and content planner. All these tools play a pivotal role to help write content that performs better than your competitor.
SurferSEO Alternatives
1. Frase
Frase is a great SEO content optimization toolkit. The platform allows you to create the entire content creation process from start to finish. It has tools that are curated to create content briefs, generate written content, analyze existing pages, and much more. However, it doesn't compare well with the features offered by SurferSEO.
The AI-writing tool is significantly better than Surfer though. It has a suite of AI writing tools that help speed up your entire writing process. A neat feature of the platform is how the tool pulls in more useful data from competitors during the research phase.
All in all, it is one of the best SurferSEO alternatives out in the market. It is priced starting at $14.99 per month, with the highest plan priced at $114.99 per month.
2. Scalenut
Scalenut is a versatile AI-powered content research and copywriting platform. It has a guided workflow to reduce the time it takes to write content from hours to minutes. It has the same features as SurferSEO; however, they are a little cheaper compared to the latter. It is priced at $23 per month, with the premium plan priced at $89 per month, giving you better performance and flexibility.
Read Next: