If you are looking for the Long Tail Pro Discount, then you've come to the right place! In this article, I'll share how you can get the maximum discount on Long Tail Pro.
Long Tail Pro is a product that helps you find the right long tail keywords for your business.
Click Here To Activate The Deal
Long Tail Pro Discount: Live Now

Keyword research is one of the most essential components of a good search engine optimization strategy. It gives your campaign direction by helping you find keywords you can target and the ones that your competitors are profiting off of. But it isn't enough to just find any keywords; over time, going after long tail keywords has become more and more important.
Long Tail Pro is a product that helps you find the right long tail keywords for your business. The goal is to help users quickly find low competition long tail keywords and use those as a launching pad to high-converting website visitors. In this Long Tail Pro Review I'll share why it's definitely worth it.
Click Here To Activate The Deal
Long Tail Pro Discount: Live Now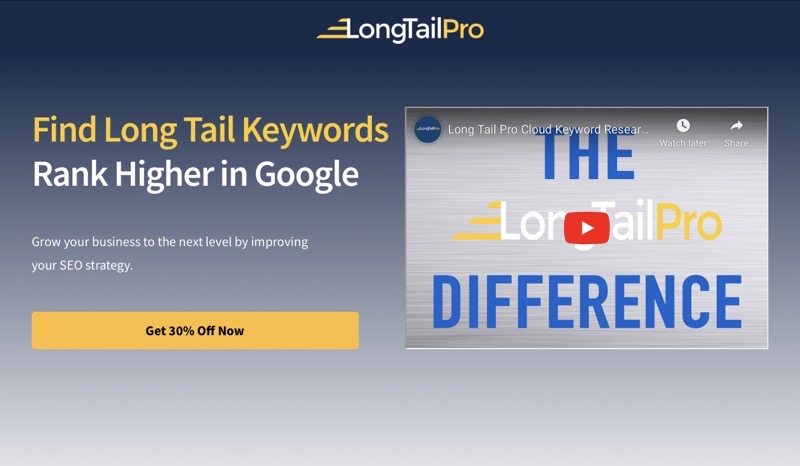 Long Tail Pro Review
Long Tail Pro has been a name in the SEO space for a very long time. It was one of the first products to come out with an exclusive focus on long tail keywords. Before that, most software just helped you with generic SEO activities. Let's take a moment to understand why researching long tail keywords is so important.
Long tail keywords are different from the standard keywords you would associate with your product. These are keywords that usually have several keyword phrases because they are highly specific to your business niche. Let's use an example to better understand this concept.
Let's say you sell shirts themed around TV shows. One of the obvious search phrases to target in this case would be "buy t-shirts online." The problem, however, is that there is a massive amount of competition for search phrases like this one. You would find it very hard to rank for it and pay a very high cost per click even if you did.
So the smart thing to do in this case would be to target long tail keywords. Since you sell shirts themed around TV shows, you may choose to go after search phrases like, "Tyrion Lanister Game of Thrones shirts" or "Big Bang Theory Bazinga shirt buy online." Now you're going after a very specific audience who has shown strong intent in buying what you're selling.
Finding the long tail keywords in your niche isn't always easy. There are a few reasons for this. The first is that they aren't always obvious. The most obvious keywords that emerge to people selling products online are ones that are high in competition. It takes additional effort to find long tail keywords.
The other problem is that once you do find some long tail keywords, their profitability can be hard to measure. You have a bunch of search terms, but which ones do you go after? You can't target every single search term you come up with because generating all of those pieces of content and backlinks is not easy.
Long Tail Pro helps with all of the things that make long tail keyword research hard. It can help you find long tail keywords for what you're selling, gauge their effectiveness, and narrow your options down to just the most profitable long tail keywords.
Click Here To Activate The Deal
Long Tail Pro Discount: Live Now
Long Tail Pro Keyword Research
The first step to finding the right long tail keywords for your business website is keyword research. This is where you find out which keywords are most commonly used on the Internet and give you the ability to reach a competitive search engine ranking. There are three ways that Long Tail Pro gives you to find competitive long tail keywords in your industry.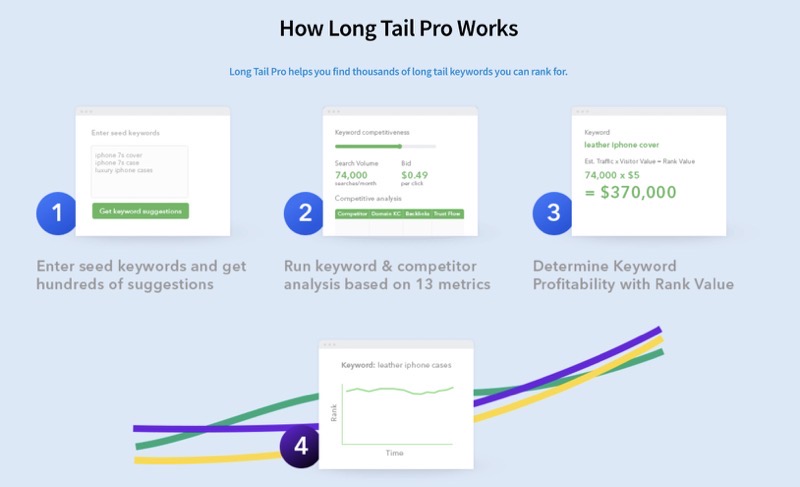 1. Seed Keywords
The first way you can go about finding long tail keyword ideas is by first coming up with one of your own. That's what we call the seed keyword. These can come either from your own ideation or by looking at competitors. You can enter as many as five seed keywords on the tool. Long Tail Pro can generate as many as 400 keyword ideas using just one seed keyword.
You may not always want as many as 400, so you can go down to 20 keyword suggestions. The other option you have is to filter keywords based on certain criteria. Long Tail Pro allows you to create filters based on parameters like monthly searches, cost per click, rank value, etc.
2. Competition Analysis
Sometimes the best way to enhance your own search engine ranking is by looking at what competitors are up to. They are, after all, the barrier that stands between you and a high ranking on Google. So the best way to go about ousting them from that position is by gauging their own keyword strategy.
Long Tail Pro has a mode called Competitor Keywords which makes it easy to analyze your competitors' keyword profile. All you need to do to get it running is to provide a URL to your competitor's website. Long Tail Pro will run an analysis of the site and give you a list of the main targeted keywords and all the metrics associated with them.
You don't necessarily have to match your competitor keyword for keyword. But the analysis does give you an idea of which search terms your competitors are going after most aggressively. This may lead to discovering keywords that haven't been exploited by the competition or ones that you can do a better job ranking for.
3. Manual Keywords
In certain cases, you may already be aware of which long tail keywords you want to target with your campaign. This could be because you've already done some of your own research or have keyword ideas that you want to experiment with. In that case, you'll want to switch to Long Tail Pro's Manual Keywords tool.
The Manual Keywords mode gives you an idea of just how profitable some of your keywords can be. You can have it accept as many as 200 keywords at one time. Long Tail Pro will accept those as input and generate the metrics that you need to gauge which ones will render the best results. You can do that based on things like the price of the keyword, competition, search volumes, etc.
Click Here To Activate The Deal
Long Tail Pro Discount: Live Now
Long Tail Pro Rank Tracker
At this point, you've done your keyword research. You know exactly which keywords you need to target so you go about targeting those keywords in various ways. Now it's time to find out whether you're making progress with those keywords. The way to do that is by using Long Tail Pro's Rank Tracker tool.
The Long Tail Pro dashboard has the Rank Tracker tool positioned on the left vertical menu. Once you click on that option, you can create a new project if you want to organize your research for a specific website separately. You can go directly to the keyword checker once you've named your project.
To start off, you'll have to give Long Tail Pro a URL to the page you want to analyze. You could also direct it to your home page if you want a more general analysis of your website. The next step is to add the keywords that you're targeting. You can include as many as you want to track.
Long Tail Pro gives you the ability to specify which search engine you want to check your rankings on. You can choose between Yahoo, Bing, and Google. You can also set whether you want Long Tail Pro to track rankings specific to a certain location in case you run a local business.
Once you've entered all that information, Long Tail Pro will generate an analysis for all your keywords in tabular form. This table has a few different columns. The first one shows you the location where the analysis is relevant. Next, it shows the search engine rank your website or webpage has for a particular keyword. The software also shows you the rankings from the preceding day, week, and month. That way you get an idea of how you're progressing over time.
In the last two columns, Long Tail Pro gives you information on when the rankings were updated and when they will be updated next. This lets you know when you can run these analyses again.
You can track your progress with a specific keyword in a more granular way by selecting that particular keyword. Long Tail Pro will show you a keyword ranking chart that visualizes rankings on a day to day basis.
All of this data can be exported in the form of a CSV. You can choose which metrics you want to include in the CSV before exporting it out of Long Tail Pro. You can also export just the rankings graphs out in the form of a PDF, JPEG, or PNG.
Long Tail Pro gives you several ways to manage all the keywords that you're tracking with its Rank Tracker tool. To see your options, click on the checkbox next to any of the keywords you're tracking. You'll instantly see options to add a note about a keyword, delete a keyword, or even move a keyword to another project. When you choose the last option, that keyword is automatically tracked for a different project of your choosing.
Long Tail Pro Competition Analysis
We've already seen some of the ways in which Long Tail Pro gives you the ability to keep a tab on competitors. Let's take a look at what you can find out about your competition using the software.
You can plug in any keyword on the tool and see an analysis of the top rankers on different search engines. Here's some of the information Long Tail Pro gives you on your competitors' links:
Trust flow: A measure of how trustworthy the links on a particular website are considered
Citation flow: A measure of how popular a particular link is on a specific website
External backlinks: How many external pages link to a specific page
Site age: How long a particular domain has been in use
Indexed URLs: How many indexed web pages a site has
As you can see, Long Tail Pro's competition analysis gives you a holistic summary of where different websites stand with particular keywords.
Click Here To Activate The Deal
Long Tail Pro Discount: Live Now
Long Tail Pro Documentation and Support
Long Tail Pro gives you a few different ways to find your way around the product. The software's documentation answers a lot of the common questions that new users will have. The team has a separate page for Frequently Asked Questions about the product. You can also view pages that deal with troubleshooting common issues and go over how to use the product to achieve your long tail keyword research goals.
If all of those options don't work, you can go to using support. That's how you would go about getting help for any specific issues you're facing as a customer. You can reach the support team via both email and chat. The chat is not a live feature, so you will have to wait a while to get a response. According to the team, queries sent in on weekdays usually get responses within 24 hours. Support tickets raised during weekends take longer to be answered.
The Long Tail Pro team also puts on webinars to familiarize people with the product and what they can do with it. These training sessions are available on-demand and lead you through the basics of the product. The team claims that at the end of the session you'll know strategies to double your online traffic and identify three keywords with low competition in your niche.
Long Tail Pro Affiliate Program
If you do use Long Tail Pro and find yourself enjoying the product, you can make some money by turning into an evangelist for it. This is made possible by the Long Tail Pro affiliate program, which runs on Post Affiliate Pro.
Signing up to be a part of the affiliate program is simple. All you need to do is fill out a quick form and the team will take care of the rest. Once you're onboarded, you'll be given your own unique affiliate link. You can share these links wherever you have an audience, whether that's on email, a blog, or social media channels.
Long Tail Pro pays out a commission of 30% for each new person who becomes a customer using your affiliate link. They also share revenues for any recurring payments that come from that same customer. So you could set up a recurring revenue stream if you manage to sign up a large enough number of customers.
Since Long Tail Pro runs its affiliate program on Post Affiliate Pro, you get a lot of benefits that come with being part of that platform. You can view the overall success of your affiliate campaigns, check conversion rates, and view the status of payments that you're expecting.
You can also become a part of the affiliate program through ShareASale. The affiliate marketing network lets you easily add Long Tail Pro's program to your existing inventory.
Long Tail Pro currently has over 2,800 affiliates in its program at the moment. Given the size of that network, the company has dedicated affiliate managers to oversee the operation and respond to queries from affiliates.
Long Tail Pro Pricing
Long Tail Pro gives interested users a free seven-day trial. You can check out all of the software's features during that time. If you want to continue using it after that point, you will have to choose one of the paid plans. There are three different paid Long Tail Pro plans from which to choose. These differ based on the number of keywords you can look up every 24 hours and the number of keywords you can track over time.
The most affordable of Long Tail Pro's plans is the Monthly starter plan, which costs $37 per month. It lets you look up a maximum of 800 keywords each day and track 30 keywords. The next tier is called Monthly Pro. With this plan, you can track up to 200 keywords and look up 2,500 of them every 24 hours. Long Tail Monthly Pro costs $67 per month.
The top-of-the-line Long Tail Pro package is priced $147 per month. The Monthly Agency plan permits up to 6,000 keyword lookups every 24 hours and tracks as many as 1,000 keywords. It also allows up to five simultaneous logins, so you can have a small team looking at all your SEO data on Long Tail Pro.
Long Tail Pro also has annual plans if you would like to pay all in one go. The Annual Starter plan is priced $297 for a year. Annual Pro and Annual Agency cost $537 and $1,177 respectively.
Click Here To Activate The Deal
Long Tail Pro Discount: Live Now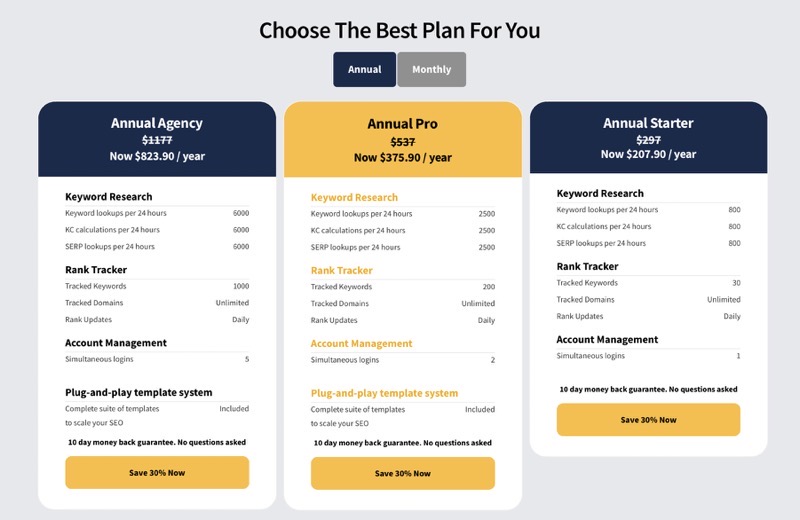 Long Tail Pro Discount
They're many blogs making false claims of:
Long Tail Pro Discount Code 2023
Long Tail Pro Discount Code
Long Tail Pro Discount
Long Tail Pro Discount Coupon
Long Tail Pro Coupon Code 2023
Long Tail Pro Coupon
Long Tail Pro Promo Code 2023
Long Tail Pro Promo Code
Long Tail Pro Promo
However, the truth is that Long Tail Pro does not offer any coupons! But you can get a 30% discount on all plans by clicking the link below.
Click Here To Activate The Deal
Long Tail Pro Black Friday Sale: Live Now
Long Tail Pro Final Thoughts
Long Tail Pro is considered one of the pioneers in the industry. This is because of its focus on the long tail keyword as opposed to more generic SEO. That focus has certainly paid off for it since many associate long tail keyword research with Long Tail Pro.
The tool itself is easy to navigate and use. It's clear pretty quickly what you need to do as soon as you see the interface. It doesn't do a lot, but whatever it does do, it does well. The various keyword metrics are easy to understand and website rankings data are visualized in an easily interpretable fashion.
Long Tail Pro is not as feature-rich as some recent competitors like Ahrefs or SEMRush. But if your main focus is the long tail keyword, Long Tail Pro is among the best products at its price range.
Click Here To Activate The Deal
Long Tail Pro Discount: Live Now
Read Next: