ChatGPT (Chat-based Generative Pre-trained Transformer) is a powerful language-based chatbot. Powered by GPT-3, it is trained on hundreds of billions of words from the internet. The artificial intelligence chatbot's natural language processing tool allows you to have human-like conversations using its interface.
ChatGPT was created using OpenAI, an AI and research company, on Nov 30th, 2022. The AI research lab was founded by Elon Musk and Sam Altman and thus is referred to as the ChatGPT founder.
ChatGPT is designed to have a vast amount of data, unlike most traditional chatbot systems. The platform handles complex conversations with better accuracy and intelligence. And it can be utilized for all kinds of conversations, from either generating code or creating content.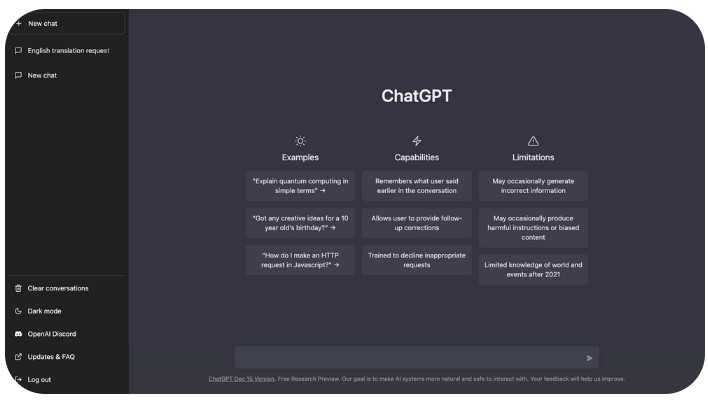 However, when a single platform takes center stage, it is easy to track alternatives that would offer equal or even better value. We have put together some of the best ChatGPT alternatives you can make use of right now in this article.
If you are in a hurry, here are my top picks
ChatSonic- Best ChatGPT Alternative
Jasper Chat- Powerful AI Writing Tool
OpenAI Playground- Write Nearly Anything for You
Socratic by Google- Kid-Friendly AI Tool
Github CoPilot- Popular Coding Alternative
Why go for a ChatGPT Alternative?
ChatGPT is a big player within the AI conversational world, but there is a big tide of alternatives that are worth checking in the market. The major disadvantage of ChatGPT is that it comes with an incredible set of features that meet the needs of multiple use cases. Despite being the talk of the town and an incredible tool, ChatGPT has its own limitations.
ChatGPT is not able to generate real-time data because it is fitted to train on data from and before 2021.
Doesn't take voice commands or generate voice responses.
Due to heavy traffic, most of the time, when you access ChatGPT, it may show an error message stating that ChatGPT is down or at capacity.
It is not able to generate visuals or AI art.
ChatGPT Plus costs $20 per month, which is not for everyone.
Some common add-on integrations, like Gmail, Instagram, and others, are not available with ChatGPT.
ChatGPT alternatives come with a suite of support tools with a user-friendly dashboard and tutorials for rapid response times and valuable customer service. You also have to understand that these alternatives are better tailored to suit your specific needs. Whether you want to talk about a specific persona or integrate it into your apps, you can easily find an alternative that offers exactly what you need.
At the end of the day, the alternatives of ChatGPT have their unique flavor. It is important to weigh up the features and functionality of each of the alternatives to find the best fit for your project. Let us take a deep dive into it.
Best ChatGPT Alternatives
1. ChatSonic – Best ChatGPT Alternative
ChatSonic by Writesonic is the latest and one of the best large-scale pre-trained dialogue response generation model chatbots. It is designed for multi-turn conversations and is quite an expansive ChatGPT alternative. It is built on top of ChatGPT and is backed with more features and a broader knowledge base as it can access the internet today, which is something that ChatGPT still cannot do.
The ability to output answers using the internet allows the platform to dissipate correct information, which makes it less prone to errors. So, you can get the knowledge of a sage, the wit of a comedian, and conversation skills of a scientist, and much more.

ChatSonic is powered by GTP 4 and it can be utilized to create versatile content using user input. From captions to long-form content, it has got you covered. The model is designed to provide conversational answers, which makes it an outstanding tool for customer service operations. It can help you find the right words to help you communicate your ideas to generate compelling stories and projects.
What Redditors say about it
U/JustinS_2006- "ChatSonic uses data from 2023 though, and ChatGPT, I believe goes up to only 2020, so you can't ask ChatGPT for up-to-date questions, but with ChatSonic, you can answer those".
U/StaynDirty- "I have been using ChatGPT for a couple of months and recently switched to ChatSonic, and I can say ChatSonic is better. I personally like the UI and how nice its output looks. It is slightly better at math. ChatGPT can totally mess up some simple math".
Features
1. Write factual content
ChatSonic integrates efficiently with Google search to provide relevant content on any topic, so you can be assured that you always remain updated. The platform makes use of its human-like chat and allows you to get the latest information without switching any tabs. You can easily state that ChatSonic is an advanced version of ChatGPT that allow you to get the exact information from Google in real-time.

2. Persona mode
ChatSonic gives you the opportunity to select from a range of personas with that you want to interact. It comes with 16 different personas to help you out. From interviewer to math teacher, personal trainer, and much more. This lets you customize every aspect of your AI chat experience to suit your needs. The platform lets you be updated with the latest news, topics, and practice conversations using different AI avatars.
3. Generate mesmerizing images
Besides text, ChatSonic also has an in-built image generator that will make decent images from the prompts you give them. You can design custom images with just a click of a button. The bot is not free but gives you 25 free generations every day after, and you can use Writesonic word balance to generate more images.
4. Remember the conversation
ChatSonic AI chatbot is designed to give you the experience that is like having a conversation with a real person. The platform is able to recognize your tone and voice to respond, which allows you to get more engaging conversations. It will also remember the information from past conversations. When you search for the same information, it will directly bring the saved data from the topic without explaining it all over again.
5. Read back responses
Unlike ChatGPT, you can talk to the AI using your microphone, just like Google Assistant and Siri. This saves you time that you would otherwise spend typing the questions and provides an interactive conversational experience. It will also respond back using voice, and once you are done with the conversation, you can share the replies using links, Word, or PDF docs.
6. Option to edit, share and download the conversations
ChatSonic lets you save, alter or download your chats easily. You have the ability to access all your conversations whenever you want. Whether you are planning to remember an exchange or give something to a significant person, you can store significant conversations for later. You can download and share your chats in a simple and exciting way to ensure that your conversations stay with you.
7. ChatSonic API
The ChatSonic API allows you to give access to a link to the existing supply, which gives you a smooth user experience. It doesn't matter if you want to integrate with your website or mobile app- the API is easy to use.
ChatSonic lets you quickly add robust customer support and communication abilities to your online websites and apps. The platform allows you to easily make money by using the API to build multiple applications.
8. Twitter bot
ChatSonic has launched a bot for Twitter that generates an updated quick chat response like ChatGPT from Twitter itself. All you have to do is type the question, tag the ChatSonic platform, and post your tweet.
9. ChatSonic App for your smartphone
Writesonic has launched a separate mobile application for ChatSonic. It is available for both Android and iOS users around the world. The app is easy to use and supports all the features of the platform. For a specific date when you don't want to open your laptop, you can complete the work with the app, and it is a lifesaver.
10. Chrome extension
ChatSonic Chrome extension allows the powerful AI to function anywhere from laptop to desktop. Its chrome extension can:
Write content anywhere on chrome- trigger the CMD + M to trigger the ChatSonic Chrome extension. A pop-up will appear, and you have the ability to generate any content on Chrome using this.
Help ace your LinkedIn and Twitter game- you can generate new tweets, LinkedIn posts, summarize Twitter threads, reply to tweets, comments, and much more for your social media platform.
Improve your Gmail workflow- generate new emails having a one-line instruction, summarize long emails, reply to incoming emails, and check email threads without having to open it and all this right from Gmail without switching any tabs.
Pricing
ChatSonic is available on free trials or long-form paid plans. The free plan lets you get 10,000 free premium words, after which you subscribe to its paid plan, which is priced at $19 per month. Here, you get access to use 60,000 words for 1 user. If you want more, then you can contact the sales team to get custom pricing.
Pros
Generates factual content in real-time
Understands voice commands and reads back commands
It is a cost-effective option for those seeking a writing assistance
A fun tool for those who enjoy experimenting with writing to try new ideas
A free trial of 2,500 words to see if it is the right fit for you
Helps generate new ideas and content quickly
Supports mobile application
Generates images and is easy to use
Easily edit, share, or download conversations
Cons
Word limit on the free and paid plan
May repeat and suggest the same correction
Requires human intervention to make sure writing makes sense
2. Jasper Chat – Powerful AI Writing Tool
Jasper is an AI writing tool that was formerly known as Jarvis. This is a decent alternative to ChatGPT and is one of the most used AI writing tools in the market today. With Jasper Chat, you can generate high-quality content in a short amount of time.
Use my exclusive Jasper AI Discount Link below to get a free trial and a 10,000 word for FREE!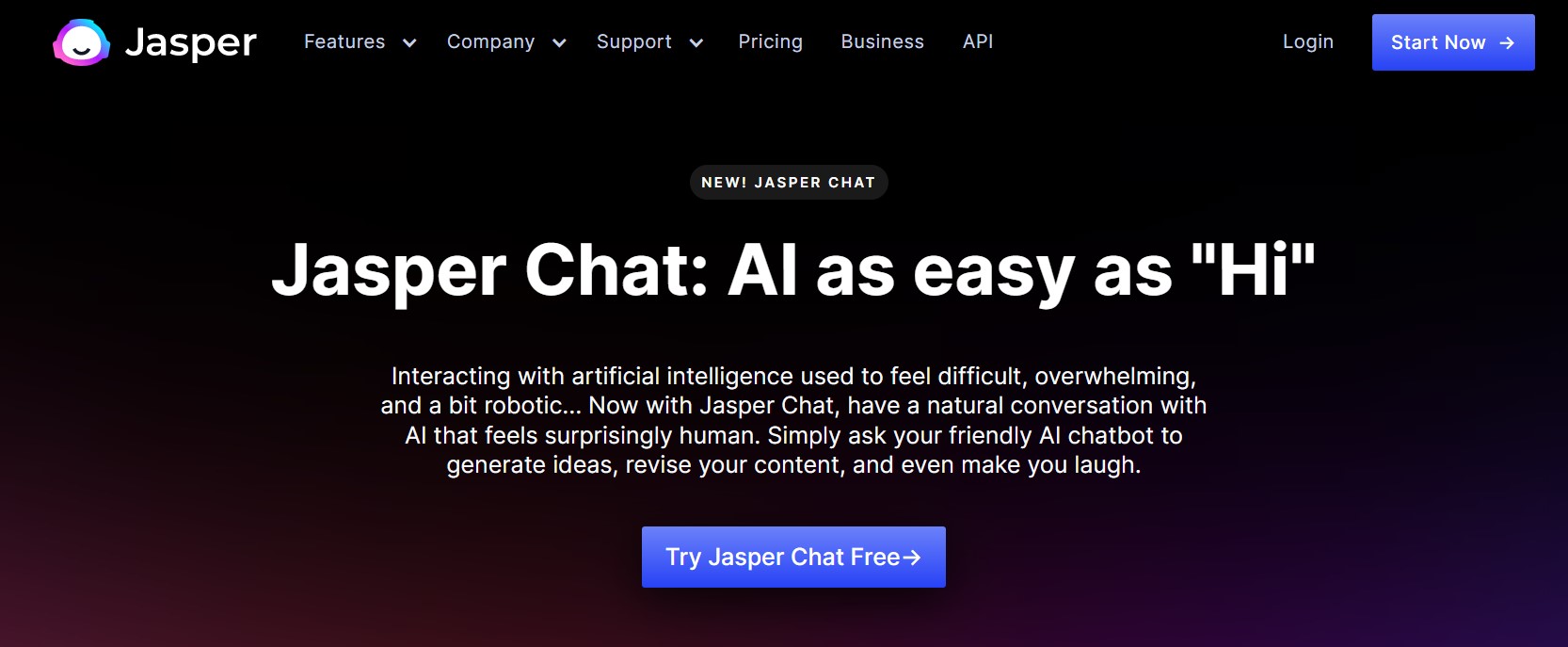 Jasper Chat was launched by Jasper and has an interface based on GPT 3.5, which fine-tunes your platform with over 50 templates to help churn your content for blogs, social media content, etc. It can be easily used by anyone that is looking for an AI chatbot similar to ChatGPT. The platform has learned from billions of articles and other pieces on the internet that cover 29 different languages. It is trained on large amounts of content from 2021 and before, so it is capable of providing information that matters.
What Redditors say about it
U/going2throwwaway- "I have used Jasper, and it is amazing but a bit expensive. I like them for social media captions and sentence rewriting. It won't write everything for you, but it usually gives a solid foundation that I can work off".
U/MrDadadaDave- "Jasper utilizes GPT-3 in conjunction with most other models. The copywriters for Jasper tout it being more user-friendly. Instead of having to think in commands or strict prompts, you can easily converse with AI and refine its responses with each engagement".
Features
1. Advanced AI editor
The advanced AI editor allows you to add text and format it to suit your requirements. It has 70+ fonts, so you can choose what works best for you. It has a simple interface that provides users access to chatting with the AI with ease.
2. AI speech to text
The natural language processing tool is designed to convert your audio files into written text. You can power this using Focus mode which lets you write on your own page, while the SEO mode suggests keywords to rank your content, and the Power mode is used to write content at a specified time.
3. AI recipes
Jasper comes with a series of pre-built workflows that has commands that let you create content more efficiently. You have to just enter some details, and the platform will just do the rest.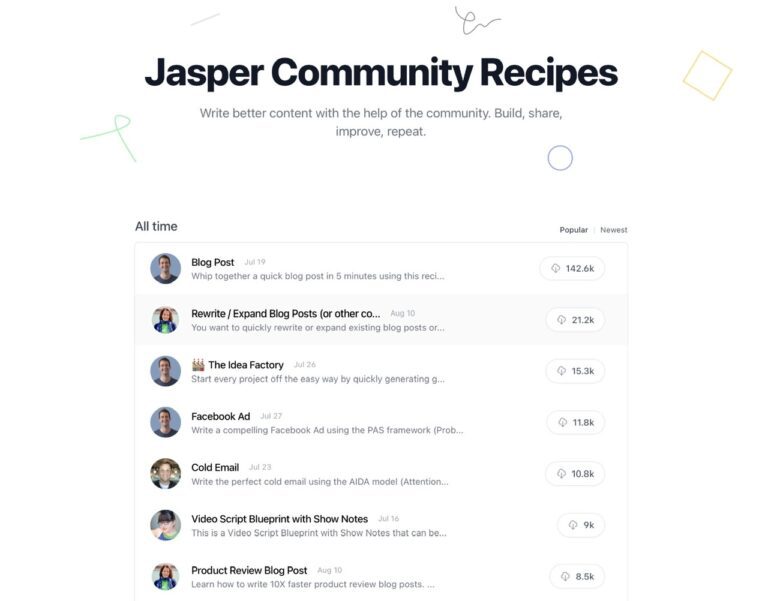 4. SEO keywords
The platform has a keyword input feature that lets the content be easily incorporated with relevant keywords. This helps in improving your SEO rankings, helping you rank higher on Google and other search engines.
5. Plagiarism checker
Jasper also has a dedicated plagiarism checker to match content from eight million web pages. The plagiarism checker makes use of an algorithm to compare phrases word by word to determine any similarities in the text.
6. Remember the conversation
Jasper Chat allows you to remember your conversations. This helps give your chats better context when you look for the same information in the future.
7. Tone of voice settings
Jasper lets you set the tone you want your content to be written. You will have to add a description of the voice by inserting known names in the folder.
8. Integration with Grammarly
There is a big effort to create and improve machine learning algorithm that helps create natural-looking content. To ensure this, the platform integrates with Grammarly, which is a versatile tool to check grammatical mistakes and errors in your content. The integration allows you to test your text more efficiently.
9. Jasper AI art
Jasper is employed to create amazing art within seconds. You can easily create images, making use of your texts. This tool not only helps you write unique text but also unique images.
10. Rewrite feature
Jasper can generate text to create valuable content; however, you can also rewrite content. You can easily rewrite the generated text in different ways.
11. Content Lookback
The feature is designed to allow writers to learn and write new words by using previous paragraphs and sentences. The newly generated content makes perfect sense, and it doesn't repeat. The number of characters that come with this feature is based on the plan.
Pricing
The Jasper Chat AI offers a 5-day trial period where you have access to 10,000 words. If you want advanced features, then you can go for its Starter and Boss mode plan, which start at $49 to $99 per month, respectively. However, there is a Business plan where you can select a customized plan for your venture.
Pros
Supports over 25 languages
Creates original content that ranks higher for SEO
User-friendly interface
Over 50 different content templates
Natural conversation with AI
Tons of topic ideas
5-day free trial with 10,000-word credits
Jasper Academy to get the best of the platform
Integrations with a range of other tools
Boss mode is a valuable feature
Access to plagiarism checker to get quick and accurate results
Get access to revision history so you can go back to any data and restore any data if you want
Cons
There is a slight learning curve
It may have some repeated information
Requires some editing work
3. OpenAI Playground- Write Nearly Anything for You
OpenAI Playground is an online platform that lets you experiment with different natural language processing models. It is powered by GPT-3 model that allows users to use the Open AI API. You also have the option to experiment using the GPT 3.5 to GPT 4 or other updated versions.
The tool is not meant for daily users, but if you are locked out of ChatGPT and still want its capabilities, then OpenAI Playground is the way to go. The web-based tool has more advanced options and has the ability to select from a specific language model to experiment with. You can easily tinker with different factors, so it is not meant for everyday use and is only suited for people that know what they are doing and want to experiment with different models before building it to provide immense customization.
What Redditors say about it
U/upyourego- "ChatGPT is a consumer product, while Playground is a test bed for the APIs designed to be used by developers working on products".
U/AUWritingGuy- "OpenAI Playground was initially deployed so developers could test the GPT-3 NLP model and get familiar with how it works through a web-based app".
Features
1. Enter a prompt
To use the GPT-3, you will need to enter a prompt. A prompt is basically a question and instruction or even an incomplete sentence to which the model will generate an answer of completion. You have to simply type the prompt in the text box and submit it to check your response to generate an answer. To get the best out of it, you will need to think of a good prompt that will give you the best solution.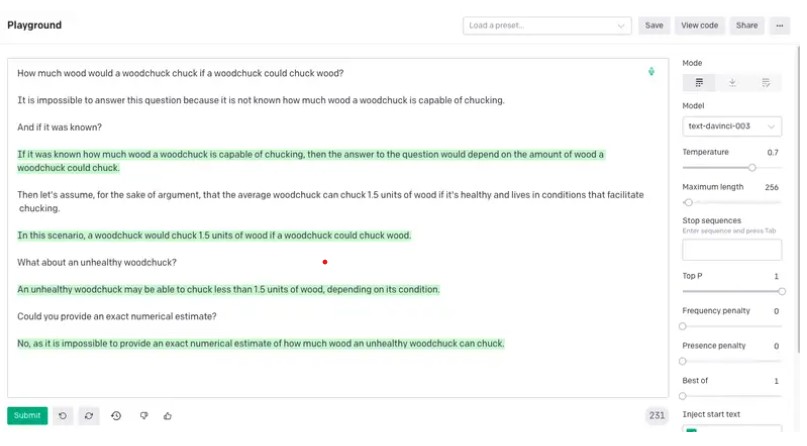 2. Open to everyone
OpenAI Playground doesn't require any special knowledge to know how machine learning systems work. You can easily play with GPT-3, and it is very easy to fine-tune and use. All you have to do is just start with the prompt.
3. Experiment with different ideas and prompts
Prompts allow you to do different activities efficiently. Some of these include generating the content, summarizing information, and translating the text. There are several creative uses for the platform, from writing bedtime stories to social media bios and much more.
4. Keep track of OpenAI Playground credits
Before you get carried away using OpenAI Playground, you can easily check the usage stats to see how many credits you have to spend. Tokens are utilized to calculate the fees, and they are based on how many groups of characters or words you use in the prompt. Here, you can check the tokens that are used each time. These tokens are translated into dollars, of which $18 are available for free during the first three months.
5. Switch to a different GPT model
You can select from different models to power the OpenAI Playground. The 4 most common models are Davinci, Curie, Babbage, and Ada. These models determine different functionality and you can give them a try to see how good they are.
6. Improve your results
The temperature setting is an important parameter to play with if you want to fine-tune your results. If the temperature is set at zero, then you will get the same answer as the GPT-3, even if you submit the same prompt. Raising the number will result in getting a more varied and unpredictable answer.
Pricing
OpenAI Playground is mostly free for a certain time limit. When you open an account on this platform, you are given a credit of $18 to start, which allows you to produce 650,000 words. After four months, the free credits will expire, and after that, you will have to buy from one of its four models starting at $0.0004 for specific tokens.
Pros
Improved herbal language processing
Increased automation
Effective AI era
Promoting AI safety
Advanced AI studies to improve efforts that are centered on growing secure and useful AI
Better selection-making process
Access to the effective AI era
Cons
Lack of transparency
Dependence on the proprietary era
Fashioned and skilled in big quantities of facts that could cause replicating problems
4. Socratic by Google – Kid-Friendly AI Tool
Socratic is an AI tool for kids out there. The platform lets you simply type their school queries and get human-like responses with complete fun illustrations to get a better grip on things. Powered by Google AI, it is able to solve and bring answers through a variety of subjects. Currently, the Socratic platform supports major subjects like Science, Social Studies, Maths, Science, and English Grammar. The Socratic app is available on both the Apple store and the Google App store to download.
What Redditors say about it
U/chewylandwa- "I think my clients would love Socratic AI".
U/emergent_convergence- "I volunteer and teach blogging at a local writer's circle, and I have noticed that many bloggers start writing immediately without considering what other ideas may lurk outside your head on the internet, let us say. A high-quality blog post isn't only engaging and well-written but also research-oriented and fact-checked. What I recommended to my student is to google their working title as this will open a rabbit hole to make them think a bit more and make articles look more full. The Socratic AI is an effective method, and it is pretty good to see it in a technological form".
Features
1. Visual support
The Socratic app focuses on using the camera of your device to visually find solutions to all types of problems. All you have to do is just upload a photo of your problem and choose the question. Once you are finished, you can crop the image easily and choose your questions. It looks up and provides you with the solution within a short time.
2. Mic support
If you don't like taking photos, then you are also supported using a mic. When your hands are full, you can ask questions using your voice. You can open the Socratic app and press the mic button. Once you have stopped talking, the app will analyze it and present the relevant resources.
3. Typing a question
You can type and find the answer to a problem similar to Google and other search engines. Once you enter the question, the app will check the solution and offer an answer to your query.
4. Interface and browsing results
Once a user signs in with their Google account, they are taken to the app to view the back camera on the device. The interface of the app is simple and easy to understand.
Socratic will display results to your inputted question from a variety of sources. If the answer is available, then a top match is displayed on the screen from a trusted source, and a detailed explanation is given. The application also allows you to view videos from YouTube or other curated results from the web. All this is not available on the web browser and only on the app.
5. Explainers
A type of content that you can browse on the platform is explainers, which give you text-based explanations for different concepts. Here, you get access to illustrations that helps learners get a better understanding of the text-based content. They are short and to the point but help tremendously with being able to better understand equations or concepts. It can also help you refine certain questions to be more specific on a certain topic if needed.
6. Unstuck with Google Socratic
Google Socractic is an encyclopedia that is in the palm of your hand. Google has been around in the market for a long time, but Socratic helps eliminate visual clutter like ads or irrelevant results. Baring its app-based approach, it is convenient for learners on the go or even for those who want to access education through their phones.
Pricing
The Socratic app by Google is free and allows students to ask questions about school, college, or university-level work to get high-quality learning resources from trusted websites in the form of curated search results and detailed explanations.
Pros
Quick and easy to use
Provides legitimate and scholarly definitions based on the subject matter
Plenty of user guides and instruction sheets are available to get you started
Searches other sites for answers
Allows users to check its answers
Helps with a step-by-step solution for math problems
Dynamic learning engine
Cons
Lacks help compared to before
The latest update removed some step-by-step solutions to solve problems
5. Github CoPilot – Popular Coding Alternative
Github CoPilot is powered by OpenAI Codex GPT-3 model, which is an AI solution designed for programmers that find themselves at their wit's end. The platform is based on the concept of auto-completion, and such tools help programmers suggest and complete the code and perform the entire function in real time. You can consider CoPilot as a helper tool to help them out with programmer's block.
What Redditors say about it
U/ozyto- "I would barely make the deadlines or push for an extra week to complete a large project at worst. Since I have been using CoPilot, I have been able to complete work much faster with less stress, and it is magical".
U/chamomile-crumbs- "Yeah, I am never going back to life without CoPilot. It does all kinds of shit that make life easier. Crazy autocomplete, writes import parts for me, writes one-off utility functions for testing write units tests, it's crazy! It can even generate validation schemas for you if you use something zod. Just copy the payload you want to validate, paste it in the comment in your editor and start writing the schema. CoPilot will recognize that you are writing your schema for that payload and just write the whole thing for you. Saves me a huge amount of time because we are adding zod to a pretty big codebase right now. Literally, help turns hours into minutes".
Features
1. Multi-language coding support
The popular ChatGPT alternative can generate syntax in a range of languages, that include JavaScript, PHP, BASH, and much more. It is not a perfect code, as it tries to generate the best possible code and works well with human intervention.
2. Compatible with coding platforms
GitHub CoPilot is trained with millions of lines of code and is compatible with popular coding platforms like VS Code, Neovim, JetBrains, etc. It also enables Cloud workflows with the GitHub Codespaces.
3. GitHub CoPilot
GitHub CoPilot helps you analyze your source and makes suggestions accordingly. However, the statement is slightly broad and doesn't include in detail how your workflow is actually working in detail. CoPilot understands the popular APIs and frameworks and allows you to know how to use them. This allows you to describe the task through a comment or just infer your intentions and let it take care of writing the proper API calls.
4. Easy to use
GitHub CoPilot is a visual studio code, and it is very easy to use. Its previews are easy to review without being overbearing on yourself. It doesn't have the required suggestions for everything you write, but it is better than filling in code that is not needed.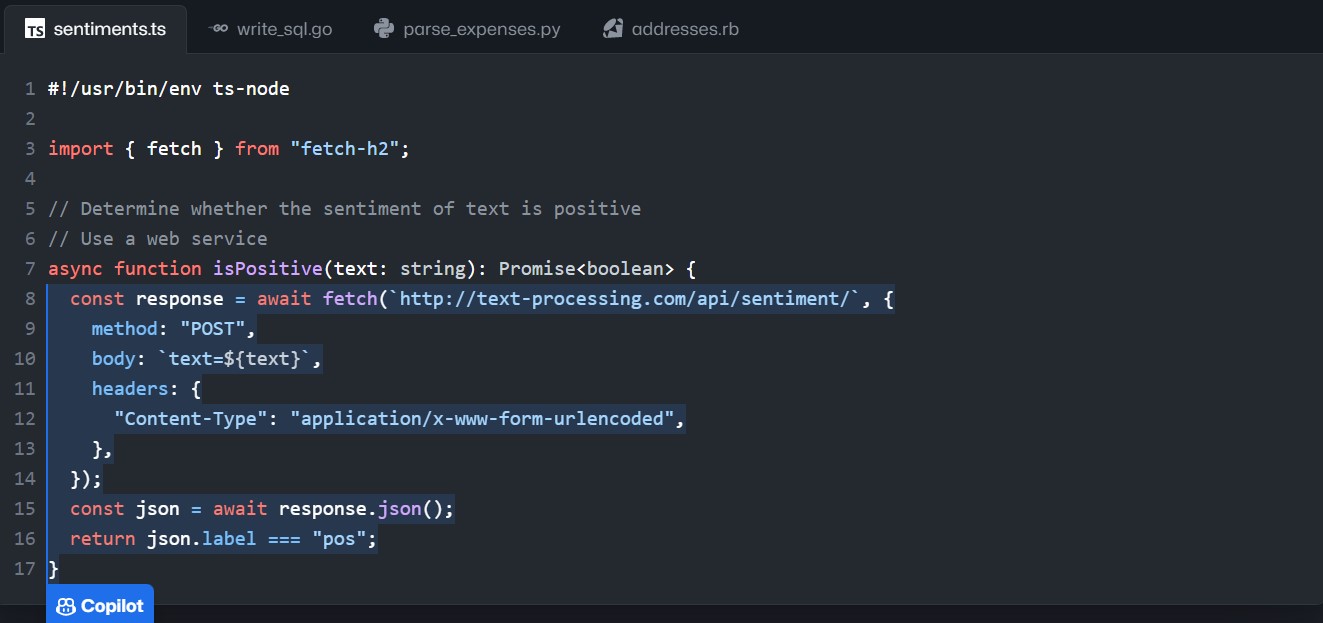 5. Boilerplate code
Sometimes you require a boilerplate code or similar code that you have already written. CoPilot is a great tool to help your entire writing function. This helps keep your code neat and clean at all times.
6. GitHub suggestions
GitHub CoPilot shares recommendations based on the project context and style conventions. You can quickly cycle through the lines of the code to complete function suggestions and decide what to accept, edit or reject.
Pricing
GitHub CoPilot is a popular open-source project, and you can enjoy it free of cost for contributors and students. For other individuals, they can subscribe to the monthly plan at $10 per month, or the business plan is available for $19 per month.
Pros
Helps easily to generate code
Suggests code based on its comments
Imports CDN quickly
Supports quick snippets efficiently
Helps you learn and solve any problems
Cons
Cannot be used to write perfect code
Slightly expensive
6. NeevaAI – Powerful Search Engine
The NeevaAI is a search engine that merges the power of ChatGPT and other large language models with current and precision data from the Neeva search engine. Designed by Sridhar Ramaswamy, ex-senior vice president of ads at Google, and Vivek Raghunathan, former vice president of monetization at YouTube. The system of NeevaAI can search through hundreds of millions of pages to generate a single or comprehensive response that is accompanied by relevant sources.
What Redditors say about it
U/CakeBoss16- "Yeah, I have been using NeevaAI for a few weeks. I think it is quite handy but find it slightly intrusive as it takes up a bit of space, but its results are pretty good".
U/jimmy_dean559- "I have access to NeevaAI at this point, and it fills some of the places Neeva was lacking. I wish I wouldn't have to type out the answer as in ChatGPT. Distracting, but I have noticed that some queries return, and it doesn't require to generate for the specific query".
Features
1. Ad and tracker-free browsing experience
NeevaAI is 100% free of any ads and trackers, which is common with other search engines. They also have an ad-blocking browser extension so that you may never be disturbed by ads during your search.
2. Dark mode
NeevaAI supports a dark pattern-type interface. It comes with native support for dark mode, so you can improve your battery life and reduce the strain on your eyes due to headaches.
3. Data Silo
NeevaAI lets you sign up for the service using a single sign-on from Google, Apple, or Microsoft platform. There is also a handy apps tab on the right side of every search result where you can connect it to different accounts.
4. SafeSearch
The feature lets you automatically filter explicit search results across different web results, images, and videos. SafeSearch is not perfect, but it is meant to help block explicit content, like pornography, from your search results.
5. Get references in the results
NeevaAI gives you references to the answers that they deliver to you. This ensures that you know where your data is coming from and have the ability to check whether it is reliable.
Pricing
NeevaAI is available with a free plan where you can get ad-free, private search, and personalization features. The premium plan is priced at $4.95 per month, which gives users access to all Neeva search and browsing features.
Pros
Private and ad-free search options
Offers answers in an easy-to-read way
Mentions source link in its summaries
Unlike other AI platforms, it will not offer inaccurate answers
Repeat queries and prompts are quickly answered as they are stored in its cache responses
Cons
The free plan only offers 50 ad-free searches per month
Its scope is slightly limited
7. Amazon Codewhisperer – AI Coding Tool
Amazon Codewhisperer is a proprietary tool developed by Amazon that allows developers to quickly understand, identify and debug code problems. The platform makes use of advanced machine learning algorithms and natural processing language techniques. Here, a detailed report of the code's behavior is detailed, consisting of potential bugs and performance issues or suggests any fixes. This helps developers save time and effort, which they would otherwise spend to resolve issues to improve the quality of the code.
What Redditors say about it
U/dethb0y- "It is worth noting that Codewhisperer does things differently from other platforms. The code that the system will generate is novel every time it generates code that is close to an existing snippet in its training data. It is important to note and highlight the license of that original function. It is then up to the developer to decide whether you need to use it or not. This will help alleviate some of the copyright concerns that maybe come with using a tool like this".
U/geyser95 OP- "Codewhisperer provides security scans to help developers detect vulnerabilities in their projects and build your applications responsibly. This is one of the best features that make the service better than other platforms".
Features
1. Boost developer productivity
The AI code companion of Amazon Codewhisperer is a powerful tool that helps boost the productivity of developers. This tool may not replace developers, but it is good to get over writer's block or any issues.

2. Real-time capabilities and consistency
Amazon Codewhisperer gives real-time recommendations while the developer is writing code. This is excellent, especially if you have hit a stumbling block during the development of the code.
3. End-user customization
The recommendation engine has a huge code library, and you have to enable customizations for the source to accept some projects. It is important to predict the code based on the project theme.
4. Solution ranking
This is a great feature and suggests multiple solutions to problems. However, in certain cases, the ranking of the solutions is not optimal, and users may have to navigate through solutions to find the right suggestion.
5. Problem customization
Amazon Codewhisperer effectively understands common problems found in the training corpus and helps solve most of the issues efficiently.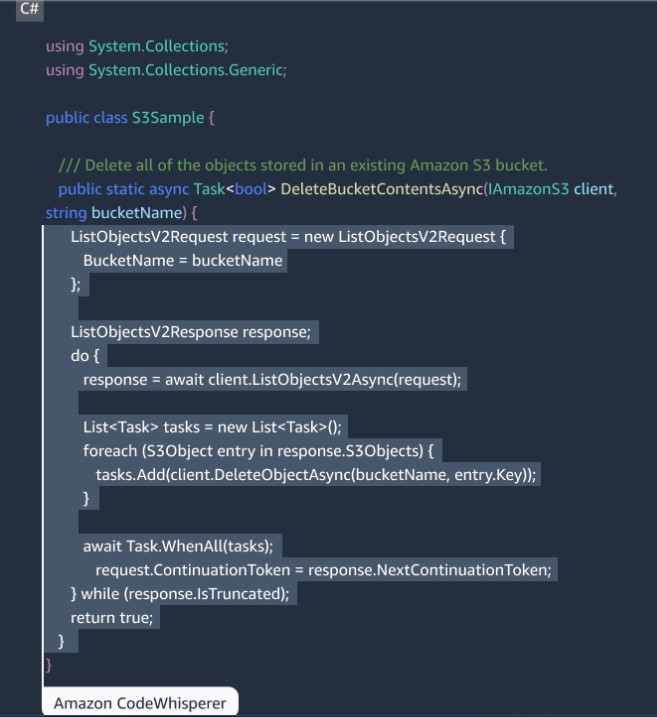 Pricing
Codewhisperer is currently free to preview, and it is unclear what it will cost in the future.
Pros
Power at the developers' fingertips
Much more than your traditional autocomplete
Preview period to check it out
Building and using AWS becomes much easier
Harness the power of AI responsibly
Unlock productivity gains
Cons
Public code, which may contain insecure coding patterns or bugs
In certain cases, you may be provided with deprecated libraries and languages
8. CoGram – Summarize Conferences and Meetings
CoGram can be used to take automatic notes during virtual conferences and meetings while ensuring that your data is always private and secure. You don't have to miss any important information action items again with the platform tracking them. CoGram summarizes the meetings and syncs key information to your CRM. Further, it is very helpful and saves a lot of time in transcribing, summarizing, and extracting important information.
What Redditors say about it
U/alxbo- "CoGram works shockingly well with Keras, and I will keep on using this".
U/ricwo OP- "Interacting with CoGram has just become more intuitive- you can write comments or code and let it complete simply by hitting the Tab key".
Features
1. Detect tasks
CoGram helps you in creating comprehensive and accurate minutes to quickly detect tasks that require to be accomplished. It quickly compiles a summary of the meeting in general and presents it to you.
2. Schedule meetings
You can easily schedule and join the meeting through its calendar and view every word that is said in the meeting. Further, it also actions these items right away.
3. Integrates with a range of applications
CoGram integrates smoothly with Google meet, Zoom, Team, and other software. This helps you to seamlessly incorporate it into your daily routine.
Pricing
CoGram is free of charge during the first 15 minutes. You can get in touch with the team to tailor the pricing if you like to continue using the platform for meetings and conferences.
Pros
The AI generates quality minutes and identifies action items to summarize them in a snap.
Easy to use and work with
Seamlessly integrates with Zoom, Teams, and Google meet
A free demo to check its details
Cons
No mobile application
AI can misinterpret audio recordings
Upcoming ChatGPT Alternatives that are Creating a Buzz
There are two ChatGPT alternatives that are creating noise in the market today. These models look quite promising; however, they are still under development. I've listed the upcoming alternatives below.
1. LLaMA by Meta
The co-founder of Facebook, Mark Zuckerberg, has recently unveiled the Meta platform's giant language model LLaMA (Large Language Model Meta AI). Some open-source chatbots have already caused havoc in the AI world. The new AI platform has been thoughtfully constructed using the Fundamental AI Research team at Meta. This is designed to assist scientists and engineers to develop AI-based applications, which are question answering, document summarization, and much more.
LLaMA is made with a collection of foundation language models that span over 7 to 65 billion parameters. This thereby outperforms OpenAI's grand GPT-3 model having 175 billion parameters, while also being more than 10 times smaller. Furthermore, it is ahead in several features with some other AI solutions in the market.
2. DeepMind
Elon Musk is in the market looking for AI researchers to create a new research center to produce an alternative to ChatGPT. He has drafted a senior staff research engineer from DeepMind to join his effort.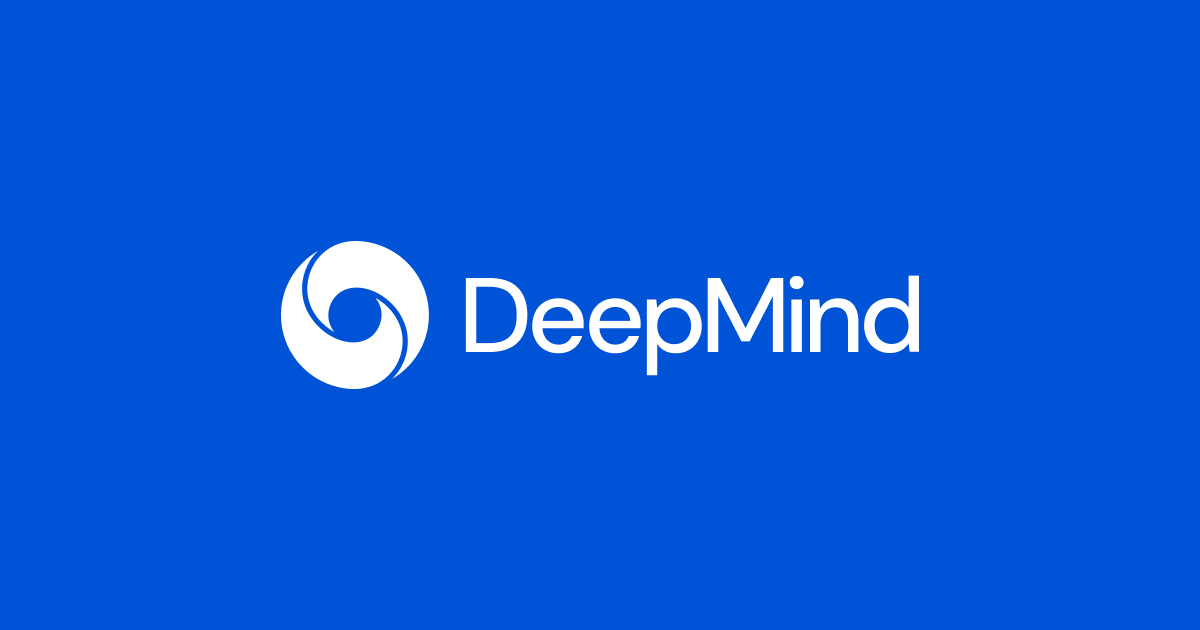 The platform has a team of scientists, engineers, and ethicists who and more committed to getting the necessary intelligence to advance science and benefit humanity. This is planned to shape the modern world that we live in today.
Things are still in the early stages, and Musk has ensured that it will be the best in the market for AI investigation and product generation. Though the platform is yet to get started, Elon Musk has voiced his enthusiasm for the project.
If you want the power and experience of conversational AI right away, you can try the alternatives listed above.
Why go for an Advanced Alternative to ChatGPT?
ChatGPT is a powerful AI-powered chatbot that has truly surprised the world by generating human-like responses. The popularity of this platform has made it inaccessible at most times, so there are alternatives that have propped up in the market today. The alternatives that are mentioned in this article are some of the best in terms of responses, automated service operations, customer support, and much more.
Whether you are planning to look for an AI tool with deeper learning capabilities, a simple interface, or a natural processing power, these are some of the punchy ChatGPT alternatives to meet your needs. But what is right for you is all down to your preferences.
ChatGPT Alternatives FAQs
1. What is a better choice than ChatGPT?
ChatSonic is an advanced version of the ChatGPT platform that improves the limitations of the latter. It includes up-to-date information generation, voice search, AI art generation, etc. Other similar platforms are Jasper Chat, OpenAI Playground, Socratic, etc.
2. Is ChatGPT down? Why is ChatGPT at capacity?
ChatGPT has been lately showing error messages and showing that it is at capacity. The platform has become a very popular tool for developers, entrepreneurs, and tech enthusiasts that are planning to generate text making use of natural language processing. Due to its immense popularity, the servers have been overloading, causing it to generate error messages and thus preventing users from accessing its services. To prevent further overloading, OpenAI has limited the number of people who have access to this service.
3. What are AI Chatbots?
AI chatbots are virtual programs and apps that are designed to simulate human conversation. To break it down, AI chatbots ensure that you are talking to another human instead of bots. Since the rise of ChatGPT, AI chatbots have vastly increased in quantity. These chatbots help in writing essays, coding, solving calculations, and much more. As mentioned in this article, there are plenty of ChatGPT alternatives that help function this full-fledged chatbot. This allows you to go ahead and have conversations using these bots and help them respond in kind.
4. Can you use ChatGPT like Google search?
ChatGPT cannot be used like Google search because it has data only till 2021, and it is a language model and not a search engine. However, if you want up-to-date responses, then ChatSonic can help you with this. ChatSonic and other alternatives to ChatGPT mentioned in the article can help you out. These platforms offer features to retrieve data from Google to provide updated data to its users.
Read Next:
Jasper AI Free Alternative Reddit