Thinkific is one of the most powerful course creation platform available right now. Thinkific is one of the easiest to use course platform that makes it super easy for you to go from building your landing page to growing your customers.
Click Here To Get 28% OFF Thinkfic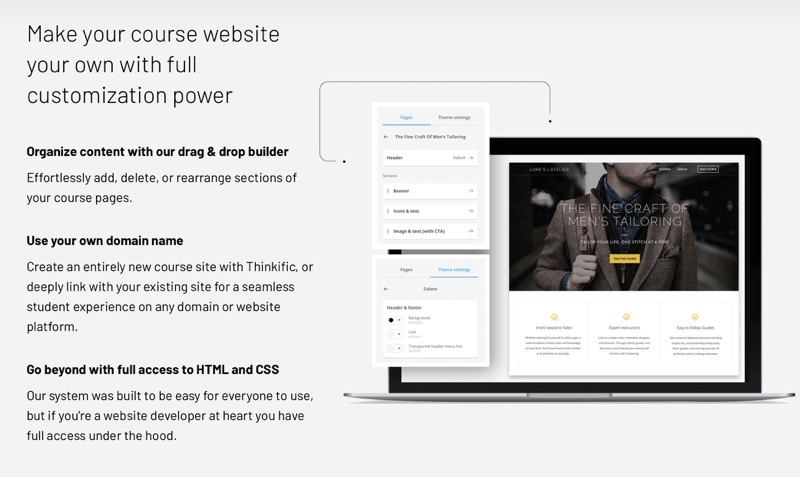 Thinkific Coupon Code
You can get a discount on Thinkific if you decide to pay Annually instead of Monthly! If you decide to pay yearly instead of monthly you will save 20%
Combine that with the free month trial (by clicking the link below) and you'll save 28% on your first year!
Click Here To Get Thinkfic For Free
They even have a free plan that allows you to host 3 courses and have unlimited students! It's even used by companies like Hootsuite and Later to host their courses.
I recommend it most of B2B companies that I work with as it all the tools and features you need to have your courses succeed at scale.
Thinkific Discount Pricing
Thinkific lets you sample its feature through its free trial. At no cost at all, you can create three courses on a Thinkific subdomain and put it out into the world. The trial includes quizzes and surveys as well as the ability to enroll an unlimited number of students. It's a great way to dip your feet in this software platform.
If you like what you get with the free trial, you can move on to Thinkific's Basic package at $49/month. With Basic, you can create an unlimited number of courses and have an unlimited number of students access them. Some of the added features that come with this package are:
Custom domain
Drip content scheduling
Affiliate reporting
Zapier triggers
Email integration
The next pricing tier is called Pro + Growth and costs $99 per month. This package brings out some of the collaborative features of Thinkific. It lets you two side administrators, who can make changes to the website. You can also add up to five course authors, who are people allowed to add and modify content to the actual courses.
Thinkific's top-of-the-line offering is its Premier package. It gives you five site admins, 50 course authors, and 15 group analysts. Customers who pay $499 per month for this service also get the onboarding package, which provides training and creates a launch-preparedness review.
Thinkific also has a package called Growth, which is a way to support course creators as they scale their education business. The Growth package is free for the first 100 students. After that, you pay $0.10 per student per month. Customers get everything in the Pro plan along with advanced segmentation, access to the public API, and community building features.
Thinkific is available in 4 different plans:
Free – Test-drive Thinkific's core feature set for free.
BASIC – Start your course creation experience with the basic features and tools you need to launch your first course.
Pro – For course creators ready to build a successful online course business, a complete suite of tools to create an amazing student experience
PREMIER – For advanced customers ready to build an education empire, get all the Thinkific features + the Growth package. Designed for delivering online education at scale. No limitations – one flat fee.
Thinkific Discount Code
They're many websites on the internet making misleading offers such as:
Thinkific Coupon
Thinkific Discount Coupon
Thinkific Discount Code
Thinkific Discount
Thinkific Coupon Code
Thinkific Coupons
Thinkific Code
Thinkific Promo Codes
Thinkific Promo
Thinkific Deal
The truth is that Thinkific does not offer any coupon codes!
However, you can get a discount on Thinkific if you decide to pay Annually instead of Monthly! If you decide to pay yearly instead of monthly you will save 20%
Combine that with the free month trial and you'll save 28% on your first year!
Thinkific Discount Price:

Basic – $468 $588 save $120/year
Pro – $948 $1188 save $240/year
Premier – $790 $5988 save $1200/year
Simply click the link below to start your trial
Click Here To Get Thinkfic For Free
About Thinkific
The man who conceived Thinkific is the company's current CEO, Greg Smith. His idea for the product was born out of his time spent as an LSAT tutor during weekends. Smith wanted to enhance the  learning experience for his students and simultaneously try to widen his audience.
How does one combine those two goals? By creating an online platform with multimedia lessons and backed by internet marketing methods of course! So Smith, together with his co-founders Miranda Lievers, Matt Smith, and Matt Payne, set about creating a product that would solve his own problem.
Since Thinkific is built by someone who's taught himself, it puts the needs of educators first. The company believes that the way to empower educators is by giving them complete control over the content they put out and the data associated with their class. It also puts an emphasis on customization because there simply isn't a one-size-fits-all solution that can serve the needs of a wide audience.
Those foundational values have held the company in good stead so far. There are currently 40,000 people creating courses on Thinkific who have made over 200 million in cumulative sales. The software platform's users span 164 countries.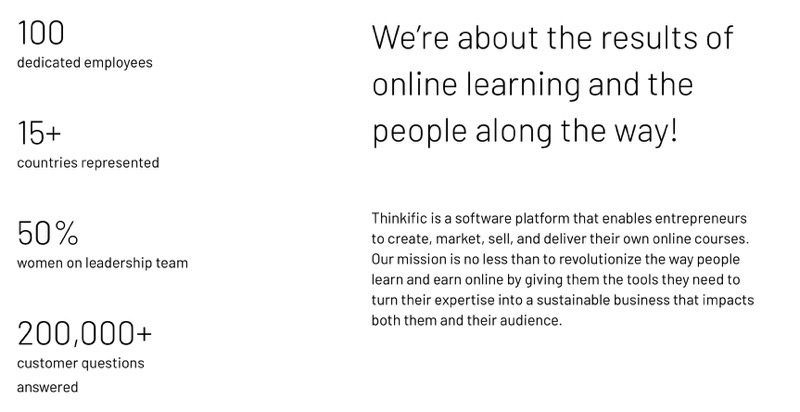 As you'd expect, the company itself has grown leaps and bounds in the process. It currently has 100 full-time employees from over 15 countries. In the process of accumulating all those customers around the world, the support team has answered more than 200,000 questions from customers. It's an operation that is impressive both in scale and its focus on customer satisfaction. What are some reasons customers like it so much? Let's find out.
Why Thinkific?
The online course platform space is super crowed and its touch to figure out what's the best option. I've worked with online business of all sized from 5 people working on a site with barely few visitors to large scale projects getting millions of monthly visitors.
In my experience I find Thinkific the Best all-in-one course platform.
Is Thinkific Worth it?
There is a lot to like about Thinkific if you're an online educator or entrepreneur. The platform provides everything you need to grow your education business right out of the box.
The course creator itself is easy to use. You don't have to spend a lot of time learning how to put your courses or website together. We saw that there are plenty of marketing and sales tools that you can tap into to start getting enrollments in your course.
If you're just starting out, you can try Thinkific for completely free. You can then move to more full-featured packages as the business grows. So you have nothing to lose by creating your first online course with Thinkific!
Thinkific Free Trial
If you are unsure if Thinkific is right for you, you can click on this link and get a free month trial of Thinkific! This a great opportunity to give Thinkific a whirl without having to commit.
Click Here To Try Thinkfic For Free

Read Next: