TLDR: If you're in a hurry the WPX Hosting is the Fastest WordPress Hosting according to Reddit!
u/whdbf: Yes you can try WPX you will love it…Mainly their support is awesome..It's better in terms of pricing..One of the fastest managed wordpress hosts..My wordpress sites loads under 0.5secs.
Save 50% on Your 1st Month With WPX Hosting
Use Coupon Code: Jeremy50
Note: Jeremy50 is case sensitive
If you're serious about your website doing well in terms of traffic and SEO, you've probably heard about the importance of fast loading times and of the speed of your website in general. While there are a number of performance tips that you can use to optimize the loading time of your website, the hosting service you use will still majorly affect the speed of your website.
If you're not particularly tech-savvy, it can be a bit tricky when it comes to finding the fastest WordPress hosting service for your site. Fortunately, you can find reviews of some of the fastest WordPress hosting services in this article so you can make an informed choice when it comes to choosing the fastest hosting option for your website!
Before heading into the different web hosting services and how they compare against each other, we'll go through some important facts such as the types of hosting available for websites and the most important speed metrics when it comes to WordPress hosting.
Why is Speed Important For WordPress Hosting?
The speed of your website is vital in 2023. It is one of the most important metrics when it comes to your online presence and your overall digital strategy. Other than just providing a great experience for your website's visitors, a fast website also has a huge impact when it comes to the SEO rankings of your websites.
A slow-loading website, more often than not, will suffer from the following problems:
A very low number of conversions.
A high bounce rate.
A low number of pages per visit.
Lastly, if your website is slow and involves a long conversion funnel, there will be a noticeable drop-off between the different steps and pages. It is vital for you to use a hosting service that is fast so you can avoid these problems.
According to Google, if it takes more than three seconds for a page to load on mobile, over half of visitors will leave it.
Fortunately, these days you don't have to break the bank to use a hosting service that is blazing fast! Keep reading to find the best and the fastest hosting service for your website.
TLDR: The Fastest WordPress Hosting Services in 2023
Here are three of the best overall WordPress hosting services, not only in terms of speed but also in terms of overall performance:
WPX Hosting: Fastest Managed WordPress Hosting in 2023
Kinsta: #1 Overall Managed WordPress Hosting (A bit Slower + Expensive as site grows)
Bluehost: Budget Fast Shared WordPress Host for your first website
While Kinsta and WPX Hosting are the top WordPress hosting services available today in terms of speed, SiteGround also offers a pretty great experience at a fraction of cost when compared to the other two.
Shared Hosting vs Managed WordPress Hosting
There are two types of hosting services that you can use for hosting your WordPress website – shared hosting services and dedicated/managed WordPress hosting services.
As made evident by their names, a shared hosting service is a hosting service where your website will be hosted on a server along with other websites on a server and share the resources available while a dedicated hosting service will provide a dedicated server that will host only your website which means you don't have to share the resources of the server with any other website.
Shared hosting services are usually much cheaper than dedicated hosting naturally but due to the limitations of shared hosting services, the speed of your website will be much slower on them as opposed to dedicated hosting services. If you want the fastest speeds for your website, you need to use a dedicated WordPress hosting service as shared hosting services just cannot operate at the capacity provided by dedicated hosting services.
Important Speed Metrics for Your Website
Now that we understand that dedicated WordPress hosting services are faster than shared WordPress hosting services, you might be wondering how can we actually measure the speed of the hosting service or your website.
In this article, two primary metrics have been used to gauge the differences in speed for the different dedicated WordPress hosting services – load time and time to the first byte.
Load time is defined as the amount of time it can take for your website to fully load. In a more technical definition, the load time can be considered as the amount of time it takes from when the visitor started navigating to the page until the Document Complete event. The Document Complete event is when the entire page is loaded for the visitor.
Time to first byte is basically how long it takes for the first single byte to reach the visitor's browser from the server hosting your website. It is a measure of the responsiveness of the hosting server.
Keeping these metrics in mind, you can find a thorough review of some of the best and fastest WordPress hosting services below.
Fastest WordPress Hosting Reddit 2023
WordPress is one of the most widely used content management systems (CMS) in the world today. Powering more than 35% of all websites, it has definitely left its mark on the internet.
Due to the huge demand for WordPress hosting, you can find a number of dedicated WordPress hosting services that take care of all the day-to-day hosting requirements for your website. Finding the perfect dedicated hosting service for your WordPress can actually be a bit confusing due to the huge number of players currently in the industry.
Let's take a look at some of the fastest WordPress hosting services that you can use for your website in 2023
1. WPX Hosting – Fastest Managed WordPress Hosting According To Reddit
Load Time: 1.90 seconds | Time to First Byte: 0.185 seconds
Get 50% OFF First Month Use Coupon Code: Jeremy50
Note: Jeremy50 is case sensitive
What Redditors had to say about it:
u/whdbf: Yes you can try WPX you will love it…Mainly their support is awesome..It's better in terms of pricing..One of the fastest managed wordpress hosts..My wordpress sites loads under 0.5secs.
u/sandip88: I have migrated one time to WPX hosting & saw an immediate improvement in my website speed. My website which was loading around 2 sec is now loading under 1 sec. I haven't seen any web hosting provider's support replying under 30 sec. I think the WPX hosting customer support is the best.
r/juststar: WPX seems like the best deal by far. You can host 5 websites, it's the cheapest ($20/month) and according to some tests it's the fastest, plus it has the most bandwidth available (100 GB).
WPX Hosting simply provides the fastest speed when compared to all the other hosting services on this list. One of the reasons why the hosting service is so fast is that it uses high-end SSD servers which they actually own instead of renting it as most hosting services do. In addition, WPX Hosting also uses the latest version of PHP and optimizing server caching that enables your website to load blazingly fast!
In addition to exceptional performance and speed, WPX Hosting also provides an array of other features such as unlimited SSLs, a high-speed custom CDN, DDOS protection, automated backups, unlimited site migrations, and more. WPX Hosting plans start from $20 per month and go up to $83 per month for the highest tier which supports up to 35 websites.
If you're looking for the fastest WordPress hosting service for your website, you should go with WPX Hosting without a second thought.
Setup – WordPress + Plugins + Astra + Page Builders
This is how most normal website on the internet would be configured. If you import your average site into WPX Hosting, this is the performance you're going to get.
2. Kinsta – Overall Best Managed WordPress Hosting
Load Time: 2.11 seconds | Time to First Byte: 0.287 seconds
Click Here to Get Kinsta Managed Hosting
What Redditors had to say about it:
u/velarozo: I am on Kinsta. Customer service is Amazing! I had an issue with my website being infected with malware. Kinsta not only cleaned the site, but found and fixed a backdoor that the attackers installed. Now I can say I can free myself from technical things. Totally recommend them!
u/adxp: Kinsta has proven itself with using performance oriented technologies like Nginx and LXD containers. I have a few clients that moved to Kinsta and their performance increased significantly.
u/lefty121: I'm migrating my own sites to Kinsta. Kinsta is just a cut above. So far they've been amazing. Kinsta support is crazy fast and they're actually WP experts and not "techs" that don't know what they're doing.
Kinsta is one of the biggest and most popular managed WordPress hosting services available today. It is also one of the most premium hosting services due to the incredible quality of service they provide. Kinsta is used by huge companies around the world and naturally provides excellent speed for all websites hosted on its servers.
One of the main features of Kinsta is that it is powered by Google Cloud Platform which is the same cloud computing infrastructure that is used by Google's internal products such as YouTube and Gmail. Naturally, you can imagine the speed provided by such an infrastructure would be nothing short of extraordinary.
Other than providing really fast loading times, some of the other key features of Kinsta are automatic updates and daily backups for your site, simple installation, staging sites, and a free SSL certificate.
With plans ranging from $30 per month to more than $200 per month and beyond for custom plans, Kinsta is an expensive option but is definitely one of the fastest WordPress hosting services that you can use for your WordPress website today.
3. Cloudways – Scalable and Reliable Managed Cloud Hosting Solution
Cloudways is a fast and fully managed cloud hosting solution that has a great infrastructural setup. The platform will manage all your hosting requirements, so you just have to install CMS, and you are good to go. Configuring the cloud servers has never been as simple due to the pre-configured servers offered by Cloudways. You can efficiently access their services within just a few clicks.
Click here to try Cloudways For Free
Cloudways Promo Code 2023: Jeremy20
Customers can pay as they go and are offered a custom control panel that helps in the collaboration and management of multiple projects. The platform can be customized by choosing how much RAM, bandwidth, and database storage you need with just a click of a mouse. The cloud services of the platform are not completely free, but it offers a 3-day trial period where you can check its features and performance. Its paid plan starts as low as $11 per month, which is considerably cheaper with the features its offers.
You'll be surprised to learn that my website jeremenynoronha.com is run using Cloudways. So, you can be assured that Cloudways is one of the finest cloud providers to offer the best performance and functionality.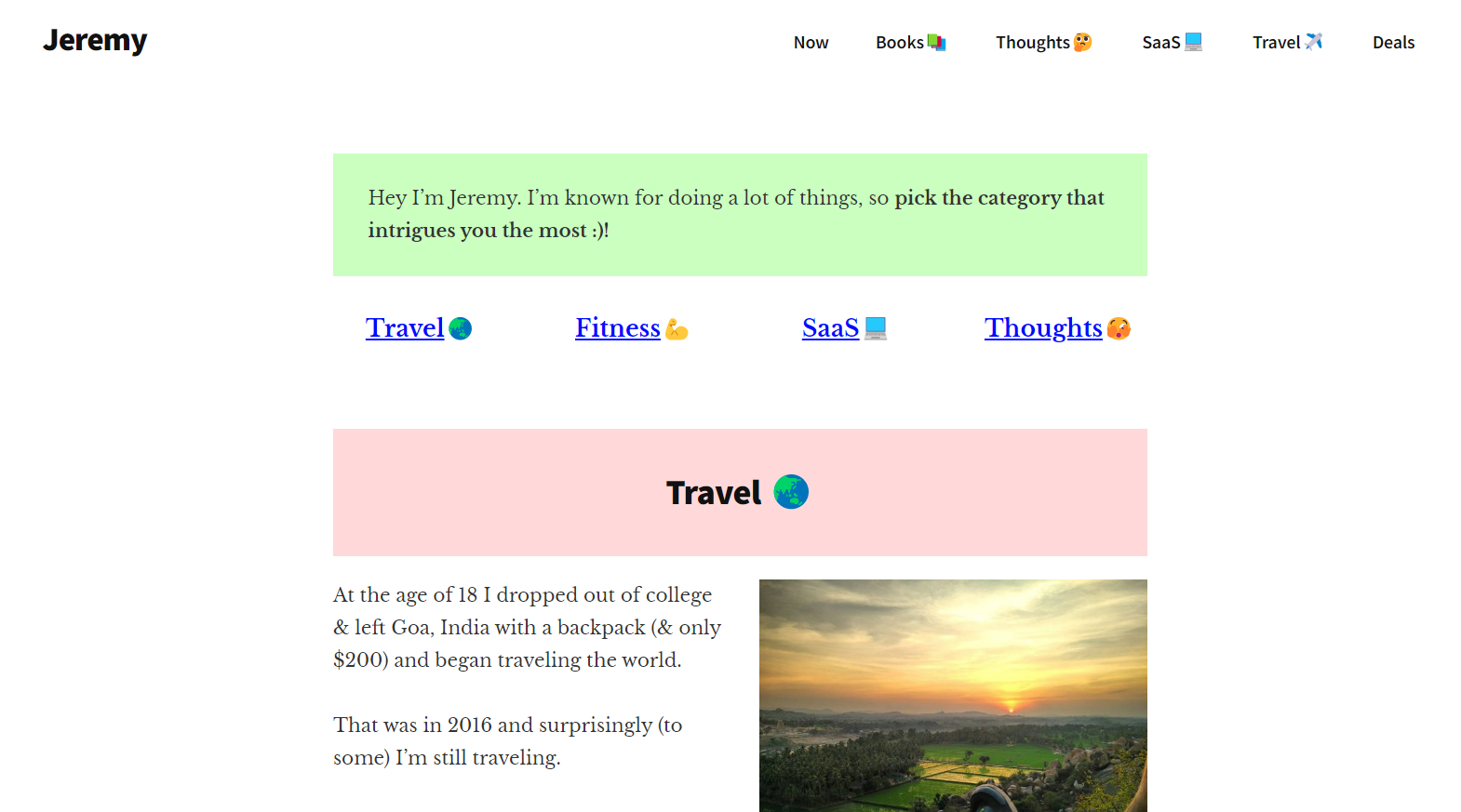 Features
Unlimited applications- Cloudways lets you install as many applications without requiring causing any interruption or restrictions to your application.
Data centers- Cloudways doesn't offer data center hosting, but it offers great location hosting options that you can use to host your web applications. Currently, it has data centers across 65+ locations throughout the world. You can select the one that is closest to your location to extract the best performance.
3. Speed and uptime- Cloudways has exceptional speed, giving it a performance-based service to rank higher on Google. The hosting stack provides exceptional speed and is fitted with different systems. The cloud hosting solution offers a 99.99% uptime, making it reliable and respected in the market.
4. Security- Security is the utmost feature offered by Cloudways. It is packed with excellent security that includes
Free SSL certificate
Create an IP address whitelist
Dedicated Firewall
Regular security patch
Two-factor authentication
Bot protection
Advanced DDoS Protection
Login security
Application isolation
Bug bounty program
Regular security patching
Web Application Firewall
5. Free migration- Cloudways has a single site migration feature that will help migrate your website's data at no cost. If you cannot do it by yourself, then you can contact the team who will efficiently get you running without any fuss.
6. Complete control- Cloudways gives you complete control of your UI and lets you check a number of parameters, deploy applications and upgrade your packages. You have access to 1-click backup and restore features.
7. Server monitoring- Cloudways allows users to monitor applications that are hosted on their servers. The platform lets you monitor 15 variables, which is important to anticipate a surge in traffic and upgrade plans to temporarily accommodate it.
8. Automated backup system- The smart monitoring feature of Cloudways gives users the ability to create an automatic backup of their data. This can be done without any active involvement.
9. Vertical scaling- Scaling your resources is important to control your applications to act like a pro. The feature gives you server resources at a glance and offers enhanced flexibility to scale up. This is great to increase your overall website capacity and performance.
Cloudflare add-ons- Cloudways provides the Cloudflare add-on, which helps to speed up your website loading and performance. You also have access to different integrations to enhance your website features.
Support- If you ever run into any issues, then Cloudways offers 24/7 support where you can find all the answers to your questions. The platform offers support via live chat, phone access, and online tickets. If you want advanced support, you can select its plan starting at $100 per month. It helps speed up your response time and opens up a wider world.
Pros
Simple user interface
Instant setup
Fully managed services
Exceptional speed and uptime
Extremely scalable
Top-notch security
Great load-handling capacity
Good customer support
Cons
Setup can get complicated
No domain services
Less control over certain features
4. Bluehost – Fastest Shared WordPress Hosting Reddit
If you are just getting started with WordPress or looking for a web host with reasonable pricing then Bluehost is the right choice. It is easy to use for beginners as it has simplified the process of setting up a website. This is a budget friendly drag and drop site builder. It is loaded with features to help you set up quickly. It also offers shared hosting plans at entry level prices.
Click to Get 67% OFF Bluehost Now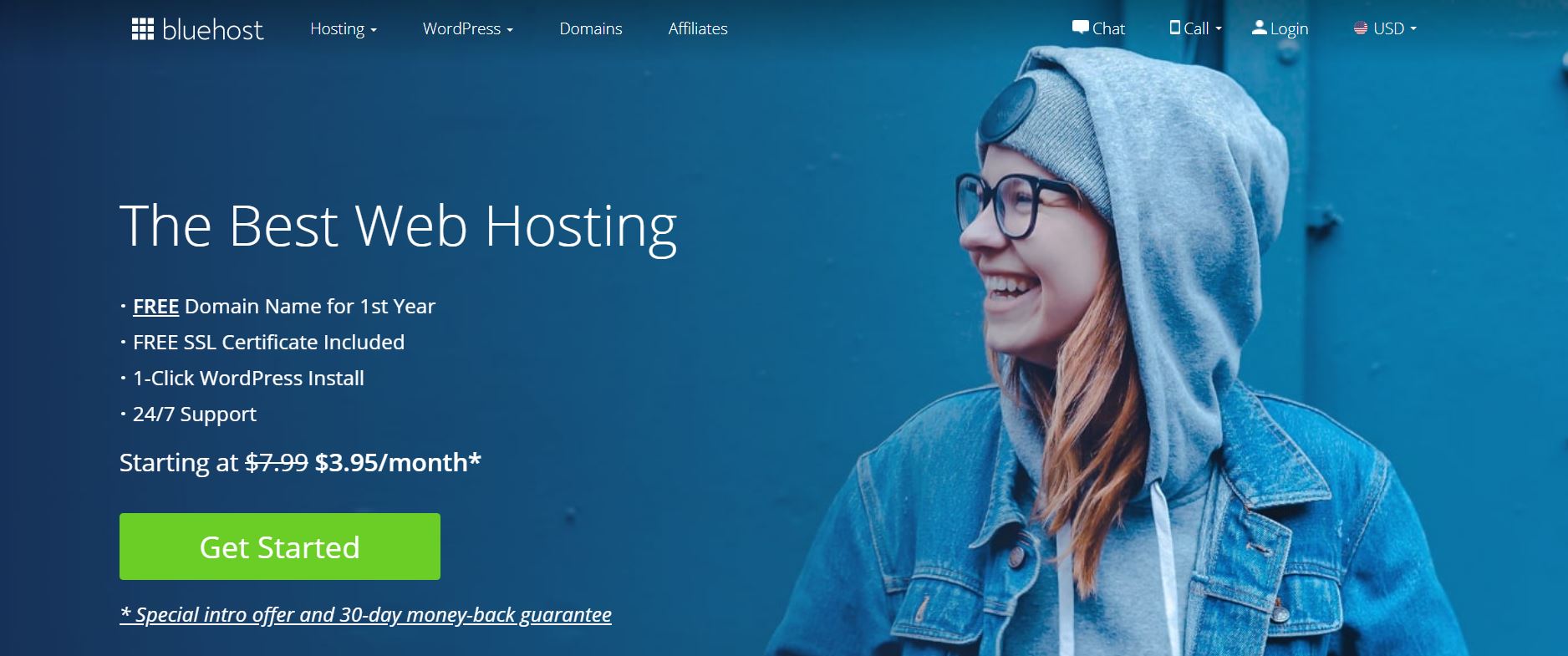 What Redditors had to say about it:
u/chucktownDan: I'm a Bluehost customer for going on 3 years. Reliability has been just fine, no issues to speak of. However, compared to some other providers, the price is what keeps me there.
u/jpsweeney94: I've been using bluehost for a while now and no complaints on my end… cheap and reliable, don't recall if I've ever even seen any downtime. Rarely, if ever.
u/shalevrais12: Bluehost's customer support, strong uptime, and affordable beginner plans make it a dependable hosting provider. If you're looking for old-fashioned reliability, Bluehost is a great choice. That's why it is rated one of the best overall hosting provider on the market.
HIGHLIGHTS:
Quick site set up: They have an intuitive and guided step by step setup. They also have a chat support system in real time in case you have any trouble setting up.
Free SSL certificate: They provide it for free to authenticate the identity of your website and encrypt all the important information.
Security: Bluehost has efficient security features and all Bluehost plans come with resource protection. They also have CodeGuard Backup Basic with a monthly fee that notifies you when any changes are made and does daily backups.
Customer Support: They have a very fast customer support that is very extensive. They have a live chat system with a waiting time of less than 5 minutes. They are  available 24/7. They also have an FAQ forum, in depth articles on everything web hosting related.
High performance servers: They have Dual Quad Processor Performance Servers that keep large websites functioning smoothly. It makes sure that there are no slowdowns.
Pros
Free domain name
Reasonable cost
Easy to use
Cons
High domain renewal prices
No free site migration.
5. Hostinger – Cheapest Fast WordPress Hosting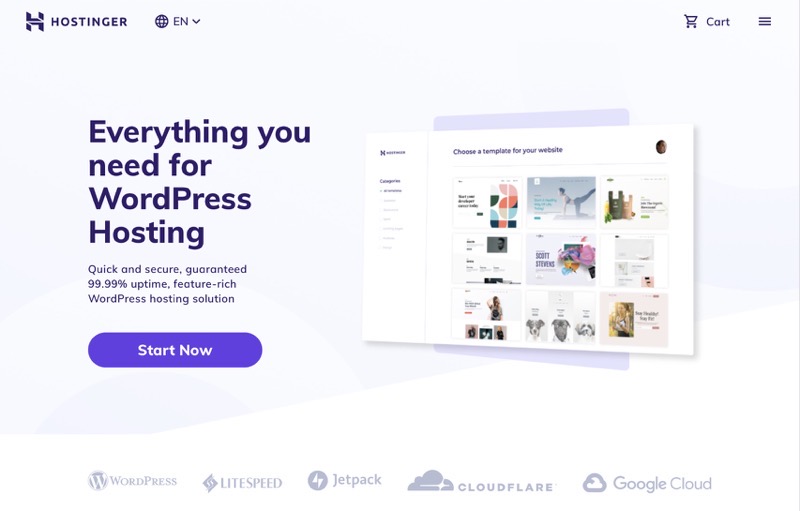 What Redditors had to say about it:
u/rossonlinereviews- "Hostinger is actually $1.99 per month for a single shared hosting, making it one of the cheapest in the market. When Hostinger infers that the prices are unbeatable, then they aren't lying about it. If you purchase the 48 months of hosting plan, then you get that for $50. This doesn't mean it has low-grade service. It is extremely fast, secure, and reliable. Get the SSL certificate installed to compete with other websites. All in all, Hostinger is the best web hosting option out there".
u/StraightAssociate- "I've been a Hostinger customer for nearly a year. I've no problems with them. It's hard to beat the $45 4-year plan in a shared hosting service".
u/Odd-section-8229- "I've been using Hostinger, and I like it a lot. Don't go with the other option".
Priced at just $0.80 a month, Hostinger had to make its way onto the cheapest WordPress hosting list.
Although the price usually starts at $2.15 a month, you can get impressive discounts at all times that bring the cost down significantly.
Let's check out what is included in the basic plan offered by Hostinger which they call Single:
1 website
Weekly backup
1 click WordPress installer
99.9% uptime
100GB bandwidth
109 GB disc space
Could you really ask for anything more in this price range?
Apart from this, the other two plans by Hostinger in the shared hosting model look like this:
Premium: $2.89/month with unlimited email account and website, a free domain, and unlimited bandwidth.
Business: $3.99/month with a lifetime SSL certificate, daily backup four times processing power, and memory.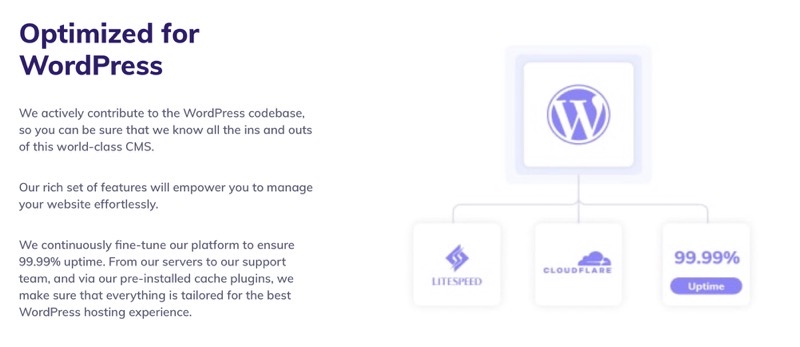 Along with being the cheapest hosting provider, Hostinger does not miss out on great features.
Even though it's Single pack cuts back on features that are included in larger packs, it's really everything a first-time user needs.
You don't require bells and whistles to get started, just the basics should be fine until and unless you're getting the website up with great speed, uptime, and customer service to back you up.
All things considered, Hostinger is a stellar WordPress hosting solution ideal for businesses and solopreneurs alike.
With a money-back guarantee, drag-and-drop site builder, and a free SSL certificate, this should be your go-to option for hosting.
6. WPEngine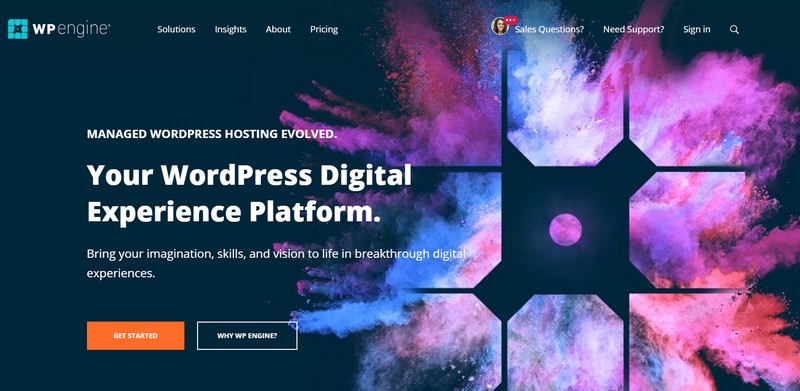 Load time: 2.22 seconds | Time to First Byte: 0.138 seconds
Get 4 Months Free Of WPEngine WordPress Hosting
What Redditors had to say about it:
u/jonhenshaw: I've been using WP Engine for several years. I'm very happy with the service. They automatically make backup and restore points. They are fast and reliable, and they make it easy to do important things, like the ability to add free SSL certificates and auto renew them.
u/tech_b90: I recommend them to everyone if it's in their budget. As a dev, wpengine was really good. Response times from support were always super fast and handled what I needed. The backups and dev/staging/prod envs where stupid simple and a click of a button. Moving from staging to prod was a click of a button.
u/werty: I have 2 of the 10 site accounts. I love WP Engine. Support is great. Backup and restore points are also great. It is pricey but I think it is worth it.
WP Engine is a WordPress hosting service that is used by businesses all over the world from small startups to multi-national corporations. This hosting service operates on a high-availability and clustered hosting architecture over multiple data centres that are spread across the world. This ensures a fast loading time for your website regardless of where it is accessed from.
Some other features provided by the managed hosting service include automatic updates, staging sites, integrated CDN and many others which make it an excellent overall hosting service for any WordPress website.
While the pricing of WP Engine is still relatively premium, one of the unique features provided by them is the Genesis Framework and all of their premium WordPress themes are provided along with every single plan absolutely free of cost.
WP Engine plans range from $30 per month to $290 per month or more for custom plans. They also provide discounted prices from time to time which brings down the price of their plans to $22 per month to $217 per month.
Overall, WP Engine is an excellent WordPress hosting service that is not only super fast but also provides value-added features that few other hosting services can match.
7. DreamHost
Load Time: 2.34 seconds | Time to First Byte: 0.397 seconds
DreamHost is probably one of the oldest web hosting services on this list. It has been operating for more than 24 years as it was started in 1994! While they provide hosting for a wide range of websites, they do have dedicated WordPress hosting plans which we're going on to focus on in this review.
WordPress hosting on Dreamhost is fast, secure, and optimized. Some of the features provided by DreamHost include an instant WordPress installation, automatic backup, automatic updates, and robust server architecture which can take anything you throw at it.
While the plans for WordPress hosting on the service start at around $2.59 per month, their managed hosting service plans start at $16.95 per month. Dreamhost provides servers that are optimized for WordPress, fast solid-state drive storage, and a 100% guaranteed uptime.
Even though Dreamhost might not be the coolest WordPress hosting service on the list, they've been in the business for a long time and definitely know what they're doing and ensure your website is always super fast regardless of the amount of traffic it gets.
8. InMotion Hosting
Load Time: 2.91 seconds | Time to First Byte: 0.811 seconds
Click Here To Get InMotion Hosting
Even though compared to other services in this review, InMotion Hosting is relatively slower, the hosting service is one of the most affordable dedicated WordPress hosting services out there with plans starting as low as $7 per month which is one of the cheapest plans for managed WordPress hosting.
The features provided with their plans are also pretty great such as free SSL certificates, automatic updates, free backups which are automated on all plans except the cheapest one. With the more expensive plans, you get additional features such as Jetpack for free which is an excellent security plugin for WordPress sites.
If you're okay with a hosting service that is just a bit slower than the other services here and you want a budget option then InMotion Hosting is the best option for you. As with all the other managed WordPress hosting services, InMotion Hosting also provides excellent customer support by WordPress experts who can handle any problems you face on the platform and get it resolved quickly.
9. FlyWheel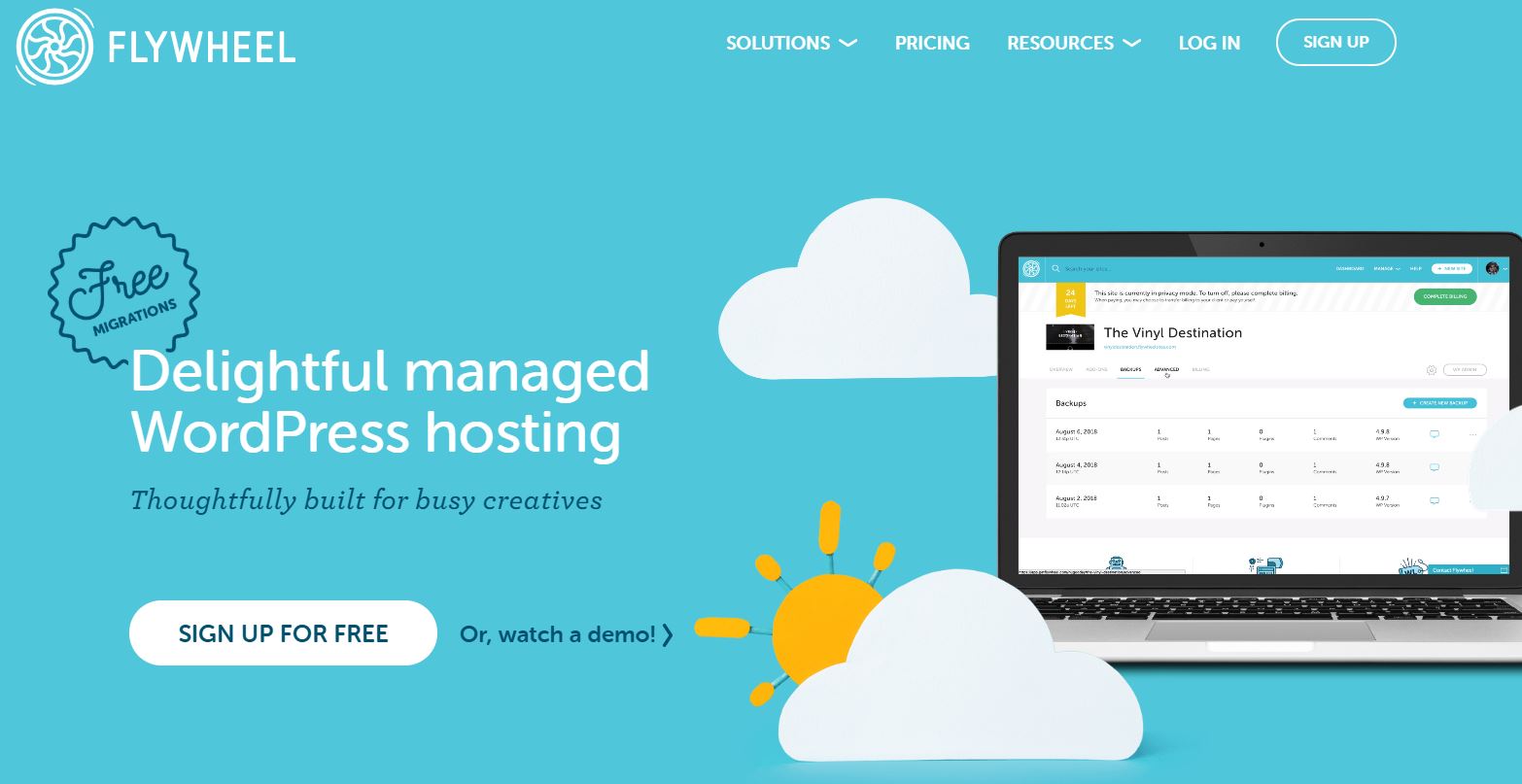 Load Time: 2.13 seconds | Time to First Byte: 0.151 seconds
FlyWheel is a dedicated WordPress hosting service that is targeted mainly towards freelancers, agencies, and creatives. It also uses the Google Cloud Platform which ensures fast delivery of your websites to any location in the world.
What makes FlyWheel really unique is that it comes with a lot of features that are great for its target market – freelancers and agencies. Some of these features include the ability to collaborate with co-workers, an efficient dashboard that can be used to manage a huge number of websites, and the ability to seamlessly transfer the billing to your clients.
Plans on FlyWheel start from $15 per month and go up to $290 per month which makes it fairly well priced considering the features it provides. In addition, you also get the standard features of a managed WordPress service like free SSL certificates, staging sites, automatic backup, dedicated CDN (charged on lower plans), and a 24/7 customer support team that is always ready to assist you.
If you're an agency or a freelancer looking for a fairly-priced WordPress hosting service with great features, FlyWheel is the best option for your needs.
10. Pressidium – Fast WordPress Enterprise Hosting
Load Time: 2.02 seconds | Time to First Byte: 0.152 seconds
Pressidium is one of the fastest hosting services on this list and is also, naturally, one of the more expensive hosting options provided here. With features like advanced server-side caching, and really fast and scalable page rendering, the loading times of Pressidium are extremely fast.
The hosting service works on n-tier enterprise architecture with minimum downtown with no single point of failure which means the chances of your website going down are negligible.
Other features provided by Pressidium include a multi-layered security mechanism, 24/7/365 customer support, and a promise of zero downtime using effective redundancy, load balancing, and clustering.
Trusted by multiple Fortune 500 companies, Pressidium plans start from $42 per month and go up to $500 per month and beyond for custom plans. Overall, if you're looking for one of the absolute best web hosting services for your WordPress websites and don't mind paying a bit extra for better features, Pressidium is the best choice by far!
How to choose the best hosting service for your websites?
Now that you have made it this far, you should have a fair idea about what you can expect from the best WordPress hosting services. However, you might still be wondering which one you should go for as a lot of them offer similar features.
If you're a small business owner or an entrepreneur, this choice might be even more tricky because you want to save costs as much as possible and you might not need the really advanced features offered by some of the services mentioned here.
Fastest WordPress Hosting Reddit Guide 2023
You should take a look at where the data centres of the hosting service are located. Even though a powerful CDN can help in mitigating the issue, it is still good practice to go with a hosting service that has an actual data centre near your target audiences for best performance.
You should also consider the amount of traffic you're expecting for your website. As mentioned above, some of these options are really great if you're looking for an enterprise-level solution but a lot of readers here might be small startups owners and entrepreneurs who just need a reliable hosting service that is also fast. If you do not estimate traffic on your website to be really heavy, you can get pretty good performance even with the budget options mentioned in this article.
Lastly, it is also a good idea to check the pricing of all the different hosting services when you're making your decision. More often than not, the idea is not to find the fastest hosting service in the world but to find the fastest hosting that fits your budget!
Summary
Kinsta and WPX Hosting are considered to be the best WordPress hosting services in the world currently but if you're willing to have a slightly lowered speed for a better cost, the other options listed here might also be great choices for you!
Read Next:

Best WordPress Hosting For Travel Blogs
Cheap WordPress Hosting Reddit