Keeping track of ranking on Google is incredibly important, not only does it help you get an idea on the progress of your campaigns or marketing efforts but it also helps makes reporting to clients, etc easy if you work in SEO.
It would be stupid to spend your entire day Googling each and every one of your keyword and trying to find it's position. Not only would that be next to impossible, as your site gets bigger you'll pretty much be spending all your time just doing that.
When I used to be an SEO and do SEO consulting I was always focused on finding good rank trackers that not only were easy to use but also made it easy to export results and presented the data in an easy to digest way.
So, let's dive into the Best SERP Tracking Tools in 2023! What are the pros and cons of each and which tool suits you and your business needs?
Best SERP Tracking Tools
1. AccuRanker – Fastest SERP tracking Tool With On Demand Update
Unlike most other tools in this list which are more than just "rank" tracking tools and are more all-in-on SEO tools, AccuRanker is focused on one thing and one thing only *SERP Tracking*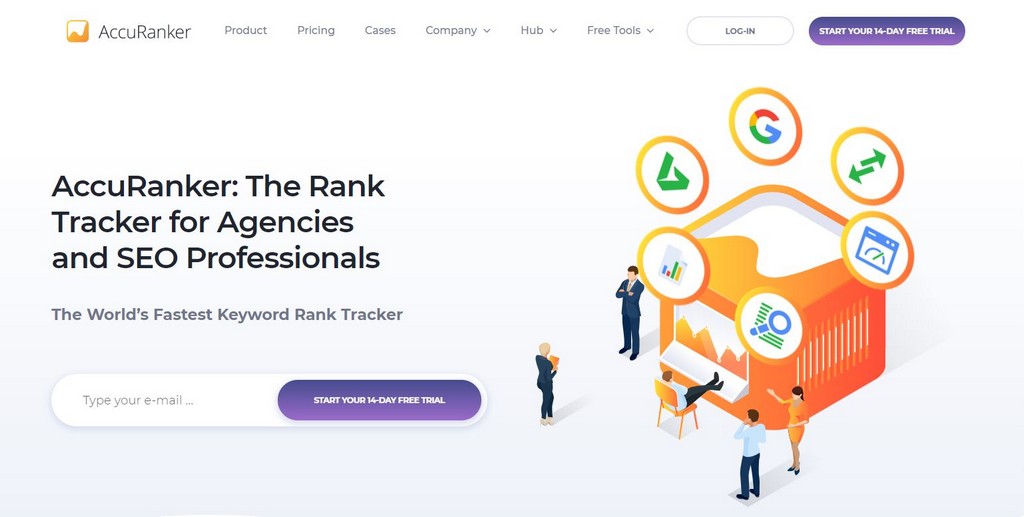 Which means they do it better than everyone else. AccuRanker is without the doubt the fastest and most accurate rank tracker.
Who do they mean by fast? Well, unlike many tools that give you a daily update on your rankings, with AccuRanker you can do a manual update ANYTIME. They also have one of the easiest to use interfaces that make rank tracking a pleasant experience.
Accuranker also makes it super easy to managed multiple sites in one go! You don't have to pay extra for multiple domains as even the smallest plans come with unlimited domains.
Other features include:
segmentation based on SERP features
SERP History (not on the cheapest plan)
Customize reports with own logo (even on the cheapest plan)
Google and Adobe Analytics
Share of Voice
Tag Cloud
You can get started with AccuRanker for Free for 14 days by clicking here to give it a whirl yourself to see how you like it!
In terms of pricing, AccuRanker starts at $44/month (if paid annually) for 500 keywords (@ 8.82 cents pr. keyword)
As you increase your subscription cost the cost/keyword goes down (all the way to 2.25 cents pr. keyword at the highest plan)
While it may be a little pricey, Accuranker is without a doubt the best rank tracker tool you can find on the market and if SERP tracking is all you want from a tool, then look no further than AccuRanker.
Click Here To Try AccuRanker Free For 14-Days
2. SEMrush – Best All in one SEO tool with SERP Tracking
SEMrush, unlike Accuranker, is much more than just a SERP tracking tool. It's a complete all-in-one SEO tool, and if you can only afford to invest in one tool I'd recommend going with SEMrush.
While all AccuRanker does is SERP tracking, SEMrush does allow you to keyword research with some of the best keyword datasets in the SEO world.
They also allow you to do competitor research on any of your competitors and see all their rankings positions (without having to track their keywords manually which is a big plus)
SEMrush also makes it super easy to find other competitors in your niche along with topics that you can target and rank for. You can also try it without committing by signing up for the SEMrush free trial!
All SEMrush plans include:
Site Audit
On-Page SEO Checker
Social Media Tracker
Backlink Audit
Brand Monitoring
Content Audit
Keyword Research
SEO Content Template
Gap Analysis
Topic Research
Log File Analyzer
…and so much more!
When it comes to position tracker however, SEMrush isn't as good as AccuRanker of course which is a more specialized tool. In SEMrush you only get daily updates on your keyword positions, and you can only track 5 domains in the basic plan.
Also, you can only white-label your reports if you pay over $400/month making SEMrush not the best for small agencies to send their keyword reports.
SEMrush starts at $99.95/month and you can track 500 keywords in the plan (@ 19.99 cents pr. keyword)
The Business plan (with the white labeling included) starts at $399.95 and you can track 1500 keywords in the plan (@ 26.66 cents pr. keyword)
When it comes to just "SERP tracking" SEMrush is definitely more expensive than most tools and that because it's not meant to be used just for SERP tracking. It can be used for everything from keyword research to keeping track of your guest posts.
If you run a business or are a solopreneur and looking to buy just one tool for your in house SEO, I'd recommend going for SEMrush, that's the tool we used at Foundr for all our SEO efforts.
However, if all you want is just SERP tracking, Accuranker does that one single job better and cheaper and faster :)!
Click Here To Try SEMrush Free For 7-Days
3. Pro Rank Tracker – Affordable Budget SERP tracking tool
Pro Rank Tracker like AccuRanker only does SERP tracking however it doesn't have all the functionality that you get in AccuRanker (thus making it a more affordable option).
However, just cause it doesn't have some features doesn't mean you should count Pro Rank Tracker out! In all of Pro Rank Tracker plans you can not only track Google SERP results but also Bing, Youtube, Amazon, Yahoo, Yandex, Ask & Excite.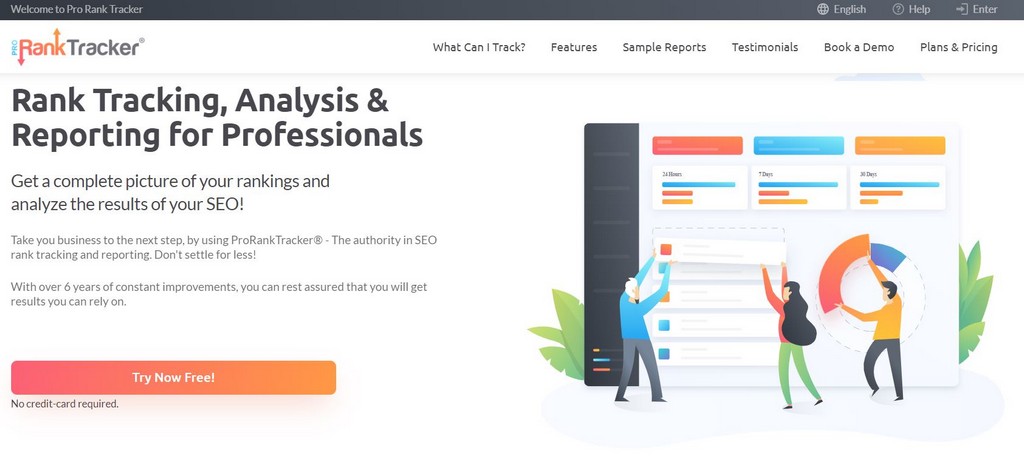 It's also got a great database for markets outside the English speaking Google SERP results making it a great choice if you do international SEO.
It's also multilingual with the entire interface supporting multiple languages: English, Spanish, French, German, Italian and Dutch.
Pro Rank Track only has daily updates in their basic plans but if you upgrade to >$89/month you can have on-demand SERP tracking like AccuRanker.
In terms of pricing, Pro Rank Tracker starts at $22.5/month (if paid annually) for 200 keywords (@ 11.25 cents pr. keyword)
And their starter plan at $80/month (if paid annually) which has the on-demand rank tracking, lets you track a 1000 keywords (@ 8 cents pr. keyword)!
Click Here To Try Pro Rank Tracker Free For 7-Days
4. Mangools – Cheap All in One SEO Tool With SERP Tracker Tool
Mangools is often touted as the more affordable alternative to SEMrush. Just like SEMrush Mangools isn't just a SERP tracking tool.
The Mangools Suite is composed of 5 different SEO tools
Mangools is honestly the best tool for the first time blogger who finds the $100/month cost of SEMrush to be too high. Also in my experience, the Mangools is actually better than SEMrush when it comes to backlinks.

In terms of rank tracking, SerpWatcher has all the features you want out of a SERP tracking tool. The only feature missing is the on-demand rank update, however, for most people getting started daily updates are honestly more than sufficient. Another plus is you can track unlimited domains even in the basic plan.
In terms of pricing, the entire Mangools suite starts at $29.90 (if paid annually) for 200 keywords (@ 14.96 cents pr. keyword)
And their agency plan costs only $79.90/month (if paid annually) *That's cheaper than the base plan of SEMrush* and lets you track 1500 keywords (@ 5 cents pr. keyword) making it the most afforable tool here!
Click Here To Try Mangools Free For 10-Days
Best SERP Tracker Tool
So there you have it, those are my top picks when it comes "Serp tracking tools"
As a recap, here are my recommendations and what they're best used for:
AccuRanker: Use only if your focus is entirely on rank tracking eg agency reports.
SEMrush: Best In-house SEO tool for your content team
Pro Rank Tracker: More affordable version of Accuranker
Mangools: Afforbale All-in-one SEO tools for first-time bloggers and businesses on a budget
Thanks for reading, let me know your thoughts in the comments below!
Read Next: