Ask any kid growing up in most parts of the developed world what they want to be when they grow up and they'll probably say something along the lines of "being famous".
"Being Famous" for a living is something that has only been possible in the past 10-15 years. In the past, if you were famous it was usually because you were good at something or got to the top of a field. It wasn't possible to make a living just by being known by a lot of people.
However, enter the internet, where someone can literally make a living by just posting about their life on Instagram or starting a blog like me. That's freaking amazing! Often called "Influencers", these people (and I used to be one) make money by either selling their own products or working with companies.
But there's a dark side to every industry and in this blog post, I'm going to dive into everything that's wrong with Instagram Influencers especially Instagram Travel/Lifestyle Influencers.
Why do I think I can talk about Instagram Travel Influencers?
Well, for starters I used to be an "Instagram Travel Influencer". When I used to run my travel blog at ThinkTravelLiftGrow.com, I ran a pretty popular Instagram @ThinkTravelLiftGrow that I grew to over 8000 followers in less than a year.
Thanks to my blog, I personally know a lot of the people who run some of the biggest travel accounts. Also, I was the Head of SEO at Foundr Magazine, @foundr for over a year and we had over 1.6M followers so I could see how it is behind the scenes of accounts of that scale as well.
Despite all of that, I no longer use Instagram personally or to promote this website, and hopefully, by the end of this article, many of you will understand why.
So, let's get started….
Distorted View of Reality
Instagram is not reality. Instagram is firstly a highlight reel of people's lives. For many people, their Instagram is their modern day dating profile. You will always exaggerate things on your dating or Instagram profile.
There was a recent scandal with an Instagram blogger Scarlett London who got viral for basically posting the fakest picture you'll see of someone waking up in the morning. And yes I agree that she admits that it's staged. But that's where the problem starts…
I put the blogger above and most other Instagram Influencers in the same category as an executive from a face whitening cream company or a CEO of a tobacco company. Why? Simple, they're selling something that does more harm than good.
It's not that they're being intentional evil or bad, it's what they have to do to survive. If you meet employees of a bank or a tobacco company you'll see that most of them are good people who have mortgages, bills, kids to provide for etc. Similarly, if you get to know a lot of the Instagram Travel Influencers you'll see that they're just trying to make ends meet.
Just like Coca-Cola can't sell you salads, similarly, if all these "Influencers" decided to share the actual reality of their lives; if they uploaded actual unedited pictures, most people wouldn't follow them and they'll go off and follow the person uploading the most "dramatically edited" photos. So many of them are doing what they need to do to survive.
So, whose fault is it that Instagram Influencers show a distorted view of reality? Well, it's all of us. Every time you like a picture that you know is fake or staged you just perpetuate this cancer.
How could I ethically work at Foundr if I hate Instagram Influencers so much?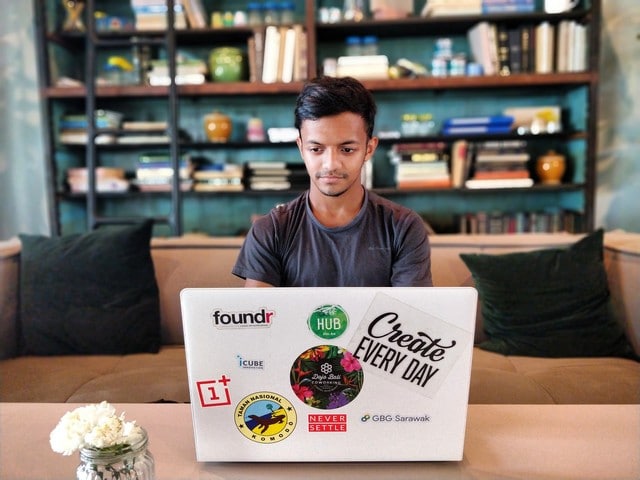 That was something I was thinking a lot about when I was on the job. Instagram is a big part of the business at Foundr, it's basically how Foundr got started. Well, the major difference is how the Instagram account is marketed and what it promises.
If you go to Foundr's Instagram, you will see that it has a lot of quotes & business advice on it. So Foundr's Instagram basically signals that it will give you motivational quotes and advice and it actually delivers that.
However, when it comes to most travel accounts they usually have some bullshit headline like "Follow me to see what a life of travel is like" but they give you a completely distorted view of their travels.
For example, check out Nomadic Notes (@nomadicnotes), James (@thetwopct) and Mike (@hobolaptop), all 3 of them are experienced digital nomads (aka veterans in this Industry), however, if you check their profile their followers count is pitiful compared to most travel accounts.
Why? They don't spend hours editing each and every picture like all the popular travel accounts. Also, they also upload pictures of realities like cloudy/stormy days, traffic jams, hangover days etc. THE ACTUAL REALITY!!! Which is why many of their pictures will have less than 100 likes because most people don't want to see the actual reality.
It's much more comfortable to live in the illusion that if you quit your job and move to a beach in Thailand, that you will have sunny skies each and every day and you won't have to deal with any of your life problems.
I personally know James and Mike and I know that they could easily grow their Instagrams a lot if they decided to do what all the other influencers do, but they just choose not to.
How They Make Their Money
It wasn't a few years ago that if you posted about companies or products on your personal social media profiles, you would be considered a "sell out", however now things are completely different.
Almost every decent sized Instagram account above 10k followers are recommending products left and right, now I don't believe that's necessarily bad, however, when a fitness junkie recommends a bar that they wouldn't even lick, it's fucked up.
One good heuristic is to only recommend products you use or actually believe in, don't be the vegan selling steak.
People actually fake brand deals, ie they will post a picture and make it seem like it is an advertisement for a company/product just to seem more credible. That's crazy (but it works so… )
However, in the travel space, there's another way Instagram Influencers make money that's insanely profitable. Lightroom Presets!
What in the world are Lightroom Presets and what do they have to with Instagram Travel Influencers?
Well, there's not much information about this on the internet so, I'll do my best to try and explain. Lightroom is a software by Photoshop that's used by most Instagram Influencers to edit their pictures, Google anything related to "how to edit travel pictures" and you'll see lightroom pop up as a recommendation.
What's a preset? Well, honestly it's the equivalent of a filter on Instagram, it's basically saved settings in Lightroom.
So, what's the big deal with Lightroom presets? Well, that's the major reason pictures from big travel influencer accounts look so unreal. Many friends of mine spend up to 4 hours editing a single picture (yeah, wtf!), and basically, people sell these presets for up to $100 a pop! I know Travel accounts on Instagram that make over 90% of their income from selling Lightroom presets.
Who even buys these presets? Well, people wanting to be influencers look at all the likes the "unreal" pictures on the big accounts look like and want to be like them.
So right now, Instagram Travel Influencer Marketing is pretty much starting to become a pyramid scheme, wherein big Influencers show a distorted view of their life, about how they're so happy every single day being an influencer and selling the dream of being an influencer to everyone else in terms of presets (or courses).
The Influencer Cancer that is spreading!
Making newbies believe that unless they buy these presets they won't be able to be popular on Instagram. It's the same thing as a digital nomad telling you to take their course if you want to become a digital nomad.
You don't need to take a course to become a digital nomad and you don't need fucking lightroom presets to be popular on Instagram.
Instagram For Bloggers
Instagram is a terrible source of traffic for bloggers, if you run a blog and tried promoting it on Instagram you'll realize pretty quickly that for the time spent you barely have a positive ROI. Instagram is perfect for someone who wants to build a bigger Instagram and work with companies *on Instagram* not much after that.
They're a ton of article on "how to drive massive traffic to your blog from Instagram", honestly most of them are full of crap. For most niches Instagram is terrible traffic driver, you are better off growing your Twitter following or focusing on SEO.
How do we Solve this Issue?
Well, in all honesty, I don't have a solution to any of these problems. There's no way I can see that we are going to systematically solve this issue. It's like getting people off sugar and junk food, awareness is one important thing and I hope this article helped on that front but after that, it's all individual effort.
I personally solved it for myself by just deleting my entire Instagram account and kinda quitting social media. It just wasn't worth the time anymore.
Maybe you don't have to be as drastic as me, but keep an eye out for everything I pointed out, and hey! maybe give this article a share (maybe even on Instagram ;) ), so more people are aware of this (and I get more traffic to this site :P )