TLDR: If you're in a hurry the Astra is the Fastest WordPress Theme according to Reddit!
Click to Get The Astra Theme Now
You've done your research and found the best managed hosting partner for your website, but now comes the most crucial step towards building a website that not only gets traffic but leads to conversions and ranks high on Google as well.

It doesn't matter how good your WordPress hosting is or what caching or CDN you're using to boost page loading speed. If you're using a bloated theme with a large number of HTTP requests, you're bound to have a slow loading website.
With reducing attention spans, a slow loading website will cause most of your traffic to drop off even before they've had a chance to set eyes on your content, and contrary to popular belief, using a Fast Loading WordPress Theme doesn't always mean you have to shell out big bucks.
In this post, I've detailed a list of 10 of the Fastest WordPress Themes in 2023 including both Free and Paid options that'll help you provide a great user experience and engagement while boosting your Google rankings in the process.
Fastest WordPress Themes Reddit
1. Astra – Fastest WordPress Theme According To Reddit
Click to Get The Astra Theme Now
What Redditors had to say about Astra:
u/AmbivalentFanatic "I have been using Astra for the past couple of years exclusively for client sites. Thus far, I have zero issues and zero regrets".
u/Lucky_No_13 "I have used Astra for a number of clients, and it has been really good. Recently, a header and footer builder has been added to Astra. This helps negate other heavy plugins to move things around a bit".
u/Md_Ashik__ "I have used the Astra theme many times, and it is good. Now the header and footer builder is also included in the free version. There is a theme in Astra called blocky it is a fast, lightweight, and Gutenberg-friendly theme.
With over 700,000+ active installations and a perfect review rating of 5 stars on WordPress.org, there's no doubt why this is our top recommendation.
Astra is a record-breaking 50kb on the front end which means you'll see lightning-fast responses for your website every single time the page loads. And the best part is you can download and install Astra for free! While they do have a PRO version that's paid, the free version they offer is perfect for anyone looking to start-out without having to break the bank.
Pros
A super-light less than 50kb on the front end.
No render-blocking jQuery.
Integrated Schema.org code and Native AMP ready.
Code-free customizations, compatible with major Page Builders such as Elementor, Divi and Visual Composer.
Free Version available for those on a budget.
Cons
Fewer Header style options
Basic styling on Archive and Blog pages.
Slower support response times (compared to other Themes)
Top reasons to get Astra WordPress Theme in 2023
Reason #1: Lightweight Front End
Astra is one of the Fastest WordPress themes out there with an ultra-light 50kb compared to the average of 300kb+ for most themes out there today. You're guaranteed to see super-fast page load times without installing any additional caching plugins.
Reason #2: No render blocking jQuery
Astra uses Vanilla JavaScript instead of old-school render-blocking jQuery that is used across many themes and is notorious for coming in the way of performance optimization.
Reason #3: SEO friendly markup
Astra was built with SEO in mind. Thanks to its integrated Schema.org code and its Native AMP readiness, Search Engines are guaranteed to love your site on Astra.
Reason #4: Free Starter Templates and Highly Customizable
Astra offers free starter templates to all users Free and Paid and what's better is that Astra comes ready to work with the top Page builders such as Beaver Builder, Elementor, Divi, Visual Composer, etc. so you can build your website from scratch if you like!
The verdict: If you're looking for a Fast WordPress Theme that's highly customizable and fast to load, you can't go wrong with Astra. What's better is, the developers are so confident you'll love the performance and styling of theme,they offer a 14-day 100% No-Risk, No Questions Asked Money Back Guarantee.
Click to Get The Astra Them Now
2. Divi – Fast Multipurpose WordPress Theme According To Reddit

Click Here To Get 10% OFF Divi
What Redditors had to say about Divi:
u/sonofmo "I like Divi as it is easy to teach. I can accustom a designer or client with no experience in website management and get them updating their own sites in no time, while I can enjoy more free time".
u/ParadoxAndConfusion "Divi generates Press Pro and Blocks. It is the leanest and fastest app anywhere with great developer support".
u/beingwp "Most beginners on WordPress are bewildered when it comes to picking a reliable theme for their website. There are several free and paid options. Which one should I pick from the crowd? The answer is the Divi theme, as it is simple to use and highly responsive in its functionality.
Next on our list of the Fastest WordPress Themes is a theme that's considered the future of 'What-You-See-Is-What-You-Get' style editing.
Divi by Elegant Themes is one of the most successful WordPress themes out there, with a super easy drag-and-drop feature and a wide variety of premade template options.
A code overhaul by Elegant Themes in June 2019 massively improved page load speeds on standard Diviinstalls to bring it higher up in our recommended list of the Fastest WordPress Themes of 2023.
Don't believe me? Here's what Elegant Themes had to say about this upgrade – "Divi's new caching optimizations work in tandem with Divi's static CSS file generation and the Visual Builder's Javascript options cache to generate super-fast page loads, even when you aren't using a caching plugin".
Pros
Super easy to use front end page builder.
800+ ready templates.
Supports 32 Languages.
Website Optimization with built-in A/B testing tool.
One of the best Support teams + Community Forum.
Cons
There's so many options that it's almost a bit excessive.
Has been known to be glitchy on longer pages.
No Free Option.
Top reasons to get the Divi WordPress Theme in 2023
Reason#1: Incredibly Advanced Visual Builder
Powered by the incredibly advanced Divi Builder Plugin, it has a super convenient drag-and-drop functionality that makes it easy for you to build a beautifully responsive and fast loading WordPress website without knowing how to write a single line of code.
Reason#2: Huge selection of pre-designed templates
Being one of the original theme & page-builder combos for WordPress, Divi has a huge selection of beautifully designed and responsive templates for everything from a niche site to an online store. With almost 1000 pre-built templates, you'll be spoilt for choice with this one.
Reason#3: Value for Money
Although there's no free option available, the value that Divi Theme provides is unbeatable because you can purchase a lifetime license and use it on UNLIMITED websites. Divi is so confident in their product, they offer a 30 day Risk-Free money back guarantee on all purchases!
Reason#4: Top of the class Support
Multiple support channels, 24×7 Live Chat, and a MASSIVE community support forum means you can be 100% certain that no matter what issue you encounter, a solution is just a few clicks away and their unbelievable 5/5 Star Rating on Trustpilot from a whopping 4,715 reviews is a clear testament of this fact.
The Verdict: With a massive customer base of over 600,000 customers and a fully upgraded and improved code, Divi is a great option for anyone looking for the Fastest WordPress Theme to build websites that are both functional and responsive. With a lifetime access for $249 that includes Unlimited use, Lifetime Updates and Lifetime Support, the Divi Theme is without a doubt the most well rounded theme for every kind of user.
Click Here To Get 10% OFF Divi
3. GeneratePress – Fastest Free WordPress Theme Reddit

Click to Get GeneratePress Pro
GeneratePress is a theme that was specifically designed to be super fast, lightweight, basic and simple to use. A close competitor to Astra's ultra light-weight front end, a fresh GeneratePress install adds less than 15kb (gzipped) to your WordPress install. This is the theme of choice for those looking for a basic minimalistic fast WordPress theme, especially for a blog.
Now while GeneratePress offers a Free version, if you're truly after flexibility and the ability to truly customize your website, paying the additional $49.95 for the GeneratePress Premium version is well worth the cost.
Pros
High Performance and Super Clean Code.
Well-designed site templates (even in the free option).
Search Engine Optimized and Accessibility ready.
No code dependencies on render blocking jQuery.
Extensive documentation and Support.
Cons
Extremely basic Free version.
Limited 3rd party integrations.
No Drag-and-drop support with page builders.
Top reasons to get the GeneratePress WordPress Theme in 2023
Reason #1: Secure & Stable WordPress Theme
GeneratePress' code has been independently reviewed by leaders in the WordPress community and has been known to use the latest and most stable coding standards.
Reason #2: SEO and Accessibility ready
GeneratePress is built with WCAG 2.0 standards to ensure accessibility for all, validated HTML, built-in Schema.org structured data and lightning-fast load times to give you a head start with search engines even before you've added any content.
Reason #3: No code dependencies
Similar to Astra, GeneratePress has replaced jQuery with Vanilla Javascript to prevent any render-blocking issues and give you that lightning-fast page load.
Reason #4: Extensive documentation and Support
GeneratePress takes support extremely seriously and offers premium support for life for all GP Premium license holders. Even if you choose not to renew your license key, which by the way, is available for a massively discounted 40% off, you will continue to own the GP Premium plugin for life and are free to use it for as long as you like!
The Verdict: With a direct connect to the founder Tom for all GP premium license holders, GeneratePress delivers a massive value for the $49.95 that it costs to buy the GP premium. With over 2,514,519 downloads, 900+ ratings and 60,000+ happy customers, GeneratePress is hands down one of the best Light and Fast WordPress themes out there.
Click to Get GeneratePress Pro
4. Elementor – Best WordPress Page Builder Theme Reddit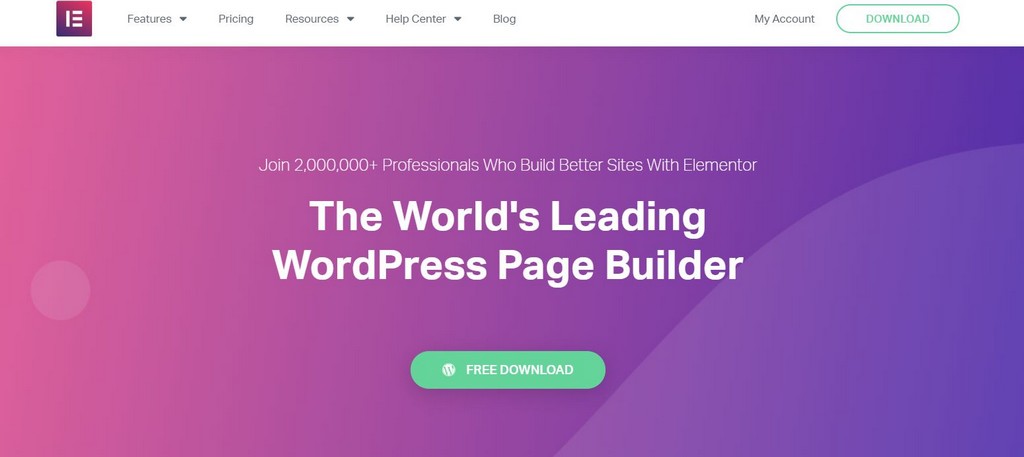 Click Here to Get Elementor Pro
What Redditors had to say about Elementor:
u/ssmihailovitch "I have built a website utilizing the Elementor Page builder and it has plenty of plugins that make it easy to use and operate. I had no issues at all, and I highly recommend it".
u/Rizzywow91 "Elementor is the best site builder by a mile. The code is clean, so adding and editing assets is very easy and straightforward".
u/L0lig123 "Elementor definitely helps me a lot with things like templates, loops, and post widgets. Here it makes the post you want and lists it in a more dynamic design. Also, I'm able to customize everything I want".
While not a theme by itself, Elementor is hands down one of the most powerful page builder plugins available in the market today. You can use Elementor with the Free Elementor Hello Theme or pair it with a base theme of your choice, such as GeneratePress or Astra to create fast loading WordPress websites that are fully responsive.
With over 4 Million active installations in a little under 4 years and an easy-to-use free version, Elementor is currently dominating the list of top page-builder plugins for WordPress while giving dedicated themes a run for their money when it comes to ease of use and functionality.
Pros
Free to use core plugin.
Great User Interface.
Extensive Mobile Responsive Options.
Open source and regularly updated.
Extensive documentation and Support.
Cons
Cannot customize Header, Footer, etc without upgrading to PRO.
Occasional issues with 3rd party plugins.
Header Builder Lacks Schema.
Top reasons to get Elementor in 2023
Reason #1: FREE to use core plugin
Everyone loves Free things and the amount of functionality Elementor Free provides is enough for most users that are looking to get started with a Fast WordPress website. Once you've mastered WordPress and are ready to upgrade, you can opt for one of their PRO plans starting only $49/yr.
Reason#2: Easy to use User Interface
One of the main reasons for Elementor's success is their clean and easy to use user interface which allows WordPress beginners and veterans alike to build powerful and fully responsive websites with their live front-endpage builder.
Reason#3: Let's you create mobile-friendly websites just as easily
With Google moving towards mobile-first indexing and favoring mobile-friendly and responsive websites, it's a no brainer that being able to create responsive websites using a live page builder is a major PRO in favor of Elementor.
Reason #4: Open Source code with frequent updates
Open source code adds a layer of transparency by allowing experienced users to view and fix bugs in the code, improve existing features and even add new features to the plugin, which is why, development is usually super-fast as compared to other themes and page builders.
The verdict: Being compatible with the likes of Astra, GeneratePress, Page Builder Framework and most of our other top recommendations, Elementor is a hot favorite as an ultra-customizable, responsive and Fast WordPress Theme.What's better is most users won't even need to upgrade to PRO and would be able to build their dream websites for free.
Click Here to Get Elementor Pro
5. StudioPress Themes – Beautifully Optimized Fast WordPress Themes
Click Here To Check Out The StudioPress Themes
StudioPress is the creator behind the exceptional Genesis Framework that enables sites to be built fully optimized for search engines with optimal loading speeds and mobile responsiveness. StudioPress Themes combine SEO, Design, Performance, Security, and Support in a single package combined with WordPress to help you build some of the Fastest WordPress Websites.
JeremyNoronha.com is built using StudioPress themes and I personally recommend all my SEO clients to use the Genesis Framework as well.
Pros
Beautiful, mobile-ready designs.
Optimized for SEO out of the box.
Lightning-fast performance.
Fully customizable yet Fully Secure.
Amazing support.
Cons
It can be a bit expensive for first time WP users.
Top reasons to choose the StudioPress WordPress Theme in 2023
Reason #1: Responsive, Mobile-Friendly website designs
Websites built using StuioPress themes are built using future-ready fully responsive HTML5 design that's perfect for mobile and desktop users alike. A responsive and fast WordPress website means your chance of ranking higher for Google search results are that much better.
Reason #2: SEO friendly out of the box
StudioPress supports Schema.org markup out of the box which allows you to output microdata in your site's code that enhances your site's search engine optimization and helps you rank higher than your competitors. Their Open Source themes are fully search optimized by Greg Boser who's a search engine optimization pioneer and industry expert.
Reason #3: State-Of-The-Art, Airtight Security
Anyone who's been in the industry long enough knows that WordPress sites are highly vulnerable to hacking and other malicious exploits. With a framework built under the guidance of Core WordPress developer Mark Jaquith, StudioPress themes have the best security possible out of the box.
Reason #4: Easy site customization without sacrificing speed
Nothing slows a site down like bloated code. But StudioPress themes are built with clean and lightweight code that allows rapid customizations without sacrificing performance. Webpage load times are measured in seconds, but with StudioPress and Genesis framework, site load can even be measured in milliseconds.
The verdict: With a massive user base, regularly updated code and top of the line security, it's hard not to choose StudioPressas your go-to option for a Fast WordPress Theme in 2023.
Click Here To Check Out The StudioPress Themes
6. OceanWP – Free Multipurpose WordPress Theme

OceanWP is a free responsive WordPress theme that makes it extremely easy to create beautiful & unique websites with WordPress that are lightweight and fully extendable.
With over 500,000+ active installations and a perfect 5/5 stars on WordPress.org, you better believe this is the perfect option for those looking for a Free Fast WordPress Theme.
The theme is built to be fully compatible with top page builders like Elementor, Beaver Builder, Divi and more which means you can build fully responsive, SEO friendly, Fast Loading WordPress websites without knowing how to code.
Pros
Works Great with Page Builders
Fully responsive and lightning-fast
SEO optimized out of the box
Translation ready with RTL support
Open source code
Cons
Limited starter websites.
Lifetime pricing for extensions and support is a bit expensive.
Top reasons to choose the OceanWP WordPress Theme in 2023
Reason #1: Page Builder Integration
OceanWP integrates with the top page builder plugins in the market like Elementor, Beaver Builder, Divi, WPBakery and many more. This means you can build beautiful, responsive and feature-rich websites using a free plugin like Elementor with its front end visual builder without touching a line of code.
Reason #2: Highly customizable and Lightweight
OceanWP comes free of bloat and is super light and nimble leading to some of the fastest page load speeds seen on a standard website out of the box. Although it's not as lightweight as GeneratePress or Astra, it's high customizability makes it perfect for any niche in the industry.
Reason #3: SEO friendly out of the box
With a built-in SEO base, OceanWP utilizes Schema.org markup along with HTML tags and well-structured site navigation to help you rank higher on Google.
Reason #4: Translation ready with RTL support
For websites with a wider-reaching audience across multiple continents and languages, OceanWP allows easier translation of websites to create multi-lingual websites and even allows RTL (right-to-left) support for languages such as Arabic, Hebrew, Farsi, etc.
The verdict: Whether it's a travel blog or an eCommerce store, OceanWP is lightweight and highly extendable making a perfect pick for our list of Fastest WordPress Themes in 2023.
7. Schema – Pixel perfect WordPress theme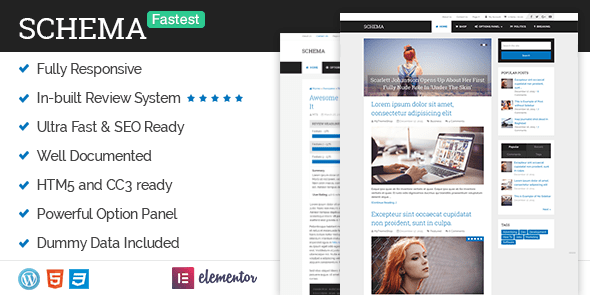 Click Here To Check Out The Schema Theme
Schema is a super-light and SEO friendly theme built by MyThemeShop featuring all their best offerings including custom options panels, shortcodes, widgets and a pixel perfect design ideal for Bloggers and other content marketers that need a simple, clean, fast-loading WordPress website.
Although ideal for Bloggers, Schema is fully compatible with Woocommerce out of the box and it also includes a streamlined eCommerce layout if you're looking to add a simple shop section to your website.
It's not only lightning-fast and free of bloated code, it's also one of the most comprehensively SEO optimized themes out there that can boost search traffic and provide a superior user experience.
Pros
Lightning-fast page load speeds
Out of the box SEO support
In-built Ad Management section
Integrated Social Media Sharing Functionality
Inbuilt typography options
Top reasons to choose the Schema WordPress Theme in 2023
Reason #1: In-built performance options
Schema comes with in-built performance options like Prefetching, Lazy loading that helps boost your site's performance. Schema also has options to toggle Async JavaScript and remove Ver Query String parameters from the JS and CSS to optimize your sites loading speed.
Reason #2: Ad management
If you're looking to build a niche site and planning on monetizing it with ads, Schema allows you to manage and control ads on your website without the need for any additional plugins. Simply copy and paste ad codes in the fields provided to show your ad. You can choose to schedule ads and even decide if you'd like them displayed in the header, below the post title or even below the post content.
Reason #3: Social Media Options
Schema allows you to add Social media buttons for easy sharing across all popular social media platforms. You can even choose the order and exact locations where you'd like to place these buttons.
Reason #4: Typography options
Schema allows you to easily choose and control the fonts used on your site. It has a standard set of 17 fonts and allows you to pick from over 600 fonts from the Google font library. You can choose different fonts for different areas and also manage the fonts for your logo, navigation, titles, sidebars and more.
The verdict: Being a theme that has rich-snippets built into the code, it's no surprise that search engine bots can easily crawl and index websites built using a Fast WordPress Theme like Schema.
Click Here To Check Out The Schema Theme
8. Page Builder Framework – A Minimalistic Theme designed For The New WordPress Era
Click Here Get The Page Builder Framework
Staying true to its name, the Page Builder Framework Theme is a lightweight and super-fast WordPress theme designed specifically to work with the top page builders like Elementor, Divi, Visual Composer, etc.
Page Builder Framework focuses on speed and flexibility and gives you a light and clean foundation to build a fast WordPress site tailored to your requirements.
While the core version is Free for life, if you're looking to get more out of your website, you can choose to opt for a paid plan that renews with a 20% discount on annual plans or go for a lifetime paid plan that includes lifetime support and updates.
Pros
Fast & Lightweight
Made for Page Builders
Fully SEO optimized
Allows White labeling
Developer Friendly
Cons
Not for those looking to use this without a page builder.
Top reasons to choose the Page Builder Framework WordPress Theme in 2023
Reason#1: Super-fast and extremely lightweight
Anyone who's used a page builder knows that some are more notorious than others of adding a lot of bloat to the website. Fortunately, Page Builder Framework was built to keep the base theme as lightweight as possible with a clean code that will ensure you have a fast loading website.
Reason #2: Works with almost every Page Builder out there
With a name like Page Builder Framework, you can be sure that this theme will work almost any page builder out there no matter if it's a paid or free version of Elementor or Beaver Builder, you can use it however you like and build a fast WordPress website every time.
Reason #3: Fully SEO optimized
Written inHTML5 following the latest web standards, the framework is also fully Schema.org ready which means no matter if you're building a blog or an online store, you can be sure your pages and products will fully comply with Googles rich result requirements.
Reason #4: White Label Settings
Page Builder framework allows you to completely own the theme and fully customize it to match your branding requirements. What does that mean? It means if you're an agency or a freelancer you can completely rebrand the theme and present it to your clients as your own.
The verdict: Built specifically to work with bulky page-builders, the Page Builder Framework will give you a lightweight base for a Fast WordPress Website.
Click Here Get The Page Builder Framework
9. Avada – Bestselling, Multipurpose & Fast theme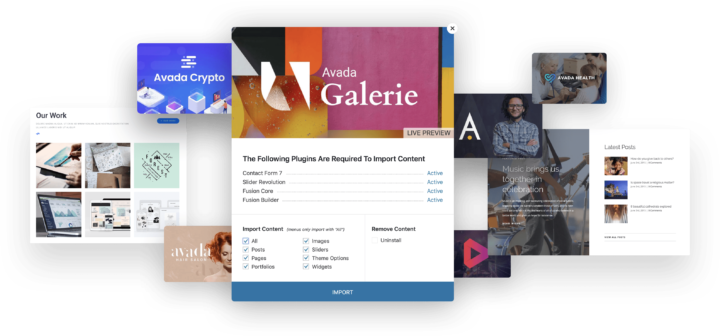 Click Here Get The Avada Theme
Anyone who's been involved with WordPress has heard of Avada. Considered by many as one of the top-selling WordPress themes of all time, Avada with 584,212 sales and a 4.7/5 average rating on ThemeForest from a massive 23,015 ratings deserves a mention in our list.
Compared to some of the other Fast WordPress themes we've previously mentioned, Avada isn't as lightweight, however, considering the massive amount of features it offers, it's still a fast WordPress theme.
Pros
Front end page builder
Hundreds of Theme Options
38 Demos to Get You Started
Value for money
Fantastic support
Cons
Expensive pricing, no lifetime purchase option
Theme & Page builder lock-in
Shortcode based like Visual Composer
Need a good server to support the demands of the theme
Click Here Get The Avada Theme
Top reasons to choose the Avada WordPress Theme in 2023
Reason #1: Avada's page builder
Like most major themes, Avada comes packaged with its own page builder called the Fusion Builder. Avada's Fusion Builder comes prepackaged with a library full of pre-built and user-generated content that's available for everyone to reuse. This means, you spend less time building a website from scratch and more time growing your business.
Reason #2: Professional Demo options
Avada offers professionally developed demos that made with a singular goal of helping you sell. With everything from a demo for Creative design agent to a Church, you can be sure you won't be short of options for your clients if you're an agency that's looking to develop and sell responsive and fast WordPress websites.
Reason #3: Value for money
Although more expensive than our previous suggestions, Avada's $60 price tag comes with a massive list of addon features including premium plugins like Slider Revolution, ACF Pro, Layer Slider PRO, Fusion White Label Branding and Convert Plus.
Reason #4: Extremely reliable theme
Avada has been around since 2012 and considering that it's almost always been at the top of the theme charts, the theme developers are extremely active with their development and keep the theme updated and add new features regularly as well. Being around as long as they have been and being as popular as the theme is means there's a massive active community, which means if you have a problem a solution won't take too long to find.
The verdict: With a powerful visual builder and a massive library of templates, Avada is a highly customizable option to build a Fast WordPress website in 2023.
10. Neve Theme – A Fast WordPress Theme for Long-Standing Business
Perfect for Blogs and Small businesses, Neve is a super-fast, easy to customize theme that comes fully AMP optimized and SEO ready.
Although this is a lightweight minimalist theme, it's highly extendable and works perfectly with most popular page builders like Elementor, Brizy, Beaver Builder and more.
With both Free and premium options including the ability to purchase the theme for lifetime updates and support, Neve is a great starting choice for anyone looking for a fast WordPress theme.
Pros
Page builder compatibility
AMP-compatible and SEO friendly
Lightweight Core Theme
Great pricing
Layouts options and customizability
Cons
Limited color customization options in the free version
Top reasons to choose the Neve WordPress Theme in 2023
Reason #1: Responsive layouts and AMP optimization
Built fully responsive, Neve will work on any device or screen size. Combined with it's AMP optimization, Google is sure to love your website and help you climb up its ranks swiftly.
Reason #2: Lightweight Core Theme
Neve is built with clean code without any render-blocking jQuery so you can be sure to have a super-fast WordPress website from day one. Similar to Astra and GeneratePress, Neve is built using Vanilla JavaScript for maximum performance.
Reason #3: Safe Updates & Fast Support
The developers can detect any theme-breaking changes in updates before rolling them out thanks to their Eyepatch service that provides reliable visual regression to help detect and avoid theme issues after an update.
Reason #4: Translation and Accessibility Ready
Every element of Neve is 100% translatable for building a website that isn't in English or needs RTL compatibility, even in the free version. What's better is Neve comes accessibility-ready right out for the box for those with special challenges so you can make sure everyone can interact with your content.
The verdict: You can use it free or buy the premium version, no matter which way you go, Neve is one of the Fastest WordPress Theme that's sure to bring down your page load speed and boost your website ranking.
Read Next: