TLDR: If you're in a hurry the Teachable is the Best Online Course Platform according to Reddit! While Thinkific is better if you're a company.
Click Here To Try Teachable For Free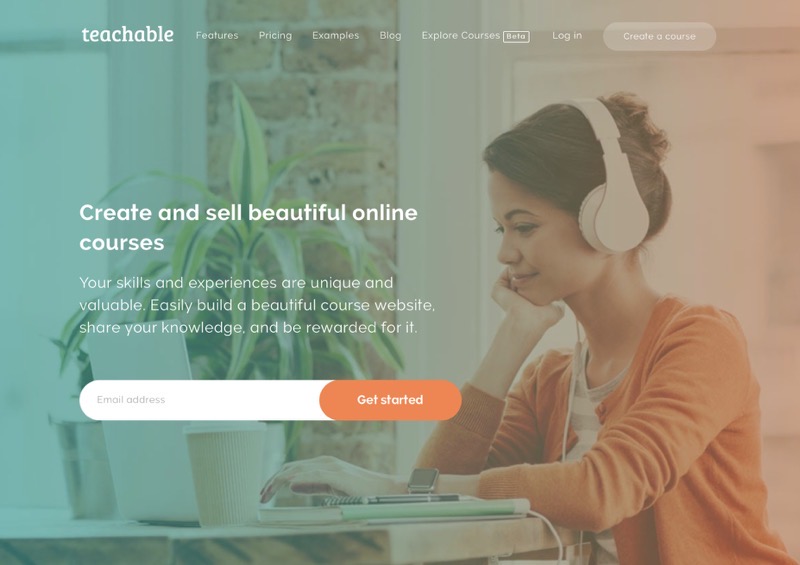 As online courses gain more and more traction and virtual classrooms become increasingly popular, online course platforms are naturally becoming more profitable. It is of no surprise that the number of platforms for creating and selling online courses is seeing a huge growth as well.
So you might wonder, out of all these online course platforms which one is the right platform for you? In this article, I will give a general rundown of what I consider to be the top 10 such platforms out there, complete with their pros and cons. This should help you choose the platform that suits you the best.
Before we list the best online course platforms on Reddit, let's understand how to choose the best course platform.
What exactly is an online course platform?
Online course platforms allow creators to submit their course content and students are charged for accessing them. These courses usually include video lectures, PDFs, image, text, audio, etc. and feel like real classes. They are usually called LMS platforms or Learning Management System.
The course software of a platform usually has an easy to use interface which lets a creator make some easy uploads and make some nice edits to change the general feel of the class. There are a number of more features a creator can use for their courses, including the ability to issue course completion certificates and access to marketing features.
Best Online Course Platforms
1. Teachable – Best Online Course Platform According To Reddit
Click Here To Try Teachable For Free
What Reddit has to say about Teachable:
u/drewches: I have a client who hosts all of their courses on Teachable. I think that Teachable is a great platform since it handles a lot of the back end of things for you so you can focus on creating content.
U/drewches- "I have a client who hosts all their courses on Teachable. I think it is a great platform since it handles all the back end of things so you can focus on creating your content efficiently. Most of the courses I write are for sale, and I have a marketing team that I would usually work with. A long time ago, I have realized that I have limited function of social and I will focus on what I am good at. If you are moving to Teachable, I would recommend you should work with a marketing person who is familiar with the type of eLearning. Just create a marketing plan to help keep your existing customers to increase your reach on socials".
U/p44v9n- "There are websites that let you download every video in a YouTube playlist with one click. With the Teachable courses that I have, the videos are broken down into different sections, and there are downloadable resources and text content in each place as well as videos embedded in a way that makes it hard to download easily. So sure pirates could record the screen, but recording screen + clipping the recordings for every page and extra stuff will be difficult".
u/connecstsnk- "A good option is to select a fully managed online platform like Teachable".
Teachable is hands-down the best online course platform in my opinion. It is beginner friendly, even has a free plan that packs some great features. The most popular plan is only $79, making it one of the decently affordable. Currently, it boasts over 83,000 instructors.
Pros
Easy to use
Built-in marketing tool
Simple and clean interface
Creation of a unique one-time bulk coupon generator
Email template editor
Sales funnel capabilities
Affiliate programs that are easy for beginners or advanced users
Efficient creation of coding snippets for your courses
Offers valuable insights and metrics on students' behavior
Easily bundle or cross-sell courses
Drip content is available
Robust security
A monthly recurring subscription fee
100+ third-party integrations
Blog features are available
Access to its iOS app
Customizable templates to select from to suit your brand identity
A large community of course creators to solve any issues
Good customer support
Course completion certificate
Cons
Teachable's free plan has limited features
It doesn't offer any refunds
Limited site themes and global payout options
Slow admin interface
About Teachable
Teachable was originally created in 2013 and was called Fedora. The story goes that the Founder and CEO, Ankur Nagpal, was instructing and running a course on another course platform, and his experience there wasn't very seamless. This made Nagpal go all-in to create Teachable. Since then, the brand has blossomed and today has more than 100 thousand course creators with over 30 million students and has over 13 million courses on its network. The users on the platform are based in more than 150 countries around the world, and its courses are taught in over 80 different languages. On the platform, you can find courses on topics like business, health, marketing, fitness, and much more.
Since its inception, Teachable has helped creators turn their passion into a business and has helped them generate revenues of over $1 billion. They have not stopped there and are constantly working to improve their offering with frequent updates and the addition of new features and integrations.
Click Here To Try Teachable For Free
How Does Teachable Compare to Other Course  Platforms?
Teachable is the easiest platform to use today. It is designed keeping in mind both beginners as well as advanced users. The platform offers a step-by-step guide to users through the entire process of setting up your course.
If you are having prior experience in building websites, then you can navigate through Teachable without requiring a tutorial. The platform has an intuitive interface that allows for easy customization that is not available with most other course builder websites. Further, the features it offers make it stand out from its competitors in the market.
Who is Teachable Designed for?
Most reviews out there say that Teachable is designed for beginners. However, in my experience, it is based on the look and feel of the platform. Teachable is very straightforward to use, and it has an excellent interface. And as per me, it is very accurate. Teachable is ideal for beginners as well as intermediate course creators. It does what it needs to do, which is to streamline the process of getting your courses online live, saving you all the time you would otherwise spend on coding, marketing, selling, copywriting, and everything in between this.
Is Teachable Worth it?
Teachable is an online course platform that helps in the creation and sale of online courses. It is an excellent choice for entrepreneurs that want to create their first online course as well as seasoned course builders that have several students.
It offers an easy way to teach and sell your online courses to students. Here, you can sell unlimited video, audio and offers PDF or ZIP file downloads of your course to your students. Further, it also supports live video streams. You can add multiple instructors to your school, and different pricing can be based on each instructor's course. The courses offered by Teachable are available on mobile devices, and it also comes with a free iOS app. There are several features that make Teachable legit when it comes to passive income creation, making it a hot commodity in the market today.
Click Here To Give Teachable A Try
Teachable FAQs
1. Is Teachable mobile-friendly?
Yes, Teachable is mobile-friendly and allows for student interactions and online learning. It allows for smooth audio and video playback while also offering easily accessible coding lessons and an attractive interface. However, course administration is best suited for devices like a laptop or desktops. Also, embedded videos don't scale properly on mobile browsers.
2. Does Teachable have a free plan?
Teachable does offer a free plan that is an excellent choice if you are planning to preview the platform's core features as you grow your knowledge to get the best-in-class learning experience. It also comes with a 14-day free trial on its pro plan.
3. What is Teachable uses for?
Teachable is a platform that is used to create, promote and sell online courses. You also have the ability to sell digital products and services, like freelance services, consulting, coaching, eBooks, audiobooks, live classes, etc.
4. Can you create drip content using Teachable?
Yes, Teachable allows its users to create drip content. However, it is only limited to all sections and is not available for individual lessons.
2. Thinkific – Best Course Platform For SaaS Companies
Click Here To Try Thinkific For Free
What Reddit has to say about Thinkific:
u/rajshankara: I use Thinkific, works great. Makes money from my lectures
u/c01: If you are just starting out, I highly recommend Thinkific and Teachable both. I suggest you do a trial with both and decide for yourself. Both have freemium versions as well.
u/mickmeaney: I liked it apart from not being able to do full customer management on it.
U/BackgroundResult- "Thinkific is great and helps gain market share in the courses platform economy".
U/CharityDesignCo- "Hi! I would totally recommend Thinkific. It is free, and you can do a lot with it for the free mark. Best of luck!
U/Bubble-Wrap_4532- "I will recommend Thinkific. You get one free course on its starter plan, and later you can upload videos on its servers and make them downloadable. To do so, users have to create an account and log in. However, use the handbrakes to compress the videos first.
Thinkific is easily one of the most powerful online course platforms out there. It has a nice set of user-friendly features with good support. It is a nice option for startups and big teams. However, it might not be worth it for small teams.
Pros
No transactional fees
Good pricing plans with a free option
Excellent phone support
Outstanding customizable features
Custom domain
Remarkable speed
Smooth video playback
A range of lesson options
User-friendly builder to build courses from scratch
Ability to tweak website design using HTML or CSS tweaks
Zapier triggers
Several tools to market and sell your courses
Dedicated app store to extend what you can do with your account
Voice-over PowerPoint presentation tool
Cons
No coding snippets
Few templates in its Course and Site Builder
No integrated email marketing
There is no live chat support
About Thinkific
Thinkific was started back in 2012 by the current CEO, Greg Smith, and his co-founders, Miranda Lievers, Matt Smith, and Matt Payne. Greg Smith used to spend his time as a tutor on LSAT. He was not satisfied with what was offered and wanted to build a platform that would enhance the learning experience for students, and Thinkific was born.
Thinkific was built by someone who wanted to solve problems that would plague most users and students, so you can say it was created keeping the educators first. The company firmly believes that the best way to empower educators is by giving them complete control over the content and the ability to customize data fit for all devices to serve the needs of a wide audience.
Those fundamentals and foundation values have helped the company reach great heights today. Today Thinkific is a powerful SAAS course builder that has over 200 million sales where over 40,000 people have created courses on it, and it has users that span over 164 countries.
The company has also grown leaps, and its support team to date has answered more than 200,000 questions from customers. It has over 100 full-time customers across the world, and the company continues to scale and offer good customer satisfaction.
Who is Thinkific Designed for?
Thinkific is a SaaS technology company that allows businesses and people to create online courses and communities. The platform doesn't require any technical expertise and is an ideal choice for beginners or first-timers that are looking to venture into the industry. It has all the tools you need for every step of your journey, from product creation to well past its launch. If you are looking for an advanced solution, then you can select its custom CSS and HTML designing feature to customize your course to fit your brand identity. All-in-all, it can handle the requirements of beginners as well as businesses with a big customer base.
Click Here To Try Thinkific For Free
Is Thinkific Worth it?
Thinkific is one the best all-in-one course platform in the market today. Now after reading this, you can say that Thinkific has a full range of essential features that help support course creators in selling online courses. If you are planning to build a successful career in course building, then the powerful SaaS platform is the best out there today. Its course builder is surely one of the most powerful tools out there.
Click Here To Try Thinkific For Free
If you are starting out, then you can go for the free plan on Thinkific and then move to an advanced plan as your business grows. This way, you have nothing to lose and a lot to gain if you make your first online course using Thinkific.
I think it is important to repeat as I wrap up with Thinkific that it is a company having a lot of momentum. This may not be a trivial point, but there are several online course platforms in the market which is crowded and noisy.
Thinkific FAQs
1. Does Thinkific have a free plan?
Thinkific has a forever-free plan, and you can build and sell your courses on this plan. You can also create a website to host your courses, and there is no limit on the number of students that can enroll in your course. However, the free plan is limited, and you can only create 1 course. This is great to start your journey, and you can shift over to a paid plan when you need more resources to run your course.
2. Is Thinkific mobile-friendly?
Thinkific has a mobile-friendly interface and works smoothly on mobile browsers. It doesn't have a mobile app as of now, but with the platform, students can take their lessons anywhere without any difficulty.
3. Can you create a website with Thinkific?
Yes, Thinkific's Site Builder offers a complete website-building solution. If you already don't have a website, then with Thinkific, you can build one from scratch to host your courses. Here, you can build a professional website without requiring any technical knowledge or skills. The platform comes with pre-built templates that allow you to create a versatile online learning site. This allows you to create excellent websites to run your online courses.
4. What type of content can you put on a Thinkific course?
Thinkific lets you build different types of multimedia lessons making use of a range of learning materials. To teach your students, you can use a range of material that includes videos, text, audio, presentation, PDFs, quizzes, surveys, etc. You also have the ability to schedule live webinar lessons using Zoom or some other platform.
3. Podia – Cheap Course Platform For Solopreneurs
Click Here To Try Podia Free For 14-days
What Reddit has to say about Podia:
u/StrictElephante: Podia seems restrictive. There are some things I can't do with their website builder
u/valen_Garrrr- "Podia is a platform for creating and selling digital products, but it also has features for creating landing pages and email sequencing. It also offers a feature called "Memberships," which allows you to host an online community for your attendees".
u/kmanceo- "Podia is everything you need to sell courses, webinars, downloads, and memberships. So you never worry about getting a bunch of different tools to "talk to each other" again. Podia helps you sell and market your online course with [list of features], See how easy it is to run your business on Podia with a 14-day free trial.
Podia is a digital marketing platform that helps you to create and sell online courses, membership content, webinars, and more. It may be low on the list, but it is still an impressive tool that helps build a great membership site platform for such a minimal cost. The tool has a robust set of features that offer tons of content creation and membership site features.
Features
Create many membership tiers for as many members as you want, having different perks, content, and prices. You can publish members-only content or add pinned posts, schedule content in advance, or control which tiers can see the posts. The tool supports multimedia chats and discussions with utmost efficiency.
Good drag and drop builder to design your membership site without any hassle.
In-built email marketing features with broadcasts and automated campaigns. Podia can help you replace your expensive email marketing platform.
Seamlessly bundle your products in a few clicks, including access to other Podia-hosted products with any of their membership plan.
Connect your membership site directly with a Facebook group, Slack, or Palapa account. Its community service is great to connect like-minded people in a single place.
Ability to add coupons, different product bundles, and an array of features. Its drip-content feature makes the entire process of automation simple and straightforward.
Integrations with an array of applications and supports several payment gateways.
Pricing
Podia has a generous free plan where you can check its features and see what they have to offer. The software has 2 paid plans where you get premium features and qualities. The plans are the Mover plan ($39 per month) and the Shaker plan ($89 per month). You can migrate your content and customers for free if you choose its yearly subscription plan.
Click Here To Try Podia For Free
Pros
Great user interface and setup
Community forums with custom spaces
Strong email marketing features
Live chat supporters for both creators and customers
Versatile drag and drop website builder
Unlimited courses, students, and file hosting
Powerful discussion forum
Cons
Limited customization options
Lack of advanced community features
No mobile apps
1. Website Builder
Podia comes with a pretty decent website builder that you can use to build all kinds of web pages. It also offers free unlimited hosting and allows you to migrate content from other services too if you already have a website. Standard features like integration with analytics tools like Google Analytics, a website builder, the ability to use custom URLs are provided.
You can also customize the entire website so it reflects your branding. You can add images, videos, and almost all types of content. Any website you create on Podia will also be responsive and look good on all devices, and the editor provides a live preview so you can see exactly how your website would look as you edit it in real-time.
2. Online Courses
Another key feature and one of the main selling points of Podia is the ability to create, sell, and promote your online courses.
You have a lot of flexibility when it comes to the type of courses you can create with Podia. For example, you can create a single standalone course, bundle multiple courses together, or offer drip courses where the content is delivered bit by bit to the students as they progress through the course.
What's really great is that you can host unlimited products and unlimited content and can enroll as many students as you want without having to pay extra.
As for course design, you can upload content of any type including video, customize the branding and customize how the course would look to your students. The Podia course player is also pretty decent and works well on all devices.
The best thing about online courses is that it is integrated with all the other features provided in Podia such as email marketing, webinars, landing pages, etc which help a lot when it comes to marketing and selling your online courses (I've covered those features more in detail below).
In general, creating online courses with Podia is really easy and almost anyone can set up their online course or courses very quickly. Some other notable features include the fact that you can pre-sell and pre-launch your online courses with Podia too.
Click Here To Try Podia For Free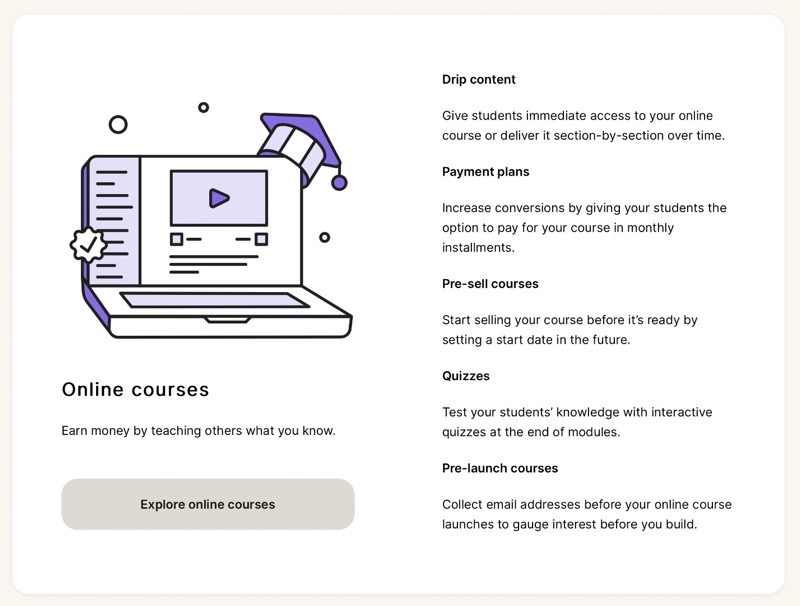 3. Digital Downloads
Along with online courses, Podia also allows you to host, sell, market, and even create digital downloads on their platform. The best thing about digital products on Podia is that you have a lot of flexibility – for example, while you can directly sell digital products but you can also use them as lead magnets.
There's a wide range of file types that you can offer as digital downloads such as text files, templates, image files, PSDs, PDFs, audio files, and much more. You can even offer a mix of two different file types as a digital download.
4. Memberships Sites
It is also possible to create membership sites on Podia where you can provide exclusive content to your subscribers. You can create almost any type of membership site with Podia such as a free membership site, a paid membership site, or a tier-based membership site with multiple levels.
When you create a membership site with Podia, you can share public posts or private posts that are only visible to some members. You can also pin a post to the top of the membership feed. Additionally, you can also schedule your posts and engage with your subscribers through comments and discussions. Lastly, you can bundle different products such as online courses, digital downloads, and more into one single membership-based site itself.
There's also a number of different membership models you can use. For example, you can create an exclusive content library, a group coaching site, a paid newsletter, a premium product bundle, and more!
Click Here To Try Podia For Free
5. Webinars
With Podia, you can also provide live webinars to your subscribers which can be particularly useful for coaches, consultants, speakers, and educators. The webinars are powered by YouTube Live but Podia handles everything else on its platform.
Like with all the other features, you have a ton of flexibility with webinars on Podia too. You can either sell webinars or give them away for free, you can schedule your webinars and pre-sell them, you can also put up past webinars as a premium on-demand service, and you can also bundle your webinars with a number of other products like online courses and digital downloads.
6. Email Marketing
If you're selling online courses or offering digital downloads, you will need marketing tools that help you with email marketing. Instead of using a third-party email marketing service, you can take care of email marketing for your products on Podia from the platform itself!
The email marketing tool provided in Podia has all the standard features you would need such as lead capturing tools that you can place on your website and storefront, automated emails, list segmentation, email newsletters, drip campaigns, analytics and tracking, and more!
Click Here To Try Podia For Free
7. Messaging
Podia also comes with messaging features that help you in reaching your customers, understanding them, and eventually increasing your sales and brand value.
One of the key messaging features provided in Podia is the integrated live chat feature that lets you provide live feedback to customers and visitors on your site. You can also capture feedback and questions from your customers using the messaging features and get back to them whenever you want.
With the messaging features, you can provide customer support, up-sell and cross-sell, engage customers, and get insights from your customers all within the same platform!
8. Payments
You can also find a number of different payment features such as payment plans, upselling, pre-launch selling, coupons, bundled products, affiliate marketing, and cross-selling products. Additionally, Podia provides instant payouts with no transaction fees!
9. Landing Pages
Lastly, you can also create landing pages in Podia with the inbuilt website builder. The website builder allows you to create any kind of page you want, including landing pages. It is also a visual drag and drop builder and you don't need any kind of coding to create impressive-looking landing pages.
However, there are only a limited number of themes provided and the website builder is not really as powerful as most standalone website builders. However, all the websites built using Podia are responsive and work great on all devices and the integrated system means you can create landing pages as part of your sales funnel easily all from within Podia itself!
Click Here To Try Podia For Free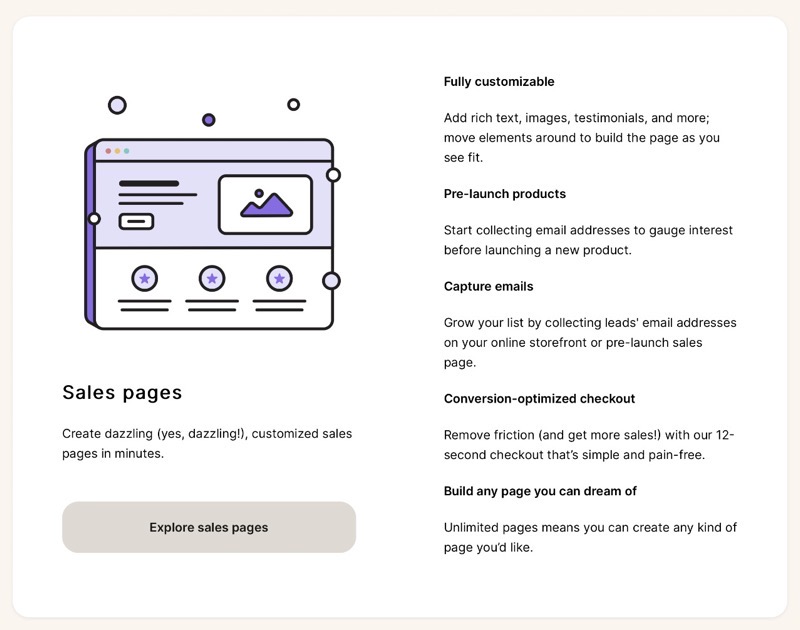 Podia all-in-one solution
As you might have guessed by now, the biggest selling point for Podia is that it is an integrated platform that lets you do many, many different things for a really reasonable price. It can be used to manage every single aspect of your sales funnel for an online course or a membership-site all the way from capturing the lead to selling and management.
If you set it up correctly, you can handle everything about your online business, store, or membership with just Podia. However, this is also an area of concern because while it tries to be the jack of all trades, it is far from being the master of all of them.
For example, there are a number of different tools that can be used to create better online courses than Podia, there are better email marketing solutions out there, and there are better CRM systems that can be used to provide better customer support. The problem is that all these tools are separate and if you want to use them together, you'll have to manage the integrations yourself which can be a headache.
To be fair, Podia does allow you to integrate with third-party tools like MailChimp, ConvertKit, AWeber, etc. However, it is only ideal to use if you're looking for an all-in-one solution but you'll have to make the compromise of being stuck with the limitations of the individual aspects of the platform.
Click Here To Try Podia For Free
4. LearnWorlds
LearnWorlds is also another fine platform one can use. The main selling point here is that there are tons of ways through which you can interact with your student.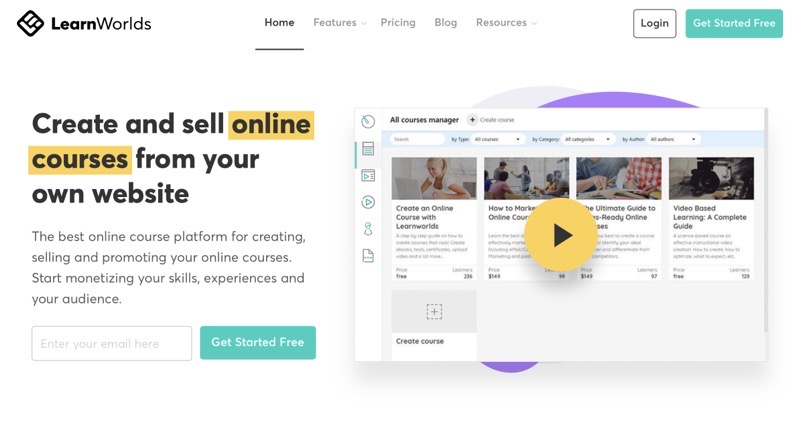 Click Here To Try LearnWorlds For Free
What Reddit has to say about Learnworlds:
u/onlybmd: The top three I've looked at has been Teachable, Thinkific, and LearnWorlds. Research them all see what would work best for you.
u/Fit-Explanation-9027: I would check out learnworlds. It's easy to use, you can build your own website and it has all the signups & co build in. And: A Zoom integration, so you can host your sessions in the Course itself
Pros
Unlimited Courses
Custom web domain
Built-in social network
Mobile and tablet app
Interactive Ebooks
Cons
Support in the starter plan is 24/5 and not 24/7.
Lacks a free plan
1. Robust Course Creator
LearnWorlds offers a plethora of features to help you create engaging, efficient online courses. The software has its own course player where you can choose how learners navigate your course. For example, you could let learners navigate the course freely or set specific sequences.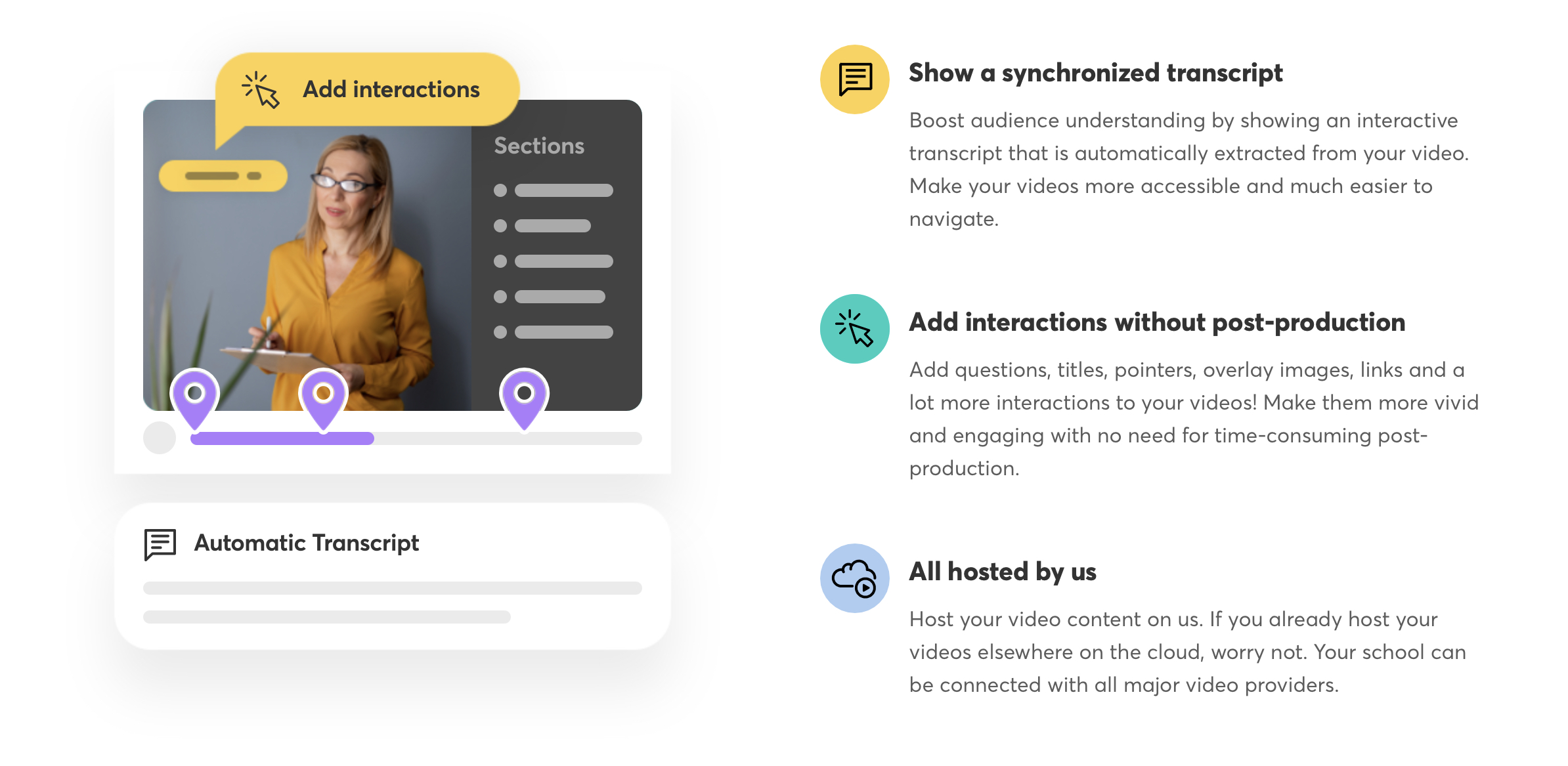 The videos that you can create on the platform can be extracted easily to generate transcripts for the course. But you're not limited to just video. You can add titles, pointers, overlayed images, and even questions based on the content of the video. This makes it easy to create engaging content without having to spend a lot of time post-producing your videos.
The tools aren't just limited to educators. Your users can whip out a digital highlighter to highlight the content they need for later. They can also take notes within the platform as they're making their way through courses.
You'll also want to test your students' knowledge every now and then. LearnWorlds lets you do just that with its testing engine. Course administrators can create different kinds of quizzes and measure each student's performance. Educators can create question banks that they can tap for multiple tests and courses. You can also hand out branded digital certificates to students from within the platform.
2. Marketing Tools
The content of your online course is only the first piece of the puzzle. The next part, and one that's just as important, is marketing it to your audience. LearnWorlds lets you offer your course from your own domain name so you can connect it to your brand. Not that just, the entire platform itself can be white-labeled so that your clients see only branding that you want them to see.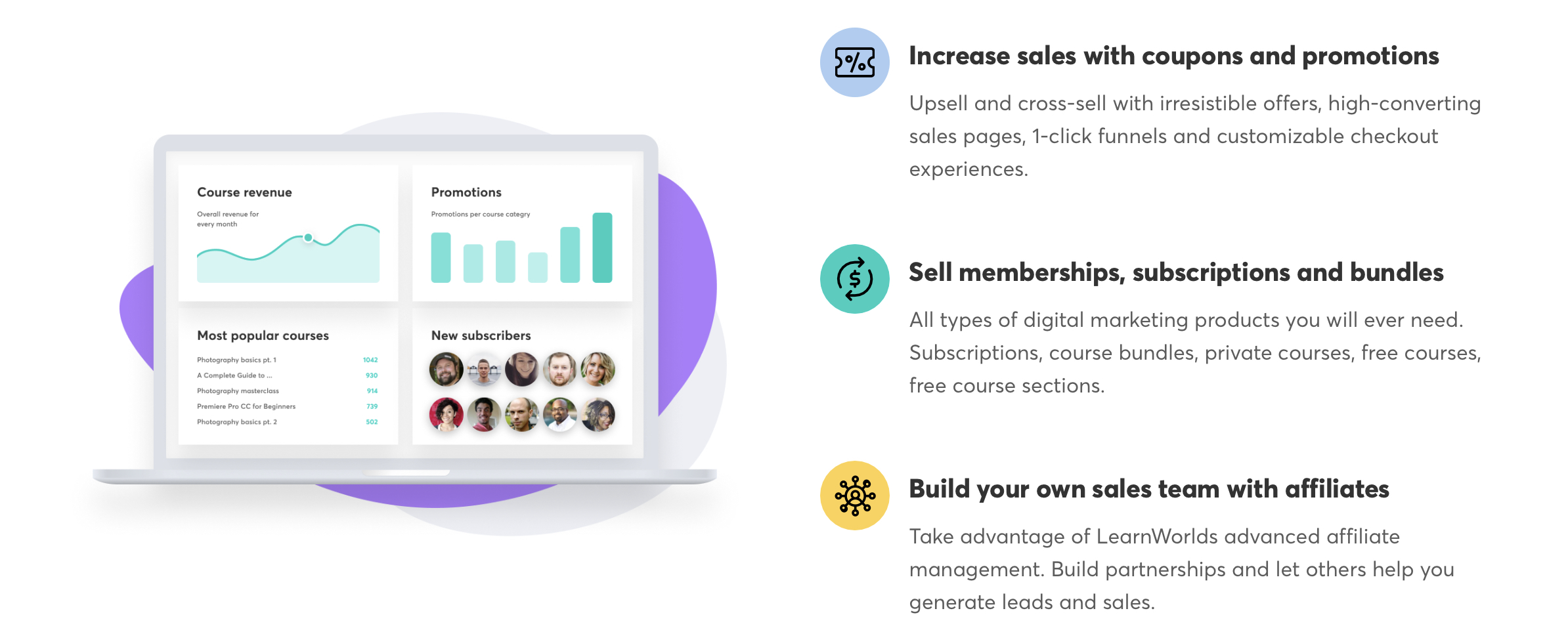 LearnWorlds makes it possible to sell online courses in many different forms. You could start off with a course that's completely free or one that has free sections. You could also create subscriptions so that users get lessons on a frequent basis. There are many ways in which you can bundle your course offerings using LearnWorlds.
If you're working on converting a certain part of your audience, you can create sales pages and entire affiliate marketing programs using LearnWorlds. This will save you a lot of time since you don't need to look anywhere else for things like landing page builders or third-party sales tools.
But if you do want to use other tools out there, LearnWorlds offers a wide variety of integrations. That includes email marketing tools like MailChimp, Zapier for automation, business analytics tools like MixPanel, and so on. You can see LearnWorlds' full list of integrations on this page.
3. Built-In Analytics
When you build an online course, you need access to all kinds of data points. That includes data about how students interact with your course itself as well as the efficiency of your marketing and sales efforts. LearnWorlds offers all of those analytics in one simple dashboard.
When it comes to your course itself, you can see a number of different data points about how students interact with your course. Course creators get analytics on student progress, engagement levels, and completion rates. You can use this information to identify specific students who may need additional support. It also helps spot improvements that can be made to the course overall.
Next, we come to the marketing analytics. LearnWorlds gives its customers an events log where they can which users accessed which courses, failed attempts at buying courses, and so on. All of this data can contribute significantly to enhancing your sales processes.
4. Branding and Design
You don't need to have deep technical skills to create online courses using LearnWorlds. The process is actually quite simple. The software has hundreds of different templates for web pages and course contents from which to choose. Simply pick any one of those templates and plug them into your own course. You can edit the colors, font, and other aspects of the templates to suit your preferences or align with your brand.
The great thing about these templates is that they're fully responsive. That means that your course will be just as accessible to users on a phone as it will be on a desktop. If you do want to mess around with the way the pages look, LearnWorlds lets you add custom CSS and JavaScript.
In addition to that, LearnWorlds helps you ensure that the pages you create are SEO-friendly. You can add metadata that is relevant to your organization so that it reflects on search engines. This increases the chances of your courses being found online organically. LearnWorlds websites are fast loading, which is another way to improve your SEO and give learners a great user experience.
5. Learning & Support
One of the most important things to take into consideration before choosing an online course creation tool is the availability of learning materials and access to support. LearnWorlds does well on both counts.
LearnWorlds has its own courses on how to use the software, teaching online, and monetizing courses. All of this information is packaged into what they call LearnWorlds Academy. A lot of the lessons are available for free. If that's not enough, you can also sign up to be part of a weekly webinar where the company's CEO does a guided tour of the platform and answers questions.
Now you're probably wondering about support. LearnWorlds assists its users right from when they're being onboarded onto the platform. A member of the team guides each customer through setting up their website, importing existing courses they may have, and designing their upcoming course. The support team is available 24/7 if any issues pop up thereon in.
Click Here To Try LearnWorlds For Free
5. Ruzuku
Click Here To Try Ruzuku For Free
Ruzuku is an easy to use platform that beginners can manage without issues. One of its good qualities is that it is really fast. It also offers a LOT of features under one platform.
Pros
Very easy to use
Unlimited everything
Integrated e-commerce
Bank-level security
Fast servers
Cons
Less affordable prices
No free plan
1. No transaction fees
Transaction fees is always a bummer but with Ruzuku that is not a problem, EVERY plan offers 0% transaction fees!
2. Simple user interface
Ruzuku is a ridiculously easy to use platform which anyone can start using in no time.
It is made with the goal in mind that instructors are using their platform to teach, not to spend hours just fiddling around the settings trying to get their courses up properly, hence it naturally has a simple UI.
The Verdict: Ruzuku is a fast, easy to use platform with quite some features that you might be interested in. The plans aren't as affordable as the other platforms but the features it offers is worth the money.
Click Here To Try Ruzuku For Free
6. LearnDash
What Reddit has to say about Learndash:
u/rebeccanotbecca: I just met someone who is using LearnDash and he loves it. It is working well for his 1000+ employees. I don't know what your budget is but $180 seems like a low barrier to implement a LMS.
[deleted]: I've used learndash for a couple years and have no complaints. If you are comfortable with wordpress it will be very intuitive. I ended up moving all of my courses to canvas because the one thing learndash is missing is a robust grading system (which wouldn't matter for you).
u/christyinsdesign: I've been using LearnDash with a nonprofit client for about a year, and I'm currently procrastinating writing a proposal for another client where I'm recommending LearnDash. I really like LearnDash, especially for very small organizations or consultants who are selling a handful of courses.
LearnDash gives you quite a bit of control. You can add plugins and customize your experience. Need forums? There's a plugin for that. If you do get into Storyline or interactive media sometime down the road, you can add that in LearnDash and even track everything via xAPI. It's on your domain, with your URL
LearnDash is a well-regarded online course builder for WordPress. It is used by a number of universities and entrepreneurs.
Pros
Unlimited Courses
Unlimited Students
Course forums
Drip feed lessons
Advanced Quizzing
Cheap
1. Focus mode
This is one of the best features LearnDash has to offer. The LearnDash focus mode lets you create a dedicated virtual learning environment.
Basically, it eliminates distractions and hence helps learners retain stuff more and complete courses faster.
It is an optional setting so it is upto the user to configure this mode.
2. Great prices
At first glance, you might think "Damn the prices are high!" but in reality, the LearnDash plugin is quite cheap. Why? Because the listed prices are per YEAR, not per month!
There are three plans and all three of them include the following features:
Unlimited Courses
Unlimited Users
Course Content Protection
Drip-Feed Lessons
Advanced Quizzing
Certificates & Badges
Course Forums
Email Notifications
Free Integrations
1-Year Support & Updates
The difference between the different plans lies in the number of site licenses offered. Basic offers 1 site license and costs $199 per year (on discount at $159 right now), Plus offers upto 10 site licenses and is priced at $229 per year ($189 with the sale) and Pro offers upto 25 site licenses and goes for $369 per year ($329 with the sale).
3. Demo site template
All the plans include a free copy of LearnDash's entire demo site! It will really help beginners kick start their business as soon as they can.
The Verdict: LearnDash is a fine LMS plugin you can use with wordpress. It packs a great number of features and is priced really good, honestly too good for what it offers. With the demo template, beginners can easily begin with this plugin.
7. Thrive Apprentice
Thrive Apprentice is another plugin for wordpress that helps you build online courses. It is kind of different from the other course builders though, it doesn't contain a lot of the features they usually do. While that may sound unpleasant, a lot of people actually have no need for those other missing features so this might be the course builder for them.
Click Here to Get Thrive Apprentice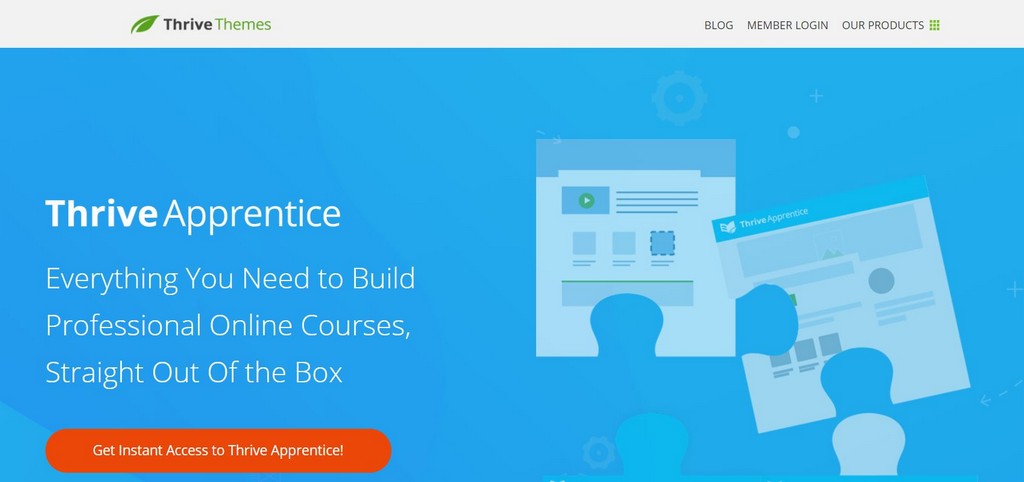 Pros
Cost effective
Complete Online Course Design and Customization features
100% Control of your own marketing, promotion and pricing
Affiliate Marketing program feature included
Complete EU VAT/MOSS Management
Integration with Stripe, PayPal and BitPay
No transaction fees
Cons
No drip content
No content protection
3rd party integration is needed for full LMS functionality
1. One-time fee
Yes, you read it right. There is only a cheap one-time fee for this course platform!
The one-time fee is $67 for 1 license, $97 for 5 licenses and $127 for 15 licenses.
You will receive lifetime updates and 1 year of support with this small fee.
2. Simple
For many, 'simple is best'. It is exactly these people Thrive Apprentice is aimed at.
Thrive Apprentice doesn't have a lot of features a normal LMS platform would have, it means there is less for you to handle and it makes up for very simple design choices.
You can just focus on the features it has and you will save a lot of time that would otherwise be spent in fiddling with the many features the other LMS platforms have.
The Verdict: Thrive Apprentice is a very cost effective option. However, it is certainly not for everyone. If you need an online course platform with a lot of features, this definitely isn't for you. However, if you are a beginner and want to go through as less hassle as you can then this might be worth looking into.
8. Skillshare
Not an LMS but an MOOC platform, where MOOC stands for Massively Open Online Courses. The basic difference is that you don't host your files yourself but you put up your courses on a marketplace where anyone can buy them.
Skillshare is a large marketplace of this type. It is mostly focused on creative education. Some of the topics on there include cooking, animation, music production and more. They pay monthly royalties for each minute of your content watched.
Pros
Free
Quality classes
Free mobile app
Large userbase
Cons
Low income if you are just starting due to cuts
Only email support is available
1. Easy reach to new audiences
Putting your course on skillshare means a lot of people are likely to check out your course.
Especially helpful if you are just beginning with course creation.
Also helpful for experimenting with new courses.
2. Quality focused courses
Skillshare advertises itself based on high quality courses.
It helps you fine-tune your courses according to the needs of your audience and present the best possible courses you can, which in turn helps you reach a wider audience.
The Verdict: SkillShare is great for those who want to share free courses to check how the audience reacts to them. It isn't that good for paid courses due to the cuts Skillshare takes.
9. Udemy
Udemy, much like Skillshare, is an MOOC platform where you put your courses up and students pay to access them.
Click Here To Give Udemy A Whirl

Pros
Udemy markets your product
Big audience
Free
1. Udemy promotes your course
If you sell enough, Udemy will promote your courses and since Udemy has a huge audience, you are sure to sell a lot more courses.
2. It's pretty easy
It's very easy to just upload your course material to Udemy. Rest Udemy will handle and you can generate a sales page.
The Verdict: Like with Skillshare, Udemy is also good for providing free courses to wider audiences but the big cut makes it difficult to generate enough revenue. Since Udemy allows you to upload your courses elsewhere as well, you can just upload your courses to your own website as well as Udemy to reach the widest audience.
10. Mighty Networks – Best for Community Building
Mighty Networks is one of the most powerful membership sites and community-building platforms, which is different from other options in the list. The platform offers a complete solution for selling membership and helps efficiently turn your social media following into an independent group.
The platform is catered to create both free and paid membership communities having a range of audience engagement features. While doing this, you can track how your members are using your site and which content resonates the most with your audience.
Click Here To Try Mighty For Free
Mighty Networks lets you efficiently launch courses and on-demand content or launch live webinars using YouTube Live or Zoom. Here, you can create min-course communities for specific programs and courses. You can also get various types of posts like videos, polls, and audio to engage with your audience.
Mighty Networks community can only exist on a custom domain where the look can be customized as per your brand identity. However, the platform only supports Stripe payments and only offers full, partial, and recurring payments for your customers.
What Redditors say about it
u/SilverSailing- "Another option that is pretty cool is Mighty Networks. It comes with pretty robust features and acts like internal social media platform for your team and community members.

u/Free6000- "Mighty Networks is exceptional and extremely affordable".
Features
Activity feed algorithm that is tailored for your membership content.
Versatile private direct messaging allows you to keep your members in touch without having to bombard their inboxes.
Easily sell courses, community, and membership in a single place.
Learn basics by joining the platform community design training program.
Live events and meetings that let you efficiently communicate with your members in real time.
Supports a range of polls, questions, videos, and articles.
Customizable member profiles across an array of categories.
The event calendar allows the members not to miss any events or deadlines.
Pricing
Mighty Networks has plans for your business; whether you are beginning your business or ready to level up, there is a plan for you. The platform offers 2 standard plans- Community plan ($39 per month) and a Business plan ($119 per month). If you are looking for a premium offering with customizable features, then its Mighty Pro plan is a great shout. Contact the sales team to get access to the features and schedule a call with the team. The two plans offer a 14-day free trial without requiring a credit card.
Click Here To Try Mighty For Free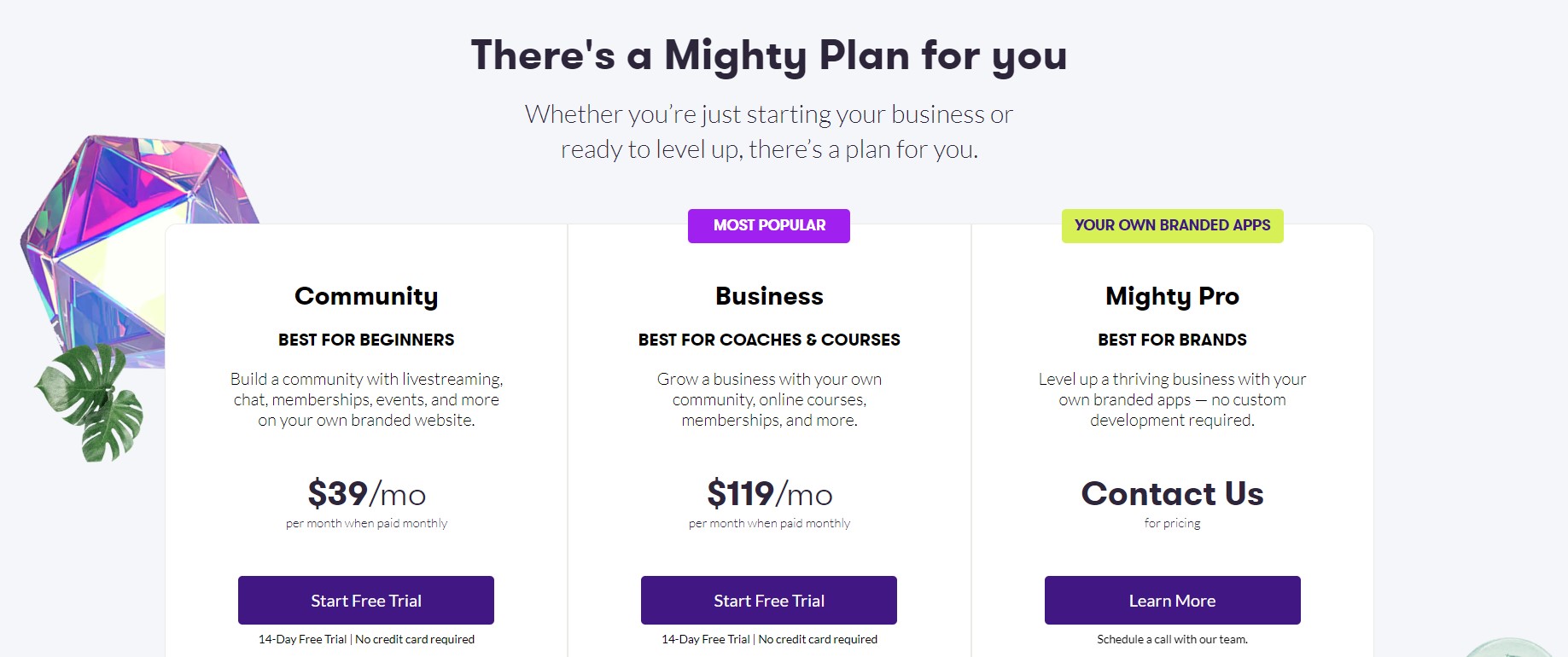 Pros
Integrated community component allows you to easily connect with your members
The activity feed algorithm is tailored for member content
Good analytics reporting that allows you to make data-driven decisions for your membership site
Excellent payment processing integrations
Easily migrate your community or courses to a new platform
Host your own custom domain with a unique URL
Customized landing pages that will promote content and improve sales
Cons
The learning curve at the start can be steep
Relatively higher pricing tiers
No white-label options for membership plans under $100 per month
11. Kartra – Top Membership Site for Marketers
Kartra is a business-first membership site that is packed with content creation, user management, and advanced marketing features. The software allows you to efficiently host online courses and run different membership programs.
Kartra makes the entire process of creating membership sites and online courses simple, even for beginners. It has a drag and drop builder that is used to design different content types with responsive website themes to create intuitive landing pages and course websites.
Click Here To Try Kartra 14-day Trial For $1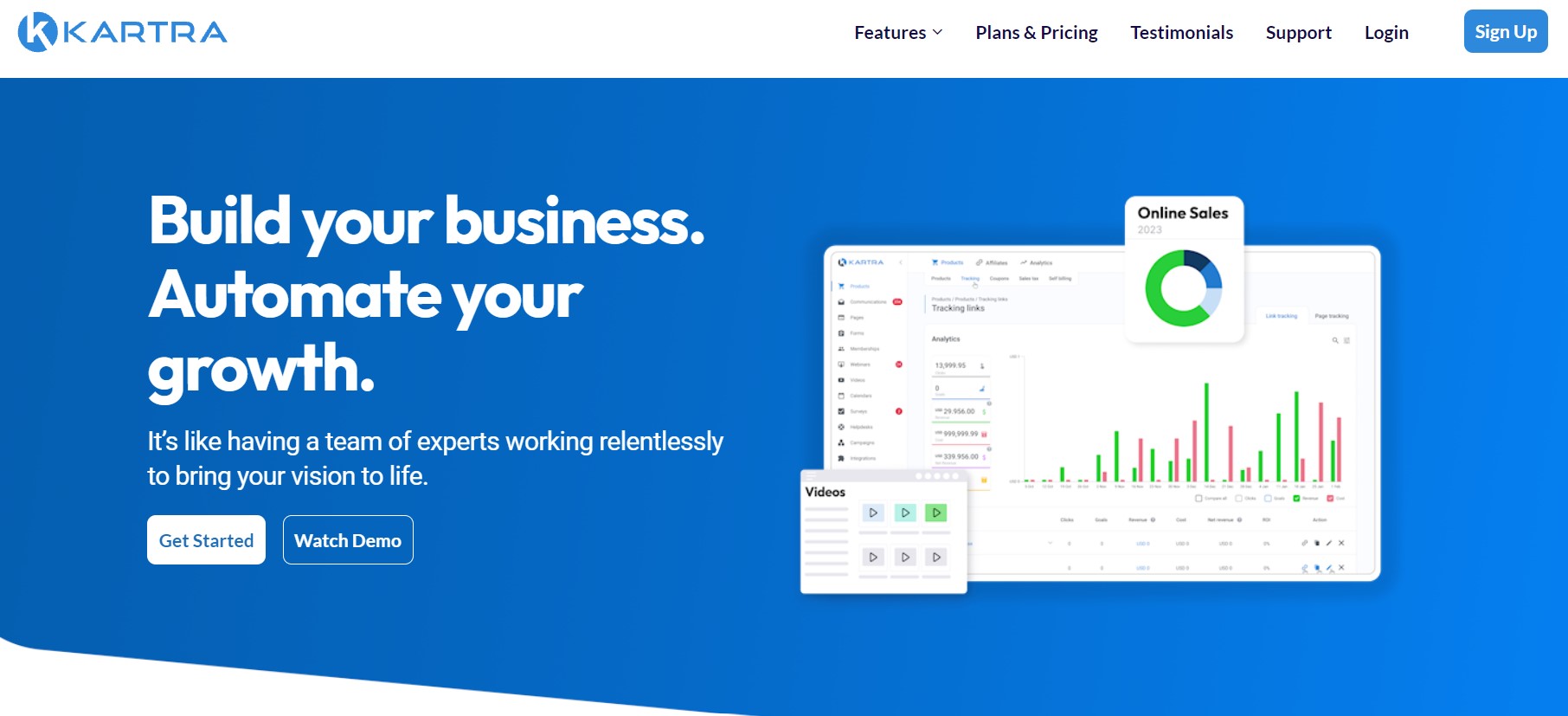 The software gives you complete control of your content, having several features like drip content, downloading prohibition, gated content, etc. The tool throws its weight behind sales capabilities, and that is one of its key features. So, you can quickly attract relevant users and convert them into leads and subsequently into customers.
Plus, it has a complete email marketing solution that is integrated directly into landing pages, content, product, etc. This allows you to track the user activity, add behavioral tags for various users or run tailored content. Overall, it is a very impressive membership solution to grow your eLearning businesses, having a huge audience base.
What Redditors say about it
u/Impressive-Tax3422- "Kartra is a popular all-in-one platform that allows you to create and manage your online business, including website creation, email marketing, course creation, and more".

u/Kayakero- "Kartra is an all-in-one marketing software created by Andy Jenkins and Mike Filsaime under Genesis Digital. It is a professionally built platform that aims to help online business owners and internet marketers leverage their lead generation efforts and sales".
Features
Drag and drop builder designed to help users build powerful membership sites. You can create customized websites that are catered to fit your brand identity.
The email automation feature of Kartra is amazing. It allows users to set up automated email sequences to efficiently segment customers on different actions and other tools.
Kartra has in-built video hosting that helps keep your users on your site instead of bouncing to other platforms like YouTube or video streaming platforms.
In-depth analytics that gives you a clear picture of how prospects are interacting with your assets or campaigns.
It has a comprehensive calendar that allows you to schedule emails and other services to the customer. Its automation tools are great for marketing and onboarding processes.
A strong affiliate management system with detailed reporting tools. It also comes with multiple access tiers for membership.
Kartra has top-notch support and tutorials that allow you to get insights and check how things work with the tool.
Pricing
Kartra has some extensive plans that allow users to choose one that is best suited for their brand. The software has 4 standard paid plans- a Starter plan ($119 per month), a Silver plan ($229 per month), a Gold plan ($339 per month), and a Platinum plan ($549 per month).
You can purchase these plans on an annual subscription; however, before this, you can try it for 14 days if you are unsure which plan you want.
Click Here To Try Kartra 14-day Trial For $1
Pros
Comprehensive marketing suite suitable for various tasks
User-friendly interface that allows for easy setup
Advanced automation capabilities
Good CRM functionality for memberships
Powerful marketing features designed to build landing pages and funnels
Booking calendar for most coaches
Cons
Can be overwhelming for beginners
Slightly expensive
The community features are weak
12. LinkedIn Learning
LinkedIn is another marketplace like Skillshare and Udemy, aimed at business professionals. The site contains a great number of courses on business related topics like digital marketing, web development, etc.
Pros
Big community
Big audience
The Verdict: LinkedIn learning is a good opportunity due to the massive audience it covers but there are also a lot of courses already on there so the competition is really tough. But you can market your courses here to bring an audience.
Why Create an Online Course?
Launching an online course is an effective way to earn a passive income. Money aside, it also offers various benefits to the course creator, which includes
A simple and quick way to offer a valuable asset to your audience.
Establish credibility and authority in a niche or industry.
It is an opportunity to help grow your brand and expand your reach in the market.
You can easily incorporate your marketing pipeline to either upsell or downsell several products and services.
If you want to attract new customers, then it is important to provide quality content and build trust amongst your audience. An online course can help you do that as you are offering a resource that will help them to resolve any pain point they have.
If you are planning to create and teach an online course, then you don't need any formal teaching experience. All you need is a topic that you are familiar with and knowledgeable about. Further, you must be willing to adapt your resources to meet the demands of your students to offer the best there is in the market.
Steps to Create an Online Course
Creating an online course allows you to build your authority as a creator, but it may seem to be expensive to pull off. However, what if you didn't have to break the bank to launch your new course? Here, I have listed some steps to launch your online course free of cost
1. Initial research
In all significant endeavors, you will need to have a plan to start and base your journey on. The first step in making an online course is by finding the topic of focus on which you want to base your course. This will determine your audience, method, and various other factors specific to the course subject.
If you are starting out, then don't try to complicate things and select a topic that is not too wide to start off. Ideally, it would be best to demonstrate expertise in the subject you teach, so any degree or work in the space is important. You don't have to be a teacher, but you need practical knowledge or expertise on the subject to establish trustworthiness for yourself.
Once you have selected the topic for your online course, it is necessary to identify your target audience. The target audience will help you determine whether there is enough demand for your topic in the market. This may seem simple, but you have to be specific to identify the target audience. You can refer to the demographics to get started:
Age- As per research, the average age of students taking an online course is below 40. Based on the topic of your course, this number will differ. You will have to adjust your writing and teaching styles accordingly.
Gender- it may not come as a surprise, but gender is another key parameter that influences the audience. Do your research on the number of enrolments for similar courses and see the male and female count to better serve your audience.
Level of education- The majority of online courses are designed to have a Bachelor's degree or higher. You have to adjust the complexity of your course to match the educational level of the target audience.
Employment status- Clarify to your students whether your course is designed for job seekers who want to start their careers in a field or for employed professionals who are looking to enhance their expertise.
Identifying these demographics is not as simple as it seems. If you are having trouble, then you can use social media for identifying your target audience. Social media is a goldmine for information, and it will greatly help you identify your target audience.
2. Create Online Course Outline
Once you've determined what you are going to teach, then you should start organizing your teaching modules. You need to offer enough context to a newcomer so that they will at least have a basic idea of the entire concept once the course is completed. Once you have the understanding and decided on the modules, you will have to package it up. Here, you will have to decide how you are planning to deliver it to your students. Outlining, as Teachable explains, is similar to structuring. You have to know how you will need to teach, but also decide how to teach it.
This is how you can create your course outline
Identify the primary learning outcome- the primary aim of your course is to impart knowledge, so you need to define what students will learn once the course is completed. If you are able to crack this, then you will be able to better organize and teach your students.
Create a list of skills necessary for achieving primary learning outcome- Create an online course outline that helps determine which skills are crucial for your students.
Utilize a skill checklist to create course modules- Create group-related skills in a checklist that will let you curate information within your course more effectively. Try and avoid bloating your course with more content than necessary.
Set learning goals for your course- The most crucial component is to create an online course with learning goals. You can set quizzes and other perquisites that have to be cleared and answered by students before they move ahead.
If you are struggling to create an outline for your online course, then you can follow these steps:
Brainstorm ideas- when you are struggling to create an outline, underpin your subject, what will be an introductory lesson, etc.
Use a course outline template- refer to an already published course template to help you better design a course for your students.
3. Choose an Online Course Software and Platform
Once you are done creating an outline for your course, you will need to select a platform to host your online course. Below I've listed 3 of the best platforms or software that are great in their own right to host your online courses for free.
4. Custom domain or free URL
A custom domain is something that I would recommend as it helps build trust amongst your customers. For example, if you are a fitness trainer, then you could purchase a domain, like fitnessclasses.com, and host your courses on it.
Generally, a web domain costs anywhere between $20 to $50 or even less. This cost has to be paid yearly to get the domain registration. However, if you purchase a plan from Thinkific, Teachable, or Thrive Apprentice, then you get a free domain with it.
If you are somebody who is a beginner and want to start creating an online course for the first time or have never hosted a website before, then you will be hesitant to make the purchase at the start. This is not an issue, and you can always purchase the web domain later. You can use a free URL like Teachable.com. So, when you start growing, you can purchase a domain to build trust amongst your customers.
5. Create Course Content
Once you have selected your course-building platform and domain, then you are ready to create your content. To design a versatile online course, you will require to focus on the following features listed below.
1. Types of Online Course Content
How are you planning to present your lessons? There is a wealth of options to select from, and how you are planning to showcase it is up to you. The three types of online courses you can create include text content, screen casting content, video, and image content. Combing these features allow you to make the most engaging online course. However, based on your course subject, screen casting may not be required.
2. Writing, Recording, and Editing your Content
The course material is the most important aspect that will provide information to your students. You don't require to have the entire course material complete at the start, as you can use drip content specification, as seen in Thinkific, Teachable, and Thrive Apprentice, to update your course accordingly. It is also important to start with a smaller batch and slowly add content to enhance its performance further. Ensure that you focus on your content writing as it will make or break your course, so you must put plenty of effort into its creation. It is just hard work, and it is not something that will just come to you.
3. Grading and Assessment Methods
A traditional school relies on a lot of tests to measure how you are learning. While most online courses are very flexible and offer a range of match assessment methods. Assessments can be in the form of a quick pop-up quiz after completion of a course similar to that seen in Thinkific. It is important to note that assessment is optional, and you can decide to not have any assessment in your course. However, you can set compulsory passing grades, wherein students are not able to go ahead before passing the course, which you can see on the course builders mentioned above.
6. Make Sure Your Content is Engaging
Engaging students that enroll in your course is important if you want to taste success in this space. If you want to be successful, make sure you follow the steps below:
Focus on what is important- Teaching is more than just imparting knowledge. Try and focus on influential areas that are important other than teaching boring extracts.
Improve retention rate- results are something that would keep students on a course platform. If you offer a course with a good interface and ease of use, your students may find it easy to scroll and check different modules. However, if you are able to provide quality content, then students will be glued on to complete your course and improve its retention.
Set measurable goals- a student needs to measure their progress. To measure their success, you can set Quizzes, which can help them understand whether they can grasp what is taught. The Quizzes on Thrive Apprentice allow you to set graded and non-graded quizzes. This ensures that you can take the course casually or create set goals, which students have to clear before moving ahead.
7. Gather Feedback for your Online Course
Getting the right feedback about your course is important to ensure that your students are understanding lessons well. With Thinkific, you have the ability to conduct surveys where you can see what the student is thinking about the course and its curriculum. Similarly, with Teachable and Thrive Apprentice, you can get in touch with your student through lecture comments or community space. The community space is an integral part of a course builder, but this feature is mostly available with paid plans.
Which Online Course Platform should I choose?
All of the mentioned platforms are good in their own ways so this can be hard to decide.
Teachable: Best overall online course platform
Thinkific: Best for big companies and teams
Podia: Budget choice for your first time
In the end, it all comes down to your personal needs. Read through all the features carefully and decide what is the best one for you as choosing the platform most suited to you is an important decision!
Online Courses Platforms FAQS
1. Do you need technical expertise to create a an online course?
The creation of online courses is not as complicated as it may seem. You just have to follow a few steps, and you are ready to go. If you want to make your course site unique, you can use CSS or HTML; however, its use may be limited to a free plan.
2. Should I offer my course for free?
One of the biggest reasons to create an online course is to increase your revenue. How much you should charge is slightly tricky. If you are not sure how to set the course price, then I would recommend that you do some market research and see what your competitors are charging for similar courses.
3. Are free course platforms reliable?
The market is filled with a range of online course-building platforms that allow you to build a course free of cost. They might be slightly limited when it comes to features.If you actually want to make money, you should switch over to a paid plan to get access to better features and higher performance.