TLDR: If you're in a hurry the Teachable is the Best Online Course Platform according to Reddit! While Podia is better if you're on a budget.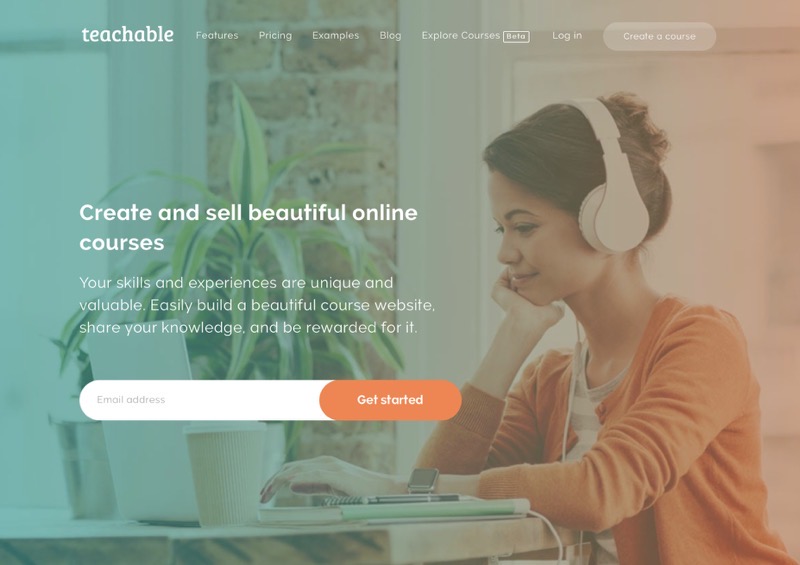 As online courses gain more and more traction and virtual classrooms become increasingly popular, online course platforms are naturally becoming more profitable. It is of no surprise that the number of platforms for creating and selling online courses is seeing a huge growth as well.
So you might wonder, out of all these online course platforms which one is the right platform for you? In this article, I will give a general rundown of what I consider to be the top 10 such platforms out there, complete with their pros and cons. This should help you choose the platform that suits you the best.
Before we list the best online course platforms on Reddit, let's understand how to choose the best course platform.
What exactly is an online course platform?
Online course platforms allow creators to submit their course content and students are charged for accessing them. These courses usually include video lectures, PDFs, image, text, audio, etc. and feel like real classes. They are usually called LMS platforms or Learning Management System.
The course software of a platform usually has an easy to use interface which lets a creator make some easy uploads and make some nice edits to change the general feel of the class. There are a number of more features a creator can use for their courses, including the ability to issue course completion certificates and access to marketing features.
Best Online Course Platform Reddit
1. Teachable – Best Online Course Platform According To Reddit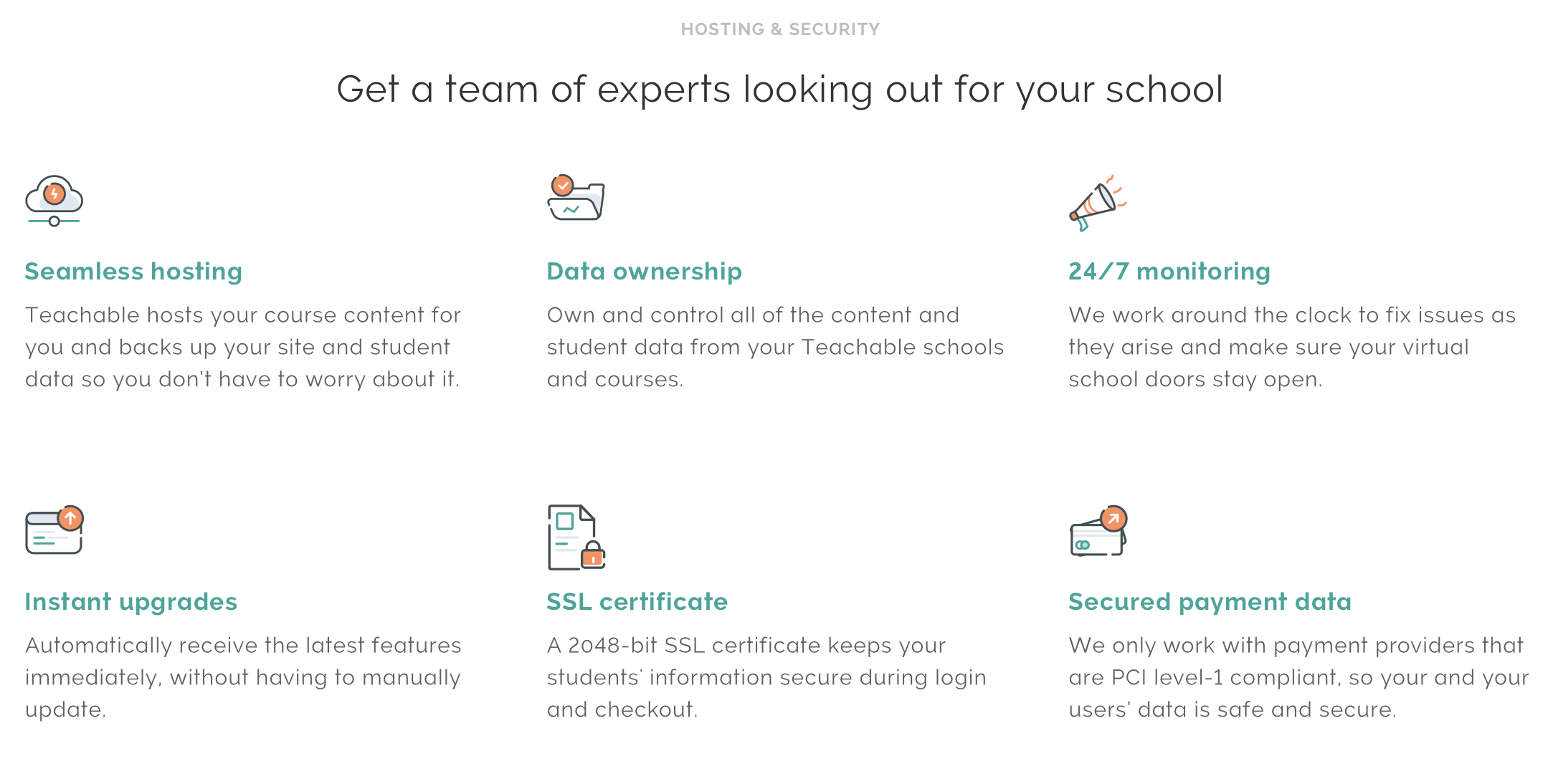 Click Here To Get Teachable
What Reddit has to say about Teachable:
u/drewches: I have a client who hosts all of their courses on Teachable. I think that Teachable is a great platform since it handles a lot of the back end of things for you so you can focus on creating content.
Teachable is hands-down the best online course platform in my opinion. It is beginner friendly, even has a free plan that packs some great features. The most popular plan is only $79, making it one of the decently affordable. Currently, it boasts over 83,000 instructors.
Pros
Unlimited video
Unlimited courses
Unlimited hosting
Integrated payment processing
Student management
Lecture comments
Basic quizzes
No fees for free courses
Cons
Transaction fees on free and basic plans
1. Reasonable plans
Teachable's free plan, while having a high transaction fee, still blows the others out of the water. It has a lot of features that would otherwise cost a premium on other platforms and is great for beginners as you can get used to the platform with it.
The paid plans are likewise great as well. The recommended plan for beginners is usually the professional plan, costing $79 per month. It has zero transaction fees and is basically feature complete.

There are four plans in total.
Free
This plan offers you all these features for free:
Unlimited everything except for unlimited students, Integrated payment processing, Student management, Lecture comments, Basic quizzes and no fees for free courses.
In this plan you will be charged $1+10% for every product you sell.
Basic
Cost of this plan is $29 per month and it offers you everything the free plan does plus all these features:
Unlimited students, 5% transaction fee, Instant payouts, admin-level users, Product support, Course creator training, Custom domain support, Coupon codes, Drip course content, Integrated affiliate marketing, Integrated email marketing and Third-party integrations.
You will be charged 5% for every product you sell.
Professional
This plan goes for $79 per month and it offers you everything the basic plan does plus all these features:
3 more admin-level users (5 in total), Priority product support, Graded quizzes, Advanced theme customization, Advanced reports, Unbranded website, Course completion certificates and Course compliance.
There is no transaction fee in this plan.
Business
This one will cost you $399 per month. It includes everything professional does as well as the following features:
Total 100 admin-level users, Manual student imports, Bulk student enrollments and Custom user roles.
Which Teachable plan is the right one for you?
If you are a beginner just starting out and hesitant to spend money, then the free plan is for you. It is nice for trying Teachable out but only that: trying out. it isn't suited for long-term business so you will need to consider getting the paid plans at some point.
The Basic plan is quite cheap and has some nice features so on a small budget you can go for this one. However, it has a transaction fee attached to it so for seeing some real profit you would have to move to the professional plan.
The Professional plan is the best plan for beginners and small teams as it is virtually feature complete and offers zero transaction fee. That's why it also happens to be the most popular plan Teachable has to offer.
The Business plan is best for large groups and businesses. It offers 100 admin level users which is quite useful in managing multiple teams and courses at once.
2. Unlimited video hosting
This is such a boon with teachable, as hosting large video files on your own website is sure to cause some slowdown but with teachable, that isn't a problem!
Not to mention, it allows you to host unlimited of them with even the free plan!
3. Excellent support
Good support is something every business would want to have, bad support can be a deal-breaker for many.
Teachable offers some of the best customer support out of all the platforms. There is a course creator community as well which is very cool.
There is also another great thing about it, teachable isn't just made up of developers like it usually is the case with these platforms, there are a lot of marketers as well!
4. Ease of use
Teachable is easy to set-up and modify. You don't have to spend days just getting up your courses.
This is especially true if you already have an online business as you then don't need to worry about different plugins and different integrations and can just get the thing up right away.
5. Secure content
With teachable, all of your content will be protected. You won't need to ever worry about one of your courses being hacked.
The Verdict: If you are just starting out, teachable is very much recommended due to how easy it is to use and the free plan should get you familiar enough with  Teachable that you can confidently move up to the more feature packed plans and be able to create great courses. The recommended plan, Professional, is reasonable in price and packs some nice features.
2. Thinkific – Best Course Platform For SaaS Companies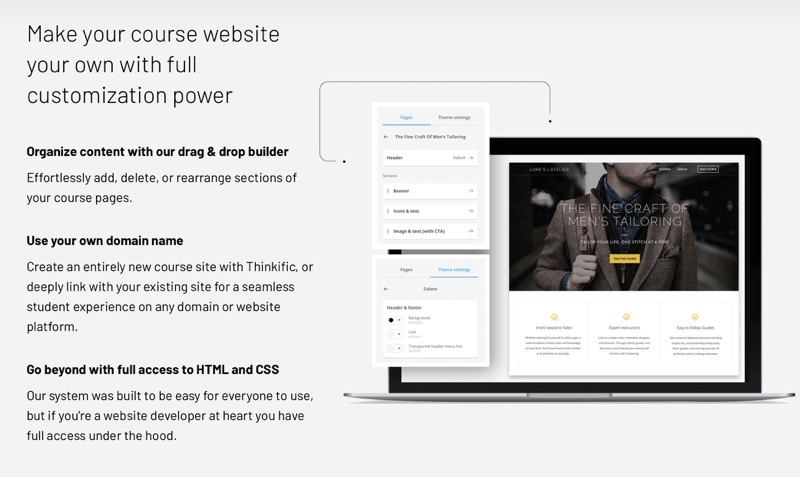 What Reddit has to say about Thinkific:
u/rajshankara: I use Thinkific, works great. Makes money from my lectures
u/c01: If you are just starting out, I highly recommend Thinkific and Teachable both. I suggest you do a trial with both and decide for yourself. Both have freemium versions as well.
u/mickmeaney: I liked it apart from not being able to do full customer management on it.
Thinkific is easily one of the most powerful online course platforms out there. It has a nice set of user-friendly features with good support. It is a nice option for startups and big teams. However, it might not be worth it for small teams.
Pros
Instant access to your funds
Student notifications
Full e-Commerce
Upsell offers
Easy drag and drop Course Builder
Discussion forums
Cons
No membership options in the free and basic plans
Can be costly for beginners
1. Absolutely no transaction fees
Thinkific has no transaction fees, even in the free plan!
This is the one place where Thinkific has an upper hand on Teachable, where even the basic plan has a cut.
2. Easy management for big companies
Depending on the plan, Thinkific offers the following features:
Multiple site admins (2 on Pro plan, 5 on Premier)
Multiple course authors/admins (5 on Pro plan, 50 on Premier)
Multiple Groups analysts (15 on Premier)
This is perfect for startups and big companies as they usually have multiple teams working at the same time.
3. Ease of Use
Like with Teachable, Thinkific is also quite easy to get up running. It is an integrated website meaning you don't really need to spend time on plugins or membership services. Of course, you can still integrate all the tools and services you might need into Thinkific.
4. Cost effective
Thinkific has some good pricing for what they offer. There are 4 plans, out of which the professional plan is the most popular plan and costs $99/month.
Total of four plans:
Free
It is absolutely free and offers you the following features:
3 Courses, Unlimited students, Quizzes & surveys, Content hosting, Instant access to your funds, Student notifications, Full e-commerce and Upsell offers.
Basic
Costs $49 per month and includes all the features from the free plan plus:
Unlimited courses, Coupons, Email students, Drip content, Affiliate reporting, Custom Domain, Email Integrations, Zapier triggers and Manual student enrollments and exports.
Professional
The cost of this plan is $99 per month and includes all the features of Basic along with:
2 Site admin accounts, 5 Course admins/authors, Private & hidden courses, Advanced course pricing options, Memberships and bundles, Certificates, Advanced Customization, Priority Support, Assignments and Communities.
Premier
$499 per month and includes all the features of the professional plan and the following:
Total 5 admin accounts, 15 Group analysts, Total 50 Course admins/authors,  Single Sign on (SSO), Onboarding package and Unlimited growth package.
Which plan is the best for you?
Go with the free plan to try things out and once you have made up your mind, go with either the basic plan or the professional plan.
The professional plan is the best plan for small groups. Only reason to go with the basic plan would be the cost but if you can, the pro plan is recommended.
The premier plan is for large groups and small groups might benefit little from this one.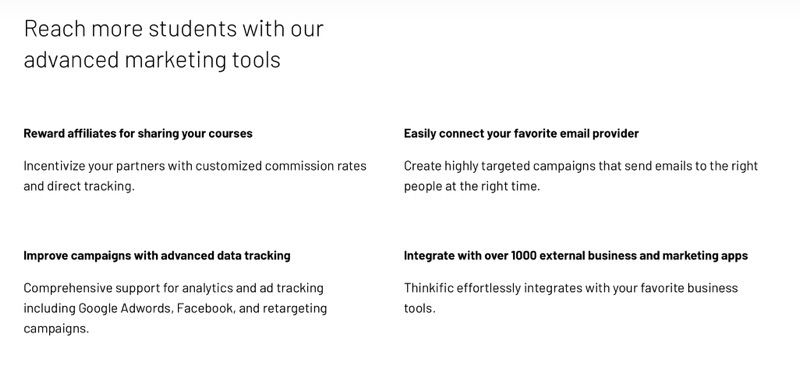 The Verdict: Thinkific is a great platform, easy to use and manage. All the plans come bundled with great features along with competitive pricing. It is recommended for startups and big companies. For small teams, some of the features might not come in as handy.
3. Podia – Cheap Course Platform For Solopreneurs
Click Here To Try Podia Free For 14-days
What Reddit has to say about Podia:
u/StrictElephante: Podia seems restrictive. There are some things I can't do with their website builder
Podia is one of the newest online course platforms. Some of you might have found the prices too high in the list so far, but fret not!
Podia is not only one of the cheapest options out there (costing only $39/month), but also has a lot of tools to offer. It is basically an all in one platform.
Pros
Online Courses
Digital Downloads
Storefront
Email Marketing
Messaging (Live Chat)
Memberships
A Blog Platform
Cons
Email Marketing isn't that good
1. Ease of use
One of Podia's strong points is its simple user interference that basically anyone can use.
It is because of this reason that it is one of the best options for those just starting out. You don't need the technical know-how to use Podia so you can just forget worrying about all the technical stuff and focus on simply creating your courses!
2. Super affordable
Podia is extremely cheap for the amazing number of features it offers, which again makes it the way to go if you are just starting out.
It offers two plans:
Mover: This plan costs you $39 per month, which is quite cheap considering it offers you:
Your very own storefront, Online courses, Digital downloads, Email marketing, Messaging, Zero transaction fees, Unlimited everything, and 24/7 support.
Shaker: This one will cost you $79 per month, close to the standard price for the "professional" plans in other platforms.
This one is offering you everything Mover offers along with: Memberships, Blog, Embedded Checkout, Affiliate marketing, Third-Party Code and free migrations.
Which plan is the best for you?
The Mover plan is for you if you are only just getting started and want an affordable option. It is also a simple way to get going so definitely the recommended one for beginners.
The Shaker plan is for those who have already gained some experience and have gathered a decent audience and so they want to utilize the more powerful marketing features.
3. Great step by step guides
Podia offers some very easy and simple guides, enabling anyone to utilize all the features and create some fine looking courses! You can find a ton of video tutorials on there.
4. Zero cuts
Like with Thinkific, Podia also takes zero cuts!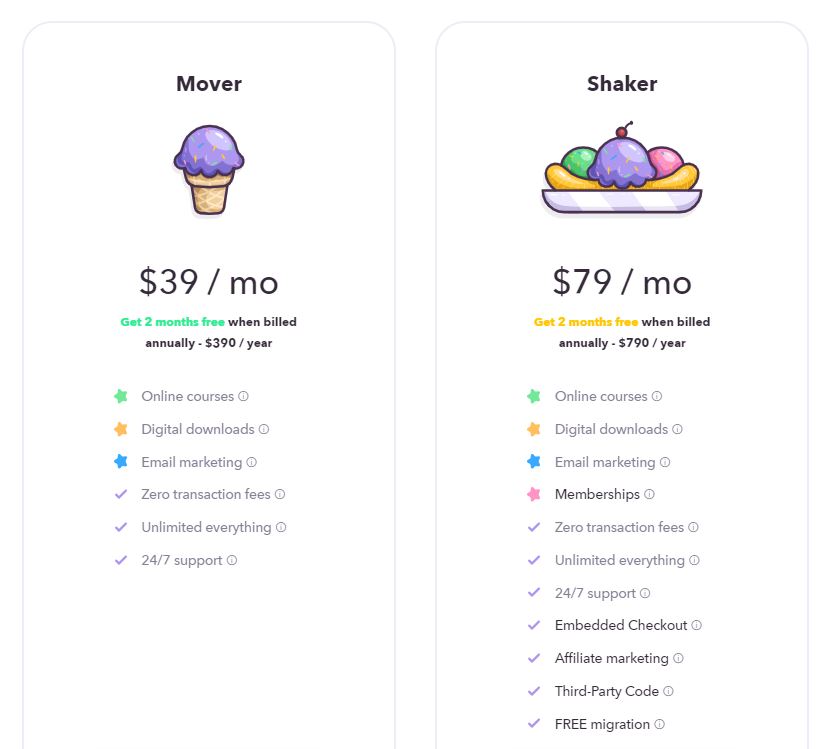 Click Here To Try Podia Free For 14-days
The Verdict: Podia is an excellent option for those looking for an option cheaper than its competition. It is also really beginner friendly. A beginner can just jump into it without second thoughts due to its ease of use.
4. LearnWorlds
LearnWorlds is also another fine platform one can use. The main selling point here is that there are tons of ways through which you can interact with your student.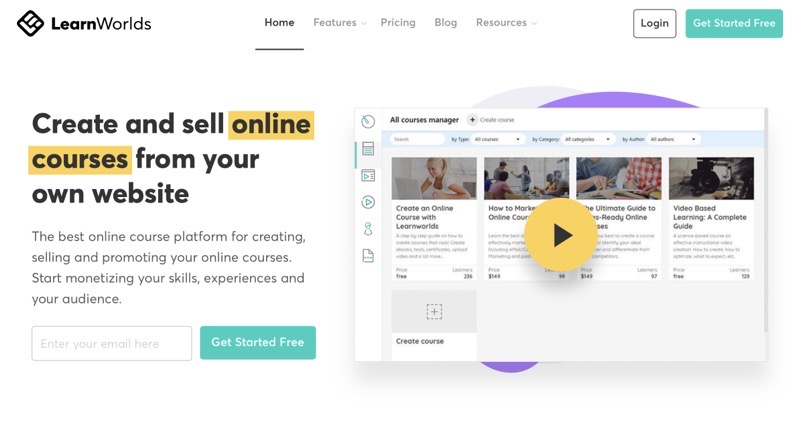 Click Here To Try LearnWorlds For Free
What Reddit has to say about Learnworlds:
u/onlybmd: The top three I've looked at has been Teachable, Thinkific, and LearnWorlds. Research them all see what would work best for you.
u/Fit-Explanation-9027: I would check out learnworlds. It's easy to use, you can build your own website and it has all the signups & co build in. And: A Zoom integration, so you can host your sessions in the Course itself
Pros
Unlimited Courses
Custom web domain
Built-in social network
Mobile and tablet app
Interactive Ebooks
Cons
Support in the starter plan is 24/5 and not 24/7.
Lacks a free plan
1. Regular updates
LearnWorlds updates and upgrades its features on a regular basis, to ensure that it remains up-to-date with current technology.
Regular updates also help quickly squash any bugs that arise and hence make up for the best possible experience you can get.
2. Affordable plans
LearnWorlds basic plan is only $29 per month, which is pretty affordable.
A complete list of the plans goes like this:
Starter
Cost is $29 per month. Features include:1 Admin, Unlimited paid courses, Pages Builder (3 pages), 4 Payment gateways, Coupons, Basic Integrations, Free SSL certificate, Drip Feed Courses and 24/5 e-mail support
There is a transaction fee of $5 per course sale.
Pro trainer
This one costs $99 per month and packs the following features: 5 Admins/instructors, Unlimited landing pages, Complete website builder with blog, Subscriptions & Memberships, Installments , Fully customizable Course Player, Customizable checkout page, Custom Certificates, SCORM / Multimedia files, Affiliate Management, Zapier & Premium Integrations, Question Banks, Onboarding call and 24/7 Priority e-mail support
No transaction fees.
Learning center
Priced at $249. Boasts these features: 20 Admins / Instructors, Bulk Student Upload, Full White-label Options, Integrations with API, Interactive video, Auto Customer Insights, Advanced Affiliate Management, Webhooks Integrations, Single Sign-On (SSO), Custom iOS & Android App (extra fee), 2 hours Premium Onboarding, 24/7 Premium Support
3. Customer support
The customer support is great and has some fast responses. Only drawback regarding this is in the basic plan, where the customer support itself is still good but just that it is only available 24/5. All the other plans have 24/7 support though and so this isn't an issue there.
Click Here To Try LearnWorlds For Free
The Verdict: LearnWorlds is another good option for an online course platform with nice customer support. The features are great and the regular updates keep it up-to-date.
5. Ruzuku
Click Here To Try Ruzuku For Free
Ruzuku is an easy to use platform that beginners can manage without issues. One of its good qualities is that it is really fast. It also offers a LOT of features under one platform.
Pros
Very easy to use
Unlimited everything
Integrated e-commerce
Bank-level security
Fast servers
Cons
Less affordable prices
No free plan
1. No transaction fees
Transaction fees is always a bummer but with Ruzuku that is not a problem, EVERY plan offers 0% transaction fees!
2. Simple user interface
Ruzuku is a ridiculously easy to use platform which anyone can start using in no time.
It is made with the goal in mind that instructors are using their platform to teach, not to spend hours just fiddling around the settings trying to get their courses up properly, hence it naturally has a simple UI.
The Verdict: Ruzuku is a fast, easy to use platform with quite some features that you might be interested in. The plans aren't as affordable as the other platforms but the features it offers is worth the money.
Click Here To Try Ruzuku For Free
6. LearnDash
What Reddit has to say about Learndash:
u/rebeccanotbecca: I just met someone who is using LearnDash and he loves it. It is working well for his 1000+ employees. I don't know what your budget is but $180 seems like a low barrier to implement a LMS.
[deleted]: I've used learndash for a couple years and have no complaints. If you are comfortable with wordpress it will be very intuitive. I ended up moving all of my courses to canvas because the one thing learndash is missing is a robust grading system (which wouldn't matter for you).
u/christyinsdesign: I've been using LearnDash with a nonprofit client for about a year, and I'm currently procrastinating writing a proposal for another client where I'm recommending LearnDash. I really like LearnDash, especially for very small organizations or consultants who are selling a handful of courses.
LearnDash gives you quite a bit of control. You can add plugins and customize your experience. Need forums? There's a plugin for that. If you do get into Storyline or interactive media sometime down the road, you can add that in LearnDash and even track everything via xAPI. It's on your domain, with your URL
LearnDash is a well-regarded online course builder for WordPress. It is used by a number of universities and entrepreneurs.
Pros
Unlimited Courses
Unlimited Students
Course forums
Drip feed lessons
Advanced Quizzing
Cheap
1. Focus mode
This is one of the best features LearnDash has to offer. The LearnDash focus mode lets you create a dedicated virtual learning environment.
Basically, it eliminates distractions and hence helps learners retain stuff more and complete courses faster.
It is an optional setting so it is upto the user to configure this mode.
2. Great prices
At first glance, you might think "Damn the prices are high!" but in reality, the LearnDash plugin is quite cheap. Why? Because the listed prices are per YEAR, not per month!
There are three plans and all three of them include the following features:
Unlimited Courses
Unlimited Users
Course Content Protection
Drip-Feed Lessons
Advanced Quizzing
Certificates & Badges
Course Forums
Email Notifications
Free Integrations
1-Year Support & Updates
The difference between the different plans lies in the number of site licenses offered. Basic offers 1 site license and costs $199 per year (on discount at $159 right now), Plus offers upto 10 site licenses and is priced at $229 per year ($189 with the sale) and Pro offers upto 25 site licenses and goes for $369 per year ($329 with the sale).
3. Demo site template
All the plans include a free copy of LearnDash's entire demo site! It will really help beginners kick start their business as soon as they can.
The Verdict: LearnDash is a fine LMS plugin you can use with wordpress. It packs a great number of features and is priced really good, honestly too good for what it offers. With the demo template, beginners can easily begin with this plugin.
7. Thrive Apprentice
Thrive Apprentice is another plugin for wordpress that helps you build online courses. It is kind of different from the other course builders though, it doesn't contain a lot of the features they usually do. While that may sound unpleasant, a lot of people actually have no need for those other missing features so this might be the course builder for them.
Click Here to Get Thrive Apprentice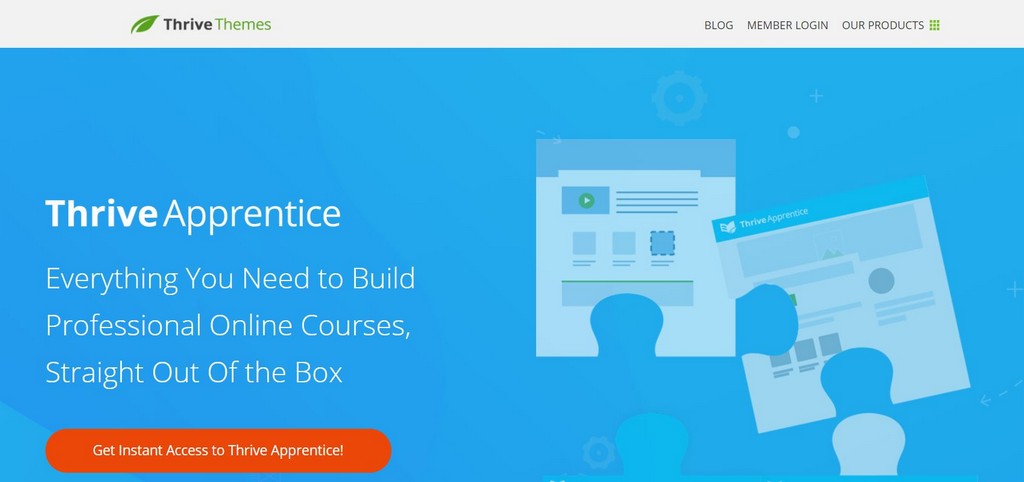 Pros
Cost effective
Complete Online Course Design and Customization features
100% Control of your own marketing, promotion and pricing
Affiliate Marketing program feature included
Complete EU VAT/MOSS Management
Integration with Stripe, PayPal and BitPay
No transaction fees
Cons
No drip content
No content protection
3rd party integration is needed for full LMS functionality
1. One-time fee
Yes, you read it right. There is only a cheap one-time fee for this course platform!
The one-time fee is $67 for 1 license, $97 for 5 licenses and $127 for 15 licenses.
You will receive lifetime updates and 1 year of support with this small fee.
2. Simple
For many, 'simple is best'. It is exactly these people Thrive Apprentice is aimed at.
Thrive Apprentice doesn't have a lot of features a normal LMS platform would have, it means there is less for you to handle and it makes up for very simple design choices.
You can just focus on the features it has and you will save a lot of time that would otherwise be spent in fiddling with the many features the other LMS platforms have.
The Verdict: Thrive Apprentice is a very cost effective option. However, it is certainly not for everyone. If you need an online course platform with a lot of features, this definitely isn't for you. However, if you are a beginner and want to go through as less hassle as you can then this might be worth looking into.
8. Skillshare
Not an LMS but an MOOC platform, where MOOC stands for Massively Open Online Courses. The basic difference is that you don't host your files yourself but you put up your courses on a marketplace where anyone can buy them.
Skillshare is a large marketplace of this type. It is mostly focused on creative education. Some of the topics on there include cooking, animation, music production and more. They pay monthly royalties for each minute of your content watched.
Pros
Free
Quality classes
Free mobile app
Large userbase
Cons
Low income if you are just starting due to cuts
Only email support is available
1. Easy reach to new audiences
Putting your course on skillshare means a lot of people are likely to check out your course.
Especially helpful if you are just beginning with course creation.
Also helpful for experimenting with new courses.
2. Quality focused courses
Skillshare advertises itself based on high quality courses.
It helps you fine-tune your courses according to the needs of your audience and present the best possible courses you can, which in turn helps you reach a wider audience.
The Verdict: SkillShare is great for those who want to share free courses to check how the audience reacts to them. It isn't that good for paid courses due to the cuts Skillshare takes.
9. Udemy
Udemy, much like Skillshare, is an MOOC platform where you put your courses up and students pay to access them.
Click Here To Give Udemy A Whirl

Pros
Udemy markets your product
Big audience
Free
1. Udemy promotes your course
If you sell enough, Udemy will promote your courses and since Udemy has a huge audience, you are sure to sell a lot more courses.
2. It's pretty easy
It's very easy to just upload your course material to Udemy. Rest Udemy will handle and you can generate a sales page.
The Verdict: Like with Skillshare, Udemy is also good for providing free courses to wider audiences but the big cut makes it difficult to generate enough revenue. Since Udemy allows you to upload your courses elsewhere as well, you can just upload your courses to your own website as well as Udemy to reach the widest audience.
10. LinkedIn Learning
LinkedIn is another marketplace like Skillshare and Udemy, aimed at business professionals. The site contains a great number of courses on business related topics like digital marketing, web development, etc.
Pros
Big community
Big audience
The Verdict: LinkedIn learning is a good opportunity due to the massive audience it covers but there are also a lot of courses already on there so the competition is really tough. But you can market your courses here to bring an audience.
Honorable Mention: Uscreen
Click Here To Try Uscreen For Free
Uscreen is one of the fastest growing video monetization platform in the world right now. It allows anyone to go start selling video online without having to deal with any of the technical things!
Uscreen is a bit different than most of the other online course platforms and instead is more geared to someone who wants to make money from Selling videos.
Uscreen allows you to host unlimited videos and provides super quick streaming without any buffering.
Also the big plus with using Uscreen is that everything is in a single platform, you don't have to worry about integrating Vimeo with WordPress & firebase. So you can focus on creating!
Best Online Course Platform Reddit Buyer's Guide
Online course platforms exist so that the users get a hassle free experience and make the courses they want to. Making your own course website can be hard but with these platforms the task becomes much easier and much less time consuming.
The features most LMS platforms provide are no joke and will prove helpful eventually. From good security to unlimited services, they have got you covered.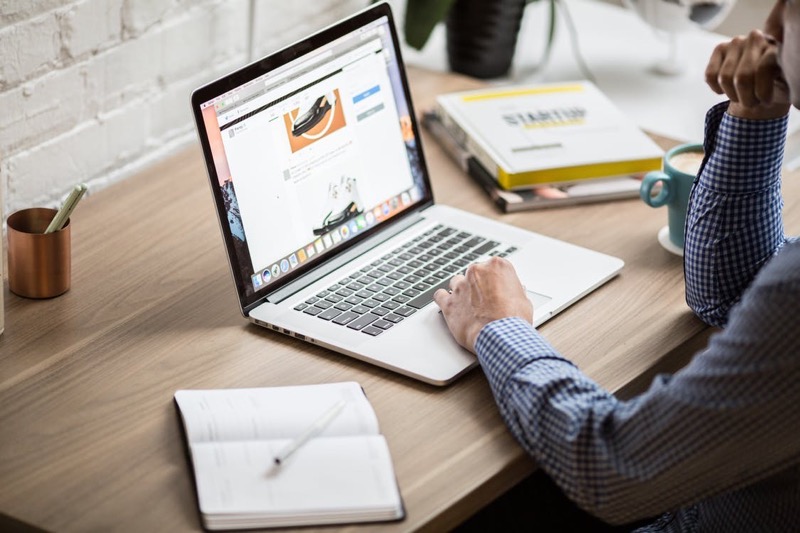 Which Online Course Platform should I choose?
All of the mentioned platforms are good in their own ways so this can be hard to decide.
Teachable: Best overall online course platform
Thinkific: Best for big companies and teams
Podia: Budget choice for your first time
In the end, it all comes down to your personal needs. Read through all the features carefully and decide what is the best one for you as choosing the platform most suited to you is an important decision!
Read Next:
Thinkific vs Teachable vs Podia