OptimizePress is an advanced marketing WordPress plugin founded by James Dyson in 2010. The plugin helps in the creation of professional landing pages, sales pages, funnels, online courses, etc. These pages are a staple for online businesses as their interactive pages help promote exclusive sales and other such offers on your website easily. OptimizePress has launched OptimizePress 3.0, which is a new plugin that is completely different and revolutionary compared to its old version. However, how easy is it to set up and use the plugin for your website. In this article, I have detailed some of the key features and characteristics that make it stand out in the market.
Click Here To Try OptimizePress Now
OptimizePress Review Reddit
U/gzaw1- "Yes, try OptimizePress, it's fantastic, and As I said, 10 years ago, its themes were bloated crap, so I'm surprised how much rehaul they did. There is a huge gap in the market for WP landing page builders, and I'm surprised they don't market themselves better or have more market share as it is a great product. You should check out their template pages to see some examples".
U/balancana- "From my experience, OptimizePress 3 is much faster and cheaper".
U/Clarimax- "I have used OptimizePress 3 and haven't looked back ever since".
What Does OptimizePress Offer?
WordPress has many landing page builders in its plugin directory, but most of them are simple solutions. However, that is not the case with OptimizePress, which offers a complete marketing suite of tools. These tools allow you to convert site visitors to subscribers and funnel them into sales pitches so that they become customers.
OptimizePress is a purpose fit for building landing pages, but you can use it to create posts. However, this is a good thing for all, as plugins that are just used as page builders cater more to meet the requirements of designers that differ greatly from the needs of a marketer and optimizer. If you are looking to build landing pages or funnel pages that are focused on conversions, then its features and development roadmap allow you to suit all your needs. Further, its templates are great if you are planning to build opt-in pages or other sales funnel pages, as you don't have to build everything from scratch as with other page builder plugins on WordPress.
How Easy is it to Set up and use OptimizePress?
Once you have signed up, you can easily download the OptimizePress dashboard plugin for your website. Underneath, you will have access to a large collection of video tutorials that will help you learn to use OptimizePress and see any news or updates. You will also get a checklist that will help you through its installation process.
The platform requires you to license each domain you are planning to use with the plugin. From the dashboard, you can add other plugins of OptimizePress as well as WordPress themes of your choosing. You can install and activate all this on the same dashboard. Once you have uploaded and activated the OptimizePress Dashboard WordPress plugin, you'll be asked to connect it to your main account. After this, you will see the main dashboard and control panel of the platform. From here, you will be able to install and activate the OptimizeBuilder and the Smart Theme.
The layout of the control panel is orderly, and the dashboard has a simple interface. If you have been using WordPress, then you will find its templates easy to use. If not, then you will need to be oriented with it. Finally, its live editor feature and Slider menu make the entire process more intuitive.
OptimizePress Review 2023
1. Fastest Landing Pages
OptimizePress has managed to develop a unique framework that has allowed them to build landing pages having blistering loading speeds. The templates on the platform are designed keeping page loading times in mind, and each of the designs is tested before it is released in the market. This ultimately means that you have access to faster pages with better SEO ranking and lower ad costs. The entire point of building landing pages is to generate more customers. Since the SEO of your page is good, more people are likely to visit your website, and the chances of converting them into your customers substantially increase. This is one of the underlying advantages of the platform that makes it stand out against the competitors in the market.
Click Here To Try OptimizePress Now
2. OptimizeBuilder
The heart and soul of OptimizePress is the builder that helps you design each page on the platform. Its versatile drag and drop builder allows you to customize and design every aspect of a page. Its interface is clean, having a good "WYSIWYG" style for previewing its landing page. The practical live preview feature lets you see how the customer will see each page. The newly updated OptimizePress 3.0 has completely revolutionized the editor and made it more functional and intuitive. The panel across the top of the editor has important settings, elements, preview, and save button that lets you find and utilize most sections of the builder in one place. You can edit pages efficiently without requiring a code, making it user-friendly and highly reliable.
The builder works well with any WordPress theme, and you can easily create or alter posts around the page content that is within its framework. Its flexible layouts allow them to be customized based on your preferred column widths. With other builders, you have to set up a section or column layout before you add elements inside the existing grid. This might not seem a big issue, but it may actually end up eating a lot of your time, giving you less flexibility with your design. OptimizePress does things in a smarter way, so when you drag a new element, it can be placed anywhere on the page, including its column. All you have to do is just drag it to the desired spot, and OptimizePress will highlight the layout for you. If you want to make the page mobile responsive, then its menu will let you disable certain elements that will make them more friendly to a mobile interface.
The online editing feature of the builder is super fast, and the elements available are designed specifically to focus on lead conversions. The elements section of the builder has important options such as opt-in forms, countdown timers, testimonial blocks, etc. Some of the elements come with micro templates where you can play with their layout with just a click of a button. The opt-in forms offered by the platform are highly efficient in converting browsing audience into your subscribers on your email lists. You just have to drop in the signup form and customize its design to integrate it easily with your email marketing service, and you are all set.
If you are planning to build the elements or a page for your website from scratch, then you can do the same, as it comes with a bunch of categories. Here you can instantly switch from different colors, templates, designs, and other specifications to meet your brand identity.
3. Inline Editing
Inline editing helps change the way you edit and write content seamlessly directly on the screen without having to toggle between a read-only view and an edit view. In simple terms, you can make changes or create content without requiring you to go to a new page. OptimizePress has excellent inline editing capabilities. You can easily edit content from the front end, thereby providing greater audience participation capabilities. The advantage of using an inline approach is that it helps build pages a lot faster, which is an underlooked consideration when selecting a WordPress page builder. Since above 70% of website traffic goes through mobile devices, this feature is very handy. With this feature, you can efficiently build a more interactive page and help convert your mobile visitors into subscribers and later customers.
4. OptimizeFunnels
There is one major factor that determines the success of your business, and that is sales. Every business thrives to increase its bottom line by increasing its sales numbers. There are several challenges that slow down sales growth, and often a few fixes can make a difference. This is where the marketing funnels of OptimizePress come in. The funnels are very useful and will help avert any stress or frustration.
Click Here To Try OptimizePress Now
The visual OptimizeFunnels lets you create powerful leads and sales funnels that have proven to turn your visitors into customers that will bring more capital to your business. You can build from scratch or select from a library of pre-built funnels that can be used to test and track every aspect of your page.
OptimizePress allows you to create almost any type of page that can help grow your subscriber base, sell your products and deliver content to your viewers. The setting up of the funnel is simple. The process to set up the funnel is as below:
Start by selecting the type of funnel you want to use
Select one of the beautiful and conversion-optimized funnel styles available on the platform
Choose a niche funnel branding option for your funnel
Customize your pages by making use of a revolutionary page builder
Launch your funnel and start generating leads and sales
The platform has an intelligent funnel linking system, which will help automatically connect your funnels. All you have to do is add your content and integrations to get started. Apart from this, you can also use these funnels to validate your idea to build a coming soon waitlist and much more.
Some other features that have been recently added to the platform have optimized its checkout and statistics. This has enabled users to directly analyze their page performance directly from their dashboard. The platform also has A/B split testing feature that allows you to check what is working and what is not. Finally, they also allow payments and digital downloads directly on the page with its new update.
5. OptimizeLeads
OptimizeLeads is a stand-alone list-building tool offered by OptimizePress to its users. With this feature, you can create email capture forms that help you to work on any website and not just your WordPress or OptimizePress site. The forms can be easily embedded on your website using a piece of code. They offer one of the most flexible and easiest ways to motivate your audience to generate leads and convert returning visitors into customers. Here, you can use a wide range of templates to get customer attention directed toward your call to action.
Click Here To Try OptimizePress Now
OptimizeLeads is included with the Suite plan offered by the platform. Here, you have the ability to select from a wide range of email capture forms with over 30 designs that can be used as sidebars, popovers, top bars, full-screen popovers, intro optimizers, etc. There is also a wide range of animated form loading effects that come with this feature that helps grab visitor attention. This includes slide-ins, fade-ins, bounces, twists, wobbles, etc.
6. OptimizeCheckouts
OptimizeCheckouts offers a simple and easy way to sell your products and services using WordPress. The plugin is designed as the ultimate checkout plugin with customizable forms and other features. The checkout plugin works directly with the OptimizePress product suite and allows you to quickly add your sales flow to your existing pages and funnels within a few clicks. All the customization of your checkout is done right inside the page builder using its drag and drop interface. It is easy to use and allows styling your forms using a wide range of options.
OptimizeCheckouts has ready to use checkout templates, so you don't have to struggle to create a perfect checkout page. If you are utilizing OptimizeFunnels, then each funnel includes a checkout design that is optimized for conversions. However, it is important to note that the checkouts are fully customizable and subject to checkout tests which means that you will get maximum conversions on them.
OptimizeCheckouts allows you to easily connect with your Stripe payment gateway. This means you are ready to start taking payment within a few minutes directly on the page without requiring any external gateway.
If you want to add an order bump on your checkout form, then it can be easily done using this feature to increase your checkout revenue. Adding an order bump is super easy, and it can be efficiently customized to fit your brand identity. Here, you can offer add-on products like training programs and complementary products to enhance the main purchase.
OptimizeCheckouts lets you add an unlimited number of follow-up offers once your buyer has completed their checkout. Upsells and downsells are very important as they help get the average order value of your business to increase rapidly. Each of the upsells and downsells can be purchased with a single click, and there is no need to fill in card details again.
All the sales you make on your page can be easily monitored directly from your dashboard. Here, you can get a quick overview of how your products are selling and see your top-grossing products to see what is outperforming others. You can also filter out products in different currencies and keep a close eye on refunds using its refund tracking feature.
7. OptimizeUrgency
OptimizeUrgency is an exclusive plugin that comes with OptimizePress. The plugin allows you to place alert notifications inside your blog posts and pages that will inform your customers of the latest news and purchases made by other customers. In simple terms, this will give you real-time sales alerts on your sites. The notifications can also come from third-party integrations, like WooCommerce.
Getting started with OptimizeUrgency is straightforward; just follow the steps.
Install OptimizeUrgency by clicking on the plugins option
Create your first OptimizeUrgency alert box
You can set alerts for you as well as your subscribers with this platform. The two common types of alerts include:
Pre-loaded alert- Here, you will be able to manually enter details from your sales and subscribers that will be shown automatically using the plugin.
Feature alert- The alert allows your visitors to be alerted about new content or any external offers.
OptimizeUrgency can also send alerts through lightbox that you can set and customize. Here, you can display it on a desktop or mobile, and you can select where on the page or post the alert is positioned. Further, you can set other metrics like the alert duration, loop alert, event threshold, show close button, etc.
8. OptimizeMentor
OptimizeMentor is a plugin that is used to create online courses and membership sites. This helps you to market the add-ons and create consistent and recurring revenue for your business. Here, you can create beautiful and premium membership sites and hubs to protect these pages for your paying members only. This is a great feature for small businesses and solo creators to sell their content easily, so selling membership and courses adds residual income to your business. You can also sell different digital products that include webinars, one-off videos, newsletters, any courses, etc.
Click Here To Try OptimizePress Now
OptimizeMentor integrates easily with all tools in OptimizePress, similar to OptimizeFunnels and OptimizeCheckouts. They have a full range of ready-made templates that enable you to easily create membership pages needed for you to use on your site. So, you don't need to have prior experience or require to hire personnel to make your courses and membership amazing. This ensures that you can easily launch your membership or course, promote it, sell your course, and deliver them.
The feature also comes with access duration settings that give you access levels to different membership types. Once you set the duration, it will autopilot every aspect without requiring you to do anything. You can also use its Drip scheduling setting, which helps you to control which content is released and over what period. This is great for managing evergreen membership, and you can easily restrict people from joining or downloading all your content.
9. Templates
Time is money, and so it is to create the right marketing pages without having to start from scratch. With OptimizePress, especially 3.0, you can easily build pages you prefer with a range of templates. The platform has over 250+ templates that help in lead conversions. They can be easily customized and are known for their super-fast load time and speed. Some of the templates you choose from include:
Landing pages
Thank you pages
Sales pages
Launch pages
Collections
Webinar pages
My templates
In each category, you will have a wide selection of templates to choose from that are designed keeping conversions in mind while also giving you a modern feel. You can also find landing page templates to meet all your requirements.
OptimizePress templates are highly customizable, which helps you to effectively manage content for your viewers. This is very important as it helps make your page visible to search engines, especially Google. If the sales content is not well-optimized web crawlers will be unable to index these pages properly. The optimized templates allow you to improve your SEO ranking and help improve your marketing efforts.
10. Smart Theme V3
An OptimizePress essential feature is the Smart Theme V3 which is a WordPress theme. The theme acts as a canvas for OptimizeBuilder, and it comes with different styling options, user settings, and useful page options for opt-in forms. This makes it highly recommended, as it gives you an advantage when using different marketing tools. For instance, it comes with thirteen submenus that include a style and footer. You have the ability to create sticky headers and social media share buttons. And while close, it is not perfect and has a few flaws. E.g. if you want to change the credits of the footer, you will need to change the code, and you cannot easily adjust the page width manually. It is important to note that this is not the default theme, and you can also use any theme you want, which is flexible and tailor-made to pair with the builder.
The theme also comes with a range of features, and some of its highlights include:
The theme has a nice and modern out of the box look.
Tons of customization options in WordPress customizer to give you the control you need.
It also has some in-built social follow buttons, forms, script management tools, etc.
11. Doubles as a Content Builder
There are a lot of page builder plugins that allow you to create blog posts. OptimizePress is primarily focused on landing pages, but you can enable their visual editor to help you work with posts. The editor has a similar way of functioning as the normal landing page builder; however, it is built within the confines of your WordPress theme. This gives you a lot of advantages when it comes to the formatting of the page. It is more simple and easier when compared to the likes of Elementor, making it very desirable in this space.
OptimizePress has a great selection of content elements alongside common building blocks. Some of the elements that are worth featuring include:
Testimonials- add as social proof.
Opt-in forms- create opt-in forms to connect directly to popular CRMs, email marketing, or webinar services.
Evergreen or Interval countdown timers- Add countdown timers for any emergency.
12. Hover Effects
If you are building a sales page, then you want them to be very interactive. If you see buttons and elements that are littered on the page, it starts looking clunky. This is a big no and can make you lose potential clients. To overcome the problem, the best way is to optimize it to meet user experience to increase your conversion chances. These features can be easily applied to your texts, buttons, and other elements. This helps keep your visitors engaged and your pages uncluttered.
13. Popup Overlays
OptimizePress has a built-in tool that helps create a versatile popup overlay. These overlays help efficiently interact with the page when a user clicks a button or when an opt-in form appears on top of the page. Designing the overlay follows the same workflow when working with other components in OptimizePress. While some other page builders help create popups, with this platform, you can fully integrate it into the builder directly.
All you have to do is just click on the button on your toolbar, and you can set the popup overlay right there. In the past, adding an overlay on top of existing landing pages would become a nightmare, but this functionality has become very handy to handle these issues.
14. Global Elements
Global elements are a neat feature that allows you to reuse the same design across multiple pages. This is a great feature if you want to customize certain elements and save them for future use. The feature saves a lot of time as you would not have to customize the elements all over again.
For example, if you create a testimonial block that you want to use on multiple pages and, in the future, you want to edit it, then it will be difficult to update each testimonial manually. However, if you mark an element as global, then you can update it a single time and automatically apply all the changes across all the pages.
15. Design Presets
Design presets are a great feature that comes with OptimizePress. It will help you save time while designing a powerful landing page. For multiple elements, OptimizePress will automatically suggest presets that you can easily apply to your elements. The elements can be easily tweaked as required in the element's settings. This feature is great if you are a designer, as you will not have to worry about configuring each design setting on your page from scratch.
16. Integrations
Integrations are an important feature seen in digital marketing tools to enhance their functionality. OptimizePress is nothing different, as it has integrations with a range of applications. It synchronizes well with MailChimp, ActiveCampaign, ConvertKit, Campaign Refinery, and several other applications.
Click Here To Try OptimizePress Now
17. Customer Support
OptimizePress offers 24/7 support across various channels. The type of support is based on the subscription plan you are subscribed to. The Help Center is free and accessible to everyone, but you will get premium support at higher-end plans. The best way to contact the support team is via email, and they reply to most queries within a short time.
It also offers various social channels, but they are not very responsive. Further, they lack chat support which is a slight letdown compared to its competitors. However, it has comprehensive documentation for each of the software's three versions.
OptimizePress Pricing
OptimizePress allows you to supercharge your marketing campaign on your WordPress website. It comes with three subscription plans that can help turn your website into a marketing machine today. The platform doesn't offer a monthly subscription, which can be an issue for some. However, its annual subscription plans are great for those looking for a one-time payment each year. Let us look in detail at the subscription plans offered by the platform.
1. Builder Plan
The beginner plan offered by OptimizePress is ideal if you are starting out. It is perfect if you are planning to build landing pages to help you capture leads and sales pages that will allow you to market your products efficiently. The plan is priced at $129 per year and comes with a set of features that include
Use on 1 WordPress website
An efficient Drag and drop OptimizeBuilder
Build unlimited pages
Unlimited leads and traffic
Templates Cloud Access to 250+ templates
Smart Theme WP Marketing theme
23+ integrations
Email support
Access to OptimizeUniversity for premium WordPress training courses
2. Suite Plan
The Suite plan is an ultimate marketing suite which is great when compared to the previous plan. With this plan, you can start building landing pages, checkouts, online courses, and sales funnels. However, it only offers a 1 site license like the Builder plan and is priced at $199 per year. It has all the features of the Builder plan plus
OptimizeFunnels- a visual funnel builder
Regular product updates and new features
Premium template collection
Access to over 1 million free photos and Unsplash integration
OptimizeLeads to capture leads on any page or site
OptimizeUrgency with live proof and scarcity alerts
OptimizeMentor helps create memberships and courses
OptimizeCheckouts allows you to sell products and subscriptions
One Page membership course
Funnel and checkout statistics
Easy split testing
Priority email support
3. Suite Pro Plan
The plan is very popular and gives you licenses to efficiently accelerate your business growth. It has some advanced features to build sites and funnels. It is priced at $249 per year and has nearly the same set of features as the Suite plan. However, its major differentiating factor is the 5 website license that it offers to the users.
You can easily upgrade the plan if you are making use of the Essential or Suite plan. This will help meet the requirements of your business without having to rebuild from scratch. These are the prices and plans offered by OptimizePress, but now I will show you another good model offered by OptimizePress that allows you to build landing pages for agencies. Below I will share the details of the Agency plan offered by the platform.
Click Here To Try OptimizePress Now
Agency Pricing Plan
With the Agency plan, you can grow your client's business faster with a range of marketing tools so that you have the fastest page builder for WordPress. The two types of agency plans include
Agency Standard plan- The plan is well-suited for growing businesses and can be installed on up to 15 client sites. It is priced at $399 per year and has excellent features.
Agency Pro plan- The plan is designed for ambitious marketers that are looking to boost businesses efficiently. You can install this plan on up to 40 client sites, and it is priced at $599 per year. However, this plan gives you the option to purchase additional licenses to add more sites.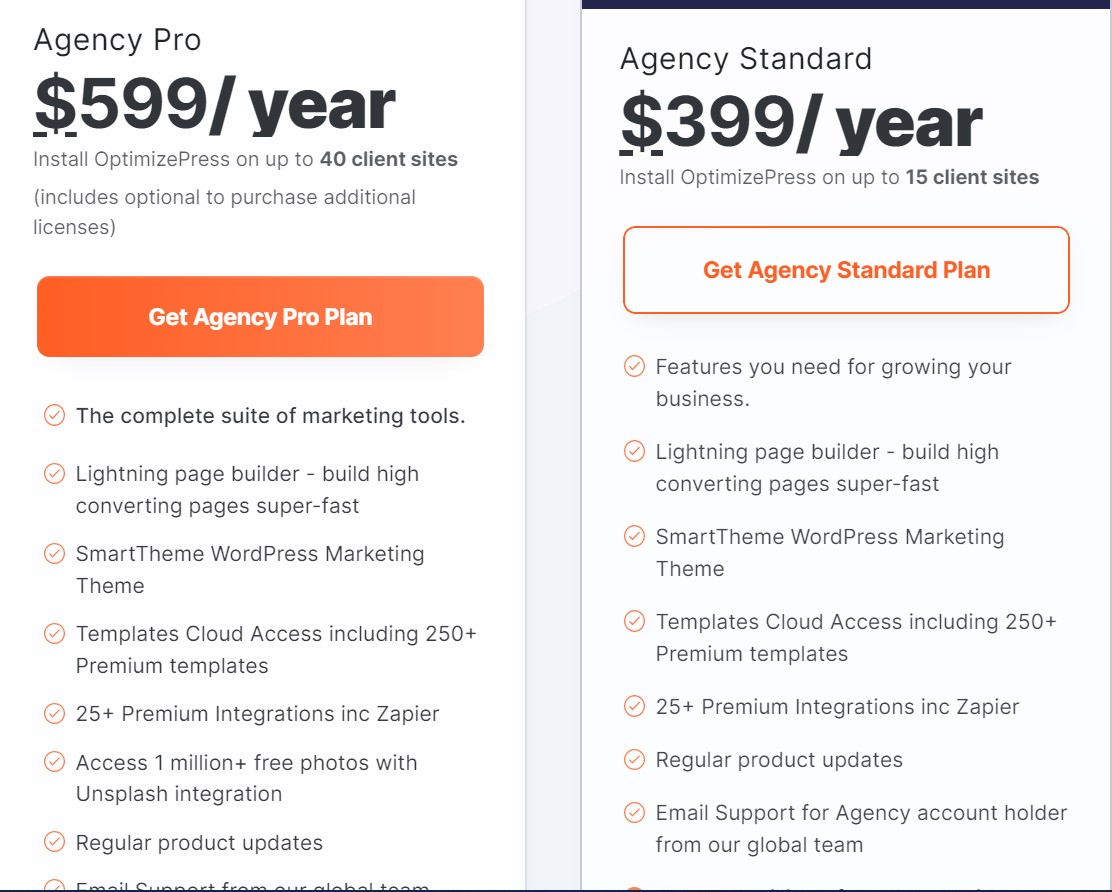 OptimizePress doesn't offer a free trial across any of its plans. However, it is important to note that they have a 30-day money-back guarantee, no question asked if you don't like what they are offering.
OptimizePress Pros and Cons
Pros
Easy to use
Over 100+ Customizable templates
Supports a range of plugins to function efficiently
Build email lists and manage drip content quickly
Affordable pricing
Easy creation of membership portals
A live editor is simple to use
Create mobile-responsive landing pages and other elements by default
Good integrations with over 20 applications
Cons
No live chat support
Doesn't offer a free trial
The live editor may take a longer time to load
Is OptimizePress Worth it?
If you are new to WordPress and page builders, then OptimizePress is an excellent landing page and marketing solution. The platform is extremely fast and easy to use, making them highly versatile. The WordPress plugin helps simplify the task with its drag and drop builder, and each of it can be modified as per requirements. It has a plethora of templates to choose from, so you can be assured to create fantastic funnels to boost your sales. The fast-loading landing pages help garner more traffic and convert your website visitors into customers.
Click Here To Try OptimizePress Now
The latest version, OptimizePress 3, has fixed most issues that were seen in the previous version. The updates to the platform have turned it into a versatile sales funnel builder that enables you to sell more products. It also supports A/B split testing and comes with other top-of-the-line features. Further, they are available at reasonable rates based on the features that they offer.
I have tested several landing page plugins, SaaS landing page builders, and other page builder plugins, but out of them all OptimizePress 3 is the easiest and the most enjoyable to use. If you are planning to build a high-converting landing page, then this is a great option.
OptimizePress Alternatives
1. Unbounce
One of the popular alternatives to OptimizePress is Unbounce. The builder lets you create a better marketing experience for its customers. It is not a landing page builder, but it is packed with features that help you convert leads into customers. It is priced starting at $74 per month and can go up to $469 per month.
2. Leadpages
Leadpages is another alternative to OptimizePress. It is easy to use and helps build intuitive landing pages. Here, you can create pages from scratch or utilize its conversion-oriented templates to get more customers. Its subscription plans are priced between $49 to $99 per month.
3. Divi (Elegant Themes)
Divi is a great landing page builder that is developed by Elegant Themes. It has extensive email marketing integration that gives users the ability to completely design its framework to design and customize every part of your website. The platform comes with a subscription plan starting at $89 and can go up to $249 per year.
OptimizePress Review FAQs
1. Will pages on OptimizePress 2.0 work with the 3.0 version?
You can run OptimizePress 3.0 alongside the 2.0 version without having any issues. This means you can use the older design while also getting the benefits of OptimizePress 3.0. Here, you will need to have both plugins installed, and a developer has to make them compatible. At the moment in time, OptimizePress is supporting the 2.0 version, but it is recommended you upgrade it to the 3.0 version as it is a huge improvement.
2. What are the requirements to use OptimizePress 3.0?
OptimizePress is a WordPress plugin, so you'll need to have a WordPress website to use the plugin. Further, your server will need to have PHP 7 version or higher, which is what most WordPress hosts support and are using.
3. Do you have to use the OptimizePress theme?
OptimizePress 3.0 comes with its own theme; however, you will not be forced to use its theme. So, you are free to keep your existing theme or choose from any theme available on WordPress.
4. Can you build your traditional page and posts with OptimizePress?
OptimizePress allows you to build landing pages or any membership sites. You can also use it as a traditional page builder, like Elementor.
Read Next: