Artificial intelligence has created a buzz across different aspects of our day-to-day lives. From IT technology to education and manufacturing units, it is everywhere. What if I tell you computers can write content similar to humans? It sounds like something that is the stuff of science fiction. AI-generated top-quality content would revolutionize the sector as it would reduce business costs and put writers out of their jobs.
Jasper AI is one of the biggest names in the AI content marketing industry. Formerly known as Jarvis.ai, Jasper is an AI copywriter that will create content copies from blog posts to social media captions. The tool will enable you to create original unique content in a limited time frame without compromising the quality of the content.
Founded by Dave Rogenmoser along with his 5 friends, Jasper is an AI-powered robot writer that can curate content 5x times faster compared to an average human. You can expect the content to be SEO-friendly, allowing your website to rank at the very top.
In this article, we'll cover what Jasper AI does, what content writing solution it offers, and various other features of this tool.
Use my exclusive Jasper AI Discount Link below to get a free trial and a 10,000 word for FREE!
No Jasper AI Coupon Code Needed
How Does Jasper AI Work?
Jasper's website has a Bootcamp training program that allows new users to understand how the software functions. The software that powers Jasper is trained to read about 10% of the published material on the internet to understand the writing style.
If you are creating content for your marketing copy, pick the right content template. This template will give Jasper AI the desired writing style you want. The templates include blog posts, creative stories, long-form content, video description, and many more.
Once you've picked the appropriate template, then narrow down the data specifications that you want to be covered in the content. Here, you have to be precise on the subject and keywords that you let the tool write. Moreover, users also have to specify the tone or voice of the content they prefer.
After you've selected the template and added the required data, you just have to click Generate AI content in Jasper. Within 10-15 seconds, 100% original content, which is curated for your needs, will be generated by the tool.
The Technology used to Run Jasper AI
Jasper harnesses both AI technology and machine learning to write content like humans. Jasper AI utilizes GPT 3 technology to generate text using deep learning.
GPT 3, or the Generative pre-trained transformer 3, follows a machine learning model that is used to generate text utilizing the input provided, making use of the model open AI.
Who is Best Suited to Use Jasper AI?
Jasper AI is virtually a 24×7 assistant that works without giving any excuses like a normal workforce. The tool is very flexible; however, it is constrained to a niche of people. This includes
Content publishers, bloggers, and marketers who are looking for SEO-optimized, unique, plagiarism-free content.
Copywriters and social media managers who are looking for crisp content.
Students who want to complete their assignments or write essays
Small business owners who don't have the resources to hire a professional writer
Freelancers, YouTubers, agencies, and entrepreneurs who require valuable content within a short time frame.
Use my exclusive Jasper AI Discount Link below to get a free trial and a 10,000 word for FREE!
Jasper AI Review
Jasper AI makes use of artificial intelligence to understand and write content for various tasks. With this tool, you can create short-term content, long-term content and social media posts faster than before.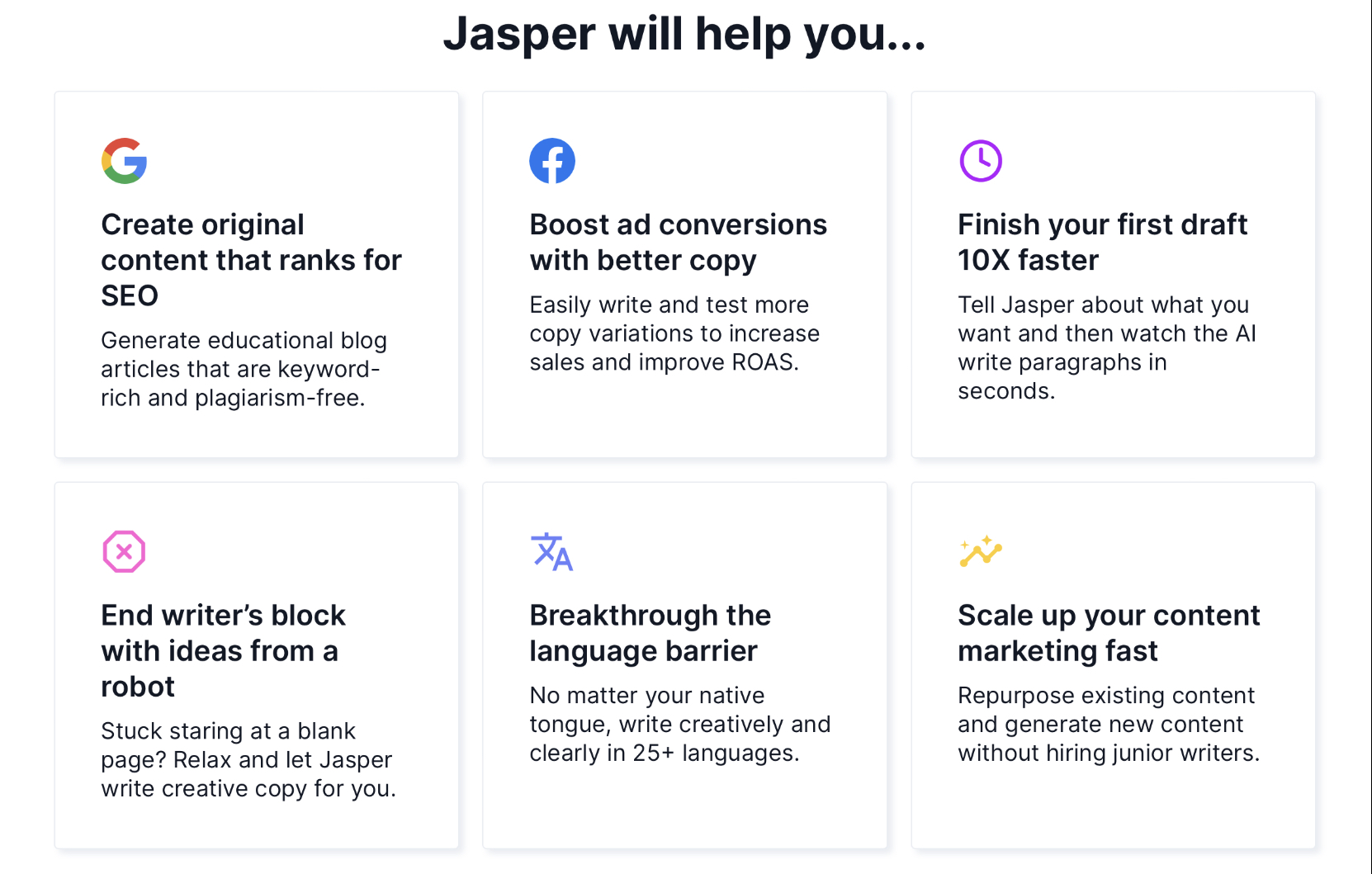 Let us cover some of the features that you can expect to get if you're using the Jasper AI tool.
1. 50+ Templates
Jasper AI comes with pre-built templates that allow you to generate content similar to that produced by humans. You have to just add a few details, like the title, heading, and a few sentences, and the tool will do the rest. With the tool, you can create content for blog posts, articles, landing pages, social media content, write email campaigns, etc. Jasper AI has tools that allow it to generate paragraphs, stories, and conclusions for the required content.
The templates are divided based on different content. In each template, you'll have to fill in some fields to tell the AI tool what you desire to have in your write-up. The content, in certain cases, can be irrelevant; however, you can go about playing with a range of inputs to get the best possible output. One of the advantages of using Jasper AI is its ability to set the tone of voice you want for your write-up. Jasper AI will consider all that you've imputed and deliver solid content for different copies.
2. Jasper AI Advanced Editor
The advanced editor allows you to add text and format it as per requirements. There are 70+ fonts that come with Jasper AI, so select one that works best for you. The editor allows you to use different formatting methods, like creating lists and quotations.
3. Jasper AI Speech To Text
The Natural Language Processing tool allows you to convert audio files into written text. This feature is handy if you are working on a video or a podcast and you cannot write the whole conversation. With this feature, you can get texts easily and instantly upload it onto your computer.
Jasper AI tool has three modes that can be used to implement these features. This includes Focus mode, SEO mode, and Power mode. The focus mode lets you write at your own pace, while the SEO mode integrates or suggests keywords to rank up your content.
4. Simple Interface
Jasper AI has a simple interface that allows you to work with content efficiently. The tool has an interface similar to Google docs, where you can write down content. Here, you can add headings, make text bold, add headings, and insert links and pictures onto the website.
Use my exclusive Jasper AI Discount Link below to get a free trial and a 10,000 word for FREE!
5. Jasper AI Recipes
Jasper AI recipes give you a series of pre-built workflows that contain Jasper AI commands that allow you to create content more efficiently. Here, you have to fill in the writing blanks and hints, wherein Jasper will turn that into the content.
Once you've created your recipes, you can share them in the community. There are several recipes in the community which you can access by searching them based on tags or categories. You can save them in your personal collection for future use.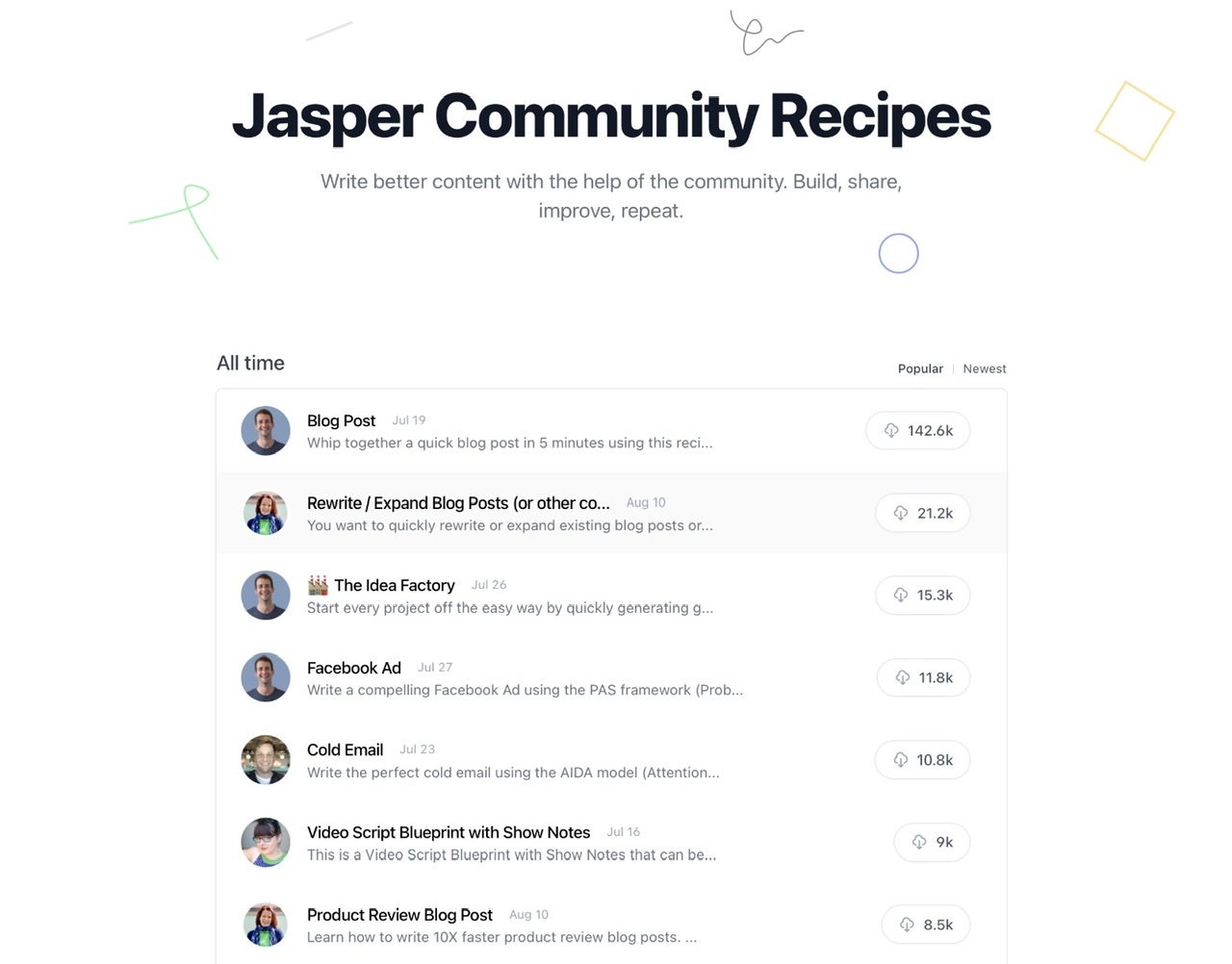 6. Jasper AI SEO Keywords
Jasper AI comes with a keyword input feature that allows the content to be easily incorporated with relevant keywords to increase your SEO ratings. You can insert 3 keywords, and Jasper will ensure that it uses them across the piece, generating SEO-relevant content.
Jasper AI has integrations with the Surfer SEO tool for content analysis and optimization. This allows it to help leverage higher-ranking keywords to rank your content higher on search engines. The integration will also allow you to create article outlines having higher rankings, discover suitable headings or images, and improve the readability of your content. You can also get high-tail keyword suggestions based on an analysis of your competitors. Apart from Surfer SEO integration, Jasper AI also has a specific recipe for generating product page SEO and meta descriptions.
7. Jasper AI Plagiarism Checker
Jasper allows you to check your documents for any plagiarism. The tool has over eight billion web pages that it can cross-check. Content generated from Jasper AI is free from plagiarism every time. The plagiarism checker follows an algorithm that is used to compare phrases based word by word to determine any similarities in the text. The plagiarism checker is not a complimentary feature, and users have to pay for each plagiarism check.
8. Integration of Jasper AI with Grammarly
There is a lot of effort to create and improve machine learning algorithms to create natural-looking content. It is not perfect; however, artificial intelligence tools have come far in recent years. Grammarly is a great tool to check grammatical mistakes and errors in your content. Jasper AI has integrations with Grammarly that enable you to test text more efficiently.
9. Jasper AI Tone of Voice Settings
Jasper AI allows you to set the tone you want your content to be written. This feature doesn't have any choices, so you have to give your own description. However, you can select the tone of voice by inserting well-known names in the fold. The tone used by these personalities will be delivered as your content.
10. Jasper AI Art
Jasper AI art is designed to create amazing art within a few seconds. This feature allows you to create images, making use of your texts. With this tool, you can not only write unique content but also create unique images based on the suggestions.
The images are very exquisite and unique so you won't need to use stock images anymore. The feature comes with an unlimited cost of $20 per user. It also has a guide that allows you to understand the working of the feature in the system.
11. Jasper AI Rewrite feature
Jasper AI is not only used to generate text to create content, but it also has a rewrite feature. The feature allows users to rewrite the generated text in different ways they want. This makes the tool ideal for copywriters or marketers that are planning to create unique content quickly.
Jasper AI rewrites feature comes with different templates or features that allow you to efficiently rework your existing content.
Explain it to a child template- This feature is designed to make content simpler so a wider crowd can easily read it.
Content improver template- The template allows you to make content creative and more engaging for viewers to read.
Test summarizer template- This primarily focuses on summarizing the key points in the content.
Highlight and rephrase function in documents
Explain and highlight 5th grader function in the documents
12. Content Lookback
Jasper's lookback feature is designed to allow users to write new words, making use of previous paragraphs and sentences. This feature ensures that the newly generated content makes perfect sense and doesn't repeat. The number of characters you get with this feature is dependent on your plan.
13. 25+ Languages
Jasper AI can read and write content in 25+ languages, making it highly useful for businesses that are planning to expand around the globe. With this feature, bloggers can now reach more readers, and social media managers can communicate their content to different cultures.
14. Overcome Writer's Block
Writer's block is common for writers as they grind in content day in and out. Every writer has gone through this phase and thought about what are they going to write. Jasper AI allows you to overcome this problem by creating initial content that will allow you to get the start you need to write different forms of content.
Use my exclusive Jasper AI Discount Link below to get a free trial and a 10,000 word for FREE!
Jasper AI Review Reddit
u/Extension-Ad-9371- "Love it! Take your time on it and make sure you use the recipes everyone in the community comes up it".
u/Regillio14- "Overall, Jasper AI is a great investment for people who are looking to save time and money outsourcing their content. The tool will give you high-quality content with few mistakes and reduce any risks of making errors. It offers 50+ templates fit for different niches and produces 99.99% original content free of plagiarism. The SEO-optimized content ranks up quickly, and the real power lies in the Boss mode for long-term assistance.
u/terriblehastags- "I use Jasper AI for emails to start and first drafts of articles. It genuinely offers better first drafts than many freelancers or interns I've worked with. You create recipes which are the weird instruction to the AI to get you longer pieces. However, I wouldn't put it live without putting a human to skim through it. Ideally, it is better suited for shorter form writing for business purposes".
Jasper AI Pricing
Japer AI offers three plans to its users that will cover all your needs. The three plans are:
The Starter Plan- $29 per month
The Boss Mode- $59 per month
Business Plan- Custom pricing as per requirements
1. Starter Plan
The Starter plan is a perfect fit for beginners who want to try AI writing tools. If you want to create short-form content similar to reviews, product descriptions, headlines, etc, then this plan is the right choice for you.
The plan is priced at $29 per month for 20,000 words. It can go up to $499 per month if you want 32,000 words per month. Apart from this, you can opt for Bonus word packs at $10 for 5,000 words.
Features of the Starter Plan
20,00 words credit per month
50+ templates with ads, headings, and descriptions
6000 character lookback
Ability to generate content across 25+ languages
5-user login access
Unlimited projects
Chrome extension
Chat support
2. The Boss Mode
If you are planning to create a long form of content like articles, emails, and social media posts, then the Boss Mode is made for you. This mode allows you to get the best out of Jasper AI.
The plan starts at $59 per month for 50,000 words; however, it can be extended to $3600 per month for increased word count. The Bonus word packs that start at $30 give you 30,000 words.
Features of the Boss Mode
50,00 words credit per month
3,000 characters look back
Increased templates compared to the Starter plan
Compose and command features
5-user login access with content in 25+ languages
Google docs style editor
Grammarly basic
SEO mode
Recipes
Plagiarism checker
Priority chat support
3. Business Plan
The Business plan is designed for users who want to create unlimited words. If you're a large agency that's in constant need of content, the Business plan is the right fit for you.
The Business plan gives you access to custom words, and the pricing is flexible based on your requirements. Get in touch with the team at Jasper AI to know more about the features that are offered with this plan.
Use my exclusive Jasper AI Discount Link below to get a free trial and a 10,000 word for FREE!
Jasper AI 5-Day Free Trial Period
Jasper AI offers a 5-day free trial period for all users who've opted for the selected plans. During this period, you can get 10,000 credits, allowing you to generate up to 10,000 words for free. Users can use email or a Google account to create their free account from Jasper AI.
Jasper AI Refund Policy
Jasper AI has a 5-day money-back guarantee if you don't like how the tool operates. You have to make sure that you cancel your account on Jasper and send an email to the company to get your money refunded back.
Jasper AI Support
Jasper AI is an impressive software that is backed by a helpful customer service team in case you need it. Their response to any queries is fast, and you can reach them via mail.
If you're using the Jasper AI app, then you can click on the floating help button to get quick answers. You also have the option to ask the community, view Jasper training, or join live Q&As.
Jasper AI Pros and Cons
Pros
Excellent AI writer
100% unique SEO-friendly content
Creates near identical copies as written by humans
Intuitive 50+ templates with different types of content assistance
Outstanding support
Saves plenty of time
Supports multiple languages
Boost your sales at lower costs
Cons
The content requires to be checked using a plagiarism checker just for cross reference
Works best with close human assistance as the content may not be accurate and requires fact-checking.
Struggles in niches that have limited information on the internet
It is costly if you're planning to start out
The UI and UX of the system are very bad. At certain times, they are not supported.
Why Jasper AI Stands out from the Rest?
Jasper AI is a revolutionary tool that is designed to speed up and enhance your writing process. The tool, which is powered by artificial intelligence, can produce high-quality content which is at similar bandwidths as industry standards. Jasper AI is renowned to create unique plagiarism-free content which is SEO optimized. These features make it the most productive AI tool in the market today.
The users of the Jasper AI tool are delighted with its output, and it has helped increase the profit margin to a greater degree. At the end of the day, the type of business you are into will determine what kind of support you need from the AI tool.
Use my exclusive Jasper AI Discount Link below to get a free trial and a 10,000 word for FREE!
Jasper AI Review FAQs
Does Jasper AI come with a free trial?
Yes, Jasper AI comes with a 5-day free trial. During the free trial, users get 10,000 free credits, allowing them to generate up to 10,000 words for free
What is the purpose of using Jasper AI?
Jasper AI is a copywriting software that can generate content for blogs, articles, captions, emails, etc. The tool offers an efficient way to write content similar to humans at a lower price point.
Read Next: