Artificial intelligence has created a great revolution in the digital marketing space, and it hasn't been more evident than in content creation. Businesses today leverage the power of AI writing tools to streamline the content creation process to create high-quality content faster.
Click Here To Try Rytr For Free
Rytr is a versatile AI writing tool that helps generate content of different types. The platform is making waves in the market, and you can utilize it to create original content copies for a range of use cases in seconds. It is simple to use, and the content you want to generate helps add some input for better overall context. Aside from magically generating content, it also has a rich text editor. Let us look at the different features offered by the platform.
Who is Rytr is Suitable For?
Content is king in the marketing world today, especially for small and upcoming businesses. Content helps make your company unique and increase revenue. Hiring and training individuals to deliver content is essential to run a blog or a website; however, it is expensive and time-consuming. Rytr makes use of its AI technology to generate unique text and make the entire process simpler.
Rytr is helpful for several people, such as
Writers and bloggers
Digital marketers
E-commerce businesses
Social media channels
Advertisement firms
Rytr Review Reddit
U/Claudionet- "Rytr is an AI writing tool that helps in the creation of high-quality content within a few seconds, at a fraction of the cost". It offers a better 10x way to write SEO titles, YouTube descriptions, Instagram posts, emails, landing page copies, product descriptions, and profile bios".
U/keepTheCamino- "After testing GPT-3 and GPT-NEO, Jarvis, and others for me, Rytr has a brilliant implementation. It is not magic but helps save you tons of time. I use it to write the skeleton of 500-word posts that includes technical terms in a fraction of the time. It is worth it to calculate the time to write 500 words several times and multiply it by its cost. We can revise and improve it faster than we would spend at writing".
U/synthaesthetics- "Rytr. me is a pretty nice AI-based copywriting tool where you can input keywords and tone to get different results. The output is a nice base for you to build upon".
Click Here To Try Rytr For Free
Rytr Review
1. Document Management
When you log in to Rytr, you will be greeted with a short video tutorial before you head over to the dashboard. Here, you can manage and organize all the projects you are working on into different documents and folders.
Rytr boasts an intuitive interface with a compact design. The left panel gives access to all use cases, tone, and language selection options with a variant count, creativity level, and much more. The panel allows you to easily add keywords using its user-friendly interface.
In this section, you can create a new document or folder by clicking on the appropriate icons. Once you have created a document, just click on it to open it using your rich text editor.
2. AI Writer
Rytr is a versatile AI-powered writing tool that helps create engaging content for different writing projects. You can select the language you want your content to be generated. What is cool is that you just don't have to write only in English, as it supports 30+ languages like Chinese, Danish, German, Spanish, and much more.
For a business to produce content, the right tone is very important. On the platform, you can select from 20+ tones, which increases your chances of appealing to your exact target demographic. You can select your preferred tone using the drop-down list once you write some content.
Common types of tones include:
Casual
Humorous
Convincing
Passionate
Formal
Worried
Going further, you will need to choose a use case. The use case is basically the type of content you want Rytr to create for you. Once you are done, just select the primary keyword you want to target and select the number of variants you want to generate, followed by picking a creativity level and hitting the Ryte for me button to generate the content.
3. Use Cases
The use cases of Rytr can be used to create a unique material that people will enjoy. You have to select a template of the use case from the left panel, depending on what you want to write. The content that the platform generates appears authentic, with little room for improvement in the final product. Rytr has more than 30 use case templates that it can offer.
Click Here To Try Rytr For Free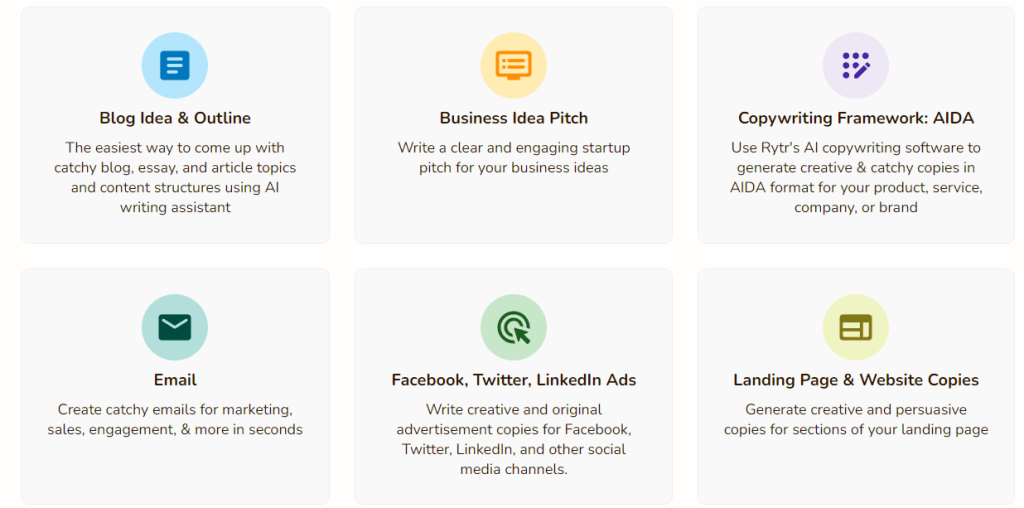 4. Content Outlines
Rytr helps create unique content outlines to create unique blog ideas, outlines, and keywords for SEO writing tools to convince a tone. The outline generated by the platform is good and intuitive.
The feature can create titles and headings to make back the outline. It also covers all the sub-topics and a bunch of keyword suggestions that are included in each section. There might be a few grammatical errors, but that is the case with every other AI writing generator in the market. The idea is to get some words and ideas to speed up your workflow; however, you'll have to heavily edit it and manage most of the content writing by yourself.
5. Rich Text Editor
Rytr opens the content it generates into its Rich Text Editor. It just looks like an ordinary text editor on the surface, but it has a window where you can type on it with a bunch of formatting options in the toolbar at the top. It is much more than what I'm explaining, as there are a bunch of really cool options which can be used to flesh out the content using AI.
The paragraph button on Rytr will help automatically generate the whole content of the paragraph. This will help users fill out the entire section of blog posts and other content types.
6. Marketing Frameworks
Rytr is designed to create content based on proven marketing strategies like Problem Agitate Solution (PAS) and Attract Interest Desire Action (AIDA). The platform helps create high-converting copies, making use of these formats; however, if you create multiple variations, it will just repeat the first variant it creates.
7. Improve and Rephrase Content
Rytr helps users to edit and improve existing content apart from just generating content from scratch. The rephrasing process is very simple, and you just have to paste the content into the rich text editor. Once you select the Improve button, the improved text will be generated, improving the grammar and readability of the content.
The Rephrase section helps reword content so that it sounds different. This allows it to be 100% unique and original to avoid any form of plagiarism. Here, synonyms will be added to certain words while ensuring it is grammatically correct and is not too wordy.
8. Plagiarism Checker
Once you have finished creating the content in the text editor, you can run it through the plagiarism checker on the platform. This means you can ensure that your content is 100% original before you publish it on the internet. The plagiarism tool will check the content against various websites, blogs, and publications to determine its originality and uniqueness. This is a great feature as you will not have to depend on external plagiarism checkers to check if your content is free of plagiarism.
9. Magic Command
The magic command allows you to send custom tools to the AI writer. You have to just instruct the AI, and it will generate the content for you.
To access this feature, just select the Magic Command use case and then input the instructions and text in it. The format you set for the content will determine the type of content that is generated in the response.
There are some issues, like missing some important information; however, the results are promising, and it is exciting to see what else it can do with different instructions.
10. Keyword Research
Rytr can be used as a keyword research tool. The platform can generate a ton of keywords in the rich text editor. To start using it, just choose the Keyword Generator use case, enter a primary keyword, and click on the Ryte to Me section. It is not a keyword replacement tool; however, you can integrate with SEMrush to unlock enhanced keyword suggestions. But you will need to get a paid subscription to SEMrush.
11. SERP Analysis
Rytr has a basic SERP analysis capability. You have to switch the feature before you can access it. Here, you have to toggle through the SERP analysis and switch it on. In this section, you can generate a blog idea and outline where you will bring up the SERP analysis window.
In the SERP analysis window, you will get a cluster of keywords that will tell you the words and phrases that appear in articles that are ranking better on Google for a target keyword. This allows you to see how frequently they are used. It is great because you can use the same terms in your content to give them a better chance of ranking.
The workflow isn't straightforward compared to other content writing tools. However, Rytr is an AI writing tool, and it is nice to give the feature regardless.
12. Team Management
Rytr is a leading software solution for providing seamless collaboration. The platform allows you to manage team members and billing from a single account, making it suitable for enterprises of all sizes.
Its robust project management features will give teams complete control over the writing workflow to relieve stress and keep the company organized. You can work simultaneously, allocating duties to each team member, which makes it very productive. However, adding a team member comes with a hefty price of $19 per member each month. To workaround the issue, you can simply share your access to the Rytr account with your teammates and run it on multiple devices.
13. AI Image Generator
Aside from generating text, Rytr can create AI-generated images for you. This is great for content writers who want original images for their articles and content. To create an image, you just have to open a document and add some text that will describe the image you want to generate. After this, highlight the text and click on the generate button to get the image you want. The results are pretty good, though there is some room for improvement.
14. Writing Profile
Rytr is the only AI writing tool in the market that allows you to create a writing profile on it. For a professional content writer or copywriter, this is great to create a public profile and share it with your clients. On the profile page, you can showcase your best work or paste your own URL that you can share anywhere.
15. Integrations
Rytr only offers integrations with SEMrush for enhanced keyword suggestions to generate outlines. This is a space that it gravely lacks, and there is a lot of room for improvement.
The platform has a browser extension that you can install on Chrome. Once you have downloaded the extension, you'll be able to utilize the Rytr writing assistance whenever you want to write content online, may it be for email apps, Messenger, Social media posts, WordPress, or much more. Further, if you want to integrate with the existing apps on Rytr, you can do so with its developer-friendly API.
16. Customer Support
If you have run into any issues or questions, then you can contact the dedicated support team at Rytr. You can get support either via email or Live Chat with its support team. The Live Chat support is very quick, and all issues are resolved in a short time frame. The onboarding process comprises of an 8-minute video tutorial to help you create an account.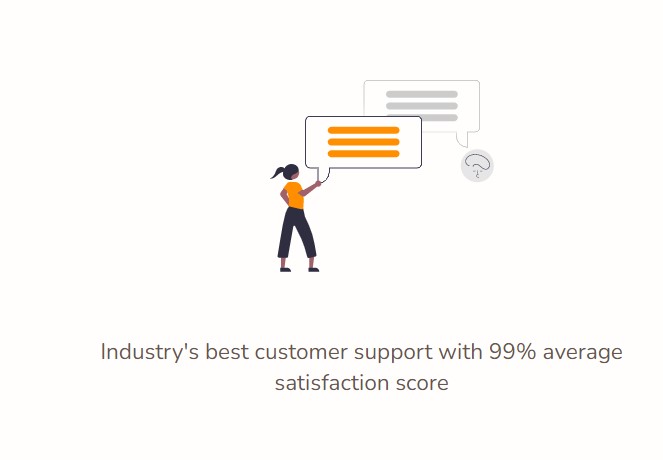 The resources and guide page comprises of brief descriptions of all the features that come with the platform alongside important FAQs. Rytr has a growing community tab having over 165 members and above 45+ posts present on it. The platform also has a blog with engaging content on content writing, copywriting, and other marketing topics.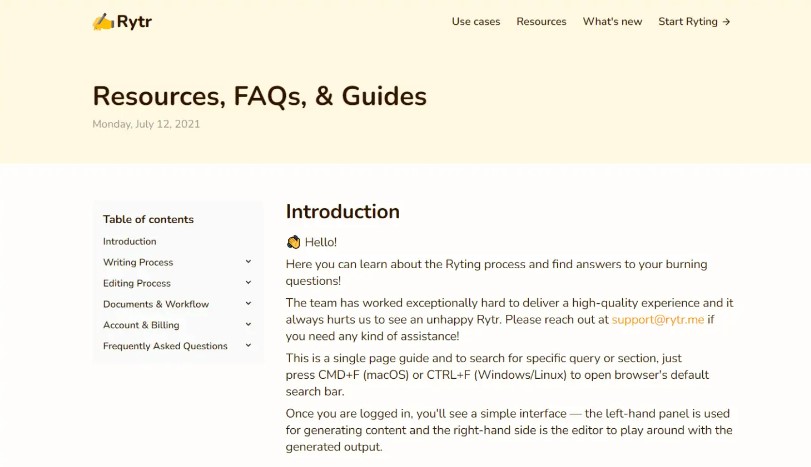 Rytr Pricing
Rytr AI is a powerful writing tool that offers three plans to its users. The premium plans can be paid on a monthly or yearly subscription plan. If you select the yearly plan, then you can get 2 months off on your plan. It also comes with a refund policy if you don't like what you are getting into. The flexible pricing plans and features are listed below:
Click Here To Try Rytr For Free
1. Free Plan
Rytr comes with a forever-free plan that is available for everyone. This is well-suited for individuals who are new to AI writing tools or for those who are looking for free writing software to help them out.
The plan allows users to generate 10k characters per month with access to 40+ use cases and 30+ language assistance. The forever free plan gives users access to 20+ tones and allows the generation of up to 5 images per month. Further, it has a built-in plagiarism checker and access to the premium community.
2. Saver Plan
A Saver plan is a premium plan that is well-versed for those starting out. It is an upgrade on the free plan; and is priced at $9 per month. It has all the features of the free plan and allows the generation of 100k characters per month, and allows you to generate 20 images per month with AI. Further, you can create your custom use cases with the plan.
3. Unlimited Plan
The Unlimited plan is the highest-paid plan available on the platform and is priced at $29 per month. With this plan, users can generate unlimited characters per month and allow the generation of up to 100 AI images per month. The plan allows you to get a dedicated account manager and have access to priority email and chat support.
Rytr Pros and Cons
Pros
Easy to use
Free version available
Allows content writing in 20+ tones with over 30 languages
Great for short-form content and outline
Built-in plagiarism checker
Chrome extension
SEO Analyzer
Utilize proven copywriting techniques like AIDA and PAS framework to develop high-quality content
Premium community support
Cons
Writing quality requires a little bit of work
UI can be better
Cannot generate meta descriptions by adding keywords
Lacks certain plugins that are compatible with the platform
Click Here To Try Rytr For Free
Is Rytr Worth Your Money?
Rytr is a versatile AI writing tool that gives a unique approach to content writing. The platform is a newcomer in this space but helps create high-quality content using its powerful AI generator. You can create content from scratch or improve your existing content.
Click Here To Try Rytr For Free
Rytr helps create engaging and quality content easily without having to worry about the budget and time to create meaningful or impactful posts. This is a perfect choice for businesses that are looking for an effective way to create quality content easily with limited resources.
Read Next: