Accuranker first came on my radar in early 2019 when I was researching SERP tracking Tools, I was used to using the rank tracking in tools like Ahrefs & Semrush.
However, when I signed up for Accuranker I was blown away by the features!
In this Accuranker Review, I'll dive into why Accuranker beats everyone else when in comes to SERP reporting and why it definitely needs to be in the arsenal of a professional digital marketing or marketing agency.
Click Here To Try AccuRanker Free For 14-Days
(NO Credit Card Required🥳)
Accuranker Review
Unlike most popular SEO tools you're probably tired of hearing about, Accuranker isn't an all-in-on SEO tool, AccuRanker is focused on one thing and one thing only *SERP Tracking*
Which means they do it better than everyone else & by the end of this Accuranker review I think you'll feel the same.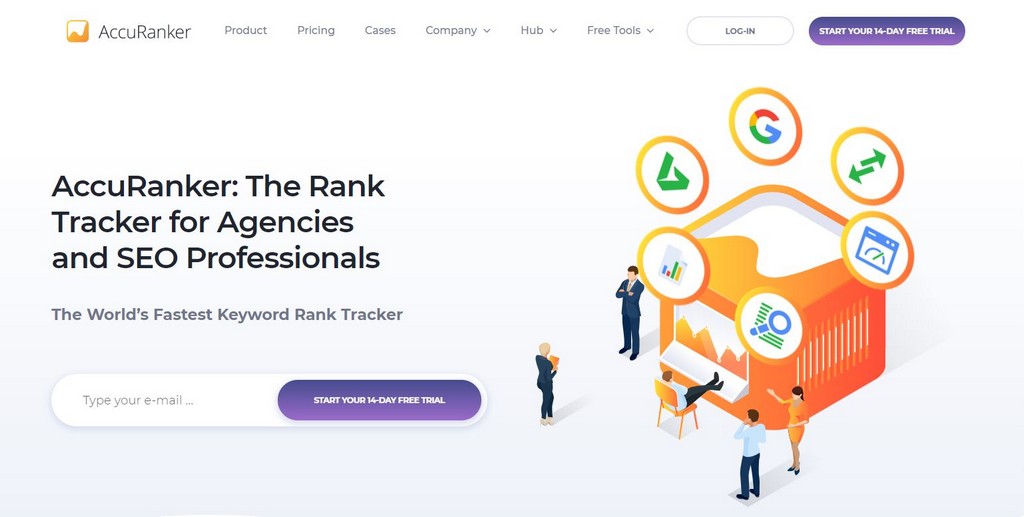 Accuranker Review: Pros and Cons
1. Fast (Like Really Fast!)
AccuRanker is without the doubt the fastest and most accurate rank tracker.
Who do they mean by fast? Well, unlike many tools that give you a daily update on your rankings, with AccuRanker you can do a manual update ANYTIME.
In my experience it takes around 30s to 1 minute to an update for around 100 keywords.
They also have one of the easiest to use interfaces that make rank tracking a pleasant experience.

2. Share of Voice
Accuranker has a wonderful metric called share of voice.
What is Share of Voice and how is it calculated?
Share of Voice (SoV) is an indicator of how your most important keywords are performing. All keywords that rank between positions 1 to 20 are used for the calculation. The average CTR for the position is multiplied by the search volume of each keyword, allowing you to see if high traffic keywords are losing or gaining ranks.
As you can see in the above picture, my SOV between August to December 2019 grew by 1227% 😉😊 while my competition stayed the same🤓
3. Mobile + Desktop tracking
You can track your ranking on mobile and desktop for the same keyword at the same time. Many other rank trackers on services like SEMrush will make you pick one or the other per campaigns. Accuranker lets you pick it by the keyword.

4. Compare Historically
One of my favorite features of Accuranker is the ability to compare ranking by the date. It helps me keep track of ranking fluctuations based on AB tests or structural changes. I can also keep track about if a campaign is going in the right direction.
5. Competition tracking
The competition tracking on Accuranker is great, based on the keywords to pick, Accuranker automatically suggests competitors to track, while at the same time giving you a chance to track anyone.

6. White Label Reports
You Can Customize reports with own logo (even on the cheapest plan). Most other Services make you pay a ton to white label, however Accuranker had white label rank tracking on its base plan making it a great option for even small agencies.

7. Unlimited Domains
Accuranker also makes it super easy to managed multiple sites in one go! You don't have to pay extra for multiple domains as even the smallest plans come with unlimited domains.
Other Great Accuranker features include:
segmentation based on SERP features
Google and Adobe Analytics
Tag Cloud
Accuranker Pricing
You can get started with AccuRanker for Free for 14 days by clicking here to give it a whirl yourself to see how you like it!
In terms of pricing, AccuRanker starts at $44/month (if paid annually) for 500 keywords (@ 8.82 cents pr. keyword)
As you increase your subscription cost the cost/keyword goes down (all the way to 2.25 cents pr. keyword at the highest plan)
In comparison, SEMrush starts at $99.95/month and you can track 500 keywords in the plan (@ 19.99 cents pr. keyword)

The SEMrush Business plan (with the white labeling included) starts at $399.95 and you can track 1500 keywords in the plan (@ 26.66 cents pr. keyword)
All Features come with the plan of 1000 keywords including (@$71/month if paid annually)
10 competitors
Unlimited users
Unlimited domains
Advanced reporting
Daily and on-demand rank updates
Google & Adobe Analytics
Google Search Console
Share of Voice
Landing Pages
Tag Cloud
Share of Voice Pro
Advanced Metrics
SERP History
API
Click Here To Try AccuRanker Free For 14-Days
(NO Credit Card Required🥳)
Accuranker Discount Code
They're many websites on the internet making misleading offers such as:
Accuranker Coupon
Accuranker Discount Coupon
Accuranker Discount Code
Accuranker Discount
Accuranker Coupon Code
Accuranker Coupons
Accuranker Code
Accuranker Promo Codes
However, Accuranker doesn't offer any discount or coupon codes in 2023. Their only discount is the 10% off you get if you decide to pay annually instead of monthly.
Accuranker Free Trial
Accuranker is one of the ONLY SEO tool out there right now that allows you to use the trial without paying or giving up your credit card details.
For half a month you can give Accuranker a free try! NO STRINGS ATTACHED.
Click Here To Try AccuRanker Free For 14-Days
(NO Credit Card Required🥳)
Is Accuranker Worth It?
Definately! If you're looking for a serp tracker Accuranker does that one single job better and cheaper and faster than all the competitors out ther :)!
I hoped you enjoyed my Accuranker Review, let me know your thoughts below in the comments 🙂
Read Next: