Teachable is an online course creation platform that empowers instructors to create, market, and sell their products. The platform offers a range of features and resources so that instructors are able to follow the best practices to market and sell their courses. It comes with free and paid plans for efficiently hosting your online courses.
Click Here To Give Teachable A Try
Teachable has good features that allow users to create and manage online courses for their customers. Not only courses, but you can also sell eBooks, audiobooks, coaching services, membership, live sessions, or any other digital products. You can sell these products using a range of sales tools that includes email marketing, promotional codes, etc.
The course creation procedure on Teachable is simple and comes with an intuitive interface. The platform has a number of features, and the courses on it can be sold either at a fixed price or subscription pricing. Here, you can upload videos using its unlimited bandwidth and excellent performance.
If you are looking for a complete solution for your online school, then Teachable is an excellent option. In this article, I have gone in-depth about the platform, how it works, and its features.
About Teachable
Teachable was originally created in 2013 and was called Fedora. The story goes that the Founder and CEO, Ankur Nagpal, was instructing and running a course on another course platform, and his experience there wasn't very seamless. This made Nagpal go all-in to create Teachable. Since then, the brand has blossomed and today has more than 100 thousand course creators with over 30 million students and has over 13 million courses on its network. The users on the platform are based in more than 150 countries around the world, and its courses are taught in over 80 different languages. On the platform, you can find courses on topics like business, health, marketing, fitness, and much more.
Since its inception, Teachable has helped creators turn their passion into a business and has helped them generate revenues of over $1 billion. They have not stopped there and are constantly working to improve their offering with frequent updates and the addition of new features and integrations.
Teachable Reviews Reddit
U/drewches- "I have a client who hosts all their courses on Teachable. I think it is a great platform since it handles all the back end of things so you can focus on creating your content efficiently. Most of the courses I write are for sale, and I have a marketing team that I would usually work with. A long time ago, I have realized that I have limited function of social and I will focus on what I am good at. If you are moving to Teachable, I would recommend you should work with a marketing person who is familiar with the type of eLearning. Just create a marketing plan to help keep your existing customers to increase your reach on socials".
U/p44v9n- "There are websites that let you download every video in a YouTube playlist with one click. With the Teachable courses that I have, the videos are broken down into different sections, and there are downloadable resources and text content in each place as well as videos embedded in a way that makes it hard to download easily. So sure pirates could record the screen, but recording screen + clipping the recordings for every page and extra stuff will be difficult".
u/connecstsnk- "A good option is to select a fully managed online platform like Teachable".
Click Here To Give Teachable A Try
Who is Teachable Designed for?
Most reviews out there say that Teachable is designed for beginners. However, in my experience, it is based on the look and feel of the platform. Teachable is very straightforward to use, and it has an excellent interface. And as per me, it is very accurate. Teachable is ideal for beginners as well as intermediate course creators. It does what it needs to do, which is to streamline the process of getting your courses online live, saving you all the time you would otherwise spend on coding, marketing, selling, copywriting, and everything in between this.
Teachable Review 2023
1. Teachable Course Creation Features
Teachable helps make course creation simple using its versatile drag and drop editor that allows you to upload material directly from other sources, similar to Google Drive. Here, you can create an online course that is professional and looks great for students. It also comes with several engagement tools, like quizzes and assignments, to help you stand out.
The interface of this platform is similar to a Word document which is helpful for users that are not well-versed in HTML or other coding languages. It also has several pre-made templates to select from, so you don't have to build from scratch but rather from an existing structure. Further, their dashboard helps instructors keep track of their student's progress. We will look into the different sections of the course creation program, so you can check whether the platform is a good choice to suit all your needs.
2. Content Uploading and Structuring
The process of setting up your course on Teachable is very simple. All you need to know is some of the basic information about your course- the name of the course, description and an introductory video, summary, and a few other details. Let us look into how you can create your own course on Teachable in detail.
1. Create an account on Teachable
Go to the Teachable platform and click Get started. Fill in your school details and then click on Create School. After this, you will be redirected to the dashboard of your school. During the initial sign-up process, you have the option to import from another site. Here, Teachable will ask for an URL of the content you want to put up on your page. If you are planning to start from scratch, you will have to add a few details before you can proceed.
Click Here To Give Teachable A Try
2. Create a new course from scratch
If you are planning to create a course from scratch, then it is not as complicated as it seems. To create a new course, you have to click on create a product, and you will be redirected to a new page where you can choose to create a course or coaching. After this step, you can start building your course by clicking on the Create Course button. You will be automatically redirected to the course builder tool, where you can start adding content to your course page.
Teachable will give you access to a range of tools that will allow you to create a perfect learning experience for your students. Here, you can add quizzes, run surveys, videos, set up drip schedules to give them the best experience. When you are all set, all you have to do is click on the create course button, and you will be prompted to name the course and choose a title for it. After this, create the course so that it is accessible to others.
Once the course is created, you can start adding lessons to it until it is complete. Each lecture can have one or more lessons, which can be in the form of text, audio, images, or video. You can also embed the lessons from third-party sources like Vimeo, Google Drive, YouTube, etc. Further, you have the ability to insert code snippets into any lesson.
3. Publish the course on Teachable
When you are ready to publish your course go to the settings tab and check if any information about the course hasn't been already entered. Once you have done this, publish your course, which will be available on your school site.
Teachable is a great option for users to sell their courses, and it is also ideal for people planning to design custom code or use an external page builder. You can also embed pages from external websites, but it is important to note that Teachable is not a full-blown website builder that is designed to create websites with a fully customizable structure. This is why you require to use third-party integrations for optimum functionality.
3. Website Design and Customization
Website design is a critical part of building a course that makes it attractive for students to tune into. Teachable has an array of features that allow you to select different designs and customize your course website to make it aesthetically appealing.
The course builder of Teachable is very simple but very powerful that allows the creation of online courses. You can easily create a course with Teachable within minutes and can customize it in a few clicks and make it look as you want. Some of the features of this builder include
1. Drag and Drop Editor
The drag and drop editor is a powerful tool that allows you to create online courses from scratch. This editor lets you create and add sections, lectures, or other digital content to your course outline. Its customization feature is of top quality, and it makes use of a rich text editor to help you build your course. The versatile editor is made up of tools that allow you to embed videos, images, and other media.
Click Here To Give Teachable A Try
2. Power Editor
The Power Editor is proof that shows how dedicated Teachable is to its course creators at every level. This editor is designed making use of Shopify's Liquid and its open-source templating language. It gives creators access to template folders, customizable lectures, course sales pages, and page blocks. In this way, components appear on your blog, layouts, and bios of your pages in your school. If you are struck with its offering, then you can get a growing collection of help articles to help guide you through the customization of your site.
3. Design Templates
Teachable is made of multiple course design templates that help make it easy for you to create a beautiful post. These templates can be customized, so you are able to create visually appealing online courses within a few minutes.
The template editor tool offered by Teachable helps in editing these templates more efficiently. However, you may require to know some form of coding as it is built on HTML and CSS. The editor has a preview feature, so you are in the know-how before publishing and posting it on the internet.
Templates are considered to be attractive and easy to use; however, they are also limited. Themes, on the other hand, are more customizable and can be easily aligned to fit your brand or course identity. These themes will help make your entire page more responsive, and it will not only focus on changing the color scheme but its entire layout. This makes them a great choice for desktop and mobile devices. These themes come in different color schemes and styles, but all of them offer the same functionality. A theme can be easily changed from the site setting if you think your site is becoming boring.
4. Custom Domain
Hosting is the biggest worry if you are planning to launch your online course. Teachable lets you dodge this bullet with its unique offering. The platform supports online course creators by offering its free hosting under Teachable's subdomain. You can also create a custom domain instead of sticking to the free subdomain offered by the platform. A custom domain name is easier for potential students to remember your website name. It also helps build trust in your consumers due to its unique ID. You can also create a free subdomain, although I would strongly recommend making use of a custom domain for better results.
5. Customizable Lessons
Teachable lets you customize the design and appearance of each individual lesson in a course using custom headings, background colors, videos, images, etc. You can easily insert multimedia elements into each lesson in the form of downloadable PDFs, audio, images, videos, and much more.
The platform lets you upload your logo or add customizable fonts, CSS, JavaScript, etc. The CSS snippets are ideal for advanced course builders who want to stamp their mark and add their own brand and style to the course. If you are on the Basic plan offered by Teachable, you will get access to a free set of CSS snippets in its help center to efficiently customize your lessons. Further, you also have access to pre-made snippets that are available on the Design page in your admin area. You can easily integrate your website with HTML and CSS using a page builder like Divi. Apart from this, Teachable can also integrate with WordPress and other CMS tools.
To enhance the overall essence of the course, you can add individual assignments in each course. This will help you reinforce learning and track how well a student is doing. The assignment can be in the form of test questions, video uploads, text instructions, and much more.
Teachable comes with a range of tools to get your course running without having to worry about hosting or coding. The customizable themes are very easy to use and have additional features that allow you to establish yourself as an online educator.
4. Security
Security is something that Teachable takes seriously, and it uses Amazon Web Services for data storage and infrastructure. They apply a range of safeguards to protect your data when it is handled or stored. Teachable takes the necessary steps to protect the data of your customers, and all payments are encrypted and secure. Further, they meet all the PCI compliance standards to validate your credit card data security.
Teachable is committed to keeping your data secure against vulnerabilities. The applications on the platform are put against OWASP Top 10 to ensure that they minimize any security risks. This is a standard awareness framework commonly used by developers and web application security.
Teachable has an encryption protocol for the transmission and storage of sensitive information. The platform is constantly working to develop products that are supporting the latest security protocols to encrypt your traffic during transit. This means when you transmit data, the messages will be visible to the sender and intended recipient of the contents.
When you upload a file to your Teachable course, you can enable or disable whether it can be downloaded. This keeps your course protected, and this way, you can only view the lecture content on Teachable. Here users can only access and view the course if they enroll in it unless you have enabled a preview feature.
Click Here To Give Teachable A Try
Teachable has a change management feature, so you can be assured that all changes made to it are in a deliberate manner. Any changes to the platform's infrastructure are monitored or controlled through its control process. The changes will be reviewed, approved, tested, or monitored to ensure the expected changes are operating as they are meant to be.
Teachable has an average uptime of 99.99%, so the platform is up nearly all the time for you and your students to access. The platform also offers an incident response plan and has associated procedures in the case of a service or security incident.
5. Course Player and Content Delivery
Teachable has a fully integrated course builder that helps you create custom courses having videos, audio, and text paragraphs. The player offered by Teachable is a place where students feel like a classroom and can watch the learning material unfold right in front of their eyes.
The platform lets you add attachments, like PDF downloads; for your students to download. Here, students have the ability to engage in discussions as they learn different course material while also being able to answer tests, exams, and much more. The player offered by the platform is easy to use, even for people that are not tech-savvy. You can check your progress as you move through the course, and all your work is saved automatically, so you don't have to worry about losing your work.
The Course Player lets you customize how your content will be displayed to the user. The player comes in three different options, namely module, list, and video. This way, you are able to deliver content to your students in different ways.
The Course Player works well on mobile, desktop, or tablet devices, ensuring that you have access to it at all places. The platform automatically optimizes any video or audio file to fit well on the screen to give students the best experience. All the pages can be customized to fit your brand identity. Here, you can efficiently add text or images using its simple editor that allows you to create versatile and engaging content with ease.
6. Navigating through the Course or Lectures
The navigation area in the site section is where you will set your website's home page and login pages for learners. With this, your students can easily navigate and interact with the course content. The footer module helps control the links which appear in this section of the page. There are other areas that are included in the navigation bar where you can see which URLs are associated with links in your main navigation bar.
Teachable makes it possible to add several pages to your course and control who can see them. However, they may look slightly crowded as they lack a drop-down feature.
7. Accessing Users on Teachable
You can find all the information of people that are associated with your course on Teachable. The users in your course include students, owners, affiliates, authors, and anybody else you would want to give access to your course. The user section comes with a filter and a search bar to help you find people based on a desired criterion. There are 33 filters available on Teachable, and we have created a shortlist of how flexible it is.
The filters can be set by
Country code
Login counts greater than a certain value
Name or email address- it doesn't contain any specific word or domain
Check people that have signed up before and after a certain event
See who logged in before or after an event
Contact having a specific value
Contact signed with an affiliate code
Who is enrolled in a specific course
Click Here To Give Teachable A Try
The information may look overwhelming, but it is easy to understand once you decide to examine it. These filters are important as they allow you to identify opportunities for sales and marketing campaigns you can run. For example, if you have designed a course for European audiences, then using this filter, you can find learners in the database to create an offer which is generally sent via email. This way, you have the ability to learn more about your students, allowing you to communicate with them and track how their course is progressing. You can export this data at any time to your computer or mobile devices.
The user section also gives you the opportunity to add students manually. Further, you can export your contacts in a CSV file if you would like to analyze the information further or utilize a third-party platform. You also have the ability to create various levels for each class to assign students based on their level of expertise.
The user section also includes distinct tabs for the following:
Students for courses
Owners who have admin rights in your account, all of which can be controlled by the primary account owner.
Affiliates who promote your courses
Authors who help you create course material and have access to sales information and more
Custom users who are given unique permissions to manage content in your account. It is important to note that this ability is only available for Teachable Business Plan clients.
8. Student Interface and Management
The student interface on Teachable is very impressive and allows you to select elegant design templates to give them the perfect layout for your lessons. Managing your students and access to their dashboard is easy.
For your students, a progress bar is visible beside your course, which is handy as they can start a lesson without any issues. Here, students can leave comments under every lecture and even have the ability to upload files from third-party sources. This is an excellent feature if students are required to collect assignments, homework, reports, etc.
The student management feature lets you import students directly to your course and manage them. You can invite an unlimited number of students directly to your class with ease. Users can create various levels in each class to assign students as per their level of expertise. Here, you can create custom fields for your student profiles which can be used in other parts of the application.
This interface is a step to learn about your students and communicate with them or track their progress. You will also track and see various parameters of your students within this course. Finally, you can export this data at any time for you to view offline.
Overall, the student management and interface work swiftly and allow for a trouble-free learning experience.
9. Student Experience
The student experience in Teachable's course is simple and clean. The default course player offered by the platform is very easy to use, having a clean layout. Students can easily navigate through the course and check the different lectures or lessons offered by them.
The courses can be accessed by logging in directly on the website, or students can log in through the Student Dashboard. If they don't already have an account, they will be prompted to log in to the course directly. They can also log in through social channels if they are enabled. Once they log in, they will be taken to their dashboard, where they will find all the courses they have accessed. Students can directly click on any course from the screen to go straight into it.
The Course player is a place where everything happens inside Teachable. It is the place where students can view all its course content which includes lectures, quizzes, and assignments. This is a place where they can ask the tutor questions or support from other classmates in the discussion area. It also helps keep track of where you have finished your class previously, so when you come back, it will show you exactly where you left off. If at any time you want to revisit a lesson, then you can reliably navigate to the lesson. Additional information is available in the bottom right corner of the class, where you can see class discussions, additional resources and also check the progress of each lesson.
The Teachable platform has a navigation window that allows you to see different lessons in your course. This allows you to quickly jump to any lesson without requiring you to go to the main page of the course. When you are watching videos, students have the ability to auto-play, so if a video gets over, then a new video will automatically start playing. This is an excellent feature for those who are watching the audio from a computer or are watching the tutorial at work and don't want others to know what they are currently learning.
The teachable course player is responsible for mobile devices, so you can easily access it via your smartphone or tablet. The platform has an Android and iOS app where you can check videos easily. This means that if you are working or moving, you can simply put it on your phone and watch the video in the app.
10. Lecture Comments
The lecture comments section lets you engage with students to encourage them to share their thoughts. This section is a place where students can ask questions and have conversations with course creators and other students. These comments are accessible to all students, so multiple people can engage in a conversation. You can make these comments private, so you can see who posted the comment and see what is written.
You have the ability to moderate comments and conversations that are taking place in your lecture content. Here, you can either approve or reject a comment that is awaiting moderation. As a school owner, you can set preferences for email notifications, and your students will receive lecture comments. You can allow for comment attachments, wherein students can add an image of 2GB or smaller to their comments. Further, you can create a link or a comment thread in a specific course. Any replies from the instructor will be highlighted in the comments thread. This feature will play a pivotal role in building a sense of community in the course, which will help students learn from each other's experiences.
11. Learning and Engagement Tools
Teachable is designed with a number of features that allow you to engage with your students. With these features, you have the ability to teach them through a variety of methods. Some of the versatile tools offered by the platform are listed below.
1. Drip Course Content
Drip course content is the most exciting aspect of creating an online course on Teachable. This helps enhance the learning experience and gives students enough time to adjust to new ideas as they slowly move ahead to more complex topics.
Teachable allows you to schedule your content at a specific time. You can utilize this feature with lessons as well as courses that require the student to invest time. Simply head over to the Drip section and select the set schedule button and set the time of your choice. This is a clever idea to release your incomplete courses and then complete them at your own pace. The drip schedule for new students can be set by days after enrolment, wherein new content will be released to students from the day they are enrolled in the course.
You can set up automatic email notifications when your content is released. The email announcements have to be activated at least 48 hours before the intended date. However, you can also grant students full access to a course, so they will stop receiving drip email announcements.
2. Product Visibility and Publishing
Each product or course comes with a publish and a product visibility setting. These settings are pivotal and help you control which products are available for new students to purchase and view in its product directory.
Publish setting- It determines whether a product is purchased or enrolled by new students. Only products that are published can be purchased or enrolled by students.
Product visibility setting- Determines if a product is visible in its product directory to students. In case the product visibility is hidden, students will only be able to enroll in it if they are provided a direct link to the course.
The course, by default, is public, but you have the ability to change its setting if you only prefer private enrolment. Once you make your course private, students can only access it via an invitation link. Here you are given access to all your students in one place, similar to a Facebook group. This will allow them to get into the course without any major hassle or problems. Hidden products offer a great way to create private courses where you have full control over who has access to them.
3. Curriculum
One of the first questions that come to the mind of course creators is how to create a curriculum for a course. The curriculum is displayed on the landing page of your course. Here, you have the option to organize material into chapters and add lessons to each chapter. The lessons in each course are made up of text, video, presentations, handouts, quizzes, surveys, and much more. You also have access to a discussion forum, so you are able to answer all the questions your students have in a single place. A lecture is divided into 2 main parts that include video and notes.
When you set up a curriculum, you can add notes on the right side of the screen. This will let your students see the notes as well watching the videos to follow what is going on.
To set the curriculum, you can follow the desired steps, which include:
Brainstorm desired outcomes
Identify the target audience and check their pain points
Narrow down the learning outcome
Create a list of milestones and lessons
Check the time to complete each lesson
Compile your resources, material, and content
Get your student feedback
In the curriculum, you can also upload eBooks, PDFs, worksheets, code, quizzes, assignments, or discussion threads that will help supplement your lessons.
4. Community integration
Shared knowledge helps change and empower lives by enabling people to share the product, and the world becomes a better place. This is why Teachable has its own community space where creators share their knowledge. The platform has a brilliant feature called groups which makes it easier for students to find individuals with the same interests. Here, you can create threads to discuss different subjects or any issue with fellow creators or students. Community integration is a space where you will find answers to the most frequently asked questions or have the ability to add your own questions.
As your business grows, so will your community. Since you are a community member, you will get access to
A place on the Teachable platform where you can share details of your business with other community members. Learn any pros and cons to help efficiently grow your business.
You will have access to relevant content to find a solution to any issues you are facing. This is because people of similar interests will be grouped in your community. So, the content you discover will be curated to meet all your goals.
Several perks, like private webinars, challenges, and more. As and when your business grows, the perks will increase and grow with it.
Teachable has a Teachable.hq feature that is available for primary owners having at least one school on any paid plan. You can access it whenever you are ready to create a community account and get started.
Teachable also has a third-party platform Circle.so which can be integrated with your school. This application gives your students and clients the ability to log in and access the community space with a single sign-on.
5. Quizzes
To access students' knowledge, Teachable offers quiz lessons. This feature allows you to create multiple-choice quizzes, which are limited to one quiz per lecture. You can indicate as many potential answers as you like for any questions that you are planning to create. They can have one or multiple correct answers. It is important to note that you will have to add each question in the course one at a time. There are two types of quizzes that can be added to your course.
Non-Graded quizzes- These are basic quizzes that help instructors gauge their student learning progress through multiple-choice questions. The quiz is automatically graded by the system, so you don't have to worry about manually grading them, saving you plenty of time. Further, any course compliance settings with regard to quizzes will not affect these non-graded quizzes.
Graded quiz- A quiz that is graded is available in the Reports section in your course admin section. The graded quizzes are offered in three types that include multiple choice, true/false, or fill in the blanks. Users can add images to questions, which will help them define the number of attempts allowed per question.
You can modify the following settings for a graded quiz
Minimum quiz score- The minimum score is the score you set for students to pass. If you set a score of 0, then students are only required to complete the quiz rather than required to achieve a particular score.
The maximum number of retake attempts- This is the number of times a student is able to retake a quiz. If a student is not able to achieve a passing grade within the number of retakes, then the student won't be able to proceed to the next lecture. They can move ahead by just resetting the quiz to start again.
In case a student fails a quiz, you will receive an email notification. If you have reset the course, the students will get a notification to take it back. You can reset individual student's course compliance by heading over to the Progress Reports section of their user profile. It is important to note that resetting course compliance is a permanent action, and it cannot be undone.
6. Completion Certificate
A great way to offer incentives and reward your students is by offering them a certificate at the completion of a course. You can automatically issue certificates to students who complete your course that allows them to showcase their accomplishment by downloading a PDF certificate. Schools that are on the Pro plan and above have the ability to create and offer completion certificates.
The certificates can be designed based on three main types of templates, which can be customized wherein you can insert your logo or add your colors or signature using a JPG or PNG file while also being able to pre-set the text. Teachable automatically inserts the school name, student name, and the name of the course by default to your certificate.
If you have the expertise, you can utilize Liquid or HTML coding to create your own rendition of the certificate. Any changes that you make will be available to preview before you are ready to publish it for your students to download after course completion.
You can create many certificates for your course as you like. However, you are permitted to have only a single active certificate at a time. At any time, you can edit your certificates, select them as your default course completion certificate and deactivate the active one.
The certificates at the completion of your course can be downloaded from the Enrollments tab in the user profile. This is possible when all the lectures in the course are marked as complete. Once a certificate is unlocked, students will get an email notification to view it. They can save the certificate in the form of PDF or other types. Here you can save the certificates on a local computer or mobile device.
In certain cases, you may not want to give your student's course certificate automatically after completing your course. Teachable lets you issue certificates manually once you are sure that a student has completed a course, giving you full control of your course.
If a certificate is issued and listed, you have the ability to revoke it from particular students. When a certificate is revoked, students will not be able to download the certificate via the student's course overview page. However, the certificate may already be downloaded by the student, and revoking it won't make any big change.
All in all, the course completion certificate has the capability and is able to meet the needs of online course entrepreneurs.
7. User Roles
User roles help control the access of each person in your online course. There are 5 roles that are available on the platform that includes:
Primary owner- A primary owner has complete administrative rights over a school.
Owner- A owner has full access to all the administrative rights of a school except those restricted to the primary owner. They have full rights over students, authors as well as affiliates.
Author- An author is an admin-level user, and by default, they are designated to a course. They can modify the author bio, change payout information, create a course, and so on.
Affiliates- Affiliates are users that promote your school and help receive a commission of earnings that are generated from the sales that are associated with its affiliate code. They don't have any privileges in your school as they are not admin-level users.
Students- Students are the users that have enrolled in your course or coaching products. They also don't have admin-level users, and they have no privileges.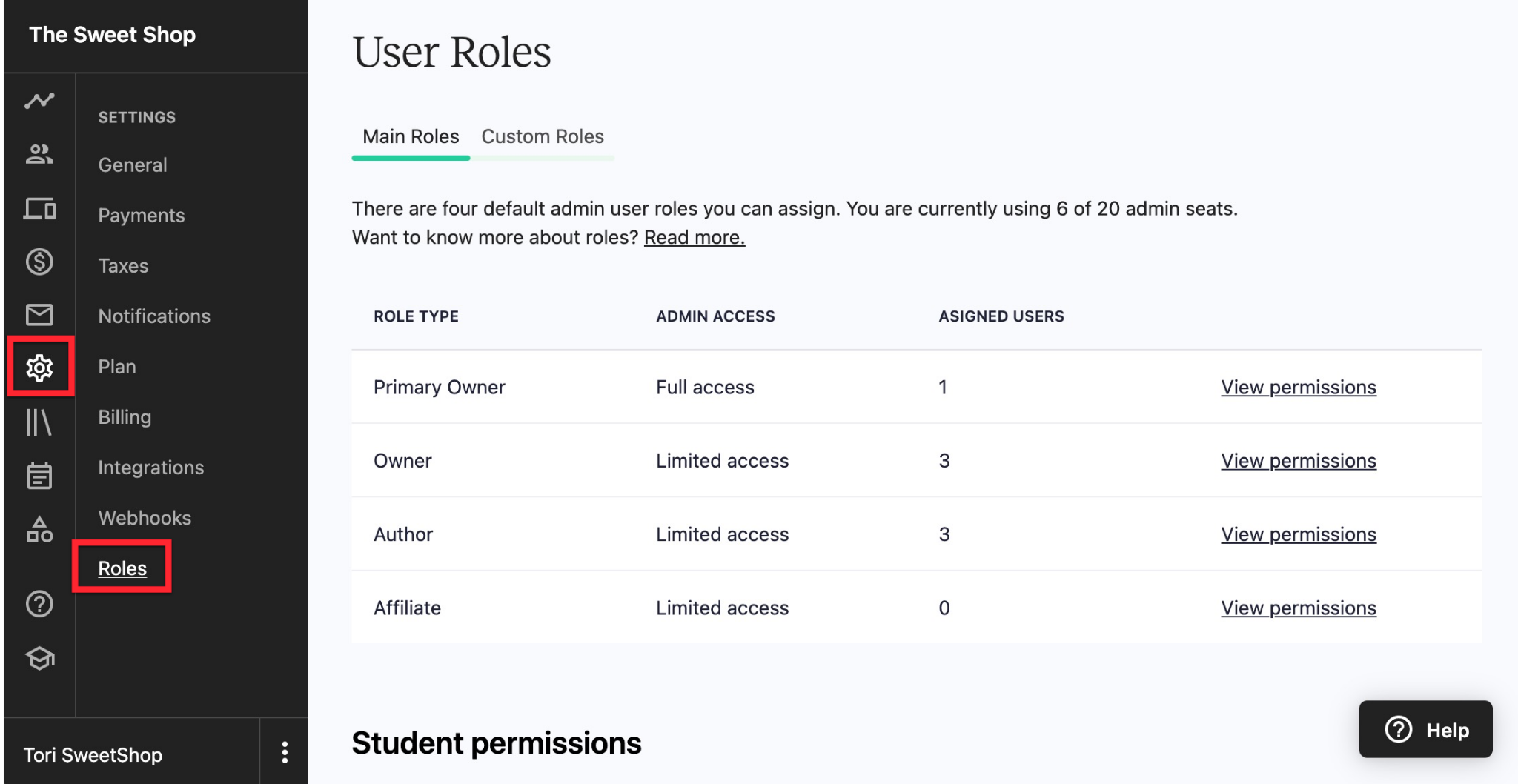 The Business plan allows the creation of custom user roles. These users can be given admin-level users depending on the type of permission required.
The Primary Owner, Owner, Affiliate, Author, and Custom user roles cannot be combined. If you want to assign somebody with multiple roles, then you can create a second account with a different email address. The Student role is an exception in this, as you can give them another role in addition to it.
At any time, you have the ability to edit or delete the roles of existing people. It is important to note that you cannot delete a custom user role once it is assigned to a user. You will only have the opportunity to un-assign the role from users and re-assign to another person.
12. Email Marketing
Email marketing is an important aspect of growing your course on Teachable. The right email marketing tools help you to easily segment your email list and help in sending targeted emails to specific people. Here, you can create automated onboarding email sequences that will ensure that new students get the most out of their purchases.
Teachable has an in-built email marketing tool that is aimed to help paid users capture student emails while they browse through their courses. This is very helpful as it customizes student campaigns as well as creates drip content that is automatically delivered to students at the right time. The powerful email marketing tools will deeply help you connect with your students and grow your audience. The tool lets you segment students based on their course, tag them on interests, actions as well as automated emails, which means they are sent at the right time.
The integrated email marketing feature on Teachable allows you to easily send emails to your students. Teachable comes with an integrated community feature that helps students and instructors to connect with each other. To get the marketing requirements, you must first upgrade to a paid account that allows you to use the emailing feature. They help send automated emails when someone purchases or enrolls in your course. Since the course is hosted on Teachable, its email marketing service is intuitive and reliable.
There are several marketing options to send emails and market your courses. However, they are only accessible to paid members, so within a few clicks, you can turn your students into an audience that will market your new offerings on autopilot. Teachable gives course creators the ability to send out emails from their dashboard directly.
Teachable also has integrations with different third-party applications, which include MailChimp, ConvertKit, HubSpot, ActiveCampaign, and Drip. With MailChimp, you can easily set up automated emails which will go out when someone signs up for your course. However, these third-party apps have some limitations when sending emails through Teachable. For example, you cannot include the student's name, address, etc, through them. This is why sending bulk emails directly through Teachable is the right way to go ahead.
Different Types of Email that can be Sent Through Teachable
Teachable is designed with an array of email marketing tools that can help you engage with your existing students as well as try to get more students onboard by promoting your online course. This is ideal, and you can send them to your potential clients even when you are busy doing other things. Below you can see different types of emails you can send using Teachable that will help you increase your sales.
1. Course launch email
If you are planning to launch a new course, you will want to advertise it, so you want to let people know about it. This is very important as it tells existing or potential students about the launch of a new course. You can utilize these emails to highlight the upgraded features of the new course.
You can create and base the email marketing campaign around the launch of this new course and send email broadcasts from Teachable school. This is the same as MailChimp, so if you are familiar with it, then it is quite straightforward.
2. Receipt and confirmation emails
It is important to communicate with your customers when they purchase a course to tell them that the transaction has gone through. With Teachable, you can automatically send confirmation emails to all customers. The email will give them a record or act as a receipt of the purchase and confirmation. You can also send receipts that are made up of access links for your course content.
3. Order confirmation email
An order confirmation email is a transactional email that is sent to a customer as they have completed a transaction of your course. The email will contain the buyer's order confirmation details, which include the price, length of the course, etc. Similar to most transactional emails, confirmation emails are important and help keep customers in a loop. Every customer is expected to receive one after they make a purchase.
The emails can be easily sent automatically to customers after they purchase them. These email templates can be customized to suit your brand identity. You can head over to the school dashboard and make changes to the design or other features.
4. Abandoned cart emails
Abandoned cart emails are basically sent to customers as they add a product to their shopping cart but leave without purchasing it. This is considered one of the key ways to increase your revenue and recover sales. It is said that nearly 25% of email-driven sales are brought by these means of email marketing. In simple terms, they are intended to remind customers that they have added to their cart and try to convince them to finish the purchase.
If you have an idea about the page they have visited before leaving your website, then you can tailor the content of the email with specific recommendations or information that would meet their requirements.
The Abandoned cart emails are an effective marketing technique having high open rates. This is because they are targeting people who have expressed interest in buying the product. For example, if a user signs up for a free plan of your course but didn't buy the paid plan before the trial expires. This abandoned cart email will remind them that they can upgrade the course and get its full advantages.
13. Sales
You may design the best course with the best features, but what is the whole point if you don't make enough sales. The Sales section on your dashboard is a place where users can manage everything related to the money side of your business.
1. Transactions
The sales of a course will start filling up a collection of data. This data includes purchase dates, prices of courses, student details, etc. The transaction section will show you the summaries of your sales and earnings that may have occurred. This section includes a filter functionality where you can filter different metrics of the data. The filtering functionality of Teachable is one of the best, and it is very important to know your numbers if you are running a successful business.
2. Statements
The Statements section gives you detailed reports of the transactions taking place in your account. The section is broken down into school earnings and individual earning statements. It is made up of summaries, payouts, and transactional lists. In simple terms, these statements will help you drill further into the transactions taking place in your course.
3. Breakdown
The breakdown area gives you the statistics of the sales of your course by the day or month. The section can be easily read and understood and is an important feature that helps in tracking your business performance.
4. Integrated Payment Processing
Teachable has an integrated payment processing feature that helps you accept payment from your students. With this feature, you can collect one-time or recurring fees without having to rely on an external payment gateway. However, you can utilize PayPal as a payment option while you are creating your online course. Apart from this, it also has a selling feature that helps you sell your online course to various other social media channels. As an instructor, you have the ability to create either a paid or free course.
The integrated shopping cart allows for a seamless checkout, wherein the customers can pay for multiple courses using a single transaction. Here, you can offer discounts or give courses for free to encourage customers to enroll in more courses. Further, you can offer coupons through this cart, so you are able to test a range of pricing strategies without any hassle.
5. Upsells
Upsells are incentives that you add to your lessons or other pages of your course to promote popular courses or products. Teachable allows you to create an upsell card, where you are allowed to add a course and add its price to it. You can set a description and add a CTA button to it. It can be used for multiple lessons and an array of pages to attract your audiences.
One of the best ways to upsell on Teachable is by offering an upgrade at checkout, which is automatically added to the student's purchase without needing to enter their payment details.
6. Coupons
A coupon is a great incentive for those looking to purchase a course at a reduced price. These coupons can be used across your school for a specific product. A coupon code is an excellent feature that helps promote your courses through affiliates or exclusive discounts. Once you have created a coupon code, you can see how they are redeemed and when they expire. Within your school, you will find different types of coupons that include
All product coupons- These coupons can be applied to every course, product, and pricing plan that is available with your school.
Product type coupons- These are coupons that can be applied to every subscription course type. In these courses, you can have three product types which are available in the form of courses, coaching, and bundle products.
Pricing plan-specific coupons- The coupons are applied to a specific pricing plan within a course or product. They are tied to a single pricing option, and they are not applied anywhere else in your school.
Single-use coupons- The coupon is specified for a single user only.
Multi-use coupons- These are bulk coupons that can be used for a large number of students. You can generate up to 1000 coupons in bulk at a single time. These coupons are designed to offer heavily discounted rates.
The biggest perk offered by Teachable is that it doesn't charge any transaction fees when you sell courses on its platform. However, if you make use of a self-hosted e-learning platform like WordPress or a membership plugin, you will require to pay an additional fee for every course sale. All these costs make these external platforms expensive compared to Teachable.
7. Affiliates
Teachable allows you to add affiliates who can promote your course on their platform. This is a great sales pitch for bloggers or social media influencers, as they can promote your course and get a cut when someone uses their link to sign up for your course.
The ability to customize your sales pages is one of the areas where Teachable shines compared to its competitors. In the market today, you won't find a better option to set up free trials or offer a coupon code on their checkout page. It is not very fancy, and it offers an affordable way to sell your online courses easily.
8. Thank You Page
The Thank You Page offered by Teachable helps focus on empowering you to squeeze as much value from the sales process until you thank your student to make the purchase. Here, you can simply say thank you or provide a button for students to access content from the platform. You can also drop in a video with a personalized message to thank them. This is a great way to build engagement with your students.
14. Blog
Teachable has the ability to publish a blog within its school site. Unlike its competitors, the platform lets you efficiently host a blog and improve your sales pitch. If you don't have a blog or want a place to publish content, then this is very valuable to tie tightly to your courses. As you know, a good blog is a valuable asset an entrepreneur can have in their arsenal to build a brand and increase their sales.
Click Here To Give Teachable A Try
15. Compliance Features
The Compliance features of Teachable allow you to ensure they are compliant with state, national, and international laws that are governing education. If you are planning to sell or distribute courses in your country, then you require to disclose certain information. With Teachable, you can use the compliance feature to add a pop-up disclaimer to your sales page.
16. Advanced Reporting
The advanced reporting feature lets you get detailed information about lecture completion rates, quiz scores, video stats, student leaderboards, etc. This is valuable information that helps you understand how your students are engaging with the course material.
The course reports are available for the following metrics:
Lecture completion- helps view the average completion rates of your course.
Video statistics- view how the videos on your course are performing, that includes play rates, data on video engagement, etc. You can also check a retention report for each video.
Quiz scores- See how students are performing on your course quizzes on average.
Leaderboards- view which students have made progress on your course
You can filter course reports on specified parameters to understand them in depth. Apart from this, you can easily export its reports for you to view.
17. Third-Party Integrations
Teachable provides integrations with a range of third-party applications. These integrations help connect your Teachable school to different types of email service providers, analytics, community platforms, etc. Further, these tools help create a seamless experience for your overall online business.
1. Analytics services
Teachable supports different third-party services that support Google Analytics, Segment.io, and Facebook Pixel for analytics. This helps you find the desired metrics to see what is happening in your course.
2. Zapier Integration
Zapier helps trigger in its Basic and Pro plan, which is great for automating your tasks. The integration helps connect with over 1000 applications, like Slack, MailChimp, Google Docs, etc. This will help you to automate tasks of adding students to an email marketing list. You can also send a text message when someone is planning to purchase your course.
3. Email Integration
Teachable integrates with ConvertKit and MailChimp to get your marketing services to the very top with its powerful features.
18. Customer Support
Support is a critical part of running a successful online business. Teachable has a strong support team, and you can easily get in touch with them. Support is available via email and live chat for Professional and Business plans. For the Basic plan, you can get support only via email.
Teachable has a comprehensive knowledge base that includes images and GIFs but is also made up of a few videos. However, the lack of video content allows the material to be categorized by task. This allows you to easily find the right steps to get your stuff done.
TeachableU is a support service available on Teachable. It is an online training school designed for course creators. It is a step-by-step method for creating and selling online courses. It is important to note that you have to upgrade to the paid plan to get access to this feature.
Teachable Pricing
Teachable has 4 plans that are suited to meet the requirements of both beginners and advanced individuals. The pricing varies based on the features you need; however, all the plans can be customized with your branding and the content you want to produce. Each plan comes with a range of course-building and marketing tools so you can create the best course out there. I've explained the features of these plans below.
Click Here To Give Teachable A Try
1. Free Plan
The Free plan is great if you want to familiarize yourself with the platform before selecting a paid plan. This plan is ideal if you are a new course creator having limited financial resources and you can build a strong audience base before switching over to a paid plan. Teachable's free plan has the basic features to get you started that include:
1 admin access
Unlimited students and hosting
Instant payouts
Email support
Integrated payment processing
Basic quizzes
Course design templates
Lecture comments
CSS snippets
Student referrals
The Free plan comes with generous offerings, but you have to be careful as you don't have all the control. The platform charges $1 + 10% every time a student purchases your course. This is huge, and you will not be able to make enough profit from your course sales. Further, you will have teachable.com at the end of your domain, and that doesn't look professional and might affect your business growth. This is why you should prefer one of the higher-end plans for optimum results and performance.
2. Basic Plan
The Basic plan is an extension of the free plan. It is priced at $59 per month and is ideal for users who require more features than the free plan. This is a perfect fit for online course creation if you are a hobbyist or if it's your side hustle and not your full-time profession. The plan has all the features of these free plans plus
2 admin user access
Unlimited coaching
Unlimited video bandwidth
Private community access
Launch accelerator training
Live group coaching
Custom domain
Coupon codes
Drip course content
Integrated email marketing
Community integration
Third-party integrations
The plan gives users to access the core features that will give your professional business backing. However, the platform takes a 5% commission for every sale you make on this course. If you are making a few sales every month, then it is best for you; otherwise, you have to switch to the higher-end plan.
3. Pro Plan
The Pro plan is the most popular pricing plan offered by Teachable. It is recommended mainly due to the advanced features it comes with. It is priced at $159 per month, and you can save 33% if pay it annually. Unlike the Free and Basic plans, the platform doesn't charge you any commission or transaction fee for any course purchased by students. It is ideal for individuals who have mastered the art of online course creation and are ready to make it a full business. The plan has all the features of the Basic plan plus
5 admin user access
Unlimited courses
Live chat support
Integrated affiliate program
Zapier actions
Graded quizzes
Course completion certificate
Upsells
Unbranded website
Public API
The Pro plan doesn't allow you to assign roles to your team members, but you have full access to its backend. At face value, the Pro plan might look expensive, but the advanced features it unlocks allow it to be a worthy investment.
4. Business Plan
The Business plan is the highest-tier subscription plan on Teachable. The pricing of the plans and features are custom-designed to suit customer satisfaction. The plan is best suited for larger organizations or companies that are planning to train their staff. It is also well-suited for established online course creators that require excellent performance. The plan gives users access to all the previous plans plus
Up to 20 admin access
Dedicated customer success manager
Implementation and migration services
Advanced Reporting
Advanced developer customization
Custom user roles
Bulk import students
The Business plan, like the Pro plan, doesn't charge any commission on the sale of a course. Here, you can modify the school's appearance using its developer customization and assign roles to your teammates to better handle different tasks. The only disadvantage of this course is that it is expensive and is not suited for most course creators.
How Does Teachable Compare to Other Platforms?
Teachable is the easiest platform to use today. It is designed keeping in mind both beginners as well as advanced users. The platform offers a step-by-step guide to users through the entire process of setting up your course.
If you are having prior experience in building websites, then you can navigate through Teachable without requiring a tutorial. The platform has an intuitive interface that allows for easy customization that is not available with most other course builder websites. Further, the features it offers make it stand out from its competitors in the market.
Teachable Pros and Cons
Pros
Easy to use
Built-in marketing tool
Simple and clean interface
Creation of a unique one-time bulk coupon generator
Email template editor
Sales funnel capabilities
Affiliate programs that are easy for beginners or advanced users
Efficient creation of coding snippets for your courses
Offers valuable insights and metrics on students' behavior
Easily bundle or cross-sell courses
Drip content is available
Robust security
A monthly recurring subscription fee
100+ third-party integrations
Blog features are available
Access to its iOS app
Customizable templates to select from to suit your brand identity
A large community of course creators to solve any issues
Good customer support
Course completion certificate
Cons
Teachable's free plan has limited features
It doesn't offer any refunds
Limited site themes and global payout options
Slow admin interface
Is Teachable Worth it?
Teachable is an online course platform that helps in the creation and sale of online courses. It is an excellent choice for entrepreneurs that want to create their first online course as well as seasoned course builders that have several students.
It offers an easy way to teach and sell your online courses to students. Here, you can sell unlimited video, audio and offers PDF or ZIP file downloads of your course to your students. Further, it also supports live video streams. You can add multiple instructors to your school, and different pricing can be based on each instructor's course. The courses offered by Teachable are available on mobile devices, and it also comes with a free iOS app. There are several features that make Teachable legit when it comes to passive income creation, making it a hot commodity in the market today.
Click Here To Give Teachable A Try
Teachable Review FAQs
1. Is Teachable mobile-friendly?
Yes, Teachable is mobile-friendly and allows for student interactions and online learning. It allows for smooth audio and video playback while also offering easily accessible coding lessons and an attractive interface. However, course administration is best suited for devices like a laptop or desktops. Also, embedded videos don't scale properly on mobile browsers.
2. Does Teachable have a free plan?
Teachable does offer a free plan that is an excellent choice if you are planning to preview the platform's core features as you grow your knowledge to get the best-in-class learning experience. It also comes with a 14-day free trial on its pro plan.
3. What is Teachable uses for?
Teachable is a platform that is used to create, promote and sell online courses. You also have the ability to sell digital products and services, like freelance services, consulting, coaching, eBooks, audiobooks, live classes, etc.
4. Can you create drip content using Teachable?
Yes, Teachable allows its users to create drip content. However, it is only limited to all sections and is not available for individual lessons.