Are you hunting down the top Teachable reviews, trying to understand the best Learning Management System for creating our own online course?
Well, you've landed on the right page.
Teachable is one of the leading LMS' today that comes with unique and handy features. It is one of the most popular course platform in 2021, and there's no surprise there. It's one of the most straightforward course platform that's built by online marketing professionals.
They aid in creating and selling courses online, successfully.
Online courses not only create a stream of passive income but also enhance your personal brand.
To begin with, you need to have a robust system in place where your course will live.
Unlike marketplaces like Udemy, LMS gives you full control over setting up your course.
From putting down the prices to creating the look and feel that resonates with your brand, you take the call.
In this article, we're going to look at the features of Teachable and review them.
By the time you stop scrolling this Teachable review, you will be in a good position to make a decision.
You'll understand if Teachable is the right choice for your business or not.
Click Here To Try Teachable For Free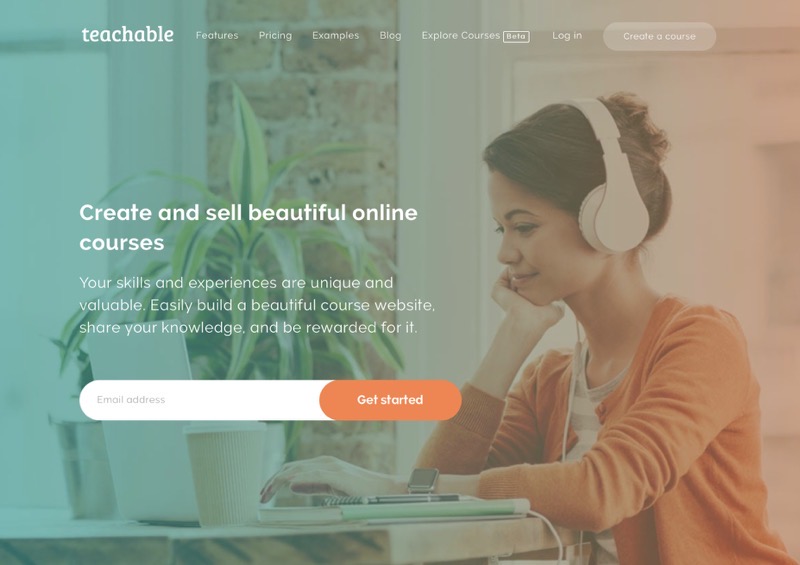 Before we dive into the review, let's clear the air and understand what LMS is.
Wrap Your Head Around LMS
LMS expands to a Learning Management System. It's a software system that facilitates creation, delivery, tracking, reporting and more, of online courses, learning, training, and other similar programs.
Simply put, it is a system where you can upload your courses, use their in-built tools and features to enhance your product (course).
Moreover, you can track the performance or your course and gauge the results and engagement.
It makes life easier for course creators since it lets you do everything at one place.
Bottom line: LMS is a system software where you can create, upload and track your online courses.
It is particularly beneficial for edupreneurs, course creators, bloggers or anybody who is looking to share their knowledge with the world, effectively.
Now let's take a look at the LMS at hand – Teachable.
Let's see what Teachable has to offer and will it be a great choice to run a profitable online course for you.
Teachable Review
Teachable is without a doubt the best course platform for a digital marketer or online creator with an existing audience or business. Honestly if you are looking to launch a course and looking for a platform that just works, then look no further than Teachable.
Click Here To Try Teachable For Free
About Teachable
Teachable is a standalone course platform that encourages you to start creating and selling your course from scratch.
Teachable comes with a very user-friendly and intuitive vibe that gets along with you pretty quickly.
This means once you've decided to narrow down your search on this platform, you can be get-set-going.
Apart from this, Teachable has its own academy where you can learn the nitty-gritty and also contact their helplines in case anything odd pops up and you seek help.
The best part about LMS like Teachable is you don't have to worry about all the heavy, tech stuff since their teams take care of the back end work.
Teachable impresses its users with the functionality it offers within its price range. It offers a pay-as-you-grow model that is super convenient for entrepreneurs, or first-time course creators.
Not just this, Teachable is a breeze for course creators as well as its students given its simplicity that sets it apart from other course creation platforms.
In this Teachable review, I am going to split all the features into four sections and view them from different perspectives. These sections are:
Course Creation Review
Marketing and Selling
Pricing options and Monetization
Technical Features
Lastly, we will look at its support for course creators, pricing and final verdict.
This will give you a better understanding and aid in an informed decision.
Lastly, you'll be able to answer: Is Teachable the right platform for me? Is Teachable Worth it?
Why Teachable?
The online course platform space is super crowed and its touch to figure out what's the best option. I've worked with online business of all sized from 5 people working on a site with barely few visitors to large scale projects getting millions of monthly visitors.
In my experience I find Teachable the perfect standalone course platform!
Click Here To Try Teachable For Free
Teachable Review – Pros & Cons
Ease of Use & Modifications
If you are someone with an existing online business, you just want to Launch! You don't want to waste time modifying different plugins or getting different integrations to work, no that's just insane.
Teachable is built for the online marketer who realizes that the greatest ROI is from marketing the course, not in trying to build their own course platform.
Transaction fees in base & free plan
One downside with Teachable is that you have platform fees on your courses if you are on the base or free plan.
Free: 10% + $1
Basic: 5%
Professional: 0%
Business: 0%
if you are tough on a budget, you will probably sign up for the free plan and upgrade when its needed… so I did the math (#NERDALERT) 😜
If you're making more than $780 per month, it's cheaper to sign up for basic plan vs using the Free plan
if you're making more than make $1200 per month it's cheaper to pay for Professional plan
However if you are reading you, this shouldn't be an issue cause if you are serious about marketing your courses, I'd recommend signing up for the professional plan at $99/month as it has all the features needed to make your course and launch a success and make so much more than $1200/month.
Unlike many other online course platforms where the team is built of develops, Teachable has a lot of marketers on hand. In fact the Teachable Blog has a lot of great content when it comes to launching your course and they hold online events where the Pat Flynn's of the world are speakers.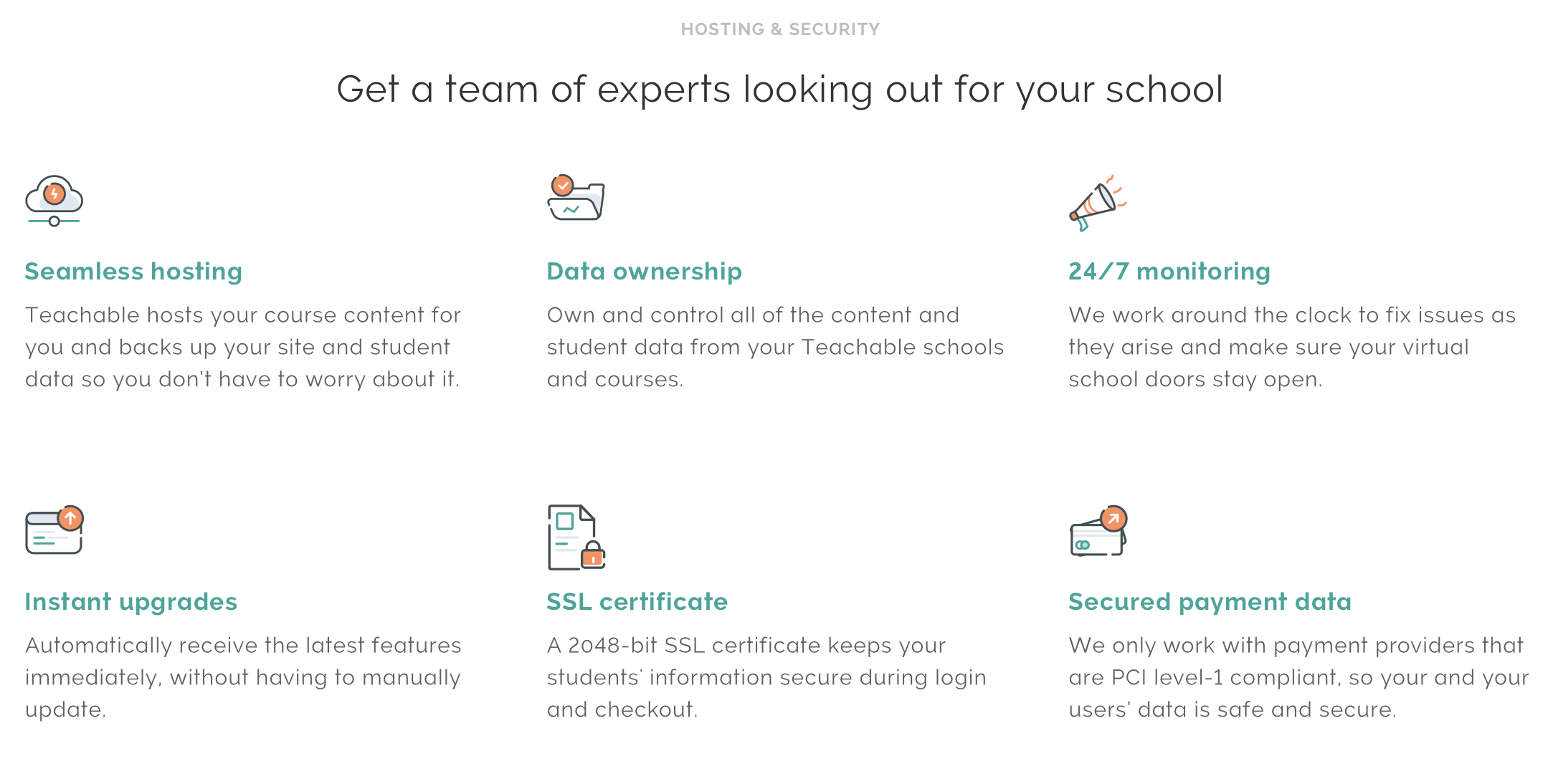 Teachable is available in 4 different plans:
Free – Test-drive Teachable's core feature set for free.
BASIC – Great to Create your first online course
Professional – Teachable's most popular plan
Business – Most comprehensive plan of Teachable
The Pro Plan @ $99/ Month is best for online marketers as it has all the features you need.
Click Here To Try Teachable For Free
Teachable Course Creation Review
Focus for any LMS should be the user-friendliness and the ease with which its users can access the platform.
Teachable does not overwhelm you with its endless features, instead, it ensures you get all the necessities.

1. Course Setup
Teachable's administrative panel is designed particularly to sell courses.
One thing that shines in Teachable is when you're setting up your course, you can optimize it for SEO as well.
This lets new students/audience discover your courses online, leading to more traffic and higher chances of conversion.
Discoverability is essential for anything you put up on the internet. From blogs to courses, each one needs a good boost of SEO (Search Engine Optimization).
When you're setting up your course on Teachable, you can specify:
Search Engine Optimized URL
Meta-description
Page title
Apart from the basic information like the name of the course and instructor.
2. Course Delivery
You can use the drip option via which you can release the course content according to a predetermined time.
This time could be a set date or a certain amount of days after a student has enrolled.
It is like delivering the content as and when you wish.
This creates an amazing learning experience for your students.
This is a great option as you are in full control of how students take your course.
You decide when to drip the content.
That way, students get the lessons when they should, leading to a higher rate of engagement and better learning experience.
3. Quiz
Feel like creating a healthy, competitive course for your students?
Teachable lets you create a quiz in your courses which is a convenient multiple-choice question and answers.
There's no bar for putting potential questions (although I am sure you do not want to go overboard on this).
Next, you decide if you wish to grade or not grade the quiz.
If you decide to grade, then the scores are revealed in the reporting area of Teachable.
Although one drawback of the quiz is you cannot provide any feedback to your students.
Not that it really matters but it is always an advantage to let your students in on their potential of improving.
Furthermore, you cannot bulk-upload the quiz on Teachable.
If you happen to have a heavy set of quizzes, you'll have to upload them one-by-one.
Overall, quizzes are a wonderful way to drive more engagement on your course.
4. Course Certificates
This is quite an impressive feature offered by Teachable for several reasons.
Firstly, awarding your students with a certificate on completion is a great way to encourage them.
Secondly, it could be a strong selling point for your course as well.
Teachable offers you 3 unique options to choose from.
In these options, you are allowed to insert your logo, signature, modify the color, and more.
If you feel like modifying them or creating one of your own, you can do so via Liquid coding language or HTML.
This is a feature many LMS miss out on.
Especially, when you look from the student's perspective, a certificate holds higher importance for them.
Overall, it is a great way to enhance your course's value and is a great feature offered by the platform.
Click Here To Try Teachable For Free
Teachable Marketing and Selling
Once you have your course set up and ready to roll out, you want to market and sell your course.
So let's look at some features offered by Teachable on the marketing and selling front.
1. Themes
You can play around with the themes until you find the right one for your business.
You can modify:
Logo
Background image
Overlay
Select from 10 font options
Edit and/or select the right color form the color palette
Teachable's theme section, like most others, comes with a user-friendly interface.
With the available tools, you are good to set up a professional-looking website.
However, for more advanced options, you can add custom CSS in the "Code Snippet" area.
2. Integrations
Teachable allows integration with quite a lot of third party applications that you can use for either designing or take your marketing efforts a notch up.
However, all of these integrations are possible only with the help of Zapier.
Sadly, you cannot integrate the apps directly with the platform.
But this should not stop you.
Robust marketing applications like MailChimp and ConvertKit allow you to run drip email marketing campaigns.
This could be a great addition if you already have some basic know-how of marketing and are very clear with your end goal.
But, if this is your first time creating a course, you can be better off without these complex integrations.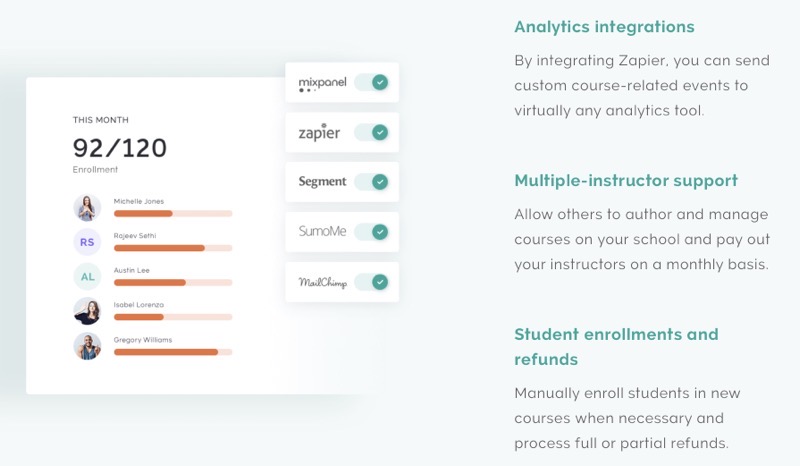 3. Sales Page Customizations
As the name signifies, the sales page is critical to any product.
That's where you seal the deal.
There are certain "blocks" you get in Teachable's sales page.
Following are the blocks that not only make your course look pretty impressive but also all the blocks together make up for a compelling, complete sales page:
Course Hero Header image in the beginning
Showcase Author bio (or about the educator)
Embed testimonials
Embed a form(s)
Primary and secondary enrolment button
Coupon banner to exhibit the offers running on your course
Bundled courses
The sales page facilitates the drag-and-drop feature through which you can adjust the position of your blocks and create sales pages as you fancy.
You can certainly make some edits if you know how to code, but they are not mandatory.
The existing features make up for a pretty effective landing page on Teachable.
Isn't it quite simple to do it without any technical wisdom?
4. Thank You Page
Your students are navigated to a thank you page once they purchase your course.
This is an opportunity in the disguise of a page.
You can simply state thank you, add a link for your students to access your course and call it a day.
Or, you can do more on this page.
You can add a video block where you would add a personalized note on welcoming students to your course.
This builds a personal bond and drives engagement.
You can also add an additional block here to upsell.
Teachable does a great job here by offering you to sell other courses you've created on the thank you page.
This is done by adding an additional block where you can showcase the video for the desired course.
This is a key feature because once someone has just made a purchase from you, they are more likely to opt-in for other courses as well.
This is a great way to cash in on the opportunity.
5. Checkout Page
Remember we had an "enroll button" on the sales page? This is where it leads.
You can say that the page is a look-alike of a traditional e-commerce site.
Additionally, you can put up some more features that make it interesting, attractive and leads to a smooth purchase.
Or, leads a prospect to smoothly turn into your customer without much thinking.
Here's what the features are:
Testimonials
Guarantee badge; and
Bullets that split your benefits and showcase it in a pretty clear and crisp manner.
Click Here To Try Teachable For Free
Teachable Monetization Features Review
1. Payment options
A great feature that makes any course distinct is its pricing options.
Teachable offers you multiple payment options to choose from.
Not only is this convenient for people residing in different demographics but also a convenient range of payment options.
Your students can pay via Mastercard, PayPal, Stripe and more. It further accepts over 130 international currencies.
This means there are multiple payment options that you can offer to your students when they are willing to take your course.
This includes payment plans, one-time pay, subscribe, free plans and more.
This allows greater flexibility to purchase your course.
2. Coupons
Teachable makes your life easier by allowing you the options to access coupons.
With coupons, you can attract more students by giving them a percentage off your course. Ideally, this is made valid for a short span.
You have to be able to create an urgency and a sense of accomplishment when students are in the deciding stage of purchasing your course.
Although this option is not available in the free plan, any other paid version offers this feature.
This helps you increase traffic and attract more potential students.
3. Affiliate Program
Simply put, an affiliate is a person who promotes your program and helps reach a bigger audience.
Once someone makes a purchase via your affiliate, you share the revenue generated with them.
Teachable makes it pretty convenient for you to register an affiliate.
The platform offers amazing tools that facilitate communication and progress tracking.
Now what's even better is your students can also become an affiliate and promote your course.
Since they have already taken your course, it will be easier for them to become an advocate for the same and help you spread a word about it.
In return, you will reward them with a percentage of the revenue generated.
4. Custom Payment Gateway
In order for your course to be accessible to a large number of audiences, it should have flexible pricing options.
Teachable stands apart from a lot of other LMS (as we discussed above).
Furthermore, it allows you to create a custom payment gateway. This allows you to have the payment transferred directly to your PayPal or Stripe account.
It connects directly with your PayPal business account or Stripe account, allowing you the ease of transaction plus lower transaction fees.
5. Bundle
If you're wondering what bundled courses are, these basically mean you can bundle a couple of your courses and sell under a single price tag.
Another great way to promote more than just one course you have created.
Click Here To Try Teachable For Free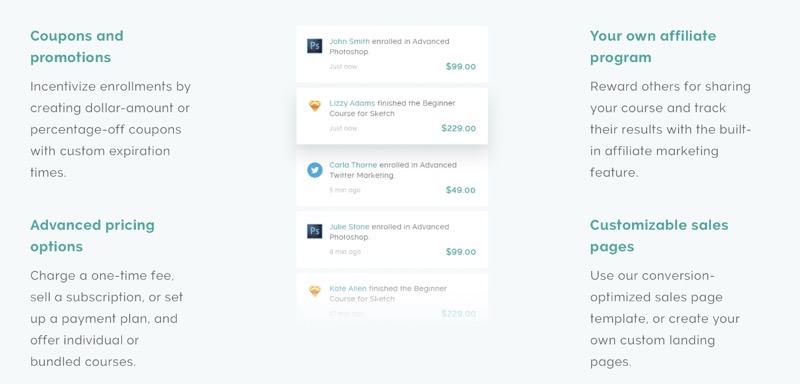 Teachable Technical features Review
1. Analytics and reporting
This is the section where you can track student progress, enrolment, and scores of the quizzes.
Moreover, another great feature that Teachable offers is that you can view any student's profile. This gives you access to some important information like:
Number of times a student logged in
Courses enrolled
Progress report
IP address, email address and name
This is an extremely useful feature for course creators as they get a sneak peek into student's behavior which lets them in on insightful features.
2. Video heatmap
Teachable has impressed many users by introducing video heatmaps in their system.
First, let's understand how heatmaps work.
When you upload an entire video, you would be interested in knowing which of the sections are most liked/viewed by your students.
The heatmap feature in Teachable lets you understand just that.
In each video, certain areas are colored that sends out a particular message.
This goes something like this:
Green: watched
Yellow: rewatched
Orange: rewatched multiple times
White: skipped
With this kind of analysis on your video, you can easily understand your student's behavior which will eventually help you in creating future courses.
One thing you should know here is: this feature works only when you directly upload a video on teachable using the file uploader.
If you've used an embedding code to embed any video, this feature will not work.
Overall, this is a great feature and makes your investment worthy since it gives you a comprehensive insight.
3. Custom Domain
When you're on a free plan, your domain will be a sub-domain or Teachable.com. This is set by default.
However, as soon as you switch to any of the paid plans, you can add your own sub-domain.
Moreover, as you climb up the ladder and opt for a professional plan, you can eliminate the Teachable branding as well that shows "powered by teachable".
Click Here To Try Teachable For Free
Teachable drawbacks
As they say: there are two sides to each coin.
Similarly, Teachable comes with its own sets of pros and cons.
While we looked at some of the best features that Teachable has to offer and how they make the lives of edupreneurs easy, there are some drawbacks also.
Although this might depend from person-to-person as how they perceive it.
What might be an advantage for a small business may not be as efficient for a large company.
With that being said, let us look at some points I wish Teachable had.
1. Transaction Fees
Although starting out is free, you will have to pay a sum on transactions.
On the free plan, the transaction fees is 10%, while on the basic one, it's 5%.
If you go on any of the plans above that, you can get rid of the transaction fees entirely.
2. Advance Marketing
While Teachable does come with easy to set up tools and drip content options, it really misses out on the marketing front.
You have to make an extra effort by looking at other ways of marketing it to your students.
Teachable does not market the course for you, unlike course marketplaces. It could be cumbersome for you if you are relying on the platform to utilize its user base and market your course.
Even though you can optimize your course for SEO so that it's discoverable, you still have to put in the action into spreading a word about your course.
3. Themes
Although Teachable comes with a single, basic theme, you don't really have an option to change that.
If you're looking to create a more advanced program and level up on the branding front, this could be a bummer for you.
4. Live
If you wish to run live events on your courses, then this is going to disappoint you. Teachable does not let you run live events on their courses.
For some content creators, especially those who are creating live content regularly, it could give them second thoughts.
Click Here To Try Teachable For Free
Teachable Support for Course Creators
We all need help some time or the other, and Teachable is no exception.
Although the platform is intuitive, there still could be some areas you would like to use help.
So who will you turn to?
It is pretty easy in terms of features – the question's icon next to its features makes you comprehend its uses.
Furthermore, Teachable support helps each of its course creators. When you submit a ticket on Teachable, you're equipped with help articles instantly.
This happens because it could be a common problem that could be solved without getting in touch with their representative.
Their primary ways of resolving your issue are chatbot and email.
Still, if anything persists, you can request for phone support.
Lastly, once you're on any paid plans, you gain access to Teachable U.
This is a space of educational materials that is super effective and valuable in resolving your issues and growing your business.
Click Here To Try Teachable For Free
Teachable Pricing
Now that we have run through the good and the bad, let us understand if Teachable's pricing justifies its features.
Teachable comes with a 3 tier pricing structure, but you can always start with a free plan.
This essentially means you can test the waters before diving. You can get a good understanding of the platform, how courses are created and how your experience is like on the platform.
Then, you can always switch to paid plans and continue to grow your business.
Here is what Teachable pricing looks like:
Basic: Great to Create your first online course Costs $39 a month ($29 on an annual plan).
This plan comes with transaction fees of 5%.
You can have 2 owners/authors and the payout is on a monthly basis.
You will get a complete drip course content.
This plan misses out on a few features including graded quizzes, certificates, advance reports, etc.
It is ideal for beginners but if you are looking at more features than this, you need to look at the other two packages.
Professional: Teachable's most popular plan Costs $99 a month ($79 on an annual plan).
Luckily, this package does not charge you any charges for the transaction.
Apart from the features you get in the basic package, you get access to instant payout, unbranded website (without Teachable's brand), live chat, and advance reports.
The only thing this misses out on is manual imports of bulk students or enrollments.
This is ideal for you if you've some experience with course creation and are looking to level up.
Business: Most comprehensive plan of Teachable Costs $299 ($249 on an annual plan).
Now, this is the entire teachable in one package.
You can bulk enroll, have over 100 owners/authors and gain access to every teachable feature.
Basic
Unlimited students
5% transaction fees
Instant payouts
2 admin-level users
Product support
Course creator training
Custom domain support
Coupon codes
Drip course content
Integrated affiliate marketing
Integrated email marketing
Third-party integrations
Price: $39/month
Professional
Everything in Basic +
No transaction fees
5 admin-level users
Priority product support
Graded quizzes
Advanced theme customization
Advanced reports
Unbranded website
Course completion certificates
Course compliance
Price: $99/month
Business
Everything in Pro +
100 admin-level users
Priority product support
Manual student imports
Bulk student enrollments
Custom user roles
Price: $299/month
Is Teachable Worth it?
All in all, Teachable is a perfect LMS for you if you're a first-time course creator, edupreneur, or have less experience and budget on your hands.
If you fall in any of the above categories, Teachable will be a pleasant experience for you. The platform is very easy to get started with.
The features and setup is intuitive, plus it comes with a free plan.
Although the prices on the free plan are restricted, it will give you a comprehensive idea of the platform.
On the free plan, and even in other plans, the features completely justify the price and help you create an amazing course.
Just like you grow, so do your needs.
At the professional level, you will find all the tools and features that you need to run a successful online course.
Teachable is a highly-recommended platform if you're looking to create and run a successful online course without much hassle.
Click Here To Try Teachable For Free
Teachable Discount Code
They're many websites on the internet making misleading offers such as:
Teachable Coupon
Teachable Discount Coupon
Teachable Discount Code
Teachable Discount
Teachable Coupon Code
Teachable Coupons
Teachable Code
Teachable Promo Codes

The truth is that Teachable does not offer any coupons!
However, you can normally get a discount on Teachable if you decide to pay Annually instead of Monthly! If you decide to pay yearly instead of monthly you will save up to 25%
Read Next: