LeadPages is one of the most popular Landing page builder and lead generation tool you can buy in 2020! If your aim is to generate leads than forget every other tool out there and get yourself a LeadPages subscription!
When it comes to landing and sale pages Leadpages has the most to offer in terms of functionality like built-in A/B testing and easy UI and in this LeadPages Review, I'm going to dive into the pros and cons of Lead Pages for your business!
---
Exclusive Offers For JeremyNoronha.com Readers
JeremyNoronha.com readers can get a 39% Discount on LeadPages. Simply click the link below and pick "Annual"
Click Here to try LeadPages for free for 14 days
Hurry Up! Limited Time Offer.
---
LeadPages Review
So, you're thinking of launching your first marketing campaign, and of course, a marketing campaign has to have a landing page. That's where LeadPages come in! In this LeadPages review, I'll dive into why it's the best landing page builder for someone launching their first landing page and marketing campaign.
About LeadPages
LeadPages is one of the most popular landing pages builders on the market. It makes it super easy for big businesses as well as small solo entrepreneurs to build landing pages and collect leads.
LeadPages has 2 editors, beginner, and expert. So it doesn't matter if you are building your first landing page and want a simple drag and drop builder or if you want to mess around and focus on increasing your conversions by 1%, LeadPages has the tools and functionality you need.
LeadPages Features: Pros & Cons
1. Easy to build Landing Pages
LeadPages makes it super easy to build high converting landing pages. The easy to use drag and drop landing page builder allows you to build custom pages for all occasions.
You have complete control over everything on your landing page, from fonts to A/B testing.

2. LeadBoxes
If you use LeadPages you don't have to invest in another lead generation tool as LeadPages comes with Lead Boxes that allow you to create pop-up boxes that you can use all across the website (even on your existing website)
You can create
Alert bars
Pop-ups
Opt-in texts
And more!
3. Integrations
LeadPages Integrates with almost every single Email Marketing software or Marketing CRM so you can save your subscriber data easier.
Some of their integrations include:
Google Analytics
Google Tag Manager
Infusionsoft
Hubspot
SalesForce
Facebook, Instagram, Google Ads
Shopify
Active Campaign
Aweber
ConvertKit
Drip
Zapier
Stripe
Wistia
……and so many more!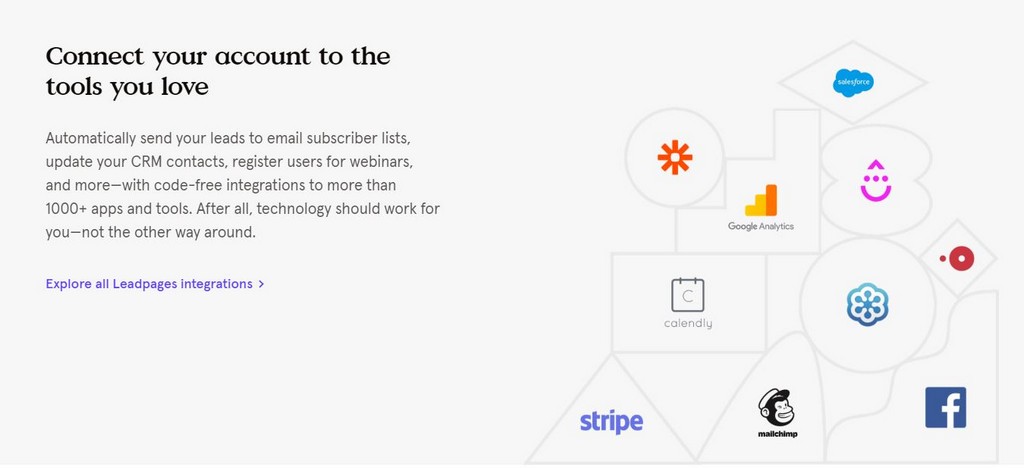 4. Use with WordPress
You can use LeadPages's WordPress plugin with your WordPress site/blog to build landing pages in your already existing website. So it doesn't matter if you have an existing business on WordPress, or if you are planning on just building landing pages, LeadPages has you covered.
5, Powerful Website Builder
While LeadPages does integrate with WordPress, in 2020 LeadPages now has a built-in Website Builder that you can use to build your entire website with LeadPages from scratch!
Bonus: If you sign up for an Annual Plan of LeadPages you get a FREE custom domain!
6. Unlimited EVERYTHING
Unlike most other website builders that limit and charge you based on the amount of traffic you receive or even the amount of leads /landing pages, you can build. LeadPages doesn't limit you at all!
At their standard plan starting at only $25/month, you can build unlimited landing pages, collect unlimited leads and have unlimited traffic to your site!
7. Landing Page Templates
LeadPages comes bundled in with 200+ landing pages templates that you can import and use on your site. They're professionally designed with Conversions in mind! You can see all the templates by clicking here. They also have website templates you can import and modify to exactly fit your needs.
8. SEO Optimized
One big plus with LeadPages is that the landing pages are well optimized in terms of speed and SEO.
9. Conversion Focused
LeadPages is very focused on conversions, they're plenty of tools and options that are integrated with conversions in mind.
They include unlimited split tests—including A/B tests, optimization tips in real time, Simplified analytics, webinars, downloadable resources, and appointment scheduling
LeadPages vs Unbounce vs Instapage vs Clickfunnels
Unbounce, Instapage, Clickfunnels, and Leadpages are often compared together in "vs" blog posts across the internet.
If you are looking for the most powerful landing page builder out there, Unbounce would be your choice. It's got all the features you could want from its competitors.
However, each one is different and kinda fits a different kind of need:
Unbounce: Most popular landing page builder but also super expensive as your site grows.
Clickfunnels: If you are a business that relies heavily on lead magnets, sales pages and funnels to function then Clickfunnels is a good idea.
Instapage: It's the easiest to use in the lot that geared towards beginners who want a simple way to put up a landing page.
LeadPages: All of the LeadPages plan even the cheapest one (@ $25/month!) allows you to build Unlimited sales pages and allows you to have unlimited Visitors.
Click Here to try LeadPages for free for 14 days
---
LeadPages Pricing
LeadPages is available in 3 different pricing plans:
Standard – For new businesses
Pro – Perfect for growing businesses
Advanced – For marketing agencies
As you can tell, there is a LeadPages Pricing Plan for everyone. Right from someone building their first landing page to an expert internet marketer.
Standard
Site Builder
Connect Your Domain
Unlimited Landing Pages
Unlimited Pop-ups
Unlimited Alert Bars
Unlimited Traffic & Leads
Free Hosting
200+ Free Templates (Mobile-Responsive)
40+ Standard Integrations
Facebook & Instagram Ad Builder
Weekly Group Coaching
Price: $37 / Month
Plus
Everything in Standard
Connect 3 Domains
Online Sales and Payments
Unlimited A/B Split Testing
Email Trigger Links
10 Opt-in Text Campaigns
Price: $79 / Month
Advanced
Everything in Plus
Connect 50 Domains
Advanced Integrations
Includes 5 Pro Sub Accounts
50 Extra Opt-in Text Campaigns
1-on-1 Quick Start Call
Leadpages Virtual Workshops
Price: $321 / Month
LeadPages Discount Code
You can get a discount on LeadPages if you decide to pay Annually instead of Monthly! If you decide to pay yearly instead of monthly you will save 39%
Leadpages Discount Price:
Standard $444 $300
Pro $948 $576
Advanced $3852 $2388
JeremyNoronha.com readers can get a 39% Discount on LeadPages. Simply click the link below and pick "Annual"
Click Here to try LeadPages for free for 14 days
Hurry Up! Limited Time Offer.
---
Is LeadPages Worth It?
The answer is definitely YES! While many of LeadPages competitors charge you based on the number of page views. LeadPages allow you unlimited pageviews even on their basic plan making it the best value for the money!
I hoped you enjoyed my LeadPages Review, let me know your thoughts below in the comments 🙂