In the digital marketing spectrum, a landing page is a standalone website designed specifically for a marketing or advertising campaign. In the past, landing page builders were not as simple as they used to require endless back and forth with your designers and developers. Today, you can have peace of mind to create a landing page on your computer within a short period.
Leadpages is a versatile landing page builder that has a simple, code-free experience for building high-converting landing pages. In this review, I will dig into its features and find the right tool for you.
Overall, I have to say I am impressed by the ease of use and functionality that are offered by Leadpages. However, let us not jump too far ahead and check it out.
What is Leadpages?
Leadpages is a drag and drop builder that helps small and medium-sized businesses for their marketing campaign. The tool helps build websites, popups, and alert bars easily using its visual editor.
Click to Try LeadPages For Free
The landing page creation process is simple, and you can create it without needing any technical expertise. This makes it easier for beginners who want to create a web page without hiring a professional. It has excellent features that will help lead potential customers into your sales funnels.
Leadpages was launched in 2010 by Clay Collins, based in Minneapolis, United States. In 2020, the company was sold to Redbrick, who own and operate it to this day.
Who Should Choose Leadpages?
Leadpages are purpose-built for small businesses and users without requiring any technical expertise. The tool is great for generating and converting leads. The versatile platform is best suited for selling services over products, so solopreneurs can make use of the tool. Several App developers use the Leadpages platform to market their apps outside the app store.
Leadpages helps create exceptional email marketing channels that help get your audience engaged to turn leads into customers. Finally, the tool is perfect for AD campaigns and tracking your results to continually optimize your pages to get more conversions based on your ad spend with the easy-to-use platform.
Leadpages Review
1. Ease of Use
Leadpages is simple and easy to navigate across its dashboard and features. Unlike some other tools, it doesn't have steep learning curves and is ideal for beginners who have no experience in the space. Its versatile drag and drop builder makes it easy to create and manage page elements with utmost efficiency. So, instead of taking days to create a landing page, you can build it within a few hours.
Click to Try LeadPages For Free
Leadpages offers several keyword shortcuts that are critical and help save you valuable time. Another cool feature of the software is that it has a global page style setting, which lets you easily customize and change the appearance of your page all from a single command.
The tool may give you the freedom and simplicity to go codeless. You can also make use of HTML, CSS, or JavaScript for the landing page to get more advanced customization capabilities.
2. Landing Page Builder
The primary function of Leadpages is to build landing pages with its builder, and you will be familiar with the overall process in case you have ever used a tool like the CMS like WordPress. You can get started quickly after signing up, and it will ask you what you would like to build.

The landing page building option will take you to the library of landing page templates. It has 250+ templates, and there is plenty of variety; you can filter them based on popularity, industry, style, and color to make your choice easier. You have to select one template and add your content, and you are good to go.
Once you decide on the template, it will take you to the drag and drop editor. From there, you will get access to a 2-column layout having settings on the left side, and a preview will be offered on the right. You can navigate past different sections of the page after you click on the layout option. In the same panel, users can browse through different sections, which can be added in a few clicks.
The simple interface of the tool lets you customize each template, giving users the utmost efficiency. You can select an element of the page, and a setting panel will appear to edit the content.
Uptime is very important; however, page load is not less important. The landing pages of Leadpages offer fast page load times and speed. With the tool, your visitors will no longer have to exit the site because of slow-loading web pages. Leadpages has a promise of 99.9% uptime for its landing pages due to its Google App engine.
This may look like a secondary feature, but I can assure you that you can make or break a business, especially if you want websites that are looking to sell a product or service.
Leadpages Builder auto-saves your work every time you want to edit something, so you don't have to worry about saving your work. You also have the ability to change the last published version of the page if you are not happy with the current working one.
The Builder has a pre-populated hidden form field to easily track and send data to for email marketing or CRM. If you are editing or working on the Page Builder, you can preview the pages across different devices. This helps you with cross-device optimization in real-time.
Redoing your favorite designs can be annoying for several users. The builder helps you to copy and customize the existing content. You no longer have to waste time to build a clone of a page from scratch.
Leadpages allows you to easily tweak the website and has an image library. So you can easily stock and manage the graphics all in a single place.
3. Website Builder
Leadpages allows you to build websites, as we have mentioned above. When you select the website building option, you will get access to various website templates instead of looking for landing page designs.
The tools offer an array of pre-designed themes for you to select from and save plenty of time. Using its drag and drop builder, you can seamlessly integrate with any site and customize it without needing any coding experience. The themes are mobile-responsive and are categorized based on style, industry, and color. These themes are great and look crisp and professional. Looking at them, nobody can tell you that there is a no-code template for your shop. The user interface may be clean and glitch-free; however, the editor gets sluggish at times, especially when you are using older versions of the browser or have a slow internet connection.
Previewing it in full-screen mode is an excellent feature of the site builder. All website builders will give page previews, leaving room for imagination. You can scrutinize your website design thoroughly using the tool.
If you want to get a simple website builder and want high conversions, then you will be thrilled that it will have it all using the platform.
Fast page loading speed, which Google loves
Super secure with no sketchy plugins or themes to always stay updated
Automated mobile responsive sites
Efficiently customize your website with no coding language
Website templates based on 6+ years of conversion marketing experience
Unlimited website revisions
A blog to showcase your knowledge without requiring WordPress
The best part is that you will get 5x more conversions with the tool compared to typical websites.
There are several benefits that come with the website builder, and it is great to test different business ideas quickly. In case the idea is successful, you can build a fully integrated site later. However, its only downside is that you will have to purchase a custom domain name. You can also not set the website up of WordPress and take advantage of the features it offers.
4. Templates
Leadpages templates are amongst the best in the industry. They have over 250 templates that are broken down by purpose and industry. All the templates are mobile-friendly and render well across any device. The templates are suitable for building both website and landing pages.
The templates are already pre-made, and you have to just click and edit your details, and you are set after you enter the details of your site. You can say I'm nostalgic about the templates and how simple it is to create professional landing pages in a few clicks.
Leadpages templates are available in two forms- Standard and Drag and drop types. The standard templates don't have much customization, while the latter has exceptional customization features and functionality. Here, you can change its colors, add your logo, edit text/images, or swap sections, all without writing any code.
Leadpages has recently launched a new feature- A section template feature that has helped reduce the time for your design process. The section template allows you to skip dozens of design steps and fast-forward to create a versatile design in half the time. The templates can be customized without any cost, so you are not locked with templates and waiting for a web developer to help you out.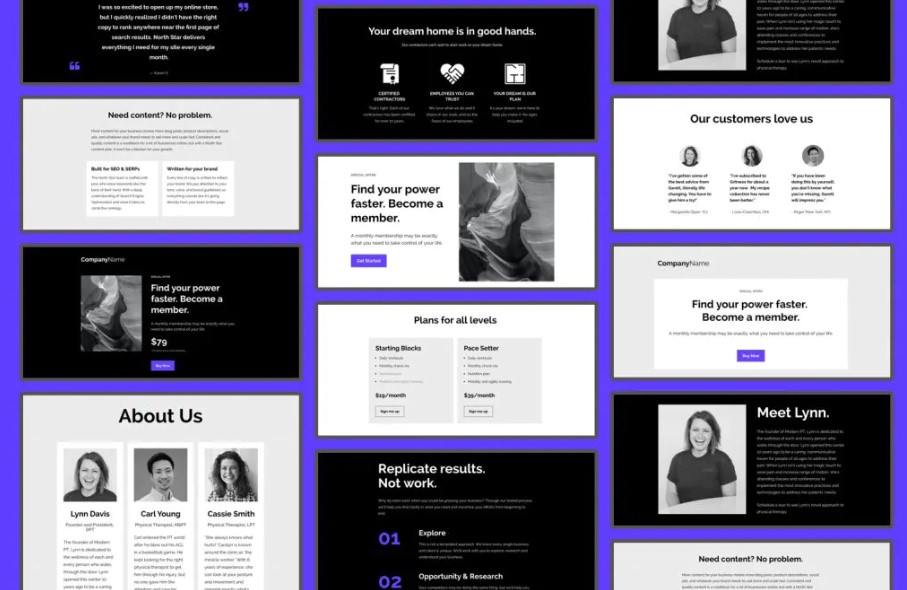 Here is how it works
In the Leadpages Builder, open the Sections gallery
Select from the seven content categories and browse all
You can drag and drop the section template on how you like it to appear on the pages
The Section templates help you save the necessary time and the
Section templates will adopt the font style of the page, and you can edit it as per your brand colors to make your own copy.
Once you customize the section, you can copy and paste the section into all the other pages.
After the section templates are added to the page, its layout and content will be completely customized without needing any code.
The Section templates are organized into seven categories, which are designed to quickly create the types of content that you would use most often.
In the page builder, you will have several sections that include
About
Call to Action
Contact Us
FAQs
Testimonials
Hero
Logos
Text Blocks
Features/Service
Plan/Pricing
The section templates can easily drag and drop sections on your page and customize the content, styling, and features as per your liking. The sections can be edited by dragging or dropping the elements in place, copying and pasting sections in your site, or undoing/redoing certain actions with a click of a mouse.
5. Security and Privacy Policy
Leadpages places great emphasis on security and protecting all your data from any malware or issues. The pages on the servers are secure by default, and they also support SSL and HTTPS protocols.
The platform uses a third-party service to help automatically obtain a browser-trusted certificate to secure each of the landing pages and the site published to a domain that is connected to the Leadpages account. This process is automatic, and you don't require any extra setup.
Leadpages complies with GDPR and CCPA to comply with data regulations to protect customer data. However, users have to comply with regulations based on their geographical location. The tool makes sure that all the personal information that is collected is secure and is not leaked anywhere not required.
6. Conversion Tools
Leadpages has a comprehensive performance overview for your campaigns to get better diagnosis and analysis of your campaigns. The tools allow you to generate leads and sales just to get everything a whole lot better. This helps optimize landing pages that help generate more conversions, promote special offers, or analyze your toolkit in a single toolkit.
Click to Try LeadPages For Free
The Leadpages conversion toolkit comprises some of the useful features listed below.
1. Pop-Ups
Pop-ups offer a great way to focus on your audience at the peak of their interest to capture leads. On Leadpages, they are called Leadboxes, so you can avoid bounce and exit rates on your landing pages using pop-up forms that will automatically set trigger based on time delay or certain user action.
If you want to set up a pop-up, it is simple using Leadpages, as I've written below.
To create a pop-up on the tool, navigate to Conversion tools in the navigation menu, then click on pop-ups and create a new pop-up. After that, you have to select a description and start building the pop-up builder.
The new pop-ups will include a few widgets, which include a text or a form. You can also customize with different content widgets as per requirements. Finally, you can easily add a background color or image for every section of the pop-up.
After you have created the pop-up, then it is time to publish it to the site. You can also connect it to your email service provider, as new subscribers will go to your preferred email list. If you are selling multiple products, then you can deliver multiple pop-ups that entice your visitors to subscribe to a newsletter that will sell a product and have more than one pop-up on a single page. This is great if you are looking to sell multiple products.
A pop-up can be set to appear at the right time when a user is glued to your landing page. You can set it to appear:
When a user clicks on any link or button
Time delays or based on time
Exit intent is when the visitor moves their mouse, indicating the intent of the user to leave the page.
Leadpages has a flexible publish option or a third-party website without needing to hire a developer. You can publish it on
Landing Page- Most landing pages on Leadpages come pre-loaded with on-page pop-ups, which allow you to edit or add one to any page that you are working on.
Website- Put your pop-up on a website or platform that lets you use HTML and JavaScript, including WordPress or Squarespace.
WordPress- The Leadpages pop-up WordPress plugin allows you to easily publish directly on a WordPress website or blog.
2. Alert Bars
Alert bars are versatile tools to capture your audience's attention and boost conversions with the help of a non-intrusive, mobile-friendly alert. The little bars can be annoying, but they can be a big source of income for landing pages and websites. Leadpages score 9 out of 10 in this department and help in collecting emails, growing lists, or messaging your visitors.
The alert bars are flexible and draw the attention of your visitors without drawing your visitors away from the primary content on the page. It has a mobile-friendly layout will automatically adjust to appear in the right position based on your visitor's device screen size.
To create a new alert bar, you have to
Navigate to the Conversion tools in the navigation menu and click on Alert Bars
Choose a layout that will remain sticky to the top of the website
Customize your content by changing the color, editing the text, including hyperlinks, opt-in forms, or CTA button
Connect to your email service provider
Select Create a New Bar and set a name for your bar
Publish your alert bar on any landing page
Combined with the exit-intent pop-ups, it makes a real difference in the conversion rates of your landing pages.
3. Leadlinks
Leadlinks are email trigger links that are a cool feature that lets you prospect sign up for promotions in a single click. The features allow your current users to join lists or sign up for any new offerings. The subscribers don't need to opt in again, as they have already done that in the past. In simple terms, a Leadlink is a one-click signup link or page.
With this feature, you can direct your users to webinars or other things with just a single click. This is great if you want to promote a product or affiliate link to your viewers.
4. Leaddigits
Leadpages, Leaddigits feature is another powerful tool in this spectrum. The tool allows you to reach out to prospects where they spend most of their time on their mobile phones.
If you know that text messages have a 209% higher response time compared to email, phone, or through Facebook.
The feature makes a lot of sense as we spend most of our lives glued to our phones, and it is simple to reply to a number with a short text over email. It helps you collect phone numbers, get email signups, promote your business via text, or send coupons.
All four conversion tools are designed to generate valuable leads for your business. Each has different uses, but its primary aim is to grab the attention of your audience and increase your leads, which can increase its conversions.
A lot of marketers will add links, text, or other things in the tools for their website pages, landing pages, etc. to capture more leads. However, it may help capture more leads, but it will also pull customers away from the core website as per data from other tools. This is not the case with Leapages, as they not only increase conversions but also help retain the visitor longer.
7. Lead Generation
Leadpages' major function is lead generation, which helps convert anonymous web traffic into contacts. This allows you to continue to proactively market to your contacts in the future. The platform is a leader in conversion marketing and has long been at the forefront of bringing leads to help small businesses succeed online.
Leadpages has an in-built Lead Magnet Delivery system for new customers that gives you access to visitors' contact information. Similar to a magnet, it'll understand the viewer's interest and encourage them to offer their address.
The lead generation tool allows you to drag and drop a form anywhere you like for landing pages, alert bars, or pop-ups. You can also embed opt-in forms for third-party tools.
The lead generation feature
Gives you a higher ROI on the resources that you have invested in attracting traffic
Helps target interested buyers more effectively than cold-calling strangers
Allows you to grow your list of leads and customers. These leads are yours to keep, and the contact list is highly valuable and also improves the valuation of your business.
Let's you collect key information about your prospects that helps better tailor marketing campaigns or sales tactics.
8. Widgets and Page Grouping
It is difficult and challenging to locate landing pages if you are running more than one campaign at a time. Leadpages ensures that you don't have this issue and lets you organize your landing pages based on the campaign and client. Here, you can add color-coded labels to create robust content groups.
You can use widgets such as video, text, timers, images, OpenTable, and Calendly to add advanced functionality to your landing pages, pop-ups, or web pages.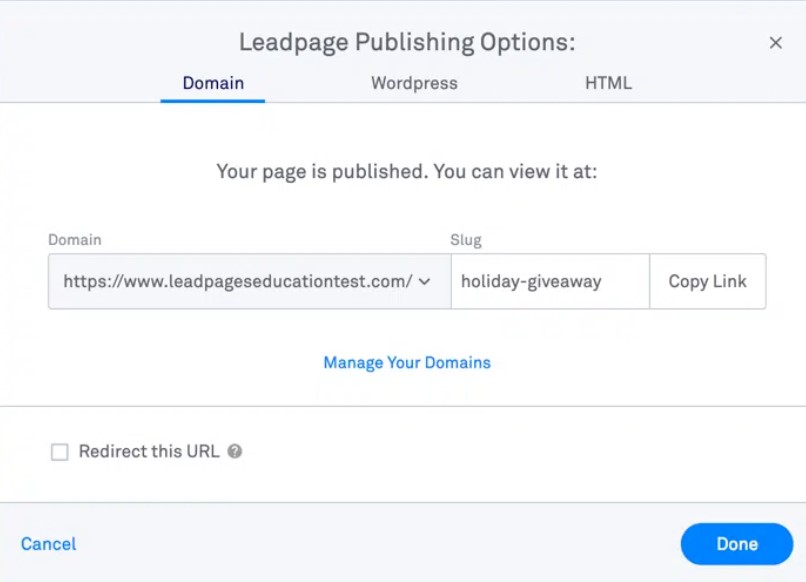 For example, you can embed the widget of OpenTable and help users search for available reservation times and book a table directly from your pop-up, landing page, etc. The countdown timer helps add a sense of urgency and will incline visitors to take action faster. The function will automatically redirect the visitor to a different page or hide it from the page section once the clock runs out.
Similarly, the Calendly embed widget can show you your appointment calendar and allow visitors to self-schedule a call to the doctor or other professional directly from your landing page without any hassle.
9. Search Engine Optimization (SEO)
Search Engine Optimization (SEO) is complicated for a newcomer in a crowded space. However, Leadpages makes sure that SEO is incorporated in such a way in its offerings that makes life easier for its users.
Leadpages allows you to easily edit all your site titles, meta descriptions, meta titles, and image tags directly on its dashboards. All the pages built using Leadpages are mobile responsive. This is a huge positive with Google, and it drastically improves your overall SEO score. Further, it is protected by SSL and HTTP security that helps keep your website safe and secure from hackers or malware on the internet. Finally, it boasts fast loading speeds, which ensures your SEO score is high and optimum.
All these factors play a pivotal role in ensuring that the SEO performance of Leadpages is always up to the mark. You can say that it can easily bolster its SEO performance by introducing custom URLs, but you can safely say that it will be soon added to the SEO capabilities of the platform. Today, you can integrate with third-party apps using Zapier to streamline your efforts.
10. Testing and Analytics
Leadpages has powerful A/B testing that will help fine-tune your campaigns and help you find what it takes for your audience to take action. The tests pit two variations of the same page against the other to see which has the highest conversion rate.
A/B testing helps you identify the problems and find what is the goal that each visitor has when he comes to your website. Using the feature, you can easily adapt and create a free-flowing user experience for better efficiency and increase your retention rate.
The risk of conversion rate falling off is relatively minimal as you will only make 2-3 changes at each step. Even if it falls off the cliff, then you can go back to the old model and use the knowledge forward. And if the change improves your conversion rate, then it is something worth keeping.
Analytics
When you publish a website or page, Leadpages will automatically track its performance. The analytics tool will record views, conversions, unique views, conversion rates, and earnings in real-time.
The data from the analytics can be accessed from the dashboard. You can produce graphs from this data to see how your website is performing. The data is updated as per your timeline, and there are no overlaps or miscalculations.
If you want to revive a dormant page or site, then you can delete all the old analytical data and start fresh. The platform has put a lot of effort into giving better value when analytics is concerned. You can also connect it to Google Analytics, Facebook Pixels, or other third-party apps to get a complete view of your website performance.
11. Payments
The payment process of Leadpages is powered by Stripe on all its websites. The tool allows you to easily sell your services online, deliver products, or accept recurring payments by embedding Leadpages Checkout. You can accept payments through credit cards from your customers, and there is also an option to set recurring payments if there are subscriptions.
Stripe is free, and you will only incur some charges when you make a sale on the platforms. Leadpages doesn't charge any additional transactional fee, but Stripe charges 2.9% plus 30 cents for a successful transaction. There is also PayPal and Gumroad, which is compatible with Leadpages.
There are only three payment providers, and this may feel stifling. The platform has to certainly up its game, and this is where the Zapier integration may be very handy.
12. Integrations
Leadpages integrates with an array of tools and services to increase the functionality of the platform. The tool has integrations with some tools, as listed below.
Analytics
CRM
Digital advertising
E-commerce
Email marketing
Live chat
Marketing automation
Payments
Scheduling
Social Media
Video
Webinar
Website
Others
There is also a native connection with Zapier with thousands of marketing and automation tools to get your landing page going without any hassle.
If there is something you feel is missing, Leadpages allows you to request an app through its Zapier Zap functionality. In this way, if you think that the platform will work better, then you can ask for the extra app and hope it is added.
I really love the sheer expertise and the services that are provided by Leadpages to the fore due to its excellent integrations.
13. Customer Support
Leadpages has exceptional customer support, and like most other companies, it has real humans behind the avatar and not chatbots. The tool has a huge library of resources or knowledge base where you get answers and topics to solve all your problems.
If this is not enough, you can send an email to the team to get relevant information. The team will respond promptly to every email between 24 to 48 hours.
On the annual Standard plan, alongside the Pro and Advanced plans, you get live chat support. The chat support is available between Monday to Friday between 9 a.m. to 5 p.m. central time.
Finally, phone support is available for users on the Pro and Advanced plans from Monday to Friday between 9 a.m. to 5 p.m. central time. You'll get a toll-free number under the support section in the navigation menu.
If you still need more support, you can click on Support in the navigational menu or submit a ticket.
Recent Improvements to Leadpages
Leadpages takes customer feedback seriously and strives to improve existing functionalities to ensure a better user experience. Some changes made to the platform lately include:
New image manager- Leadpages has launched its improved image manager. The image gallery is hosted entirely on a single page, and you have to simply scroll down to find all the images that you have uploaded since the launch of the platform.
Centralized dashboard- The dashboard will give you all the information and real-time updates of things you are doing on the Leadpages account. Everything in this dashboard is organized neatly and easy to view.
Mobile-responsive section templates- Select from over 100 premade section templates, embed them using your website code, and create a new section. The templates can be customized before adding them to your website or landing page.
Leads library to manage lead pages- The centralized dashboard will give you a complete overview of all your leads and reduce dependency on third-party providers for managing them.
Click to Try LeadPages For Free
Leadpages Pricing
Leadpages lets you build high-converting websites and landing pages with ease. You can select from 3 plans to get you started. Each of the plans can be availed on a monthly or yearly subscription plan. They have a 14-day trial period where you can check its features before you commit to its paid plans. If you don't like what they are offering, the tool has a 7-day money-back guarantee to its users. We'll talk about the plans in detail below.
Click to Try LeadPages For Free
1. Standard Plan
The Standard plan is a basic plan that is offered by the platform. It is priced starting at $49 per month and is ideal for small businesses and startups. The features of the plan include:
Drag & drop landing page builder
250+ conversion-optimized templates
10,000 monthly AI Engine credits
Best conversion tools
AI Engine: Headlines + images
Unlimited traffic and leads
1 custom domain
90+ integrations
2. Pro Plan
The pro plan is ideal for integrated sales and marketing teams in the market. The plan is priced starting at $99 per month and has all the features of the Standard plan plus
30,000 monthly AI Engine credits
3 custom domains
E-commerce functionality with no transaction fees
Blog
3. Advanced Plan
If are on the higher spectrum of your business venture and want more functionality and features, then the Advanced plan is made for you. You can customize the subscription plan as per your needs and get a quote on that. It comes with features of the Pro plan, plus
Unlimited monthly AI Engine credits
50 custom domains
Advanced integrations
Multiple blogs
Dedicated success coach
Pros and Cons
Pros
Easy to use
Create landing pages in minutes
Templates fit for different projects
Powerful A/B testing features
Test drive its features using the free trial
Solid integrations
Actionable analytics
No traffic limitations
Good support and services
Cons
Limited customization
Sluggish drag and drop editor
Hidden bugs
Is Leadpages Really Worth It?
Leadpages is a powerful landing page builder in the market today. It is a great choice for small businesses and entrepreneurs who want to make a mark in the industry. The digital lead generator is known for its conversion-oriented landing pages. If you are a business that is looking to create landing pages for lead magnets, promotions, special giveaways, or other purposes, then it is a great choice.
The tool helps you create specialized pages that are complete with pop-ups and alert bars in a few minutes without requiring any coding knowledge. This helps drastically increase your conversion rates. Its analytics and are some of the best when you compare it with other tools in the market. The price of the tool is also very reasonable when you compare the advanced features it offers to users.
The editor may have some issues with advanced features, but it is something that you can expect for a tool a complete toolkit of marketing tools. It also offers reasonable support, so if you are stuck, you can easily contact its support team or check support resources, and most of your issues will be resolved.
Click to Try LeadPages For Free
Leadpages Review Reddit
u/trackingdesk: It really depends the complexity of the funnels. If you need up sell, down sell, and/or split according to "if then that", clickfunnels might be the right solution. If you just need a landing page with ab testing variations, then leadpages might just be enough and cheaper.
u/tk4087: Leadpages was easy to use but has a few limitations that I found hindered the user experience. I wouldn't really recommend it. I've heard some good things about Instapage, but if you can afford it I like some of the all-in-one marketing automation platforms that allow you to build quality landing pages
Leadpages Review FAQs
1. Is Leadpages able to handle A/B testing for landing pages?
Yes, Leadpages has a powerful A/B testing feature to check your landing pages. This feature is exceptional and lets you compare two versions of a page to see which one is performing better so you can optimize your marketing efforts to get better results.
2. What is the customer support offered by Leadpages?
Leadpages offers support across various channels. The common options include a comprehensive knowledge base, live chat support, and various other resources like webinars and video tutorials to help you get the best out of the platform.
3. How does Leadpages handle mobile responsiveness?
Leadpages is designed in such a way that all its templates are mobile-responsive by default. So, your landing pages will automatically adjust to fit different screen sizes to offer an optimal viewing experience across an array of devices available today.
4. What can Leadpages do?
Leadpages is a platform that allows small businesses to efficiently connect with their audience, collect leads or close sales. Using the tool, you can build pop-ups, landing pages, and more.
Read Next: