The sales funnel is the holy grail of online marketing. The best online marketers know that an email campaign or landing page doesn't work on its own. All of those individual tactics need to be pipelined into a sales funnel. That's when you have the highest chance of converting prospects into customers.
The reason so many marketers hone in on one marketing tactic is because creating sales funnels is no easy feat. An effective sales funnel takes customers from being aware of your brand all the way to paying for a product or service. Over the course of that journey, you'll use ads, landing pages, automated emails, e-commerce stores, abandoned order responses, and more.
Building all of those things in-house usually takes a sizable team. It necessitates a multi-disciplinary approach across marketing, design, and development teams. A lot of small businesses don't have that kind of manpower, and therefore, can't tap into the power of fully fleshed out sales funnels.
Or at least that's how it used to be until products like GetResponse's Autofunnel came out. This is a tool that puts the power of sales funnels in the hands of small business owners without having to spend a lot of time learning marketing themselves or hiring additional employees. Instead, they can rely on GetResponse's Autofunnel for an integrated marketing toolkit. Along with that, they also get a codified process they can follow to use those tools to boost sales.
Click Here To Activate The Deal
Autofunnel Discount Code: Auto Applied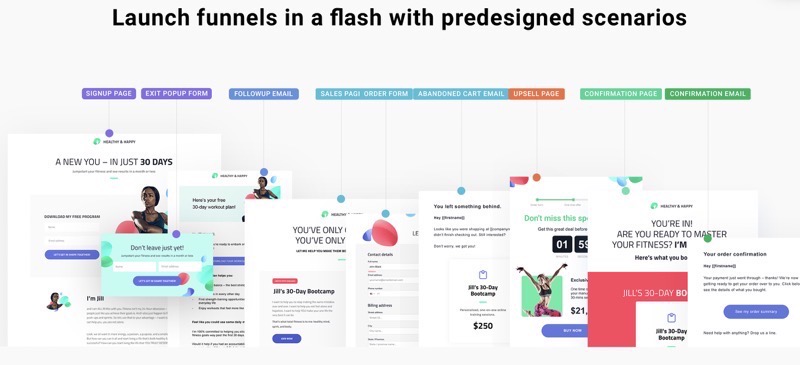 GetResponse Autofunnel Review
About GetResponse Autofunnel
You probably know of GetResponse as an email marketing tool. Although that's part of what the company offers, it has now branched out into creating a wider array of products to support small business marketing efforts. Autofunnel is one of their marquee products because it combines so many of their other tools into a holistic offering.
Autofunnel is a software that was designed based on research into people's purchasing behaviors online. It also takes into account the fact that small businesses are often strapped for time and resources while building their marketing strategy. To bridge that gap, GetResponse created software that would help e-commerce stores, photographers, e-book authors, designers, event planners, coaches, and other professional services providers tap into the power of sales funnels.
Autofunnel creates separate sales funnel paths depending on what it is you're trying to sell online. For example, those selling an e-book may want a way to pre-launch it. But if you're a business coach, you may need a tool to create webinars as a lead generation strategy. Autofunnel takes all of those things into account and offers tools based on your needs.
One of the big benefits of GetResponse's Autofunnel is that it is both an inbound and outbound marketing tool. So you don't need to go looking for several other tools to shore up your marketing stack. Autofunnel has you covered no matter what kind of tool you need for which stage of the marketing funnel.
Click Here To Activate The Deal
Autofunnel Coupon Code: Auto Applied
Types of Conversion Funnels
There are different conversion funnels based on what you're trying to achieve. Autofunnel has three kinds:
1. Sales Funnels
This one is pretty self-explanatory. A sales funnel is one created with the goal of selling a particular product. This could be anything from an e-book to a handcrafted piece of art. Sales funnels generate traffic to a particular page and focus on provoking the sale right away.
2. Lead funnels
Lead generation is an essential part of a successful marketing strategy. The leads you find let you know how many people are interested in your product, allowing you to create content to appeal to them.
Autofunnel uses a feature called opt-in funnels for lead generation. These funnels combine landing pages with opt-in such as a subscription to help you keep in touch with a lead.
3. Webinar funnels
Webinars get their very own category on Autofunnel. This is because running webinars is different from any other marketing strategy and involves different logistics.
Now that we know the different kinds of funnels in Autofunnel, let's take a look at the different tools at your disposal.
Click Here To Activate The Deal
Autofunnel Coupon Code: Auto Applied
GetResponse Autofunnel Traffic Generation Tools
No matter what you're trying to sell, the first thing you need to do is get some traffic running to your website. Getting eyeballs on your product is key. Here are the tools Autofunnel offers to make that happen:
1. Facebook Ads
With Autofunnel you can create ads for Instagram and Facebook from within GetResponse. You do the same things you would with a standard Facebook ad, such as setting the targeting parameters and budget. The advantage of using Autofunnel to do it is that you can remain within the same tool to carry out all your other marketing activities.
Facebook ads are a great way to generate traffic, whether that's to generate leads from a landing page or get sign-ups for a webinar.
2. Social Ads Creator
Developing content for social media can be a time-consuming process. Different social media channels have different requirements and it can be hard to keep track of all of those things. With Autofunnel's social ads creator, you don't have to worry about any of that.
This tool lets you create graphics and animations for different social media platforms. All you need to do is ass product photos and information about them, and the ads creator will automatically generate branded images and video content. You can also base your designs on the over 200 templates that are available on Autofunnel.
3. Landing Pages
So now you have some traffic coming your way. But what do you do with that traffic? You'll need to send it to well-designed landing pages. Autofunnel helps you turn visitors into customers with its range of landing page templates.
Autofunnel's landing page builder has a drag-and-drop design interface. So you can pick a template and modify it yourself without having to write any code. You can A/B test different pages to pick one that gives you the highest rate of conversion.
4. Lead Generation
The main use of a landing page is to get leads and subscribers . Autofunnel has two tools to make that possible.
5. Web Forms
Once again, Autofunnel users can pick from a range of templates to build effective web forms. These templates are designed to suit different purposes, such as order forms, feedback forms, newsletter sign-up forms, course sign-up forms and more.
Click Here To Activate The Deal
Autofunnel Coupon Code: Auto Applied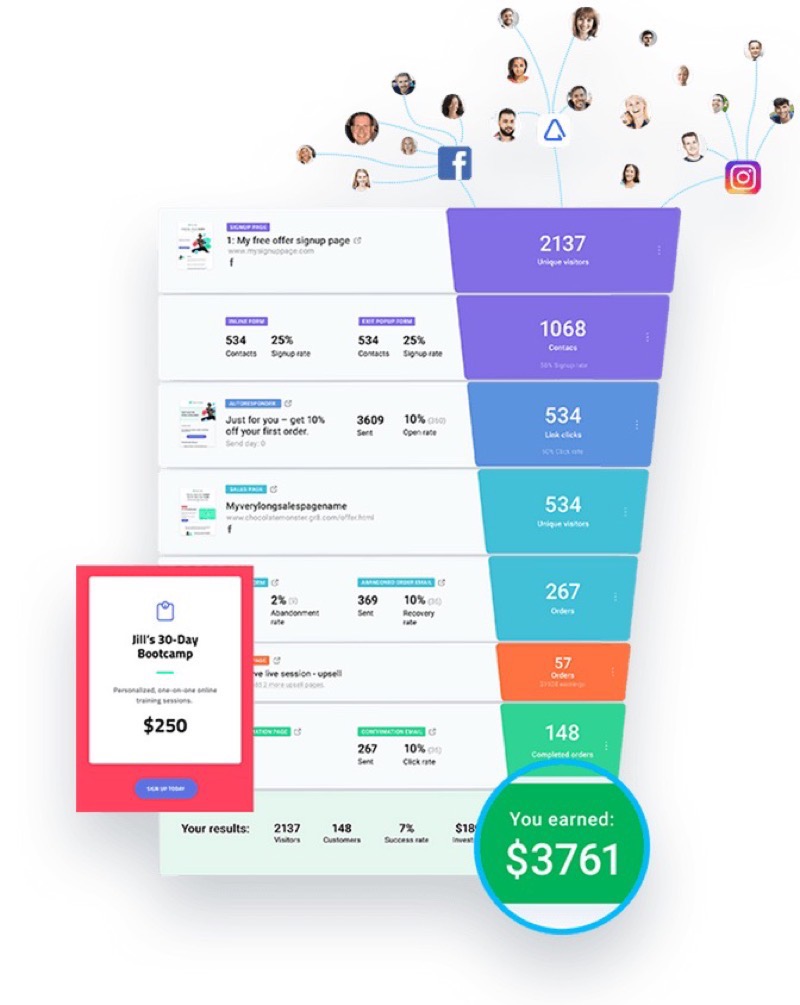 6. Exit-intent pop-ups
Catching visitors just as they're about to leave is often an effective way to generate a subscription. An exit intent popup asks your visitors to sign up for a newsletter or something similar as they're about to leave your web page.
These pop-ups work because they create a sense of scarcity among website visitors. With effective copy and an incentive, you can have them sign up to your service just as they're about to leave your webpage.
7. Lead Nurturing
It isn't enough just to generate leads. Converting a lead into a customer takes work. There are a few ways you can go about nurturing a lead. Here's what Autofunnel has to offer in that department:
8. Email Marketing
This is a tried and tested way to nurture leads and one of GetResponse's core competencies. The company's email marketing software offers up features to send out newsletters, autoresponders, and automated emails. You can also send targeted messages to different customer segments.
The most powerful element of Autofunnel's email marketing feature is the campaign analytics. Users can see exactly how their emails are performing with data on email clicks, opens, bounces, and more.
9. Webinars
Webinars are a less popular way to nurture leads compared to email marketing. That said, they can be just as effective.
Autofunnel makes it easy to create an engaging webinar experience. You can add YouTube video and files in multiple formats to your webinar stream. The software supports chat and screen-sharing features.
Once the webinar is done, you get key data regarding attendee location, average attendance duration, devices used, etc. These insights help you optimize future webinars.
GetResponse Autofunnel Sales Features
Below are the sales features that are available on GetResponse Autofunnel.
1. Sales Pages
We've already seen that Autofunnel has its own library of landing pages. Similarly, it also has sales pages that you can use when you want to put out a specific product. Each of these sales pages has been tested for conversion rates, so you know that the template itself works.
You will, however, have to customize these templates so fit what you're selling. This can be done using the drag-and-drop editor. All of the copy, images, and design elements in Autofunnel's templates can be modified easily.
2. E-commerce Stores
When it finally comes time to make the actual sale, you will need a store from which you can do that. Autofunnel customers can build their own e-commerce stores to sell products.
Autofunnel allows integrations from online shops such as Etsy, Shopify, WooCommerce, Magento, and more. If you have your products up on those platforms, you can automatically populate your Autofunnel e-commerce store.
3. Abandoned Cart Triggers
Part of running a successful e-commerce operation involves recovering abandoned carts. A customer who has put products in their cart is the one you've spent the maximum amount of marketing dollars on. It's essential that you find a way to re-engage them if they happen to not complete checkout for some reason.
Autofunnel uses its marketing automation technology to help with abandoned carts. Users can run a series of automated emails to remind their customers about completing checkout. According to GetResponse, just the first email in that sequence can help recover 25% of abandoned carts. That's a significant amount of revenue you can generate with just one automated email.
Click Here To Activate The Deal
Autofunnel Coupon Code: Auto Applied
GetResponse Autofunnel Checkout & Payments Features
Now comes the fun part: when you can finally get paid for your products after leading customers through a sales funnel. It's essential that customers get a smooth checkout experience so that they complete the process and feel good about coming back.
1. Payment Processors
You can easily connect several payment processors to your Autofunnel account. That includes PayPal, Stripe, Square, and BlueSnap among others. Having your marketing tools and payment processor on the same platform makes it easier to see how your strategy converts to revenue.
2. Upsell Pages
Upsell pages allow you to take advantage of customers who have already decided to buy one of your products. They give them access to a one-time discount if they add more products to their cart. For example, if someone buys a guitar on your store, you may want to upsell them strings.
Autofunnel lets you create upsell pages as part of the standard sales funnel as well as the webinar funnel. These pages open automatically once customers input their billing information.
3. Order Confirmations
Once a customer completes a purchase, it's important to send them an order confirmation. There's two reasons this is important. The first is so that they know the payment went through. The second is to provide them with additional information such as when the order will arrive, your return policy, etc.
You can completely automate order confirmation on Autofunnel. This feature works much like the other email marketing tools. The purchase of a product can serve as a trigger for the email. These emails can be personalized to include the customer's name, product details, etc.
Click Here To Activate The Deal
Autofunnel Coupon Code: Auto Applied
GetResponse Autofunnel Pricing
Autofunnel comes bundled with the rest of GetResponse's marketing automation and e-commerce tools. GetResponse starts at $15 per month, but that tier doesn't include any of Autofunnel's features.
In order to get access to those features, you can start at GetResponse's Plus package, which costs $49 per month. It lets you create five sales funnels and five webinar funnels at a time.
If that's not enough, you can go up to the Professional package. That lets you create unlimited webinar funnels and unlimited sales funnels. GetResponse's Professional package is priced $99 per month.
GetResponse Autofunnel Review Verdict
There is a lot to like about Autofunnel by GetResponse. Overall, it's a product that combines a lot of the tools that marketers need to sell products online. This saves you time and integrates your marketing efforts to a central location.
The individual tools themselves are powerful and easy to use. The landing page and sales page builders use a drag-and-drop interface so anyone can use them. That combined with GetResponse's marketing automation capabilities makes Autofunnel a no-brainer for most online sellers.
Click Here To Activate The Deal
Read Next:
Best Landing Page Builder Reddit