TLDR: If you're in a hurry the WordPress (with Bluehost) is the Best Website Builder according to Reddit! While Webflow is better if you can afford it.
Click to Get 67% OFF Bluehost Now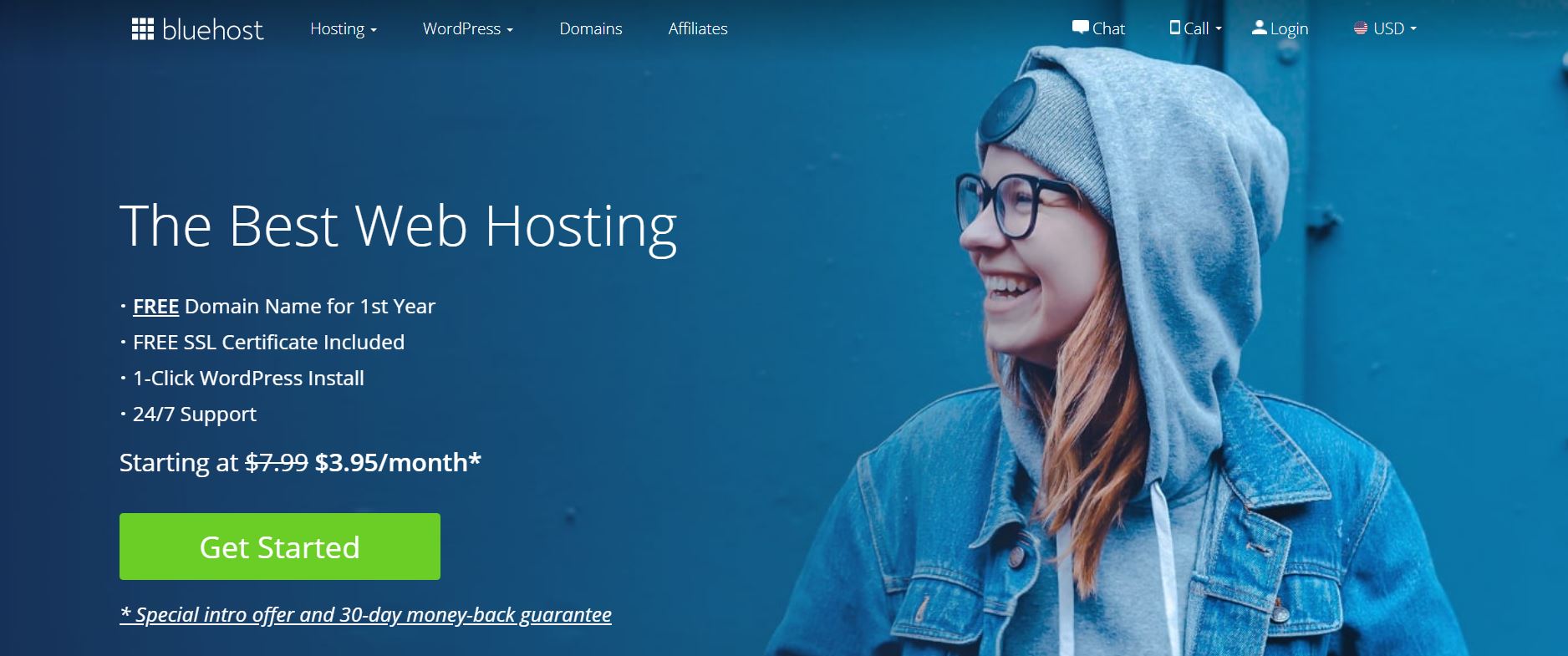 Times have changed, and websites are the most important part of a successful business venture. Building a website and getting it fully functional used to be expensive. However, the improvement in technology these days has made building a unique and responsive website cheaper and more efficient.
There are plenty of options to choose from if you are planning to build a website for your business, a portfolio, an eCommerce store, a blog you want to monetize, or much more. The best website builders allow people to easily create custom websites for their business with limited technical expertise and design skills.
In this article, we have looked at website builders that are affordable and have an intuitive builder, good customer support, and a range of design and management features at your disposal.
TLDR: If you are in a hurry, here are my top picks
WordPress- Best Builder for Powerful Blogging Features
Hostinger- Best for Website Customization and Design Flexibility
Squarespace- Beautifully Designed Websites for Small Businesses
WIX- Quality Website Builder for E-commerce
Weebly- Cheap Starting Point for Small Business Websites
How to Select a Cheap Website Builder
Your business needs a professional website, but you'll be overwhelmed trying to figure out where to start. Web design is complicated, and you might find it difficult to get started or figure out everything that comes with it.
A good website builder is easy for even the newest web design beginners trying to figure out and get started. Here are a few parameters you should consider when selecting a good website builder.
1. Budget – When selecting a website builder, the price of its plan is the main factor you should consider. You will have to budget your website around its domain registration, hosting, and a few other considerations.
2. Needs and priorities – Before you decide which is the best website builder, you have to have some idea and see what your website has to be and do. A few good questions to consider asking yourself are
Level of experience you have in design
How particular you are to get things just right
What type of website do you need (online store, blogging platform, etc.)
The media you will include
3. Themes offered – The themes offered by a platform help you get started efficiently. You can select one of its available themes and customize them to create a unique website. Go for a platform that has a host of themes and templates so you can customize it as per requirements.
4. Easy to use- A website builder which doesn't require much or none of coding or programming is something you should go for if you are a beginner. A builder with a drag and drop functionality makes the entire process easier.
5. SEO features- Once you are done building your website, you will want it to reach a wider audience. You need to implement good SEO practices to design your website. A good website builder should include an SEO feature that helps in making on-site optimization simple and efficient.
6. Support and resources- Even the easiest and most intuitive builder will require a period of learning and finding about the features of the builder. Select a website builder that offers reliable support to work efficiently.
Cheapest Website Builders 2023
1. WordPress – Best Builder for Powerful Blogging Features
WordPress is the world's most popular website builder that stands out with its stylish themes. 42% of the web today is built on WordPress, with bloggers, small businesses, and even fortune 500 companies using it.
Click to Get 67% OFF Bluehost Now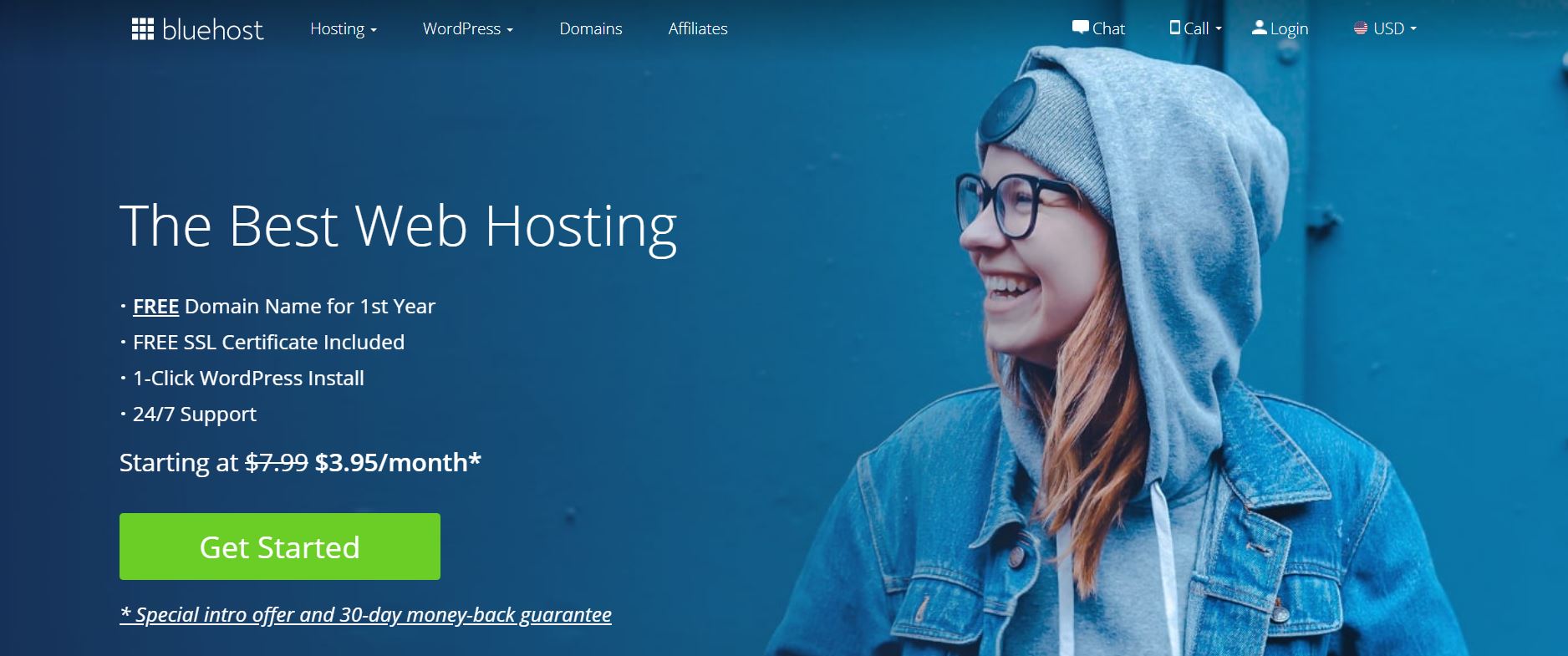 WordPress comes with an intuitive drag and drop builder functionality. The builder is highly customizable and allows you to design every aspect of your site to suit all your requirements. This makes it ideal for beginners as well as professionals.
It comes with an array of professionally designed themes for your websites to stand out. The platform has powerful blogging features with both free and paid plugins, which can be easily installed on your website. The plugins allow you to get the functionality of other apps to enhance the website's overall functionality. WordPress also has several in-built marketing tools that are designed to expand your reach.
What Redditors say about it
u/TheGidbinn "off-the-shelf WordPress themes don't compete with the bespoke work of a designer. The same goes for plugins/CMSes and developers. They should not make the work of a real designer more challenging because most of the clients who would be satisfied with a generic theme don't really have the budget to hire a designer or developer anyway".
u/MarkAndrewSkates "WordPress is a good page builder, and it has been for almost 2 years now. All other builders are selling it are just making money off your ignorance".
u/FestingerVault "I think WordPress can be used for simple static websites as well, especially with the Elementor Template Kits, which can be used to make very simple and basic websites. WordPress is great as it creates a solid base for your website. WordPress has been leading and I think it can be used for any website."
u/Zazenp "WordPress Pros: can be made into almost any type of site you need, can be on any hosting solutions you want, usually cheaper if you get basic hosting packages, SEO can be fantastic if you do it right, easy to find developers"
u/CharlieandtheRed "WordPress is great for clients who update their content a lot or have dynamic content needs (blog posts, events, etc). I've got about 250+ WordPress sites under my belt in 10+ years"
Features
Ease of use- WordPress is known for its user-friendly interface. WordPress.com is much easier compared to WordPress.org. If you are new, then with WordPress, you can easily design and customize every aspect of your website to suit your brand identity.
A perfect tool for blogging- WordPress is arguably the cheapest website for blogging, making use of its powerful marketing and SEO features. This helps get your content to a wider audience, even at such low rates.
Design flexibility- WordPress uses a powerful templating engine that helps manage the appearance of your website. The engine helps developers create a set of templates called themes that come with the platform. These themes can either be free or paid to help build a versatile website. You can also use your own colors, layout customizations, and much more to stand out in the market.
Add-ons- WordPress is a go-to platform if you want add-ons, which are called plugins. These plugins act as apps for your WordPress site. Just like the apps on your mobile device, you can easily install the plugins to add new features to your website.
Built-in analytics- WordPress has an excellent analytical feature to get insights into different parameters of your site. Here, you can get notifications and analytics of your website from your mobile or browser and be able to keep track of the site's progress in real-time.
Pros
Cheap web development solution
Beginner friendly and easy to get started
Highly modular with thousands of plugins and themes
Ability to build any type of website
SEO-friendly by default
Easily customizable with thousands of web designs and templates
Integrations with popular third-party tools
E-commerce features with social sharing and online marketing
Frequent updates with increased security
A vibrant community of users
Cons
Optimizing site speed is challenging
Custom WordPress solutions can be slightly expensive
You need to automate backups, security, updates, etc.
2. Hostinger – Best for Website Customization and Design Flexibility
Hostinger is a versatile website builder that is designed keeping individuals and small businesses in mind. Currently, it caters to over 29 million users and is known for its simplicity and excellent performance.
Click Here To Get 80% OFF Hostinger
Hostinger has a simple drag-and-drop builder that helps create unique pages. The platform also has Zyro builder- which is a paid version that gives you optimum performance for customizing and creating small to medium-sized business sites.
Hostinger has 130 templates and can make your website glow right from the start. You can customize every aspect of these templates to make them look innovative and suit your brand identity. No matter what, all the websites made using this platform look modern and genuinely good. All in all, Hostinger is an affordable website builder to build professional-looking websites quickly.
What Redditors say about it
u/Odd-section-8229 "I've been using Hostinger, and I like it a lot. Don't go with the other options in the market".
u/StraightAssociate "I have been a Hostinger customer for about a year. I've no problems with them at all. It is hard to beat its 4-year $45 on its shared hosting service".
Features
1. Ease of use- Hostinger comes with a grid-based drag and drop editor, which is one of the easiest to use. It gives you a good amount of creative freedom without overwhelming it. This is great if you are looking for a straightforward, no-frills attached website to accompany your business. It will provide you with basic needs; however, if you want something more advanced, then you will need some coding knowledge to achieve it.
2. Design- Hostinger has a collection of stylish and reliable mobile-optimized templates which are perfect for promoting small businesses. You can also build from scratch, which allows you to add your own unique touch to it.
3. Built-in AI tools- Hostinger offers a range of powerful artificial intelligence tools, even on the basic plan, that helps you build a strong brand online.
4. Free Email for three months- Hostinger offers a free email plan for 3 months so you can get your business started on the right track without having to pay for these tools.
5. Blogging tools- The blogging tools with Hostinger are basic but are quite functional. It is easy to start with; however, using the blogging tool can get slightly more difficult. Editing these posts on the Hostinger website Builder doesn't look like Google Docs or WordPress, or other platforms that are meant for writing.
Pricing
Hostinger performs well in terms of pricing and value for money. It also comes with a 30-day money-back guarantee across its plans, so you can build your website without any risk. Hostinger offers a website package starting at $2.79 per month and $4.99 for business plans. It also comes with different hosting plans to get you going.
Pros
Responsive templates
Outstanding website performance
Helpful AI business tools
Page building grids
Excellent onboarding and ease of use
Good speed and uptime
Handy app integrations
Good customer service
Cons
Limited knowledgebase
Lacks full customizability features
Missing features on its budget plans
3. Squarespace – Beautifully Designed Websites for Small Businesses
Squarespace is a website builder that packs hardware and software in a single package. It is one of the big hitters in the website-building world, and it is an ideal choice for small businesses and offers great value for your money.
Squarespace is a great choice for individuals that are looking for building websites for small businesses on a budget. For a low fee, you can access its best-in-class templates and its effective tools coupled with its easy-to-use interface.
The platform does a great job of matching its quality and cost, and its drag and drop builder allows you to build versatile websites easily. This ensures that you can run your own blog, store, or website within a short period which makes it an excellent choice for website building. You can easily set up a website using a no-code setup, and it is a viable choice to start out.
What Redditors say about it
U/daveydaveydaveydav- "I use Squarespace, and it is really easy to use. The website builder looks great and better than any of the other businesses in my industry who all paid people to make their websites".
U/pmt223- "Just that for folks like me having no coding experience, I can throw a website together using Squarespace that can do e-commerce and has parallax".
Features
Ease of use- Squarespace is a great platform if you are a beginner and want to build a website. The platform has all the tools required to launch a website in a single place. The editor makes use of rows to organize designs, giving you the ability to reorganize elements within a section.
Design flexibility- Squarespace earns its crown with its design flexibility. It is known to have support for high-resolution media. Their templates look beautiful regardless of the device where they are viewed, and they are free. It is important to note that you cannot edit the base code on its basic plan.
Templates- Squarespace comes with an array of template options whose aesthetics are superior compared to most website builders. You can utilize its drag and drop builder to easily change its colors, fonts, and other features to stamp your brand identity.
Blogging- You can say that Squarespace is the only platform that can compete with WordPress today in terms of blogging. It has a range of blogging tools that allow you to share a range of media with your audiences.
Built-in marketing features- Squarespace has a range of marketing tools to help promote your sales. Further, it comes with SEO tools to help encourage your business growth to improve your website visibility.
Robust support- Customer support is something that helps provide timely and knowledgeable assistance at any stage of your website-building process.
Pricing
Squarespace comes with four plans to get you started. You can purchase the plans either as monthly or yearly plans. The yearly plans offer a 30% discount across all its plans. The primary or Personal plan starts at $16 per month, with its Business plan priced at $23 per month. If you want eCommerce functionality, then its Basic Commerce plan is priced at $27 per month, with its Advanced Commerce plan priced at $49 per month.
Pros
Simple interface and editor
Anybody can build a website using it
Image management options are excellent
Excellent security
A good range of templates that are beautifully designed
In-built eCommerce and blogging tools
Good support
Cons
Templates are slightly limited
Plugins and advanced features are not available
Not suitable for larger websites requiring deep menu hierarchy
4. WIX – Quality Website Builder for Ecommerce
WIX is a powerful website builder having a range of high-quality website creation tools. The platform is beginner friendly and helps in the creation of professional-looking websites efficiently. You can easily create intuitive websites without requiring any coding skills or expertise.
WIX has a versatile drag and drop builder that helps create innovative websites easily. You can select from a range of stylish and minimalist templates to help create a perfect website for your work in the spotlight, and robust SEO tools help increase its traffic and clients.
The hosted solution runs on Cloud servers, so you can install it anywhere, and you don't really have to buy any hosting. The eCommerce features allow you to sell unlimited products without having any transactional fees, making it one of the best website builders for small businesses.
What Redditors say about it
U/JarethLopes- "It is not bad at all, and I have made a considerable amount of WIX. It is a simplistic tool to get your site up and running in under 8 hours".
U/GardinerAndrew- "Web designers don't like WIX as they don't charge their clients a monthly fee to update plugins. I am a WIX partner, and I love it with WIX. I don't know how to code and have built websites using several platforms. However, WIX blows them all out of the water".
Features
Ease of use- WIX is super beginner-friendly, but it doesn't compromise on the design and features it offers. Its grid-based drag and builder allows you to select elements and drag them to suit your requirements.
Design- WIX has over 800 templates, which is more than its competitors. These templates can be easily customized in different aspects to meet your brand identity using its intuitive drag and drop builder.
Multichannel selling- WIX offers multichannel selling on all its plans. This allows you to boost the exposure of your online store to larger audiences.
Powerful free plan- WIX has a powerful forever plan that gives you access to its entire website builder. However, it has some limitations on the free plan with WIX ads, tight storage, bandwidth, and the inability to connect a custom domain.
Huge app market- The WIX market has a lot of features that help increase your scalability using the relevant tools from the platform's app market.
Blogging- WIX has in-built blogging tools that are not great but not very bad compared to its competitors. The platform has a range of features to get your blog running easily.
Pricing
WIX comes with an exceptional free plan that allows you to check different aspects of the software before committing to it. The premium plan starts at $16 per month, with its top plan priced at $45 per month. If you want access to eCommerce functionality, then it comes with its Business and eCommerce plans.
Pros
Easy way to build and develop websites
Massive collection of templates
Extend website features using its WIX App market
Built-in email marketing tools
Its security is extremely robust and reliable
Filled with tons of extra features
Live editing
Includes a range of professionally-shot photographs on your site
Good help and support
Cons
Lack of deep analytics
Cannot export blog posts
Slow page loading time
5. Weebly – Cheap Starting Point for Small Business Websites
Weebly is highly regarded and known for its low price and feature-rich website builder. The platform has more than 50 million websites currently live. It has a simple editor that makes use of all skill levels to build a stylish website in just minutes. The versatile drag and drop editor makes it highly beginner-friendly, so you can design a website without any coding knowledge.
Weebly is an excellent option for cheap website creation, and it has powerful design tools and third-party integrations. Further, they have a mobile app that helps you build and edit websites on the go.
Additionally, the platform has advanced search engine optimization features that'll help with your ranking game to drive more targeted traffic to your website.
What Redditors say about it
U/paul_caspian- "I use Weebly as my main website builder, and I really like it. It is easy to pick and is highly customizable. It isn't s customizable as WP; however, think of it as a big Lego set, but WP is focused on completely from scratch".
U/N_I_N- "I use Weebly and love it very much. My site ranks number one for all the searches that I am shooting for. My site is pretty simple, and it has 8 pages with straightforward information about my business. It is geared mostly toward local small businesses, and it is easy to use and works. Since I am the one who edits my site and I am not very experienced at web design so it is a good fit for me."
Features
Ease of use- Weebly is very simple to use, and you can utilize its drag and drop editing, where you can drag sections of the block around the design of your site as you can preview these sections live before it goes live. You also have the ability to code it, but it is not necessary.
Design- It has a range of blogging templates, so you can switch your template anytime you want.
eCommerce features- Weebly comes with advanced eCommerce features that allow you to grow your website online. Everything you need to start setting up an online shop can be done with this platform.
Third-party integrations- Weebly has several third-party integrations that help extend the functionality of your website, blog, or online store.
Pricing
Weebly offers website plans with reasonable prices to make you happy. It has a free plan where you can check different features of the plan; however, it is limited compared to its premier plan. The Personal plan is priced at $6 per month. The Professional plan is priced at $12 per month, with the highest plan- the Performance plan, priced at $26 per month.
Pros
Free forever plan
High design flexibility
Simple and easy to use
Weebly app center
Complete support on mobile devices
Built-in SEO tools
eCommerce functionality
Cons
Limited blogging tools
Help may be expensive
Issues with images and photo editing
6. Webflow – Free Hosting Network
Webflow is a Cloud-based SaaS design website builder and content management tool that helps you create websites without coding. Everything on it can be done using a visual canvas having drag and drop functionality to create unique and innovative websites.
Get Started With Webflow For Free
Webflow comes with a ton of beautiful templates that you can select from and get your website up and running in just minutes. It comes with several user-friendly tools for launching and growing your website. You can build multiple websites if desired, and the premium plans focus on scaling your business efficiently.
What Redditors say about it
U/TraditionalHair46- "As others have said, unlike other builders and CMS systems, Webflow actually works, and it has an interface that, as a designer, I love, and so do my clients. You don't have the buggy, shitty experience you get with WordPress, and it's always more extendible and versatile than some other platforms".
U/SpicyAbsence- "The clients love the interface of Webflow, and so do the devs and designers. That is why it is winning so much ground and hear the name Webflow so often".
Features
Ease of use- Webflow has a smooth onboarding process, and you can feel confident to dive straight into the design process. This makes it a viable choice for beginners to get started.
Design- Webflow has over 1000 templates that can be customized, making use of inbuilt code-free designs. These templates can be categorized by industry to suit all your needs.
Forever free plan- Many website builders offer trials for a limited time frame, but Webflow gives you a forever free plan without paying anything.
Helpful tutorials- Webflow is a cheap website builder that comes with 100 hours of tutorials and a massive community of users that ensure you get support at every step of the way.
Pricing
Webflow has a free plan that lets you build a website and publish it to your platform. If you want to unlock more features, you can upgrade to its paid plans starting at $18 per month. You can also subscribe to their Enterprise plan to get custom features and pricing. If you want eCommerce functionality, then it offers 3 plans starting at $42 per month.
Pros
Great level of design customization
Dynamic content and collection, which is great for scalability
A large selection of high-quality templates
Fully responsive on a number of devices
Good autosave, backup, and version history feature
JavaScript tool
A comprehensive set of SEO options
Cons
Slight learning curve
Requires third-party integrations from the vendor if you want to export and host yourself
Doesn't allow you to switch templates
E-commerce features are limited
7. Pixpa – Best to Create Beautiful Websites
Pixpa is an affordable website builder that allows you to create, manage and grow your online presence. Whether you are looking to showcase your work or run a small business, then Pixpa has tools that allow you to succeed.
Pixpa focuses on simplicity and flexibility with a host of powerful editing features. The platform comes with an array of templates to fit all styles and requirements. You can easily manage, edit or customize the blocks to suit your brand identity.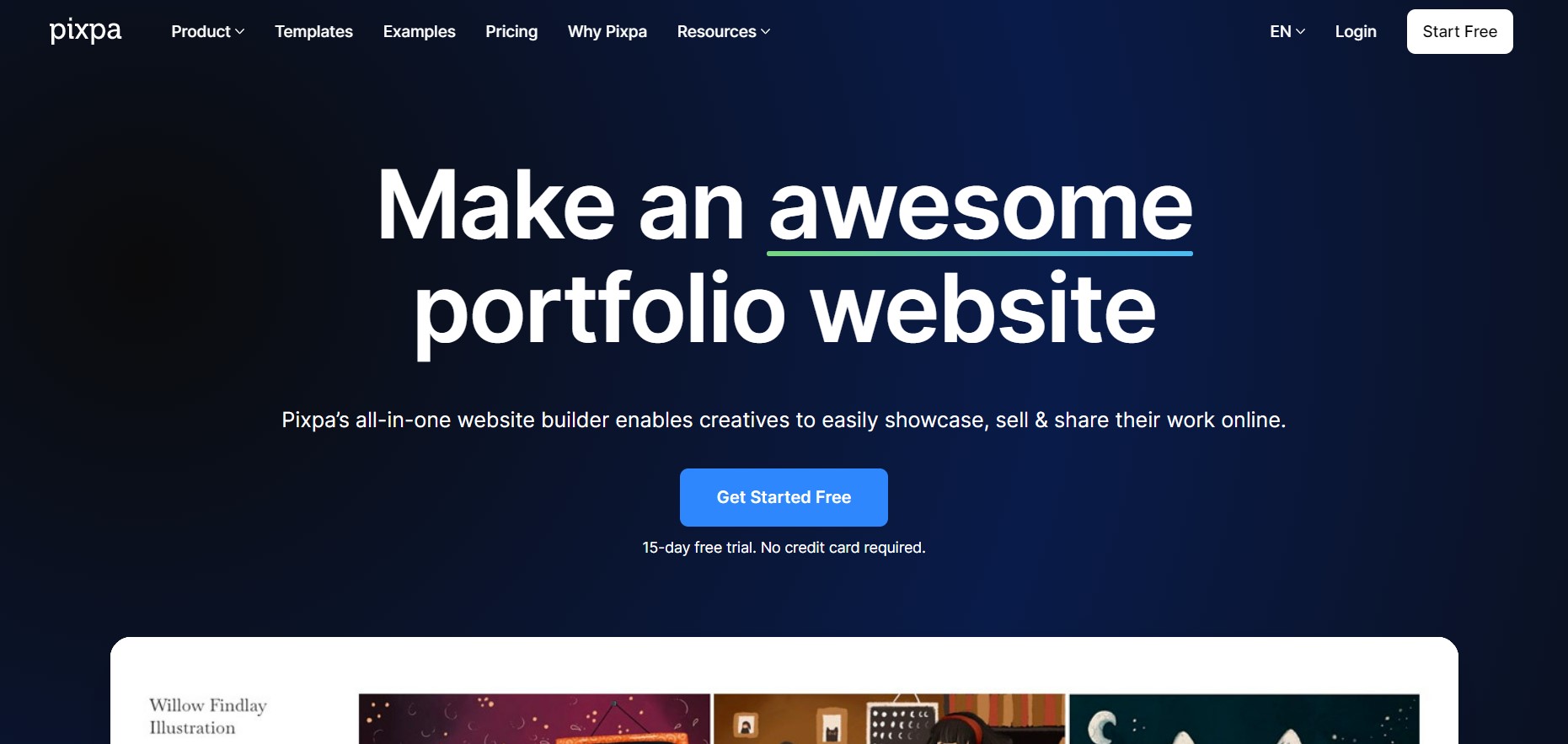 Pixpa is built-in with several tools, like an SEO manager, marketing pop-ups, announcement bar, etc. You don't need any extra plugins to start growing your traffic and converting more leads into customers.
What Redditors say about it
U/oliviagreennyc- "As a photography student, I can relate to your situation and would recommend Pixpa as a pocket-friendly builder, which is super easy to use. You have the ability to create public or private galleries for your clients with a unique link to each album. You can track when or who has access to your galleries. The platform has a lot of market integration tools like Mailchimp, booking bug, sumo, and others. Its SEO capability seems legit, and I hope it will help".
U/rikagphoto- "I am currently with Pixpa, and it is easy to build one with it once you get hold of the platform. I generally update it in 2 months or even more. Since my designs and photography are somewhat the same. Without SEO, my traffic is literally zero, and just some friends and family know about this site. Once I started blogging, I could see a rise in organic traffic".
Features
Ease of use- Pixpa is user-friendly, and there is a no-code required to build your websites with it. The visual editor lets you have the functionality to customize every aspect required. The dashboard is simple and well-organized to get you started. If you want, you can use custom CSS and HTML code for more advanced requirements.
Design- Pixpa lets you design every aspect of your website efficiently. It has 150+ beautiful templates that are modern with a minimalist design and aesthetics as one of its core USPs. All its templates are mobile-friendly and can be fully customized.
Extensive and integrated SEO and marketing features- Pixpa has a host of tools that help you improve your marketing and sales pitch. You have several SEO features to help improve your reach and performance.
Pricing
Pixpa has all-inclusive pricing plans to get started with. It ranges in price from $6 to $25 per month on its premium plan. You can get discounts on its yearly and 2-year plans. All these plans offer generous resources, SSL certificates, 24/7 support, unlimited bandwidth, and much more.
Pros
Original app galleries
Navigation menu customization
A versatile drag and drop builder
A number of payment gateways
15-day trial period with no credit card required
Powerful SEO tools and marketing features
46+ integrations
Great support via live chat, email, call, and helpful tutorials
Cons
Storage is slightly limited
Restrictions on the cheapest option
No publishing during the trial period
Photo gallery restrictions
8. Shopify – Cheap Option for Building Online Stores
Shopify is one of the best eCommerce website builders in the market today. Its primary function is to help merchants build, run and grow their online stores. All these features come with the cheapest price that is available. If you are serious about building a good online store, then this is a great point to start out.
The drag and drop page builder allows you to create custom pages to suit all your project requirements. The platform empowers beginners to build an online store without requiring any coding skills. This lets you build a quick and affordable platform easily.
What Redditors say about it
U/syume- "For me, Shopify has turned the process of launching a new e-comm project from 6 months to tens of thousands of dollars spent on programmers, an ordeal to something I can do within a weekend myself. This gives you the flexibility to prove a concept before expanding and investing huge amounts into custom solutions".
U/CindyLouWho_2- "It is popular because it is easy for newbies to set up. You can easily sell without having a coder on board. It also has a lot of apps to add functionality".
Features
1. Ease of use- Shopify is a feature-heavy platform, so it takes a little longer to build with a simple online store builder. It can be slightly easier for beginners, but its logical layout and inventory-focused approach is a big win for users.
2. Design- All the designs on Shopify are created specifically for online stores. You can easily launch your store quickly thanks to its expertly designed web templates that require no coding or technical knowledge.
3. E-commerce powerhouse- Shopify comes with all the features needed to run your marketing process, from collecting payments to offering discounts and much more required for you to run your online store.
4. Marketing and SEO- Shopify comes with a range of marketing features to get your online store up and running easily. You can create landing pages and sync your marketing campaign with your store. The platform also has good SEO features to rank your online store faster.
5. Built-in app store- Shopify has over 1,200 apps and plugins which you can add to enhance the functionality of your platform. All these plugins are easy to use and mobile-friendly.
Pricing
Shopify is one of the cheapest website builders for eCommerce stores. The platform has a 14-day free trial where you'll get access to all the features to create your online store. The premium plans start at $29 per month, with the highest plan being priced at $299 per month.
Pros
Support to different eCommerce features
Different themes to select from
Built-in app store
Multiple payment processing
Highly customizable
Outstanding marketing features
Excellent security and hosting
Uncheckered growth
Good Customer support
Cons
The number of free themes are limited
Adding custom fields can be slightly complicated
Full reporting functionality is only available with its higher-end prices
9. Strikingly – Good for Cheap One-Page Portfolios
Strikingly is a reliable website builder used for creating professional one-page portfolios. The platform has a beginner-friendly editor interface that helps you in creating pages as per your needs. All the elements of the page can be edited without requiring any coding or technical expertise
Get Started With Strikingly For Free
The platform offers strong customer support that allows a smooth path for building successful websites. You can email your issues to the support team for an in-depth solution.
Strikingly interface may be basic for experienced users, but it is perfect for first-time site builders that are planning to create single-page websites or small portfolios to help showcase their work digitally.
What Redditors say about it
U/dstlouis- "Strikingly is pretty chill, and if you have good photos, then you have a professional-looking website up in 2 hours. It runs fast too".
U/clasywebsite- "Strikingly is a website builder that makes creating your next beautiful website easy and fun. Let Strikingly take your website to the next level".
Features
Ease of use- Strikingly is very easy to use, and you can build a website within a short period. Its versatile editor allows you to customize every aspect without requiring any coding or technical expertise. However, the ease of use works against it; as you become more experienced, you will quickly outgrow what it has to offer.
Design- Strikingly has a good range of templates, but they are not boring, but they are not ground-breaking either. They do their job and help build an attractive website to push the boundaries of design with limited customization after a while.
Huge bandwidth and storage- The plans on the platform have good storage and bandwidth making it a good choice for growing websites.
SEO and marketing tools- Strikingly has a range of marketing tools that support both email and live chat. It can create popups to grow your lists to promote deals. The SEO features let you add a custom SEO title and meta description for each page.
Membership sites and content restriction- Strikingly helps create restricted content and membership sites. These pages can help create members-only pages that are visible to logged-in members.
Pricing
Strikingly is a cheap website builder that comes with 3 plans to get you started. The Limited plan is priced at $12 per month, with the Pro plan priced at $20 per month. If you want advanced features, you can go for the VIP plan, priced at $59 per month. You can purchase the plans on yearly subscriptions to get a good discount on them. The platform also comes with a forever free plan, so you can check its features without paying a single dime.
Pros
Excellent site-building tools
Attractive themes with responsive designs
Switch templates without rebuilding your site
Focuses on one-page sites, even with an online store
Good value on paid plans
Perfect place to house new projects online
Good support
Cons
Not suitable for complex websites
E-commerce capabilities are limited
Slightly expensive if you need only one website
10. Webnode – Best for Businesses on a Budget
Webnode is a popular website builder having a user-friendly interface that provides excellent value for money. The platform severs over 40 million users and comes with a powerful drag and drop editor that makes it very easy to use. Even if you have never built a website before, with Webnode, you can create a host of websites easily.
Get Started With Webnode For Free
Webnode lets you build any type of website using its versatile editor. Whether you are planning to create a content-based site or sell goods online, the software covers everything.
The platform supports multilingual websites with good backup and restore options. It comes with a free plan and multiple premium options to choose from. You can build and manage your site on different devices. It isn't a major player in the website-building market, but it is one of the cheapest website builders in the market.
What Redditors say about it
U/alexalex99000- "I would suggest Webnode, it is easy to set up, and you can edit your site for free as long as you are able to publish it for everyone".
U/SegioP75- "Use Webnode, and you will do everything from the browser without requiring you to learn or install anything. And you can solve everything together, maintenance and hosting, all coming with a single annual payment".
Features
Ease of use- Webnode is not particularly rich in terms of features, but it is straightforward, making it ideal for beginners. Everything is designed for simplicity and ease of signup process to create brand-aligned websites.
Design- Webnode has a range of templates that cover different categories, and each of the categories has dozens of options in it, allowing you to choose the best layout to meet your unique needs.
Blogging and SEO- Webnode has built-in SEO tools that are designed to boost visibility on the internet. It also has good blogging features that help create unique blog designs and layouts.
Robust analytics- Webnode allows you to connect your website using Google Analytics and offers detailed insights into the activity of your visitors. This helps you know different metrics to see what they want to see and like about your website.
Membership- Membership registration lets you restrict access to selected pages of your site. This allows you to lock specific pages and make them available to members.
Pricing
Webnode has a growth-focused plan that helps you build reliable websites efficiently. The builder is priced at $4 per month, with the highest plan priced at $22.90 per month. Each of these plans comes with a custom domain, premium support, and a powerful form builder feature. You can also create and run a website for free, but it is slightly limited.
Pros
Simple user interface
Hundreds of basic templates
Multilingual websites
Backup and restore features
Free email address included
A versatile form builder
Loads of extras
Multi-device usage
Cons
Slow customer support
Limitations on blogging
Templates are outdated
Limited eCommerce features
11. GoDaddy – Good Cheap Small Business Website Builder
GoDaddy is a website builder designed to be suitable for beginners in the market today. It stands out for its powerful features with competitive pricing compared to other website builders. The platform has a versatile drag and drop builder, so you can get started without much hassle.
GoDaddy comes with a range of built-in apps and add-ons, so you don't have to search for third-party integrations to enhance the functionality of your website. These features provide complete security and compatibility.
GoDaddy comes with great support during its website creation journey, and you can easily build your dream website to suit your brand identity.
What Redditors say about it
U/garvisgarvis- "I agree for people who are not knowledgeable, GoDaddy has everything under one roof and one call to resolve any support issues. One reason GoDaddy has been successful it is a one-stop shop. And another thing, I know the second hand that for devs, they are pretty decent in terms of pay and flexibility".
U/bronkula- "Some people shop for a deal, while some pay for convenience. GoDaddy is an alright service if you are planning to pay for convenience. And saving 50% on 20 dollars a year is not the savings you are making it out to be".
Features
Ease of use- GoDaddy is simple and beginner-friendly, as it does most of the hard work for you. It makes use of Artificial Design Intelligence which asks a few questions to create a personalized website for you.
Design- GoDaddy comes with a range of templates, and you can edit each of them efficiently. These templates can be edited in such a way as to fit your brand identity.
High-quality images- GoDaddy comes with tons of high-quality license-free images for your website. This helps save you money on additional subscriptions to stock images.
Pricing
GoDaddy comes with a free plan that is ideal for small personal projects. If you are building a business website, then you can sign up for it paid plan starting from $9.99 per month. If you want eCommerce functionality, then you can select the plan of $16.99 per month.
Pros
Setting up is simple and easy
Over 125 one-click app installations
A suite of business tools
Support to several payment options
Extra add-ons or tools
Email marketing features
Good customer support
Cons
Response time to queries is slow
Restoration fees
No software speed boost
Which is the Best Cheap Website Builder in the Market?
There are several cheap website builders in the market, and I have listed the best in this article. Whether you need a blog, online store, small business website, or portfolio, the list has you covered. WordPress is the cheapest by far, and also has the best features. If you want premium performance, then you can upgrade to the advanced plans of the builders. At the end of it all, the choice you make is based on your requirements.
If you are still confused here are my top picks:
WordPress- Best Builder for Powerful Blogging Features
Hostinger- Best for Website Customization and Design Flexibility
Squarespace- Beautifully Designed Websites for Small Businesses
WIX- Quality Website Builder for E-commerce
Weebly- Cheap Starting Point for Small Business Websites
Read Next: