I don't need to tell you about the importance of a sales funnel builder. Everyone in online marketing has seen all the studies that have shown that sale funnels just work and can help you drive a ton more leads and customers vs a generic website.
In this article, I'll dive into the best sales funnel builder programs and software available in 2021 and what's good for you based on the size of your business and technical skill.
Best Sales Funnel Builders 2021
1. Kartra – Best All in One Sale Funnel Builder
Kartra is a popular Sales Funnel Builder that has all the features you would need for your online business and much more. While it doesn't have the brand name of something like Clickfunnels, it's much more "clean" and focuses on function and use instead of a flashy car!

While we may be in a business of advertising and nothing sells like money and sex. It's nice to have a company that doesn't focus just on that and actually builds good products and Kartra is exactly that.
Kartra is a complete end to end sales funnel builder. What that means is that you don't have to depend on any other third party tools or saas products to run your business.
Kartra is built by Genesis Digital, which is the same company behind WebinarJam and EverWebinar (which integrates well with Kartra as you'll see below)
Kartra Sales Funnel Features
Easy to Import Ready Made Funnels
There's a ton of ready to use conversion-optimized Sale Funnel templates that you can import and use making it super easy to launch your first funnel!
Drag and Drop Builder
Kartra has an easy to use drag and drop builder for individual pages as well as for funnel building. Mind mapping your sales funnel have never been easier.
All in One Suite
Kartra has all the features you need from beginning to end. Some of the features of Kartra include:
Website Hosting
Email Marketing & Automation
Landing page builder
Payment Gateway
A/B and Split testing
Funnel builder
Membership site
Affiliate management
and SOOO much more!
Integrations
While Kartra comes built-in with a ton of features, an existing business may want to integrate their current tools with Kartra. Kartra comes built-in with native integrations with popular tools like
Zapier
Optimizepress
Braintree
Stripe
Kajabi
Twilio
and so much more.
On top of that, Kartra offers both outbound and inbound API functionalities, so you can bridge your Kartra account with your own custom back-end code.
Click Here To Give Kartra A Trial
2. Clickfunnels – Most Popular Sales Funnel Builder
ClickFunnels is one of the most popular landing pages and sales funnel builder out there! However, a lot of businesses that I've consulted for eg. Foundr Magazine (where I was the head of SEO) use Clickfunnels for their sales pages.
Why You Should Reconsider Using the Most Popular Sales Funnel Builder?
Extremely Complicated
Once you get started with ClickFunnels, you'll go behind the dashboard and realize that it's got sooooo many features that you have no idea where to start. If you reach out to the support team you'll find that many of them will just redirect to some product that they sell.
So basically to be able to even use ClickFunnels (well) you will need to spend more on learning and most people don't need that. If you are running a solo business, they're so many better ClickFunnels alternatives out there that make it easy to build a sales funnel.
Honestly, I would only recommend Clickfunnels if you are a business that relies heavily on lead magnets, sales pages, and funnels to function. However, you may need to be prepared to hire a person in your company to just handle the funnels as they get bigger cause it's no easy task.
If you are a solo business owner and not one of those brainwashed funnel hackers, I'd recommend you go for one of the other alternatives below.
Here's a special discount for you guys if you're are thinking about signing up for Clickfunnels, you can get 6 months of the Etison Suite (worth $297/Month) and other bonuses that include
6 Week Funnel Hacks Master Class – $2,997 value
Instant Traffic Hacks – $1,997 value
Inception Secrets – $1,997 value
SOAP & Seinfeld Email Sequences – $997 value
For only $997! That's over $8700 in savings to get started click the link below and sign up!
3. Unbounce – Cheap Sale Funnel Builder
Unbounce's landing page and conversion marketing platform allow marketers to quickly create, launch and test high-converting landing pages, popups, and sticky bars without developers and it's soo much cheaper compared to ClickFunnels or Kartra!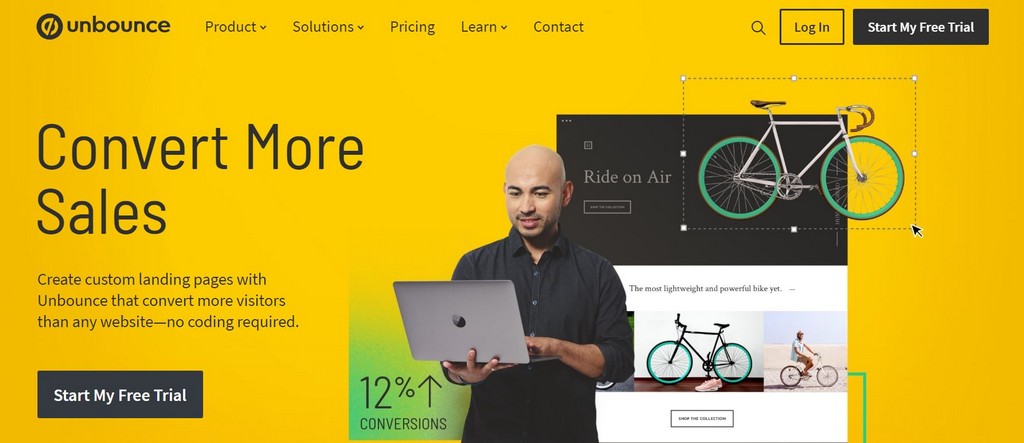 Unlike ClickFunnels which try to upsell your other products (from ClickFunnels), Unbounce Integrates with all of the other tools that you use already use like Hubspot and WordPress.
Some of their integrations include:
Zapier
Sales Force
Marketo
Hubspot
GTM/GA
MailChimp
Google Ads
……and so many more!
With unrivaled customer support, global hosting and 99.95% server uptime, Unbounce has powered over 250 million conversions for marketers around the world.
It doesn't matter if you want to use Popups, sticky bars or just a landing page, Unbounce has you covered. The only downside with Unbounce is that you'll have to use other tools for the backend of your funnels eg. Aweber etc.
Exclusive Offers For JeremyNoronha.com Readers
JeremyNoronha.com readers can get a 20% Discount on Unbounce. Simply click the link below and signup and the discount will be applied automatically.
4. LeadPages – Easy To Use Sales Funnel Builder
Leadpages is one of the best tools out there to use when you are building your first sales funnel. However, if you plan on creating and launching courses or a membership site then you're better off picking another option like OptimizePress below
Leadpages is mainly geared towards generating leads and create specialized landing pages. When it comes to funnel and sale pages Leadpages a lot to offer in terms of functionality like built-in A/B testing and easy UI.
LeadPages has 2 editors, beginner, and expert. So it doesn't matter if you are building your first sales funnel and want a simple drag and drop builder or if you want to mess around and focus on increasing your conversions by 1%, LeadPages has the tools and functionality you need.
LeadPages also released a new site builder in 2021 that allows you to build up your entire site using LeadPages so you don't have to use another website builder.
All of the LeadPages plan even the cheapest one (@ $25/month!) allows you to build Unlimited sales funnels and pages. It allows you to have unlimited Visitors.
Click Here to try LeadPages for free for 14 days
5. OptimizePress – Course + Sales Funnel Platform
If you run a membership site or planning on releasing courses and looking for a badass sales funnel (and don't mind using WordPress), then skip the previous options and go get yourself an OptimizePress account.
OptimizePress is the best membership software program out there as it integrates all the best things about a landing/sales page builder with a dedicated membership platform.
One of the downsides is that since it's not an "all in one" marketing suite like Kartra, you will have to use it with WordPress however if you are already using WordPress than OptimizePress is a great choice.
From everything from an easy drag and drop page builder to having the ability to even edit your header all without coding!
Click here to Get OptimizePress
6. Divi By Elegant Themes – Best WordPress Sales Funnel Builder
All of these tools are all dedicated towards online marketers and honestly, I wouldn't recommend any of them to people just starting out. It's kinda like throwing money down the drain.
If you are a beginner blogger who just wants to build a simple website I would recommend the Divi Theme by Elegant Themes
Divi is great for beginners who want a simple drag and drop builder to build websites and also the ability to easily build opt-in, funnel and sales pages.
Also, the best thing about Divi is that's it's an entire drag and drop theme builder. It's basically like using Squarespace or one of those drag-and-drop website builders. Also, you don't have to pay extra for a theme as well as Framework like you have to do with StudioPress, it's all on a single theme.
My friend Mark was able to go from "no idea about WordPress" to building websites for hotels and businesses thanks to the Divi Theme.
Most competitors to ClickFunnels averages out at $100/month. However, With Elegant themes — you can get access to it for a single purchase!
For about $89 you are able over 88 themes and five premium plugins for a year, and if you don't want to renew it every year, the sum of $249 is enough for a lifetime one-time payment.
Exclusive Offers For JeremyNoronha.com Readers
JeremyNoronha.com readers can get a 20% Discount on Divi. Simply click the link below and signup and the discount will be applied automatically.
Hurry Up! Limited Time Offer.
Best Sales Funnel Builder
There you have it!
These are my top picks of the Best Sales Funnel Builders in 2021, you don't need 10 choices to pick from with mentions of sales funnels you've probably never even heard of.
It makes more sense to understand your preferences and needs before the decision. After all, it doesn't make sense to get a sales funnel builder that isn't compatible with your online business or is just overboard.
All the best!
Read Next: