TLDR: If you're in a hurry the Clickfunnels is the Best Sales Funnel Builder according to Reddit! While Unbounce is better if you're on a budget.
u/tenantreport "ClickFunnels is worth the investment if you're planning to build funnels and send traffic through them for your business. The first funnel you should build is the lead generation funnel. Here you offer a piece of free content in exchange for someone's email".
Click Here To Try ClickFunnels For Free

I don't need to tell you about the importance of a sales funnel builder. Everyone in online marketing has seen all the studies that have shown that sale funnels just work and can help you drive a ton more leads and customers vs a generic website.
In this article, I'll dive into the best sales funnel builder programs and software available in 2023 and what's good for you based on the size of your business and technical skill.
Here are the 6 top sales funnel builders that are recommended by Reddit.
Best Sales Funnel Builder Reddit 2023
1. Clickfunnels – Best Sales Funnel Builder According To Reddit
Clickfunnels is without the doubt the best funnel builder in the world in 22, if you ever worked with any online business you've definitely heard of Clickfunnels!
Click Here To Try ClickFunnels For Free

What Reddit has to say about Clickfunnels:
u/tenantreport "ClickFunnels is worth the investment if you're planning to build funnels and send traffic through them for your business. The first funnel you should build is the lead generation funnel. Here you offer a piece of free content in exchange for someone's email".
u/bootstrapspecialist "I've used ClickFunnels for many years and find it an extremely valuable tool".
u/finous "ClickFunnels is pretty straightforward to set up, just like legos. I have had some success using it with Facebook ads".
The platform requires little to no technical knowledge, and you can set it up automatically if you know what you want. This means that your sale funnel is growing your company 24/7 while you're focusing on other things.
ClickFunnels is different from traditional tools and helps you achieve a profit faster. This software allows you to:
Quickly build a high-quality landing page where you can capture leads and sell different products online.
Integrate a payment system allowing you to collect payments on each page of your website.
Advanced traffic analytics to retarget your traffic to boost sales.
Create upsell and downsell pages to increase your overall revenues.
Option to send advanced follow-ups to your leads
And much more.
ClickFunnels allows users to select a wide range of tested and proven funnel templates to generate a higher conversion rate. The platform gives you access to both free and paid choices. The templates can be classified into three key groups, namely event funnels, sales page funnels, and lead capture funnels. However, you can also create specific templates like membership funnels, etc.
ClickFunnels have a large library of funnels that help in network marketing, B2B lead generation, E-commerce, blogging, and affiliate marketing sectors.
If you're using multiple marketing tools to control each stage of your customer journey, then your precious time and resources are deterred. You can manage everything in one platform with ClickFunnels. With this platform, you can monitor all the metrics and performances of the landing pages easily.
2. Kartra – Popular Sales Funnel Builder
Kartra is a popular Sales Funnel Builder that has all the features you would need for your online business and much more. While it doesn't have the brand name of something like Clickfunnels, it's much more "clean" and focuses on function and use instead of a flashy car!

While we may be in a business of advertising and nothing sells like money and sex. It's nice to have a company that doesn't focus just on that and actually builds good products and Kartra is exactly that.
Kartra is a complete end to end sales funnel builder. What that means is that you don't have to depend on any other third party tools or saas products to run your business.
Kartra is built by Genesis Digital, which is the same company behind WebinarJam and EverWebinar (which integrates well with Kartra as you'll see below)
What Reddit has to say about Kartra:
u/chris_cunningham – ClickFunnels is obviously still the leader in the pack by a long shot, but if you pay careful attention, a lot of big name marketers are utilizing Kartra too.
They may still have all their front end content in CF, because as you mention switching over can be a pain, but then the backend is all Kartra. The power in the Behavioral adaptive Marketing (BAM) in Kartra is insane.
I'm not a funnel builder myself, but from what I've see in facebook groups, a lot of people are having issues with CF support. Kartra has a great support community.
u/Martin_Boeddeker – I've used Kartra extensively and I have to admit I'm a fan and used it to run a The Pareto Sales & Marketing Summit where I interviewed AJ Roberts along with people like Perry Marshall, John Lee Dumas, Jim Edwards, and a lot of other Kartra and Clickfunnel experts.
However, all of the shortcomings here in this thread are true.
Kartra is best used for EVERYTHING in the BACKEND of your business. You can create amazing funnels and deadlines and evergreen campaigns etc.
However, for SEO I would recommend you just install a fast WordPress Theme on a fast hosting account and build you SEO from there.
Kartra Sales Funnel Features
Easy to Import Ready Made Funnels
There's a ton of ready to use conversion-optimized Sale Funnel templates that you can import and use making it super easy to launch your first funnel!
Drag and Drop Builder
Kartra has an easy to use drag and drop builder for individual pages as well as for funnel building. Mind mapping your sales funnel have never been easier.
All in One Suite
Kartra has all the features you need from beginning to end. Some of the features of Kartra include:
Website Hosting
Email Marketing & Automation
Landing page builder
Payment Gateway
A/B and Split testing
Funnel builder
Membership site
Affiliate management
and SOOO much more!
Integrations
While Kartra comes built-in with a ton of features, an existing business may want to integrate their current tools with Kartra. Kartra comes built-in with native integrations with popular tools like
Zapier
Optimizepress
Braintree
Stripe
Kajabi
Twilio
and so much more.
On top of that, Kartra offers both outbound and inbound API functionalities, so you can bridge your Kartra account with your own custom back-end code.
Click Here To Give Kartra A Trial
3. Unbounce – Budget Sale Funnel Builder
Unbounce's landing page and conversion marketing platform allow marketers to quickly create, launch and test high-converting landing pages, popups, and sticky bars without developers and it's soo much cheaper compared to ClickFunnels or Kartra!
Click Here to Get 20% OFF Unbounce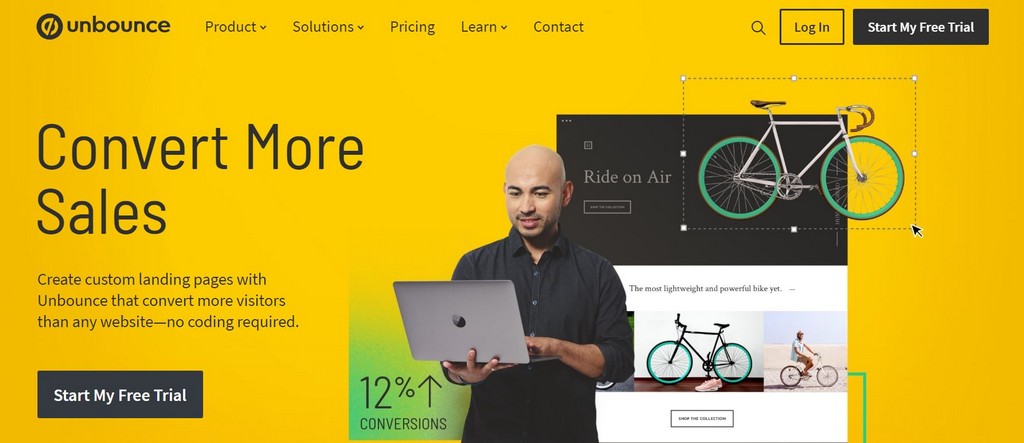 What Reddit has to say about Unbounce:
u/Lumiafan: My agency uses Unbounce, and they've got pretty much everything you'd need
u/fathom53: Unbounce is good and all the leading platforms have a 30 day free trial. Look for the platforms that will integrate with your technology stack and your org can afford. Then test out the one's that meet your needs.
u/xeno_sapien: Unbounce is incredibly fast. Our landing loads in the blink of an eye.
u/OneWhoDoubts: Used it for about six months and liked it, you can do a pretty good looking and effective landing page pretty quickly. Ended up switching to just editing templates, manly for the flexibility and at the time Unbounce was kind of expensive for my needs. Would definetily recomend it to someone how needs to deploy a good amount a landing pages without much hassel. It has useful features for analytics, conversion tracking, A/B testing and the support team is friendly and really helped me solve all my issues. 9/10 platform.
Unlike ClickFunnels which try to upsell your other products (from ClickFunnels), Unbounce Integrates with all of the other tools that you use already use like Hubspot and WordPress.
Some of their integrations include:
Zapier
Sales Force
Marketo
Hubspot
GTM/GA
MailChimp
Google Ads
……and so many more!
With unrivaled customer support, global hosting and 99.95% server uptime, Unbounce has powered over 250 million conversions for marketers around the world.
It doesn't matter if you want to use Popups, sticky bars or just a landing page, Unbounce has you covered. The only downside with Unbounce is that you'll have to use other tools for the backend of your funnels eg. Aweber etc.
Exclusive Offers For JeremyNoronha.com Readers
JeremyNoronha.com readers can get a 20% Discount on Unbounce. Simply click the link below and signup and the discount will be applied automatically.
4. LeadPages – Easy To Use Sales Funnel Builder
Leadpages is one of the best tools out there to use when you are building your first sales funnel. However, if you plan on creating and launching courses or a membership site then you're better off picking another option like OptimizePress below
Click Here to try LeadPages for free for 14 days
What Reddit has to say about Leadpages:
u/trackingdesk: It really depends the complexity of the funnels. If you need up sell, down sell, and/or split according to "if then that", clickfunnels might be the right solution. If you just need a landing page with ab testing variations, then leadpages might just be enough and cheaper.
u/tk4087: Leadpages was easy to use but has a few limitations that I found hindered the user experience. I wouldn't really recommend it. I've heard some good things about Instapage, but if you can afford it I like some of the all-in-one marketing automation platforms that allow you to build quality landing pages
Leadpages is mainly geared towards generating leads and create specialized landing pages. When it comes to funnel and sale pages Leadpages a lot to offer in terms of functionality like built-in A/B testing and easy UI.
LeadPages has 2 editors, beginner, and expert. So it doesn't matter if you are building your first sales funnel and want a simple drag and drop builder or if you want to mess around and focus on increasing your conversions by 1%, LeadPages has the tools and functionality you need.
LeadPages also released a new site builder in 2023 that allows you to build up your entire site using LeadPages so you don't have to use another website builder.
All of the LeadPages plan even the cheapest one (@ $25/month!) allows you to build Unlimited sales funnels and pages. It allows you to have unlimited Visitors.
5. OptimizePress – Course + Sales Funnel Platform
If you run a membership site or planning on releasing courses and looking for a badass sales funnel (and don't mind using WordPress), then skip the previous options and go get yourself an OptimizePress account.
What Reddit has to say about Optimizepress:
u/mrhobbeys: It works and is somewhat easy to use. I had issues when I was first starting out and not being able to customize to the degree I wanted… However, I ran into the same problems when I was using leadpages, and a few others I tried
OptimizePress is the best membership software program out there as it integrates all the best things about a landing/sales page builder with a dedicated membership platform.
One of the downsides is that since it's not an "all in one" marketing suite like Kartra, you will have to use it with WordPress however if you are already using WordPress than OptimizePress is a great choice.
From everything from an easy drag and drop page builder to having the ability to even edit your header all without coding!
Click here to Get OptimizePress
6. Divi By Elegant Themes – Best WordPress Sales Funnel Builder
All of these tools are all dedicated towards online marketers and honestly, I wouldn't recommend any of them to people just starting out. It's kinda like throwing money down the drain.
Get 10% Off Divi From Elegant Themes

What Reddit has to say about the Divi Sales Funnel Builder:
u/sonofmo "I like Divi as it is easy to teach. I can accustom a designer or client with no experience in website management and get them updating their own sites in no time, while I can enjoy more free time".
u/ParadoxAndConfusion "Divi generates Press Pro and Blocks. It is the leanest and fastest app anywhere with great developer support".
u/beingwp "Most beginners on WordPress are bewildered when it comes to picking a reliable theme for their website. There are several free and paid options. Which one should I pick from the crowd? The answer is the Divi theme, as it is simple to use and highly responsive in its functionality.
If you are a beginner blogger who just wants to build a simple website I would recommend the Divi Theme by Elegant Themes
Divi is great for beginners who want a simple drag and drop builder to build websites and also the ability to easily build opt-in, funnel and sales pages.
Also, the best thing about Divi is that's it's an entire drag and drop theme builder. It's basically like using Squarespace or one of those drag-and-drop website builders. Also, you don't have to pay extra for a theme as well as Framework like you have to do with StudioPress, it's all on a single theme.
My friend Mark was able to go from "no idea about WordPress" to building websites for hotels and businesses thanks to the Divi Theme.
Most competitors to ClickFunnels averages out at $100/month. However, With Elegant themes — you can get access to it for a single purchase!
For about $89 you are able over 88 themes and five premium plugins for a year, and if you don't want to renew it every year, the sum of $249 is enough for a lifetime one-time payment.
Exclusive Offers For JeremyNoronha.com Readers
JeremyNoronha.com readers can get a 10% Discount on Divi. Simply click the link below and signup and the discount will be applied automatically.
Hurry Up! Limited Time Offer.
Best Sales Funnel Tools
There you have it!
These are Reddit top picks of the Best Sales Funnel Builders in 2023, you don't need 10 choices to pick from with mentions of sales funnels you've probably never even heard of.
It makes more sense to understand your preferences and needs before the decision. After all, it doesn't make sense to get a sales funnel builder that isn't compatible with your online business or is just overboard.
All the best!
Read Next:
Best WordPress Sales Funnel Reddit