The landing page is where you transform your website visitors into paying customers. Creating high-converting landing pages quickly is an important capability for any online marketing operation. And since WordPress happens to be the most commonly used content management system on the Web, we figured we'd give you a rundown of the best WordPress landing page builders available.
TLDR; Here're the Best Landing Page WordPress Plugins in 2023
Elementor Pro: Best WordPress Landing Page Builder For Existing Businesses
Divi Theme: Best WordPress Theme Builder For Beginners
Unbounce: Best Landing Page Builder (with WordPress Integration)
Best WordPress Landing Page Plugins
1. Elementor – Best WordPress Landing Page Plugin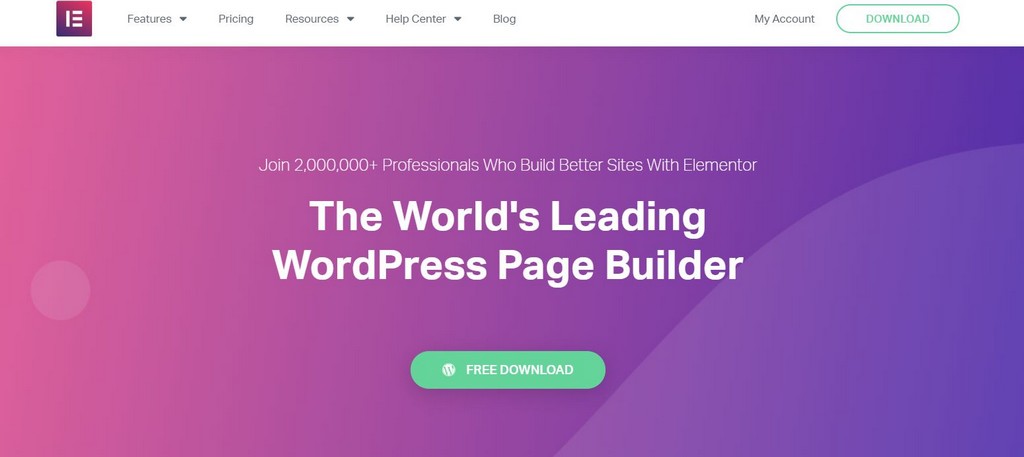 Click Here to Get Elementor Pro
Elementor claims that over 4 million professionals use it to build their websites and landing pages. Is that surprising? Not in the least. When you go over this WordPress list of features and tools, it becomes obvious why so many choose it.
Even Cyrus, the ex-head of SEO at Moz, considers Elementor Pro his go-to Page Builder!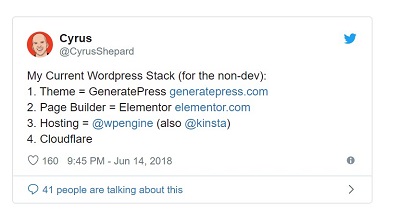 It's, in fact, one of the most popular drag and drop WordPress Landing Page builders that can make you instant page edits without touching any code. (which is great for a non-dev like me)
Elementor can easily handle every design challenge that you could possibly throw its way. Of course, the basics are covered. This WordPress page builder has a library of over 150 pre-designed templates that you can tap to quickly put together your landing pages. These templates cover a wide variety of use cases, from landing pages for mobile apps to pricing pages for gyms. The breadth of the library is only surpassed by the specificity of each template to the industry that it's meant for.
Although Elementor's library of templates is probably more than sufficient for your needs, you aren't limited to just that. Users are given a free hand to tweak every aspect of their website while still producing pixel-perfect, responsive pages. That includes the ability to create parallax scrolling animations, mouseover effects, and more. You can also make more nuanced changes like adjusting the hue of an image or adding a slight blur effect.
So those were all the features for those of you who think like designers. But Elementor also has a lot to offer to the marketers out there. Elementor has widgets to build forms, calls to action, social media sections, and more. There's a dedicated pop-up builder that lets you design pop-ups for lead capture, email subscriptions, and so on. Marketers will also love that you can easily integrate Elementor with marketing tools like MailChimp, HubSpot, and SalesForce to name just a few.

Click Here to Get Elementor Pro
Elementor costs just $49 for a year if you're using it on just one website. For three websites that price goes up to $99 and for $199 a year you can use Elementor on up to a thousand websites.
2. Divi – Best WordPress Theme With Landing Pages

If you've ever researched WordPress landing page builders, you've heard of Divi. This landing page builder by the folks at Elegant Themes is among the most popular names in all of the WordPress universe. And not for no reason; Divi does a great job of combining powerful features with an interface that makes it simple for anyone to build landing pages.
Perhaps the most impressive weapon in Divi's arsenal is its Visual Builder Technology. Essentially what it lets you do is build entire websites using a powerful WYSIWYG editor. Divi completely replaces to standard WordPress post editor interface, which, let's admit it, can be a little boring or tedious at times. And in its place, the theme gives you a whole new visual website building interface.
Divi's visual builder is everything you want from a WordPress landing page builder. You can simply drag and drop any element that you want to be seen on the frontend of your website. You get to review every change you're making in real time. There are a ton of options to choose from for every different kind of element, right from the themes themselves to more nitty-gritty details like buttons and shape dividers.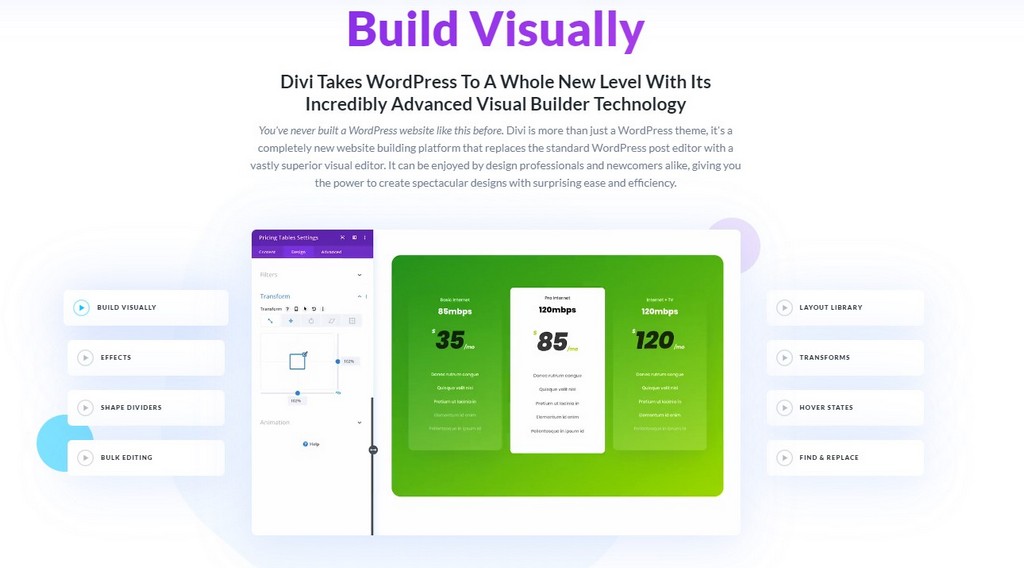 In case you're wondering about how your website will look across devices, Divi has that covered, too. You can easily build responsive websites using this landing page builder. If you want to have even more control over how a site looks, you can write custom CSS code using Divi's editor.
Divi's website templates are categorized for different industries. That includes technology, e-commerce, business, health, events, and more. There are currently 800 pre-made website layouts along with royalty-free images and illustrations. And the best part? The team at Divi adds to its repertoire of layouts every week so there are always new options available to you.
Elegant Themes gives access to Divi as part of a pack that also includes its other themes and website packs. Yearly access is priced at $89 while you can get lifetime access for a one-time price of $249.
Hurry Up! Limited Time Offer.
3. Unbounce – Best Landing Page Builder With WordPress Plugin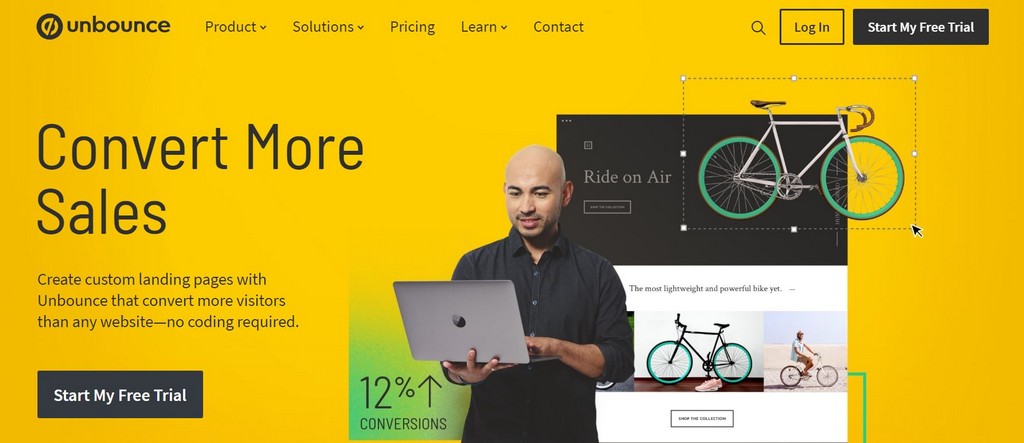 JeremyNoronha.com readers can get a 20% Discount on Unbounce. Simply click the link below and signup and the discount will be applied automatically.
Unbounce's main goal is to help you create landing pages that convert more visitors into customers. They focus specifically on three big industries: e-commerce, SaaS, and agencies. This landing page builder has a lot to offer to those who run businesses in each of those industries.
E-commerce businesses can use Unbounce to build landing pages that sell more product. This starts even before a visitor has come to your website, with the Dynamic Text Replacement feature. This feature lets you dynamically alter the text on your landing page based on the search engine ad the visitor clicked on.
You can easily add a "Buy Now" button on every page along with widgets for customer reviews, limited-time offers, and discount codes. The Auto Image Optimizer ensures that all your images load quickly so that you're more likely to hold your visitors' attention.
SaaS teams can use Unbounce to offer free trials of their product, create and demos, and of course generate leads. You don't need coding knowledge to build these landing pages so that lets your developers focus on building your actual product. You can integrate things like chatbots, calendars, and forms to all your pages. The data from these can easily be fed into third-party tools like Zapier and MailChimp. And if you're not sure if your approach is working, you can always set up A/B tests to optimize your landing pages.
For agencies, Unbounce offers campaign management and referral features. If you build campaigns using this WordPress landing page builder, you can easily clone pages and bulk-copy pages so that you can scale your publishing efforts across different clients. You can also send clients email notifications when their landing pages create leads. This makes it possible to create a referral-based payment structure using Unbounce.
Unbounce's pricing starts at $79 per month for 75 landing pages and goes up to $399 per month for enterprises.
JeremyNoronha.com readers can get a 20% Discount on Unbounce. Simply click the link below and signup and the discount will be applied automatically.
4. LeadPages – Cheap Landing Page Builder
Click Here to try LeadPages for free for 14 days
LeadPages is a landing page builder made with small businesses in mind. If you own a small business, you know that it isn't enough anymore just to have a website be your digital storefront. You also need to be able to grow your business and generate customers using your website. That's exactly what LeadPages makes possible.
LeadPages has a gallery of templates that you can use as a starting point for your landing pages. You can drag-and-drop new elements or move around the existing elements to realize the design that you have in your mind. There are additional pre-designed pages if you want to build a website rather than just a landing page. You can use this feature to add an About page, Gallery, Events page, etc.
Publishing a page that you've built on LeadPages is extremely simple. You don't need to dig into the CNAME setup or DNS records of your domain registrar. All you need to do is install the LeadPages plugin and start publishing pages directly to your custom domain using it.
You really get to understand the power of LeadPages when you take a peek at its list of conversion tools. The landing page builder gives you real-time tips while you're building your landing pages and built-in analytics for all your campaigns. You can run unlimited split tests and combine them with the analytics LeadPages generates to really supercharge your marketing campaigns.

Speaking of campaigns, LeadPages comes with over 40 third-party integrations. The standard integrations include sales tools, webinar applications, and CRMs. If you're looking to make more advanced integrations you can tap into tools like Marketo, SalesForce, and HubSpot.
LeadPages packages are priced at $25 (one site), $48 (three sites), and $199 (up to 50 sites) per month. They also differ in terms of the features available to you. The high-end package comes with advanced integrations, extra text campaigns, and 1-on-1 quick start calls.
Click Here to try LeadPages for free for 14 days
5. Thrive Architect – Cheap Landing Page WordPress Plugin
Get Thrive Architect for FREE
You can get Thrive Architect (& all of Thrive's current and future products) by signing by for Thrive Membership. Simply click the link below and sign up using the Annual plan.
Click Here To Get The Thrive Membership
329! That's how many landing page templates are available in Thrive Architect's library. Few alternatives can rival the sheer variety of what's on offer with this landing page builder. Every landing page template is designed to look professional, with opt-in pages, social media elements, blog posts, and other conversion-focused elements.
Thrive Architect really cares about your ability to create WordPress landing pages that convert. One of the most important ways to achieve that is with compelling copy. This landing page builder assists you in that regard with tutorialized sales pages. You can use these to see exactly how to create high-impact landing pages and simply tweak the copy to suit the needs of your business.
Every element that you could possibly need has been turned into a module in Thrive Architect. You can drag and drop entire sections like lead generation forms, testimonials, and pricing tables. This lets you put together pages quickly and revise them as your business grows and you need more elaborate landing pages.
The Thrive Architect WordPress landing page builder has a long list of integrations to go along with its large library of templates. Need to create an email marketing campaign? You can use SendGrid, GetResponse or one of the other integrated email marketing tools. Looking for a way to work webinar content into your landing pages? You can use GoToWebinar or WebinarJam studio.
Thrive Architect is one of the more affordable WordPress landing page builders on this list. For $19 per month paid annually, you can use it on up to 25 websites. The single website license costs $67.
Click Here to Get Thrive Architect
6. OptimizePress – Sales Funnel Builder For WordPress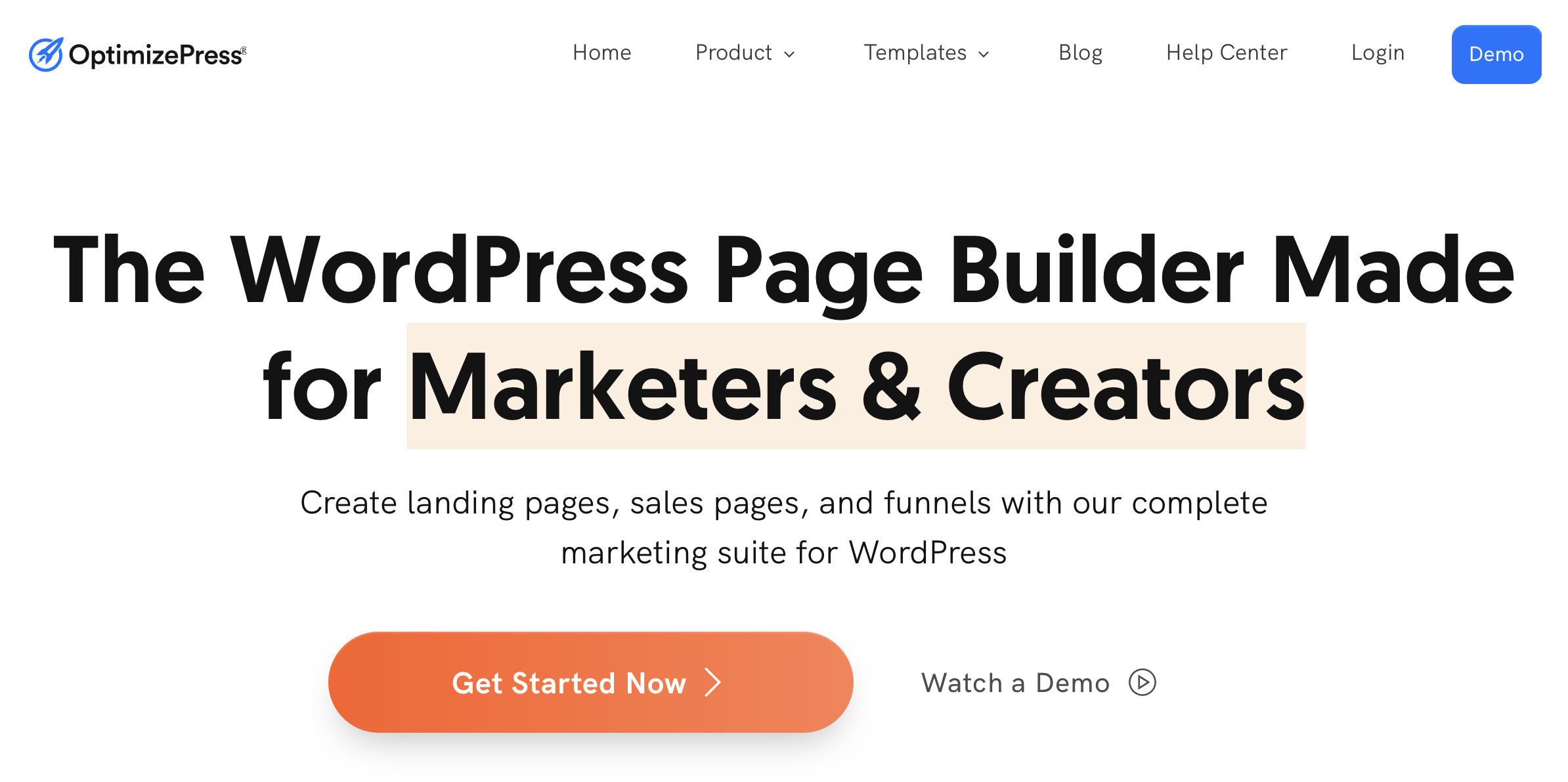 Click here to Get OptimizePress
OptizmizePress is a landing page builder for WordPress, but it is also a lot more than that. This tool allows you to build entire marketing funnels to guide your visitors through the customer journey using a highly optimized path.
The process to build a marketing funnel using OptimizePress is very straightforward. First, you pick the kind of funnel you want to build; for example, a book launch, webinar or product launch. Once you know what you're selling you can choose from one of the available funnel templates. Each template is designed with conversion in mind.
Once you've done that, you move on to branding the funnel for your business. This is important because it helps you build brand recall as you're leading a customer through the funnel. Next, you move on to customizing the funnel, which is done using the same technology as OptimizePress' standard page builder. If you're happy with how the funnel looks, you can publish it and start collecting leads.
Building a landing page is just as simple. You get to pick from 40 landing pages, each of which has been conversion-tested. The OptimizeBuilder feature lets you play around with every element on the page. You can tweak the fonts, colors, and text on the page to your heart's content without writing a single line of code. Once your landing pages start generating leads, you can have them sent directly to your favorite email marketing service.
The OptimizePress landing page builder is priced between $99 and $199 per year. The $149 package onward you get a course on selling memberships along with all the features on offer.
Click here to Get OptimizePress
7. Beaver Builder – Popular Landing Page Builder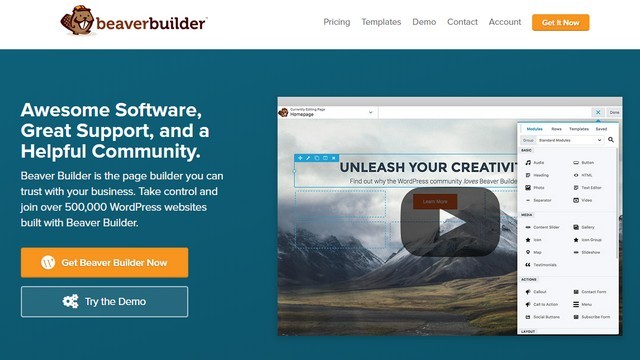 Click Here To Get Beaver Builder
GoDaddy, WPEngine, and CrowdFavorite are just some of the big names on the Internet that use Beaver Builder to create landing pages. Overall, there are more than a million websites built using this WordPress landing page builder.
Beaver Builder's offering comes in two different forms. The first is its Page Builder plugin, which you can install no matter what WordPress theme you're currently using. Doing so gives you the ability to edit the frontend of your website visually while tracking the changes in real time. You can create templates yourself and reuse them as many times as you like. This plugin is compatible with popular themes including WooThemes, Divi and Genesis.
If you want to take things up a notch, you can use Beaver Builder's own WordPress theme. The theme creates a framework using which you can take complete control over the appearance and performance of your landing pages without using code. The code that the theme generates as you build each page is rendered in responsive HTML5 which augurs well for your SEO efforts.
There are several modules that you can integrate with each template to augment the functionality of your WordPress landing pages. You can add a map, slideshow, gallery, and a lot more with the simple blick of a button. This makes it possible to quickly edit pages and add features to your website without having to rely on a developer.
Beaver Builders "Standard" pricing package costs $99 gets you the page builder plugin for as many sites as you want. For $199 you get the Beaver Builder theme for unlimited sites but you can't white label it. To do that, you'll have to shell out $399 for the "Agency" version of this WordPress landing page builder.
Click Here To Get Beaver Builder
Verdict
To be quite frank this is a tricky question to answer as all the mentioned Landing page builders are good and bad in their own way.
Elementor: Best Free WordPress Landing Page Builder For Existing Businesses
Divi Theme: Best WordPress Theme Builder
Unbounce: Best Landing Page Builder (with WordPress Integration)
At the end of the day, it all comes down to what WordPress Landing Page Builder works for you.