In this Elementor Review I'll dive into why Elementor is my favorite page builder for WordPress.
Elementor is honestly the most advanced page builder for WordPress in 2020, if you ever worked with WordPress businesses you've definitely heard of Elementor Pro!
Even Cyrus, the ex-head of SEO at Moz, considers Elementor Pro his go-to Page Builder!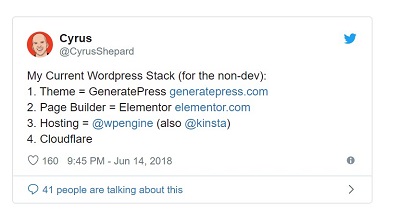 It's, in fact, one of the most popular drag and drop WordPress theme builders that can make you instant page edits without touching any code. (which is great for a non-dev like me)
However in 2020, we have so many more options like Thrive, Divi, etc so then the questions arises; is Elementor Pro Worth it in 2020, or should you pick one of their alternatives instead? I
Read my Elementor Review to figure it out!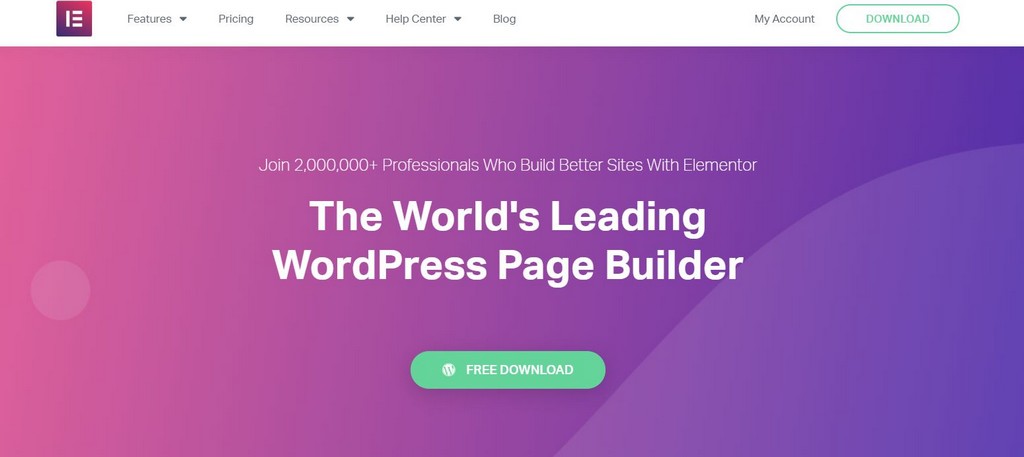 Elementor Review
If you'd like to build visual dynamic websites with having an option to hand over to a developer Elementor is a great pick for you moreover Elementor Pro is a perfect fit if you're a creative who likes visual rich websites but doesn't want to code.
Read the whole Elementor Review to figure out why…
About Elementor
Elementor Pro is a WordPress Page and Theme Builder that was founded in 2016. In just 3 years, Elementor has more than 2,000,000 active installs and is loved by many and has over 3,000 five-star reviews.
Elementor is current without a doubt the best Free WordPress Page Builder, Elementor comes as a WordPress Plugin and the Elementor Pro subscription add more to the capability of the plugin.
Let me start with some of the best Elementor Pro features that make it the best page builder and why it's worth purchasing in 2020
Elementor Review 2020: Features
1. Elementor Drag and Drop Live Editor
Elementor had a great drag and drop editor. What does that mean? well, you can basically edit your page in real time by moving the things you want.
You don't have to "save and Publish your site" to see how it will look when it goes live, instead, you are editing it in real time. What you see on the page when you are editing is what the final product will look like!

If you tend to use the same design for multiple purposes, you can save your designs as elements in Elementor and use them to create new pages in the future.
2. Pre-Made Elementor Templates
Elementor comes bundled in with 300+ pre-designed templates that you can use and edit so you can design your blog pages to look exactly the way you want it to.
3. Built-in Marketing suite
With Elementor you don't have to pay extra for a landing page builder or software for Pop-ups to collect emails, everything is built into!
Elementor gives you everything you need to build successful websites and landing pages that drive traffic, sales and conversions. Everything from a Countdown to a Testimonial Carousel.
4. Elementor Integrations
Elementor integrates with almost every single Email Marketing software or Marketing CRM so you can save your subscriber data easier.
Some of their integrations include:
MailChimp
Drip
GetResponse
ActiveCampaign
ConvertKit
Zapier
HubSpot
Yoast
WooCommerce
Slack
reCAPTCHA
……and so many more!
5. Elementor Pro Theme Builder
With Elementor you can design every single aspect of your WordPress theme.
Want the header of your site to look a little different? Check.

Want to add another menu? Check.

Want to add a column in the footer? Check.
Whatever you can think of, you can edit it! All without having to touch a single piece of code!

6. 24/7 Great Support
As an Elementor Pro user, you can get 24/7 support from Elementor professionals who can help you with any problem you have with your site! So it doesn't matter if you're a beginner, their support team will be there to back you up!
Elementor vs Elementor Pro
You can get started with the free version of Elementor directly by clicking here. However, the free version of Elementor is limited in what you can do.
Elementor Free Page Builder Features
With Elementor's free page builder you can only edit single pages,  you can't edit the themes. Also, you only get about 30 widgets to use on your site, so you can't use features like Pop-up Builder or countdown timers.
Here're just a list of some of the features you can with Elementor Pro that you don't get with the free version.
Popup Builder
Theme Builder
WooCommerce Builder
Motion Effects
Countdown Widget
Testimonial Carousel Widget
Custom Fonts
Dynamic Content
Custom Fields Integration​
All the integration
and so much more…
Also, you don't have access to Elementor's amazing support team! So going Pro with Elementor is honestly a no-brainer!

Elementor Pro Pricing
The Elementor Pro Price is pretty affordable for the features you get. However sadly Elementor doesn't have a Lifetime plan like Divi, so you do have to pay yearly for Elementor Pro. You can get Elementor Pro in 3 different plans: Personal, Plus, and Expert.
Personal Plan
Use on 1 Site
50+ Pro Widgets
300+ Pro Templates
Theme Builder
WooCommerce Builder
Popup Builder
Support for 1 Year
Updates for 1 Year
Price: $49 / Year
Plus Plan
Use on 3 Sites
50+ Pro Widgets
300+ Pro Templates
Theme Builder
WooCommerce Builder
Popup Builder
Support for 1 Year
Updates for 1 Year
Price: $99 / Year
Expert Plan
Use on 1000 Sites
50+ Pro Widgets
300+ Pro Templates
Theme Builder
WooCommerce Builder
Popup Builder
Support for 1 Year
Updates for 1 Year
Price: $199 / Year
All Packages Include 30-Day Money Back Guarantee For New Purchases​
Elementor Pro Renewal Note: Renew your membership to Elementor Pro for 25% Off! After the license expires the renewal discount is gone.
Note: They're many articles making false claims about an "Elementor Pro Discount Code 2020" but Elementor doesn't have any discount code.
Is Elementor Pro Worth it?
The answer is definitely yes, for only 49$ per year, you can edit your entire website and build the blog you want instead of settling for some boring theme.
That's only around 4 dollars a month! 
WordPress Deals: