Launched in 2016, Elementor is an Israeli software company that primarily helps web professionals have excellent flexibility when designing a WordPress website.
After its launch, Elementor has quickly shot up the charts and today is a tycoon in this space. It has over 5,000,00+ active websites with impressive ratings across 180 countries around the world.
Click Here To Give Elementor A Try
The visual builder plugin can be used by everyone ranging from bloggers, marketers, agencies, or anyone who is planning to kick start their journey on the internet by building a website. You don't require any coding knowledge or experience to create a website as it is very easy and straightforward using the drag & drop builder.
Elementor Review
Elementor is no longer the new kid on the block and today has developed into a full-fledged website builder having outstanding features. The intuitive design and versatility of the platform make it an ultimate page builder for WordPress users.
If you're in the market looking out for a page builder to build your dream website, then I hope this Elementor review will clarify some of your doubts and set things straight. In this review, I'll discuss some of the best features of Elementor Pro that make purchasing it worth every penny. We'll also discuss in detail about the Elementor Cloud Website that has been recently launched by Elementor, allowing users to handle the front and back end of the website in one place.
Elementor Pro Review
Before we go into detail about Elementor Pro, let us check out the Pros and Cons of the platform; so you get an idea of what is waiting for you in this review.
Pros
Top-notch features
Outstanding design options
Powerful and speedy interface
Good popup builder
The core product is 100% free
Awesome global widgets
Regular updates
Extreme customizations
Comes with WooCommerce and Theme builder
Open-source code
Excellent template and block library
Value for money
Seamless integrations
Cons
No unlimited license or lifetime option
Slow support
May conflict with third-party plugins
No survey builder
May have a steep learning curve for some users
Who is Elementor Pro For?
Elementor offers everything for people of different fields, which makes it very successful. They are commonly useful for:
Casual users- You have complete control of your website design and you don't require any technical knowledge to operate it. You can utilize the drag-and-drop feature, to build different designs or work with templates to create beautiful websites.
Marketers- Elementor allows users to create separate landing pages. These features allow the creation of form widgets and showcases a flexible popup builder. It offers a great solution to build custom landing pages without needing to hire a professional developer.
Freelancers or agencies building websites- Elementor allows users to speed up the delivery of websites to their clients. Dynamic content and theme builder support allowd you to build custom sites. Further, you can also build stores on WooCommerce for your website.
This is not to say that these are only the people who benefit from Elementor; I'm just trying to highlight the key fields that people use the page builder to build super-fast websites.
Click Here to Try Elementor For Free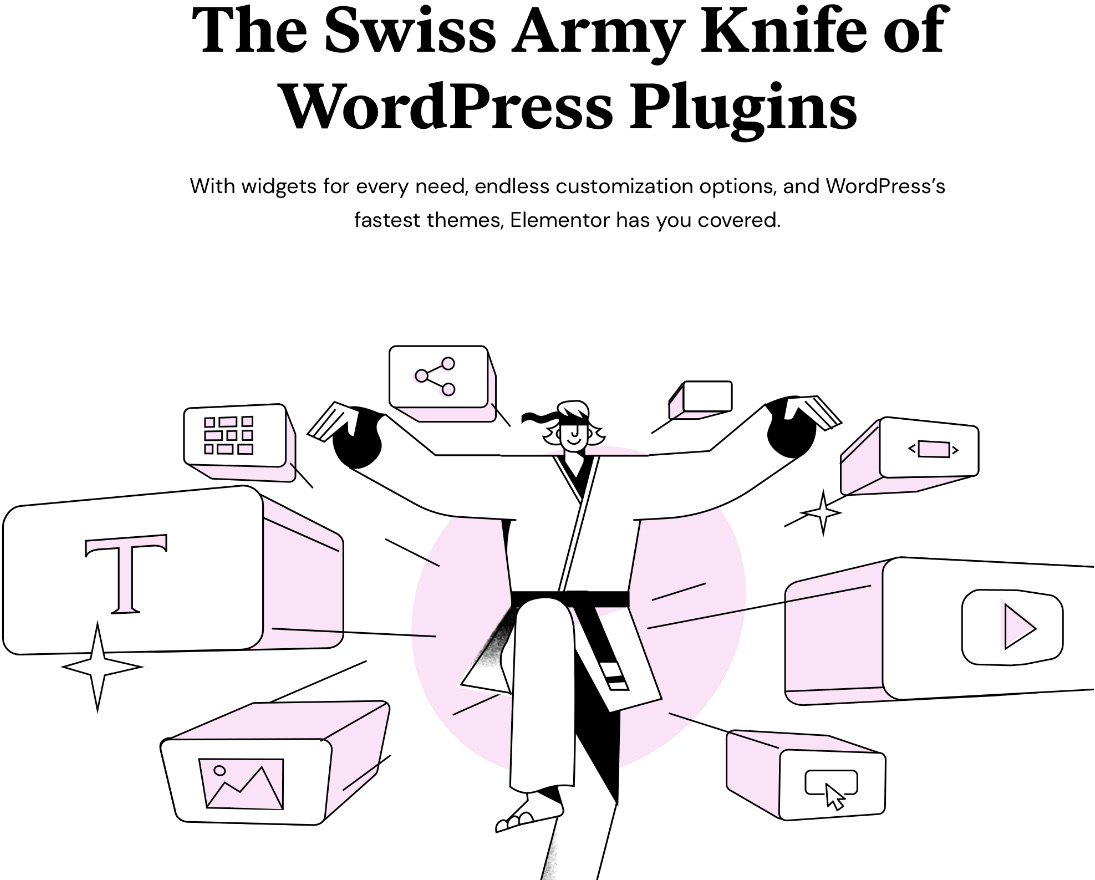 Elementor Pro Features
Elementor is by far the most popular WordPress Page Builder in the market today. It has a massive list of features that make it stand out. I'll cover some key features that are offered by Elementor and allow you to judge whether the free version is worth trying or if you need to upgrade to a premium Elementor Pro version to build your dream website.
1. Elementor Essential Features for Editing
Drag and drop editor- After you've installed Elementor, you can edit the page using its drag & drop editor, making the entire process fun. The visual editor allows you to edit, create a new page for your website. The editor has excellent ease of use and is best in the industry.
The editor allows you to streamline the entire editing process with greater flexibility. After you make the edits, the live feature of the editor shows the effect of the change instantly. If you are planning to use the same designs in different sections of your website, then you can save your design and use the elements to create any designs in the future. With Elementor, you can make suitable editing for a smartphone or a tablet screen. Wherever you are, just open your browser and start editing your WordPress site within a few steps.
Click Here to Try Elementor For Free
Theme Builder- WordPress is written using PHP, and to create a WordPress plugin or theme, you must know how to write using PHP. However, the theme builder feature offered by Elementor allows you to create your own themes. One of the major advantages of the theme builder is that you can easily create a website or create a custom template and apply it to any section of your website.
Reusable Element- The reusable element feature allows you to reuse a section of an element that you've designed but couldn't fit due to its size on the page. Deleting the element would seem the only way; however, with this feature, you can save the element and use it at a later date. This will save you precious time and resources you spent while designing the feature and have the ability to use the same design at a later date.
Pressure-free page building with version history- In certain cases, one or two undos are not enough to reverse a design disaster, and this is something that happens to nearly all of us. To combat this problem, Elementor has a history panel where you can view individual panels or entire versions. You just have to click the revert button to restore back to the older version of your page design.
2. Elementor Ultimate WordPress Design Solution
Elementor allows users to reshape page layouts, set color grading, and unlimited customization power. For typography, there are thousands of fonts you can work with to create exquisite copies. You can also upload your own fonts, and this combination allows you to create a theme color that represents your brand.
Ready-made templates- You have over 300 beautifully designed templates that allow users to add an aesthetical outlook to their website. Users also have 90+ widgets that allow them to create content to meet the needs of every industry. Elementor has template kits that are designed specifically for certain website types, but all templates have nearly the same design concept. In addition to full-length pages, you can also use templates for smaller or individual elements known as blocks.
Background gradients- The background gradient feature allows users to create backgrounds with a radiant color scheme. To have a unique color experience on each page, a radiant background is added to the background to suit your requirements.
Background Videos- Background videos allow users to reflect on the topic on your page more efficiently. You can easily upload the video on your website or embed the URL directly in your page design. The entire process is simple and easy and takes place within no time.
Add motion effects on your website- Elementor has features that allow you to add parallax, mouse effects, and other features to your web design fairly easily. The motion effects offered by Elementor pro are covered under two categories- scrolling and mouse effect. You can also efficiently apply the sticky option to a select few sections and widgets. And you don't have to hire an expert designer to make this all possible.
CSS filters and blend mode- This feature allows you to blend colors with other elements to specifically match your page. With this feature, you can customize your visuals anytime you require them.
Elementor canvas- The canvas feature offered by Elementor allows you to focus primarily on the template offered by the web page.
Blend modes- The blend mode basically focuses on spectacularly blending different effects present in the background of your website and making it aesthetically appealing. The mixing of backgrounds allows your website to stand out in the market.
CSS filters and Global Custom CSS Pro- CSS filters can be employed to play around with the image setting or add effects to your website. You can make use of CSL for your global website.
Create a one-page website- You can create a singular-page website making use of Elementor and add easy-made navigation to scroll past or add links or videos to your website. Some other attributes you can get with this feature are the lightbox overlay, inline elements, font awesome, and so on.
Shape divider- This feature allows users to add styled lines to divide content between people. You can add striking images, shapes, and sections that make your page stand out from the crowd.
Absolute Position- The absolute feature allows you to place or drag any widget to any location on a page. There are no restrictions or issues of being bound to a grid.
Click Here to Try Elementor For Free
3. Elementor Workflow Features
Elementor empowers users to streamline their web creation workflow in an efficient and seamless manner. The workflow allows users to work smarter while staying consistent with different requirements.
Easy Finder- This is a powerful Elementor feature that performs the same role as a search engine. With this finder, you can find out various pages and elements or discover any edits you've made. Just insert the word you want in the box, and you'll have all the access to the work finished earlier.
Hotkeys and shortcuts- Building a website is not as simple as it seems, so when you're building a website using Elementor, you can make use of hotkeys to perform a range of actions. You have access to view the shortcuts set in a popup, which can be set anywhere in the builder.
Copying flexibility- Elementor allows users to copy elements from a single page and transfer them into a new page or column, section, etc. All this can be achieved with a few easy clicks.
Dark mode- Elementor has a dark mode that allows you to change the setting of the website for darker environments. This not only saves power but also protects your eyes. For people like me who are burning the night oil, this is a feature that I cherish the most about Elementor.
Actionable links- When you are creating landing pages, you might require certain actions to take place, like contacting you via email or WhatsApp. Elementor Pro allows you to add actionable links or buttons to make this possible.
Revision History: Made a change you don't like? Quickly undo changes with a CTRL + Z (in Windows) or CMD + Z (for MAC users), and use Autosave to make sure your work is backed up as you progress. If that's not enough, use revision history to retrace your steps and redo or undo changes with a few clicks.
4. Elementor Typography Features
The font, color, and typography of the page are designed in different color schemes and designs. You can select the same from a select few templates or choose to add custom fonts to suit your website.
Drop cap text editor- The feature allows you to make the first letter of the word larger to highlight or emphasize your content. This is done by adding a shadowy effect utilizing any widget with text using Elementor.
Text editor column- Elementor is a versatile WordPress tool that allows users to split text into responsive columns while manually setting up gaps between the material to have a better layout in the system.
5. Elementor Marketing Branding Features
Web design is a major factor influencing your brand, and nearly 75% of your website's credibility is based on the design. This is why companies tend to invest more capital to improve the aesthetics of the web design to promote their brand.
Elementor allows users to create excellent marketing copies with highly converting landing and sales pages. They can also help promote your website by making use of creative ads or social media banners. With Elementor you have everything to build successful websites and landing pages that enable you to drive up traffic and increase your sales.
Pop-up builder- A popup builder is a powerful feature offered by Elementor that seamlessly integrates into your website. This allows you to create instant attraction as content in popped up on a page during a certain time and is very useful. You can create a range of pop-ups, including Fly-in Full screen, Bottom bar, classic, etc. The drag & drop builder can be employed to efficiently built the pop-up using Elementor.
Build forms in simple steps- Elementor allows the creation of unlimited opt-in forms, login pages, and other frontend forms that make the entire conversion process fast and efficient. All you have to do is activate the form builder widget on the Elementor dashboard, and you are all set to go. Elementor can be used to design a range of forms, which include contact and subscription forms. You can further set triggers for better integration when a form is submitted. There are also advanced form fields where visitors can upload files, data, or other customizable fields as per requirements. Similarly, you can track form submissions by adding hidden fields in your forms and interactions. At times the forms on your website can be spammed with malicious inputs or data. To tackle this problem, you can install Honeypot, a simple feature offered by Elementor to prevent any spam messages from getting into your forms.
Unlimited marketing widget- Elementor has a handful of free and pro widgets that improve your branding and marketing. Some of the most powerful widgets offered by Elementor include action links, testimonial carousels, rating star widgets, etc.
Action links- This feature allows users to connect with their audiences via WhatsApp, Google Calendar, Waze, and many more apps.
Marketing integrations- You can take the marketing on your website to a whole different level with the different integrations that are offered by Elementor to its users. Some of the famous integrations are MailChimp, CovertKit, Zapier, HubSpot, etc. This will allow you to maximize the potential of your website while converting leads through your website.
6. Elementor's Fully Responsive Layout Features
Elementor allows you to seamlessly adjust content and present it in a simple way to audiences on different devices. The custom breakpoints allow you to deliver an optimized experience for each individual to get an optimized experience.
Page settings- Create responsive websites while having complete control of your height, width, and other aspects of your pages. Elementor lets you choose how your site should look, as you can position different elements in strategic areas to suit different business needs. This makes it very flexible and easy to work with.
Z-Index Editing- This is a CSS property offered by Elementor that controls any overlapping HTML elements in a vertical stacking order. This feature helps create beautiful overlapping designs as elements with higher indexes are placed above those with lower ones.
Fixed Position: With Elementor, you can set fixed positions for widgets; so they scroll alongside your user as they make their way down your web page.
Nested Columns: Another nifty feature, Elementor lets you nest columns inside other columns to create inner sections that are crucial to many website designs.
Flexbox Alignment and Inline Elements- This feature allows you to easily align and distribute your content in columns either vertically or horizontally without having any restrictions. You can also place strategic widgets using a single column with custom lengths and sizes.
7. Elementor Third-Party Integration
Elementor allows for big-world integration with third-party applications. This enables users to make use of self-developed widgets and templates. You can also add any integration that you deem fit to work with Elementor to improve the functionality of your website.
Click Here to Try Elementor For Free
Elementor has mail integrations with all the major marketing tools like MailChimp, ConvertKit, HubSpot, etc. The Zapier add-on can also be integrated with this service taking the entire system to a whole new level. You can also get access to all your favorite fonts directly from Elementor by adding the Adobe TypeKit key.
Elementor allows for a swift integration with Facebook and Discord for form submissions or other social activities. Further, you can also add icons and different security features to your Elementor website.
This is just the tip of the iceberg that I've covered with third-party integrations possible with Elementor. However, some integrations are not responsive or blocked by Elementor, so check whether they operate and function with the provider. Overall, this is a very versatile feature offered by Elementor that allows you to get everything done in a single place.
8. Elementor Mobile Editing
Elementor templates are mobile-responsive by default and allow you to have complete design control. This editing feature allows you to fine-tune aspects of your website for smartphones and tablets.
Elementor allows you to show or hide elements and change column order or any change in margins based on the size of the screen. There is a custom breakpoint feature that enables users to set custom screen sizes for specific mobile or tablets so that everything is clearly visible on them. You also have the opportunity to select specific fonts and sizes for different devices, ensuring the text on your website will always be readable to users. Inside Elementor, you can select between PX EM % and VH features for sizing your text, making it fully responsive.
If you're building a site from scratch on Elementor without using its templates, then it won't be mobile-responsive. To counter this problem, you have to make use of the mobile editing feature offered by Elementor to create a separate mobile version.
Designing a site to be mobile-friendly may look like a complex process, and you may need a mobile editor. However, with Elementor, you can change the mobile version of your site from the regular desktop editor and follow this by clicking on the Advanced tab to hide or show various elements.
9. Elementor Theme Builder Features
The theme builder of Elementor allows you to create your own templates from scratch making use of some template features offered by Elementor for footers, headers, etc. This Builder helps users maximize their conversion potential by using dynamic content and colors to give a personalized experience for visitors and make them into customers or investors.
The Theme Builder allows users to set conditions with Elementor for displaying different global templates for different pages on your website. You can also insert a customizable search results page into your website. This allows users to have a good experience and prowess. Apart from this, Elementor allows custom field integrations so you can visually integrate custom fields into your design. With Elementor, you have the opportunity to design or customize every aspect of your website to make it stand out from the crowd in the ever-growing market. All this can be done without requiring or touching a single piece of code.
Click Here to Try Elementor For Free
10. Elementor Widgets
Elementor offers 50+ widgets for building professional and engaging websites. The widgets cover various elements like headings, images, text editor, image box, testimonials, etc.
The Global widget is a versatile Elementor Pro feature that is dedicated to streamlining the workflow for your website. This allows you to have a consistent design geometry, in designing various aspects like a form or a button. You can customize or edit the website pages just by dragging and dropping them in place using the drag & drop editor. When you make any changes to the global widget, the changes will be applied to all the pages wherever the global widget is added to the site.
The Elementor widgets can be also used to display login forms or navigation menus with different drop-down styles. You can also display classic posts or social media channels on your website. All this is fully customizable to meet specific requirements.
To make it easy for site visitors and search engines to identify the length of your content you can utilize the Table of Content widget that is available with the 3 paid plans. If you're selling a product, you can display the pricing of the item using the Price display widget. Similarly, you can use the WooCommerce widgets to add products to your website. Apart from this, you can add various other elements to enhance the performance of your website.
11. Elementor Social Features
Social media is an important aspect today to grow your business as it is accessible to everybody today. This is why social widgets are key to getting more clicks and readers from social networks.
The Social Icons widgets allow users to add icon links of all their social media profiles. Elementor Social icons widgets give you complete control of your appearance for social icons like Facebook, Twitter, Instagram, etc. This enables audiences to share information on social channels. You don't require any other WordPress social share plugins to do the work for you. The sizes, alignment and custom designs, and more can be changed to ensure that it fits your website design. You can also embed any Social media posts or Facebook comments directly on different pages of your website.
12. Elementor WooCommerce Builder
If you're planning to create an eCommerce store, you'll be thrilled to understand that Elementor comes with a WooCommerce Builder. The builder makes use of the Theme Builder and applies all its features on the WooCommerce store, allowing you to add a few store-related widgets.
Elementor's WooCommerce Builder allows you to design single product pages as well as shop archive pages. With this you can create multiple templates for different products. This is useful for a WooCommerce store as it is not optimal to have the same layout for all your products. The Builder adds several widgets to handle important areas of the website. Similarly, you also have the opportunity to use extra widgets to build your product archive pages.
Elementor gives you complete control of your WooCommerce Builder when you're talking about the product section. However, there are two important pages where you cannot use Elementor for WooCommerce builder- The shopping cart and checkout page. This is why you may have to use the friendly theme of WooCommerce even though you're using Elementor.
Click Here to Try Elementor For Free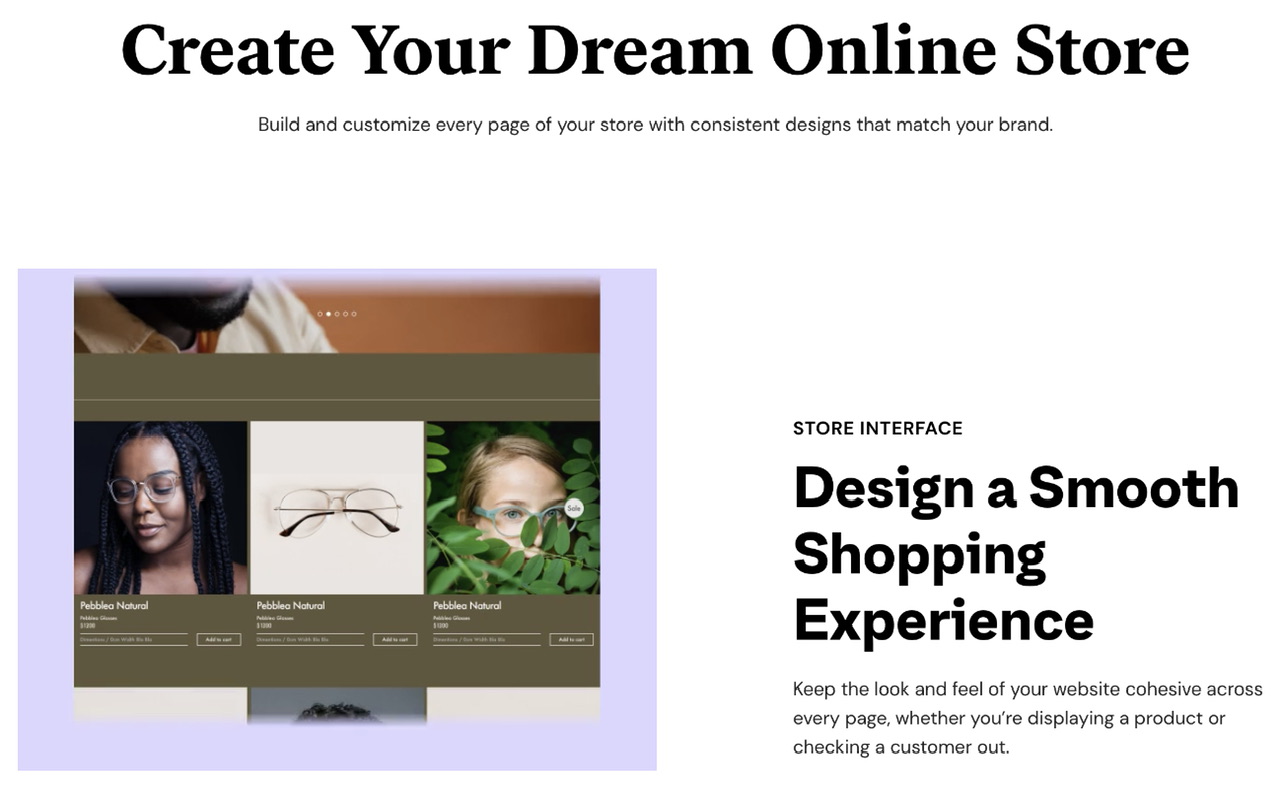 13. Elementor Custom CSS
Elementor is designed to help people create beautiful pages without requiring them to know about CSS. However, if you are planning to create a unique website, then you can harness your CSS skills and do the same with Elementor. This feature enables you to add certain features that are not available on Elementor and make your website more stylish and innovative. CSS can be added to every section, may it be a column, section, or widget. You have to just head over to the Custom CSS block in the Advanced tab and add Custom CSS in the editor.
Elementor Pro also has a custom code feature that, when added to a page, will install a particular app like google analytics. Previously, users had to edit the header or footer to install the program. Now, this can be done by just imputing a simple code.
14. Elementor Library Features
Elementor library has several page designs and templates ready to build your team page. The blocks of Elementor allow you to choose between 300+ templates which can be imported or exported with a few clicks. Elementor also has template kits that are specifically designed for different website types with a range of design concepts. The template kits allow you to complete a website quickly and efficiently. Elementor allows you to embed the template widget on different sections of a page by using the drag & drop builder or a short template code.
15. Elementor Interactive Features
Interactive features of Elementor are automated menus that enable visitors to find what they require in a website. Elementor comes with different interactive features that make the overall experience better and more efficient. The user interactions in Elementor Pro allow users to get sticky headers, footers, call for action, and animations to create eye-catching headlines and animations. Further animations help create an interactive way for widgets to appear on your website. Lastly, you can add scroll effects where 3D tilt effect, depth, and parallax or dimension can be added to your website content.
16. Elementor Media Features
The media and entertainment features of a website determine its performance and capabilities. Some of the common media features offered by Elementor include:
Media Carousel Widget- This widget is available with the paid plan offered by Elementor. Using this plan, you can showcase images and media formats to shape or select forms as you like.
Embed 5 videos- Elementor gives users excellent flexibility to add videos directly to your website. The service gives you the power to embed 5 types of videos from external, YouTube, self-hosted, and other options.
Slides Widget- The slides widget enables users to create simple slides that work perfectly without creating any fuss. A pro widget is a powerful tool that is easy to utilize and can be readily optimized.
Lightbox Overlay- Elementor has a trigger lightbox feature that triggers when users click on any links, images, or buttons on your website.
Soundcloud/ Spotify- You can embed Spotify or Soundcloud to your website so that visitors can enjoy the tunes of music as they browse your website. You just have to activate the widgets, and you are ready to go.
17. Elementor Advanced Features
Elementor is designed having advanced features that enable them have superior performance. The advanced features have a maintenance mode that allows you to maintain different aspects of Elementor. Further, the multilingual system is compatible with over 50 languages and comes ready out of the box. Lastly, you can replace the URL without having to worry about any updates or addresses.
Elementor Pro Vs Elementor Free
The free version of Elementor comes with some basic features that allow you to design different pages efficiently. The free core plugin offered by Elementor is the most powerful tool in the market. If you combine that with third-party add-ons that it is an outstanding option to design and operate a website. This is ideal for users who're planning to start building websites.
The paid version- Elementor Pro, will easily surpass it as you have to pay to get its services. Elementor Pro allows you to edit more than one page with different themes, which is not available with the free version. Also, you have access to more widgets, premium support, and a theme builder, which is not available with the free Elementor version.
Below listed are some of the features that users can access with Elementor Pro that are not available with the free version:
Popup Builder
Theme Builder
Premium Support
300+Pro templates and blocks
Custom fonts and Adobe TypeKit
Sliders and Carousels
Custom CSS
Scrolling Effects
Flip Box
Social buttons and integration
Dynamic content
and so much more
These are the features that make choosing Elementor Pro a no-brainer for most users.
Elementor Pro Vs Elementor Free Reddit
U/MotoPressWP- "Elementor Pro has objectively rich features. In general, if you're not in need of advanced customization options because you're not a developer and require only to build a couple of pages, then go for the free version. More to say, if you need that advanced solution, then you get a beautiful slider display on your homepage, and you have access to the free add-on. I would recommend the Stratum Elementor Widgets because it offers advanced widgets for free".
u/iamAkwos- "I'm a Web Designer, and I use the licensed version to build 100 websites utilizing the Elementor Pro version. It allows me to provide better websites for my client. Can't imagine working only with the Elementor free version".
u/binaryweb- "Absolutely, worth it as Elementor Pro opens up a lot of functionality, and there are add-ons that require it. I only use the Pro Elementor version when my clients ask for a page builder".
Click Here to Try Elementor For Free
Elementor Pro Drawbacks
Elementor has outstanding features and offers excellent flexibility; however, it is not perfect and has a few downsides. Let's look at some of the few drawbacks which could be deal breakers for some people.
1. No Lifetime Pricing Option
Elementor is a versatile builder with outstanding features, and it has a free core plugin. However, it doesn't have an important option to have a lifetime plan that some of its competitors, like Divi Builder, are offered by Elegant themes. The versatile and flexible features make people like me want to own this bad boy for life.
2. Customer Support
Elementor has a massive knowledge base and different forums where you can cover any issues. But their support team is not up to the mark as it has above 4 million active installs, and their response time is very slow. The rollout of new updates creates complete havoc as the customer support team is bombarded with queries left-right and center. I can empathize with them as they must be getting thousands of queries in a day, and replying to each one is nearly impossible. However, this is an area that they should consider looking to improve in their service.
3. Page Bloat
Elementor allows users to create lightweight websites but can bloat due to the various features and user-friendly options that come with them. You cannot select both speed and all its intuitive features together. However, the problem can be readily combated by installing a good caching and CDN network in place. This will help minimize any speed-related issues while the exquisite designs on your website are still present.
4. Learning Curve
This is not a major con, but this is something that is an important point. Elementor promises that the drag & drop builder is easy to operate, and the other features are straightforward. However, it all comes down to what individuals are used to using. So, beginners who have never used Elementor will require some time to learn and adjust to the working of the service. There are several tutorials available on their blog or YouTube that can help you get started creating your dream website.
Elementor Pro Pricing
Elementor offers a free core plugin for users having super basic needs. With the free version of Elementor, you will have access to the Drag and Drop editor with mobile responsive editing and enhanced access to their canvas templates.
For those looking for advanced features ready to optimize their website-building potential, Elementor offers 4 annually paid plans.
All the 4 Elementor Pro plans come with:
50+ Pro widgets
Theme Builder
300+ Pro templates
Popup Builder
WooCommerce Builder
Marketing tools
Form Builder
Landing page builder
Premium support and updates for 1 year
Now let us look at the four plans offered by Elementor:
1. Elementor Essential Plan- $49 per year
The Elementor Essential Plan costs around $49 for a single website. It was formerly known as the Personal plan. It is ideal for people running small scaled operations.
Features of this plan
1 website activation
All Pro features
Premium Support
Website Kits
2. Elementor Advanced Plan- $99 per year
The Elementor Advanced Plan costs around $99 for 3 websites.
Features of this plan
3 website activation
All Pro features
Premium Support
Website Kits
3. Elementor Expert Plan- $199 per year
The major upgrade with the Expert plan is the number of websites you can host. Now you can create 25 websites for $199.
Features of this plan
25 Pro website activation
All Pro features
Premium Support
Expert Website Kits
Elementor Expert Profile
4. Elementor Agency Plan- $399 per year
The Agency plan is the top-tier plan offered by Elementor Pro. This plan is suited for individuals who create websites for a living. In this plan, the website kits are prepacked and come with an adaptable collection of templates that can be used to develop various aspects of your website. The best feature of this plan is that you get VIP support. The response time of this premium plan's support is under 30 minutes. This feature also allows users to ask questions and receive responses from the Elementor premium support team at least once a day.
Features of this plan
1000 Pro website activation
All Pro features
VIP Support
Expert Website Kits
Elementor Expert Profile
With the four plans, Elementor is planning to replace the theme culture of WordPress websites and allow users to completely customize the websites as per requirements. The type of plan you choose is dependent on the customer requirements.
Click Here to Try Elementor For Free
30-Day Money Back Policy
Elementor Pro doesn't have a demo version; however, it has a 30-day money back policy. This means that if you don't like what you are getting with the plan, then you can ask for a refund. It is important to note that this feature is only applicable after 30 days of purchasing the subscription.
Elementor Pro Review Reddit
u/bombadil1564- "My wife has built several WordPress sites using Elementor Pro. The ease that Elementor, especially Elementor Pro, offers its users helps create powerful and beautiful sites quickly, unlike anything that is done before. She barely requires to do a CSS customization due to the Pro version".
u/Strong_Ad_4858- "There is no website builder in the market that I would recommend as highly as Elementor. It is definitely worth it if you're planning to create professional websites".
u/i_make_internet- "Absolutely, Elementor Pro allows users to unlock the entire website precisely across the header to the footer and everything in between it.
Elementor Customer Support
Elementor's support team is good, and you can ask for support 24/7 through their support channel. Elementor has several forums where you can check and solve any queries you are having.
Elementor Community Support
Elementor has a thriving global community that helps every personnel to achieve their individual goals. Get solutions to your questions and solve any problems by consulting with members on different social media portals, meetups, or tutorials.
Facebook community- Elementor has above 136k members on Facebook who are constantly offering support and advice while also uploading tutorials on new features and how to implement them.
Elementor Addons- There are over 900 addons that extend Elementor's solution. This allows you to achieve everything that you need, no matter how niche the subject is.
Community hub- You can connect with the community members and get information about any new releases and developer editions, etc.
Expert Community- The Expert marketplace is a place on Elementor where you can hire an expert that offers valuable services to operate your site.
GitHub community- Another area where you get information about any releases report a bug or request features is the Github community.
Click Here to Try Elementor For Free
Does Elementor Live Up to its Hype?
Overall, Elementor is the best page builder out there in the market. Elementor Pro is packed with intuitive features and versatile plugins that allow it to stand out in the crowd from other option. The intuitive and well-designed interface and user-friendly nature of the builder make it the easiest Page builder in the market.
Whether you're on a budget or looking for exquisite performance, Elementor has you covered. The free version offered by the builder is the most powerful free page builder offered in the market, giving it an edge over other website builders in the industry.
After reading this review, I hope that your search for finding a WordPress builder to build your website has narrowed down. Let me know what you think about Elementor and its features. Also, let me know if there is another page builder that would surpass Elementor and its features in the market today in the comments below.
Elementor Review FAQS
Does Elementor slow down your website?
Elementor, like other page builders, adds some weight to your website. However, you can place elements in a smart way that allows you to build fast-loading sites while implementing WordPress's best performance practices.
Can I use Elementor using any theme?
Yes, you can make use of Elementor using any WordPress theme. However, some themes offer better user experience and usability than others. E.G. Astra and GeneratePress provide better page-level settings that allow users to control the canvas to enhance the performance of the Elementor designs.
Should I know HTML/CSS to use Elementor?
The entire purpose of using Elementor is that users don't have to make use of HTML and CSS. You can build a versatile website using the visual and drag and drop editor. If you have some experience with CSS, some useful tools can be employed to customize your website. However, there is no need to know CSS if you're planning to use Elementor.
Click Here to Try Elementor For Free
Elementor vs Beaver Builder
Beaver Builder was launched in 2014, but it isn't as popular as Elementor. The Builder, however, has a large, friendly community of fans. Beaver Builder does things in a different way when compared to that offered by Elementor. It focuses more on enhancing the core page-building experience, while Elementor adds more features to make the entire operation better and worthwhile. This means Beaver builder is lightweight, but Elementor has outstanding features that allow them to stand out in the market.
1. Interface
Elementor and Beaver Builder have visual drag & drop editors, but their interfaces are different from each other. The interface offered by Beaver builder is its strong point and its selling proposition. Its interface is very fast and glitch-free, which allows it to get going very quickly. Elementor also has a solid interface where you can preview your design on the fixed sidebar. Both builders have good customization, but Beaver Builder interface performs slightly better than Elementor.
2. Design Options
Elementor Pro gives you access to a range of designs and features, which is one of its strong suites. Beaver Builder doesn't do much with design as other builder plugins when compared to Elementor. Elementor Pro gives you access to custom positioning, motion effects, and element-level CSS design leeway. It also gives you a sitewide design system that allows you to configure style defaults, allowing for consistent designs. Beaver Builder focuses more on core design options you need to manage most stuff.
3. Responsive Design
Today people browse and make a purchase using mobile devices, so having a mobile-responsive website design is very important. Both builders offer good features that allow the designs to be mobile responsive by default. They also have several customization options for a better user experience.
4. Templates
Page builders allow you to use templates and not build a website from the ground up. Both Elementor and Beaver Builder come with professional pre-built templates. Elementor has 3 core types of templates- pages, blocks, and website kits. Its template library is vast compared to others. However, Beaver Builder has a good template library that can be used for pages and different page sections.
5. Theme Builder
Elementor and Beaver Builder are more than just page builders. They can be employed to design entire themes and designs from scratch. Generally, Elementor Pro's page builder features allow you to design an entire theme by customizing key areas of your site, including header, footer, single post, and archives. Beaver Builder also has theme-building capabilities, but you have to purchase a separate extension called Beaver Theme.
5. Popup Builder
A popup builder is an innovative tool that helps in marketing products on your site. Elementor's visual interface allows you to create custom popups that can be displayed anywhere on your website. Beaver Builder, on the contrary, doesn't have this feature, giving Elementor Pro a great advantage.
6. Free vs Premium
Beaver Builder and Elementor both come with a free version that allows them to be used without paying a dime. The free version offered by Elementor has excellent features, and users utilize it unless they require premium features or want to host professional websites. The free version of Beaver Builder is very limited and, in most cases, is not useful for most people. It basically acts as a testing tool and cannot be used in the longer haul.
7. Pricing
Elementor and Beaver Builder both have 3 standard plans. The major difference in both plans is the number of sites they can host. The $49 per month Essential Elementor Pro plan allows users access to 1 website, while the top-tier Agency plan starting at $999 per month, allows users to create 1000 websites. In contrast, Beaver Builder allows you to host unlimited websites across all its plans.
Should You Use Beaver Builder or Elementor?
For WordPress users, Elementor Pro is the best overall choice as it offers more than you bargain for. Beaver Builder, on the other hand, focuses on core products, making the interface one of the best. However, Elementor has better design options and is more popular, ensuring that community support and extensions are better on this platform. Furthermore, the free version offered by Elementor has outstanding features that allow it to be used for functional websites, which is not possible with the free version of Beaver Builder.
All in all, Elementor is a tool of choice for web designers, casual users, agencies, etc, due to its outstanding visual effects and features. Beaver Builder, on the contrary, is not a bad tool as it has a strong core feature. The selection between both these builders is based on customer requirements.
Click Here to Try Elementor For Free
Elementor Cloud Website Review
Elementor has launched its hosting service, Elementor Cloud Website, so users can get everything in one place. The service offers a complete solution for a website having WordPress with Elementor Pro installed. It utilizes the Managed WordPress Hosting of Google Cloud that is optimized for use in the Elementor environment.
Elementor has expanded with features like full theme building, dynamic content, popup builder, etc. These features allow users to control every part of the front end of your website, making use of a single tool. However, previously Elementor couldn't help with the backend infrastructure and maintenance in the system. The back end of a website is not as glamorous as it looks, but it is important to know how it operates in the back to maintain good speed and performance in the system.
Elementor Cloud Website drastically changes how this operates. With this service, you can handle the front-end and back-end infrastructure of your website. This allows you to focus 100% on designing a versatile website for you and your clients.
Click Here to Try Elementor For Free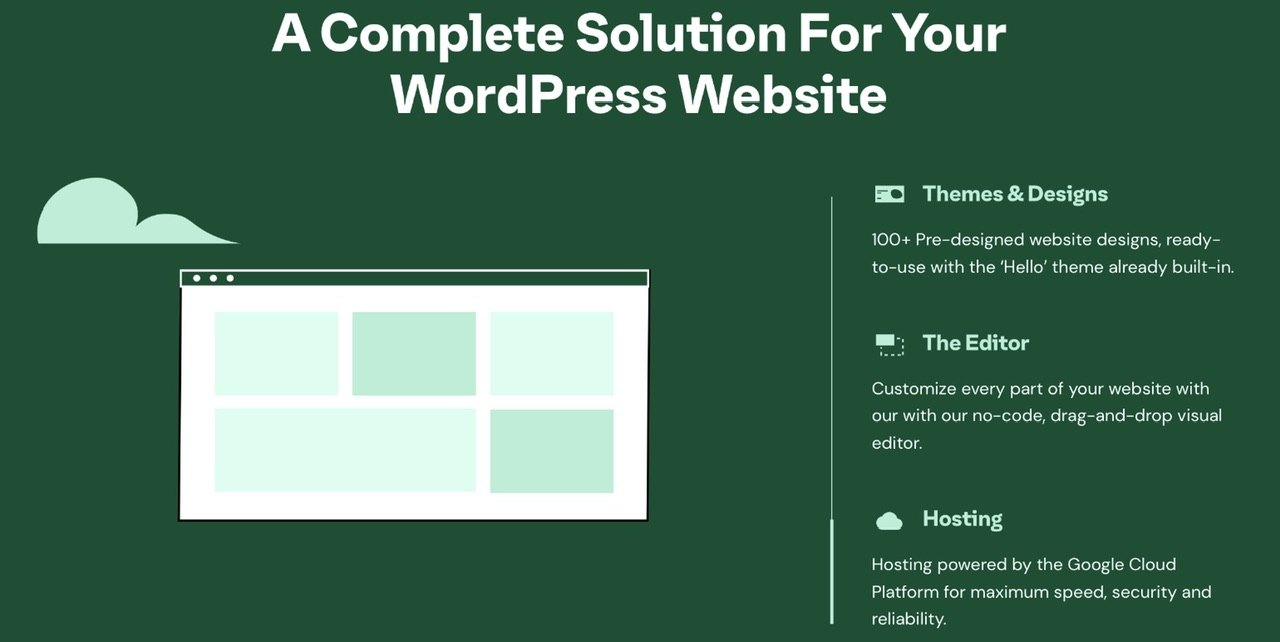 Why Elementor has Launched Elementor Cloud Website
The story of launching Elementor Cloud starts with the launch of WordPress 5.0 on 6th Dec 2018. Here, WordPress integrated with Gutenberg block editor, making it a default post editor. At that time, it was nothing to fear, but Gutenberg slowly started getting more features, and in its final release of version 9.5 on Dec 2nd, 2020, Gutenberg got Global styles and full site editing features. This allowed normal blog sites and complex designs to be used to create with the Gutenberg block editor.
Google Core Web Vital played a critical role in making Gutenberg a big commodity in the market. Google's Core Web Vitals evaluates the performance and page matric considered by Google for SEO and ranking. Their evaluation made Gutenberg famous while leaving a negative impact on the page-builder community. This would mean sites built from builder applications would be slow and their SEO will be gravely affected, and people started getting scared.
Further, WordPress started promoting Gutenberg, saying it is the easiest and fastest builder, and it wasn't wrong. Many WordPress agencies have launched Gutenberg Addon, making it more flexible and reliable.
This created a buzz, and website owners started feeling that they don't require any page builders and slowly started shifting to the block editor. This created a panic amongst page builder agencies that is where the birth of Elementor Cloud started taking place.
Elementor Cloud Website Features
Elementor Cloud Website is a unique tool that is not only a hosting service but is also packed with different features and capabilities that make it one of the best website-building tools out there. It has impressive speed and comes with a range of features that are embedded using the Cloud Bundle.
1. Fully Hosted by Elementor
Elementor is powered by a Google Cloud platform and makes use of the Content Delivery Network by Cloudflare. Unlike self-hosted WordPress websites, you don't need to manage things like SSL certificates, backup, security, and several other technical know-how that would impact the uptime and loading time of your website.
Click Here to Try Elementor For Free
Elementor Cloud service is the best-hosted environment with outstanding performance and comes with a page builder. The Google Cloud keeps your site protected against fraudulent activity, abuse, and spam from hackers or malicious data. Your site also gets an extra layer of protection against DDoS attacks. This Cloud Website gives you 100GB bandwidth with 20GB storage and has a 100k visitors limit on your website. Moreover, they guarantee zero downtime with great room to scale up.
The servers help host Cloud Bundles and handle any server tweaks. This means they are optimized as per user requirements set by Elementor without leveraging any backend access to the server.
2. Preinstalled WordPress
Elementor Cloud offers pre-installed WordPress with its managed cloud servers. This allows it to be good for both technical and non-technical personnel. You can also add third-party plugins to improve the functionality of the platform. However, it doesn't support some plugins in the Elementor cloud bundle. Some of the plugins include
WP Clone
WP Total Cache
Site Origin Panels
Site Origin Widgets Bundle
Brizy
Beaver Builder
Beaver Builder Lite
Visual Composer
Really Simple SSL
Shortcodes Ultimate
QTranslate X
Limit Login Attempts Reloaded
BWP Minify
Heartbeat Control
SiteGround CachePress
Divi Builder
Oxygen Builder
mage Map Pro
WD Facebook Feed
WP File Manager
Peepso
Duplicator
Updraft Plus
JetPack
Migrate Guru
BlueHost Site Migrator
Customizer Export/Import
WP Site Migrate
WP Migrate
WPVivid Backup and Restore
VaultPress
Backup Guard
WP Reset
WP All In One Import
SiteGround Migrator
3. Site Lock
Elementor Cloud comes with features for people who build client websites. It has a unique code, which allows you to make it private and lock it with an access code. This makes the entire process neat if you want to give your client access to the working of the site, while visitors are locked out.
4. Daily Backup
Daily backup is something that every professional developer requires. Elementor Cloud allows users to make daily backups and have one-click restoring features. This allows you to make your entire website development experience top-notch.
5. Custom Domain and Free SSL Certificate
Purchasing the Elementor Cloud would make no sense if you are not able to purchase and add custom domains, so this feature is embedded in it. However, you cannot buy a new domain at Elementor Cloud, which is available with other hosting providers. This infers that you need to have a domain that is purchased and ready to use. You also get free SSL certificates for your websites on the Elementor Cloud platform.
6. Premium Support
The Elementor Cloud Website comes with premium 24/7 support. The support agents are available to assist you within a few minutes if users are facing any small or big issues.
7. Elementor Pro Access
Elementor Cloud also gives you full access to all of Elementor Pro features, templates, widgets, theme builders, etc. All of this is free and doesn't have any hidden charges or costs.
Elementor Cloud Website Pricing
Elementor Cloud Website has a price of $99 per year. This annual fee comes with these features:
Google Cloud platform
CDN by Cloudflare
Elementor Pro features
Pre-installed WordPress and Elementor
20GB Cloud SSD Storage
Handle 100k monthly visitors
Free SSL certificate
Premium support
Custom domain connection
The Elementor Cloud Website is bundled with Elementor Pro, so you'll get more value for your money as you don't need to purchase an Elementor Pro license separately apart from your hosting service. It doesn't have any additional costs or hidden fees, and the price is fixed yearly. The pricing of this is pretty rigid as compared to other products in this range, and there is no way to pay for multiple websites at a time. The only way to combat this is to purchase another subscription, but they can be managed on the same dashboard. The pricing of the cloud service makes it clear that it is oriented towards small businesses and freelancers who are planning to build their own websites using Elementor. The service also comes with a 30-day money-back guarantee that allows you to try the service free of any risks.
Elementor Cloud Website Pros and Cons
Pros
Pre-installed WordPress
All premium features of Elementor Pro
Free CDN by Cloudflare
Elementor free domain
Free SSL certificate
Affordable pricing
24/7 live chat
Easy website setup
Custom domain integration
100k monthly visitors
User-friendly interface
Manual and automatic backups
Cons
Limited bandwidth, storage, and monthly visitors
Competitor plugins are banned
Restrictions on plugins that are installed
Elementor Cloud Website Review Reddit
u/JordanCatalanosLean- "I'm using Cloud for my site, and it has worked fine for me to meet all my purposes. I'm not sure how it will work with tons of traffic, e-commerce, etc. However, as a consultant utilizing the site as a portfolio, it works completely fine. It is priced at $99 per year, and the Pro plus hosting makes it a good deal to pass by".
u/Illoyonex- "I think it's a long-term plan used to combat WordPress's Gutenberg, whose editor would eventually be a threat to their business, and it's been good so far".
Click Here to Try Elementor For Free
Who Needs Elementor Cloud?
Elementor Cloud is catered to users who are looking for an all-in-one package to run WordPress on their websites. If you purchase this service, you'll get WordPress pre-installed, excellent speed, security, and more only by making a singular payment. If you're planning to create a WordPress website and only want to worry about handling the front-end design of your website, then you should consider trying the service.
The marketing is catered specifically to one group of people, so if you have multiple websites or run larger websites, then it is not fit for you. However, agencies can use this, as it can be suited for a specific set of clients. But it will come down to how you structure your support and maintenance of a specific website. In simple terms, this service is designed specifically for less technical people that don't have to worry about server administration.
Is Elementor Cloud Website Worth it?
Well, it all comes down to your personal requirements. If you fall in the demographic where Elementor is marketing the service, then you have to look at it.
All in all, the Elementor Cloud website offers outstanding design flexibility and comes with different features that allow users to have a hands-down all-in-one website building and hosting tool. Its storage and bandwidth are not fit for running larger websites, but it is ideal for freelancers, smaller websites, bloggers, etc. Elementor Cloud is very convenient as it efficiently combines both front and back-end solutions, and you can use it to build a WordPress site without having to use a hosting provider from elsewhere. All these features make Elementor Cloud Website a valuable addition to the WordPress website-building game.
Elementor Cloud Website Review FAQS
How many websites can you host using Elementor Cloud websites?
With one Elementor Cloud website subscription, you can build only one website. One website is priced at $99 per year. If you want two websites, it will cost $198 per year, and so on.
Is email hosting included with the Elementor Cloud website subscription?
No, email hosting is not available with a standard plan. You can, however, install third-party email services like Rackspace, Office 365, etc. The Elementor Cloud subscription allows users to send up to 100 emails per day, which include admin emails, sale confirmations, newsletters, etc.
Why is Elementor Cloud better than normal WordPress?
Elementor Cloud is primarily designed to enhance the performance of your pages. The major difference is that by using Elementor Cloud you have access to superior speed and performance as compared to normal hosting providers.
Click Here to Try Elementor For Free
Read Next: