When you're competing with millions of websites for traffic on the internet, the only way to stand out from the crowd is by having a truly unique website – both in content and design.
You probably have the business idea and content ready, but if you don't know the first thing about designing a website that's attractive, responsive, and sure to convert website traffic to leads and sales, you're in luck.
In this article, I'm reviewing one of the biggest and most well-known WordPress Landing Page Builders in the market today – Elementor.
TL;DR: Elementor is a versatile page builder and an All in One solution for everyone from a Beginner WordPress Enthusiast to a Top Level Marketer who's looking to design visually attractive and feature rich websites.
Although it comes with a Free option, to truly maximize it's potential, I recommend upgrading to the PRO version at a reasonable $49/year for a single website. All things considered, Elementor is the perfect choice for anyone who's looking for an easy to learn and easy to use, intuitive Page Builder for their WordPress website.
Even Cyrus, the ex-head of SEO at Moz, considers Elementor his go-to Page Builder!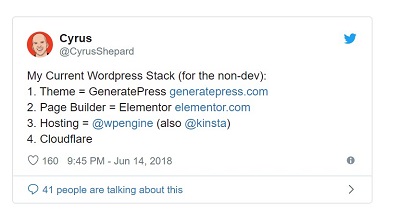 Click Here to Get Elementor Pro
Elementor Pro Review
If you'd like to build visual dynamic websites with having an option to hand over to a developer Elementor is a great pick for you moreover Elementor Pro is a perfect fit if you're a creative who likes visual rich websites but doesn't want to code.
Read the whole Elementor Pro Review to figure out why…
About Elementor
Launched in 2016, Elementor was built with the goal of providing web professionals with more flexibility when it came to designing a WordPress website.
Today, Elementor is used across more than 180 countries around the world, has more than 4 Million+ Active Installs and has nearly 5000 Five Star Reviews.
Elementor is used by everyone from Content Writers, Bloggers, Developers, Marketers and just about anyone who's looking to build a website with or without coding knowledge and experience.
It's no secret that one of the main reasons for their staggering success is their intuitive and well designed user interface. That, combined with a power packed and extensive list of features offered in its paid plans, Elementor is sure to deliver a sizeable return on your investment year after year.
If you've been on the hunt for a great WordPress Page and Theme Builder, this Elementor Review will help set things straight and make it easier for you to make your choice.
Let me start with some of the best Elementor Pro features that make it the best WordPress page builder and why it's worth purchasing in 2021
Click Here to Get Elementor Pro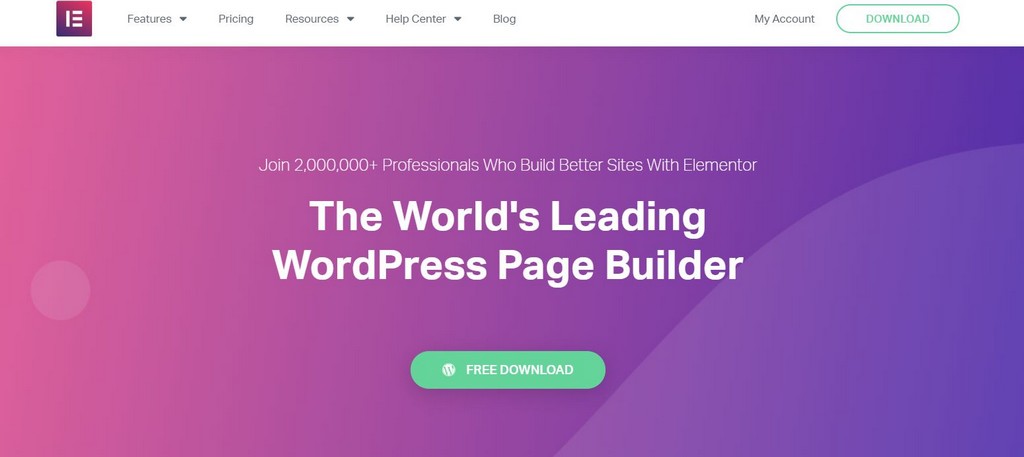 Elementor Pro Review – Pros & Cons
Before we dive into this Elementor Review, here are some of Elementor's Pros and Cons to give you a quick idea of what I love about Elementor and the few quirks that come along with it –
Pros
Tons of elements to choose from
Extensive Mobile Responsive Options
Powerful Popup Builder
Amazing user interface
The core plugin is 100% free
Comes with a Theme Builder & WooCommerce Builder
Live Front End Page Editor
Template & Block Library
Open source code
Frequent updates
Cons
Lacks a lifetime pricing option
Slow support
Known to conflict with 3rd party plugins
Lacks a White label Version
No Survey Builder
Click Here to Get Elementor Pro
Elementor Pro Review: Features
Being the most popular WordPress Page Builder in the market today, Elementor has a MASSIVE list of featureson offer. Without going into every single one, in this Elementor Pro Review, I'll quickly highlight some of the key features it offers to make it easier for you to decide if you can get away with using the Free version or if you need to upgrade to Elementor Pro to build your dream website.
1. Elementor Essential Features
Drag & Drop Editor: Elementor has one of the most intuitive and fastest Drag & Drop style Visual editor in the market today. It's one of the key reasons why it's so popular – the ease of use is second to none.
Elementor had a great drag and drop editor. What does that mean? well, you can basically edit your page in real time by moving the things you want.
You don't have to "save and Publish your site" to see how it will look when it goes live, instead, you are editing it in real time. What you see on the page when you are editing is what the final product will look like!
If you tend to use the same design for multiple purposes, you can save your designs as elements in Elementor and use them to create new pages in the future.
Ready Made Templates: You're spoilt for choice with over 300 beautifully designed templates and 90+ widgets to create content for every industry and need.
Responsive Editing: A must in the era of Google's Mobile First Indexing, with Elementor, you can easily toggle between mobile and desktop views to make your website look flawless on every device.
Builder Capabilities: With Elementor Pro, you can go beyond just building pages. You can build Themes, Popups and take full control of your WooCommerce store.
Popup Builder (PRO): A powerful feature, Elementor's Popup builder seamlessly integrates into your website and lets you create any modal imaginable – Fly in, full screen, classic slide-in and much more.

2. Elementor Workflow Features
Navigator & Finder: Navigate between elements and layers, quickly glance at changes, access everything through indicators or use Elementor's Search Bar to navigate between pages and dashboard settings.
Hotkeys & Shortcuts: When you're busy building a website with Elementor, you can use hotkeys to perform different actions and easily view all shortcuts in a popup inside the builder whenever you like.
Revision History: Made a change you don't like? Quickly undo changes with a CTRL + Z (in Windows) or CMD + Z (for MAC users), and use Autosave to make sure your work is backed up as you progress. If that's not enough, use revision history to retrace your steps and redo or undo changes with a few clicks.
Copying Flexibility: You can easily copy elements within the same page or to new pages or copy styling from a widget, section, or column to paste it into another element with a few easy clicks.
Dark Mode: If you're like me and like burning the midnight oil, you can use Elementor's Dark Mode to design in darker environments to save power and go easy on your eyes.
Click Here to Get Elementor Pro
3. Elementor Design Features
Background Elements: Elementor lets you add fully responsive Gradients, Videos, Overlays, Images or Slideshows in the background to your WordPress posts, pages, sections, or columns on your site letting you design amazingly complex yet attractive website pages.
Elementor Canvas: Take away the Header and Footer and focus only on designing the web page with Elementor's Canvas template.
Blend Modes: Elementor lets you create spectacular blend effects by mixing backgrounds and overlays to make your website stand out.
CSS Filters & Global Custom CSS (PRO): You can use CSS filters to play around with image settings or add effects and even apply CSS globally to your website.
Shape Divider: With Elementor's Shape Divider, you can add striking shapes to sections or use SVGs, Icons, and Text to make your pages truly stand out.
Absolute Position: Drag any widget to any location on the page without the restrictions of being bound to a grid.
4. Elementor Marketing Features
Action Links (PRO): Connect with your audience through WhatsApp, Waze, Google Calendar & many more apps.
Marketing Integrations (PRO): Take your marketing to a whole new level with the wide variety of integrations Elementor offers. Integrate with MailChimp, ActiveCampaign, ConvertKit, HubSpot, Zapier and more to maximize your potential of marketing and converting leads through your website.
With Elementor you don't have to pay extra for a landing page builder or software for Pop-ups to collect emails, everything is built into!
Elementor gives you everything you need to build successful websites and landing pages that drive traffic, sales and conversions. Everything from a Countdown to a Testimonial Carousel.
Click Here to Get Elementor Pro
5. Elementor Typography Features
Custom Fonts (PRO): Fully Customize fonts, View them in a preview panel, Choose from hundreds of Free Google Fonts or use your own Custom Fonts and TypeKit Integration (PRO) throughout your website.
Drop Cap Text Shadow: Make the first letter of your text larger or emphasize your content by adding a Shadow Effect to any widget with text in Elementor.
Text Editor Columns: With Elementor you can split your text into responsive columns and manually set the gap between them for a better layout.
6. Elementor Layout Features
Page settings: Retain full control over the Width and Height of your pages, sections, and columns and easily create responsive websites. You can also choose to position your columns and content however you like with flexible height and width settings.
Z-Index Editing: A super useful feature, Z-index editing allows you to position content in layers to create beautiful overlapping designs.
Flexbox Alignment & Inline Elements: With Flexbox alignment, align and distribute your content across columns vertically or horizontally without restrictions and place widgets side by side within a single column with inline or custom width options.
Fixed Position: With Elementor, you can set fixed positions for widgets, so they scroll alongside your user as they make their way down your web page.
Nested Columns: Another nifty feature, Elementor lets you nest columns inside other columns to create inner sections that are crucial to many website designs.
Click Here to Get Elementor Pro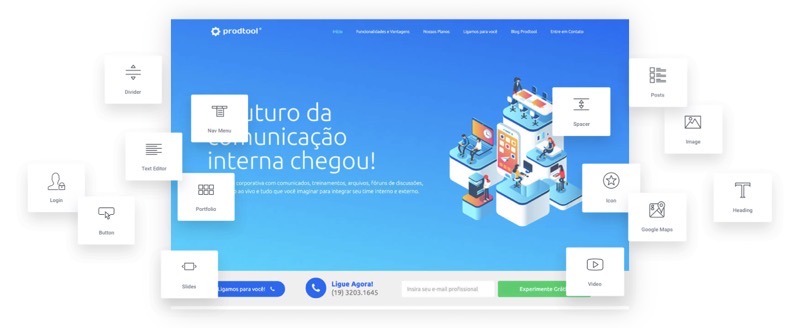 7. Elementor Mobile Editing
Mobile Responsiveness: With Elementor's extensive mobile editing tools you can set font sizes, choose column layouts, and even set different padding and margins for each device separately to create a website that's fully responsive.
Reverse Columns: Reverse the sequence of your columns on mobile, so the last column appears on top.
Element Visibility: Elementor gives you the flexibility to choose which elements on a page show up on which device so you can make sure every user gets the best browsing experience when they visit your website on any device.
Custom Breakpoints: Set breakpoints for mobile and tablets so your website can adapt to different device screen sizes as per your requirements and display content meant for that screen size.
Responsive Sizing: Inside Elementor, you choose between PX EM % and VH for sizing to keep text and elements fully responsive.
8. Elementor Theme Builder Features
Dynamic Content (PRO): Design dynamic templates that can be used across your website and maximize your conversion potential by using Dynamic Content and Dynamic Colours to create a personalized site experienec for each visitorby populating data from different sources.
Display Conditions (PRO): Set conditions with Elementor to display global templates as per your choice across your website.
Header and Footer (PRO): Fully customize the header and footer or add a sticky header to any page without using any other plugins.
Search Results Page (PRO): Upgrade your user experience with a fully customizable search results page for your website.
Custom Fields Integration​ (PRO): With Elementor's Custom Fields Integrations, you can visually integrate custom content fields created in ACF, Toolset & Pods across all your website pages.
With Elementor you can design every single aspect of your WordPress theme.
Want the header of your site to look a little different? Check.

Want to add another menu? Check.

Want to add a column in the footer? Check.
Whatever you can think of, you can edit it! All without having to touch a single piece of code!

Click Here to Get Elementor Pro
9. Elementor Widgets
Global Widget (PRO): You can easily save your widget settings and reuse the widget on any of your website pages by simply dragging and dropping them into place.
Nav Menu Widget (PRO): Dropdown style, Horizontal or Vertical, design a fully customized menu with one of the most powerful Menu Builders, without using any code.
Login Form Widget (PRO): Design customized login forms for any page for your users to help them login easily and maintain your website branding.
Posts Widget (PRO): Create custom displays for various posts like classic, cards, or full content skins by choosing them from a specific category or using your own filters.
Table of Contents (PRO): Make it easier for site visitors and search engines to read your long form content by using Elementor to design a Table of Contents.
Price Display Widget (PRO): Display pricing using advanced tables or add catalogs or menus with the pricing of your products and services.
WooCommerce Widgets (PRO): Unleash the full potential of WooCommerce with Elementor's WooCommerce Widgets like Woo Products Widget, Woo Categories Widget, Woo Add to Cart Widget and Woo Element Widget.
Other Elementor Widgets (PRO): Maximize social proof with amazing Testimonial Carousel Widgets, Star Rating Widgets and create a sense of urgency for upcoming offers or limited time promos with Elementor's Countdown Widget.
11. Elementor Form Features
Contact Forms (PRO): With a Visual Form Builder, it's super easy to design a beautiful form with Elementor that's sure to appeal to your customers.
Subscription Forms (PRO): Easily add inline subscription forms to allow your website visitors to subscribe to your newsletters.
Action After Submit (PRO): Go beyond designing the form by setting triggers for integration actions that occur after a form has been submitted.
Confirmation Email (PRO): Send a confirmation email in HTML or Plain Text to your visitors after a successful form submit on your website.
Advanced Form Fields (PRO): Allow visitors to upload files, add dates or use other advanced form fields that Elementor offers to fully customize it to your requirement.
Hidden Fields (PRO): You can add hidden fields in your forms to track form submissions and interactions.
Honeypot (PRO): Keep your forms safe from being spammed by bots with Elementor's simple yet effective honeypot feature.
Click Here to Get Elementor Pro
12. Elementor Integration Features
Mail Marketing Integrations (PRO): Elementor offers integrations with all major mail marketing tools MailChimp, ConvertKit, ActiveCampaign, HubSpot and more. It also integrates with Zapier that takes its integrations to a whole new level.
Fonts and TypeKit integrations (PRO): Get your favorite fonts directly inside Elementor by adding your Adobe TypeKit key to integrate with Elementor.
Facebook and Discord (PRO): Elementor lets you easily integrate form submissions with Discord or manage Facebook comment submissions as an admin by integrating with the Facebook SDK.
ReCaptcha V3 (PRO): Add a layer of seamless security to your forms with ReCaptcha V3 to make sure all visitors and submissions on your website are legitimate.
Icon Integrations (PRO): Choose from over 1500+ Font Awesome Icons or incorporate your favorite libraries from Fontello, IcoMoon, and Fontastic.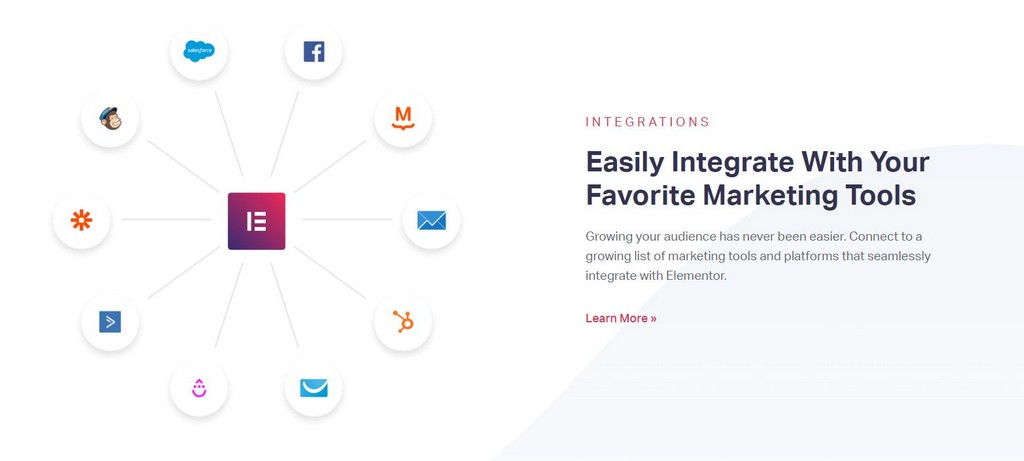 13. Elementor Social Features
Social Icons Widget and Share Buttons (PRO): Grow your audience by enabling your visitors to share your content with Elementor's Social Icon Widgets and Media Share Buttons.
Blockquote (PRO): Design a custom Blockquote box to share your top quotes on Twitter with Elementor.
Facebook Accessibility (PRO): With Elementor you can easily embed Facebook posts, quickly add Facebook comments, or put your Facebook page inside your website too.
Click Here to Get Elementor Pro
14. Elementor Library Features
Templates: Choose from a wide variety of pre-designed Page Templates or Build your page piece by piece with Elementor's blocks, pre-designed and simple section templates. You can also export your templates and import them on other sites in a few clicks.
Embed Anywhere (PRO): Add the Template Widget and embed any template with a simple drag & drop or just get the shortcode for a template and embed it anywhere you like on your website.
15. Elementor Media Features
Media Carousel Widget (PRO): Elementor's amazing Medial Carousel Widget lets you showcase your images and widgets using multiple media formats, and in any way, shape, or form you like.
Slides Widget (PRO): Another one of Elementor's simple yet powerful features, the image slider is super easy to use and well optimized.
Lightbox Overlay: With Elementor, you can trigger lightbox popups that open when visitors click on images, links or buttons on your website.
5 Video Embed Options: Elementor offers extreme flexibility when it comes to adding videos to your website. With 5 options between self-hosted, external videos, YouTube, Vimeo, and Daily-Motion.
SoundCloud: Go beyond videos and let your visitors play a tune when they're browsing your website using the SoundCloud widget.
Click Here to Get Elementor Pro
16. Elementor Interactive Features
User Interactions (PRO): Set sticky headers, footers, Call to Action Widgets with animations and CSS effects to create eye catching headlines and animated boxes that flip when a user hovers over them with Elementor.
Animations (PRO): Add magnificent hover and entrance animations to create an interactive way for your widgets to appearon your website.
Scroll Effects (PRO): Add Parallax, Depth, and 3D tilt effect with Elementor to add dimension to your website content.
17. Elementor Advanced Features
Maintenance Mode: Build your website behind the curtains by setting your website in 'Maintenance Mode' and adding acoming soon page from inside of Elementor.
Replace URL: If you change your domain, run the Replace URL feature to make sure everything is properly updated to your new address.
RTL Ready: Truly Global, Elementor is compatible with over 50 languages and comes RTL ready out of the box.
Custom Attributes (PRO): Add custom attributes such as 'ARIA', Header or Footer attributes for each section, column, or widget to make your web content easily accessible.
Click Here to Get Elementor Pro
18. Elementor Ecosystem Features
Elementor Blogs: You can access hundreds of articles and tutorials on Elementor's Blog to help you learn how to use Elementor and to help you maximize its potential for your website.
Video Tutorials: If you're a visual learner, Elementor has a YouTube channel with over 320 videos to help you learn Elementor and build your business and website with useful tips and tricks for everything from web design to writing content.
Elementor Community: Network and interact with Elementor users across the world to help solve problems and share tips and tricks to take your design skills to another level.
Elementor Add Ons: To help Elementor extend its functionality even further, developers across the globe have created 3rdparty apps that are fully compatible with and even endorsed by Elementor.
Click Here to Get Elementor Pro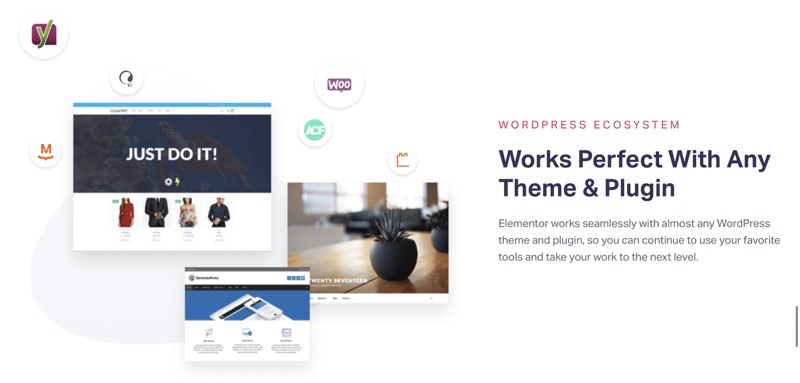 Elementor Drawbacks
No comprehensive Elementor Review would be complete without looking at and addressing the downsides it has. And although the features it offers are some of the best in the industry, it does have a few drawbacks that could be deal breakers for some.
Let's look at some of the major drawbacks of using Elementor –
1. No lifetime pricing option
While Elementor isn't the most expensive option out there and it also offers a free core plugin, one thing that it lacks is a lifetime purchase option that some of its competitors like the Divi Builder by Elegant Themes offers. With a plugin as robust and user friendly as Elementor, I'm sure I'm not the only one who'd like to own this bad boy for life.
2. Slow support response
While Elementor has a massive knowledgebase that covers almost any issue you could possibly encounter, if you're looking for some additional assistance or custom work done, Elementor's support won't be of much help as they only offer plugin related support and don't have the greatest response times. With over 4 Million active installs, I can empathize with them on this, because they're probably bombarded with requests each day, but there's surely a bit of room for improvement in their support department.
3. Page bloat
Let's face it, Elementor isn't known for creating the lightest websites, but the bloat that comes with Elementor is partially due to the massive list of features and user friendliness it offers; and losing one would mean losing the other. Fortunately, it's also an easy fix because with a good Caching and CDN system in place, you can easily minimize any speed issues and make your website load in a snap.
Elementor Free vs Elementor Pro
You can get started with the free version of Elementor directly by clicking here. However, the free version of Elementor is limited in what you can do.
Elementor Free Page Builder Features
With Elementor's free page builder you can only edit single pages,  you can't edit the themes. Also, you only get about 30 widgets to use on your site, so you can't use features like Pop-up Builder or countdown timers.
Here're just a list of some of the features you can with Elementor Pro that you don't get with the free version.
Popup Builder
Theme Builder
WooCommerce Builder
Motion Effects
Countdown Widget
Testimonial Carousel Widget
Custom Fonts
Dynamic Content
Custom Fields Integration​
All the integration
and so much more…
Also, you don't have access to Elementor's amazing support team! So going Pro with Elementor is honestly a no-brainer!

Click Here to Get Elementor Pro
Elementor Pricing
Elementor offers a Free core plugin for those with super basic needs and 3 Annually Paid plans for anybody who's looking to maximize their website building potential.
With Elementor Free, you only get access to their Drag & Drop Editor with mobile responsive editing and access to their canvas template.
If you're looking for anything beyond the basic building capabilities, your best bet would be one of their 3 Paid Plans depending on the number of websites you want to build and manage.
Here's what paying for Elementor PRO will get you:
50+ Pro Widgets
300+ Pro Templates
Theme Builder Functionality
WooCommerce Builder
Popup Builder
Support for 1 Year
Updates for 1 Year
Every Elementor Paid Plan comes bundled with all of these features and the only advantage of choosing one over the other is the number of sites you can use the plugin with.
Now let's look at the actual Plans they offer:
Elementor Personal Plan: For an extremely reasonable $49/year, you can use Elementor Pro for 1 website with its full set of features and functionality. This is ideal for individuals and small businesses with a single website.
Elementor Plus Plan: For $99/year, with Elementor's Plus Plan you can use the plugin on up to 3 websites. Perfect if you're a small or medium business with a few websites and don't want to pay for each website separately.
Elementor Expert Plan: For $199/year, with Elementor's Expert Plan, you can use the plugin on up to a whopping 1,000 websites. Perfect if you're an agency or a developer that manages a few hundred websites.
If you're scared of commitments and are still having second thoughts, Elementor offers a 30-Day Money Back Guarantee for all new users so you can easily trial their full functionality and cancel your membership if you find that it doesn't live up to the hype.
Click Here to Get Elementor Pro
Personal Plan
Use on 1 Site
50+ Pro Widgets
300+ Pro Templates
Theme Builder
WooCommerce Builder
Popup Builder
Support for 1 Year
Updates for 1 Year
Price: $49 / Year
Plus Plan
Use on 3 Sites
50+ Pro Widgets
300+ Pro Templates
Theme Builder
WooCommerce Builder
Popup Builder
Support for 1 Year
Updates for 1 Year
Price: $99 / Year
Expert Plan
Use on 1000 Sites
50+ Pro Widgets
300+ Pro Templates
Theme Builder
WooCommerce Builder
Popup Builder
Support for 1 Year
Updates for 1 Year
Price: $199 / Year
All Packages Include 30-Day Money Back Guarantee For New Purchases​
Elementor Pro Renewal Note: Renew your membership to Elementor Pro for 25% Off! After the license expires the renewal discount is gone.
Note: They're many articles making false claims about an "Elementor Pro Discount Code 2021" but Elementor doesn't have any discount code.
Is Elementor Pro Worth it?
Packed with features and a PRO option that starts at $49/year, Elementor is worth every cent you pay for it.
That's only around 4 dollars a month! 
Click Here to Get Elementor Pro
No matter which plan you choose, you'll get a lot more back in convenience and value. Whether you're a Budget Blogger or a Top Level Marketer, you're sure to find Elementor has the ability to address most of your web design needs without having to spend a single day learning to code.
Well designed, intuitive, and extremely user friendly, Elementor is by far the easiest Page Builder in the market today for anyone looking to start building a website from scratch and I highly recommend you take their PRO version for a spin before you decide otherwise.
After reading this Elementor Review if you still think there's a better Page Builder out there today, let me know in the comments below!
WordPress Deals: