Convertkit is a powerful email marketing tool used to create email lists and connect users to their subscribers. To build trust and engage with the target audience, email marketing is very important. Its automation function allows you to efficiently email those new subscribers over time or send a blast email whenever you want the message to be sent out.
Click Here To Try ConvertKit For FREE
Convertkit was founded in 2013 and is designed to help professional creators, bloggers, or solo entrepreneurs. It's continuous iterations with product enhancements have made it a go-to tool for users. The tool is great to define your target audience and allows you to sell online courses, products, and services online. In this article, I'll talk in detail about the various features and characteristics that are offered by the tool that make it a great choice for users of different niches.
Who Should Use Convertkit?
Convertkit is a robust email marketing and automation service that is a great choice to build your subscriber list. The versatile tool can help boost engagement with your audience, and it caters to online creators. This is why it is a great choice for freelance writers, bloggers, musicians, and digital creators. If you fall in this category, then the plugin is tailored to suit all your requirements.
Even though you are not a content creator, you'll be surprised that Convertkit is loaded with super useful features that help simplify digital marketing and deliver content like:
An opt-in/ sign-up form builder
Visual automation editor
Easy to use subscriber management tools
Tons of other email marketing software and others that we'll cover in this article.
Convertkit Review Reddit
U/-Lavender_Strings- "In my opinion, you can go with ConvertKit as it offers customizable email templates, automation features, and landing page design features. Before choosing any tool, explore if the tool has a user-friendly interface, good reputation, necessary integrations, and utmost data security. Also, use their free trial and test its features".

U/POPSMASHcom- ConvertKit is quite solid, especially for the niche it serves, but as others have said, it can be pricey. This isn't a dealbreaker, but just something to consider, especially as the size of your audience grows".

U/b_capozzi- I use ConvertKit for my newsletter, and I really like it, although my newsletter is currently free, so I haven't done a lot of work with the payment/subscription functionality. Overall, the subscriber growth metric tracking is good on the site, and you can set up a "landing page" where your newsletters are automatically stored as blog posts (instead of having to repost them on another website). I strongly recommend it!".

U/Sandroschaetz- "Convertkit is what you're looking for. It's free to use, super easy to handle, has great UX/UI design, and has professional-looking, conversion-optimized templates. Everything you need"
Click Here To Try ConvertKit For FREE
Convertkit Review
1. Easy to Use Interface
Convertkit has a simple interface that can be easily navigated through without any hassle. The tool has 4 different modules, which include
Subscribers
Automations
Landing pages and Forms
Broadcasts
The interface has all the essential data that you want on your dashboard, that includes everything from showing your
Total subscribers
Average open rate
Total emails sent
Average click rate
New subscribers
Purchases made
Convertkit also allows you to import new subscribers along with the tags to segment email lists for higher email conversions. Even a new user can use it as they are pretty straightforward and have a low learning curve.
2. Email Builder
Convertkit has a simple email builder that makes running email campaigns pretty flexible. There is no need to worry about sending too many emails, as there is no limit on sends at all. You will simply have to pay for a certain number of subscribers, and that will do its work.
Email marketing is a sticky point when it comes to writing and editing experience for several creators. However, the email designer of Convertkit helps breeze through the editing process. The tool has professional-looking templates- text, classic and modern types. You can set one as default, and nothing will slow you down when you get the inspiration. The builder has a versatile, clutter-free experience with inline styling options to add buttons, videos, or images to your email, having a simplified interface with a great writing experience.
Once you create a form, it will give a short welcome email to a new subscriber, and the Convertkit tool will send it to anyone who joins the form. The platform gives a code to use on your site to embed the form. You can publish an ad campaign or newsletter directly via email, but you can also add the email directly to the public feed. This feed can be embedded directly in your website or landing page. But to publish using SMS or social media, you will have to use third-party integrations. This will cost you extra; however, they are readily available within its integrations.
An interesting feature of the email builder is its reusable content blocks like footers or headers, which ESPs offer in their product. The versatile tool lets you create your own and add it directly to the email template of your choice. It can be anything from a CTA block, event registration block, question block, etc.
Convertkit helps you grow your email lists with different sign-up forms and landing pages to share a creative project in minutes. Every account on Convertkit comes with unlimited forms and pages where you can share every single idea that users will come up with. You can set an incentive that will automatically deliver whenever a user fills out a form or sign up to a landing page. All you have to do is upload the file into your account, and the platform will handle the rest.
The email that you send using the tool has good deliverability and an average of 85%. However, this is dependent on an array of variables, and you have to consider its server location and infrastructure. Apart from this, technology being used as thousands of other things included. The DKIM technology supported by Convertkit is very handy in ensuring good deliverability. In case you are caught sending spam emails to people who have not asked them, you might be banned.
Speaking of what subscribers are interested in, the A/B testing is great to check what is working. This is where you will send a few people to one version of the latest email campaign, and another version will direct you to the rest of the subscribers. The data you receive can help you sort the advertising that works best for your customers. You can test different aspects of your page, ranging from color, headings, footer, and more.
3. Automated Email Funnels
Automation is a feature that will either make or break an email marketing platform. In case you don't have to send every email to each person manually, then it is very difficult. Convertkit has a great automation interface which works like a mind-mapping software and allows you to send different emails, apply tags to subscribers and manage your overall campaign automatically based on how people will interact with those emails.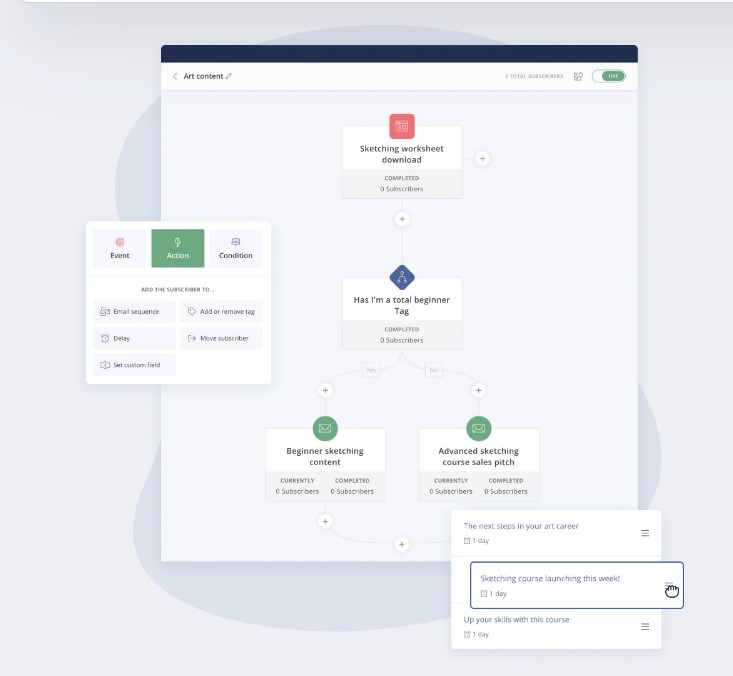 The automation builder has multiple triggers, events, and actions that help you create targeted email workflows. The 4 trigger options to start the sequence are:
Join a form
Is added to a tag
Custom field
Purchase something
The tool lets you add up to 5 entry points and triggers the same or different emails from each entry point. This is an interesting feature and helps you target users entering different mediums having the same email. Its pre-made workflows have unique features that will help you find new album releases, paid newsletter promotion, email list growth, and more.
Further, the automation can help send out emails directly on the RSS feed from your own site. To top it all off, there are plenty of automation templates that will help you get started, and you will not have to learn everything from scratch.
4. Organize Your Subscribers
Adding subscribers to your list with Convertkit is easier than figuring out the template or other things on it. You can add subscribers by adding them one at a time by typing the details, importing contacts from the CSV file, or other mailer services. The said mailer services are Mailchimp, Drip, MailerLite, Infusionsoft, AWeber, and ActiveCampaign. However, you cannot import contacts from services like Google Contacts, and .csv is the only file format accepted for upload.
Whenever you launch a new project, you no longer have to create a new list every time. The platform has a subscriber-centric features which means you can organize your subscribers from the list with tags and segments. This will help you to know your audience so you can direct them to highly targeted content based on their interests. Let us look at both of these features in detail.
Tags- Tags help you to identify your subscribers based on their behavior. You can easily tag those subscribed to your list who have bought something from you or completed an email sequence, etc.
Segments- Segments allow you to group your email subscribers together on broadcasts. If you want to create a segment, you'll need to use filters that will define what subscribers will show up as a result.
5. Landing Pages and Forms
Convertkit comes with a signup form and landing page builder to efficiently collect email addresses and grow your email list. The builder is basic and comes with in-product images directly from Unsplash and your Instagram profile. It is a great tool if you want to create a basic landing page and embed a signup form in it.
The landing page builder of Convertkit is very interesting and offers 50+ page templates to choose from. All the templates are easily customized to suit your brand identity. The best part is that these landing pages help capture email addresses that are hosted by Convertkit. If you want, then you can create your own domain using WordPress. You can also integrate them with SEO and analytics platforms to get better insights into their performance. This will allow you to see how people will go to the page and how many people sign up for it.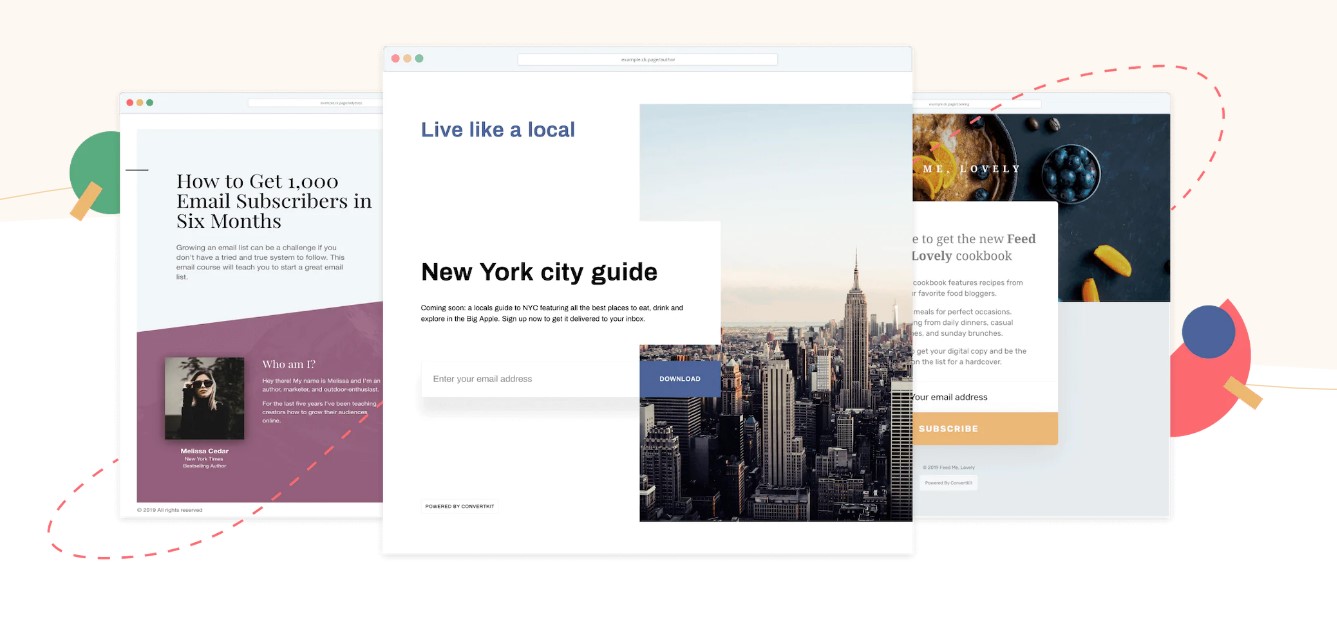 Your customer journey may start at your landing page, but in reality, it really kicks off when they fill out your opt-in form, giving them permission to enter your world and inbox. These forms create a seamless path to turn your readers into subscribers to gather information to connect with your audience and increase your sales. These forms can be embedded anywhere on your website or landing page that you host. The main reason for the use of forms is to collect emails that will give you important data like visitors and subscribers alongside their conversion rate.
6. Sequences
Sequences is an autoresponder campaign of Convertkit that allows you to schedule and send automated email sequences, like welcome, nurture sequence, product launch, etc. This will help keep your email subscribers engaged and moving efficiently through your sales and marketing funnel.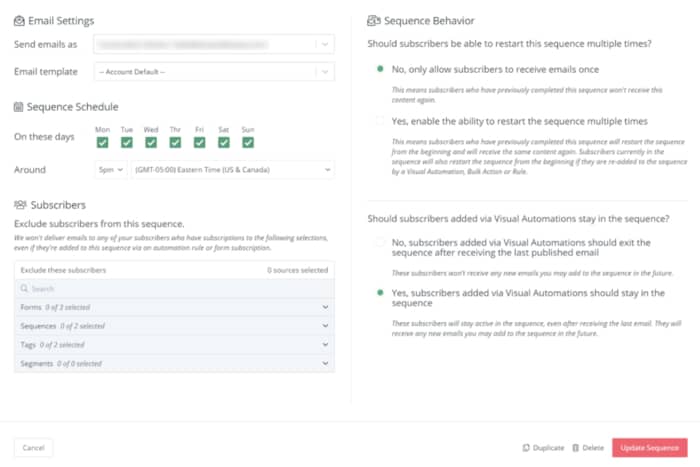 The sequences are different from broadcasts that are one-off, non-automated emails that you will send at a specific date or time. Its sequence editor is powerful and lets you set subscriber exclusions based on certain characteristics like tags or segments that will ensure that the right emails get to the right people. Since these sequences are not for everyone, you can exclude subscribers from your sequences. May it be the entire sequence or a few emails within your sequence.
In simple terms, you can use sequences to send a self-contained set of automated emails to your subscribers. Once you create these emails, you can schedule and set exclusions for the entire sequence or individual emails. Efficiently send your sequences to your form and landing page subscribers by setting up visual automation.
7. Visual Automations
Email automation is a great way to understand customer journeys in a simple way. The platform offers easy-to-understand automation workflows in a visual form. This automation is called funnels that help you send well-timed, targeted content to your audience so you can be focused on what matters the most to grow your online business.
Visual automation help you to:
Create powerful and automated funnels
Customize your subscriber's path based on their set actions
Send targeted content to the right people at the set time
Segment your audiences based on their customer journey
Visual automation allows you to build custom paths for your subscribers, and this automation can serve you and your audience better. With this automation, you can survey your audience, host a webinar, launch a product, etc.
The beauty of automation is that users have the ability to create multiple points of entry. You can easily add additional points by selecting + next to the initial list. Below I have listed a quick overview of what you can do with visual automation:
1. Actions- Actions are the backbone of the automation space. They are commonly used in the connection of forms to sequence and automatically tag subscribers when they opt into different users.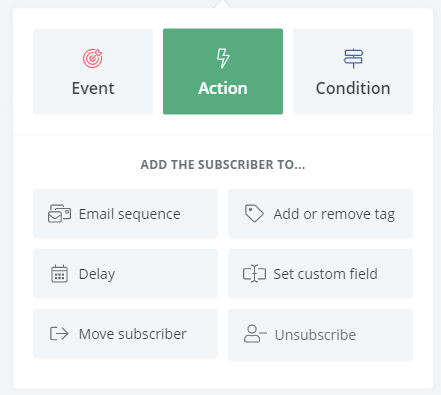 2. Events- Events are a great feature that allow you to pull subscribers forward in your visual automation. The Events are commonly used to move subscribers on a specific date when a product is purchased or if a tag is added or removed.
3. Conditions and split paths- Conditions are a great visual automation equivalent of a fork in the road. The conditions will ask yes or no questions that will direct your subscribers down the appropriate path on the answer that will apply to them.
8. Promoting Blog Posts
It is not always enough to publish a blog post or hope readers will find that content. However, you will need to promote your writing, and you can't count on any tweet or Facebook update to attract any new readers. Email marketing is a great technique to implement a strong content marketing strategy.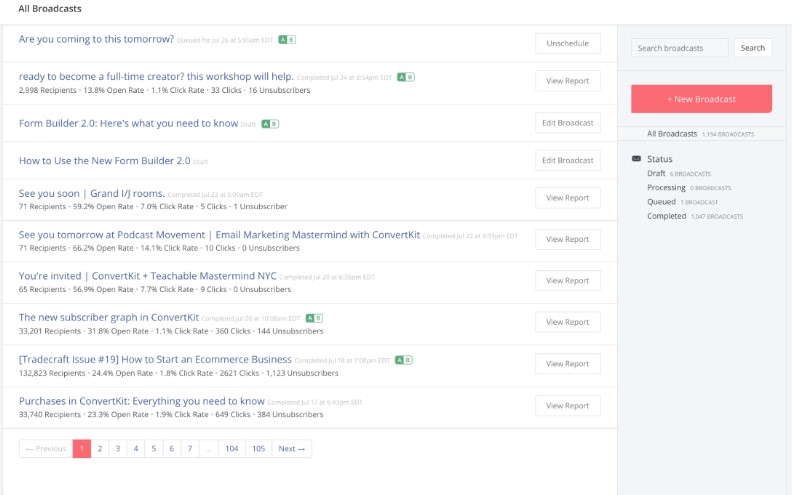 When you publish a new blog post on any platform, then you can broadcast the email directly using Convertkit. These emails can be forwarded to your subscribers on a monthly or weekly basis. Since people today are busy, their inboxes will fill up quickly, and often miss these emails.
Convertkit allows you to resend emails with a click of a button, and these broadcasts will be sent to people who did not open the initial email. To make it more convincing, you can even change its subject line and amend the copy directly within the mail. The resend feature is a great feature that helps increase your open rates and send posts to your subscribers who have missed the article the first time around.
9. Delivering Content Upgrades
Content upgrades offer a great way to grow your email list faster with better efficiency. The feature is a free bonus that allows readers of our articles or blog posts to get the bonus, opt-in to your list with their email addresses. For example, a spreadsheet for tracking its daily word count, a blogging template for Scrivener users, a free book with writing prompts, etc. You can upload these content upgrades to Convertkit, and it will deliver them automatically.
10. Sell Products and Services
The automation builder of Convertkit and sequencing are great tools to create campaigns to promote products and services. The platform offers an excellent path for creators to experiment with earning a living without needing to invest in another platform.
Inside the Convertkit account, you can efficiently set up products and services which can be sold directly over email. On the platform, you can sell books, courses, webinars, exclusive coaching sessions, etc. The commerce section of the tool helps create digital product listings and customized product pages in a breeze. There is also a WordPress plugin that has integrated payment processing, so you don't have to worry about third-party solutions.
The 3 easy steps to set up and get paid is by following these steps
Start by adding the product details and set the price of the item
Customize the product page to suit your brand identity
Embed the design into your emails where your audiences can purchase it and you can get paid
The platform will keep track of all the sales of products and services on a dashboard and assign a monetary value to the email subscribers.
In this section, you can also set up automated emails that are targeting specific subscribers. So, customers will receive one set of emails, while new subscribers will get a different one. The payment processing is integrated with the platform with low transaction fees. Here buyers can make the purchase using a credit or debit card and issue refunds with a click of a button.
11. Analytics
Convertkit has advanced reporting functionality and tracking features. You can track trends in user engagement clicks and ensure overall email deliverability as well as show purchases. It offers some of the simplest analytics that I have seen in the market, but it really doesn't tell you a lot, and you will get more information on a complex system of automation and tags; however, it will require you to calculate your own statistics. It is great to maintain your subscriber's privacy, but the tool doesn't tell you enough to plan your target campaigns.
12. Integrations and Additional Features
Convertkit has powerful integrations with some of the best applications that help improve your overall performance and functionality. The third-party integrations offered by the platform include Facebook, Squarespace, Stripe, Shopify, WordPress, Patreon, and more. There is also a great integration with Zapier that helps in the integration of your email service across hundreds of online platforms.
There is also a newsletter referral system, which will allow you to offer your subscribers prizes for signing up a given number of people to your newsletter. Finally, you can track purchases in the online store and add tags to the specific subscribers based on what they bought. This allows you to get a better idea of what your customers like.
13. Customer Support
Convertkit offers good customer support who can relieve all your issues via email or live chat from 8 am to 8 pm EST. The tool has a huge knowledge base that gives you articles and guides to using Convertkit efficiently. It also has useful video tutorials that will help you to get the most out of the email software. Apart from this, they conduct live workshops and offer on-demand training that will allow you to teach how users can become a successful creator in the online world.
The platform comes with a free migration service that allows you to move your email lists from another email software directly to Convertkit without cost. Above all, you can utilize the Convertkit creator community to post any questions you have in mind about the software. The community is very active and has thousands of creators that are growing every day.
ConvertKit Free Trial
If you click on this link you can get a free trial of ConvertKit! This a great opportunity to give ConvertKit a whirl without having to commit. You're limited to 1000 subscribers.
Convertkit Pricing
Convertkit has 3 powerful plans that help newbies or advanced users planning to create email templates or landing pages for your business. The tool allows you to select the number of email subscribers you have, and it is priced as per that. I've covered the plans in detail below.
Click Here To Try ConvertKit For FREE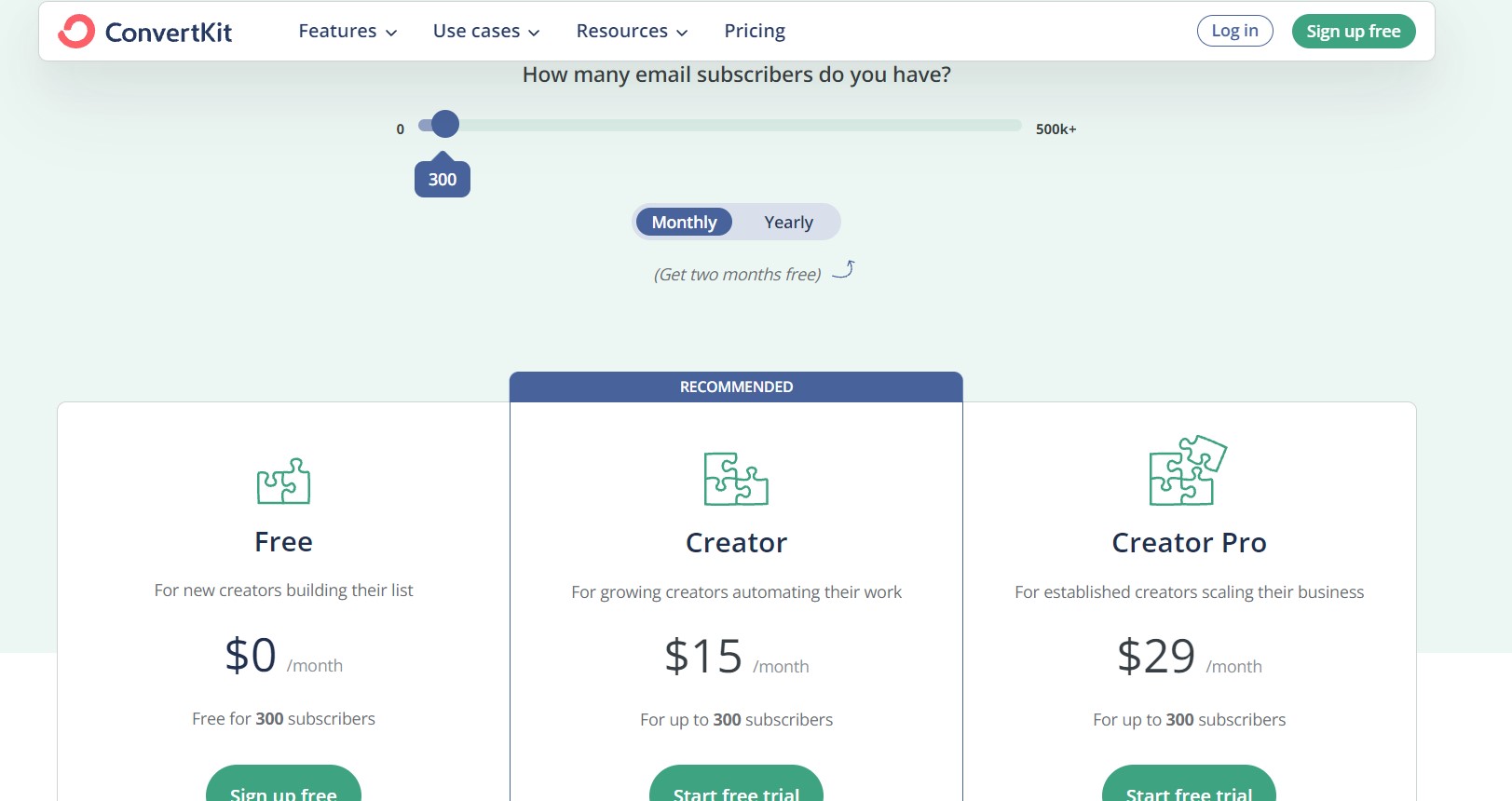 1. Free Plan
You've read it right, Convertkit has a Free plan that is a great choice for new creators that are building their email list. It is free to use for up to 300 subscribers. The features of the plan include:
Unlimited landing pages
Unlimited forms
Unlimited broadcasts
Sell digital products and subscriptions
Audience tagging and segmentation
Community support
2. Creator Plan
The Creator plan is a recommended plan that is used by most users using this tool. It is an excellent choice for growing creators that are planning to automate their work. The plan is priced starting at $15 per month for up to 300 subscribers. It has all the features of the Free plan plus:
Live chat and email support
Free migration from other tools
Creator network
Automated email sequences
Third-party integrations
Visual automation builders
Add an additional team member
3. Creator Pro Plan
The most premium plan offered by Convertkit has the best features and functionality. This is only suited for established creators who are planning to scale their businesses. It is priced at $29 per month for up to 300 subscribers. It offers all the features of the Creator plan plus:
Unlimited team members
Newsletter referral system
Advanced Reporting
Subscriber scoring
Pros and Cons
Pros
Simple landing page creator
User-friendly features great for newbies
Best workflow and great user interface
Excellent email deliverability rate
Powerful automation and tagging
Free trial to check its features
Good knowledge base and guides
Not charged for multiple subscribers
Create unlimited landing pages with ease
Organize your subscribers into segments and tags from a singular subscriber pool
Cons
Price is higher than other alternatives in the market
Certain features are complex to grasp for beginners
Doesn't have advanced template customization
The analytics report can be more detailed
Is Convertkit Worth the Hype?
If you run an online business, then you will need a reliable email marketing platform to reach out to more people. Convertkit is a powerful email marketing tool. It is designed to help bloggers, creators, or solopreneurs in the online world.
Alongside this, it is a good option if you wish to sell digital products and subscriptions in the online marketplace. It may be slightly expensive, but it is an awesome tool to get your hands on and extract the utmost performance and productivity.
Click Here To Try ConvertKit For FREE
Convertkit Review FAQs
1. Who is Convertkit good for?
Convertkit is a great tool that helps in the creation of landing pages to collect subscribers and build advanced automation, as it offers multiple triggers and conditions. If you want to earn money through newsletters or selling digital products, then the tool is a great choice.
2. Does Convertkit be used as a CRM?
Convertkit doesn't have an in-built CRM system, but it has some powerful integrations. These integrations allow you to connect 70+ apps and services.
3. Does Convertkit offer landing pages?
Convertkit offers a free landing page builder that will help build great landing pages without knowing any code. It has integrations with Unsplash and some other stock image tools having several free images. All the templates are responsive and can be great for creating landing pages.
4. How can you earn money using Convertkit?
Convertkit helps grow your email list and monetize the list with various strategies like course selling, products, affiliate marketing, consulting services, etc.
Read Next:
Best Email Marketing Service Reddit