Email marketing is one of the most important parts of any digital marketing strategy. While it might not be the trendiest topic these days, it still remains as one of the best ways to connect with your potential customers on a highly personal level.
When it comes to ROI, email marketing is right at the top. According to studies, email marketing generates about $38 for every $1 spent on average and emails also usually have a much longer lifespan than social media posts do.
There are a number of established email marketing tools available today with MailChimp, ActiveCampaign, and Aweber being some of the most widely used ones.
However, in this review, we're going to take a look at ConvertKit.
ConvertKit hit 27,000 active users at the end of 2019.
That's quite a lot considering that ConvertKit launched in 2013.
Every professional blogger from Pat Flynn to the solo digital marketer uses ConvertKit.
BUT…
Is ConvertKit actually worth it? or just hyped by Digital marketers & "how to make money online" bloggers?
Well, I've personally worked with email lists of all sizes, from running a tiny email list for a niche site to being behind the scenes of companies with millions of emails on their list.
By the end of the ConvertKit review, I hope to explain why ConvertKit despite being a relatively new email marketing tool that has positioned itself as one of the best email marketing tools in recent years, especially for content creators.
Click Here To Try ConvertKit For FREE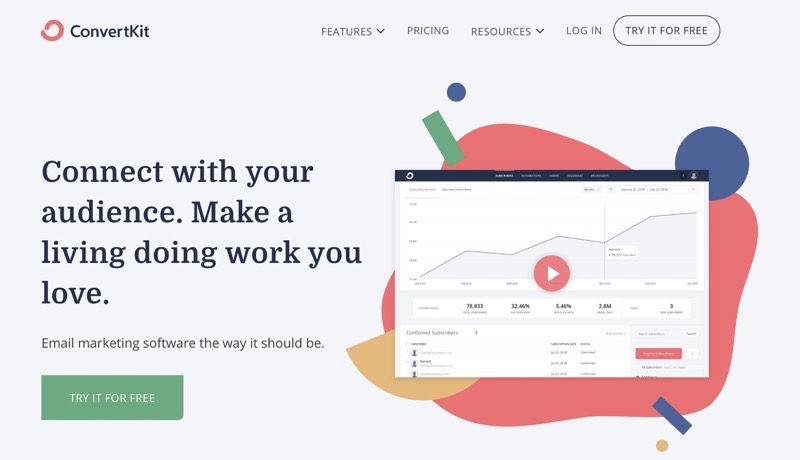 ConvertKit Review
ConvertKit is built for creators ie. Bloggers, YouTubers, course creator, podcasters and if you a "creator" it's honestly the best service for email marketing if you run a blog or any kind of content business! It's super easy to use interface makes it easy to launch a marketing campaign.
In terms of UI, ConvertKit one of the easiest to use and makes it super easy to organize your email marketing campaigns.
When you get started with email marketing it can be a little overwhelming with all the tools and autoresponders.
So what do most bloggers end up doing?
If you ask 1000 bloggers who'll find that 90% of then will either sign up for MailChimp (which is terrible and not worth it) or just not build an email list.
Why is that?
Because most email marketing tools are super complicated and doesn't really make it easy for a non-techie person to run email marketing effectively!
This is why I love ConvertKit, its easy to use and someone who doesn't want to fiddle with all the plugins, api and other tools can just LAUNCH!
Click Here To Try ConvertKit For FREE
About ConvertKit
ConvertKit was created by Nathan Barry in 2013. It was built specifically for creators, like bloggers and podcasters, with the intention of helping them grow their email lists and eventually increase their online sales.
It is a fully-fledged email marketing tool that comes with impressive features that can be used to turn potential prospects into followers, subscribers, and customers. With simplicity being a core fundamental part of its philosophy, ConvertKit is an email marketing tool that almost anybody can learn to use quickly.
There are a number of things about ConvertKit that I really like such as the landing pages, the simple tagging system, autoresponders, embedded forms, and more that are covered below in this in-depth review.

TL;DR –  If you're a content creator in 2021 and want to step up your email marketing strategy, ConvertKit might be one of the best tools for you.
Click Here To Try ConvertKit For FREE
Reasons I LOVE ❤️ ConvertKit
One of the main reasons I and many other bloggers recommend and use ConvertKit is because it's super easy to use however it doesn't sacrifice great features and automation in the process. It's honestly exactly in the goldilocks area 😉!
1. Easy List Management
ConvertKit makes it super easy to manage your subscribers as you don't have 10s of 100s of lists as you might in tools like Aweber or MailChimp. Everything is in one single list as ConvertKit is based on a the subscriber and you manage your list using simple to use tags.
This is extremely useful for segmentation especially for the future. In fact, as you grow you business and make thousands of $ a day you won't even need to leave ConvertKit. Pat Fylnn probably makes over $1M+/month and still uses ConvertKit for SPI and all his businesses.
2. Open Startup
ConvertKit as a company is one of the most open and public about everything they do. In fact, you can see their minute to minute revenue and business metrics data by clicking here. Not only are they open about how much they make, but they're also very active in the online marketing space.
In fact, if you tweet at the CEO Nathan Barry you will probably get a reply!
3. High Converting Out-Of-Box
ConvertKit is built with Conversions in mind especially as a lot of online marketing professionals use it (and we are a snobby bunch of people who want things to very focused on conversions).
They have beautifully designed Opt-In-boxes and popups that make it super easy to get started and collect leads.
4. High Converting Landing Pages
With ConvertKit you don't necessarily have to invest in a secondary landing page builder like Leadpages or Unbounce as you can build beautiful landing pages in ConvertKit. You get a ton of pre-built conversion-focused templates that you can import and modify to fit your needs.
PS: ConvertKit recently launched a free plan just for the landing pages! How cool is that?
Click Here To Try ConvertKit For FREE
5. Simple Analytics
It's easy to get bogged down with all the data that many email marketing tool that you never execute on anything. ConvertKit keeps things simple and only gives you the basic data that matters like a subscriber chart over time to get an overview of your business.
6. Integrations
It doesn't matter what tool or service you use, ConvertKit integrates with it either Natively or thought third-party tools like Zapier. It even has native support for Shopify which is a big plus making it a great MailChimp alternative.
7. Automation
The visual automation on ConvertKit is super easy to use and makes it super easy to create and visualize every marketing campaign. It's pretty convenient even for someone who hasn't ever done a marketing campaign before.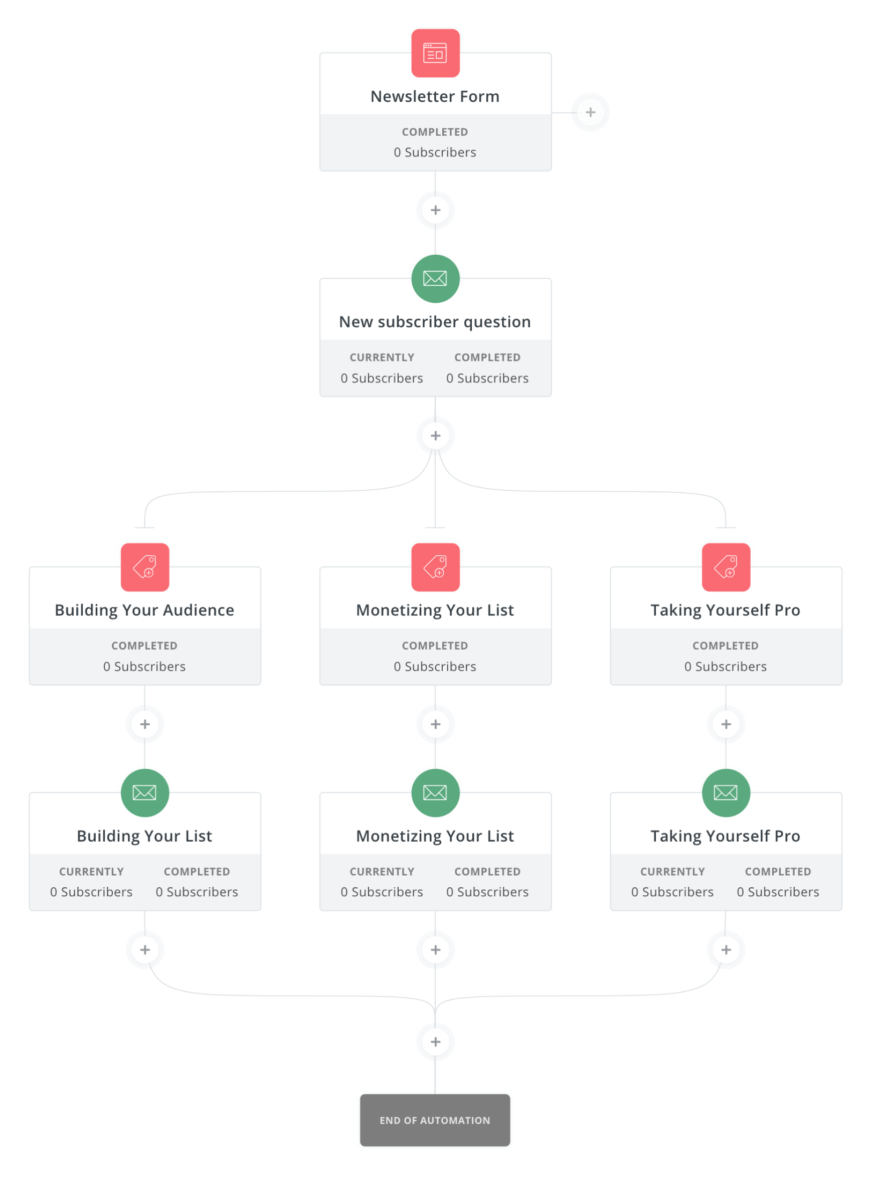 8. Support
Most customer support teams are just supposed to help you use the product right?
Well, ConvertKit is focused on helping creators make a living so they do things a little different.
ConvertKit has a large knowledge base on how to make money using email marketing.
Here's what that means for you:
Personalized help! We promise we know what we're doing.
Access to ConvertKit team via email or live-chat (8am-8pm eastern)
The ConvertKit knowledge base. Every guide you'll ever need for email marketing.
The only downside with ConvertKit is that the support is not 24/7 like most other Email Marketing tools out there.
Click Here To Try ConvertKit For FREE

ConvertKit Features Deep Dive
Now that we have a basic understanding of what Convertkit is and how it can help you, let's take a deeper look at some of its most useful features. While the list of features keeps growing every day, these are the ones that I found to be the most relevant and useful:
1. Email Builder
Being an email marketing tool, the email builder is probably the first thing you'll notice on ConvertKit. I'll be honest – at first glance, the email builder doesn't look that impressive. The interface is super simple and text-based. You have basic editing options available like changing the font, color, and typography.
There's a reason behind this simplicity though – in general, ConvertKit aims to be as easy to use as possible and it is a fact that plain-text emails are less likely to end up in the spam folder. You do have the option of entering custom code to change the look of your email and there's also a basic visual editor that is a very recently added feature.
One thing that stands out about the email builder is how easy it is to create personalized emails using the email builder with the personalized tab on the builder. There are also a number of basic templates that you can use to build your emails on ConvertKit.
Lastly, with the A/B testing option, you can create different versions of the subject line of your emails to split test them.
In general, ConvertKit follows the idea that your emails should be distraction-free and its builder reflects that. It's basic but it forces you to work on making your emails as readable and laser-focused as they can be.
Click Here To Try ConvertKit For FREE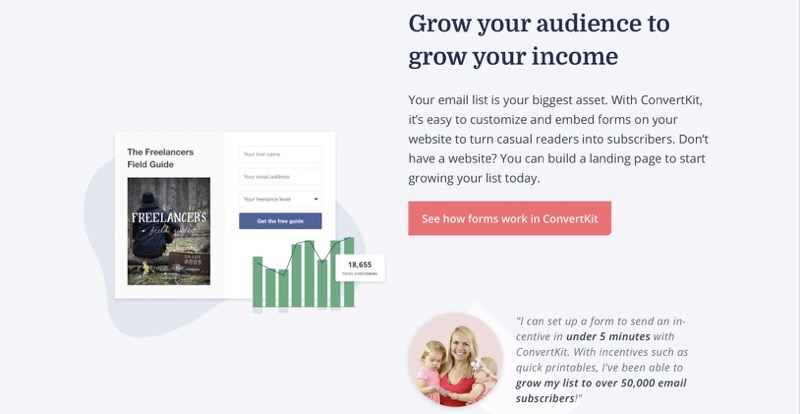 2. Landing Pages
Other than building emails, ConvertKit also allows you to create landing pages. On ConvertKit, you can find a number of great looking landing page templates which are completely customizable without the need to write a single line of code.
Two things I really like about landing pages on ConvertKit are the following – ConvertKit provides free hosting for any landing page you create and all the landing pages connect seamlessly with sign-up forms that you create with ConvertKit.
3. Newsletter Templates
Following the same philosophy of simplicity, the newsletter templates you'll find in ConvertKit are also very basic. While the templates may look bare-bones, they're still highly effective and work fine in general.
Just like the emails you'll build using ConvertKit, the newsletters are supposed to follow a "content-first" approach too. Instead of worrying about the design, the idea is to focus on ensuring your newsletters have super-sharp focus. The templates are still pretty decent and get the job done when it comes to making your newsletters look good. All you have to do is click, enter the content, and press send!
Click Here To Try ConvertKit For FREE
4. Forms
Sign-up forms are what allow subscribers to join your email list. ConvertKit allows you to create simple but effective forms easily. You can create an unlimited number of sign-up forms using ConvertKit and choose from a library of customizable templates. You can also add custom fields to your sign-up forms. The sign-up forms are also fully GDPR compliant.
It is extremely easy to set up lead magnet delivery when it comes to ConvertKit sign-up forms. One of the most effective ways of getting people to sign-up for your list is using a lead magnet. It is basically offering your subscribers something free as an incentive for signing up for your list.
There are a number of ways in which ConvertKit forms can be used – you can use them as a lead magnet delivery method, as an exit intent pop-up, as a way to segmentize your lists by offering different forms in different pages, etc.
You can create three different types of forms on ConvertKit – inline, pop up, and slide in which makes them pretty versatile. Lastly, you can use ConvertKit forms on many platforms such as WordPress, Leadpages, Clickfunnels, and more!
Click Here To Try ConvertKit For FREE
5. Subscribers
One aspect that makes ConvertKit different from services like Aweber and MailChimp is that when it comes to subscribers, it does not follow a list-based approach but a tag-based one. This means that all your subscribers will be in one single list on ConvertKit and then you can either use tags or create segments to classify your subscribers.
When it comes to creating segments, you can group your subscribers by various criteria such as when they joined your list, their location, or any custom field you want.
You can also find detailed information on any subscriber such as the emails that have been sent to them, the sequences they are on, if they have purchased anything from you, and so on.
Overall, the subscriber system is pretty well built, and even though it might seem simple it is still very powerful which, as you might have guessed by now, is in-line with the core philosophy behind ConvertKit.
6. Broadcasts
It is very easy to send one-off broadcast emails to your subscribers using ConvertKit. When you send a broadcast, you can target specific subscribers for the broadcast with the inbuilt filtering system. You can target subscribers based on them subscribing to different sequences, products, tags, or forms. You can also use the A / B testing feature that can be used to split test different headlines to find the most optimized one.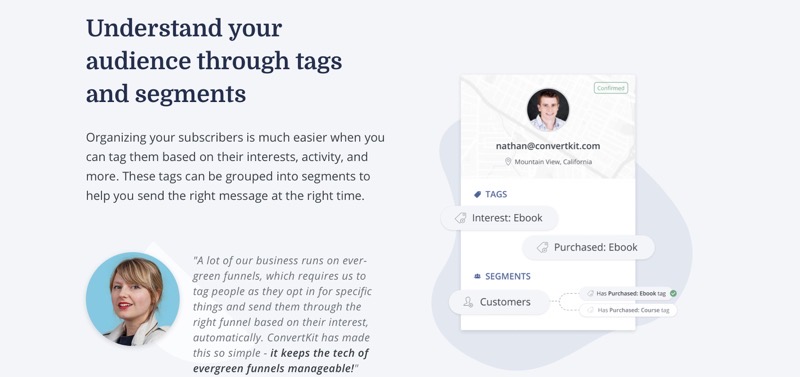 7. Sequences
ConvertKit allows you to create sequences that are basically a collection of different emails that are sent to your subscribers based on a predetermined schedule. Creating a sequence is fairly straightforward and simple with ConvertKit. It's the same as building an email except you also have a menu on the left hand of the screen that allows you to create the sequence of emails that'll be sent to your subscribers.
8. Automation
ConvertKit truly shines when it comes to its automation system. Considering the price point of ConvertKit, its automation system is simply unbeatable. It is very easy and simple to create automation on ConvertKit. What makes it even better is that ConvertKit comes with a lot of ready-made automation templates that you can use to get started quickly.
You can also find a visual automation editor that makes it really easy to understand the flow of your automation and allows you to map the journey of your subscribers with just a few clicks.
Without getting too much into it, there are basically four different ways a subscriber can enter the automation – via a form, by getting tagged, by a custom field, and by making a purchase. You can then control the automation using events, actions, and conditions.
Overall, out of all the features provided, ConvertKit's automation is one of the most well-made ones as it allows you to create complicated sales journeys and funnels for your subscriber with an easy to use the visual editor.
Click Here To Try ConvertKit For FREE
9. A/B Testing and Analytics
When it comes to A/B testing, the options are very limited and simple on ConvertKit. You can only use A/B testing on the subject lines of your emails on ConvertKit. You can set up A/B testing by clicking the A/B button that's located beside the subject line field on the email builder. While subject lines are arguably the most important part of your email and A/B testing them can help a lot in optimization, there's a lot that can be improved.
As for analytics, you can get a quick view of all the important statistics for your campaigns. Important metrics such as open rate, subscribers, click rate, etc can be easily found. While ConvertKit provides basic analytics, if you want in-depth analytics you'll have to use plugins as a workaround.
10. Integrations
While you might have heard that ConvertKit's integrations are not really that extensive but in reality, there are a number of third party integrations available on ConvertKit. You can integrate ConvertKit with popular marketing tools such as Stripe, Shopify, Recart, Teachable, WebinarJam, WP Courseware, and more. In addition, you can use the Zapier plugin to access hundreds of more integrations.
Click Here To Try ConvertKit For FREE
ConvertKit Features Review
Now that we've covered some of the core features of ConvertKit, let's take a look at what makes ConvertKit really impressive. Other than being made for creators and being almost stupidly simple to use, here are some of the most impressive aspects of ConvertKit that I really like:
1. Visual Automation Editor
As mentioned above in this review, ConvertKit's automation system is one of the most impressive features of the tool. While most email marketing tools force you to use complex automation editors which can be overwhelming for beginners, ConvertKit's automation is simple and easy to use with the visual automation editor.
The visual automation editor is so easy to use that it is almost fun. You can seamlessly edit every single step in the visual automation editor. Everything can also be done within the automation editor itself which means you don't have to go out of the editor to do things like editing the emails or forms that you're using in your automation.
Overall, the visual editor definitely simplifies the automation process significantly and if you're just starting out with email marketing, you'll definitely appreciate the simplicity and power of the visual automation editor.
Click Here To Try ConvertKit For FREE
2. Conditional Tags
The ease of creating personalized emails is one of the key selling points of ConvertKit. Conditional tags are pretty useful when it comes to helping you a lot with personalization.
With conditional tags, you have the ability to ensure that only a particular segment of your subscribers will be able to read specific parts of the email.
For example, let's say you want to send an email to all your subscribers but you want to include a discount code only for people who have made a previous purchase on your site. Instead of writing two different emails, you can just write one and use conditional tags so the discount code will only be shown to previous buyers.
To use conditional tags, all you have to do is click on the "personalize" tab found on the email builder and click on subscriber's tags to set it up.
3. Resend Unopened Broadcasts
Marketing, especially email marketing, is generally a number's game. It is a fact that a significant portion of your subscribers will not open all the emails you send them. In fact, only about 1 in 4 people will actually open an email you send them.
To save your time and make things simpler, ConvertKit allows you to resend the email to your subscribers who did not open it the first time. In addition, you can also experiment with a different subject line to try a different approach.
In order to resend the broadcast, all you have to do is go to the states page and click on the "Resend to Unopens" button and you're done! Using this feature ensures that your emails get the maximum views and increases your chances of converting.
Click Here To Try ConvertKit For FREE
4. Share Automations
I already mentioned how great ConvertKit's visual automation editor is but here's another feature that I find really impressive – any visual automation that you make is also sharable. With just a few clicks, you can share the automation as a template with anyone!
The concept is similar to Clickfunnels' sharing funnels feature as it allows you to collaborate with other people and share your process easily.
Additionally, if you share your automation with someone who doesn't have a ConvertKit account, they will get a 14-day free trial and if they end up signing up for an account, you get an affiliate commission for it!
5. Double Opt-In
There's a lot of discussion on the topic of single opt-ins vs double opt-ins. While double opt-ins act as an effective filter when it comes to the leads, the extra step can also hurt your conversion rate. In my opinion, both of them can be effective if used properly and you should definitely have the option of creating a double opt-in.
ConvertKit allows you to create a double opt-in if you're using a lead magnet which is a pretty useful feature as lead magnets are definitely one of the best ways of growing your email lists.
Click Here To Try ConvertKit For FREE
Now that we've covered the tool in detail, here are some quick pros and cons for ConvertKit:
Pros
It has a simple, streamlined, and focused interface.
It comes with a really awesome visual automation editor.
It uses a tag-based approach to subscribers.
Double opt-in for lead magnets.
New features are added regularly.
You can share your automations with others.
It has a very easy process for creating personalized emails.
Cons
Split testing available for email subject line only.
Basic, text-based templates.
Forms and landing pages are not highly customizable.
Not suitable for medium to large companies.
ConvertKit Customer Support and Community
ConvertKit has a decent customer support service. While they do not provide support over the phone, you can still get your issues resolved over email or live chat 24/7, all days of the year. The response time for email can take 2-3 hours but the live chat is pretty fast when it comes to responding to your issues.
You can also find a decent knowledge base with documentation and workshops that teach you how to use the tool to its maximum capacity.
As for the community, ConvertKit has a Facebook group called The ConvertKit Family. However, it is not really that huge and definitely not on the same level as the community behind tools like Clickfunnels. However, it is still a good place to discuss the features and functionalities of ConvertKit with other uses around the world.
Click Here To Try ConvertKit For FREE
ConvertKit Pricing
ConvertKit's pricing is pretty competitive and arguably much better than most email marketing tools. Currently, ConvertKit offers two plans – Free and Complete.
ConvertKit Free Plan
The ConvertKit Free plan, as you can guess, is free of cost and the Complete plan starts at $29 per month for 1,000 subscribers and increases if you have more than 1,000 subscribers.
The ConvertKit Free plan allows you to manage up to 500 subscribers and comes with all the features except reporting, the visual automation editor, automated email sequences, API support, and direct integrations.
With the Complete plan, you also get priority support and free migration from other email marketing tools. You can also get a free 14-day trial of the Complete plan before making a purchase.
Here's a breakdown of the cost of ConvertKit's complete plan based on the number of subscribers from 1000 to 15,000:
Up to 1k subscribers: $29/month
Up to 3k subscribers: $49/month
Up to 5k subscribers: $79/month
Up to 8k subscribers: $99/month
Up to 10k subscribers: $119/month
Up to 15k subscribers: $149/month
All plans have all ConvertKit features.
If you pay Annually for ConvertKit ie 12 months at a time, you can 2 months for free. That's about 17% discount!
If you're creating a new account (and not signing up for the free trial) you can directly pay for the 12 months and start using ConvertKit by clicking here.
ConvertKit Discount Code
They're many websites on the internet making misleading offers such as:
ConvertKit Coupon
ConvertKit Discount Coupon
ConvertKit Discount Code
ConvertKit Discount
ConvertKit Coupon Code
ConvertKit Coupons
ConvertKit Code
ConvertKit Promo Codes
However, the truth is that ConvertKit does not offer any coupons to anyone!
The only discount is the 2 months you can get if you sign up for the annual plan.
ConvertKit Free Trial
If you click on this link you can get a free trial of ConvertKit! This a great opportunity to give ConvertKit a whirl without having to commit. You're limited to 1000 subscribers.
There's no real downside to giving the ConvertKit Free Trial a try. In fact, if you create a campaign with your email list in the free trial of ConvertKit, they'll ship you a "Create Every day" Tshirt and Laptop Sticker.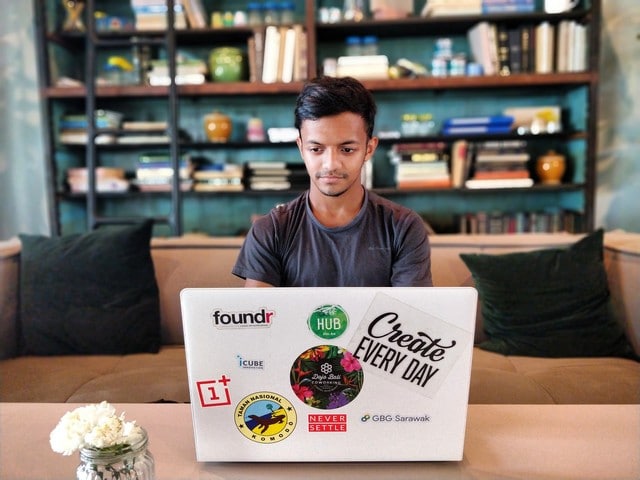 Here's a picture of me wearing the ConvertKit "Create Every day" Tshirt on Komodo Island, Indonesia. The Komodo Dragons honestly don't seem too impressed 🙃 but I'm sure if you give ConvertKit a try, you will😂
ConvertKit Alternatives
Now that we've covered almost everything you need to know, let's take a look at how it compares against other email marketing tools like MailChimp, ActiveCampaign, and Aweber.
ConvertKit vs MailChimp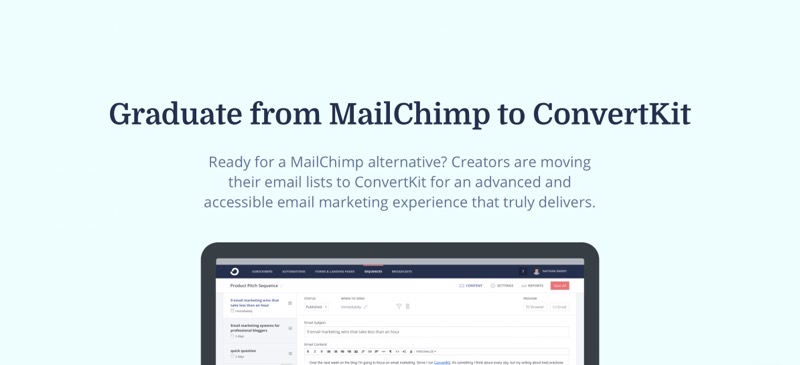 MailChimp is one of the most widely used email marketing tools today. This is due to many reasons but mostly due to the fact that it offers a lot with its free plan. MailChimp is also pretty easy to use and comes with the standard email marketing features such as templates, marketing CRM, and automation.
MailChimp used to be a pretty decent alternative to ConvertKit before when ConvertKit did not have a free plan. However, with ConvertKit offering a free plan now too, ConvertKit might be the better choice as it does some things much better than MailChimp.
For example, the automation editor on MailChimp doesn't match up at all with ConvertKit's visual automation editor. The tagging system is also something that makes ConvertKit a much better alternative than MailChimp.
MailChimp is popular for one single fact: FREE
However, MailChimp's Free plan allows you to have an email list of 2000 people while ConvertKit only allows 1000 people.
So Mailchimp wins this right? Thanks for reading this article, don't forget to let share this article!
HELL NO!
Just because Mailchimp gives you more people in their "free" plan doesn't mean you're better off. You have to think about the longer term.
If you're going to have less than 2000 people on your list and never paying for Mailchimp then it might be an alright choice.
However, if you are planning on growing your subscribers than I'd recommend going to ConvertKit.
ConvertKit vs ActiveCampaign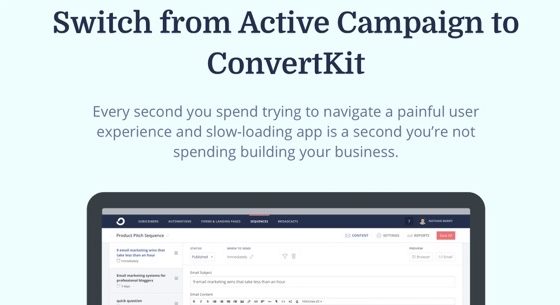 To be completely honest, ActiveCampaign is a really great email marketing tool and can be considered a serious alternative to ConvertKit. ActiveCampaign comes with a lot of powerful features like advanced automation and it is even better than ConvertKit in some aspects like split testing.
The pricing is also comparable between the two even though ActiveCampaign does get more expensive as you keep adding subscribers whereas the cost is much lower at higher subscriber levels with ConvertKit.
In the end, the choice between ActiveCampaign and ConvertKit boils down to what your specific needs are. If you're just starting with email marketing and want a simple and powerful tool then ConvertKit is the perfect fit for you. However, if you want something more advanced and complex then ActiveCampaign might be a better option for you.
ConvertKit vs Aweber

While Aweber is slightly cheaper than ConvertKit, there are a number of important features that Aweber is missing. Some of these features are split testing, double opt-in delivery feature, easily resending broadcasts to unopened emails. Automation is also much easier and better on ConvertKit than Aweber.
The only area where Aweber is actually better than ConvertKit is if you're planning on a pure affiliate marketing strategy or CPA offers. Otherwise, in terms of features and design, ConvertKit is much better than Aweber.
Is ConvertKit Worth It?
The answer is definitely YES! If you are a professional blogger looking to take your email marketing to the next level ConvertKit is the best email marketing for you. Skip the MailChimp's with their limited features and sign up for the tool the pros use.
Click Here To Try ConvertKit For FREE
ConvertKit might seem like a really basic tool at first but don't let the simplicity misguide you. If you're a content creator, it is easily the best email marketing tool that you can use. The pricing is very competitive and much better than other tools and you get a lot of powerful features with ConvertKit which means you get a ton of value for money.
The only reason why you shouldn't be using ConvertKit is if you're looking for really advanced and complicated automation but it is unlikely that most content creators looking to get started will need them. Overall, it is pretty hard to go wrong with ConvertKit.
I hoped you enjoyed my ConvertKit Review, let me know your thoughts below in the comments 🙂
Read Next:
Cheap Autoresponders for Affiliate Marketing