ConvertKit hit 27,000 active users at the end of 2019.
That's quite a lot considering that ConvertKit launched in 2013.
Every professional blogger from Pat Flynn to the solo digital marketer uses ConvertKit.
BUT…
Is ConvertKit actually worth it? or just hyped by Digital marketers & "how to make money online" bloggers?
Well, I've personally worked with email lists of all sizes, from running a tiny email list for a niche site to being behind the scenes of companies with millions of emails on their list.
By the end of the ConvertKit review, I hope to explain why ConvertKit is my #1 choice in email marketing as a professional blogger.
Click Here To Try ConvertKit For FREE
ConvertKit Review
Convert Kit is built for creators ie. Bloggers, YouTubers, course creator, podcasters and if you a "creator" it's honestly the best service for email marketing if you run a blog or any kind of content business! It's super easy to use interface makes it easy to launch a marketing campaign.
In terms of UI, ConvertKit one of the easiest to use and makes it super easy to organize your email marketing campaigns.
When you get started with email marketing it can be a little overwhelming with all the tools and autoresponders.
So what do most bloggers end up doing?
If you ask 1000 bloggers who'll find that 90% of then will either sign up for MailChimp (which is terrible and not worth it) or just not build an email list.
Why is that?
Because most email marketing tools are super complicated and doesn't really make it easy for a non-techie person to run email marketing effectively!
This is why I love ConvertKit, its easy to use and someone who doesn't want to fiddle with all the plugins, api and other tools can just LAUNCH!
Click Here To Try ConvertKit For FREE
ConvertKit Review: Pros & Cons
One of the main reasons I and many other bloggers recommend and use ConvertKit is because it's super easy to use however it doesn't sacrifice great features and automation in the process. It's honestly exactly in the goldilocks area 😉!
1. Easy List Management
ConvertKit makes it super easy to manage your subscribers as you don't have 10s of 100s of lists as you might in tools like Aweber or MailChimp. Everything is in one single list as ConvertKit is based on a the subscriber and you manage your list using simple to use tags.
This is extremely useful for segmentation especially for the future. In fact, as you grow you business and make thousands of $ a day you won't even need to leave ConvertKit. Pat Fylnn probably makes over $1M+/month and still uses ConvertKit for SPI and all his businesses.
2. Open Startup
ConvertKit as a company is one of the most open and public about everything they do. In fact, you can see their minute to minute revenue and business metrics data by clicking here. Not only are they open about how much they make, but they're also very active in the online marketing space.
In fact, if you tweet at the CEO Nathan Barry you will probably get a reply!
3. High Converting Out-Of-Box
ConvertKit is built with Conversions in mind especially as a lot of online marketing professionals use it (and we are a snobby bunch of people who want things to very focused on conversions).
They have beautifully designed Opt-In-boxes and popups that make it super easy to get started and collect leads.
4. High Converting Landing Pages
With ConvertKit you don't necessarily have to invest in a secondary landing page builder like Leadpages or Unbounce as you can build beautiful landing pages in ConvertKit. You get a ton of pre-built conversion-focused templates that you can import and modify to fit your needs.
PS: ConvertKit recently launched a free plan just for the landing pages! How cool is that?
Click Here To Try ConvertKit For FREE
5. Simple Analytics
It's easy to get bogged down with all the data that many email marketing tool that you never execute on anything. ConvertKit keeps things simple and only gives you the basic data that matters like a subscriber chart over time to get an overview of your business.
6. Integrations
It doesn't matter what tool or service you use, ConvertKit integrates with it either Natively or thought third-party tools like Zapier. It even has native support for Shopify which is a big plus making it a great MailChimp alternative.
7. Automation
The visual automation on ConvertKit is super easy to use and makes it super easy to create and visualize every marketing campaign. It's pretty convenient even for someone who hasn't ever done a marketing campaign before.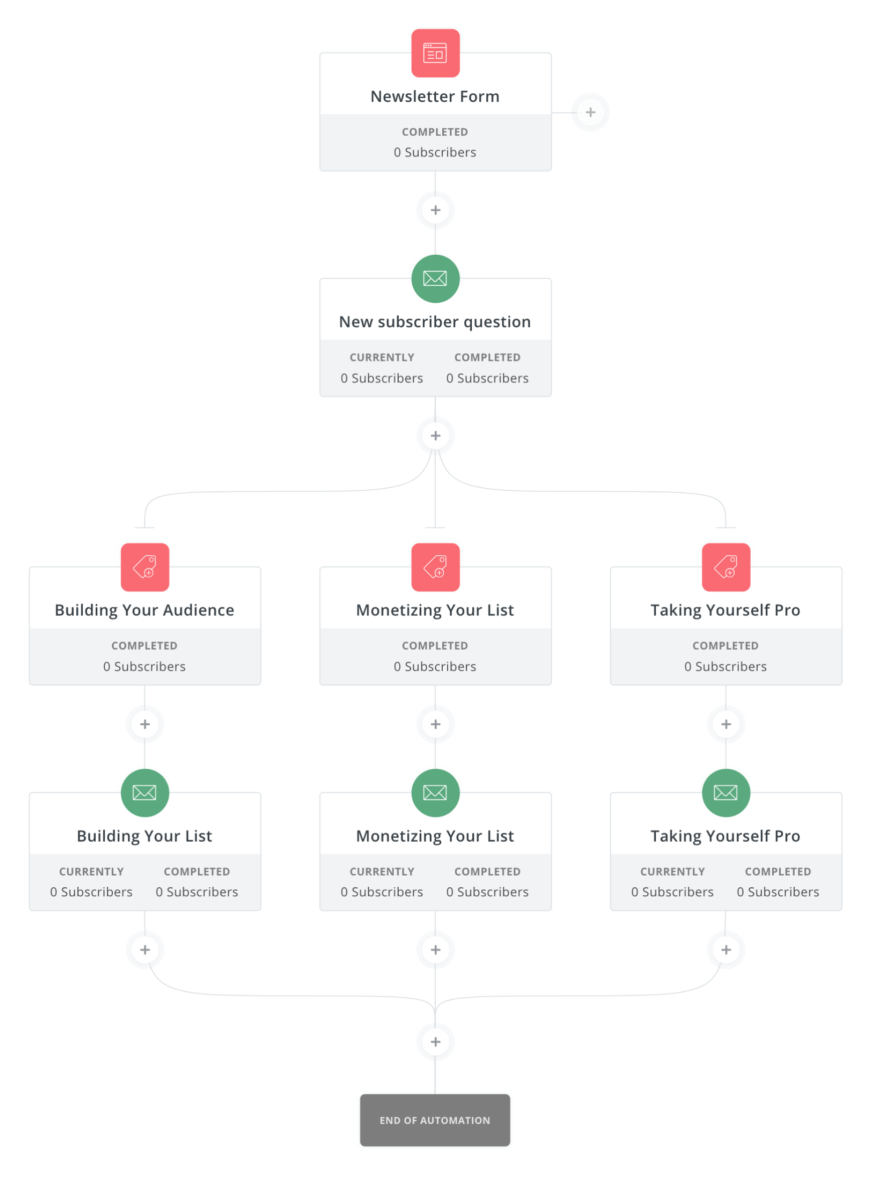 8. Support
Most customer support teams are just supposed to help you use the product right?
Well, ConvertKit is focused on helping creators make a living so they do things a little different.
ConvertKit has a large knowledge base on how to make money using email marketing.
Here's what that means for you:
Personalized help! We promise we know what we're doing.
Access to ConvertKit team via email or live-chat (8am-8pm eastern)
The ConvertKit knowledge base. Every guide you'll ever need for email marketing.
The only downside with ConvertKit is that the support is not 24/7 like most other Email Marketing tools out there.
ConvertKit Pricing
ConvertKit is available in 4 different pricing plans based on the size of the list:
Up to 1k subscribers: $29/month
Up to 3k subscribers: $49/month
Up to 5k subscribers: $79/month
Bigger Lists: Depends on size
All plans have all ConvertKit features. The highest plan >5000 subscribers have a free add-on of "Free concierge migration"
If you pay Annually for ConvertKit ie 12 months at a time, you can 2 months for free. That's about 17% discount!
If you're creating a new account (and not signing up for the free trial) you can directly pay for the 12 months and start using ConvertKit by clicking here.
ConvertKit Discount Code
They're many websites on the internet making misleading offers such as:
ConvertKit Coupon
ConvertKit Discount Coupon
ConvertKit Discount Code
ConvertKit Discount
ConvertKit Coupon Code
ConvertKit Coupons
ConvertKit Code
ConvertKit Promo Codes
However, the truth is that ConvertKit does not offer any coupons to anyone!
The only discount is the 2 months you can get if you sign up for the annual plan.
ConvertKit Free Trial
If you click on this link you can get a free trial of ConvertKit! This a great opportunity to give ConvertKit a whirl without having to commit. You're limited to 1000 subscribers.
There's no real downside to giving the ConvertKit Free Trial a try. In fact, if you create a campaign with your email list in the free trial of ConvertKit, they'll ship you a "Create Every day" Tshirt and Laptop Sticker.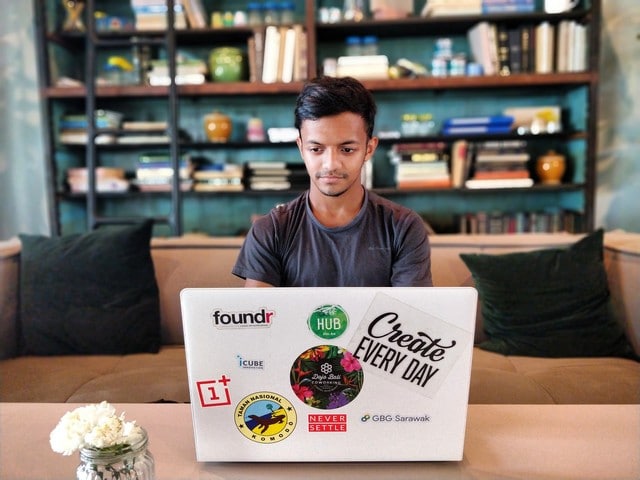 Here's a picture of me wearing the ConvertKit "Create Every day" Tshirt on Komodo Island, Indonesia. The Komodo Dragons honestly don't seem too impressed 🙃 but I'm sure if you give ConvertKit a try, you will😂
Is ConvertKit Worth It?
The answer is definitely YES! If you are a professional blogger looking to take your email marketing to the next level ConvertKit is the best email marketing for you. Skip the MailChimp's with their limited features and sign up for the tool the pros use.
Click Here To Try ConvertKit For FREE
I hoped you enjoyed my ConvertKit Review, let me know your thoughts below in the comments 🙂
Read Next: