Kajabi is a popular name in the course creation tools space. The main reason for this is that Kajabi sees itself as an all-in-one business platform. It doesn't just help you create a course and leave you hanging. The idea is to give online educators the ability to create a full-fledged business around their expertise.
TLDR; Here're the Best Kajabi Alternatives in 2023
If you want to sell courses go with Teachable
If you are a solo creator go with Podia
If you are a SaaS company or startup go with Thinkific
Click Here To Get Teachable

As you'd imagine, it takes a lot of different features to make that happen. Of course, you can create courses and package them into digital products using Kajabi. You can build your entire website on Kajabi, so it replaces tools like WordPress and Wix. Collecting payments is the most fun part for online business owners so Kajabi integrates directly with PayPal and Stripe.
In addition to those basics, Kajabi boasts a wide range of features that can help you operate and optimize your business. The platform can serve as a CRM, analytics dashboard, email marketing tool, and more. Now it's more obvious why so many people are inclined to choose Kajabi to build their online courses.
Although Kajabi may be the right choice for some, it isn't necessarily the right choice for everyone. Let's take a look at what some of the drawbacks of using Kajabi are.
Cons of Using Kajabi
1. Kajabi Pricing
Kajabi is definitely priced on the higher end compared to some of its competitors. Below are the different pricing packages available and what you get with them:
Basic: The Basic package is priced at $149 per month or $119 per month when paid annually. For this price, you get one website on which you can sell three products and have 1000 paying members in all.
Growth: This package will cost you $199 or $159 based on whether you pay annually or not. For the added price you gain the ability to have 10,000 active members on your website and 10 admin users. The affiliate program also becomes accessible on this tier.
Pro: The most high-end version of Kajabi is priced $399 per month or $319 per month when paid all in one go. Users at this level can add 20,000 members and 25 admins running the account. The Pro package unlocks the code editor, which means you can write custom code to enhance the appearance or functionality of your website.

At each pricing tier, Kajabi is more demanding on the pocket than some of its competitors. This can be a big consideration especially for those who have fledgling businesses.
2. Chat Support
When you're working with a new tool to run your business, you will need help. It doesn't matter how well-documented the tool is or how great the library of instructional videos is. At some point, you're going to need to be able to talk to a human who can help you out.
Kajabi's Basic package does give you chat support, but it isn't 24/7. To get access to that, you have to pony up for the Growth package or higher. So if you do decide to go with Kajabi's most affordable version, you may have to wait a while before their support team gets around to helping you with your questions.
3. Kajabi Branding
This is another important feature that you get access to only in the higher-end packages. You can white-label Kajabi only if you pay for the Growth package, which costs $159 per month at best. If you stick with Basic, your customer will be able to see the Kajabi branding in the course content.
So those were some of the cons that some of you could experience using Kajabi. If you think any of these could be a deal-breaker, we've got good news: there are alternatives. In fact, there are several alternatives that you can use to create courses online and build your business. Let's take a look at what they are.
Best Kajabi Alternatives
1. Teachable – Best Kajabi Alternative for Courses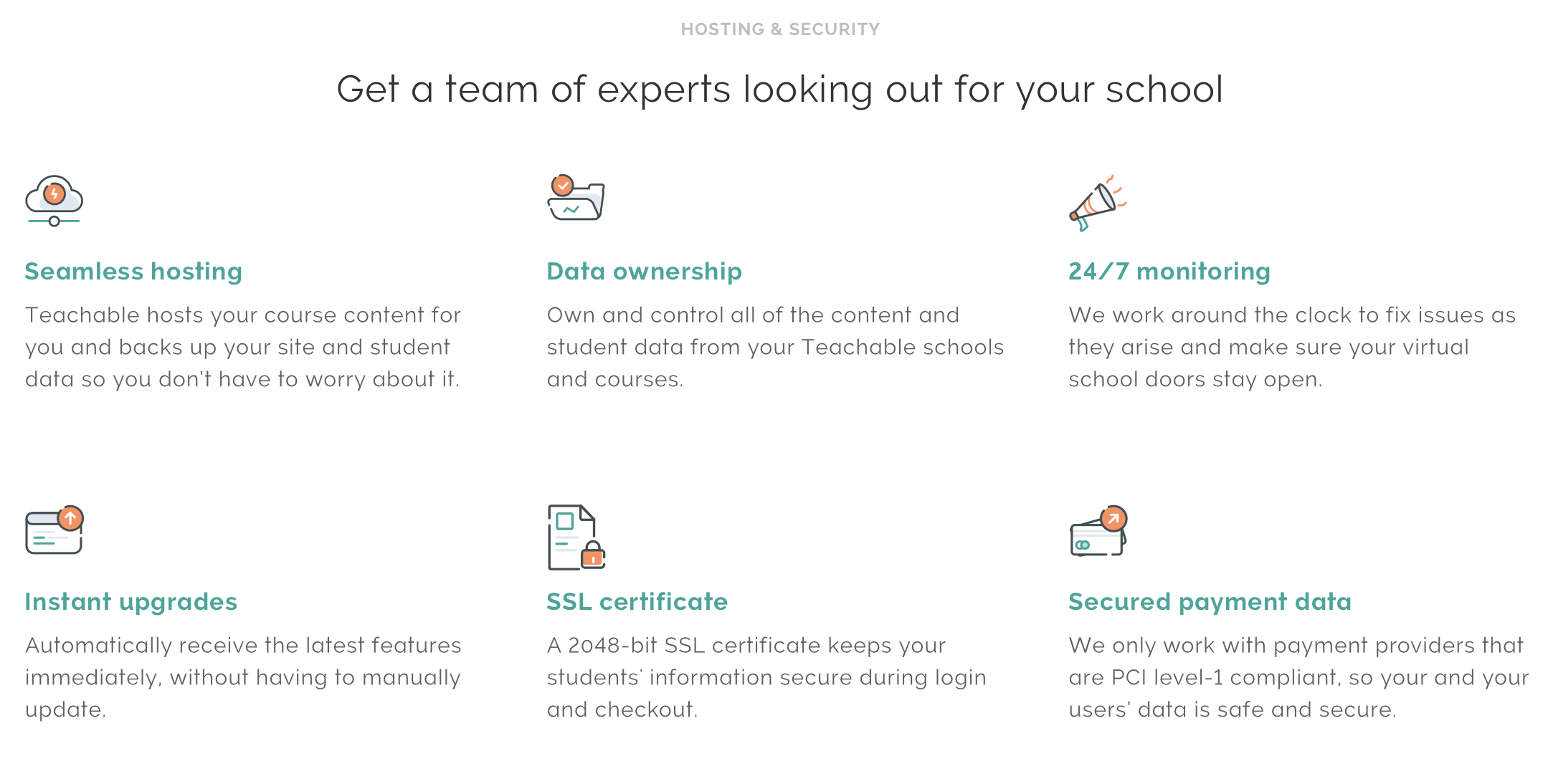 Click Here To Get Teachable
Teachable places emphasis primarily on creating great online courses. You can easily create beautiful, engaging courses using their tools and import existing content from storage services like Google Drive and DropBox. Any course that you build is automatically rendered into a responsive website so that you can access students using all kinds of different devices.
This is a great tool if you're looking to create an engaged audience of students. You can use tools like surveys and Google Forms to collect feedback from students and gain insights into how they're liking the course. You can then send targeted messages to students based on factors like their enrolment period, completion points, and so on.
Teachable vs Kajabi
Teachable is a tool that's built for beginners. The barrier to entry is low in various ways. For example, you can kick off your online school on a Teachable subdomain for just $29 per month of $39 billed annually. For this reason, you may want to consider Teachable if you're just starting out creating learning-based products on the Internet.
Every Teachable customer gets the ability to create unlimited online courses with unlimited hosting. There's a 5% transaction fee with the Basic plan and you can offer courses for free without paying any additional fees.

Here are Teachable's pricing packages:
Basic: $29 or $39 per month. There is a 5% transaction fee associated with purchases that people make on your online school. You also get integrated email marketing and third-party integrations including ConvertKit, Sumo, and Zapier.
Professional: Teachable's mid-level offering costs $119 per month or $99 paid annually. In addition to what's offered in the Basic plan, you get course completion certificates and an affiliated marketing system.
Business: For $299 per month or $249 paid annually, you get access to the most powerful version of Teachable. With it, you can do things like bulk student enrollments, group coaching calls, and advanced theme customization.
2. Thinkific – Best Kajabi Alternatives For Companies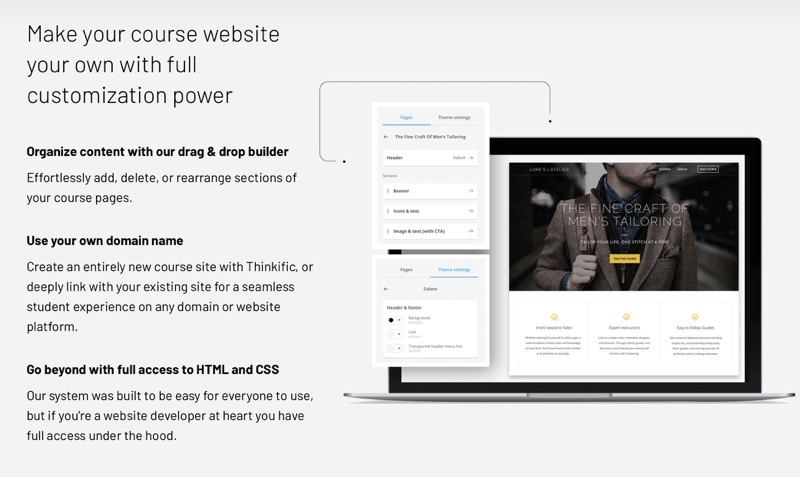 Thinkific is another popular choice among those creating information products online. The offering is simple: build great online courses without having to write any code. Once you've done that, market and sell your course so that you can make money off it.
This software has everything you need if you want to create a robust online curriculum. You can build in prerequisite courses, private lessons, and have multiple instructors contribute to the content. You can also drip-schedule content to be delivered to students on a regular basis.
Thinkific lets you offer your courses with flexible pricing options. It's up to you whether you want to offer the course for a lifetime fee, a subscription, or in some other form. You can attract students with built-in features like discount codes, free lessons, and custom first-month payment plans.
Thinkific vs Kajabi
Thinkific has a completely free tier that you can use to test-drive the platform and see if you like it. You can create three courses, host unlimited students and create quizzes all at no cost at all. This is something you can't do if you're on Kajabi.
Basic: If you do decide to go with Thinkfiic, you can start at $49 per month. This gives you the ability to put your courses on a custom domain as well as features like email integrations and Zapier triggers.
Pro: This package is priced at $99. At the Pro level, you can bring in up to five admins to create course content. You can also access the advances customizations available on the platform and create certificates for students.
Premier: This $499 package is built for those who require advanced features to create an online school with many different contributors and analysts. You can avail a 20% discount on any of these packages by paying annually.
3. Podia – Best Kajabi Alternatives for Creators
Click Here To Try Podia Free For 14-days
Podia is a much-beloved software that you can use to create and sell courses online. The reason for Podia being such a popular choice is that it focuses entirely on the creator and making their experience seamless.
If you don't have any existing content, you can build your online course right on Podia. You can pre-sell or pre-launch courses to drum up interest. The payment features include paying in installments, which makes it possible to sell your course to a wide range of students.
Podia vs Kajabi
Like most other products on this list, Podia outdoes Kajabi when it comes to pricing. There are zero transaction fees involved no matter which pricing package you choose on Podia. If you run into problems you can hit up the support team, which is on call every day of the week. Podia keeps things simple when it comes to pricing and offers just two packages.
Mover: The starter tier costs $39 per month and you save $78 if you pay for a year all at once. With Podia's Mover package, you can create online courses, offer digital downloads, and create email marketing campaigns.
Shaker: Podia's only other package is called Shaker. It costs $78 per month and you're given two months for free when you pay yearly. By ponying up for the higher-priced package, you get access to membership features, a blog page on the website, and an affiliate marketing tool among other things.
Click Here To Try Podia Free For 14-days
4. LearnWorlds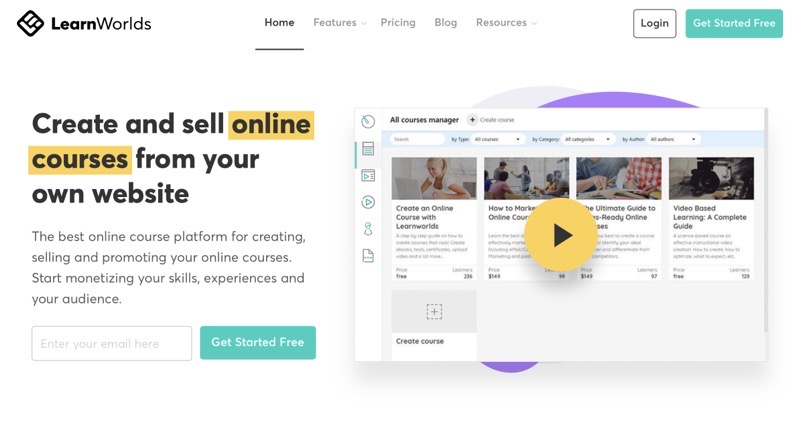 Click Here To Try LearnWorlds For Free
Next on our list of Kajabi alternative is LearnWorlds, another tool that you can use to create amazing online courses.
LearnWorlds' entire course and website design process is built around templates and drag-and-drop elements. You can build your entire website without writing any code. All you need to do is pick one of LearnWorlds' templates and customize it to fit your existing brand guidelines. You can tweak the colors and font as well as add widgets to augment functionality. LearnWorlds' software generates responsive websites that are SEO-friendly.
This is a software that you can use to create courses that students actually engage with. LearnWorlds makes that possible with features that let you create tests and gather feedback from students rapidly. It also has its own community-based features so you can turn your courses into their own little social networks.
LearnWorlds vs Kajabi
The one area where LearnWorlds has it over Kajabi is the community features. The ability to build a strong community around a learning program is invaluable for course creators. Not only does it help you gauge how students are liking your course, but it also helps students learn from each other through their interactions.
Here are the different pricing packages that LearnWorlds offers:
Starter: You can start using LearnWorlds at $29 per month or $24 paid annually. However, you will have to pay a $5 fee for every sale you make if you're a Starter customer.
Pro Trainer: This is the pricing package for you if you don't want to be paying any transaction fees. You also get unlimited landing pages, the option to collect payments in installments, and an affiliate management program.
Learning Center: According to LearnWorlds, their most popular plan is the $249 per month Learning Center plan. This one lets you fully white-label their software and use API integrations. Along with the standard course creation features, you get an interactive video player to which you can add notes and in-built quizzes.
LearnWorlds also has a corporate plan for which you will need to get in touch with them directly.
Click Here To Try LearnWorlds For Free
4. Ruzuku
Click Here To Try Ruzuku For Free
A lot of the products we've gone over so far have a lot of bells and whistles. Sometimes that's a good thing. Other times, you want something that will just get the job done without too much hassle. And that's what Ruzuku has to offer.
Ruzuku offers everything you need from a course creation tool. It's simple to use and may remind you of WordPress in the way that it lets you create content and make edits easily. You can use multimedia such as audio, PDFs, and video to bring your lessons to life.
Ruzuku vs Kajabi
The great thing about Ruzuku is that no matter which pricing tier you choose, you get unlimited courses, unlimited video and audio uploads, and unlimited data storage. So at no point do you have to worry about running out of bandwidth to add more content to your courses. Not to mention, you can also have an unlimited number of students enrolled in any of your courses.
This is one of the things that Ruzuku does better than Kajabi. On Kajabi, you have to pay more to be able to add more than a certain number of students and courses. Ruzuku gives you unlimited courses and students right from the $99 pricing package. Here's a more in-depth look at the pricing:
Bootstrapper: You can start using Ruzuku at $99 per month or $74.75 billed annually. As mentioned earlier, you can offer unlimited courses and have unlimited students signs up for this price. Ruzuku doesn't charge any transaction fees.
Up-and-comer: This package gets you access to unlimited webinars and unlimited polls and quizzes in your courses. It costs $149 per month or $83.08 per month paid annually.
University: If you have a more full-fledged online school operation, the University package is for you. You can use it to add multiple instructors and site managers to your account so that they can make their own changes. With the University plan, you also get a dedicated account manager to help you with your queries.
Click Here To Try Ruzuku For Free
6. Thrive Apprentice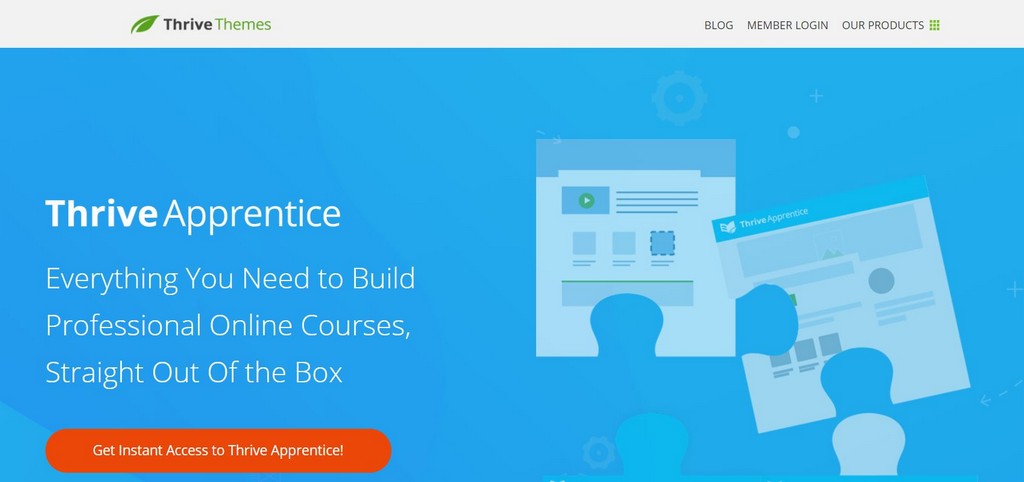 Click Here to Get Thrive Apprentice
Thrive Apprentice is a little different from the other products we have on this list. The others, as you've seen, are independent learning management solutions with their own course builders and platforms. But some course creators out there run their websites on WordPress and want a solution that fits into that ecosystem. Thrive Apprentice solves that problem with a plugin for WordPress which you can use to create and sell courses.
Once you install the Thrive Apprentice plugin for WordPress, you can start creating lessons using a WYSIWYG editor. Once you create a sequence of lessons the plugin automatically links these lessons to create a course. If you publish two or more courses Thrive Apprentice creates a course selection page.
Thrive Apprentice integrates with SendOwl for its payment gateway and affiliate management features. You can also use other plugins like MemberPress and Member Mouse tot build out the membership features.
Thrive Apprentice vs Kajabi
One of the advantages of using Thrive Apprentice is quite obvious. You can use it to create your courses inside WordPress and sell them from your existing website. In addition to that, you need to pay only a $67 one-time fee for Thrive Apprentice and $15 per month for SendOwl. So while this plugin is not as feature-rich as a learning management platform, it is a great choice if you're a WordPress user who wants to keep things simple.
Click Here to Get Thrive Apprentice
Best Kajabi Alternatives in 2023
If you want to sell courses go with Teachable
If you are a solo creator go with Podia
If you are a SaaS company or startup go with Thinkific
Read Next: