You can find a number of online courses today on almost any kind of topic that you can think about such as music, cooking, coding, digital marketing, spirituality, and so on. The online learning market is estimated to be worth around $30 billion by 2025 and is expected to keep growing in the foreseeable future.
While there are huge online learning platforms like Udemy, it is also possible to create your own dedicated online learning website using just WordPress along with a powerful Learning Management System (LMS) plugin.
In this review, we're going to take a look at some of the most powerful LMS plugins available for WordPress today so you can create an online course or courses on your own website and on your own terms!
What is an LMS Plugin?
A Learning Management System, or LMS, is a software that helps you in managing and creating online courses. An LMS can help you with all the important things that you've to deal with when it comes to creating an online course such as administration, tracking, documentation, reporting, and delivery of your content.
WordPress powers more than 74.6 million websites around the world and it has plugins for almost any kind of functionality that you will possibly need. So naturally, there are not just a few but a large number of LMS plugins available today.
In fact, due to the huge number of choices you have, it can actually be a bit difficult to sort through the different plugins to find the one that would serve you the best. Even though the core objective of all the LMS plugins is the same i.e. creating online courses, some of them are better than the others in terms of features, performance, scale, etc.
Important WordPress LMS Plugin features
Before we get into the list of the best WordPress LMS Plugins, let's take a look at some of the most important features that you should expect.
1. Creating courses
Naturally, one of the most important features for any WordPress LMS plugin is the ability to create online courses. Ideally, the plugin should enable uploading of different files such as PDFs, videos, links, and other types of content. It is also helpful if the plugin has a course page builder that can help you quickly create beautiful looking pages for your online courses.
2. Progress Tracker
The plugin should allow students enrolled in your online course to be able to see how well they're performing in the course to track their progress.
3. Student Administration
You should also be able to manage all administrative operations from within the plugin such as enrollment, student management, and managing payments.
4. Content Dripping
Content dripping allows you to reveal content as the student progresses in the course instead of providing all the content at once which is important for online courses to create a sense of progression.
5. Creating Quizzes and tests
You should also be able to create quizzes and tests using the LMS plugin to test the progress of your students.
6. Certificates and Gamification
Lastly, online learning should be fun and the best LMS plugins acknowledge this fact. Gamification refers to providing incentives when the student completes milestones to motivate them to go further with the course. The ability to provide badges or certificates when a student completes the course is also a great feature that you should use.
Membership plugins vs WordPress LMS plugins
You might also be wondering, why do I need a full-fledged LMS plugin for my website when I can just use a basic membership plugin that'll allow me to show my course content to members of my website? Here are a few reasons:
An LMS plugin comes with many more features than those that a membership plugin can offer. It allows you to create a more immersive learning experience for your students, which is frankly needed if you're serious about your online course due to the level of competition present today.
Also, an LMS plugin offers many features that help in gamification such as providing a grading system, an instant feedback system, certification, and much more.
When you combine all these features together, an LMS plugin will outperform a typical membership plugin any day and provide a much better experience for you and your students.
Best WordPress LMS Plugins
Now that we've covered LMS plugins and why they're needed, here are some of the best LMS plugins you can use for your WordPress site today:
1. LearnDash – Best WordPress LMS Plugin 2023
LearnDash is considered to be one of the best Learning Management Systems for WordPress that you can find today. Used by major universities like the University of Florida, the University of Washington, the University of Michigan, and also huge companies like InfusionSoft and ProBlogger, LearnDash is a robust tool that can be used to create full-fledged online courses.
Naturally, being one of the most trusted LMS plugins for WordPress, it has all the features I covered above in this review but it also does a lot more. When it comes to speed, features, and design, not a lot of other plugins can compete with LearnDash.
What makes LearnDash even more impressive is its affordable pricing with the starter plan at $159 annually which is a great price point for the value it offers. Here are some key features of LearnDash:
It allows you to create multi-tier courses where you can break down your courses into immersive experiences.
It comes with a content dripping system that can be based on a schedule or can be based on how much time the student is spending on the lesson.
It allows you to run it on multiple sites which makes it easier if you plan to run it on a network.
It has a Front-End Course Creation add-on that allows users on your website to create their own course!
LearnDash is easily one of the best LMS WordPress plugins available today and comes with everything you need to create online courses on your WordPress powered site or sites.
2. Teachable – Best Course Platform That Integrates with WordPress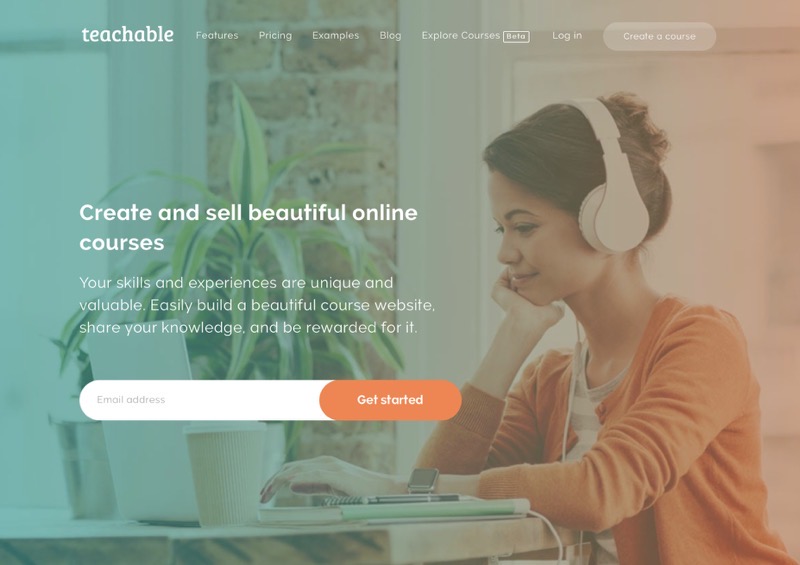 While Teachable is not exactly a WordPress LMS plugin, it is still extremely easy to integrate Teachable to your WordPress website. Teachable is a dedicated online course creator that can be used to create effective and immersive online courses quickly and without any hassle. There are a number of powerful features that are including in Teachable such as:
Quiz and discussion forums.
Drip content.
Integrated email and affiliate marketing tools.
The ability to create discounts and offers for your courses.
Teachable plans start from $39 per month which includes almost all the major features. However, you'll have to pay a 5% transaction fee every time someone buys your course. If you sign up for the professional or the business plan, this transaction fee is waived.
Being a dedicated learning course builder, Teachable makes a lot of things easier for you and comes with tools that help you design great looking courses and sites. Additionally, one of the benefits of Teachable is that you don't have to worry about the maintenance of your course once you have your course set up as Teachable takes care of everything, which is not the case with most of the LMS plugins on this list.
3. LearnPress – Best LMS Plugin With a Free Version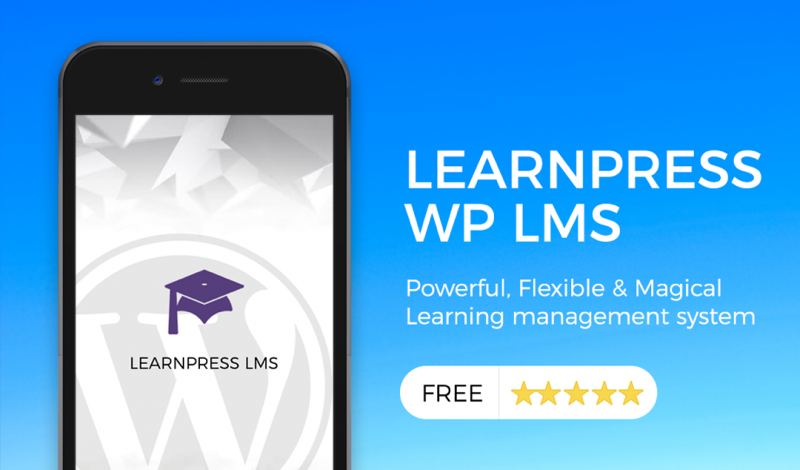 LearnPress is one of the simplest and easiest WordPress LMS plugins on this list. The core plugin is actually free to use but the free version has a few limitations such as you can't add certifications or add multiple instructors or add WooCommerce support. Do note that in order to use LearnPress, you would still need to buy a theme that supports it and also pay for payment gateway integration.
With all that being said, LearnPress is a powerful yet simple plugin that can be used to create very impressive online courses.
The free version is great when it comes to getting a hang of it but if you're serious about your online courses, you will probably have to buy some add-ons for things like BuddyPress, reviews, bbPress, etc. Here are some of the best features of LearnPress:
It comes with a landing page template built-in which can be customized to serve as a landing page for your online course.
It supports a huge number of payment gateways including Stripe, 2Checkout, Authorize.net, and more.
You can add multiple instructors to manage the same course.
It makes it easy to gamify the course with features like badges and points.
Other notable features include content dripping, random quizzes, WooCommerce integration, and paid memberships.
4. WP Courseware – WooCommerce Course Builder for WordPress
Click Here To Get WP Courseware
WP Courseware is another powerful LMS plugin that is used by universities like the University of Wisconsin Madison and huge companies like Sheraton and CNN to provide training for their employees. While the plugin is extremely easy-to-use and comes packed to the brim with great features, its pricing is also very affordable starting at $99 per year which allows you to host it on two sites!
One of the best features of WP Courseware is the inbuilt drag-and-drop builder that can be used to create beautiful looking courses without the need to code anything. You can also find a massive list of integrations that are very useful. Here are some of the most important features of WP Courseware in a nutshell:
The starting plan allows you to create an online course on two sites at just $99 per year which is probably one of the best deals you'll find when it comes to LMS plugins.
It comes with an excellent visual editor that works on the drag-and-drop principle that allows you to design and create your courses to get them to look exactly how you want.
Because it integrates with a large number of payment gateways, you're not limited to WooCommerce and can use the payment gateway that you want.
It supports multiple instructors to manage a single course.
The quiz tool allows you to create multiple question types and also create random quizzes from a question bank throughout any course you create.
5. LifterLMS – Most Popular LMS WordPress Plugin
Click Here To Try LifterLMS For Free
LifterLMS is one of the most widely used LMS WordPress plugins today but it does come at a pretty expensive cost. The pricing for LifterLMS starts at $299 per year if you want the entire LMS bundle. There is also the option of buying individual add-ons for $99 per year but if you're looking for a complete LMS solution, it is actually cheaper to buy the entire service.
There are a few things that make LifterLMS great such as its direct integration with tools like MailChimp and WooCommerce. The full bundle also allows you to create sample courses and quizzes, offer certificates, and also create a fully configured site.
Some other value-add features of LifterLMS include free design elements and graphics to make your online course look better visually. It also connects seamlessly with Beaver Builder and Divi which are some of the best drag-and-drop WordPress editors. Some of the key features of LifterLMS include:
Direct integration to WooCommerce.
Great customer support.
Standard features like drip content, quizzes, drag-and-drop editor, and support for all types of content.
Excellent marketing and payment management tools.
Use tools like "social learning" that integrates your online courses with social platforms like Facebook providing a more social experience for students.
6. Namaste! LMS

Click Here To Get Namaste! LMS
Namaste! LMS is not really one of the most powerful LMS plugins in this list but it is definitely one of the most affordable ones. The core plugin comes free of cost and the Namaste! Premium theme costs $47. You can also buy add-ons such as Namaste! Reports and Nasate! Connect for $27 each. You can also get the Namaste! Pro module for $67 with one year of premium support which makes it one of the best deals on this list.
Some features that come with Namaste! Pro module includes awards and badges, course protection, and integration with WooCommerce or WP Simple Cart.
Overall, if you're looking for a simple and cheap LMS plugin, Namaste! LMS is one of the best options for you. Here are some of the most important features that come with Namaste! LMS:
You can gamify your online courses with badges and awards.
It comes with a number of integrations that allow you to create a more immersive experience for your students.
Your course content and files are secured automatically.
It is one of the most affordable LMS plugins for WordPress out there.
7. Good LMS
Speaking of cheap LMS plugins, Good LMS is, if you can excuse the pun, a good candidate for a cheap but effective WordPress LMS plugin. The plugin sells for a cost of $31 that is a one-time payment and comes with a year of support and updates which makes it extremely affordable when compared to the other plugins on this list.
The plugin comes with all the standard features that you might expect which means you can create online courses, sell them, and gamify the process using things like quizzes and certificates. When it comes to designing the course, you'll have to do it like you design a WordPress blog post.
Some key features of Good LMS are:
You can create a simple online course marketplace with ratings and set teacher commissions.
It comes for an incredibly affordable cost of just $31 as a one-time payment.
It comes with all the standard features of an LMS plugin such as quizzes and gamification features such as course badges and certificates.
It allows you to view reports that help in ascertaining the progress of the different students.
It uses the WordPress interface to create courses which means you'll feel right at home when it comes to creating online courses with Good LMS.
8. Sensei LMS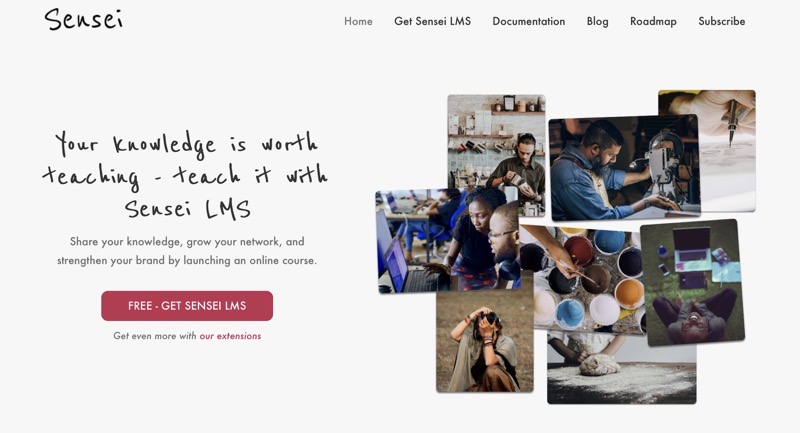 Sensei is a unique addition in this list because of one reason – it is an extension of WooCommerce. If you're already using WooCommerce then using Sensei as an LMS might be the best choice for you.
Naturally, one of the most notable features of Sensei is its seamless integration with WooCommerce. Essentially, this plugin is ideal if you want to add online courses to an eCommerce site running on WooCommerce. It is also very easy to add WooCommerce elements like physical products on Sensei along with your online course.
The cost of Sensei starts at $129 annually and depending on how many sites you want to use it on, the cost can go up to $279 annually. Built around the design and functionality of WordPress, it is pretty easy to create online courses with Sensei if you're already used to the WordPress platform.
Here are some of the key features of Sensei:
Seamless integration with WooCommerce makes it easy when it comes to everything payment related.
Most WordPress themes on the market work with Sensei naturally.
It can create random quizzes from a question bank.
The grading of quizzes can be automatic or manual.
It also comes with a decent analytics dashboard that provides basic information on grading, course completion, and student enrollment.
The best LMS Plugin of them all?
As you have probably noticed, there is a wide range of options available when it comes to LMS plugins for WordPress. While most of them are great at fulfilling the core objectives, some of them are much more polished and some of them are much more affordable.
In general, LearnDash and Teachable are two of the most widely used solutions currently. Both of them are not the most affordable solutions but they are still affordable enough and come with all the features you can possibly need.
If you're looking for the cheapest LMS option which is still reliable then Namaste! LMS might be the best on your list. However, you should definitely try out almost every plugin listed in this review before selecting one to find out which one really works the best for you.
Read Next: