You can find a number of online courses today on almost any kind of topic that you can think about such as music, cooking, coding, digital marketing, spirituality, and so on. The online learning market is estimated to be worth around $30 billion by 2025 and is expected to keep growing in the foreseeable future.
While there are huge online learning platforms like Udemy, it is also possible to create your own dedicated online learning website using just WordPress along with a powerful Learning Management System (LMS) plugin.
In this review, we're going to take a look at some of the most powerful LMS plugins available for WordPress today so you can create an online course or courses on your own website and on your own terms!
What is an LMS Plugin?
A Learning Management System, or LMS, is a software that helps you in managing and creating online courses. An LMS can help you with all the important things that you've to deal with when it comes to creating an online course such as administration, tracking, documentation, reporting, and delivery of your content.
WordPress powers more than 74.6 million websites around the world and it has plugins for almost any kind of functionality that you will possibly need. So naturally, there are not just a few but a large number of LMS plugins available today.
In fact, due to the huge number of choices you have, it can actually be a bit difficult to sort through the different plugins to find the one that would serve you the best. Even though the core objective of all the LMS plugins is the same i.e. creating online courses, some of them are better than the others in terms of features, performance, scale, etc.
Important WordPress LMS Plugin features
Before we get into the list of the best WordPress LMS Plugins, let's take a look at some of the most important features that you should expect.
1. Creating courses
Naturally, one of the most important features for any WordPress LMS plugin is the ability to create online courses. Ideally, the plugin should enable uploading of different files such as PDFs, videos, links, and other types of content. It is also helpful if the plugin has a course page builder that can help you quickly create beautiful looking pages for your online courses.
2. Progress Tracker
The plugin should allow students enrolled in your online course to be able to see how well they're performing in the course to track their progress.
3. Student Administration
You should also be able to manage all administrative operations from within the plugin such as enrollment, student management, and managing payments.
4. Content Dripping
Content dripping allows you to reveal content as the student progresses in the course instead of providing all the content at once which is important for online courses to create a sense of progression.
5. Creating Quizzes and tests
You should also be able to create quizzes and tests using the LMS plugin to test the progress of your students.
6. Certificates and Gamification
Lastly, online learning should be fun and the best LMS plugins acknowledge this fact. Gamification refers to providing incentives when the student completes milestones to motivate them to go further with the course. The ability to provide badges or certificates when a student completes the course is also a great feature that you should use.
Membership vs WordPress LMS plugins
You might also be wondering, why do I need a full-fledged LMS plugin for my website when I can just use a basic membership plugin that'll allow me to show my course content to members of my website? Here are a few reasons:
An LMS plugin comes with many more features than those that a membership plugin can offer. It allows you to create a more immersive learning experience for your students, which is frankly needed if you're serious about your online course due to the level of competition present today.
Also, an LMS plugin offers many features that help in gamification such as providing a grading system, an instant feedback system, certification, and much more.
When you combine all these features together, an LMS plugin will outperform a typical membership plugin any day and provide a much better experience for you and your students.
Best WordPress LMS Plugins 2023
Now that we've covered LMS plugins and why they're needed, here are some of the best LMS plugins you can use for your WordPress site today:
1. LearnDash – Best WordPress LMS Plugin 2023
About LearnDash
Built with a simple goal of making creating and deliveringonline courses as easy as possible, LearnDash is a WordPress plugin that you can connect to your WordPress website to transform it into a complete online learning platform.
Touted as The Most Trusted WordPress LMS out there, with users ranging from Fortune 500 companies, top-ranking Universities, and professional training organizations, LearnDash gives you full control of your LMS, helping you build and sell more courses than ever before
Although the core LearnDash plugin has everything you could possibly need when you're looking to start out building online courses, the developers also include a bunch of free extensions to take the plugin up a notch by allowing you to add Stripe, WooCommerce, Zapier, Gravity Forms and other popular WordPress plugins to work with LearnDash to help you build your ideal online learning platform.
In May 2019, LearnDash introduced LearnDash 3.0 which was more than an update – it was a game changer that not only polished an already great platform but also introduced amazing features like LearnDash Focus Mode and a React-based, Drag & Drop Course and Quiz builder.
At this point, you're probably wondering, that sounds great, buthow does LearnDash really fare as an LMS?
Here's a quick look at some of its major Pros and Cons –
Pros
Focus mode that's fully responsive on all devices
Visual Drag-and-Drop Builder
Advanced Quizzing Options
Drip-feed or set pre-requisites for course content
Ability to create forums
Course points, awards
Integrates with multiple shopping carts
One-time purchases, Memberships, and Subscriptions
Course bundles (Core), Licenses (Premium)
Manage user profiles, user groups, and assignments
Email notifications, detailed reports
Set expiring access
Tin Can API & SCORM
Multi-site and compliant with all major themes
Knowledgeable technical support team
Cons
No Free Version
No access to support documentation without a license
Can be a bit overwhelming due to the number of features it offers
Needs a base theme to work
LearnDash is considered to be one of the best Learning Management Systems for WordPress that you can find today. Used by major universities like the University of Florida, the University of Washington, the University of Michigan, and also huge companies like InfusionSoft and ProBlogger, LearnDash is a robust tool that can be used to create full-fledged online courses.
Naturally, being one of the most trusted LMS plugins for WordPress, it has all the features I covered above in this review but it also does a lot more. When it comes to speed, features, and design, not a lot of other plugins can compete with LearnDash.
What makes LearnDash even more impressive is its affordable pricing with the starter plan at $159 annually which is a great price point for the value it offers. Here are some key features of LearnDash:
It allows you to create multi-tier courses where you can break down your courses into immersive experiences.
It comes with a content dripping system that can be based on a schedule or can be based on how much time the student is spending on the lesson.
It allows you to run it on multiple sites which makes it easier if you plan to run it on a network.
It has a Front-End Course Creation add-on that allows users on your website to create their own course!
LearnDash is easily one of the best LMS WordPress plugins available today and comes with everything you need to create online courses on your WordPress powered site or sites.
LearnDash Pricing
LearnDash offers three comprehensive plan options so you can choose a plan that best meets your needs without having to pay for features that don't interest you.
Now while they don't offer a Free option, their 30-Day Money Back Guarantee will make it easier for you to make your first purchase and give you the option to simply cancel your license and get a full refund – No Questions Asked!
1. LearnDash Basic: Starting at $159 (normally $199), LearnDash Basic is their lowest priced option.
For that price, you get –
A Single Site License
Get access to unlimited courses
Have unlimited users for your course
Protect your course content
Configure drip-feed lessons
Use their Amazing Advanced Quizzing
Allot Certificates & Badges
Create Course Forums
Configure Email Notifications
Setup Free Integrations
1-year of Full Support and Updates
And get a Bonus Demo Site Template
2. LearnDash Plus Package: The next one up is the most popular 'Plus Package' at $189 (normally 229), that includes all the features in the Basic Package and adds –
Up to 10 Site Licenses
Includes ProPanel
3. LearnDash Pro Package: This their Top-Tier Package that's currently retailing at $329 (normally $369), that includes all features in the Basic Package and adds –
25 Site licenses
Includes ProPanel
Now while these numbers may seem a lot to some, for the features LearnDash offers, their basic plan costs a little under $17 per month even without a discount!
That's fantastic Value-for-Money considering most courses retail for A LOT MORE.
Is LearnDash Worth it?
There's no denying that LearnDash is truly a revolutionary tool for creating online courses no matter what your target audience is or what your desired course structure may be.
It promises to and successfully delivers on every single feature you could possibly ask of an intuitive Learning Management System.
Most importantly, when you're looking to start building online courses, you want an LMS that offers simplicity so you can focus on creating amazing content that delivers knowledge and value to your course takers.
Paired with a lightweight, responsive and well-designed theme like Astra, you can create informative and visually stunning online courses to set yourself apart from your competition.
With so much going for it, there's no doubt why LearnDash is currently dominating and will continue to dominate the market of WordPress Learning Management Systems in 2023.
2. Teachable – Best Course Platform That Integrates with WordPress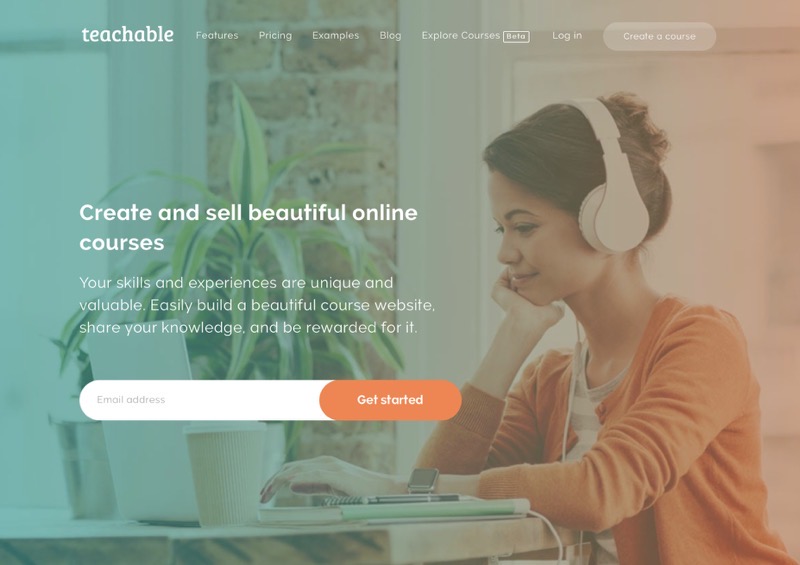 Click Here To Try Teachable For Free
While Teachable is not exactly a WordPress LMS plugin, it is still extremely easy to integrate Teachable to your WordPress website. Teachable is a dedicated online course creator that can be used to create effective and immersive online courses quickly and without any hassle. There are a number of powerful features that are including in Teachable such as:
Quiz and discussion forums.
Drip content.
Integrated email and affiliate marketing tools.
The ability to create discounts and offers for your courses.
Teachable plans start from $39 per month which includes almost all the major features. However, you'll have to pay a 5% transaction fee every time someone buys your course. If you sign up for the professional or the business plan, this transaction fee is waived.
Being a dedicated learning course builder, Teachable makes a lot of things easier for you and comes with tools that help you design great looking courses and sites. Additionally, one of the benefits of Teachable is that you don't have to worry about the maintenance of your course once you have your course set up as Teachable takes care of everything, which is not the case with most of the LMS plugins on this list.
What Reddit has to say about Teachable:
u/drewches: I have a client who hosts all of their courses on Teachable. I think that Teachable is a great platform since it handles a lot of the back end of things for you so you can focus on creating content.
U/drewches- "I have a client who hosts all their courses on Teachable. I think it is a great platform since it handles all the back end of things so you can focus on creating your content efficiently. Most of the courses I write are for sale, and I have a marketing team that I would usually work with. A long time ago, I have realized that I have limited function of social and I will focus on what I am good at. If you are moving to Teachable, I would recommend you should work with a marketing person who is familiar with the type of eLearning. Just create a marketing plan to help keep your existing customers to increase your reach on socials".
U/p44v9n- "There are websites that let you download every video in a YouTube playlist with one click. With the Teachable courses that I have, the videos are broken down into different sections, and there are downloadable resources and text content in each place as well as videos embedded in a way that makes it hard to download easily. So sure pirates could record the screen, but recording screen + clipping the recordings for every page and extra stuff will be difficult".
u/connecstsnk- "A good option is to select a fully managed online platform like Teachable".
Teachable is hands-down the best online course platform in my opinion. It is beginner friendly, even has a free plan that packs some great features. The most popular plan is only $79, making it one of the decently affordable. Currently, it boasts over 83,000 instructors.
Pros
Easy to use
Built-in marketing tool
Simple and clean interface
Creation of a unique one-time bulk coupon generator
Email template editor
Sales funnel capabilities
Affiliate programs that are easy for beginners or advanced users
Efficient creation of coding snippets for your courses
Offers valuable insights and metrics on students' behavior
Easily bundle or cross-sell courses
Drip content is available
Robust security
A monthly recurring subscription fee
100+ third-party integrations
Blog features are available
Access to its iOS app
Customizable templates to select from to suit your brand identity
A large community of course creators to solve any issues
Good customer support
Course completion certificate
Cons
Teachable's free plan has limited features
It doesn't offer any refunds
Limited site themes and global payout options
Slow admin interface
About Teachable
Teachable was originally created in 2013 and was called Fedora. The story goes that the Founder and CEO, Ankur Nagpal, was instructing and running a course on another course platform, and his experience there wasn't very seamless. This made Nagpal go all-in to create Teachable. Since then, the brand has blossomed and today has more than 100 thousand course creators with over 30 million students and has over 13 million courses on its network. The users on the platform are based in more than 150 countries around the world, and its courses are taught in over 80 different languages. On the platform, you can find courses on topics like business, health, marketing, fitness, and much more.
Since its inception, Teachable has helped creators turn their passion into a business and has helped them generate revenues of over $1 billion. They have not stopped there and are constantly working to improve their offering with frequent updates and the addition of new features and integrations.
Click Here To Try Teachable For Free
How Does Teachable Compare to Other Course  Platforms?
Teachable is the easiest platform to use today. It is designed keeping in mind both beginners as well as advanced users. The platform offers a step-by-step guide to users through the entire process of setting up your course.
If you are having prior experience in building websites, then you can navigate through Teachable without requiring a tutorial. The platform has an intuitive interface that allows for easy customization that is not available with most other course builder websites. Further, the features it offers make it stand out from its competitors in the market.
Who is Teachable Designed for?
Most reviews out there say that Teachable is designed for beginners. However, in my experience, it is based on the look and feel of the platform. Teachable is very straightforward to use, and it has an excellent interface. And as per me, it is very accurate. Teachable is ideal for beginners as well as intermediate course creators. It does what it needs to do, which is to streamline the process of getting your courses online live, saving you all the time you would otherwise spend on coding, marketing, selling, copywriting, and everything in between this.
Is Teachable Worth it?
Teachable is an online course platform that helps in the creation and sale of online courses. It is an excellent choice for entrepreneurs that want to create their first online course as well as seasoned course builders that have several students.
It offers an easy way to teach and sell your online courses to students. Here, you can sell unlimited video, audio and offers PDF or ZIP file downloads of your course to your students. Further, it also supports live video streams. You can add multiple instructors to your school, and different pricing can be based on each instructor's course. The courses offered by Teachable are available on mobile devices, and it also comes with a free iOS app. There are several features that make Teachable legit when it comes to passive income creation, making it a hot commodity in the market today.
Click Here To Give Teachable A Try
Teachable FAQs
1. Is Teachable mobile-friendly?
Yes, Teachable is mobile-friendly and allows for student interactions and online learning. It allows for smooth audio and video playback while also offering easily accessible coding lessons and an attractive interface. However, course administration is best suited for devices like a laptop or desktops. Also, embedded videos don't scale properly on mobile browsers.
2. Does Teachable have a free plan?
Teachable does offer a free plan that is an excellent choice if you are planning to preview the platform's core features as you grow your knowledge to get the best-in-class learning experience. It also comes with a 14-day free trial on its pro plan.
3. What is Teachable uses for?
Teachable is a platform that is used to create, promote and sell online courses. You also have the ability to sell digital products and services, like freelance services, consulting, coaching, eBooks, audiobooks, live classes, etc.
4. Can you create drip content using Teachable?
Yes, Teachable allows its users to create drip content. However, it is only limited to all sections and is not available for individual lessons.
3. LearnPress – Best LMS Plugin With a Free Version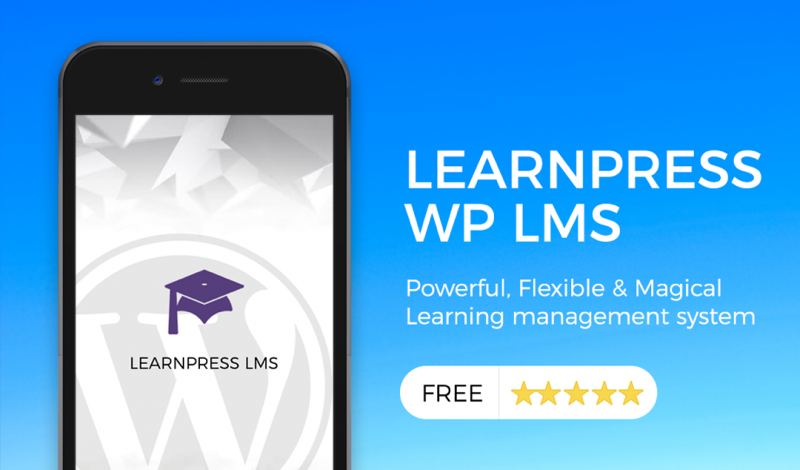 LearnPress is one of the simplest and easiest WordPress LMS plugins on this list. The core plugin is actually free to use but the free version has a few limitations such as you can't add certifications or add multiple instructors or add WooCommerce support. Do note that in order to use LearnPress, you would still need to buy a theme that supports it and also pay for payment gateway integration.
With all that being said, LearnPress is a powerful yet simple plugin that can be used to create very impressive online courses.
The free version is great when it comes to getting a hang of it but if you're serious about your online courses, you will probably have to buy some add-ons for things like BuddyPress, reviews, bbPress, etc. Here are some of the best features of LearnPress:
It comes with a landing page template built-in which can be customized to serve as a landing page for your online course.
It supports a huge number of payment gateways including Stripe, 2Checkout, Authorize.net, and more.
You can add multiple instructors to manage the same course.
It makes it easy to gamify the course with features like badges and points.
Other notable features include content dripping, random quizzes, WooCommerce integration, and paid memberships.
4. WP Courseware – WooCommerce Course Builder for WordPress
Click Here To Get WP Courseware
WP Courseware is another powerful LMS plugin that is used by universities like the University of Wisconsin Madison and huge companies like Sheraton and CNN to provide training for their employees. While the plugin is extremely easy-to-use and comes packed to the brim with great features, its pricing is also very affordable starting at $99 per year which allows you to host it on two sites!
One of the best features of WP Courseware is the inbuilt drag-and-drop builder that can be used to create beautiful looking courses without the need to code anything. You can also find a massive list of integrations that are very useful. Here are some of the most important features of WP Courseware in a nutshell:
The starting plan allows you to create an online course on two sites at just $99 per year which is probably one of the best deals you'll find when it comes to LMS plugins.
It comes with an excellent visual editor that works on the drag-and-drop principle that allows you to design and create your courses to get them to look exactly how you want.
Because it integrates with a large number of payment gateways, you're not limited to WooCommerce and can use the payment gateway that you want.
It supports multiple instructors to manage a single course.
The quiz tool allows you to create multiple question types and also create random quizzes from a question bank throughout any course you create.
5. LifterLMS – Most Popular LMS WordPress Plugin
Click Here To Try LifterLMS For Free
LifterLMS is one of the most widely used LMS WordPress plugins today but it does come at a pretty expensive cost. The pricing for LifterLMS starts at $299 per year if you want the entire LMS bundle. There is also the option of buying individual add-ons for $99 per year but if you're looking for a complete LMS solution, it is actually cheaper to buy the entire service.
Pros
You get priority support and get to interact directly with the team behind the software.
It comes with a powerful drag-and-drop builder that can help you in organizing and creating online courses really fast.
Seamless integration with WordPress and WooCommerce.
Cons
Some add-ons like assignments are absolutely crucial and should be a part of the core plugin itself.
The email marketing integrations are limited and only support MailChimp and ConvertKit.
The design can be a bit unimpressive and dated.
There are a few things that make LifterLMS great such as its direct integration with tools like MailChimp and WooCommerce. The full bundle also allows you to create sample courses and quizzes, offer certificates, and also create a fully configured site.
Some other value-add features of LifterLMS include free design elements and graphics to make your online course look better visually. It also connects seamlessly with Beaver Builder and Divi which are some of the best drag-and-drop WordPress editors. Some of the key features of LifterLMS include:
Direct integration to WooCommerce.
Great customer support.
Standard features like drip content, quizzes, drag-and-drop editor, and support for all types of content.
Excellent marketing and payment management tools.
Use tools like "social learning" that integrates your online courses with social platforms like Facebook providing a more social experience for students.
LifterLMS Features
Now that we have a basic idea of what LifterLMS is, let's take a look at what it is capable of by taking a look at some of its most important features.
1. Course Creation
Being a learning management system, it is natural that one of the core features of LifterLMS is the ability to create online courses. The plugin comes with a drag-and-drop course builder that makes it super easy to organize and create your courses.
You can also upload lessons of any type (text, image-based, video, audio) with LifterLMS which allows you to accommodate multiple learning styles when it comes to your online course. You can also easily create quizzes to track the progression of your students and set a quiz timer to ensure students complete it within a fixed amount of time. You can also set prerequisites and course tracks that make it easier to create the journey that a student will have to take to complete your online course.
Other features include the ability to import and export your courses, multi-instructor support, discussion areas, a full-fledged student dashboard, and drip content. Additionally, you can also make use of a graphics package that allows you to make your online course look visually impressive.
2. Course Management
LifterLMS also comes with a number of features and tools that help you in managing your online courses. The course management tools are particularly useful if you're planning on creating an online school with multiple courses.
Some of the course management features that are particularly useful to online schools include the branding and typography tools and web design management. In addition, LifterLMS also comes with features such as LMS roles, bulk enrollments, access management, student management, and the ability to provide a terms and conditions agreement to all students.
You also get all the standard LMS course management features such as detailed reports for sales and enrollment, a gradebook to quickly view the progress of students, and email notifications that can be customized.
3. Payments
Handling payments is a breeze with LifterLMS. You can accept credit card payments and set up payments as you want, whether it be one-time payments or recurring payments. You can also provide payment plans, unlimited pricing models, and subscription payment models with LifterLMS.
LifterLMS also comes with an in-built checkout that is designed to convert. Some other notable payment features include the ability to provide free courses, bundle your courses together, up-selling, bulk sales, coupons, and the ability to create an affiliate sales network. Additionally, you can also set LifterLMS to collect custom details from students when they enroll and the ability to accept payments from any country in the world.

4. Student Engagement
One of the most important aspects of creating an online course is ensuring that the student stays engaged with the course. LifterLMS addresses this by providing a number of tools and features that increase student engagement.
For example, it is possible to give achievement badges and certificates as the student goes through the course and completes it. You can also set up personalized emails that are sent based on student behavior. One of the major student engagement features of LifterLMS is social learning which allows the students of your courses to interact with each other which creates a more social learning experience.
Lastly, you can also provide private coaching and have the ability to send text messages to your students through the plugin itself.
5. Memberships
LifterLMS also comes with a number of features that make it easy to create a "traditional" membership site where the members of the site have access to specific content. There are a number of interesting things you can do with the membership features offered such as set members-only pricing for your courses that are different from the pricing for non-members.
Among other things, you can also create a members-only forum that adds more value to your site-wide memberships plans!
6. Integrations
While LifterLMS comes with a lot of in-built tools and features, it also supports integration with a number of third-party apps that you might want to use. LifterLMS can work well with almost any WordPress theme which means you don't have to buy a specific theme that is LifterLMS friendly. In addition, LifterLMS also provides a number of integrations to third-party payment gateways, email marketing tools, and CRMs.

7. Content Protection
Lastly, content protection is a serious issue in the world of online learning. LifterLMS allows you to lock your content down with tools such as specific user accounts for every student, setting access restrictions, password management for students, and more!
LifterLMS Pricing
LifterLMS has a freemium approach and the core plugin is free to download. The cost of add-ons start from $99 per year if you want to buy them individually but you can also buy bundles that include the core plugin, a combination of add-ons, and extra features.
Currently, LifterLMS offers two bundles – the Universe Bundle and the Infinity Bundle. Here's a breakdown of the two:
Universe Bundle: $299 per year, 5 sites, Priority Support, 2 Tech Support Accounts, Design Add-Ons, Ecommerce Add-Ons, Marketing and CRM Add-Ons, Form Add-Ons
Infinity Bundle: $999 per year, unlimited sites, Priority Support and Live Office Hours, 3 Tech Support Accounts, Design Add-Ons, Ecommerce Add-Ons, Marketing and CRM Add-Ons, Form Add-Ons, Advanced Quizzes and Assignments, Private Coaching, Social Learning, Advanced Video, Custom Fields, Groups.
Is LifterLMS Worth It?
LifterLMS is one of the best LMS WordPress plugins available today and comes with a ton of features that can help you create amazing online courses. While the pricing model might be a sticking point for some people, it can be hard to argue when it comes to the value it offers.
Overall, if you don't mind paying extra for the add-ons and don't plan on scaling up your online school, LifterLMS is the perfect option for you.

6. Namaste! LMS

Click Here To Get Namaste! LMS
Namaste! LMS is not really one of the most powerful LMS plugins in this list but it is definitely one of the most affordable ones. The core plugin comes free of cost and the Namaste! Premium theme costs $47. You can also buy add-ons such as Namaste! Reports and Nasate! Connect for $27 each. You can also get the Namaste! Pro module for $67 with one year of premium support which makes it one of the best deals on this list.
Some features that come with Namaste! Pro module includes awards and badges, course protection, and integration with WooCommerce or WP Simple Cart.
Overall, if you're looking for a simple and cheap LMS plugin, Namaste! LMS is one of the best options for you. Here are some of the most important features that come with Namaste! LMS:
You can gamify your online courses with badges and awards.
It comes with a number of integrations that allow you to create a more immersive experience for your students.
Your course content and files are secured automatically.
It is one of the most affordable LMS plugins for WordPress out there.
7. Good LMS
Speaking of cheap LMS plugins, Good LMS is, if you can excuse the pun, a good candidate for a cheap but effective WordPress LMS plugin. The plugin sells for a cost of $31 that is a one-time payment and comes with a year of support and updates which makes it extremely affordable when compared to the other plugins on this list.
The plugin comes with all the standard features that you might expect which means you can create online courses, sell them, and gamify the process using things like quizzes and certificates. When it comes to designing the course, you'll have to do it like you design a WordPress blog post.
Some key features of Good LMS are:
You can create a simple online course marketplace with ratings and set teacher commissions.
It comes for an incredibly affordable cost of just $31 as a one-time payment.
It comes with all the standard features of an LMS plugin such as quizzes and gamification features such as course badges and certificates.
It allows you to view reports that help in ascertaining the progress of the different students.
It uses the WordPress interface to create courses which means you'll feel right at home when it comes to creating online courses with Good LMS.
8. Sensei LMS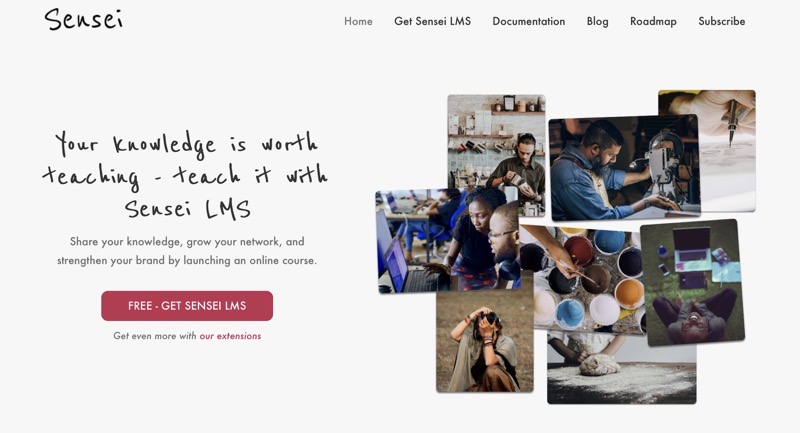 Sensei is a unique addition in this list because of one reason – it is an extension of WooCommerce. If you're already using WooCommerce then using Sensei as an LMS might be the best choice for you.
Naturally, one of the most notable features of Sensei is its seamless integration with WooCommerce. Essentially, this plugin is ideal if you want to add online courses to an eCommerce site running on WooCommerce. It is also very easy to add WooCommerce elements like physical products on Sensei along with your online course.
The cost of Sensei starts at $129 annually and depending on how many sites you want to use it on, the cost can go up to $279 annually. Built around the design and functionality of WordPress, it is pretty easy to create online courses with Sensei if you're already used to the WordPress platform.
Here are some of the key features of Sensei:
Seamless integration with WooCommerce makes it easy when it comes to everything payment related.
Most WordPress themes on the market work with Sensei naturally.
It can create random quizzes from a question bank.
The grading of quizzes can be automatic or manual.
It also comes with a decent analytics dashboard that provides basic information on grading, course completion, and student enrollment.
The best LMS Plugin of them all?
As you have probably noticed, there is a wide range of options available when it comes to LMS plugins for WordPress. While most of them are great at fulfilling the core objectives, some of them are much more polished and some of them are much more affordable.
In general, LearnDash and Teachable are two of the most widely used solutions currently. Both of them are not the most affordable solutions but they are still affordable enough and come with all the features you can possibly need.
If you're looking for the cheapest LMS option which is still reliable then Namaste! LMS might be the best on your list. However, you should definitely try out almost every plugin listed in this review before selecting one to find out which one really works the best for you.