Online Course platforms are becoming more and more popular as each day goes by. They can be a good source of income if you know how to create a course. There are a lot of these on the market and if you are getting into online course creation, the main question in your mind probably is: Out of all these different platforms, which online course platform do I pick?
Some of the popular online course platforms are: Teachable, Thinkific, Podia and Ruzuku. In this article, I will give a detailed Ruzuku review and compare it to the others I listed to help you decide whether this platform is the right one for you. So let us begin with it.
Click Here To Try Ruzuku For Free
Ruzuku Review
Ruzuku is an online course platform which allows you to easily create some fine looking online courses. It is a dedicated platform for online course creation meaning you do not need to worry about looking around for different types of plugins for your WordPress website and so it becomes really accessible to beginners.
Ruzuku is an especially easy to use platform, in fact, the easiest one of the four I listed above. This makes it all the more suitable for beginners who are just starting with their online course creation career and also for those are already veterans. You do not need any coding knowledge, just the passion to make some fine courses and you will be able to do just fine thanks to Ruzuku.
Before we start with a detailed analysis, let us look at some quick pros and cons first to get a rough idea of where Ruzuku's strength lies and also what its weaknesses are.
Pros
Extraordinarily easy to use
Unlimited courses
Unlimited video uploads
Unlimited audio uploads
Unlimited data storage
Integrated e-commerce
Bank-level security
Dedicated lightning fast servers
Cons
less affordable compared to the competition
Average customer support
Click Here To Try Ruzuku For Free
Since we are getting a rough idea about Ruzuku right now, it would not feel complete without the plans. So here are all the plans that Ruzuku has to offer. To be exact, there are three plans in total:
Ruzuku Pricing Plans
1. Boostrapper
The least expensive plan that Ruzuku has to offer, essentially the "Basic" plan. The cost of this plan is $74.75 per month if you pay ANNUALLY, however, it is a fat $99 per month if you decide to pay monthly. Indeed a bit too high for a starter plan. In this plan you get access to all these features:
Unlimited students, Unlimited courses, Unlimited audio uploads, Unlimited video uploads, Unlimited data storage, Comprehensive and friendly support for you and your students, Dedicated lightning-fast servers, Global Content Delivery Network (teach students anywhere in the world), Daily backups of your course data, Bank-level security for you and your students and Integrated eCommerce with PayPal and Stripe
There is zero transaction fee and this plan is only for a single instructor.
2. Up-and-coming
This plan is basically the "Pro" equivalent and it is priced at $83.08 if you decide to pay the bill annually and a whopping $149 if you decide to go for the monthly option. Yeah, it's only just a few bucks more than the other plan if you go for yearly bills though the difference is quite considerable if you decide to do it monthly. In this plan, you get access to all the features of the Boostrapper plan plus the following features:
Unlimited webinars, access to polls and quizzes and ability to make subscriptions and payment plans for your customers
Likewise, this plan also offers no transaction fees and it is also for use by just one instructor.
3. University
The final plan and as the name implies, it is for use by universities. The cost of this plan is $125 per month if you decide to go yearly and 199$ if you go for the monthly payment option. In this plan, you get all the features from the previous plans along with the all these other features:
You get your very own domain name. Multiple instructors can use it through one subscription. And last but not the least, you can have multiple site managers.
Obvious at this point but yeah, no transaction fees here as well.
Click Here To Try Ruzuku For Free
Which Ruzuku plan would be the most suited for you?
If you are just a beginner and this is your first online course platform, then go for the fourteen days free trial first. If you are not satisfied enough with it, you may want to go for the Boostrapper plan, however you should pay only for one month ($99) so that you can try stuff without paying the big yearly fee. This will help you switch quickly after one month to the Up-And-Coming plan once you are comfortable with using Ruzuku.
The Up-And-Coming plan is the recommended Ruzuku plan. Since the yearly fees is only a bit higher than the Boostrapper plan, it is a no brainer to go with this instead so that you can have access to all the extra features as well.
Go with the University plan if you have a big organization with multiple instructors. Most of the extra features in this one would be useless for those who only have a small business with a single instructor.
Now that you might have gotten an initial impression of Ruzuku, it is time to dive into the details. Let us begin with things that separate Ruzuku from some of its competition.
Ruzuku Review: Pros & Cons
In this section I will be going into the details about the pros & cons of Ruzuku. Ruzuku has several pros. Some of them are things that really set Ruzuku aside from other online course platforms.
Click Here To Try Ruzuku For Free
1. Beginner friendly
One of Ruzuku's major strengths is that it is just very simple to use. Have no experience with online course creation before? No worries because Ruzuku has got you covered. The finely created user interface is made so that beginners have access to all the different features in such a way that they can easily exploit them to their full potential.
Often it is the case that online course platforms are just far too complicated for beginners to be able to make some fantastic courses. Most they can manage is basic stuff because of this reason. However, here that is not the case at all. You can begin today and be able to make some good looking courses in no time.

The user interface is simple and intuitive. The main aim behind this was that instructors are using online course platforms to make, well, online courses. The Ruzuku developers understand that they do not want to spend hours fiddling around with settings just to get everything up properly. With an ideology like this, it is indeed no surprise that the user interface naturally turned out easy to use for beginners.
Another thing worth nothing is that Ruzuku also allows you to monitor your progress and also your class's progress through schema. The plan contains all the steps that facilitate you to achieve so. You are always just five steps away from your very own online course with Ruzuku. See? It is actually simple.
One more thing is that you can get feedback from your students. There is a comment field as well which you can add in each class and your students will comment there. This helps stir some discussions and also helps gather you some much needed feedback so you can improve your classes.
All these features combined make it not only easier to create the courses themselves but also manage them. Course management is a very important thing and your online course business is not launching off that well without some good management. Ruzuku does make it easier, thankfully, thus making it one of the best beginner friendly platforms out there.
If you compare this strength of Ruzuku with, say, Thinkific, you will find that Thinkific is considerably more harder and hence less accessible for beginners to use. This is why Ruzuku has an upper hand on the competition when it comes to being easy to use.
2. Zero transaction fees
High transaction fees can be a deal breaker for many since it is what most of the profit you get is dependent on. Gladly, Ruzuku has absolutely zero transaction fees in ALL of its plans. Meaning the money you make, all of it is only yours, Ruzuku is not gonna take ANY cut.
Compare this with Teachable. Teachable has an absolutely atrocious transaction fees policy. Like, the free plan of Teachable has a transaction fee of $1 plus a 10% cut on every product you sell and the basic, paid plan has a cut of 5%. That isn't a small amount.
As it is, the competition in the field of online course business is very high. Naturally, you are not going to be able to turn a big profit right from the start. But add cuts like these into the mix and your business might even become unsustainable and never properly take off to the stage where you can start turning a nice profit.
This is why Ruzuku wins from the competition here. Having no transaction fees is also another reason why it attracts beginners. Beginners naturally have lesser money to invest so this can be a godsend to them.
Click Here To Try Ruzuku For Free
3. Unlimited Everything
When you get around to course creation, you will find that you are accumulating a lot of data. Be that videos, audios or PDFs. If you host all these yourself on your site, you will see that you need to spend some good money to keep these uploads up and also have the upload and download speed not be downright bad.
No worries with Ruzuku though, as it offers you everything unlimited! Video uploads, audio uploads, data uploads and courses, everything has no limit! Make as many courses you like. Upload as many videos and audios as you like. Upload as much data as you like. All this, without fearing that your website will slow down or that you may have to pay a premium for another video hosting site.
Ruzuku also offers you great servers so there is no chance for slow speeds. Your students will be able to access all the data you upload for them at high speeds. Slow courses are often not liked by students because I mean, in this day and age who wouldn't go for the faster option?
Let us compare with the competition. Podia does not offer unlimited everything. There you will have to pay for another hosting website to keep your stuff up at a reliable speed. So yeah, Ruzuku is better than some of the competition here as well.
4. Dedicated servers
As I talked about in the last section, Ruzuku is fast. Indeed, it is because it has lightning fast dedicated servers. You have your data accessible on Ruzuku at very fast speeds. As long as your students have a good connection, they will be able to access it at good speeds as well.
Reason why this feature is great is because having no dedicated servers can be a huge turn off for a lot of people. With this high competition in the market, those who can put out a lot of money do it and get some super fast servers up for themselves. Now you have to compete with them to get an audience for yourself. In such an environment, this feature can be an important factor in whether you will succeed or not.
These days everyone has access to fast fibre optic internet. It is not the last decade anymore where people were okay with slow speeds. The world is moving towards a phase where time is essentially the most valuable thing. Now that people are so used to fast speeds and less time consuming tasks, slow speeds can be a huge bummer and also a cause for major frustration.
Ruzuku has got you covered here and makes sure your students won't have to feel any frustration while accessing your courses. Podia. for example, has no such servers so either you will have to settle for slow speeds or pay a big amount to a dedicated hosting website with sufficient speeds. This pro of Ruzuku combined with the last one (unlimited everything) makes it a valuable option for everyone.
5. The bank-level security
You might have sometimes heard news like "Hacker steals data". Physical products can be stolen, yeah but have you thought for a second and wondered about digital products? Like, say, your very own online course content? You might have sometimes heard news like "Hacker steals data". So yeah, unfortunately, digital products are no exception from this. Someone might steal your course and put it up on his own website and it can seriously damage your business.
Worse, someone can steal your students' data and thus breaking the trust between you and your students. As a result, this can very severely damage your public reputation and hence hurt your business big time. As online course creation is already very competitive, something like this happening to your business may very well wipe you out of the market in an instant.
Nowadays digital security is becoming an increasingly worrying problem, tracking such cases of theft can be pretty hard and frankly, we have not invested enough into this part yet. Digital crimes are on the rise and this is really hurting a lot of businesses who are not yet equipped to prevent them from happening.
Do not worry though, because as usual, Ruzuku has got you covered here as well. Ruzuku protects you and your students' data. It does so with extremely reliable security so you do not have to ever worry about getting your data stolen. This should really help your business in the long run as the risk factor significantly reduces.
Click Here To Try Ruzuku For Free
6. Less affordable plans
Ruzuku's lowest priced plan costs you $99 per month if you decide to pay monthly. Someone who is new to online course creation will definitely want to play around with the platform first before deciding that it is indeed the one they want to use for their business in the long term.
So, if you are just starting out, paying the lower yearly fee ($74.74 per month) is absurd because in that case you will need to use the platform for one year at the least or you will waste a lot of money if you decide that you do not want to stick to this platform after using it for, say, 2 months. That wastes 10 months worth of fee you used.
Ruzuku does offer a free trial and it is 14 days long. Though as you can see, it is barely enough to test everything properly. Certainly not enough for a beginner to get used to it. So, if you want to try out Ruzuku, you will have to go for the $99 payment option to get 1 month worth of use out of it.
Compare this with the competition: Podia is really cheap. The basic plan there costs only $39 per month. See the difference? It is huge. Not only that, Podia's equivalent of a pro plan, also its most expensive plan, is only $79 per month. And there is no need to worry about any yearly payment. This is all monthly. So if you decide to pay monthly with Ruzuku, you will see that the least expensive plan, priced at $99 per month, is more expensive than the pro plan of Podia!
Thinkific and Teachable both offer great FREE plans. So you do not even need to worry about paying a single cent there if you are only trying it out. You can use them to your heart's content and decide whether they are for you. If you want to check out the features locked in the free plans, their basic plans are still less expensive than what Ruzuku offers. That is certainly another thing to consider.
So yeah, as you have seen, Ruzuku truly is more expensive than the competition. The less affordable plans are really the only thing holding back newcomers from just jumping in. Though if cost is not an issue for you, then this is basically irrelevant for you.
7. Poor customer support
Customer support is another thing everyone hopes to get the best of in whatever platform they are using. It can save you from a lot of pain and hassle and also save you some decent amount of time. Whenever one is facing any issue, the first thing one can do is to look around for guides. But if that fails, you have no option left but to contact the customer support.
Ruzuku has, very unfortunately, some poor customer support. That does not mean there is no customer support though or that the quality itself is bad. The quality is fine but there are other issues related to it.
Basically, you have two options for getting customer support in Ruzuku. One option is to send an email and the other is to use the telephone support. All nice so far, yeah? Well, here is the kicker for the email support:
It is only available 5 days a week (From Monday to Friday) and the timings are between 9 AM and 5 PM. This can be such a bummer. Imagine if you are taking some special weekend classes but something goes wrong and you can not get stuff to run properly. You decide to contact support but you realize it is a Saturday. There is no way for you to get any support and you are left figuring out the problem on your own. You might just solve the issue on your own and make it in time for your classes. But what if you do not? Welp, you have no option but to outright cancel the classes.
What about the telephone support? You might be surprised to hear it but Ruzuku has no dedicated phone number. So you can not just directly call them. What then? You have to place a callback request to Ruzuku. And that is only based on their availability schedule. So sometimes you might get lucky and find them available in a reasonable timeframe. Or you will again be left on your own, trying to solve the issue and hoping to make it in time for your classes. Worst case scenario, you will have to cancel your classes.
What about the competition? All the three other platforms we are comparing Ruzuku with offer great support. So this can be a deciding factor for you if you have so far been on the fence, deciding whether to just jump into Ruzuku or not. If you are confident enough in your abilities to troubleshoot issues, then very well this might not be that relevant to you and you are safe to make the leap. Otherwise though you got to sit down and think rationally about what you actually need in order to make an informed decision.
So, this was it for the pros and cons. Hopefully this analysis would have helped you get a clean picture of Ruzuku in your mind and how exactly it compares with some of the other best options for online course platforms out there. It is time to tie off this article with what in my opinion is the final verdict of Ruzuku.
Ruzuku Review Verdict
Ruzuku is, all things considered, a really nice option for online course creation. It has a lot of things it does better than the competition. It provides you with a good set of features and it does not lack in the technical side of things either. The cost though can be quite high and might turn away some beginners.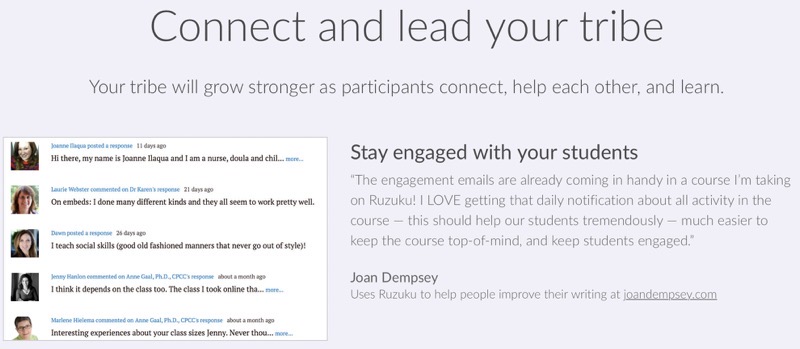 But Ruzuku is otherwise a great beginner friendly online course platform. The support is not the best but that is still in the end a trivial thing for most. The fact remains that Ruzuku is still a very easy to use platform so you might just run into issues less, if any at all.
Click Here To Try Ruzuku For Free
Hopefully this review helped you form a judgement in your mind about Ruzuku. If you are still undecided on the matter, it would be a good idea to read through all the features again and see if something strikes you. Online course creation is no joke and so you should seriously consider which platform you choose, to ensure that you can get the best out of your business.