Online course platforms have gained traction, and virtual classrooms have become very popular and profitable in today's day and age. The space is booming, and many entrepreneurs, course creators, and teachers are leveraging the power of eLearning to earn a living.
Choosing a good online course platform is essential for managing and creating a successful course creation platform. In this article, we'll compare two of the great candidates in the market: Ruzuku and Kajabi, and discuss their features and differences.
Ruzuku Overview
Ruzuku is an online learning platform that helps you build online courses, host live videos, provide documentation and other materials through its CDN. The platform was created by Abe Crystal from the ground up to help experts streamline courses and share their passion with the world.
Click Here To Try Ruzuku For Free
The platform has user-friendly tools with several interactive elements, engagement capabilities, and integrations to help improve business performance. Ruzuku allows you to create unlimited courses with unlimited students to refine your course based on its performance analytics. Further, it is very affordable and comes with advanced customization without needing any other supporting tools.
Pros
Simple to use
Flexible course content delivery system
Easily market and sell online courses through affiliates
Supports a wide range of content types
Discussion forums that facilitate interactions between students and tutors
Supports PayPal and Stripe, payment processors
No restrictions on the number of students and courses you can enroll
Knowledgebase is quite comprehensive
Cons
Supports only two payment processors
Fewer marketing options
Customization options are limited
Kajabi Overview
Kajabi is a one-stop shop for selling your online courses. The tool allows you to craft, market, distribute, and get paid for custom classes without switching over to other programs. It was launched in 2010 by two friends- Kenny Rueter and Travis Rosser, who went from selling toys to creating one of the most well-known course-building platforms in the industry.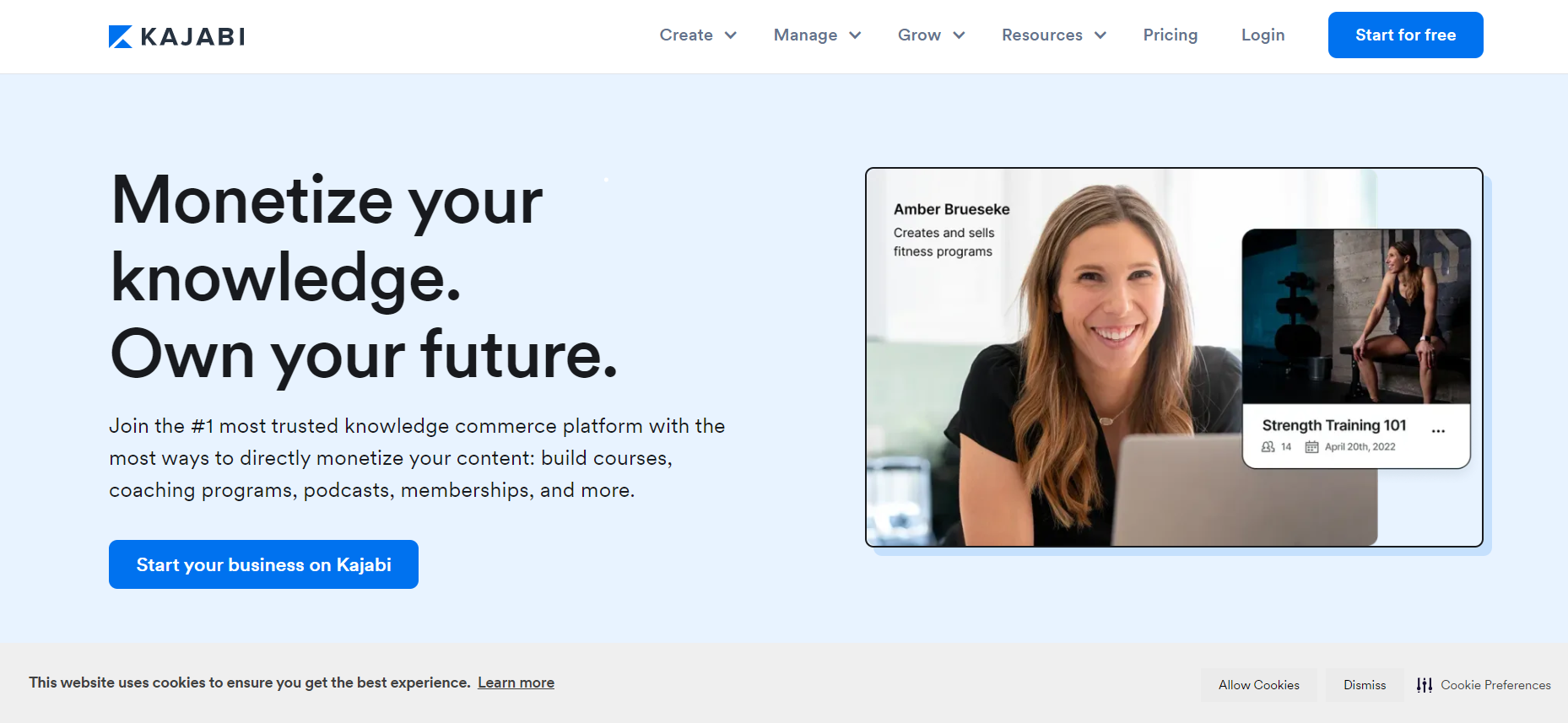 The platform has a versatile dashboard that allows you to customize your landing pages as well as create, promote, or monetize your offering. The tool offers excellent guidance to create customized settings, funnel, and content. In case you are looking for a dynamic online business having centralized features, Kajabi will put you on the road to success.
Pros
Drag and drop site editor
Simple course creator
Built-in email marketing tools
Versatile sales funnel software
Marketing automation
Custom domain
A wide marketplace to discover courses organically
AI to outline and create lessons for the course
Cons
No free plan
Higher than average prices
Lacks student engagement tools
Limited in-built payment functionality
Ruzuku vs Kajabi
1. User Interface
Ruzuku and Kajabi have clean and responsive interfaces. In both of them, you don't find any unnecessary designs or complicated features in the dashboard.
Ruzuku's interface is neat, with minimal graphics and simple outlay. Once you sign in to the tool, you'll get started creating your courses right away. The navigation menu is simplistic and pretty straightforward.
Click Here To Try Ruzuku For Free
For example, you can click on your name to check your profile details and billing. Similarly, you can access customer support and resources by clicking on the support option.
Kajabi has a clean and minimal interface that you will see in its dashboard. It has a shorter learning curve as the features are arranged in tabs and sections. This allows users to effortlessly locate a specific tool or function.
The best thing about it is that you can use the Kajabi assistant to discover its features easily. Using it, you can access all the features of the platform in 2-3 clicks.
Ruzuku and Kajabi have a simple interface with minimalistic and neat features. Both are nearly identical and picking a clear winner in this section is difficult.
2. Course Creation and Delivery
Creating courses for both platforms in a single place is very easy. They have an organized dashboard, so you can edit or add online course content in a few clicks. Both of them allow you to add as many chapters and lessons as you want, and there is no limit on their bandwidth and data storage.
Ruzuku and Kajabi have a global content delivery network. This allows your students to safely access the courses anytime and anywhere around the world.
Ruzuku lets you create three types of courses
Open access courses- the courses allow students to consume the content at their own pace.
Scheduled courses- the type of course lets you release the content in a series of weeks. The courses let members be committed till the end of the course.
On-demand courses- the type of course is similar to scheduled courses, but they are delivered to the students after a set date after they clear an exam.
If you are a beginner in the space, Ruzuk's guide on the sidebar will help you build your first course within a matter of minutes. All the courses that are created can be found under the manage courses section. When you click on the course, you'll get a screen with links to all the tools.
Kajabi has pre-built blueprints that help create products faster. The tool lets you create courses in the blueprints below.
Blank course- easily create courses from scratch and structure them in ways you wish.
Mini-course- create short courses, like promotional videos, bonuses, etc. It is great if you want to sell products through a less expensive course.
Online course- you can create in-depth courses that are tailored to your target audience. Easily pack the course with longer content and material to provide huge value.
Drip course- drip courses are similar to scheduled courses on Ruzuku. You can drip the courses and release the content over a series of weeks. However, you cannot set a select date for the course access.
Coaching program- the coaching and consulting blueprint offers a 12-week coaching program. You can earn a decent income, by giving coaching to your students.
You might be wondering that Kajabi has more blueprints and course types compared to Ruzuku. However, the user-friendliness of Ruzuku allows it to be amongst the best in this aspect.
Anyways, most course creators get everything they want with Ruzuku, and it is an outstanding option to look at. Further, Ruzuku allows you to create unlimited courses, which is something that is not available using Kajibi. So, you can say that Ruzuku is better in this aspect.
Click Here To Try Ruzuku For Free
3. Supported Multimedia Formats
Multimedia formats are basically the different content or materials that users can upload to your courses. Kajabi and Ruzuku support various media content, so you don't have any issues uploading them on the platforms.
Kajabi accepts several multimedia formats, like
Video formats (.mov, .mp4, .mpg, .flv, .asf, etc.)
Audio (.mp3, .aac)
Pdf file (.pdf)
Images (.jpg, .png, .gif)
Text files (.rtf, .txt)
Microsoft files (.pptx, .doc, .xlsx)
Zip files (.zip)
In comparison, Ruzuku supports all types of files, and you'll be surprised that they also support other formats like .msi or .heic. Further, it also lets you take photos and record videos or audio straight from the platform.
Again, Ruzuku is a clear winner, and you can say that the platform supports more multimedia formats, making it convenient to upload any type of file.
Click Here To Try Ruzuku For Free
4. Progress Tracking
Ruzuku and Kajabi have a progress tracker that lets you see the course completion rate of your students. This feature helps monitor the performance of your course to determine what areas need improvement.
Ruzuku's project tracking feature gives instructors insights into how students are interacting and the progression of the course. You can easily view the analytics for the course, drill down, and view data for the steps in your course. This information allows you to determine which students are staying on track or those that need little encouragement. You can download the spreadsheet of the activity, including which participants have viewed specific videos and the percentage that they were viewed.
Kajabi has a member progress view, which shows what videos students have watched. However, there is no overall view of the engagement and progress completion in the entire course.
When it comes to progress tracking, there is no better tool between them than Ruzuku and its versatile offerings.
5. Memberships
Membership sites are great for earning recurring revenue for the content that you are offering. You can have different membership levels to encourage your members to go to higher tiers. However, they require a significant amount of commitment, which may not be possible for all users to devote.
Kajabi has a membership feature that lets you add offers, resources, and bonus content. You can also create communities with forums and offer them a membership add-on, which increases your engagement and accountability. However, Ruzuku doesn't have a membership feature and lacks in this aspect.
6. Student Engagement Features
Student engagement and assessments are great to measure the progress and understand your students. Both tools have great features to assess different perquisites of a student's knowledge.
Ruzuku offers great multiple-choice quizzes or polls that students can answer and see what they understood from the courses. You can easily add the quiz to the lecture within a few clicks. There is also the capability to add advanced quizzes by making use of other third-party tools and embedding them directly into the activity.
Kajabi has a quiz creation tool that lets you create quizzes, like true or false, or multiple choices. You can also upload a file that students can answer. Further, you can automate the assessments by setting a passing percentage.
Kajabi and Ruzuku both allow you to create various assessments and grade them. So, identifying a clear winner amongst them is not possible, and both compare the same.
7. Email Marketing
Email marketing is a great way to reach more prospects and build relationships that will help you promote your courses. It is one of the oldest and still a relevant way to do networking today.
Ruzuku allows you to send welcome emails, drip emails, start of course notifications, etc. You can efficiently send default emails and personalize them to fit all your needs. This is not all, as you can make custom announcements and send notifications about special offers, new course launches, once students complete a course, etc.
Kajabi's marketing tool allows you to send standard messages like any other course creation software in the market. It also has email templates that can help you start.
In an ideal world, you may say that Kajabi should outperform Ruzuku in this parameter, but this is not the case. Ruzuku has a commendable email marketing platform that has a slight edge compared to that offered by Kajabi.
8. Webinars
Webinars are interactive online events where students can listen to teachers who deliver a presentation or seminar by sharing their remote screens. Kajabi and Ruzuku let you hold a live or recorded webinar. You can schedule emails for your participants to send as reminders.
Ruzuku's webinar setting has a group chat feature where students can discuss any questions that they have. You can host the webinar directly on the platform and host more than 100 participants. However, you can also use third-party tools like Zoom and YouTube Live to showcase it to your students.
Kajabi doesn't have a direct ability to host webinars on its platform. However, you can connect to third-party tools to host webinars for your business.
It is simple to say that, when it comes to hosting webinars, Ruzuku is a far better option to consider than Kajabi.
9. Digital Product Selling
When it comes to selling digital products, both platforms allow you to run them without any issues. They come with different payment options and accept multiple currencies.
Ruzuku supports digital product selling, and you can easily create video or audio resources that can be turned into downloadable resources. It doesn't have a dedicated upsell feature, but there is a trick. You can create a free course for it and create an activity to promote your paid course. Live webinars and live events can be conducted to promote your offers and increase your sales.
Kajabi lets you sell digital products using its offers and upsell features. To use the upsell feature, scroll down and select an upsell, and in case a customer abandons the cart, then cart abandonment emails are sent over a period of time.
Kajabi and Ruzuku have similar functionality in this aspect; however, Kajabi has a slight edge in this field.
10. Community Features
Community features are critical to allow students to connect with other like-minded individuals, learn from them, and share their experiences.
Kajabi supports lecture comments with a dedicated community feature and connects with forums or Facebook groups. The pages can be customized to fit your project requirements. In the community, your students can chat with each other, and it is available on all the plans of the platform.
Ruzuku has some basic community features and only has discussion and course-wide discussions. This shouldn't deter you, as the platform is slowly improving the offering, so users can have access to the feature in the near future.
It is very evident that Kajabi is a clear winner when you consider the community features that it offers.
11. Certification
Ruzuku and Kajabi both don't have a certificate feature. It is a big pain as this is something that the premium platforms should have. However, you can manually issue the certificate with Ruzuku, which is difficult with Kajabi. You need to know that this is difficult and a waste of your time if you have a large number of students.
12. Integrations
Integrations are pivotal to enhancing the functionality of a platform. We'll look at the integrations that both these tools offer below.
Ruzuku has integrations with MailChimp, Stripe, and PayPal. It also integrates with Zapier, from where you can leverage its other apps. However, it is not a good option if you want to streamline your workflow.
Kajabi has more integrations, with a total of 12 native integrations, which include email marketing and analytics tools. If you want more, then you can connect to a Zapier account, which can integrate with over 5,000 apps.
The clear winner here is Kajabi, but Ruzuku is steadily adding more integrations to make it compete with other similar platforms in the niche.
13. Customer Support
Customer support is another important parameter that you need to look at while selecting a course-building platform. Let us look at what both these platforms offer to their users.
Ruzuku has good customer support with a rich knowledge base and FAQs to help users out with any issues. If they still have any issues, then the tool has telephone support, where all your issues will be resolved by the team. They also have a free training program on how to start your course on the platform.
Kajabi has a 24/7 live chat, which is convenient when you want a response to your questions. It also has a good knowledge base and Kajabi access that provides guidance to its users.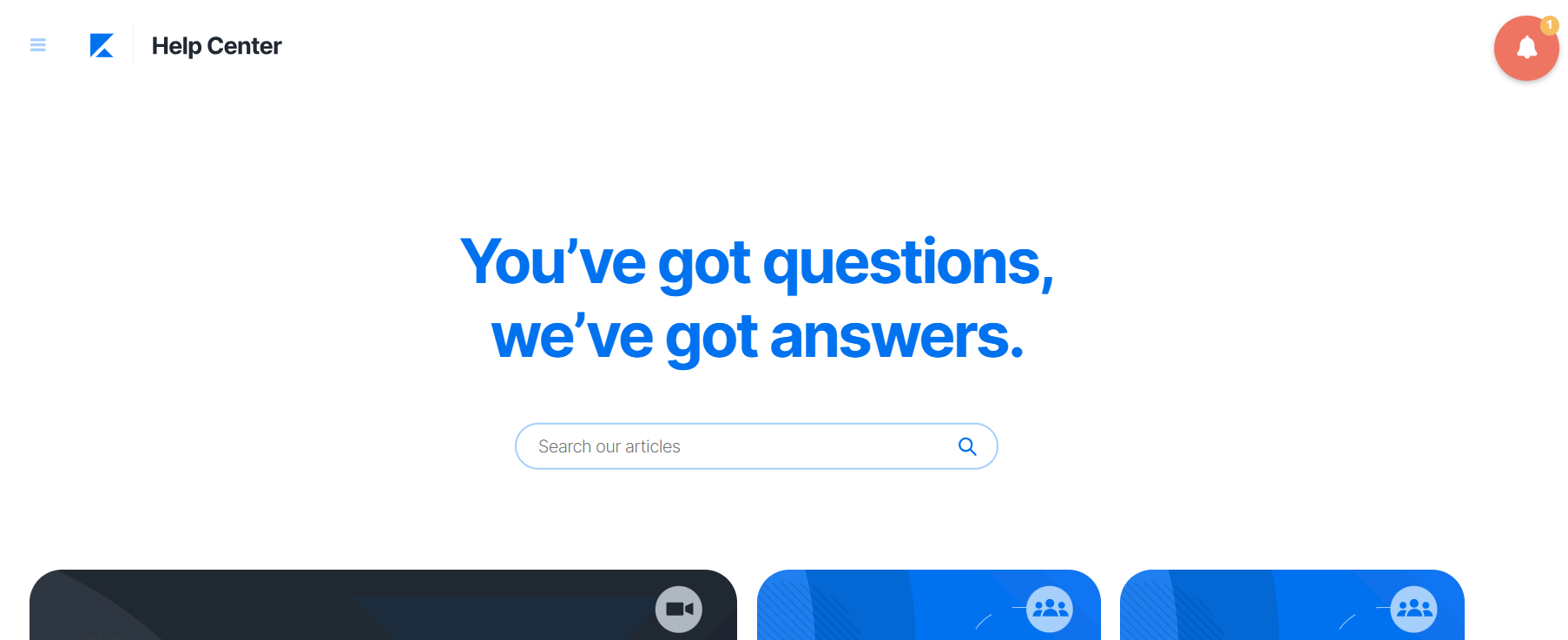 There is no clear winner in this aspect; however, the telephone support offered by Ruzuku gives it a slightly better option.
14. Pricing
The price of the subscription is among the most important factors that help you take the call on which platform to choose from. Let's compare both platforms and see how they are priced.
Ruzuku has 3 plans that users can choose from. These plans are very affordable for the features they offer. Its plans at the time of writing are:
Free plan- $0
Core plan- $99 per month
Pro plan- $199 per month
Click Here To Try Ruzuku For Free
Each of these plans comes with excellent features and performance. It also offers an excellent annual discount on the plans.
Kajabi has 3 plans which are similar to the plans offered by Ruzuku. They can be purchased on monthly or yearly subscription plans. Its plans at the time of writing are:
Basic plan- $149 per month
Growth plan- $199 per month
Pro plan- $399 per month
Kajabi doesn't have a free plan, but they have a 14-day trial period by signing up with a credit card.
Ruzuku has some of the best plans at a cheap rate when you compare it to Kajabi. Further, it offers a free plan, which is not available with Kajabi. So, you can clearly say that Ruzuku is a clear winner in this section.
Click Here To Try Ruzuku For Free
Ruzuku vs Kajabi: Which is Better?
Ruzuku and Kajabi allow you to create and sell courses quite easily. If you are looking to create unlimited courses, then Ruzuku is a viable solution for you. Kajabi is an all-in-one toolkit, but it may not be a great option to start with, and its solution is slightly complex, which most users won't necessarily require.
Further, the price that you can purchase Ruzuku is considerably cheap and affordable when you compare it to the Kajabi platform.
Click Here To Try Ruzuku For Free
Ruzuku vs Kajabi FAQs
1. Which is better for course creators: Ruzuku and Kajabi?
Ruzuku is a straightforward option with a simple interface and minimalistic designs for online course creators. It is an exceptional choice for those industries that don't require much personalization. However if you really want to scale your course you might want to consider Teachable.
2. Do you get a free plan with Ruzuku?
Ruzuku has a forever free plan where you can check the features of the platform. If you like it then you can select one of the paid plans to get more features and functionality.