Thinkific is one of the most powerful course platform available right now. It's easy to use and let's you go from building your landing page to growing your customers. In this Thinkific review, I'll dive into why it may just be the Best All-in-one Online Course Platform!
Click Here To Try Thinkific For Free
As with so many other things, education has been transformed by the Internet. One of the ways it has done that is by allowing anyone to monetize their expertise by teaching it to others. That could involve teaching conventional classes like math and music or something more out there like hypnosis or how to make vegetable art. No matter what your area of expertise, the Internet makes it possible for you to create courses around it using tools like Thinkific.
Thinkific is a software platform for Internet educators to create courses and build membership sites around them. It's an all-in-one kind of tool that covers every aspect of running a teaching business online. That includes creating learning materials, marketing your course, delivering the course to students, and optimizing the course contents and your sales strategy over time.
Thinkific is one of the more popular softwares in its category and has a loyal band of users. That group is constantly increasing in size as word gets out about the product. So let's do a deep-dive on Thinkific and see if it's the right choice for your online course creation needs.
Thinkific Review
I recommend Thinkific to most people who are looking for an all-in-one course platforms and doesn't want to spend hours trying to make multiple tools work together and instead want to focus on just created a course.
Click Here To Try Thinkific For Free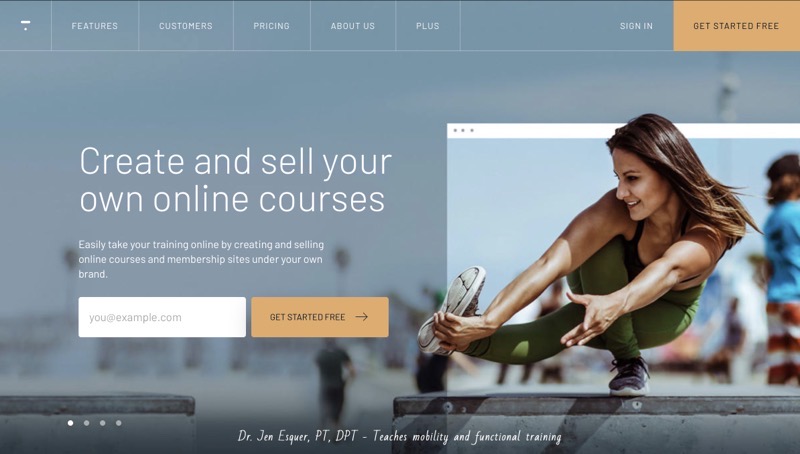 About Thinkific
The man who conceived Thinkific is the company's current CEO, Greg Smith. His idea for the product was born out of his time spent as an LSAT tutor during weekends. Smith wanted to enhance the  learning experience for his students and simultaneously try to widen his audience.
How does one combine those two goals? By creating an online platform with multimedia lessons and backed by internet marketing methods of course! So Smith, together with his co-founders Miranda Lievers, Matt Smith, and Matt Payne, set about creating a product that would solve his own problem.
Since Thinkific is built by someone who's taught himself, it puts the needs of educators first. The company believes that the way to empower educators is by giving them complete control over the content they put out and the data associated with their class. It also puts an emphasis on customization because there simply isn't a one-size-fits-all solution that can serve the needs of a wide audience.
Those foundational values have held the company in good stead so far. There are currently 40,000 people creating courses on Thinkific who have made over 200 million in cumulative sales. The software platform's users span 164 countries.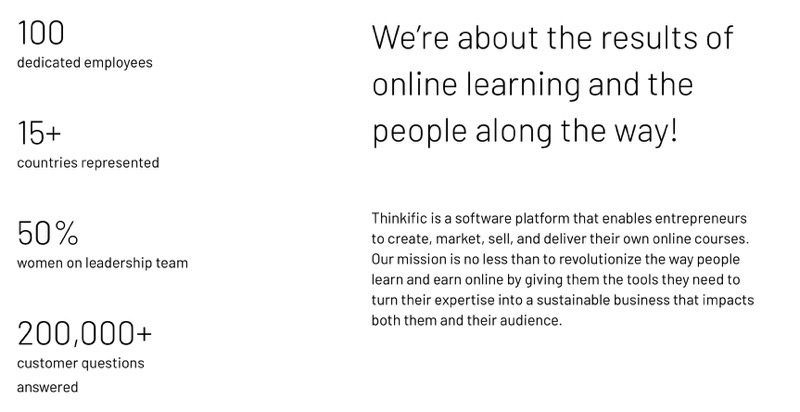 As you'd expect, the company itself has grown leaps and bounds in the process. It currently has 100 full-time employees from over 15 countries. In the process of accumulating all those customers around the world, the support team has answered more than 200,000 questions from customers. It's an operation that is impressive both in scale and its focus on customer satisfaction. What are some reasons customers like it so much? Let's find out.
Why Thinkific?
The online course platform space is super crowed and its touch to figure out what's the best option. I've worked with online business of all sized from 5 people working on a site with barely few visitors to large scale projects getting millions of monthly visitors.
In my experience I find Thinkific the all-in-one course platform.
Thinkific Review – Pros & Cons
The first thing about the Thinkific that makes it's great for business is ease of use, since its an integrated platform you don't have to waste time integrating plugins or membership services. However while being a all in one platform, Thinkific still integrates with all the CMS, emails marketing tools and services you need. It even has Zapier triggers.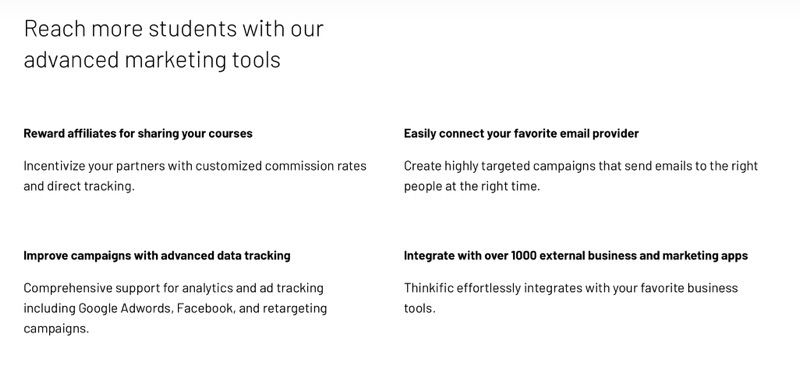 No Memberships in base Plan
One downside of the Thinkific platform is that both the base and free plan doesn't come in with membership options (however you can easily get this in the $99/month plan which is well worth it)
Large scale organization compatibility
Since Thinkific is built with Startups and big businesses in mind it has a lot of cool features that make it easy to work on it as a team
Multiple site admin (2 on Plus plan, 5 on Premier)
Multiple course authors/admins (5 on Plus plan, 50 on Premier)
Multiple Groups analysts (15 on Premier)
This is extremely useful in large organizations where multiple teams are working on a single course at the same time.
One of the best things of using Thinkific instead of a platform like Udemy is that you own your content and they don't take a cut of your earning.
Also Teachable, Thinkific's closest competitor takes a 5% cut on their base plan of $39/month! WTF, you have to pay $99 for month with teachable just to have the privilege to get paid the whole amount.
This is why Thinkific is a great Teachable Alternative!
Thinkific is available in 4 different plans:
Free – Test-drive Thinkific's core feature set for free.
BASIC – Start your course creation experience with the basic features and tools you need to launch your first course.
Pro – For course creators ready to build a successful online course business, a complete suite of tools to create an amazing student experience
PREMIER – For advanced customers ready to build an education empire, get all the Thinkific features + the Growth package. Designed for delivering online education at scale. No limitations – one flat fee.
The Pro Plan @ $99/ Month is best for startups just getting things going, while existing large organizations are better off going with the Premier Plan.
Click Here To Try Thinkific For Free
Thinkific Course Creator
The core of the Thinkific software platform, of course, is its course creator. This is where you will create the content for your course, decide if you want to add any quizzes and guides, and potentially test your students' knowledge once they've consumed different parts of the course. Given this is the core of your offering, you want to make sure that the course creator enables you to realize the vision that you have for your courses.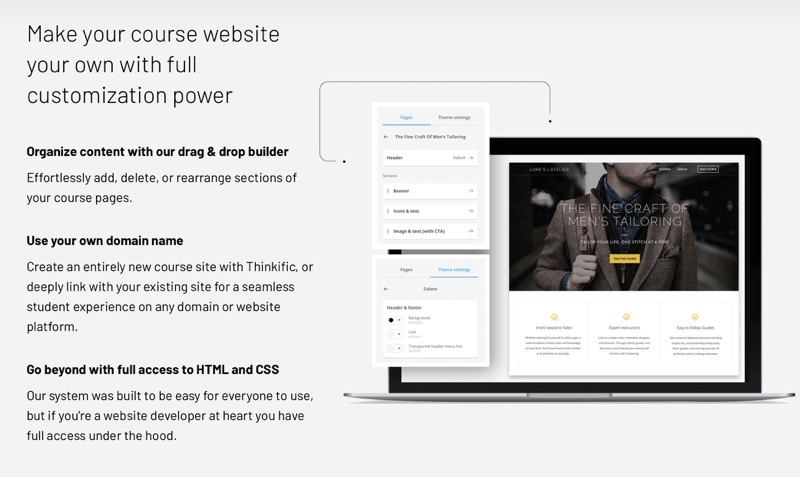 Much to most course creators' relief, the Thinkific platform doesn't necessitate any coding knowledge to put together courses. Instead, you can use a visual editor to create course contents – almost like you would with a word processor. You can drag and drop any additional elements that you want included in the materials. The visual nature of this process makes putting together courses a breeze.
In case you're wondering what kind of elements you can include in your course, there's a lot to choose from. Thinkific supports all kinds of rich multimedia formats that can enhance students' learning experience. It also gives them multiple formats to choose from. You can include video, text, quizzes, and a discussion forum among other things. So students who prefer one format over the other can choose the one they like.
Creating a course doesn't need to be a solo venture. There are instances where you may want to add a collaborator to help you create content. Thinkific has you covered in these cases with its collaboration features. These allow you to add site admins and content creators who can also contribute to the project. This means you don't have to shoulder all the burden that comes with creating your online school.
Once you have the course contents up and ready, you can customize how your course is delivered. There are many different ways in which to do this. You could drip schedule content so it's delivered to students on a particular frequency. Some content can be set as a prerequisite to access other content. Certain courses can be set as private or hidden so you can restrict access only to particular members.
Thinkific gives its users access to students' performance data. That includes things like segmentation data, cohort reporting, and more. Educators can use this data to find out how students interact with their content. You can then create automated check-ins based on that data. These reminded emails can be customized to match your brand.
Supporting students through this entire process is key. The platform uses in-built progress indicators to let students know exactly where they are in their journey. They have access to unlimited replays of all the material in case there's any part of the course that they want to go over a second time. Students can also use language controls for courses where contents are available in multiple languages.
You want to make sure that you keep students encouraged as they navigate their way through your course. Celebrating their wins is easy with Thinkific's completion certificates and completion pages. These are great ways to mark important milestones that they reach in each course.
Thinkific Website Designer
Your online courses are only one aspect of your business as a whole. But well before someone gets to working through your courses, they will judge what you have to offer through your website. So it's important to choose a learning management solution that gives you the ability to create an attractive and effective website to sell your product to your audience.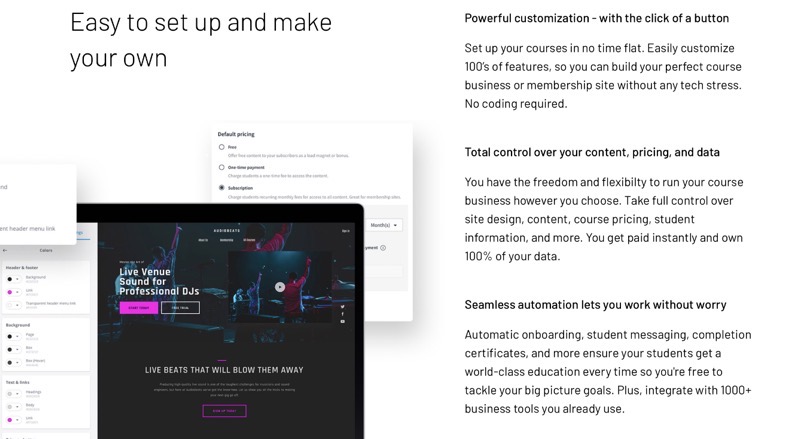 Thinkific has all the features that you will need to create a great website for your online teaching business. The process starts with pre-built themes that are designed specifically for educators. Each theme has sections for the curriculum, course review, and key learnings. This makes using Thinkific a lot quicker than content management systems like WordPress or Drupal for your website.
Once you've picked a theme, you can set about tweaking it to suit your needs. You can edit each piece of copy and every image. It's also possible to edit the design elements to suit your business' brand guidelines. And of course, you can link your own domain name to your Thinkific website.
Throughout this process, Thinkific lets you use its drag-and-drop builder to make all necessary changes. You can see the edits that you're making to your website live and don't need to worry about coding any elements. But if you are a developer or can hire one, you can write custom code to make changes under the hood.
The website that you build and all the content in it are stored safely in the cloud. SSL certificates come included with the site to ensure your data is kept safe. Since Thinkific is a cloud-based application, all updates to the software are made in real time. Individual users don't have to install updates to get access to new features.
Websites served from Thinkific's servers have 99.9% uptime. That means that it is very, very unlikely that your website becomes inaccessible to students due to a technical glitch with the server. There's also 24/7 monitoring on the websites so that any potential threats can be identified and eliminated before they have an adverse impact.
Your Thinkific website is integrated seamlessly with the courses you create. Website visitors can easily transition from the home page to making a payment to accessing their online course. The streamlined process increases your conversion rates and enhances the user experience.
Thinkific Marketing Tools
A great course is what keeps students interested and engaging with your platform. But effective sales and marketing is what brings them there in the first place. Luckily for course creators, most learning management systems these days come with in-built sales and marketing features. Thinkific is no different. The software platform comes with a marketing and sales toolkit that you can use to design campaigns from the ground up and track their progress.
There are both in-built features and third party apps that make that possible. The list of third party integrations is long and diverse, covering most aspects of marketing online courses.
E-commerce, automation tools, analytics, student success, email marketing, and growth tools are the categories of integrations that come with Thinkific. There are multiple tools in each of these categories so that users get a wide range to choose from and can easily move their existing operations onto Thinkific.
Under E-commerce tools, you get PayPal and Stripe to collect payments. Stunning is a tool that's been included to track failed payments via Stripe and recover them. Checkout pages can be created using SamCart.
Automation tools are important because they serve as a force-multiplier for the time and effort that you put into marketing your course. Zapier is an unsurprising inclusion in this category. The popular tool helps you create connections between thousands of apps and automate mundane tasks in the process. Keap is the other software in this category and helps with marketing and sales automation.
The growth tools available on Thinkific help with creating high quality marketing content and improving conversion rates. Sumo is a software that scours the web for content related to a topic, helping you generate new ideas in the process. Fomo provides a way to display new enrollments in your course, which serves as a nudge to visitors on your website to do it themselves.
Thinkific has its own arsenal of features to assist users with creating in-demand online courses. Course admins can create coupons and promos to get potential students to sign up. You can also offer certain free courses and then upsell students while they take them.
If you have partners who will help sell your courses, you can easily set up an affiliate program with Thinkific. The affiliate manager allows you to track the performance of each partner and set custom commission rates for each of them. By using this feature, you can boost the sales of your courses and easily pay out affiliates.
Thinkific Community & Support
So it's clear that Thinkific has a whole lot to offer its customers in terms of a platform to create courses and features to market them. That can be a great thing until you run into problems implementing something or looking for ways to integrate a particular app. When that happens, you fall back on the support and community component that's built into the platform. Thankfully, Thinkific has put plenty of thought into this aspect of its service.
The most basic form of support offered by Thinkific is its Help Center. This is a repository of frequently asked questions and answers to them. Some of the topics covered in the Help Center are how to set up Thinkific on a custom domain, how to create a membership site around your course, and how to migrate existing content into Thinkific. The Help Center is good enough to address most of the basic questions that will pop up when you begin creating your course.
If the Help Center doesn't have the answer for one of your questions, then you can escalate your query to Thinkific's support team. This request can be submitted via the Thinkific website along with a link to your so that the Thinkific staff can take a look at what the issue may be. This method will take a little more time than the Help Center but is sure to resolve any issues that are specific to your website.
If you really want to master this software platform, then you can take one of the courses offered by Thinkific. There are both free and paid courses available in their library. They cover topics such as creating Facebook ads for online courses, how to design a great course, and a business masterclass for online educators. The paid courses are priced between $149 and $299.
Thinkific has a community of experts who can help out those who are still new to the platform. They're called Thinkific Experts and there's a marketplace where you can get access to them. Each expert is allowed to set their own pricing for their services. You can search for these professionals based on their area of expertise, such as publishing a course, enrolling students, and designing your website.
If at any point you are not able to access Thinkific's services, then you can view the Status page to find out what's going on. This is a helpful service which maintains a log of the platform's status indicators and the reasons for any outages. Thinkific Status enforces transparency and keeps customers in the loop at all times.
Thinkific Pricing
Thinkific lets you sample its feature through its free trial. At no cost at all, you can create three courses on a Thinkific subdomain and put it out into the world. The trial includes quizzes and surveys as well as the ability to enroll an unlimited number of students. It's a great way to dip your feet in this software platform.
If you like what you get with the free trial, you can move on to Thinkific's Basic package at $49/month. With Basic, you can create an unlimited number of courses and have an unlimited number of students access them. Some of the added features that come with this package are:
Custom domain
Drip content scheduling
Affiliate reporting
Zapier triggers
Email integration
The next pricing tier is called Pro + Growth and costs $99 per month. This package brings out some of the collaborative features of Thinkific. It lets you two side administrators, who can make changes to the website. You can also add up to five course authors, who are people allowed to add and modify content to the actual courses.
Thinkific's top-of-the-line offering is its Premier package. It gives you five site admins, 50 course authors, and 15 group analysts. Customers who pay $499 per month for this service also get the onboarding package, which provides training and creates a launch-preparedness review.
Thinkific also has a package called Growth, which is a way to support course creators as they scale their education business. The Growth package is free for the first 100 students. After that, you pay $0.10 per student per month. Customers get everything in the Pro plan along with advanced segmentation, access to the public API, and community building features.
Thinkific is available in 4 different plans:
Free – Test-drive Thinkific's core feature set for free.
BASIC – Start your course creation experience with the basic features and tools you need to launch your first course.
Pro – For course creators ready to build a successful online course business, a complete suite of tools to create an amazing student experience
PREMIER – For advanced customers ready to build an education empire, get all the Thinkific features + the Growth package. Designed for delivering online education at scale. No limitations – one flat fee.
You can get a 28% Discount on Thinkific. Simply click the link below and start a Free Month trial and pay "Annual" instead of Monthly once your trial expires.
Click Here To Try Thinkific For Free
Is Thinkific Worth it?
There is a lot to like about Thinkific if you're an online educator or entrepreneur. The platform provides everything you need to grow your education business right out of the box.
The course creator itself is easy to use. You don't have to spend a lot of time learning how to put your courses or website together. We saw that there are plenty of marketing and sales tools that you can tap into to start getting enrollments in your course.
If you're just starting out, you can try Thinkific for completely free. You can then move to more full-featured packages as the business grows. So you have nothing to lose by creating your first online course with Thinkific!
Thinkific Discount Code
They're many websites on the internet making misleading offers such as:
Thinkific Coupon
Thinkific Discount Coupon
Thinkific Discount Code
Thinkific Discount
Thinkific Coupon Code
Thinkific Coupons
Thinkific Code
Thinkific Promo Codes
The truth is that Thinkific does not offer any coupons!
However, you can get a discount on Thinkific if you decide to pay Annually instead of Monthly! If you decide to pay yearly instead of monthly you will save 20%
Combine that with the free month trial and you'll save 28% on your first year!
Thinkific Discount Price:
Basic – $468 $588 save $120/year
Pro – $948 $1188 save $240/year
Premier – $790 $5988 save $1200/year
Simply click the link below to start your trial
Click Here To Try Thinkfic For Free

Read Next: