If you run an online business, there's a lot of things you need to take care of. For example, you need to create a website, make landing pages, work on email marketing, maintain a blog, etc. Things get even more complicated if you want to sell online courses or create a membership site.
Podia is one of the newest online course platform, that's built similar to ConvertKit in the fact thats its built by creators for creators. In this Podia review, I'll dive into why it may just be the Best Online Course Platform for Creators!!
If you're tired of Expensive Course Platforms like Teachable, Thinkific that cost a ton and takes a cut out of all your customers; Podia is your solution!
Usually, you'll need to use multiple tools to support your online business. You'll need a tool for creating landing pages and opt-in forms, another to build your website, another for email marketing, yet another for selling online courses, and so on.
Managing so many tools can be overwhelming, especially if you're just getting started with online businesses. To fill in the gap, a number of integrated tools have been developed that let you handle multiple aspects of your online business under one central platform to make things simpler and save a lot of money.
One of these tools is Podia which has been on the rise lately. In this review, I've covered all the key features of the platform so you can decide if it's really worth your time or not.
You can get a  25% Discount on Podia. Simply click the link below and start a Free 14-day trial and pay "Annual" instead of Monthly
Click Here To Try Podia For Free
Podia Review
Podia is one of the newest guys in the online course platform space, however unlike (more expensive) alternatives like Teachable, Podia is so much more than just a course platform.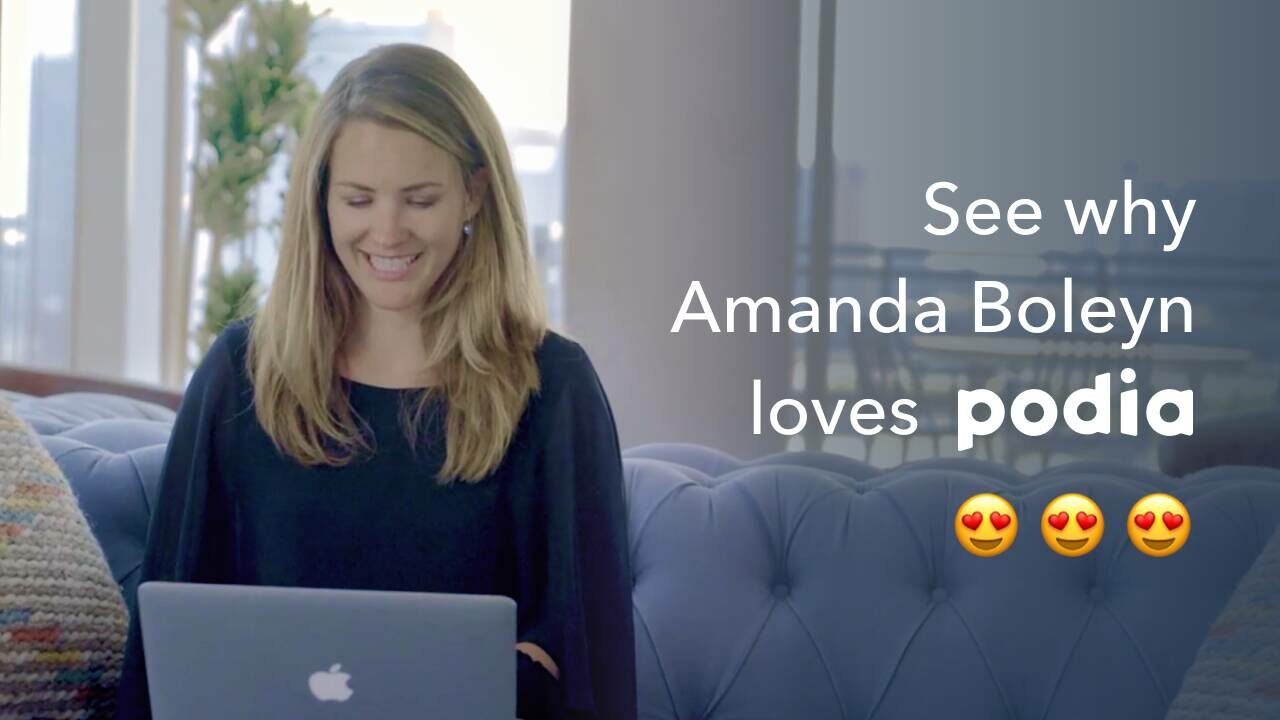 About Podia
Podia was launched in 2014 with the intention of helping creative entrepreneurs manage online businesses. While it can be used to do a lot of things, the primary use cases for Podia are selling online courses, managing digital downloads, and creating membership-based sites.
What makes Podia stand apart are primarily two things – first, it is a user-friendly integrated solution which means you don't have to use five different tools for your business and handle everything with just one easy-to-use tool and secondly, its policies are very friendly for creators. An example of such a policy is the fact that Podia offers instant payouts for any sale you make without charging any transaction fee.
Podia is being increasingly used by creators around the world as it simplifies the process of running an online business and allows you to integrate all the different aspects into one single platform. It also comes with very powerful features that I've covered below.
Click Here To Try Podia For Free
Why Podia?
To best understand Podia, you should look back at what ConvertKit did to the email marketing space.
Before ConvertKit all the email marketing software, either had really fancy automations for enterprise customers or super simple email newsletters for a blogger, nothing for the internet marketing people like you and me.
Podia is the same, softwares like Clickfunnels, Teachable etc all cost in the 100s of $$ per month which is very affordable for a big company but isn't really suited for the solo bloggers, or the online marketer with a team of 5.
Enter Podia: For only $39/month you can get the power of over 5 tools for the price of 1.
We're talking about an all in one marketing platform.
Online Courses
Digital Downloads
Storefront
Email Marketing
Messaging (Live Chat)
Memberships
A Blog Platform
Now, lets see how much that would cost to have all of that without Podia.
Online Courses – Teachable @ $99/Month
Digital Downloads – Gumroad @ $10/month
Storefront – Clickfunnels @ $97/Month
Email Marketing – Convertkit @ $29/month for 1K subscribes
Messaging (Live Chat) – Drift @ $50/month
Memberships – Gumroad
A Blog Platform – WordPress site @ $35/Month for Managed Hosting
Total = $300+/ Month 😱
Now you may not use all the features, if in reality if you're doing even more than one of the things, it's already cheaper to use Podia vs signing up for each of the tools individually.
Also the big plus with using Podia is that everything is in a single platform, you don't have to worry about integrating Clickfunnels with Infusionsoft & WordPress (Trust me, you wouldn't want to wish that on your worst enemy)
If you're someone who just wants to focus on creating and don't want to waste hours like to get a plugin working in WordPress, Podia is for you.
Simply click the link below to start your trial (NO Credit Card Required)
Click Here To Try Podia For Free
Podia Pros & Cons
Pros
You can host, sell, and market online courses, digital downloads, and membership sites in one single platform.
The price is pretty great for the number of features offered.
You can host unlimited amounts of content and an unlimited number of contacts for email marketing in both plans.
Embedded checkout options within the site itself.
It comes with features that let you pre-launch and pre-sell.
It offers decent integrations with third-party marketing tools and Zapier.
You have to pay 0 transaction fees on all plans.
Modern UI and UX which makes using it really easy.
Cons
It doesn't offer a free plan like Teachable or Thinkific.
The Mover plan lacks the membership site feature.
The website builder is pretty limited in functionality.
The email marketing tool is not as robust and powerful as third-party dedicated email marketing tools.
Click Here To Try Podia For Free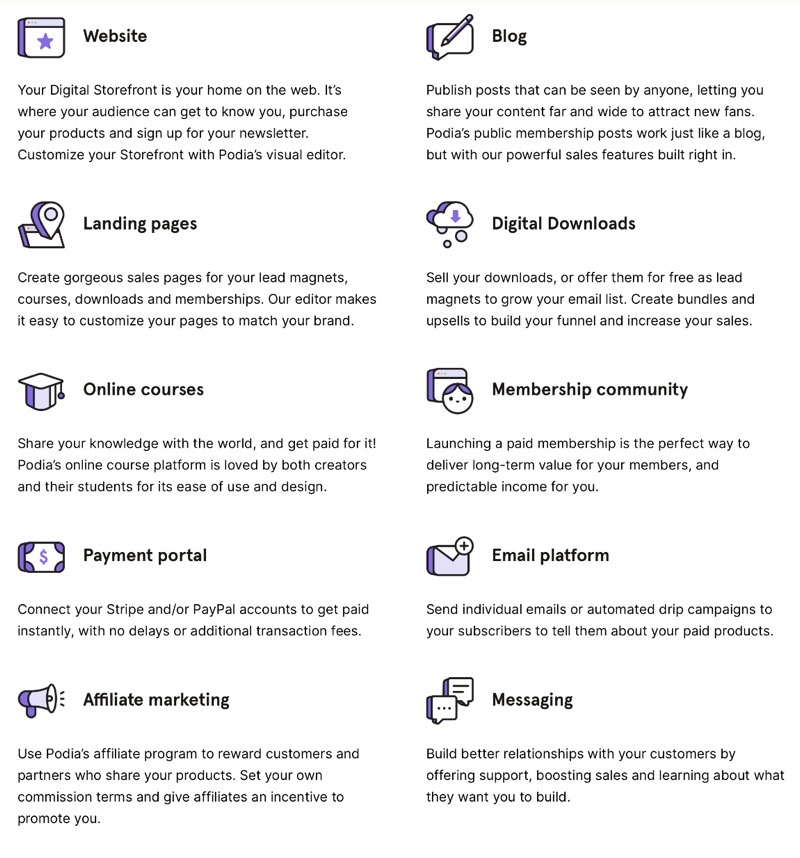 The first thing about the Podia that makes it's so good especially for someone starting out is ease of use. Podia is simple, but that doesn't mean it lacks any important functionality! It's built to make it easy for you to just create and not worry about technical stuff.
Email Marketing isn't the best
Being an all in one Platform, Podia's email marketing isn't as Good as using a tool like ConvertKit, if you're someone just starting out it'll be enough, however if you do a lot of segmenting and automation, I'd use another tool like ConvertKit for Email marketing.
Step by Step Guide To Create the Course
Podia has very easy to follow step-by-step setup process that makes it extremely easy for anyone to create stunning online course. They have a ton of video tutorials that make it super easy to use the platform even for a beginner.
One of the best things of using Podia instead of a platform like Udemy is that you own your content, you are not beholden to the info-product devil ie Udemy who's selling your $100 for $5 cause they just wanted to.
Also Teachable, Podia's closest competitor takes a 5% cut on their base plan of $39/month! WTF, you have to pay $99 for month with teachable just to have the privilege to get paid the whole amount.
This is why Podia is my favorite Teachable Alternative!
Podia is insanely cheap for the features it offers! Honestly, I can't get over how cheap it is!
Mover ($39/month) – Your own storefront, Online courses, Digital downloads, Email marketing, Messaging, Zero transaction fees, Unlimited everything, and 24/7 support.
Shaker ($79/month) – Everything in Mover + Memberships, Blog, Embedded Checkout, Affiliate marketing, Third-Party Code and FREE migrations.
You can get a  25% Discount on Podia. Simply click the link below and start a Free 14-day trial and pay "Annual" instead of Monthly
So how does Podia compare vs popular course platforms like Thinkific and Teachable?
Well, for starters it's cheap!
It only costs a $39/month for the Mover plan and the shaker plan with all the features cost only $79/month!
In comparison,
Both Teachable & Thinkific cost $99/month for their Professional plans, and thats just for your course platform. You still have to pay extra for email marketing, landing pages, a blog platform etc etc.
Teachable has its own payment setup called "Teachable payment" and you can only receive your payments instantly if you use their payment methods, else you have to wait 30 days to receive payments over Paypal. This is Instant with Podia.
Thinkific is more geared towards people who need a powerful course platform, ie this is why Hootsuite & Later use it. I tend to recommend it most of B2B companies that I work with as it all the tools and features you need to have your courses succeed at scale.
While Podia is geared more towards the Solopreneur, Thinkific is definitely geared to the big SaaS companies looking to scale their customer acquisition with courses.
Click Here To Try Podia For Free
Podia Review Reddit
u/StrictElephante: Podia seems restrictive. There are some things I can't do with their website builder
Podia Features
Now that we've covered what Podia essentially is and what it can be used for, let's take a look at some of the key features that make Podia great!
1. Website Builder
Podia comes with a pretty decent website builder that you can use to build all kinds of web pages. It also offers free unlimited hosting and allows you to migrate content from other services too if you already have a website. Standard features like integration with analytics tools like Google Analytics, a website builder, the ability to use custom URLs are provided.
You can also customize the entire website so it reflects your branding. You can add images, videos, and almost all types of content. Any website you create on Podia will also be responsive and look good on all devices, and the editor provides a live preview so you can see exactly how your website would look as you edit it in real-time.
2. Online Courses
Another key feature and one of the main selling points of Podia is the ability to create, sell, and promote your online courses.
You have a lot of flexibility when it comes to the type of courses you can create with Podia. For example, you can create a single standalone course, bundle multiple courses together, or offer drip courses where the content is delivered bit by bit to the students as they progress through the course.
What's really great is that you can host unlimited products and unlimited content and can enroll as many students as you want without having to pay extra.
As for course design, you can upload content of any type including video, customize the branding and customize how the course would look to your students. The Podia course player is also pretty decent and works well on all devices.
The best thing about online courses is that it is integrated with all the other features provided in Podia such as email marketing, webinars, landing pages, etc which help a lot when it comes to marketing and selling your online courses (I've covered those features more in detail below).
In general, creating online courses with Podia is really easy and almost anyone can set up their online course or courses very quickly. Some other notable features include the fact that you can pre-sell and pre-launch your online courses with Podia too.
Click Here To Try Podia For Free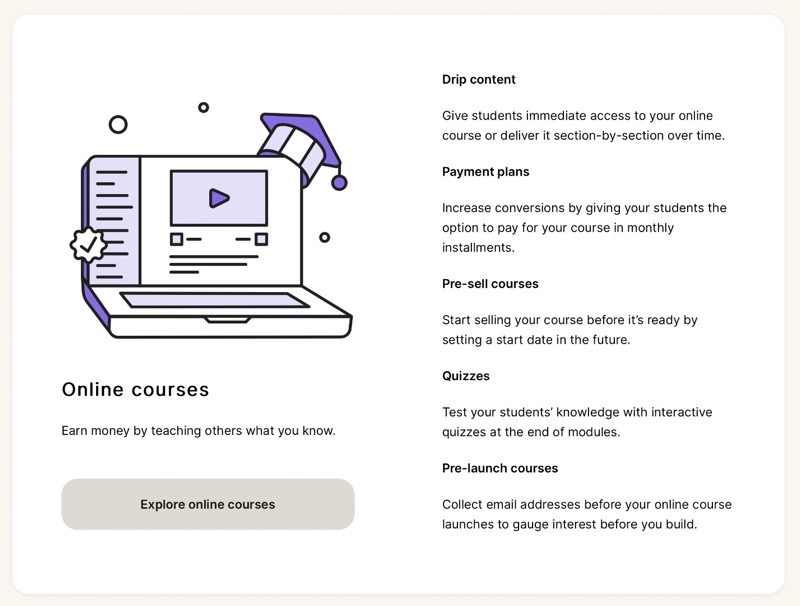 3. Digital Downloads
Along with online courses, Podia also allows you to host, sell, market, and even create digital downloads on their platform. The best thing about digital products on Podia is that you have a lot of flexibility – for example, while you can directly sell digital products but you can also use them as lead magnets.
There's a wide range of file types that you can offer as digital downloads such as text files, templates, image files, PSDs, PDFs, audio files, and much more. You can even offer a mix of two different file types as a digital download.
4. Memberships Sites
It is also possible to create membership sites on Podia where you can provide exclusive content to your subscribers. You can create almost any type of membership site with Podia such as a free membership site, a paid membership site, or a tier-based membership site with multiple levels.
When you create a membership site with Podia, you can share public posts or private posts that are only visible to some members. You can also pin a post to the top of the membership feed. Additionally, you can also schedule your posts and engage with your subscribers through comments and discussions. Lastly, you can bundle different products such as online courses, digital downloads, and more into one single membership-based site itself.
There's also a number of different membership models you can use. For example, you can create an exclusive content library, a group coaching site, a paid newsletter, a premium product bundle, and more!
Click Here To Try Podia For Free
5. Webinars
With Podia, you can also provide live webinars to your subscribers which can be particularly useful for coaches, consultants, speakers, and educators. The webinars are powered by YouTube Live but Podia handles everything else on its platform.
Like with all the other features, you have a ton of flexibility with webinars on Podia too. You can either sell webinars or give them away for free, you can schedule your webinars and pre-sell them, you can also put up past webinars as a premium on-demand service, and you can also bundle your webinars with a number of other products like online courses and digital downloads.
6. Email Marketing
If you're selling online courses or offering digital downloads, you will need marketing tools that help you with email marketing. Instead of using a third-party email marketing service, you can take care of email marketing for your products on Podia from the platform itself!
The email marketing tool provided in Podia has all the standard features you would need such as lead capturing tools that you can place on your website and storefront, automated emails, list segmentation, email newsletters, drip campaigns, analytics and tracking, and more!
Click Here To Try Podia For Free
7. Messaging
Podia also comes with messaging features that help you in reaching your customers, understanding them, and eventually increasing your sales and brand value.
One of the key messaging features provided in Podia is the integrated live chat feature that lets you provide live feedback to customers and visitors on your site. You can also capture feedback and questions from your customers using the messaging features and get back to them whenever you want.
With the messaging features, you can provide customer support, up-sell and cross-sell, engage customers, and get insights from your customers all within the same platform!
8. Payments
You can also find a number of different payment features such as payment plans, upselling, pre-launch selling, coupons, bundled products, affiliate marketing, and cross-selling products. Additionally, Podia provides instant payouts with no transaction fees!
9. Landing Pages
Lastly, you can also create landing pages in Podia with the inbuilt website builder. The website builder allows you to create any kind of page you want, including landing pages. It is also a visual drag and drop builder and you don't need any kind of coding to create impressive-looking landing pages.
However, there are only a limited number of themes provided and the website builder is not really as powerful as most standalone website builders. However, all the websites built using Podia are responsive and work great on all devices and the integrated system means you can create landing pages as part of your sales funnel easily all from within Podia itself!
Click Here To Try Podia For Free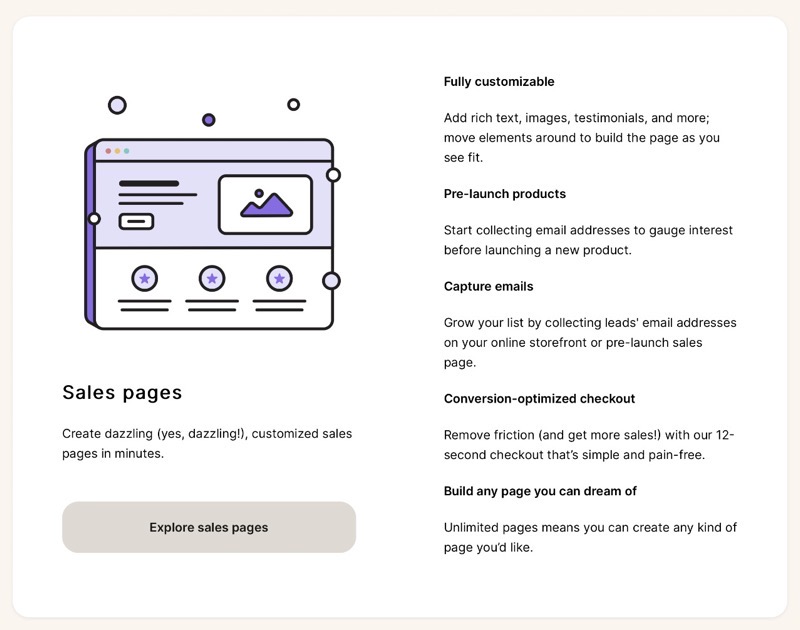 Podia all-in-one solution
As you might have guessed by now, the biggest selling point for Podia is that it is an integrated platform that lets you do many, many different things for a really reasonable price. It can be used to manage every single aspect of your sales funnel for an online course or a membership-site all the way from capturing the lead to selling and management.
If you set it up correctly, you can handle everything about your online business, store, or membership with just Podia. However, this is also an area of concern because while it tries to be the jack of all trades, it is far from being the master of all of them.
For example, there are a number of different tools that can be used to create better online courses than Podia, there are better email marketing solutions out there, and there are better CRM systems that can be used to provide better customer support. The problem is that all these tools are separate and if you want to use them together, you'll have to manage the integrations yourself which can be a headache.
To be fair, Podia does allow you to integrate with third-party tools like MailChimp, ConvertKit, AWeber, etc. However, it is only ideal to use if you're looking for an all-in-one solution but you'll have to make the compromise of being stuck with the limitations of the individual aspects of the platform.
Click Here To Try Podia For Free
Podia Pricing
You don't need to waste 1000s of $$ on a course platform, also you shouldn't have to pay "more" as you get more student! That's just absurd! This is 2023
Podia's pricing is one of the simplest in the industry. While many of their competitors complicated things with having many plans that they can upsell you on, Podia keeps things simple.
Podia offers a 14-day free trial and two paid plans called Mover and Shaker. Here's a quick breakdown of the pricing offered on Podia:
Mover ($39/month) – Your own storefront, Online courses, Digital downloads, Email marketing, Messaging, Zero transaction fees, Teammates (charged $20 per teammate), Unlimited everything, and 24/7 support.
Shaker ($79/month) – Everything in Mover + Memberships, Blog, Embedded Checkout, Affiliate marketing, Third-Party Code, Offsite buy buttons and FREE migrations.
You can get a  25% Discount on Podia. Simply click the link below and start a Free 14-day trial and pay "Annual" instead of Monthly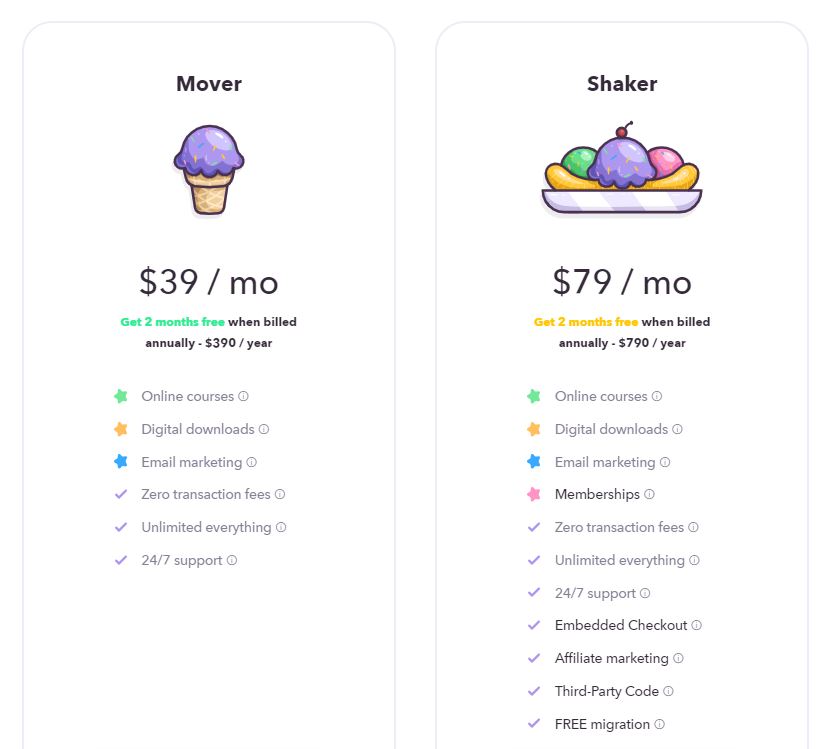 Is Podia Worth it?
To be honest, if you're planning on just creating an online course, there are better options available such as Teachable and Thinkific. However, if you're looking for an all-in-one solution that provides remarkable value for money and want to handle your entire online business funnel within just one platform, you should give Podia a try. The 14-day free trial offered by Podia doesn't even require you to enter a credit card so you can try the entire platform out with absolutely no commitments.
For a only $39/month, you can an amazing course platform along with a marketing Suite with everything you need to run a digital empire! It's honestly a no brainer for someone who just wants to create and not worry about the technicalities.
Click Here To Try Podia For Free
Podia Discount Code
They're many websites on the internet making misleading offers such as:
Podia Coupon
Podia Discount Coupon
Podia Discount
Podia Coupon Code
Podia Coupons
Podia Code
Podia Promo Codes
However, the truth is that Podia does not offer any coupons!
You can get a discount on Podia if you decide to pay Annually instead of Monthly! If you decide to pay yearly instead of monthly you will save 16%
Combine that with the free 14 days trial and you'll save 25% on your first year!
Podia Discount Price:
Mover – $390 $468 save $78/year
Shaker – $790 $948 save $158/year
Simply click the link below to start your trial (NO Credit Card Required)