TLDR: If you're in a hurry the Teachable is the Best Thinkific Alternative according to Reddit!
u/rajshankara: I use Thinkific, works great. Makes money from my lectures
Click Here To Try Teachable For Free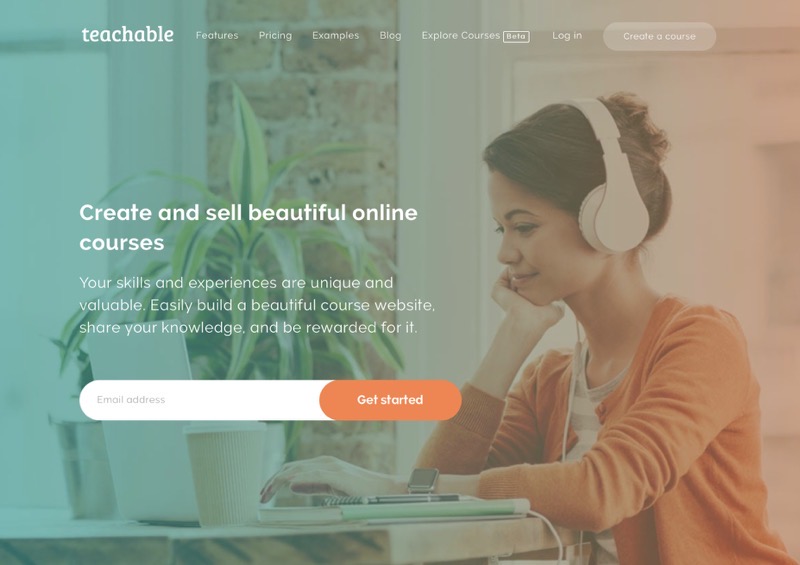 Thinkific is my favorite course platform for SaaS companies, however if you're looking for an affordable alternative to Thinkific than this article is for you!
If your business relies on courses go with Teachable
If you are a solo creator launching your first course go with Podia
If you want to host your own content & use WordPress go for Thrive Apprentice
If you have no audience and want to tap into an existing market then go for Udemy
Click Here To Try Teachable For Free

To save you the time I have decided to only pick the top Thinkific Alternatives, it would've been easy for me to make this a "top 10" listicle but let's be honest, most of the other alternatives aren't worth your time, so here's just the best of the best!
Best Thinkific Alternatives
1. Teachable – Best Thinkific Alternative For Courses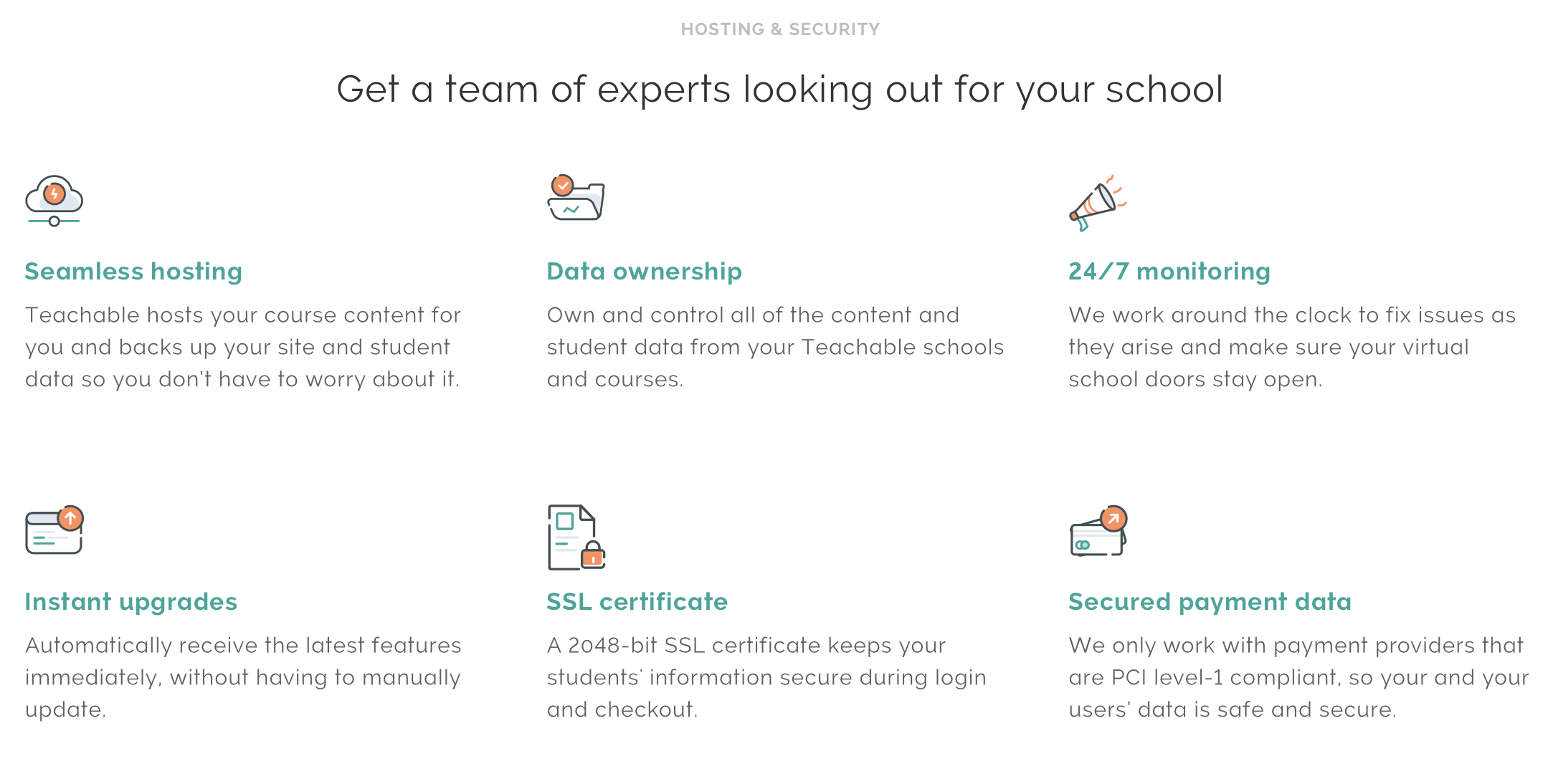 Click Here To Try Teachable For Free
What Reddit has to say about Teachable:
u/drewches: I have a client who hosts all of their courses on Teachable. I think that Teachable is a great platform since it handles a lot of the back end of things for you so you can focus on creating content.
u/connectsnk – "A good membership option is to opt for a fully managed online platform like Teachable".
u/bigoldfeet – "Teachable is a platform for creating an online platform, but you can add in features to give your teachable site a community aspect, effectively making it a membership website.".
Teachable is best suited for a much different audience than Podia. While Podia is best suited for a non technical solopreneur or team who just want to focus on creating.
Podia isn't suited for teams to work on
Podia doesn't allow multiple instructors on a course
Podia doesn't have student progress
Which means that if your business relies on courses heavily, you want a platform thats gear just for courses!
Teachable it literally just a course platform, you have to combine many other services like Clickfunnels for your landing pages, Mailerlite for your drip campaigns, to make your campaign successful.
If you're just looking for a powerful course platform that will integrate with your existing business, then Teachable is definitely the best one out there.
1. Course Creation
Naturally, the core feature of any online learning platform is course creation and student engagement. While both Teachable and Thinkific come with great features that help in creating courses and engaging students, there are some differences between the two. I've covered the differences more in-depth below but here's a quick overview:
The Teachable course builder is more flexible than Thinkific. It also comes with a native iOS app for students while Thinkific doesn't. Teachable's course reporting tools are also a tad bit more extensive than the tools you'll find in Thinkific.
The main advantage of Thinkific over Teachable when it comes to course creation and student engagement is that it comes with some niche features such as advanced quizzes, assignments and surveys, communities, groups, etc.
Overall, both of them are pretty good at their core functionality.
2. Website Design and Customization
Site building and customization are considered to be core features of any online learning platform these days. In terms of website design and customization, Thinkific is much better when compared to Teachable as it comes with powerful features when it comes to building sites and customizing them. The differences are explored more in-depth below but here's a quick overview:
Both platforms offer free hosting and come with an SSL certificate. The security and maintenance of the site are taken care of by the platform itself and both of them allow you to link your custom domain to the site.
Both platforms also allow you to completely customize the site and allow you to offer your entire site in different languages too.
However, Thinkific offers much better features when it comes to customization and design.
3. Sales and Marketing
Sales and Marketing tools are important when it comes to selling and promoting your online courses. Both the platforms have some decent features to optimize the sales and marketing for your online courses but Teachable is much more optimized than Thinkific when it comes to this particular aspect. Here's a quick overview of the sales and marketing features before we explore them more in-depth:
Teachable's checkout process is a very simple and optimized 1-step process whereas Thinkific has a 2-step process where the student has to first create an account and then make the payment for the course. The 1-step process is much better when it comes to the conversion rate for your online course.
Teachable also supports Apple Pay and Google Pay natively, allows you to collect EU VAT, and offers a much better sales and marketing experience in general.
As for Thinkfiic, the only upside it has over Teachable in this aspect is that you can create more flexible pricing and other features like up-selling and instant payments.
Click Here To Try Teachable For Free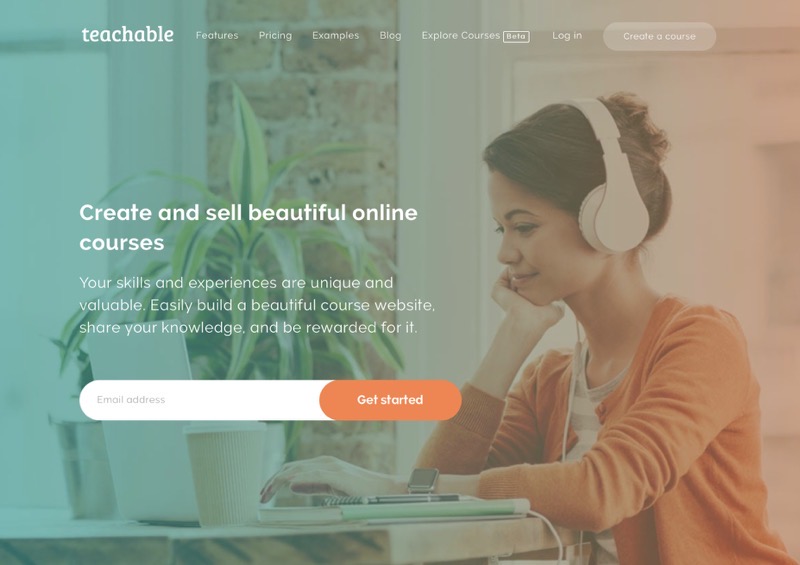 2. Podia – Best Thinkific Alternatives For Solopreneurs
Podia is one of my favorite new competitor to Thinkific in 2023 Just as ConvertKit changed the email marketing field by building a product designed for "Creator", the guys at Podia have done the same for online courses!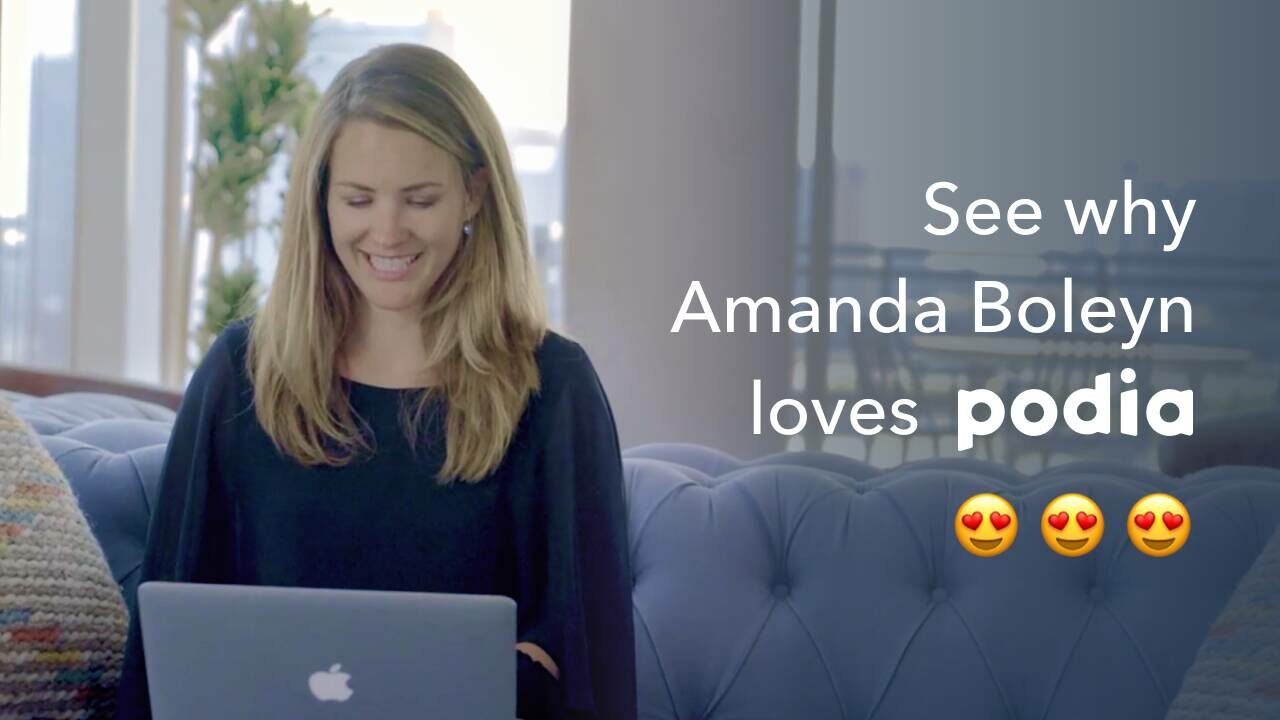 Click Here To Try Podia Free For 14-days
What Reddit has to say about Podia:
u/StrictElephante: Podia seems restrictive. There are some things I can't do with their website builder
Podia is basically an all in one marketing tool and platform for creators to monetize their audience. You can host your online course, market it with landing pages, send email newsletters + drips, and accept online payments, all for one low price.
Their pricing is also one of the simplest in the industry. While many of their competitors complicated things with having many plans that they can upsell you on, Podia keeps things simple.
Podia is available in 2 different pricing plans:
Mover ($39/month): Online courses, Digital downloads, Email marketing, Zero transaction fees, Unlimited everything, 24/7 support.
Shaker ($79/month): Everything in Mover + Memberships + Embedded Checkout + Affiliate marketing + Third-Party Code + FREE migration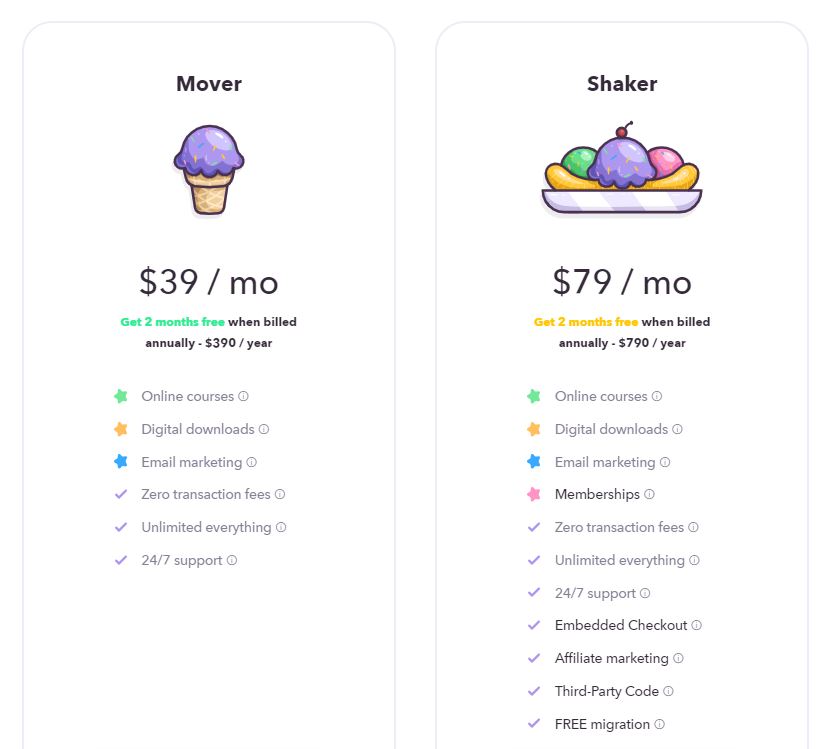 Thinkific is best suited for a much different audience than Podia. Podia is best suited for a non technical solopreneur or team who just want to focus on creating.
Podia isn't suited for teams to work on
Podia doesn't allow multiple instructors on a course
Podia doesn't have student progress
Thinkific has much more advanced features that make it better for large organizations, it's hard to work with Podia when more than 3 people are involved, in Thinkific more than 10 people can collaborate and get things done efficiently.
If you're just looking for a powerful course platform that will integrate with your existing business, then Thinkific is definitely the best one out there.
But as an all in one platform, Podia has a ton more features making it the winner.
3. LearnWorlds
LearnWorlds is also another fine platform one can use. The main selling point here is that there are tons of ways through which you can interact with your student.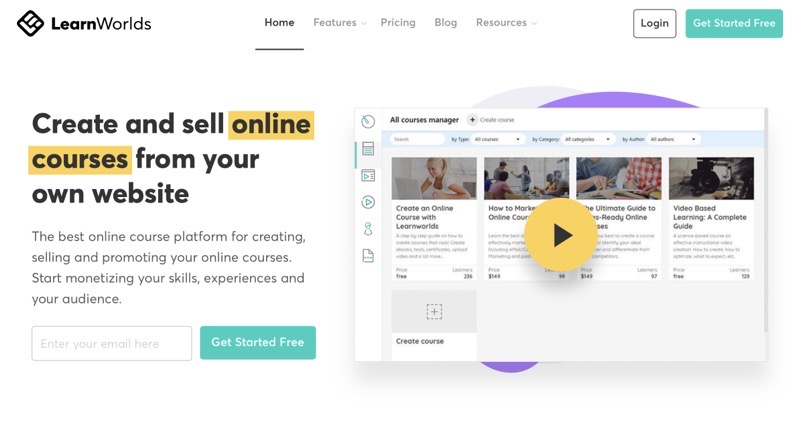 Click Here To Try LearnWorlds For Free
What Reddit has to say about Learnworlds:
u/onlybmd: The top three I've looked at has been Teachable, Thinkific, and LearnWorlds. Research them all see what would work best for you.
u/Fit-Explanation-9027: I would check out learnworlds. It's easy to use, you can build your own website and it has all the signups & co build in. And: A Zoom integration, so you can host your sessions in the Course itself
Pros
Unlimited Courses
Custom web domain
Built-in social network
Mobile and tablet app
Interactive Ebooks
Cons
Support in the starter plan is 24/5 and not 24/7.
Lacks a free plan
1. Regular updates
LearnWorlds updates and upgrades its features on a regular basis, to ensure that it remains up-to-date with current technology.
Regular updates also help quickly squash any bugs that arise and hence make up for the best possible experience you can get.
2. Affordable plans
LearnWorlds basic plan is only $29 per month, which is pretty affordable.
A complete list of the plans goes like this:
Starter
Cost is $29 per month. Features include:1 Admin, Unlimited paid courses, Pages Builder (3 pages), 4 Payment gateways, Coupons, Basic Integrations, Free SSL certificate, Drip Feed Courses and 24/5 e-mail support
There is a transaction fee of $5 per course sale.
Pro trainer
This one costs $99 per month and packs the following features: 5 Admins/instructors, Unlimited landing pages, Complete website builder with blog, Subscriptions & Memberships, Installments , Fully customizable Course Player, Customizable checkout page, Custom Certificates, SCORM / Multimedia files, Affiliate Management, Zapier & Premium Integrations, Question Banks, Onboarding call and 24/7 Priority e-mail support
No transaction fees.
Learning center
Priced at $249. Boasts these features: 20 Admins / Instructors, Bulk Student Upload, Full White-label Options, Integrations with API, Interactive video, Auto Customer Insights, Advanced Affiliate Management, Webhooks Integrations, Single Sign-On (SSO), Custom iOS & Android App (extra fee), 2 hours Premium Onboarding, 24/7 Premium Support
3. Customer support
The customer support is great and has some fast responses. Only drawback regarding this is in the basic plan, where the customer support itself is still good but just that it is only available 24/5. All the other plans have 24/7 support though and so this isn't an issue there.
Click Here To Try LearnWorlds For Free
4. Thrive Apprentice – Best WordPress Alternative to Thinkific
If you're tired of Expensive Course Platforms; Thrive Apprentice is a godsend!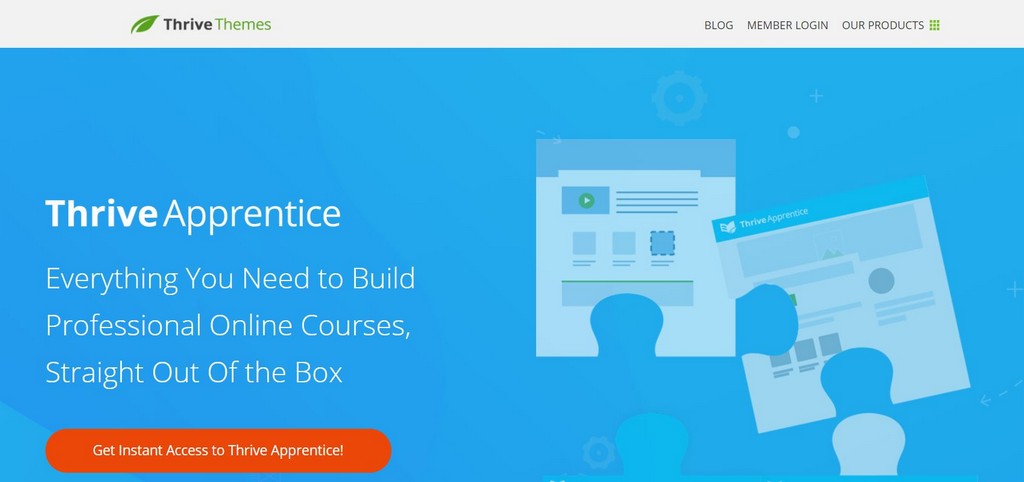 Thrive Apprentice was recently launched by Thrive Themes in early 2023 and it's honestly a game changer! It's an easy to use WordPress plugin that can be used to create online courses on your WordPress blog!
Thinkific vs Thrive Apprentice
Thrive Apprentice has easy to follow step-by-step setup process that makes it extremely easy for anyone to create stunning online course Lessons, Chapters and Modules with the fast-action design power of a professional web developer (without having to touch a piece of code).
How does Thrive Apprentice compare vs popular course platforms like LearnDash and Thinkific??
Well, for starters it's cheap!
It only costs a one time fee of $67/website to use Thrive Apprentice for life!
In comparison,
LearnDash costs $199/year/website!
Teachable costs $348/year in their basic plan
Price isn't the only thing Thrive Apprentice stands out in. One of the biggest change that happens when you use a tool like Thrive Apprentice is that you are taking back control of your content.
You are looking at the big gatekeepers (…. Udemy..) and saying "NO, I'm going to build my audience on my own, I'm going to own my own content!"
The downside is that you have to handle the structural issues that come with hosting your own content and dealing with WordPress and WordPress plugins. However, for the technical mindset person, Thrive Apprentice is the best value for the money!
How much does Thrive Apprentice cost? well, this will surprise you!
Single License @ $67
5 License Pack @ $97 ($335)
15 License Pack @ $147 ($1005)
Click Here to Get Thrive Apprentice
5. LearnDash – Thinkific Alternative For WordPress
What Reddit has to say about Learndash:
u/rebeccanotbecca: I just met someone who is using LearnDash and he loves it. It is working well for his 1000+ employees. I don't know what your budget is but $180 seems like a low barrier to implement a LMS.
[deleted]: I've used learndash for a couple years and have no complaints. If you are comfortable with wordpress it will be very intuitive. I ended up moving all of my courses to canvas because the one thing learndash is missing is a robust grading system (which wouldn't matter for you).
u/christyinsdesign: I've been using LearnDash with a nonprofit client for about a year, and I'm currently procrastinating writing a proposal for another client where I'm recommending LearnDash. I really like LearnDash, especially for very small organizations or consultants who are selling a handful of courses.
LearnDash gives you quite a bit of control. You can add plugins and customize your experience. Need forums? There's a plugin for that. If you do get into Storyline or interactive media sometime down the road, you can add that in LearnDash and even track everything via xAPI. It's on your domain, with your URL
LearnDash is a well-regarded online course builder for WordPress. It is used by a number of universities and entrepreneurs.
Pros
Unlimited Courses
Unlimited Students
Course forums
Drip feed lessons
Advanced Quizzing
Cheap
1. Focus mode
This is one of the best features LearnDash has to offer. The LearnDash focus mode lets you create a dedicated virtual learning environment.
Basically, it eliminates distractions and hence helps learners retain stuff more and complete courses faster.
It is an optional setting so it is upto the user to configure this mode.
2. Great prices
At first glance, you might think "Damn the prices are high!" but in reality, the LearnDash plugin is quite cheap. Why? Because the listed prices are per YEAR, not per month!
There are three plans and all three of them include the following features:
Unlimited Courses
Unlimited Users
Course Content Protection
Drip-Feed Lessons
Advanced Quizzing
Certificates & Badges
Course Forums
Email Notifications
Free Integrations
1-Year Support & Updates
The difference between the different plans lies in the number of site licenses offered. Basic offers 1 site license and costs $199 per year (on discount at $159 right now), Plus offers upto 10 site licenses and is priced at $229 per year ($189 with the sale) and Pro offers upto 25 site licenses and goes for $369 per year ($329 with the sale).
3. Demo site template
All the plans include a free copy of LearnDash's entire demo site! It will really help beginners kick start their business as soon as they can.
The Verdict: LearnDash is the best WordPress LMS plugin. It packs a great number of features and is priced really good, honestly too good for what it offers. With the demo template, beginners can easily begin with this plugin.
6. Udemy – Best Thinkific Alternative with Marketplace
They're a ton of articles on the Internet on how to make money selling courses on Udemy. I honestly believe that it's not worth it. Having worked with companies in the online course industry (I used to be the head of SEO at Foundr Magazine) Udemy is the bottom of the barrel when it comes to course platforms.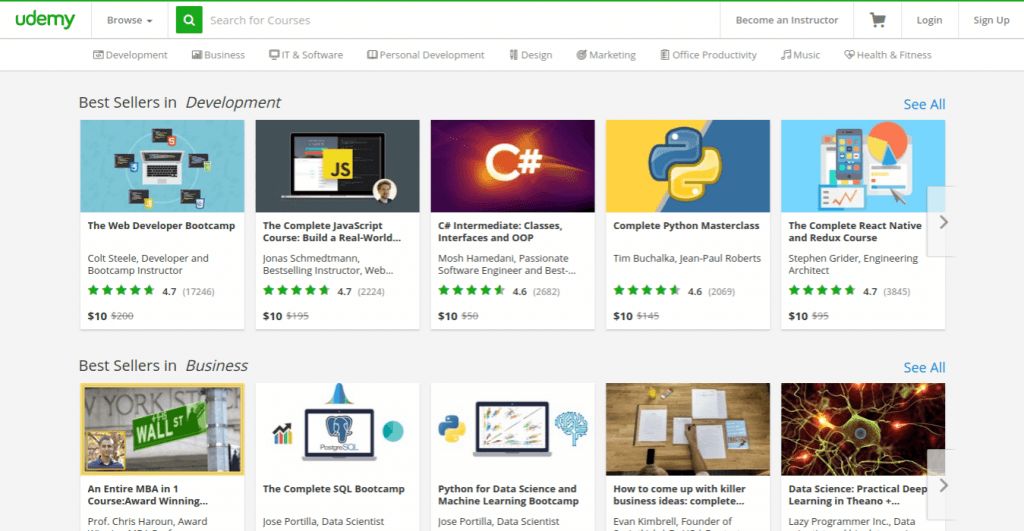 Udemy takes 50% of your course cost on organic Udemy sales. Udemy and the instructor share equally on these sales, which might occur after a user browses the Udemy marketplace for courses, or makes a purchase via a Udemy promotion
Udemy vs Thinkific
Even on sales which you bring to the platform eg. from your own email list using their "instructor coupon", Udemy takes a 3% cut.
Of course, Udemy might be fine for someone who doesn't have any audience at all, but you can spend the same amount of time building a brand and sell the course on Podia. Udemy may have a big marketplace but you have to then play by their rules.
Udemy gets to decide how your courses are algorithmically ranked as well as how much you can charge for your courses. Also, Udemy doesn't market courses that don't discount themselves a ton.
Udemy is the Fiverr of online courses and if you want to be that kind of content creator then, by all means, go ahead. But if you want to get paid for what you're worth then it's a better choice to build your own brand and sell your courses on your own platform.
Udemy is great to market any free courses if you want to as a lead generation tool as you can then upsell your premium courses to them. So it's not necessarily useless for someone looking to build an online brand.
Click Here To Give Udemy A Whirl
7. Uscreen – Best Thinkific Alternative To Sell Video Online
Uscreen is one of the fastest growing video monetization platform in the world right now. It allows anyone to go start selling video online without having to deal with any of the technical things!
Uscreen is a bit different than most of the other online course platforms and instead is more geared to someone who wants to make money from Selling videos.
Uscreen allows you to host unlimited videos and provides super quick streaming without any buffering.
Also the big plus with using Uscreen is that everything is in a single platform, you don't have to worry about integrating Vimeo with WordPress & firebase. So you can focus on creating!
There you have it!
Cheap Thinkific Alternatives
These are the Best Thinkific Alternatives according to Reddit in 2023, you don't need 10 choices to pick from because these 7 will basically cover all your needs and remember, each Thinkific alternative is good and bad in its own way, so there isn't a single one that's best.
If your business relies on course go with Teachable
If you are a solo creator launching your first course go with Podia
If you want to host your own content & use WordPress go for Thrive Apprentice
If you have no audience and want to tap into an existing market then go for Udemy
It makes more sense to understand your preferences and needs before the decision. After all, it doesn't make sense to get Thinkific when it does tie to the results you want in your business.
All the best!