TLDR: If you're in a hurry Wistia is the Best Vimeo Alternative according to Reddit!
u/ahartzog- "We use Wistia for our course content, Wistia for product demo/intro, and YouTube for public video posts".

u/inmyhumbleo- "Been using Wistia for 4 years now. It's been a pleasure to watch them grow as a company, and it still continues to get better today. Wistia > any other video host.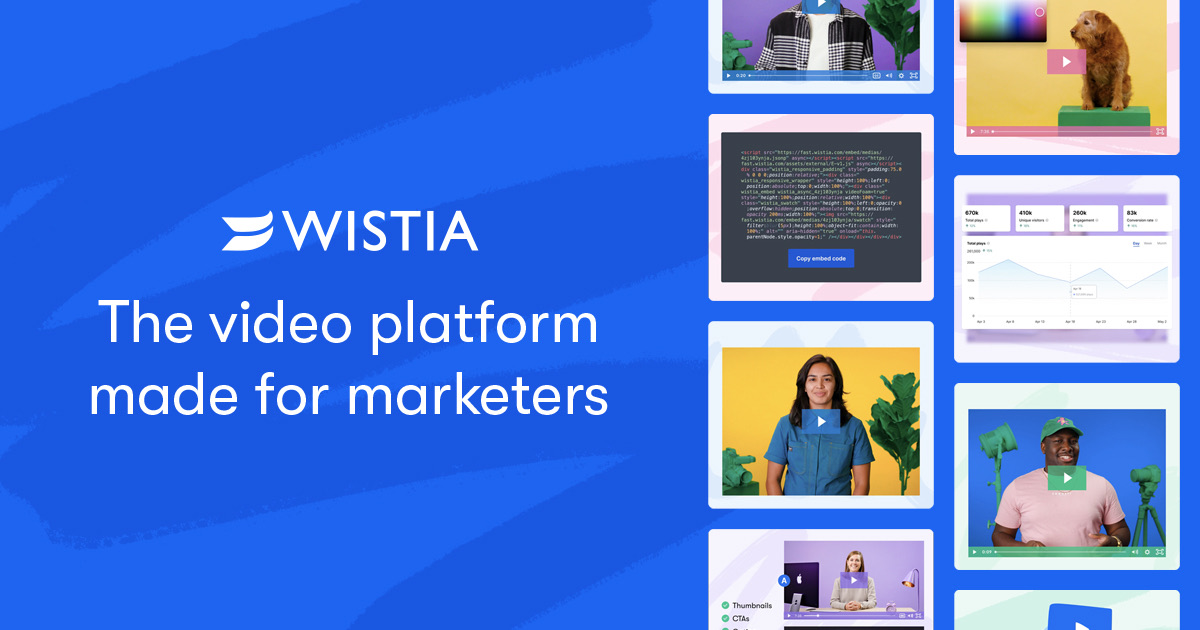 Vimeo is a video-sharing platform that was launched in 2004 and preceded as an alternative to YouTube and a leader in the small-scale online streaming industry. But one thing we have to learn from the fall of Yahoo and Nokia is that being the first in space doesn't equate to being the best today. But has Vimeo managed to maintain its position and relevance over the years?
Currently, Vimeo is attracting an artsy crowd and has a thriving community of film, music, art, and animation users. However, today Vimeo seems to be stagnant in its growth and is struggling to gain traction with its growing audience. Further, the recent price hikes for the platform have meant that users have to pay higher fees to embed their videos on other websites. This has caused a huge blow for all independent creators that were using Vimeo to showcase their work.
The good news in all of this is that there are several video-sharing platforms that are better or can be on par with what features are offered by Vimeo. In this article, I have covered the best alternatives to the platform in the market.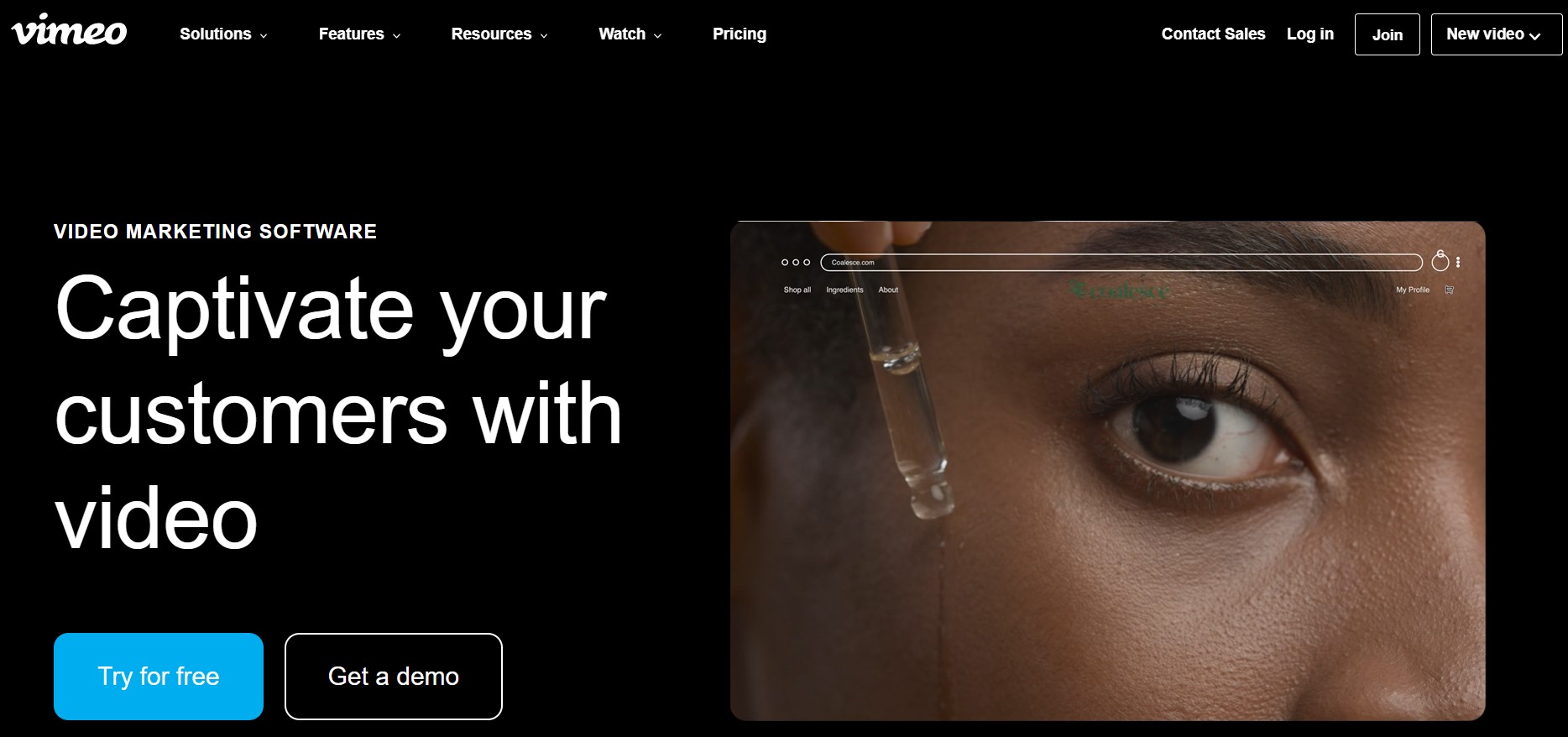 TLDR: Here are my top picks if you are in a hurry
Wistia – Best Vimeo Alternative for Video Marketing
Thinkific – Best Vimeo Alternative for an Online Course
Why Choose Vimeo Alternatives
Vimeo has been a great video-hosting platform in the market from the date it was launched. Despite being the first in the space, it comes with its own set of limitations.
1. Limited integrations with a range of important applications
2. The price hike has caused a stir amongst its users
3. No auto-generated captions on its videos
4. The buffering time is long, which is bad for retention
5. Lower upload limit on its basic plans
6. A limited viewing data and engagement metrics
7. Call-to-action options are limited
The alternatives to Vimeo come having their own flavor, and we will take a deep dive into them below.
Best Vimeo Alternatives 2023
1. Wistia – Best Vimeo Alternative for Video Marketing
Wistia is a powerful video hosting platform that is designed to handle the requirements of small and large-scale businesses. It is a fully-blown video marketing company that is designed with excellent lead-generation tools. You can embed your videos directly using its customizable player. The lightweight platform can embed codes efficiently so that your videos load faster. The videos that are embedded include automated metadata to optimize the SEO of the video platform. You also have the ability to create a channel to host content and make use of A/B testing to see what works best.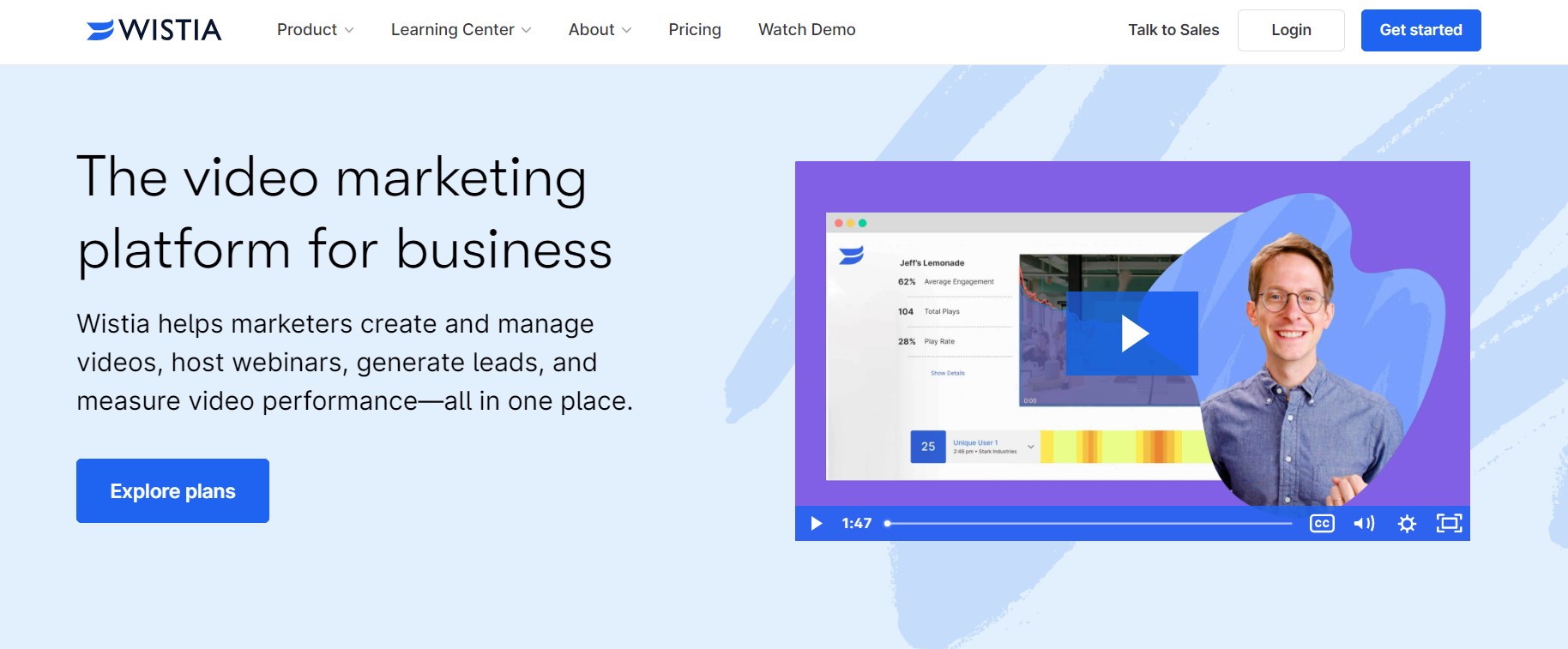 What Redditors say about it
u/CaptainJamie- "What I want to know is why Wistia is so good. I have used it to host videos for clients, and it's very smooth and fast, but I don't know how they do it. If every video on YouTube was hosted on the Wistia Player/servers, it would be bliss".
u/inmyhumbleo- "Been using Wistia for 4 years now, and it has been a pleasure watching them grow as a company and see their platform continue to get better. Wistia > any other video host".
This alternative to Vimeo doesn't support live streaming, so you are only suited for businesses that make use of VOD exclusively. It also comes with good marketing integration and analytics that help enhance your social presence metrics and control your audiences.
Features
Video API access- Wistia gives you the chance to host unique videos for your audiences. Here, the applications programming interface allows you to create, store and deliver videos to your users efficiently.
Quality video experience- Wistia comes with a range of tools that help provide quality video experience with multi-bitrate streaming, adaptive streaming, and security features.
Marketing features- Wistia focuses its effort on marketing and offers integrations with a range of marketing tools, such as Pardot, HubSpot, Adobe Market engage, etc. Further, it also comes with analytic tools, compliance tools, paywalls, email marketing features, and support apps. This helps reflect the platform's focus to support its video marketing efforts.
Video analytics- Once your website is live, you can efficiently track the engagement of your videos. The platform offers valuable insights based on tracking and heatmaps using engagement graphs and viewer tracking to give you a perfect picture of audience engagement.
Robust tech support- Wistia comes with robust tech support using its quick-response ticket system. You can contact the support team to find answers to different questions and queries.
Pricing
Wistia is available for free using its free plan, but if you want premium features, you can access its other 3 plans, which include the Plus plan for $19 per month, Pro Plan for $79 per month, and the Advanced plan for $319 per month.
Pros
Allows unlimited users
Integrates well with email marketing, CRM, analytics
Powerful video SEO
A customizable player using good branding features
Advanced security
Flexible video dimensions
Role-based access permission
Helps create audiences across different social media channels
Ad-free platform
Cons
Doesn't support live streaming
Highly focused on external streaming
Priority support only available for the premium plan
2. Thinkific – Online Video Course Builder
Thinkific is a great alternative to Vimeo if you want to create video course content. The platform lets you create courses using its versatile builder and later market and sell your online courses. You don't require any technical skills and expertise if you want to create your courses.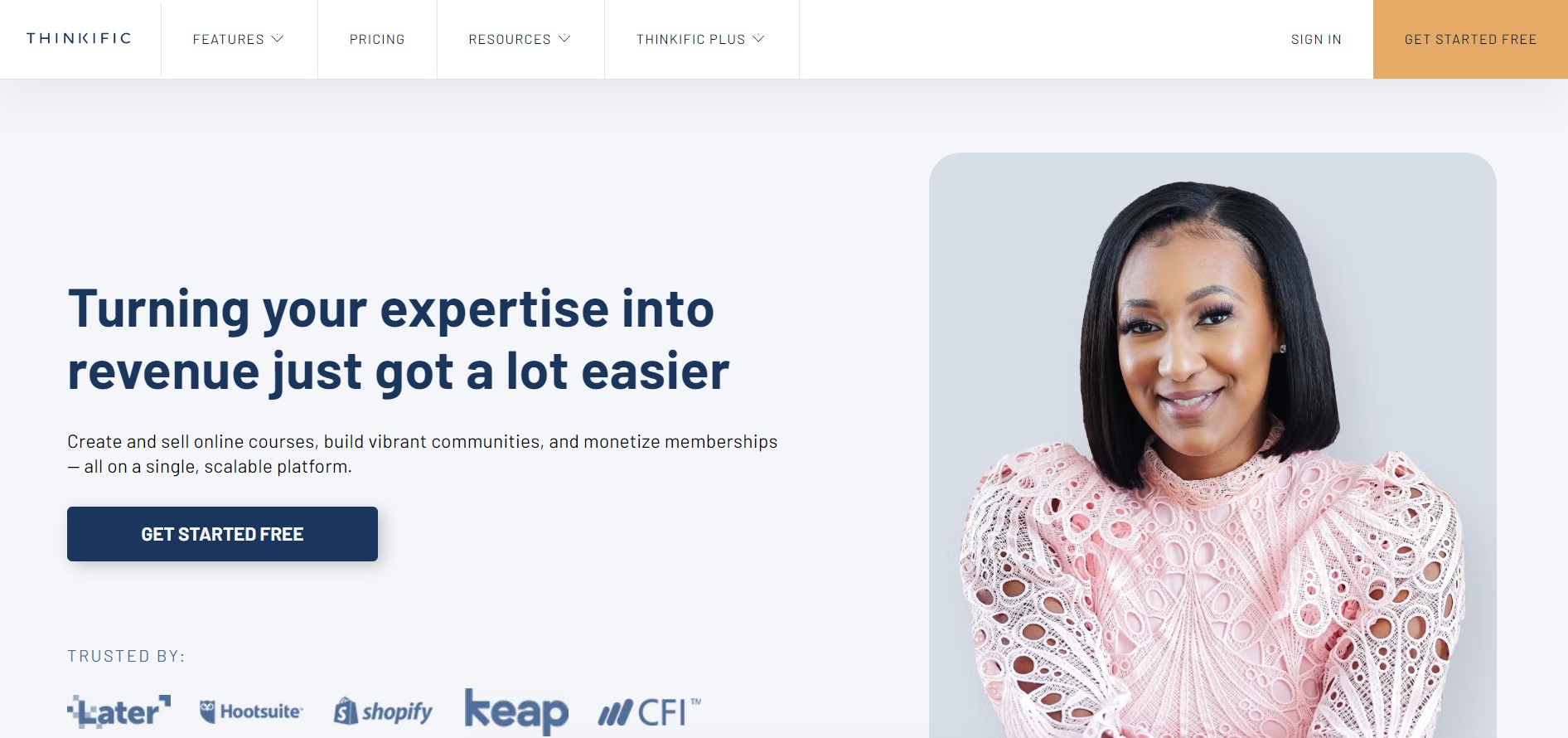 What Redditors say about it
u/Bubble-Wrap_4523- "I recommend Thinkific. You have one free course on the starter plan, and you can upload videos on their servers and make them non-downloadable. Here, users have to create an account and log in. Use the handbrake to compress the videos first".
u/rajshankara- "I make use of Thinkific, and it works great. It helps make money for my lectures".
Thinkific's excellent drag and drop builder is supported by an intuitive interface. You can customize every aspect of your platform to suit your brand identity. It comes with rich multimedia support having external integrations. The platform lets you support content in the form of text, attachments, or third-party channels. You can easily import the content and download it without any additional costs.
The Thinkific platform allows you to upload and share content online, but it also supports a live-streaming feature to interact efficiently with your audiences. The reliable hosting solution ensures that you don't require any external hosting to get started.
Features
Course creation and builder- Thinkific has a versatile drag and drop builder that helps in the creation of online courses. You don't require any coding skills or technical knowledge while creating the course platform.
Sales and marketing- Thinkific focuses on sales and marketing. You can sell video courses via coupons, sales widgets, affiliates, and much more.
Analytics- The Thinkific dashboard allows you to check engagement, plays, play rates, and other important metrics. You have to check student engagement features to see how your online course is doing to check its success rate.
Community engagement- The platform offers a virtual space where the people of the course can participate in interactive discussions to help drive your engagement and connection. Here, they can shift the learning experience into a collaborative exchange to share knowledge and resolve any issues they might have.
Pricing
Thinkific has a free plan where you can avail all the features of the platform without paying a penny. However, it is a bit limited, and to get premium features, you can access it 3 remaining plans, wherein the Basic plan is priced at $49 per month, the Pro plan is $99 per month, and the premier plan is $499 per month.
Pros
Custom domain
No transactional fees
Reasonable pricing plans
Fully customizable
Excellent video quality
Voice-over PowerPoint presentation tool
Smooth video playback
User-friendly interface and builder
Good support
Cons
No live chat support
Limited templates in its course and site builder
Lacks integrated email marketing tools
3. Uscreen
Uscreen is one of the fastest-growing video monetization platforms in the world. The alternative to Vimeo allows customers to build their own site, launch OTT applications, and run monetization schemes on their content.
Click Here To Try Uscreen For Free
Uscreen allows you to upload your videos, share them using social media channels and sell videos online. It helps keep your content organized, and you don't need to have any coding knowledge or expertise to get started. This makes it an ideal choice for beginners as well as advanced users. To create a payment plan for your video hosting solution, you will have to configure your subscription to link it to your payment processor.
The live streaming feature for business helps you host your videos and training on the platform. You can get access to this feature by making use of a subscription-based package. The Uscreen player is white-labeled using HTML5, and you can customize it to suit your brand identity. With the platform, audiences can get the experience of fast playbacks in full HD with the support of VTT captions for your videos. Uscreen has great tutorials and a good support team that can help you get started with your videos on the platform.
Features
Ease of use- Uscreen is suited for someone who is focusing on creating content without much hassle. You don't have to worry about CSS, HTML, and coding language. Further, you don't need to learn how to integrate Uscreen with WordPress as required with Vimeo.
Powerful analytics- Uscreen's video analytics allows you to check the unique watch time of videos that are uploaded on the platform. You can respond to these metrics and base your queries around them to run a successful business. The platform also supports integrations with Google Analytics to give it an edge in the market.
Complete control- One thing that sets Uscreen from other platforms is that you own complete control over your video, and you don't have to pay the platform a cut. So, you get to keep all your hard-earned money.
Website Builder- Uscreen has a website builder where you can build your player and showcase your programs. The versatile builder lets you create customized pages without much hassle.
Sales and marketing tools- You can run various promotions on Uscreen that help improve your exposure. You can offer coupons, affiliate marketing, and much more to promote your courses.
Create chapters and episodes- Uscreen allows you to add chapters or episodes to your videos. You also have the ability to create a playlist and offer it to your audiences.
Pricing
Uscreen has 3 plans, wherein the Basic plan is priced at $79 per month with the Growth plan of $159 per month. You can also select their custom plan, which comes with custom features and pricing.
Pros
Efficient video creation and selling
On-demand video and live-streaming features
Pre-built themes
Integrates with OTT apps on your mobile phones or smart TVs
Excellent HD video hosting
Simple and comprehensive platform
Full data ownership and bulk uploading
Built-in CDN to reach a global audience
Custom pricing plans
Extensive customization
Option to overlay animated GIFs on videos
24/7 customer support
Cons
Lacks some integrations, like video conferencing and LMS
Limited storage
4. Cincopa – Multimedia Hosting Platform
Cincopa is a reliable multimedia hosting platform that may be the ideal Vimeo proxy that you may be looking for. The cloud-based video management solution helps your business create, market, and distribute videos across multiple channels. The platform helps professionals get more digital assets in a centralized repository to generate custom reports and engage your customers.
The video and photo hosting platform comes with various designs to display slideshows, photo galleries, video players, private video hosting solutions, and much more. Cincopa shows no ads before or after the video plays, making it very engaging for users. It also has good lead generation and audience targeting features that make it highly robust in the video marketplace today. Further, it has an API that facilitates integrations with different third-party applications.
Features
Complete content hosting- If you are looking for a place to host videos, photos, and other media, then Cincopa is a full-service multimedia content hosting platform.
API Access- If you want to create unique content for your business, then Cincopa offers API access. This allows you to create a unique multimedia solution for your business.
Video galleries- The Cincopa platform works with a range of content management systems, like WordPress, Drupal, etc. This helps in the creation of both image and video galleries. All this helps you to combine a range of multimedia presentations with over 100 different templates you can select from.
Video analytics- Cincopa has a host of tools that allow you to learn how your video content is doing in the form of analytics and heat maps. The heat map offers a visual tool to judge and analyze the viewer's behavior.
Sales and marketing- Cincopa has excellent lead generation features that convert your visitors into customers. Further, it has a range of marketing tools that help increase your overall sales and performance.
Multiple use cases- Cincopa offers support to many users and uses cases. The most common include eCommerce, marketing, sales, online education, and a few others.
Pricing
Cincopa is reasonably priced and comes with three pricing plans. The Plus plan is priced at $25 per month, which is its basic plan, with the corporate plan priced at $99 per month. If you want premium features, you can select its Agency plan, which is priced at $350 per month.
Pros
A versatile solution for sales, production, marketing, education, and more
Easily set up galleries using its drag and drop process
Comes with multiple options for integration
Diverse media hosting support
Multi-device support
Good monetization tools
Great tool for combining different mediums to create videos and galleries
Several gallery templates to select from
Great customer support
Cons
It is not a dedicated video streaming solution
Difficult to navigate through
5. Dacast – Live on-demand Streaming
Dacast is an online end-to-end video hosting and streaming platform. It focuses heavily on the live-streaming sector to offer solutions for online events and recurring series to help cover all kinds of video creation features.
Dacast hosts videos utilizing its secure cloud-based environment. The videos on the platform can be monetized using a variety of methods. Dacast offers users the option to leverage an OTT platform to integrate live videos and VODS into their pre-existing tools and platforms.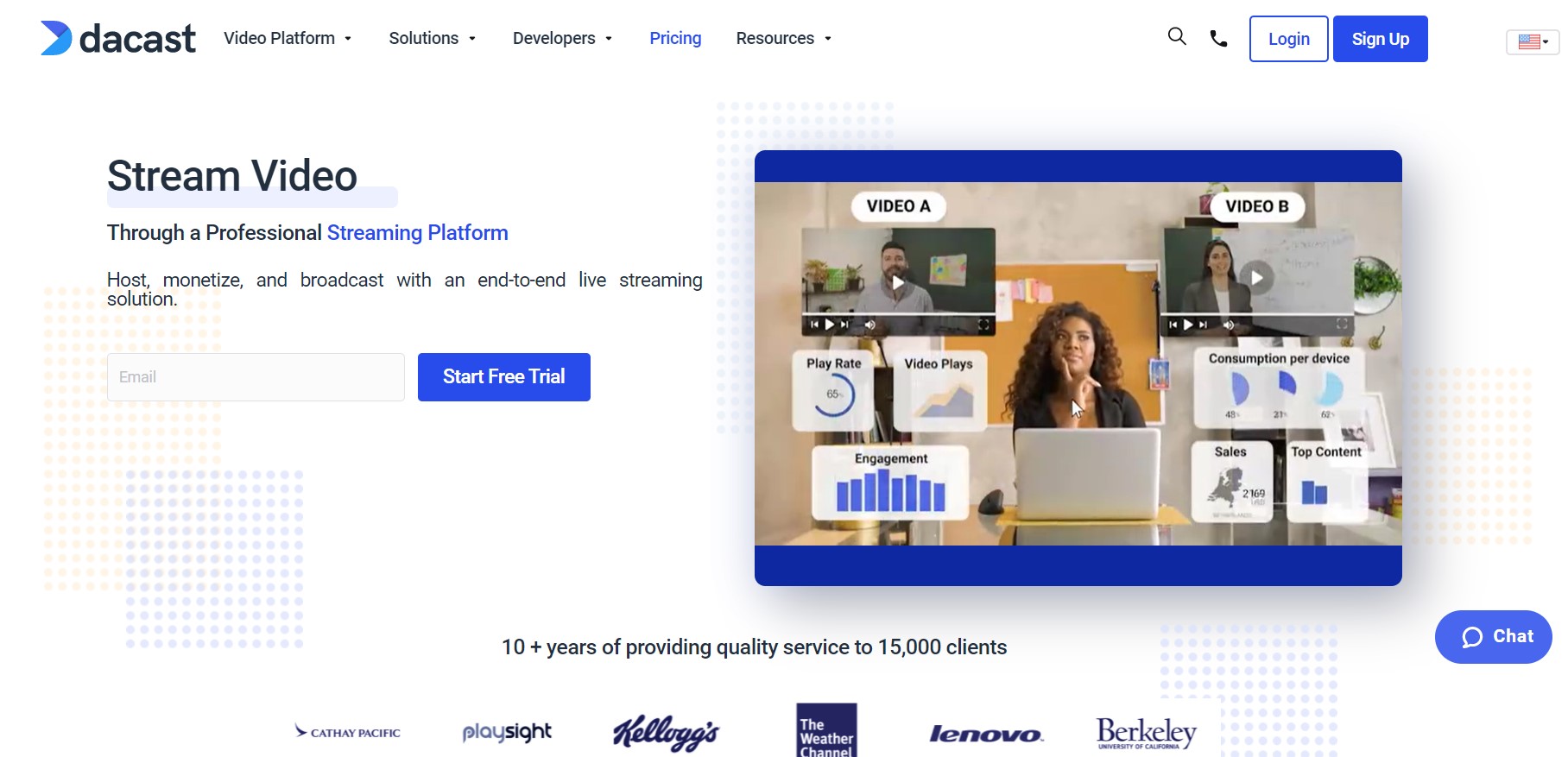 The platform sells its plan based on the bandwidth used by the user. This makes Dacast transparent with its users and offers good flexibility. The HTML5 video player allows you to embed videos directly on your website. Additionally, they offer excellent customer support so that you get the desired performance.
Features
Global delivery- Dacast allows you to seamlessly watch your video across the world. The strong CDN of Dacast allows for global content delivery. This widens the pool of potential views for your video, which makes it much easier to reach across the globe organically.
Designing video gallery- Dacast lets you create your very own video gallery using the Expo Galleries video portal feature. This helps turn your videos into explorable and stunning gallery pages.
White-labeling- When you embed videos on your platform, you will want your video platform to suit your brand identity and style. Dacast's white-label streaming makes it more than possible.
Ad-free streaming- Dacast doesn't come with any advertisements. The ad-free experience makes the entire process efficient and helps increase user retention rates.
Analytics- Dacast comes with different analytical features and metrics to give you feedback on all your videos. This lets you understand how your videos are performing.
Scalability- The scalability of Dacast is straightforward and simple. You can easily upgrade to a higher plan without having to switch over; just select a higher-priced plan.
Pricing
Dacast is highly versatile and comes with 4 pricing plans to get you started. You can select the $39 per month Starter plan if you are starting out; otherwise, you can select the Scale plan priced at $188 per month. The Event plan is suited for individuals who want to purchase bandwidth to live stream an event. It is priced at $63 per month or $750 per year. You can also select the custom plan to cater features to suit all your requirements.
Pros
A high-definition live streaming and video monetization platform
Powerful HTML5 video players
Video management system using cloud
Unlimited concurrent viewers and live channels
White-label and branding
API access for custom workflows
OTT video options
Good recording options
Secure platform with dynamic token security
24/7 customer support
Cons
Steep commission structure
Large files can be complicated to upload
The interface of some parts of the platform looks slightly dated
6. Kaltura – Cloud-Based Video Hosting and Distribution
Kaltura is a video platform having all the features required for successful video management software. It is a great alternative to Vimeo that provides total customization of the video player and broadcasting experience.
The open-source online video platform has cloud-based hosting and distribution for both live and on-demand content. This is a great choice for an organization having advanced broadcasting needs. It primarily serves four main industries, which include educational institutions, enterprises, media companies, and OTT video services.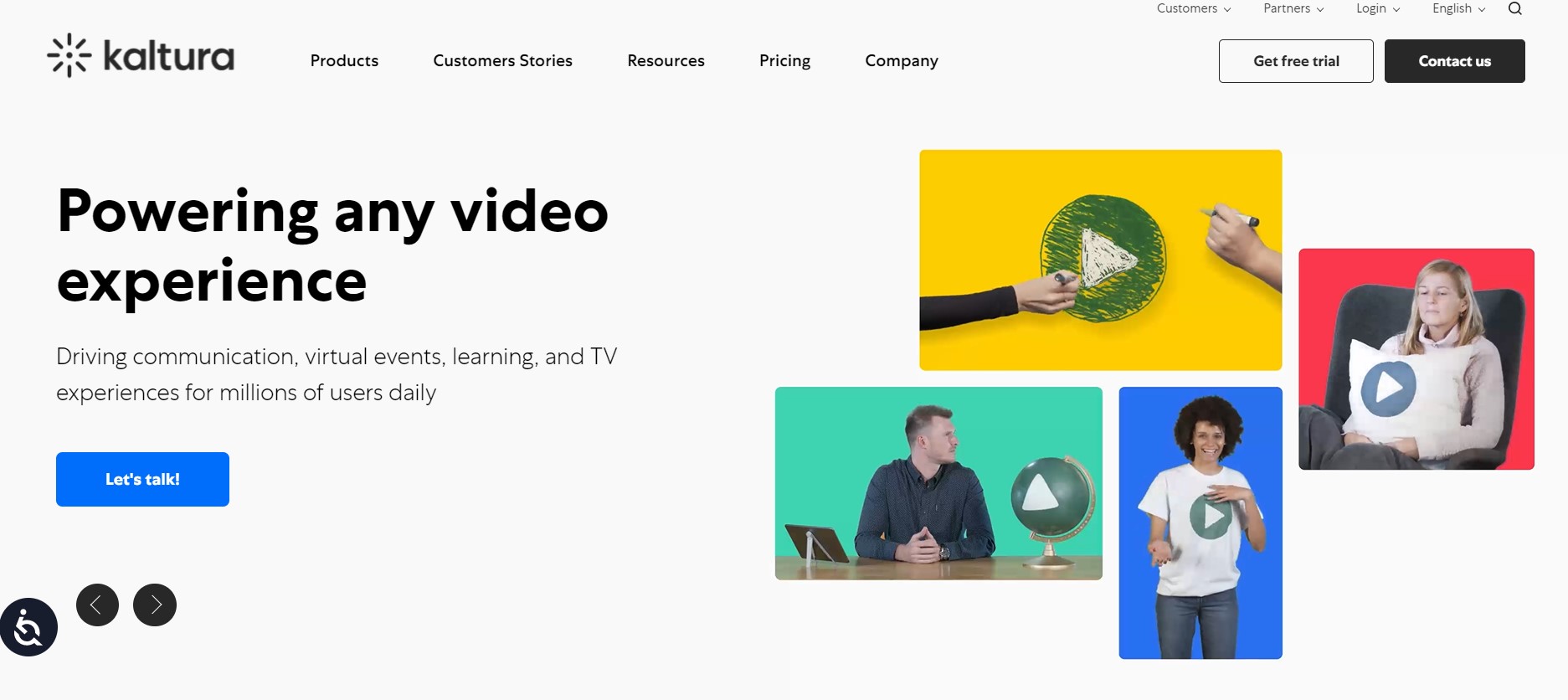 Features
Developer tools- Kaltura offers video-clout APIs and developer tools that help users in active media asset management. You can build video apps that scale with their tools.
Video content management system- You can manage all the elements of your videos on Kaltura with tools for managing, publishing, ingesting, and analyzing data from videos.
Live and VOD hosting- You have the ability to host both live and VOD hosting in a single place using the platform.
Quality video playback- Kaltura has both multi-bitrate and adaptive streaming that ensures that you get quality video feedback.
Interactive video tools- Kaltura offers interactive tools, like digital whiteboards, shared notes, chat tools, etc. This helps users to create an interactive live video experience.
Pricing
Kaltura comes with custom pricing and has pay-as-you-go plans for its broadcasters. Here, you can buy credits to use its features and bandwidth. It is not a usual way to charge, but it only helps you to pay for what you use.
Pros
Fully customizable
Endless options for streaming using different integrations
Easy to navigate
Watch it at 2x speed or slow it down
Ability to put videos into albums or chapters
Several monetization options
Powerful video security
Collaboration with video-making tools
Cons
Gets complex with all the integrations
Not great for beginners
Slow customer support
7. Dailymotion – Free Video Hosting Service
Dailymotion is another great alternative to Vimeo that is similar to YouTube. The platform allows you to upload any form of content on it without many restrictions. The ability to express your expression makes it a reliable alternative in the crowded market. The discovery feature of Dailymotion brings forth the best and latest video content to its audience and is a unique selling point.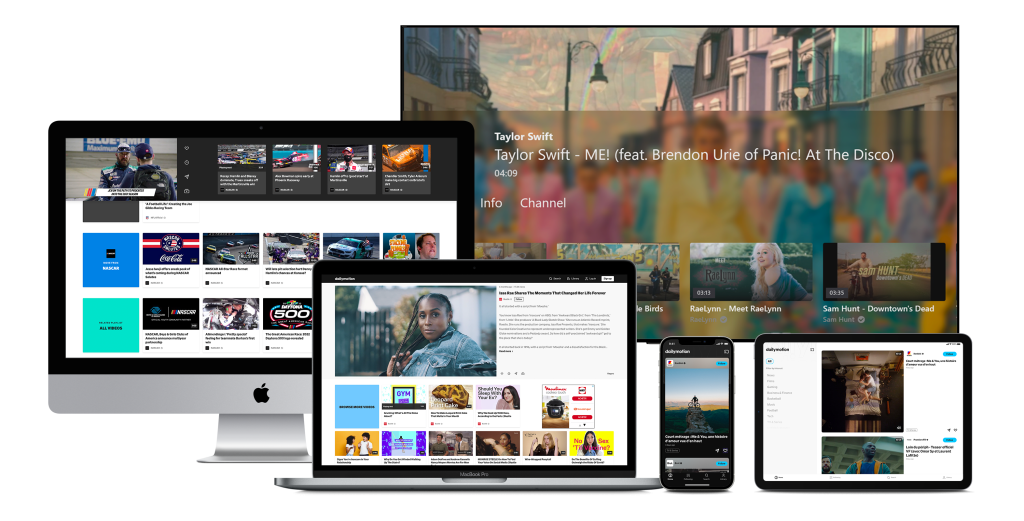 The platform is easy to sign up to get started and currently has over 350 million active users. The video player of the platform can be customized to a certain degree, and it can be viewed across a range of devices.
Dailymotion supports both VOD and live streaming, which lets you connect more efficiently to your customers. You can easily embed the videos and live streams on your website or social media channels. Further, they come with seamless ad integration and management.
Features
Basic video-sharing platform- Dailymotion is a simple video-sharing platform that allows you to host and share videos easily. The platform's interface is intuitive and very reliable in its functionality.
Small creators monetization fund- The platform doesn't charge any fees but runs ads so creators can monetize their videos and get the most out of them.
Analytics- Dailymotion comes with an extensive reporting API making use of Google Analytics integrations. This integration allows you to check different metrics. Here, you can get a chance to get video insights, filter, and segment audience data.
Pricing
Dailymotion is a free platform, so you can upload videos and store media for free. It also comes with an advanced plan that is priced at custom rates which you will have to contact the backend team.
Pros
Free and easy to use
Basic video-sharing platform
Create private videos and makes them password-protected
Supports live streaming
Variety of video categories
Copyright protection
Small creators fund for monetization
Age restriction features
Cons
Distracting ads
Loading time is slow
No video editing features
Videos can be uploaded only for 60 minutes with a file size of 2 GB.
Why Should you Select an Alternative to Vimeo?
Vimeo is a powerful platform that may not be the right option for everybody. Its plans are slightly priced compared to its competitors. There are plenty of alternatives to Vimeo that offer better performance and overall functionality.
For business owners, marketers, and content creators, the alternatives in the list above offer a better platform and help increase the chances to organically reach a larger audience. With many alternatives even on this list, selecting one is a daunting task. Choose a platform that is well-suited to suit all your requirements.