I bet that you've watched at least one video online today. Am I right? From YouTube, TikTok, Instagram, etc. People today are glued to their screens and are hungry to watch different streams or videos. People are looking to learn, get fit, or be entertained by streaming videos and consuming content across different niches. This rising trend has affected different areas of the market, and people are willing to pay for high-quality content as it is deemed very professional, trustworthy, and valuable. Consequently, this means that it is the best time to sell videos online.
If you're planning to drive your business through videos online or post video content on the internet, you've come to the right place. We have put together a list of everything that you need to know to sell videos online.
If you are in a hurry and looking for a reliable platform to sell videos online. Here are our top 2 picks.
Wistia – Overall, the best platform to sell videos online and grow your business.
Thinkific – Build online video courses from scratch with intuitive tools.
Benefits of Selling Videos Online
There are many benefits of creating and selling videos online that can be both entertaining and educational. Below listed are some of the major benefits:
Educate your audience about products, events, news
Share subject courses or important life skills with your customer
Helps rank your business pages higher in the search engine results
People are more likely to share videos over most other content types
Low-cost investment to get started
People love video content, and these videos have a higher chance to go viral on the internet to enhance your business opportunities.
How to Sell Videos Online in 2023
1. Find your target market
To successfully sell your videos online, your first priority is to identify your niche or target market. In simple terms, you have to determine the type of videos that you're going to sell and to whom they are catered for. The possibilities for creating videos for different audiences are endless. Several successful businesses have been shaped across a wide range of niches, like
Kids content
Fitness and health
Educational courses
Entertainment videos
Gaming tutorials
Spiritual and faith
Lifestyle
Arts crafts
As well as sub-inches that cover this space and more.
A great way to find the right niche is by doing some market research on the topic you've planned to start creating videos. This allows you to check the space to see whether there is demand for the content you are planning to offer to the users. It will also help you determine how challenging the space will be. To see how it works you can try offering free videos on your YouTube or TikTok channels and see if they get a good number of views and engagement.
You can also go a step further and do research through a SWOT analysis of the successful players in the space. This research will allow you to understand the key characteristics of successful video content creators and recognize any untapped potential to thrive in the space.
2. Plan your content strategy
After you have managed to find your niche, you need to get a better understanding of the audience and what you need to see before you begin to start selling your videos online.
To better understand the needs of your audience, you can start by asking and answering the below-listed questions.
What are the common themes that your audience shares? For example, they may be interested in lifestyle, fitness, age-based content, etc.
What is your audience gaining by watching your videos? For example, they are getting insights into fitness, education, or consuming it for entertainment purposes, etc.
What are the video formats that resonate with audiences in the niche? This can be anything from vlogs, webinars, travel videos, etc
What are you offering in your niche that nobody in the niche can provide the audience? This is a unique selling point that you offer to your customers.
The answers you get from this question will give you a basic insight into the type of content you are planning to offer to your audiences and help you generate some topic ideas.
Each niche further has its set of needs, like how long your video needs to be and the content catalog you need to be organized. You also need to decide how often you will be creating or sharing new content. It is important to understand that the more constantly you post better your chances to attract a larger audience.
Once you plan the content strategy, you should start building an elevator pitch to check your online video offering. This will help serve as a mission statement of your project as well as a summary to give to your potential partners or business associates. After you're done properly understanding your audiences and their needs start planning the videos you want to create.
3. Choose a platform to sell your videos
The next crucial step is to select a platform to sell the videos online. A good platform allows you to upload, share and monetize your videos. Select a provider who specializes in video websites and apps. General website builders are great, but you need a specialized platform that can allow you to host videos and sell them efficiently.
Here a 4 top platforms that help you sell videos online:
1. Wistia – Build brand awareness through video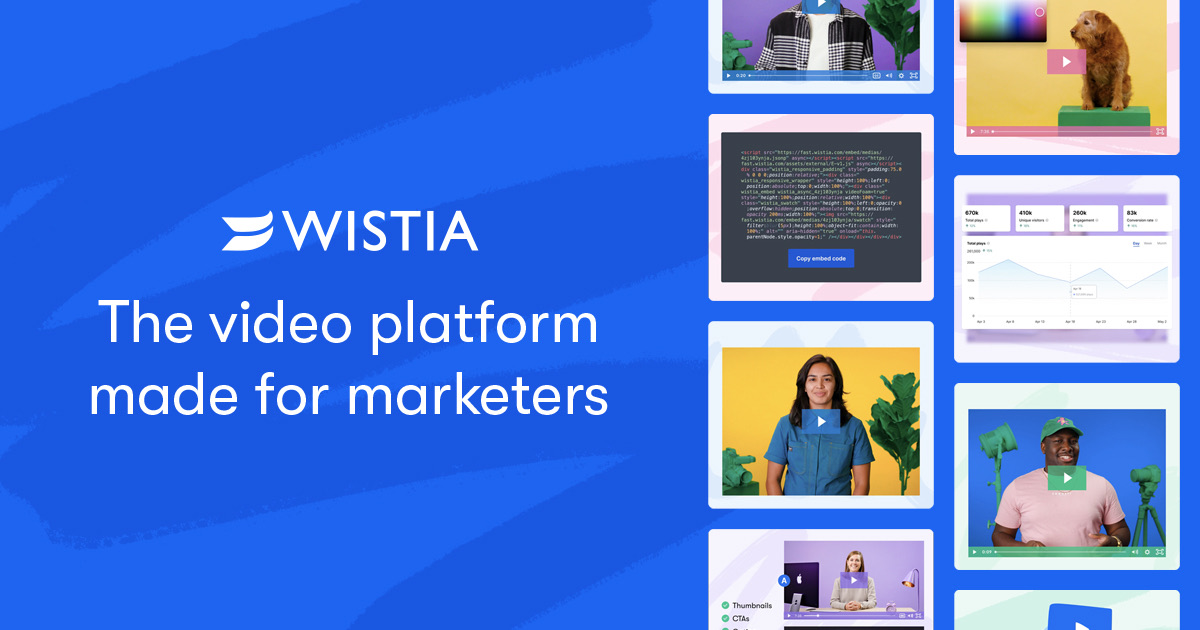 Wistia is a video platform that helps handle small and large businesses. The platform is powerful and has an intuitive design. They allow building your brand awareness through video and personalizing through a call to action. With the platform, you can create a channel to host content and use A/B testing to optimize your videos.
Key features of Wistia
Ad-free video hosting- Wistia offers a free ad-free experience compared to hosting your videos on free sites.
Video player customization- Customize your video player to stamp and improve brand value.
Video chapters- Wistia allows you to add chapters; so, your users have a better experience to navigate past your content.
Advanced analytics- The powerful analytics allows you to track audience behaviors and check engagement graphs.
A/B testing- The feature helps you identify trends and which videos are working for you.
Mobile-friendly- Wistia is optimized to work on both iOS and android.
Seo-friendly- Wistia offers excellent SEO-covered features.
Audience growth with good reach- The reach and retarget feature helps create custom audiences for different social media channels.
Pricing
Wistia is a platform that comes with 4 pricing plans. The plans include:
Free plan- $0 per month
Plus plan- $19 per month
Pro plan- $79 per month
Advanced plan- $319 per month
What Redditors say about it:
u/ahartzog- "We use Wistia for our course content, Wistia for product demo/intro, and YouTube for public video posts".
u/inmyhumbleo- "Been using Wistia for 4 years now. It's been a pleasure to watch them grow as a company, and it still continues to get better today. Wistia > any other video host.
2. Thinkific – Build online video courses from scratch with intuitive tools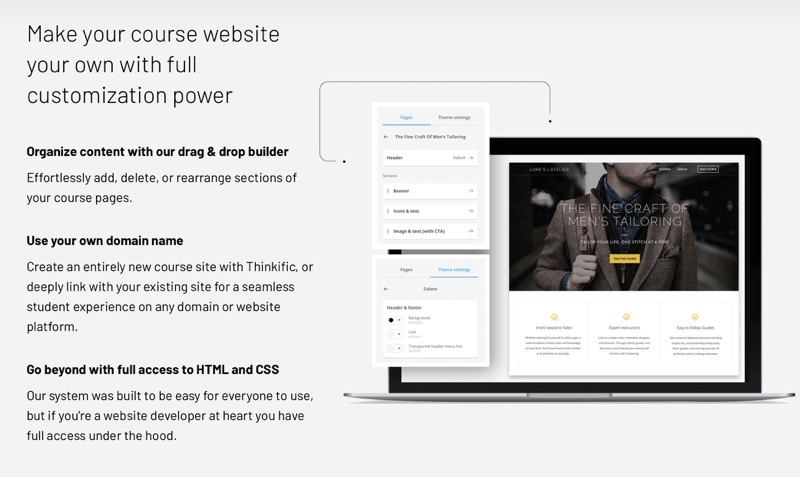 Thinkific is a platform that helps create content for online courses. The platform allows the creator to build a unique curriculum for your course and to meet the basic requirements. It is designed for entrepreneurs and is trusted by enterprises. With this platform, you can share your knowledge, scale your business and bring forth your vision, creating an intuitive course and website. Thinkific enables users to enroll students and track their performance efficiently. It offers monthly subscriptions that will make students return to their courses over a period of time.
Key features of Thinkific
Course creation- Build intuitive courses without any technical or coding skills and customize your course site.
Build websites to market your business- Promote your business to promote your online course. Design and customize your course to build your brand identity.
Marketing and sales- Market and sell products online through various channels or affiliate marketing.
Engage with your community- Enjoy the convenience to get feedback and compliments in the exclusive members-only content, events, coaching, and live sessions.
Grow and scale your business- The apps and tools on the platform allow you to market your business and online programs. This helps users to easily scale up their customers, partners, etc.
Pricing
Thinkific offers 4 plans in either monthly or yearly subscriptions. The plans include:
Free plan- $0 per month
Basic plan- $49 per month
Pro plan- $99 per month
Premier plan-$499 per month
What Redditors say about it:
u/BackgroundResult- "Thinkific is great and gaining market share in the courses platform economy".
u/rajshankara- "I use Thinkific, works great. Makes me money for my lectures".
3. Uscreen – Overall, the best platform to sell videos online and grow your business
Uscreen is an all-in-one video distribution platform that helps you start, launch and grow your video-selling business online. The platform is a white-label app that allows you to customize your website and create OTT apps based on your branding. Further, it operates on a monthly subscription instead of a revenue-sharing model. So, you can keep all your revenue.
Key features of Uscreen
Content programs- helps set up programs and upload content in a structured manner.
Live streaming- Uscreen has the ability to live stream and talk live to your audience.
Website builder- Uscreen allows the creation of an engaging website to showcase your programs. The plug-and-play page builder allows you to build and customize stunning web pages.
Sales and marketing- Running promotions can help improve exposure and incentive. Coupons can be purchased to run promotions. Finally, affiliate marketing can be offered to promote courses and get a commission.
Analytics and reporting- Check how your videos are performing and how they respond to build a successful business.
Multiple device support- Uscreen is fully optimized for both mobile and desktop devices.
Branded app- Uscreen has a lot of OTT apps that allow users to reach a wider audience to improve their viewing experience.
Pricing
Uscreen has three plans which include
Basic plan- $79 per month with a $0.50 additional charge on subscription.
Growth plan- $159 per month with a $0.50 additional charge on subscription.
Uscreenplus- A custom plan designed with custom perks and pricing.
What Redditors say about it:
u/Km1009- "If you are looking to launch a Netflix-style site for your cooking class, check out uscreen. It is a solid platform and offers plenty of monetization options.
u/BakedHandstamp- "Uscreen is a great shout-out for community building around video content. Check them out.
4. Vimeo – All-in-one video solution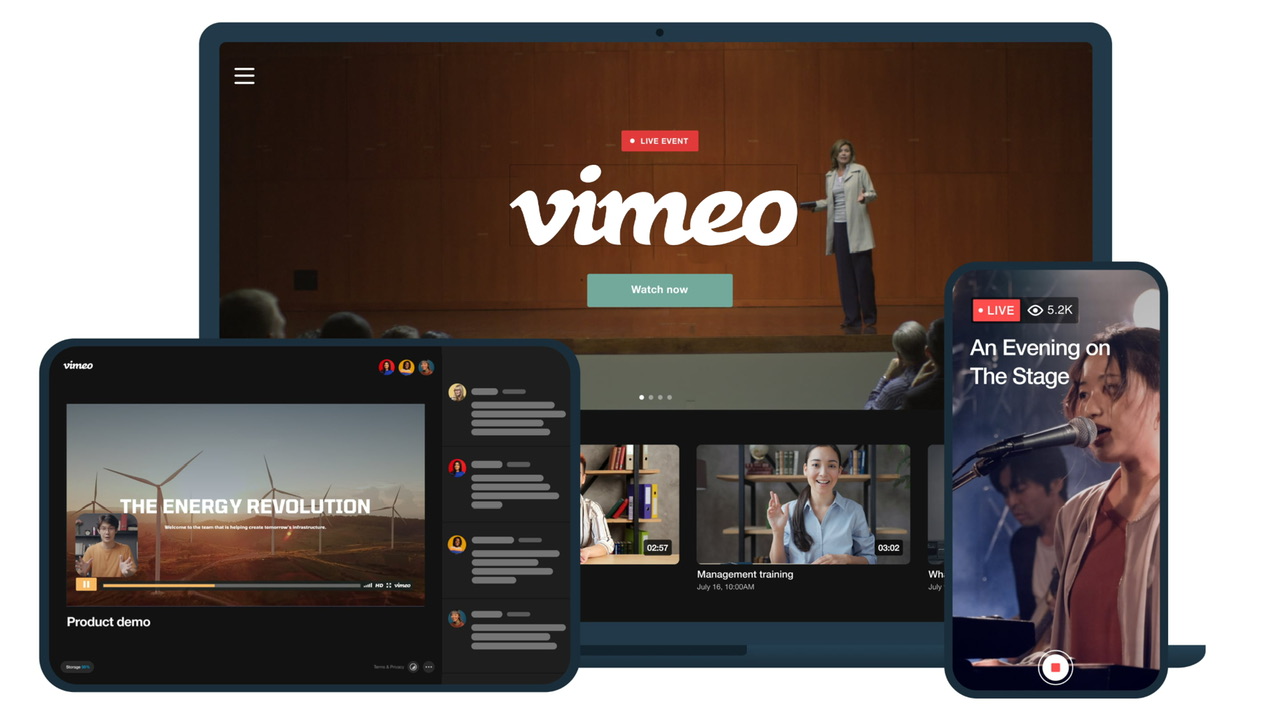 Vimeo is an all-in-one video that helps turn your ideas into action. The platform allows you to start selling your videos online and has good monetization models and video player templates. You can manage and share videos that can move your audience.
Key features of Vimeo
No Ads on videos- There are no ads to interrupt the audience's viewing pleasure.
Different storage choices- Vimeo offers flexible storage options on the platform.
Excellent video quality- The platform allows you to host the best quality videos possible.
Excellent player customization- Vimeo aims to offer excellent customization to personalize the view.
Video editing software integration- It has a popular integration with Adobe Premiere Pro and Final Cut Pro, allowing you to launch pages or upload videos.
Advanced stats monitoring- Vimeo helps track performance and optimize your video.
Pricing
Vimeo is a versatile platform that has 4 pricing plans based on monthly and yearly subscriptions. The plans include:
Starter plan- $9 per month
Standard plan- $25 per month
Advanced plan- $65 per month
Enterprise plan- Custom pricing and perks
What Redditors say about it:
u/Villager723- "Adding to what is said, Vimeo is great for sharing review flats with your clients and allows making time-coded edit requests. The video player is easily customizable with the paid tiers, so you can remove the Vimeo logo and utilize your company colors for your interface".
u/Radjage- "Vimeo is a great tool for embedding and being more professional. You can group your videos together, making it easy to send to clients and further utilize them to easily let them download their videos".
4. Pick a payment structure
With your platform in place, you can start thinking about how to monetize and sell your videos. This is the most important step that helps users learn how to sell videos online. There are 3 basic monetization strategies to choose from:
Transactional Video-On-Demand (TVOD)- The monetization process utilizes a pay-per-view format. Customers allow users to purchase videos giving them lifetime access. This is similar to buying movies like iTunes, etc.
Membership or Subscription Video-On-Demand (SVOD)- The model of monetization gives subscribers, or members access to a video library, having a monthly and annual fee. This is the same process as Disney+, Amazon Prime, Netflix, etc.
Advertising Video-On-Demand (AVOD)- Much like traditional television, this strategy monetizes videos by placing advertisements on the platform. Users have no upfront cost to watch, but they'll get advertisements throughout their viewing experience. YouTube and DailyMotion are great examples of it.
Selecting the right payment structure depends on the content and type of audience you have on your platform. Uscreen's membership model allows users to make $12,000 + a month across a range of niches. This is one of the best possible options to build a stable and consistent income on the platform.
If you offer a TVOD-based monetization, then you can make more money upfront by charging a higher fee on purchases. This is a great option that can be effective if you're offering a one-time transaction that is time-bound, like a sports event, pay-per-view events, etc.
The AVOD monetization method is the default method to make money by selling products. However, the changing times have made it difficult for creators to make a living only by running advertisements.
5. Create professional videos
At this point of learning how to sell videos online, you should know some basic guidelines and the quality of videos you should offer your audiences. If you're starting out, then a phone camera can do wonders; however, as you scale up your production, the quality also has to increase to enhance the viewer experience.
There are three major factors that you have to keep in mind while creating your videos, which are value, quality, and uniqueness. Each of these three pieces will help make your content suitable to meet the expectations of the customers. After all, they are investing their time as well as their money.
If your video production is not up to the mark based on your point of view, consider hiring a professional videographer who can help you out. The quality of the content will help scale up and be more successful in selling your venture. Finally, make use of a good software or hire a freelance video editor who can bring life to your video content.
It is also important to think about your viewer when creating your elements and consider elements like:
What is the equipment that your viewer needs to handle after watching your video?
Where will the viewer watch the video?
What supporting material do you need to improve their results?
If you're posting instructional content, you'll need to add resources, like PDFs and eBooks, to support your videos. Further, users offering a fitness program can complement the videos by offering links to the equipment they can use or giving a menu of healthy meals.
6. Upload your videos
After you've created enough videos, you are ready to upload them on a video streaming platform of your choice. Try and select a platform that is easy to work with and publish your content.
If you're utilizing Uscreen, then the uploading process is simple and straightforward. With this platform, you have to drag and drop the videos into the content area of the Uscreen dashboard. You can also upload it using a Dropbox account directly on the platform. It optimizes the video for both desktop and mobile devices.
7. Customize your video website
The video monetization platform you choose should give you the option to customize your website to add your own branding to make you stand out in the crowd. How you are planning to customize the platform is up to you, and you need to consider colors, images, fonts, logos, etc. The customization should be consistent with your social channels, like YouTube, Instagram, etc. This will help your customers know they are looking in the right place.
Uscreen allows users a variety of customization options you can choose from. The plug-and-play page builder allows you to build stunning homepages and marketing pages. There are several themes and elements, you can customize your page on this platform.
8. Organize the content
Organization of your content in a neat and tidy format helps enhance the visibility and aesthetics of your platform. This means categorizing and efficiently displaying them to improve user experience and boost sales. Ensure that your content catalog is optimized and easy to use to benefit your audience and you.
When videos are easy to find and watch, it will help improve customer retention. The easier the customer can find your videos higher are chances they will end up watching them.
The video content can be categorized into 4 major components, namely
Categories- The different genres that contain your videos or collection
Catalog- All the content in your library, displayed in a range of categories
Collection- A group of videos that can be watched in a specified category
Videos- Individual videos in their respective category
Organization of the content gives you plenty of options to create and structure your videos. The way you plan to structure the content should be based on the niche and what you are creating.
9. Promote your videos
After your site is all setup and running, it's time to promote the content to larger audiences. Promotion of your videos can be started by setting up marketing tools to help reach more people efficiently.
The most common marketing tools you should consider using are:
Email list- The tool allows users to collect their email addresses and send offers, reminders, or notifications of new videos to potential customers.
Abandoned cart tool- The tool sends messages automatically to the contact of people who left during the sales process. This tool is handy if you are promoting affiliate marketing on your site.
Membership upsell- The tool allows you to offer a point of purchase that upsells your subscription to the customer.
All these tools play a pivotal role and help create an excellent foundation for the longer-term marketing of your business. Based on the platform you've selected; you may need to invest in third-party software to properly integrate with these tools. Uscreen is a popular platform that helps you to launch and subsequently grow and retain your customers. The marketing dashboard of this platform has a suite full of tools that helps you handle different aspects of your business.
Another great way to promote your platform is by spreading the word on-demand platforms. The way you plan to promote your content varies based on the needs of your audiences as well as checking the market's present demographics and preferences. E.g., if you are planning to create short-form content, then you should be active on social media like TikTok or Instagram reels. Similarly, if you're creating long-term content, then promote it via Instagram, Twitter, or YouTube.
10. Engage with your audience
A screen-of-screen and mouth-of-mouth is the most effective marketing strategy. Just think, when was the last time you subscribed or brought a product without checking reviews or testimonials? And check how many subscriptions you've made after you came to know about the product from friends or social media posts.
You might spend hours promoting your content; however, your existing viewers are the strongest marketing tool. To gain the loyalty of your fans, you should offer valuable content and build an important relationship with them. A great way to connect with your audiences is through live streaming. Livestreams help create an emotional connection with your audience and allow you to create opportunities by engaging them through live chat. This aspect helps increase engagement and retention, ensuring the long-term success of your business. You can also give users access to forums that can be either available for a free or paid version. This means that they'll also offer you a subscription fee if they want to consume premium content. The live streaming feature offered by Uscreen allows you to host live streams, webinars, Q&As, and even host, gaming streams on the platform.
11. Expand your reach with branded apps
Branded apps or OTT platforms offer a great way to sell streaming videos online. The OTT app allows users to view your content natively on their smartphones and smart TVs. They are in high demand across society today. This gives users more flexibility to consume your products and gives them a branded experience.
Consuming the content from OTT platforms is very simple as you have to click on the app and log in, and they have full access to your video content in a single place. This feature lets you connect to audiences like Facebook, YouTube, etc, on your phone. These OTT platforms help increase your revenue and audience by nearly 30% in the market.
The OTT platforms like Uscreen or others mentioned above can easily add apps to their respective businesses. All you have to do is request the apps from Uscreen, and the team will handle the rest for you.
Time to sell your videos online
The world consumes trillions of video minutes in a month, and this is the right time to start selling your videos online. With this guide, you'll be able to reach and spread your video message to larger audiences. This will invariably allow you to make more money and grow your business exponentially.
If you want to sell videos online, then we recommend Wistia, as it is a great place to start your journey in making video content and selling it online.