If you've ever thought of creating your own online courses but didn't want to use the existing run-of-the-mill Online Learning Platforms out there, I've got great news for you – You Can Do-It-Yourself!
How?
You can easily start your own online course platform with some basic WordPress knowledge and the help of a Learning Management System Plugin that will seamlessly integrate into your website.
What is a Learning Management System?
For those wondering what a Learning Management System(LMS) is, it's software designed to help content creators, entrepreneurs, and organizations with creating online learning courses and making their courses easily accessible to their course takers.
There are 2 main types of LMS' out there today –
Self-hosted – Software hosted on your own server or PC, like most WordPress Plugins or computer-based software like MS Excel.
If you're just getting started in the world of building online courses, you're probably looking for an LMS that's easy to use, offers value and helps you deliver your course material easily.
The 2 biggest issues faced by anyone using an LMS in 2023 is a poorly designed and complicated UI or UX that hurts the learning experience and lack of mobile friendliness which is a big concern in the Smartphone ERA.
In this article, I'll review one of the most popular LMS' out there today – LearnDash and discuss its core features, so you can decide if it's the right choice for your next project.
TL;DR; LearnDash is a powerful LMS that's packed full of features and is backed by a highly experienced support team. The plugin will effortlessly integrate with your website and it's styling, and allow you to create beautiful, interesting and engaging courses with little to no effort. With the only major drawback being the lack of a free version, LearnDash addresses it (well sort of), with a 30-Day Money Back Guarantee on all purchases.
LearnDash Review
About LearnDash
Built with a simple goal of making creating and deliveringonline courses as easy as possible, LearnDash is a WordPress plugin that you can connect to your WordPress website to transform it into a complete online learning platform.
Touted as The Most Trusted WordPress LMS out there, with users ranging from Fortune 500 companies, top-ranking Universities, and professional training organizations, LearnDash gives you full control of your LMS, helping you build and sell more courses than ever before
Although the core LearnDash plugin has everything you could possibly need when you're looking to start out building online courses, the developers also include a bunch of free extensions to take the plugin up a notch by allowing you to add Stripe, WooCommerce, Zapier, Gravity Forms and other popular WordPress plugins to work with LearnDash to help you build your ideal online learning platform.
In May 2019, LearnDash introduced LearnDash 3.0 which was more than an update – it was a game changer that not only polished an already great platform but also introduced amazing features like LearnDash Focus Mode and a React-based, Drag & Drop Course and Quiz builder.
At this point, you're probably wondering, that sounds great, buthow does LearnDash really fare as an LMS?
Here's a quick look at some of its major Pros and Cons –
Pros
Focus mode that's fully responsive on all devices
Visual Drag-and-Drop Builder
Advanced Quizzing Options
Drip-feed or set pre-requisites for course content
Ability to create forums
Course points, awards
Integrates with multiple shopping carts
One-time purchases, Memberships, and Subscriptions
Course bundles (Core), Licenses (Premium)
Manage user profiles, user groups, and assignments
Email notifications, detailed reports
Set expiring access
Tin Can API & SCORM
Multi-site and compliant with all major themes
Knowledgeable technical support team
Cons
No Free Version
No access to support documentation without a license
Can be a bit overwhelming due to the number of features it offers
Needs a base theme to work
With that out of the way, let's dive into my LearnDash Review and look at some of its key features to really understand what sets LearnDash apart from other LMS' in the industry today.
LearnDash Features Review
LearnDash is packed full of features and I'm going to look atevery single one in this review so you're able to decide if it offers any that you were after and maybe offers some you never knew you needed.
Considering how vast the list is, I've split the features into 4main categories to make it easier for you to look for features that you like whether they're Course related, Administration related, Technical or have to do with Monetization of your courses.
LearnDash Course Features
1. LearnDash Focus Mode
Introduced in LearnDash's 3.0 update, Focus Mode helps increase learning retention and course completion rates by eliminating distractions and streamlining the entire learning experience.
While the primary course page remains the same as your WordPress theme, Focus Mode will apply to all Lessons, Topics, Quizzes and Assignments pages in your course.
Once enabled, LearnDash's Focus Mode applies to all screen sizes and removes Main Navigation, Footer elements, and any existing sidebars to focus the course taker's attention towards what matters – the course content.
Course Navigation remains visible in a sidebar tray and the course progress is also visible at the top of the screen, so course takers can track progress without having to navigate away from the course.
This means course takers are presented with a dedicated virtual learning environment that will allow your course content to shine through.
2. Powerful Course Builder
While LearnDash isn't the only LMS with a Drag and Drop course builder, it's surely one of the best if not THE best Drag-and-Drop Builder in an LMS today.
Compared to other LMS', LearnDash has designed the course builder in a way that it blends in with WordPress and makes it feel extremely intuitive while building your course.
What's I love about it is that it lets you create Multi-Layer courses and is also the ONLY course builder in the market that lets you re-use your content across courses.
This means, you can now use a single lecture from Course A in Course B and Course C and it'll also allow you to rename the lecture, so it fits better with the contents of that course.
3. Advanced Quizzing
Quizzes are an essential part of online courses. They help create a progressive learning experience, which means learners are only able to proceed through a course if they demonstrate sufficient understanding of preceding topics.
LearnDash offers an extremely Advanced Quizzing functionality that gives you more options for creating questions, control quiz delivery methods, and post-quiz results display.
Some of the key features of LearnDash's Quiz Options are –
8 Question Types – Single, Multiple Choice, Free Text, Sorting, Matching, Essays, Fill in the Blanks and Surveys.
Questions Banks – You can create question banks and organize them into categories too.
Media Support – Add videos, audio or images to questions and answer choices to give course takers a visual learning experience.
Flexible Question Display – Show all questions at once, one at a time, several on a page or allow course takers to skip through them – you decide what works best for your course!
Randomize – You can randomize the sequence of display of questions and their answers.
Limit Attempts – You can set a maximum number of times a quiz can be attempted by a course taker.
Block Progression – LearnDash lets you restrict access to course modules by forcing course takers to complete quizzes before they can continue.
Time Limits – You can limit and track the amount of time course takers spend on quizzes throughout the course.
Hints – You can choose to give text, video and image hints to course takers as they progress through the quiz.
4. Drip Feed Content
LearnDash allows you to deliver all your lessons at once or to drip feed them over a scheduled amount of time resulting in a more gradual and guided learning experience.
You can choose between 2 options –
"X day/s" after enrollment
Specific Date
In either case, you control how the content is delivered based on your preferred, predetermined schedule.
LearnDash also has a convenient 'Notification Add-On' that notifies course takers once new course content is available, so they never miss a lesson.
5. Flexible Prerequisites
For those offering multiple interrelated courses, using Flexible Prerequisites allows you to determine which courses need to be taken and the order in which they should be taken.
This helps you take a guided approach with your course content so your course takers progress down the path you choose to ensure the highest quality learning experience.
6. Dynamic Forums
LearnDash allows you to create course specific Private or Public forums so course takers can interact with each other while engaging with the course content.
This enhances the overall learning experience by creating a sense of community in which course takers can address each other's course related queries as they make their way through your online course.
You can choose to create course specific forums open only to those taking a specific course or let all course takersengage in a common forum.
7. GradeBook
Although a Premium Add-on feature, GradeBook enables you to take your course to another level by mimicking a traditional classroom setting where you can manage your students' grades and track their progress from a central location.
You can choose to privately share report cards on the front end which course takers can view once they log in.
Best of all, you choose how your grading scale works and what constitutes an A or an A+.
8. Course Points
Using LearnDash's handy Course Points you can allow learners to unlock new courses based on points they've earned while progressing through your course allowing them to create their own learning path through the course.
You can choose to award points for passing or failing a quiz, completing a lesson or a course or even bonus points for a perfect score on a quiz.
By integrating Course Points into your course, you can incentivize course takers to progress through the course, create leaderboards for each course and also award badges for achievements.
Gamification of learning creates a more engaging and motivating learning experience.
9. Certificates and Badges
LearnDash allows you to create official certificates to be awarded to course takers based on quiz performances and on completing courses.
All certificates are 100% customizable and support dynamically generated dates including the user's First and Last names, Course/Quiz names, Dates, Scores, Average scores and a lot more.
This means, your course can be more than just a learning experience for course takers.
LearnDash Monetization features
1. One-time purchases
Monetization of courses is a key function that every LMS requires, and with LearnDash all courses can be priced individually and purchased through PayPal, Stripe or 2Checkout on LearnDash.
You can choose to offer free sample content to a potential course taker before they complete a purchase and once purchased, LearnDash automatically creates an account and enrolls the course taker into the course they've purchased.
Best of all, if you'd like to remove access after a set amount of time, simply check a box and you can create a condition that will trigger the requirement of a repurchase of a course to regain access once a set period expires.
2. Subscriptions
To fully maximize revenue generation, LearnDash allows you to create recurring payments and subscriptions for all your courses.
When using a shopping cart, a failed subscription payment will cause the learner to lose access to their course and would require manual payment for them to regain access to course content.
3. Shopping Cart
With this feature, you can easily implement a shopping cart feature by using one of LearnDash's free WordPress integrations.
You have the flexibility to choose between –
WooCommerce
Easy Digital Downloads
iTheme Exchange
You also get access to extra features such as affiliate programs, coupon support, additional reporting metrics and hundreds of additional payment gateways.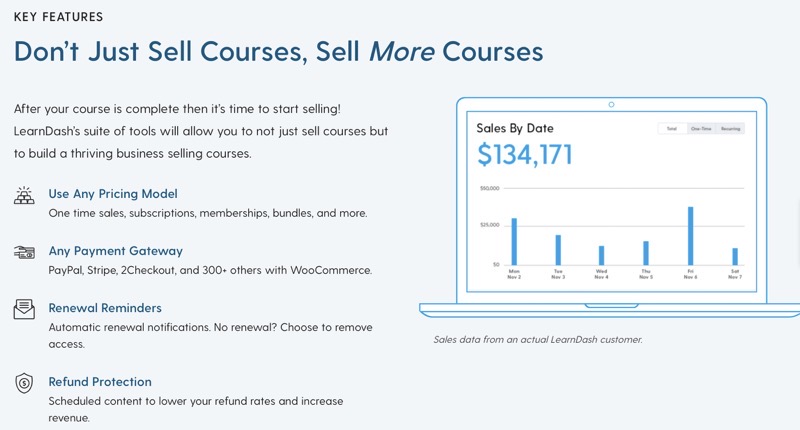 4. Memberships
To be a truly successful 'Edupreneur', creating passive income is key.
With LearnDash's Memberships options, you can sell individual courses that each act as their own 'Membership', only granting content access to course takers that are enrolled.
You can create Membership levels that offer access to multiple courses so a course taker can purchase access to a membership level to gain access to courses that are part of that level.
What's better is, LearnDash works just as well with traditional membership plugins like PaidMembershipsPro and the Premium MemberPress plugin.
5. Course Bundles
Thanks to its integration with Shopping Carts, LearnDash allows you to group 2 or more courses to create 'Course Bundles' in just a few easy clicks.
Course Bundles are a great way of creating value packs and providing discounts for bulk purchases. By grouping multiple courses, you can easily incentivize course takers to complete higher value purchases.
6. Course Licenses
With its Premium Group Registration Add-on, LearnDash allows course creators whose target audience includes large institutions by creating 'Course Licenses' to allow organizations to buy multiple licenses of a single course in bulk to grant access to their staff.
Excellent for those involved in B2B sales, you can easily create bulk licenses for different quantities and once a license is purchased, an automatic group is created with the purchases as the group leader.
It allows the Group Leader to add and remove users fromthe course purchased and enables the leader to manage his/her group easily from the front end of your website.
LearnDash Administrative Features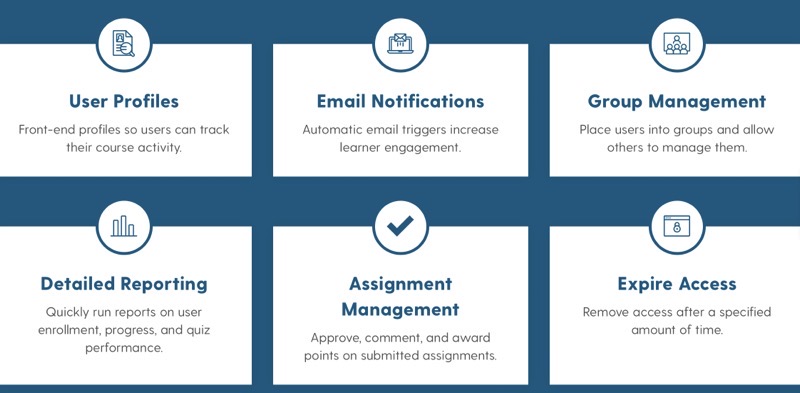 1. User Profiles
LearnDash creates user profiles of all users so each user can directly access all their courses, course progress, performance reports, and any earned certificates.
With Admin privileges, you can easily manage course takers and choose to enroll or un-roll users from courses, Assign users to groups, Edit course data, manually mark or unmark courses, quizzes or lessons as complete and even modify basic user information like usernames, password, email and more.
2. Email Notifications
LearnDash makes it super easy for you to communicate with your course learners and group leaders with their Email notification feature.
You can not only email learners enrolled in a specificcourse but also configure automatic emails to be sent out to users based on their activities and progression through the course.
You can easily set up reminder emails each time a new lesson becomes available or if the course is about to expire.
By allowing you to automatically configure email notifications when an enrolled learner hasn't logged in for 'X' number of days, this feature can help you significantly improve course completion rates by increasing learner engagement.
You can also connect to popular mail platforms like MailChimp (add on required) and even configure email notification triggers using 13 unique triggers.
3. Group Management
When you're managing learners from large institutions, organizing them into groups is a great way to mass enroll course takers into courses and to make sure they're all on the same drip feed schedule for content.
You can create group-wise reports to track progress and performance of each group individually and also assign Group Leaders to manage a groups progress and performance.
4. Detailed Reporting
A great way to track learner performance and engagement, LearnDash allows you to track course progress and Quiz performance of your course learners as a core feature.
If you'd like to gain deeper insight into your course and its learners, you could opt for their PLUS & PRO plans that come with 'ProPanel' that lets you –
Track time on courses for each learner
Track live activity to see how learners are interacting with courses in real time.
Display graphical representation of the course taker'sprogress.
View a queue of assignment or essays that require your attention,
Assignment Management
Perfect for those who're after a more traditional learning experience, you can easily incorporate assignments into your courses at Lesson or Topic levels.
You can create compulsory assignment submissionrequirements before a course taker is able to progress and also enable automatic or manual approval requirements for assignments.
Users authorized to view the assignments can aware points and even include private comments on each assignment that's only visible to the viewer.
6. Expiring Access
You can allow course takers to have indefinite access to a course or create time limits for how long they can have access.
Perfect for industries that are constantly evolving, this allows you to encourage course takers to re-certify and gain renewals for your course.
LearnDash Technical Features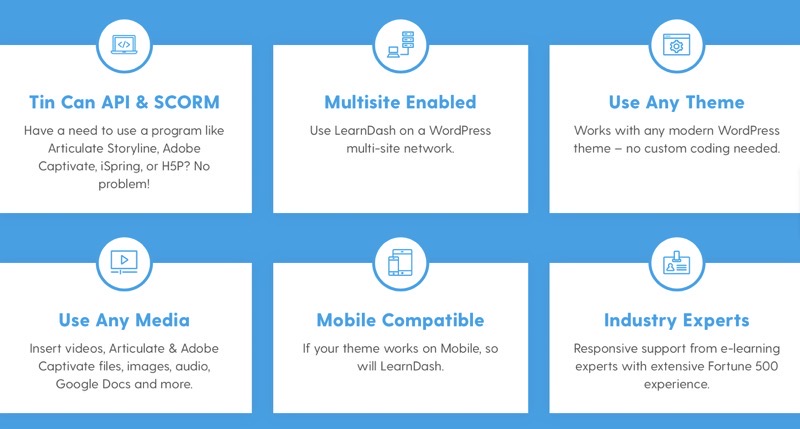 1. Tin Can APIR & SCORM
If you need to use eLearning programs like Articulate Storyline, Adobe Captivate, iSpring or H5P, LearnDash makes it possible with the help of a premium add-on plugin.
If you only want to insert content created in Articulate Storyline or Adobe Captivate, they've got you covered there too!
2. Multisite enabled
For those running operating a WordPress multisite install, you can use both LearnDash and ProPanel across all your sites by simply heading over to their Network Installation section and clicking 'Activate'.
3. Theme compatibility
LearnDash is fully compatible with almost any modern WordPress theme and is also compatible with top Page builders available today.
And the best part is, it's automatic. Just upload and start creating your first course, LearnDash will adopt your installed theme's styling and seamlessly integrate with it.
If you'd like more styling options, LearnDash offers a premium addon plugin – LearnDash Visual Customizer that'll do the trick for you.
4. Mobile Compatibility
Possibly the most important point in LearnDash's favor – it's fully mobile compatible and will work with almost any modern browser.
To make it easier for course-takers to learn 'on-the-go', LearnDash created courses can be taken on almost any tablet, smartphone or mobile device easily.
5. Industry Expert Support
Co-Founder and CEO of LearnDash, Justin Ferriman made a career as an eLearning consultant implementing global training g programs for Fortune 500 companies and even the US government.
If you ever reach out to their support with any questions, you're guaranteed to get a response in under 24 hours no matter if you're after technical advice or just looking for recommendations on ideal course configuration.
LearnDash Drawbacks
Now that we've gone over the main features LearnDash offers and have a better understanding of what makes it a well-roundedplugin, as great as it is, there are a few drawbacks to LearnDash.
PS – Not all of these may seem like major drawbacks, but for complete transparency, I thought I'd list them out for you.
1. Theme dependency
As feature packed as it is, you cannot use LearnDash by itself out of the box. You need a WordPress theme before you're able to use LearnDash.
Although a minor issue considering the plethora of free themes available today, we would've liked LearnDash to have its own styling out of the box and not remain dependent on a theme.
2. Basic Payment Interface
Another minor issue I've found with LearnDash was the bare bones payment system integration.
Although LearnDash allows you to connect with top payment processors like PayPal and Stripe, the functionality offered is extremely basic and leaves a lot to be desired.
3. Lack of a Free trial
For now, LearnDash doesn't offer a free trial for their plugin.
Even with a 30-day back money guarantee in place, having a free trial period or basic free version could have helped beginners trial the plugin before they were comfortable making a purchase.
4. No access to documentation or Support without registration
Another minor drawback, LearnDash's massive documentation and support forum are completely hidden behind registration.
If you aren't an existing subscriber, you won't be able to assess their documentation before making a purchase, and that from my perspective is a drawback for new users.
LearnDash Pricing
LearnDash offers three comprehensive plan options so you can choose a plan that best meets your needs without having to pay for features that don't interest you.
Now while they don't offer a Free option, their 30-Day Money Back Guarantee will make it easier for you to make your first purchase and give you the option to simply cancel your license and get a full refund – No Questions Asked!
1. LearnDash Basic: Starting at $159 (normally $199), LearnDash Basic is their lowest priced option.
For that price, you get –
A Single Site License
Get access to unlimited courses
Have unlimited users for your course
Protect your course content
Configure drip-feed lessons
Use their Amazing Advanced Quizzing
Allot Certificates & Badges
Create Course Forums
Configure Email Notifications
Setup Free Integrations
1-year of Full Support and Updates
And get a Bonus Demo Site Template
2. LearnDash Plus Package: The next one up is the most popular 'Plus Package' at $189 (normally 229), that includes all the features in the Basic Package and adds –
Up to 10 Site Licenses
Includes ProPanel
3. LearnDash Pro Package: This their Top-Tier Package that's currently retailing at $329 (normally $369), that includes all features in the Basic Package and adds –
25 Site licenses
Includes ProPanel
Now while these numbers may seem a lot to some, for the features LearnDash offers, their basic plan costs a little under $17 per month even without a discount!
That's fantastic Value-for-Money considering most courses retail for A LOT MORE.
LearnDash Review Final Thoughts
There's no denying that LearnDash is truly a revolutionary tool for creating online courses no matter what your target audience is or what your desired course structure may be.
It promises to and successfully delivers on every single feature you could possibly ask of an intuitive Learning Management System.
Most importantly, when you're looking to start building online courses, you want an LMS that offers simplicity so you can focus on creating amazing content that delivers knowledge and value to your course takers.
Paired with a lightweight, responsive and well-designed theme like Astra, you can create informative and visually stunning online courses to set yourself apart from your competition.
With so much going for it, there's no doubt why LearnDash is currently dominating and will continue to dominate the market of WordPress Learning Management Systems in 2023.