Uscreen is one of the fastest growing video monetization platform in the world right now. It allows anyone to go start selling video online without having to deal with any of the technical things! In this Uscreen review, I'll dive into why it may just be the Best Video Platform for someone looking to sell videos online.
Fun Fact: You can even get your own Video on Demand (VOD) app in the Google and Apple App Store without having to deal with any of the technical aspect on their custom plan! How great is that?
Click Here To Try Uscreen For Free
Uscreen Review
About Uscreen
Uscreen is a Video on Demand (VOD) platform that makes it super easy for you to make and sell your own videos with your own branded website!
You can rent videos, sell a subscription and even just sell one of video. Now who would be an ideal customer?
Well, if you are a yoga teacher Uscreen can help you sell your videos!
If you run a sports franchise you can use Uscreen to get your Pay-per-view up and running without having to deal with the technicals.
Or even if you're just a digital marketing who wants to build a membership service, Uscreen has you covered.
Uscreen allows you to host unlimited videos and provides super quick streaming without any buffering.
Also the big plus with using Uscreen is that everything is in a single platform, you don't have to worry about integrating Vimeo with WordPress & firebase. So you can focus on creating!
Click Here To Try Uscreen For Free
Uscreen Review – Pros & Cons
Uscreen is great for someone who wants to focus on just creating content and not have to worry too much about learning how html and css works or learn how to integrate Vimeo with WordPress.
Not Great For Digital Marketers
While Uscreen seems like a great platform, if you're a digital marketer selling courses, platforms like Teachable & Thinkific suit you better as they're more "course" oriented with more features around going from A to Z.
One of the best things of using Uscreen instead of most other platforms is that you own your content & you don't have to pay a revenue share. You get to keep all your well deserved money.
Uscreen offers unlimited streaming, no limits on number of videos & files uploaded and unlimited streaming even on their base plan of $99/month (paid annually)
That's a great deal!
Uscreen has themes that make it super easy for you to design your webpage as well as the TV and mobile apps.
(Uscreen) VOD vs LMS (Teachable)
When it comes to making money online selling video, mostly people think about courses and in turn a platform like Teachable or Ruzuku.
However, there's a big distinction and difference between Uscreen and other traditional LMS services.
Uscreen is a turn-key video monetization platform, and "video" is really the keyword here. Our creators can create a catalog of videos and then sell access to that.
Teachable, for example, as you know is course-based, so you have a Course that takes users from A-Z. With Uscreen, you can create a catalog of videos, sell subscription, or monetize them using PPV, or rentals.
Uscreen also offer branded OTT apps for mobile and TV devices while Teachable and other platforms only cater to webpages.
Teachable is more geared towards people who need a course platform where an exact skill is meant to be taught.
While Uscreen is geared more towards the selling videos and can be used for anything!
Click Here To Try Uscreen For Free
Uscreen Pricing
All Uscreen Plan include important features like
Customizable Video Website
High-Quality Secure Player
0% Revenue share & transaction fees
Accept Credit Cards & Paypal
Video Hosting & Delivery
Video CMS
Community Tools
Onboarding Specialist
Unlimited streaming
Geo-blocking restrictions
Global CDN
Unlimited encoding
Secure SSL checkout
Set your own language
No buffering guarantee
99.9% uptime
Accept international payments
Free migration
However, Uscreen has 3 main pricing plans that offer different features.
Basic ($149/month) – 3 themes, 300 active subscribers, 300 one time sales per month, limited marketing tools (coupons only), Basic Integration + Analytics.
Pro ($249/month) – Everything in Basic + All themes, 1000 active subscribers, 1000 one time sales per month, all marketing tools, advanced Integration + Analytics, Custom filters and Advanced Theme Customization.
Custom – Everything in Pro + Mobile Native Apps, TV OTT Native Apps, 1000+ active subscribers, 1000+ one time sales per month, Live Streaming, Phone Support, End-User Support, Developer tools.
I recommend signing up for the Pro Plan as you get a ton more features making it easy to scale your business.
Note: You can save 15-30% When you pay "Annually" instead of Monthly
Is Uscreen Worth it?
The answer is definitely yes and I hope my Uscreen Review helps you understand that.
If you want to make a living selling video online without having to worry about the technical aspects then Uscreen is for you!
Uscreen Alternatives
1. LearnWorlds
LearnWorlds is a create platform if you want to sell course. The main selling point here is that there are tons of ways through which you can interact with your student.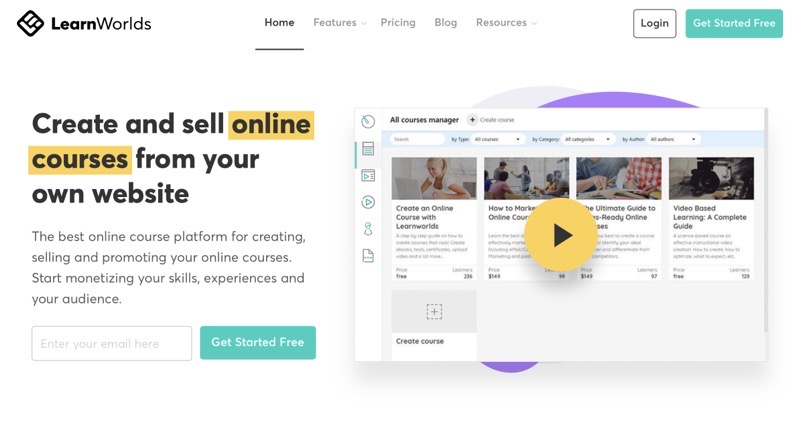 Click Here To Try LearnWorlds For Free
What Reddit has to say about Learnworlds:
u/onlybmd: The top three I've looked at has been Teachable, Thinkific, and LearnWorlds. Research them all see what would work best for you.
u/Fit-Explanation-9027: I would check out learnworlds. It's easy to use, you can build your own website and it has all the signups & co build in. And: A Zoom integration, so you can host your sessions in the Course itself
Pros
Unlimited Courses
Custom web domain
Built-in social network
Mobile and tablet app
Interactive Ebooks
Cons
Support in the starter plan is 24/5 and not 24/7.
Lacks a free plan
1. Regular updates
LearnWorlds updates and upgrades its features on a regular basis, to ensure that it remains up-to-date with current technology.
Regular updates also help quickly squash any bugs that arise and hence make up for the best possible experience you can get.
2. Affordable plans
LearnWorlds basic plan is only $29 per month, which is pretty affordable.
A complete list of the plans goes like this:
Starter
Cost is $29 per month. Features include:1 Admin, Unlimited paid courses, Pages Builder (3 pages), 4 Payment gateways, Coupons, Basic Integrations, Free SSL certificate, Drip Feed Courses and 24/5 e-mail support
There is a transaction fee of $5 per course sale.
Pro trainer
This one costs $99 per month and packs the following features: 5 Admins/instructors, Unlimited landing pages, Complete website builder with blog, Subscriptions & Memberships, Installments , Fully customizable Course Player, Customizable checkout page, Custom Certificates, SCORM / Multimedia files, Affiliate Management, Zapier & Premium Integrations, Question Banks, Onboarding call and 24/7 Priority e-mail support
No transaction fees.
Learning center
Priced at $249. Boasts these features: 20 Admins / Instructors, Bulk Student Upload, Full White-label Options, Integrations with API, Interactive video, Auto Customer Insights, Advanced Affiliate Management, Webhooks Integrations, Single Sign-On (SSO), Custom iOS & Android App (extra fee), 2 hours Premium Onboarding, 24/7 Premium Support
3. Customer support
The customer support is great and has some fast responses. Only drawback regarding this is in the basic plan, where the customer support itself is still good but just that it is only available 24/5. All the other plans have 24/7 support though and so this isn't an issue there.
Click Here To Try LearnWorlds For Free
2. Wistia – Best Uscreen Alternative for Video Marketing
Wistia is a powerful video hosting platform that is designed to handle the requirements of small and large-scale businesses. It is a fully-blown video marketing company that is designed with excellent lead-generation tools. You can embed your videos directly using its customizable player. The lightweight platform can embed codes efficiently so that your videos load faster. The videos that are embedded include automated metadata to optimize the SEO of the video platform. You also have the ability to create a channel to host content and make use of A/B testing to see what works best.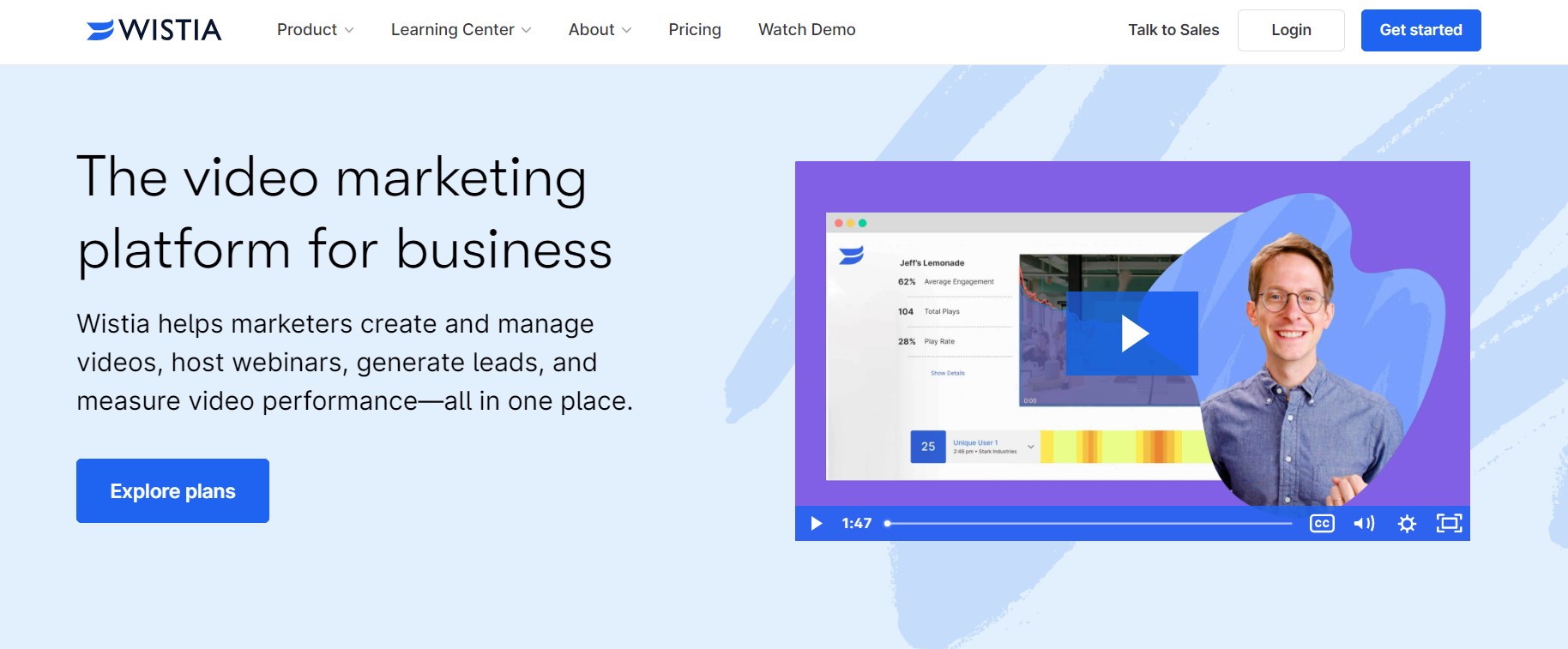 What Redditors say about it
u/CaptainJamie- "What I want to know is why Wistia is so good. I have used it to host videos for clients, and it's very smooth and fast, but I don't know how they do it. If every video on YouTube was hosted on the Wistia Player/servers, it would be bliss".
u/inmyhumbleo- "Been using Wistia for 4 years now, and it has been a pleasure watching them grow as a company and see their platform continue to get better. Wistia > any other video host".
This alternative to Vimeo doesn't support live streaming, so you are only suited for businesses that make use of VOD exclusively. It also comes with good marketing integration and analytics that help enhance your social presence metrics and control your audiences.
Features
Video API access- Wistia gives you the chance to host unique videos for your audiences. Here, the applications programming interface allows you to create, store and deliver videos to your users efficiently.
Quality video experience- Wistia comes with a range of tools that help provide quality video experience with multi-bitrate streaming, adaptive streaming, and security features.
Marketing features- Wistia focuses its effort on marketing and offers integrations with a range of marketing tools, such as Pardot, HubSpot, Adobe Market engage, etc. Further, it also comes with analytic tools, compliance tools, paywalls, email marketing features, and support apps. This helps reflect the platform's focus to support its video marketing efforts.
Video analytics- Once your website is live, you can efficiently track the engagement of your videos. The platform offers valuable insights based on tracking and heatmaps using engagement graphs and viewer tracking to give you a perfect picture of audience engagement.
Robust tech support- Wistia comes with robust tech support using its quick-response ticket system. You can contact the support team to find answers to different questions and queries.
Pricing
Wistia is available for free using its free plan, but if you want premium features, you can access its other 3 plans, which include the Plus plan for $19 per month, Pro Plan for $79 per month, and the Advanced plan for $319 per month.
Pros
Allows unlimited users
Integrates well with email marketing, CRM, analytics
Powerful video SEO
A customizable player using good branding features
Advanced security
Flexible video dimensions
Role-based access permission
Helps create audiences across different social media channels
Ad-free platform
Cons
Doesn't support live streaming
Highly focused on external streaming
Priority support only available for the premium plan