When it comes to building a website or an online store, the most crucial decision is to select a viable hosting partner. The right web hosting solution will ensure that your website is fast, reliable, and can be easily managed. The demand for excellent and economical website hosts in India has skyrocketed in recent times. This is caused due to the rapid increase in the number of online businesses in the country.
If you are a beginner and not so tech-savvy, then finding the right hosting platform for your business can be tricky. To get you started, I have compiled some of the best hosting companies in India in this article, which will help you create a website and build your audiences. To be unbiased, we have taken reviews from Redditors to help narrow down your search.
Running short on time? Here are my top picks:
Cloudways – Top Hosting Provider in India
WPX – Best Managed WordPress Hosting Provider in India
Hostinger – Best Budget-Friendly Hosting Solution
Rocket.net – The Newest Hosting Provider in the Market
Bluehost – Fastest Shared WordPress Hosting Provider in India
What to look for in a Good Hosting Platform in India
Selecting the right hosting service for your website may be slightly confusing as there are plenty of options in India today. Each of them has different features that you need to get started. If you want to get the best hosting platform out there, then we recommend that you check out the things that we have listed below to get started.
Uptime- Reliability is the most important factor that you should be looking for while selecting a host. You would want to select a provider that has a strong track record for uptime, so you will be assured that your website is always available to your visitors. In simple terms, uptime determines how long your site will be up and available throughout the year.
Fast page loading speed- Page loading directly impacts user experience. If a site takes too long to load, then visitors might leave even before its loads, and it isn't good for anyone. Further, the loading speed indirectly impacts the SEO rankings of your website.
Disk space- Disk space is an essential feature that you should look into while selecting a hosting provider. Storage space is never enough, so ensure that you get sufficient space to store your content, images, videos, etc. Look for a provider who offers higher disk space at affordable rates.
Easy CMS installation- WordPress is a go-to place for users in India, so choose a hosting provider that can easily assist and facilitate easy installation of the CMS service and let you update content easily.
Bandwidth- Bandwidth is another feature that helps transmit data over an internet connection within a given amount of time. It is often mistaken for internet speed; however, the actual volume of information that can be sent over the internet in a specified time. Select a provider in India that offers better bandwidth allowing you to transfer data efficiently.
Security- Security is an important parameter to consider when selecting a hosting provider in India. Your website will mostly have some confidential information, whether it is passwords, banking details from your visitors, or your confidential documents or secrets. This is why a host that offers SSL certificates or does regular backups should be preferred to help prevent data breaches.
Superior features and technology- When it comes to your website, ensure that you have all the options you need. Look into their control panel, allowed sub-domains, scripting language, and any other databases. Select a platform that offers the best that you need to run your website.
Sufficient Email- Find out about the number of email boxes or any limit and what other email features they support. Make sure you get a provider that gives you full control over them to manage them yourself.
Scalability- Scalability allows you to easily add resources to your page as your business grows and the website becomes more popular. You want to select a host that offers higher availability and redundancy. This will give you room to grow without worrying that the system goes offline.
Support- Things on your website can wrong, and that is when you will require help quickly. This is why you should look for a platform with a good knowledge base or 24/7 tech support in India. This will allow you to navigate easily through your regular tasks, installation, backup, etc. All this will save you time that you'd otherwise spend searching aimlessly for a simple solution.
Pricing- The price offered by a hosting provider is an important factor when choosing a web host. Different providers offer a range of pricing plans, so it is important that it fits your budget to meet all your requirements. Also, check for any money-back guarantee in case you select a platform and don't like what they are offering.
Best Web Hosting In India 2023
1. Cloudways – Top Hosting Provider in India
Click here to Claim this Exclusive offer
Cloudways Promo Code 2023: JEREMY20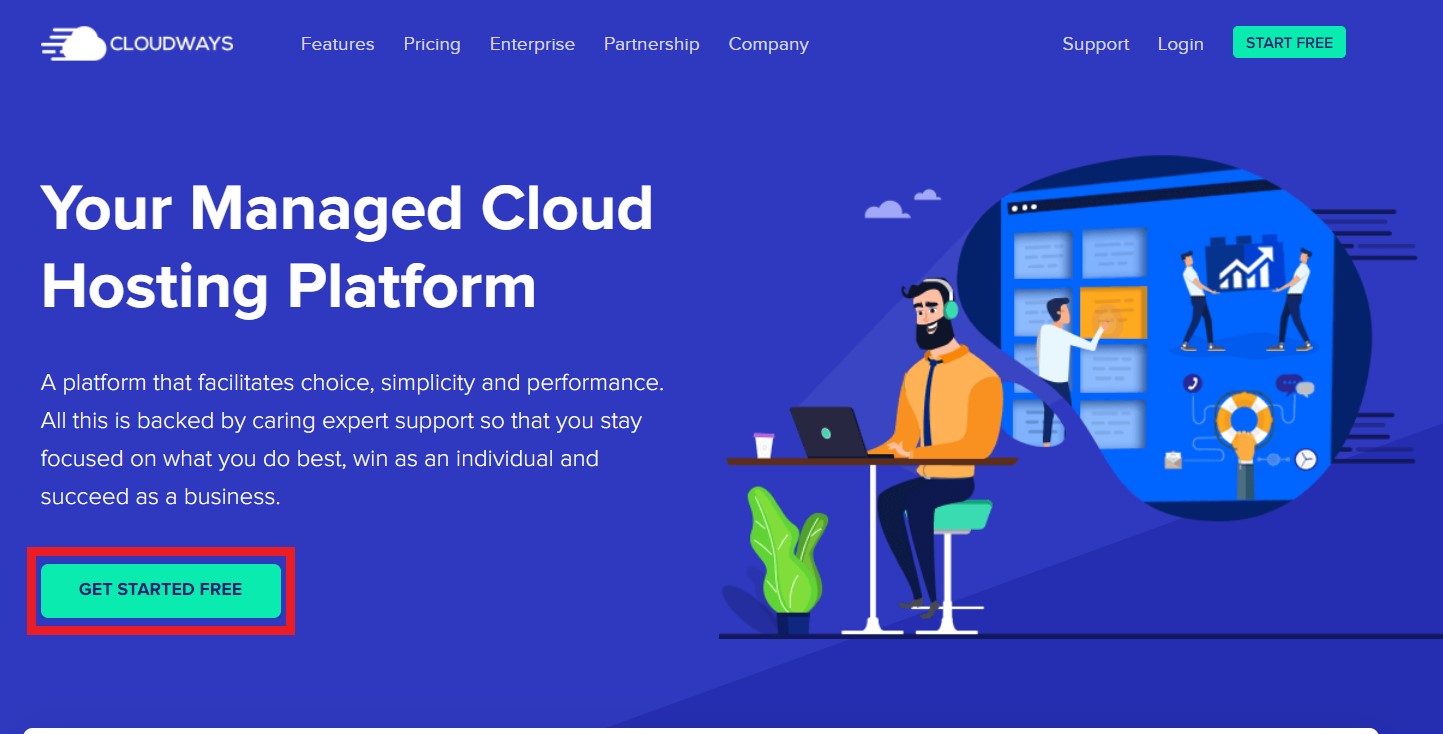 Cloudways is a renowned hosting provider in India that was founded by Uzair Gadit, Aquib Gadit, and Pere Hospital in 2009. The platform was created to offer a mix of both managed and unmanaged hosting, so users can enjoy the features of both worlds. Cloudways is a Managed Cloud Hosting company built on 5 unmanaged web hosts, i.e. DigitalOcean, Google Cloud, Linode, Amazon Web Services, and Vultr. It has a modern user interface, which exhibits attractive designs. All its tabs and options are well-organized and accessible. The custom panel that is offered by the platform leaves other hosting providers using the traditional cPanel behind.
Cloudways stores user data on multiple servers that ensure outstanding uptime and superior speed. It has data centers in 65+ countries, and they are powered by Apache and Nginx servers. The hosting provider offers excellent security features that ensure that your personal, as well as customer data, is secure. The security measures it has includes a free SSL certificate, bot protection, server monitoring, 2FA, server monitoring, self-healing servers, firewall blocklist, Whitelist IP, SSH, and SFTP access. Cloudways also offers automatic or manual backups across all their plans.
The platform offers a free migration across all its hosting plans and has a WordPress migration plugin for WP users. You also have access to paid add-ons with advanced and premium support and safe updates for WordPress, Astra Pro, etc. If you want support, then they offer 24/7 live chat support and also have a good knowledge base with a resourceful community forum.
What Redditors say about it
u/dmje- "Cloudways has a powerful set of tools and a dashboard to get you started but loads of flexibility to grow (capacity) or grow (complexity). Easy to make a new application which can be a WordPress site, a PHP/flat HTML site, or whatever".
u/WTFyoukay- "Cloudways, cheaper than most others, scales with 1 click and 5 mins with a 24/7 army of smart tech support on live chat who have helped me hundreds of times. The portal is solid, and I have never had a single issue that was cloudways fault in many years".
u/_keep_calm_- "Cloudways is no doubt the best web hosting platform today. I moved to this hosting 2 years ago and have never looked back. Their support is also great and friendly".
Pricing
Cloudways is a top hosting solution, and it is a no-brainer if you are serious about what you are looking for. It comes with a premium or standard pricing model and has 5 types of plans. The premium plans are expensive compared to the standard prices. It has a 3-day trial period where you can check all its features without requiring a credit card. The plans start at $10 per month. You can pick between Digital Ocean, Vultr, Linode, AWS, Google Cloud & more.
Pros
Excellent performance
Free SSL certificate
Outstanding server features
Vertical scaling
Ability to handle multiple sites
Automatic backups
Faster server speeds
Simplified pricing with pay-as-you-go plans
A free trial
99.99% uptime
Good support
Cons
The trial period is limited
Complex set up
No root access or server modifications
2. WPX – Best Managed WordPress Hosting Provider in India
WPX is the best WordPress Managed hosting provider that offers outstanding performance compared to other providers. It was founded in 2013 by Georgi Petrov and is known for its superior speed. The platform has a customized panel, and it gives users access to invoices, statistics, and various other features. They have a staging site feature that allows you to customize various aspects of your site and see the changes before publishing it on the internet.
Save 50% on Your 1st Month With WPX Hosting
Use Coupon Code: Jeremy50
Note: Jeremy50 is case sensitive
WPX is a great choice for beginners, and its near-perfect uptime and speed make it a very popular platform in the market. It has data centers across 30+ countries, and its CDN can be activated with a few clicks using its dashboard. Further, it comes with email hosting services, and its pricing is based on its bandwidth. One thing that WPX takes seriously is its security. Some of its security features include a free SSL certificate, hybrid DDoS protection, daily malware scans, web application firewall, Domain WHOIS, and brute force protection. They also have automated daily backups on all its plans and are equipped with a free malware recovery feature, and you don't need to worry about paying extra for these services.
If you already own a website, you might be wondering how to get to a faster web host without requiring any technical expertise. You don't have to worry, as WPX has its migration service that lets you move to a faster host without any effort. One of the fundamental issues faced by hosting companies is the support they provide. WPX offers 24/7 support via Live Chat and a ticket system. The technical team can solve all your issues within a matter of time.
What Redditors say about it
u/StrippedYangon- "WPX is a good recommendation, and I am currently using this hosting and finding it very good for lightweight websites too".
u/whdbf- "Yes, you can try WPX, and you will love it. Mainly their support is awesome. It is better than some other hosts in terms of pricing. It is one of the fastest-managed WordPress hosts. My WordPress sites load under 0.5 secs".
u/ImmentDormant- "I use wpx.net, it costs a bit more than other options, but they help with everything you need. With this, you can chat and get near-instant assistance".
Pricing
WPX has a superfast hosting plan for your WordPress website. It helps meet the requirement of creating intuitive websites in India. The platform comes with a 30-day money-back guarantee across all its plans. Its plans include:
WPX Business plan- $20.83 per month
WPX Professional plan- $41.58 per month
WPX Elite plan- $83.25 per month
Pros
A great choice for beginners
Outstanding performance
Perfect uptime and free CDN
Automated backups and staging creation
Free malware recovery
Responsive customer support
Excellent security for checks against suspicious malware
Pricing is flexible based on bandwidth
99.95% uptime
One-click WordPress installation
Outstanding customer support
Cons
Limited resources with shared hosting
Bandwidth limitation
Basic email features
No phone support
3. Hostinger – Best Budget-Friendly Hosting Solution
Hostinger is a popular web hosting company that was established in 2004 in Kaunas, Lithuania. Over the years, it has slowly evolved into one of the best in the industry. Its Indian version is Hostinger India, which is accessed using Hostinger. in. It has a simple, elegant, and friendly interface that suits the needs of beginners. Unlike the traditional cPanel, it marks itself differently with the intuitive hPanel. Its custom interface has a modern design with easily accessible functions. It has a strong Zyro website builder and is equipped with excellent website staging services.
Hostinger has data centers in 7+ countries and is powered by Litespeed servers. It has excellent speed, and promises an uptime of 99.85% in India, and is very reliable. The platform offers unlimited free migrations across all its pricing plans. It has excellent security features with free SSL certificates, Cloudflare DNS firewall, Bitninja security, Malware scanners, PatchStack security, etc. They also offer free weekly backups on all its plans. However, if you want daily backups then you will need to select its premium plans. Further, they have a selective restore feature on their plans. Apart from this, they also bolster good email hosting services.
The platform offers a free domain name for the first year across most of its plans, except for its single web hosting plan. Hosting offers good support via live chat or email form which is available 24/7. It also has a good knowledgebase, and video tutorials to help users out. You can also purchase its training program if you want to understand how to work with its features.
Click Here To Get 80% OFF Hostinger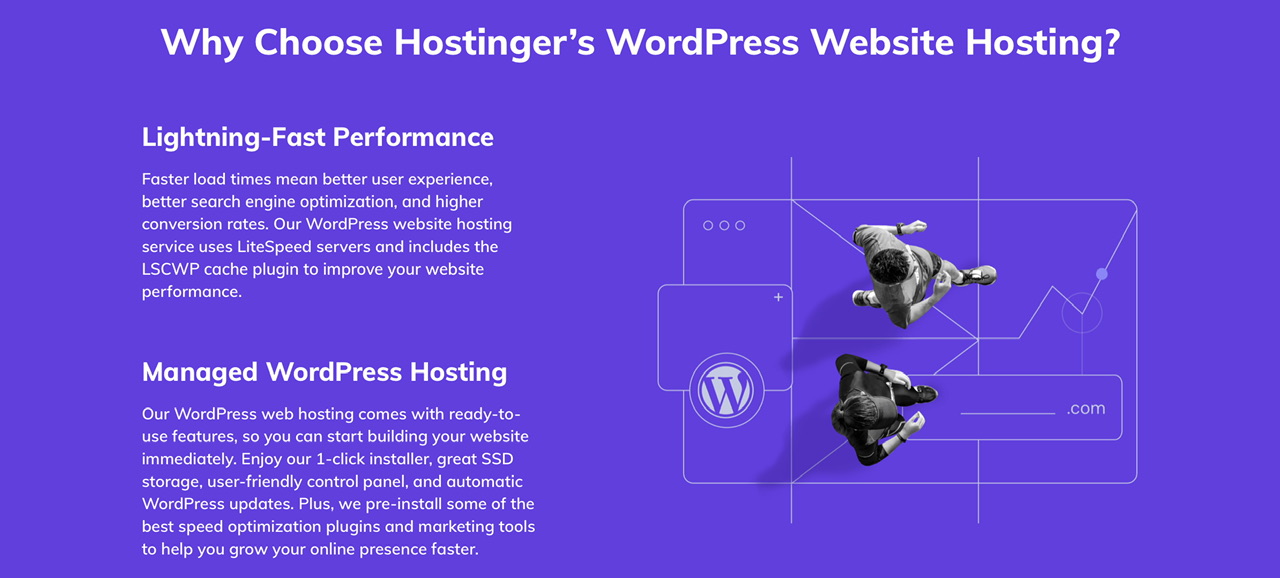 What Redditors say about it
u/ScotVonGaz- "Hostinger has also been good for me".
u/rossonlinereviews- "Hostinger is actually $0.99 per month for a single shared hosting one, and it's the cheapest in the market nowadays. When Hostinger infers that the prices are unbeatable, then they aren't lying about it. If you purchase the 48 months of hosting plan, then you get that for $50. This doesn't mean it has low-grade service. It is extremely fast, secure, and reliable. Get the SSL certificate installed to compete with other websites. All in all, Hostinger is the best web hosting option out there".
u/StraightAssociate- "I have been a customer of Hostinger for about a year. I have no problems with them at all. Their $45 for 4 years of shared hosting is hard to beat, so yeah.
Pricing
Hostinger comes with 6 different types of hosting solutions, each having its own set of pricing and features. However, the prices increase after the renewal of the plan. All the plans come with a 30-day money-back guarantee, which you can avail if you don't like what they are offering.
Pros
Excellent speed
Easy to set up with WordPress support
User-friendly control panel
Free email, domain, and SSL certificates
Daily backups
A free CDN
Unlimited databases and bandwidth
Free Domain
99.85% uptime
Competitive Pricing
Cons
Inconsistent performance
Limited disk space
Lacks support services
4. Rocket.net – The Newest Hosting Provider in the Market
Rocket.net is a fully managed WordPress hosting platform founded by Ben Gabler in 2020. The CEO and founder of the firm has previously worked with big tech companies like GoDaddy, Help.com, HostGator, etc, which makes it trustworthy and reliable. The one thing that sets them apart from other hosting providers is their Cloudflare Enterprise CDN. This gives you unique performance and superior optimization.
The interface of Rocket.net is quite attractive with its modern design and intuitive color schemes. You can easily create or manage websites, support tickets, and billing problems right from the same dashboard. It doesn't have a custom cPanel like other web hosts but has a customizable intuitive panel, fit for beginners as well as higher-end users.
Rocket.net offers premium CDN, which is divided amongst multiple users, which lowers the cost. The platform guarantees 99.99% uptime with lightning loading speeds with Google Font optimization and full-page caching services. Its data centers are placed across 21 locations around the world. Further, it offers advanced security features that include Cloudflare Enterprise WAF, Imunify 360, 2FA, SSL certificate, and SSH access. It also comes with automatic daily backups for any content that is stored for 14 days. You can also create manual backups and restore your data with a single click.
The platform offers free migrations for unlimited websites. It has a good reporting and affiliate program to help understand key metrics. They also have a good staging feature to see how your website is performing before you publish it. Rocket.net has 24/7 support through email tickets, live chat, and phone. Further, they have a good knowledge base, but it is slightly limited.
What Redditors say about it
u/bry0nz- "I have tested Rocket.net, and it is definitely fast".
u/Life-Morning-7300- "Rocket.net is amongst the fastest WordPress hosting solution today. It is designed to give you a competitive edge and has good customer service".
u/friswas- "Don't expect much from EIG brands. They are just going to market Managed WP as it ranks well. If your site is making money, consider something like Rocket.net. If it's informational content, then a cheaper option works just fine".
Pricing
Rocket.net has affordable pricing across 3 different categories. It also comes with a $1 special in pricing for all plans, and it is great as it goes. The platform doesn't hike on renewals, and you see what you get. Further, you also get free migrations, so you can test it easily. The plans start at $30 per month.
Pros
Highly optimized managed WordPress hosting solution
3x faster load speed
99.99% uptime
Free SSL and CDN
Automatic daily backup
Free staging installation
Strong security
Website migrations and malware removals for infected sites
24-hour support for phone, chat, and email
White-labeled reseller plans
Cons
Base plans are limited
No email hosting services
Doesn't come with a free domain
5. Bluehost – Fastest Shared WordPress Hosting Provider in India
Bluehost is one of the oldest players in the market, which was founded in 2003 by Matt Heaton and was later acquired by Endurance International Group in 2010. It has gained recognition in WordPress, which has made it an official WordPress-recommended hosting provider. It has over 2 million websites that are hosted and have immense popularity, especially in the Indian markets. It comes with different hosting plans for users in the market.
The user interface of Bluehost is very intuitive and easy to use, but its response time is slow. Their dashboard lets you manage your hosting account, which includes your billing information and renewals. Its advanced cPanel lets you maximize your resources with plugins, backups, or other features.
Bluehost has good speed with a solid uptime between 99.7 to 99.9%. It offers a free SSL certificate across all its plans and free daily backups on its Choice Plus plan. However, you can get access to the same for its Pro plan using CodeGuard. The platform supports one-site migration through its higher-end plans and is slightly limited on its basic plans. Another important parameter that makes them popular is their support services. Its live chat feature is very quick, and it supports calls in multiple Indian languages. Apart from this, it has a good knowledge base to help you get past any hurdles you're facing.
Click to Get 67% OFF Bluehost Now
Bluehost Coupon Code 2023: Auto Applied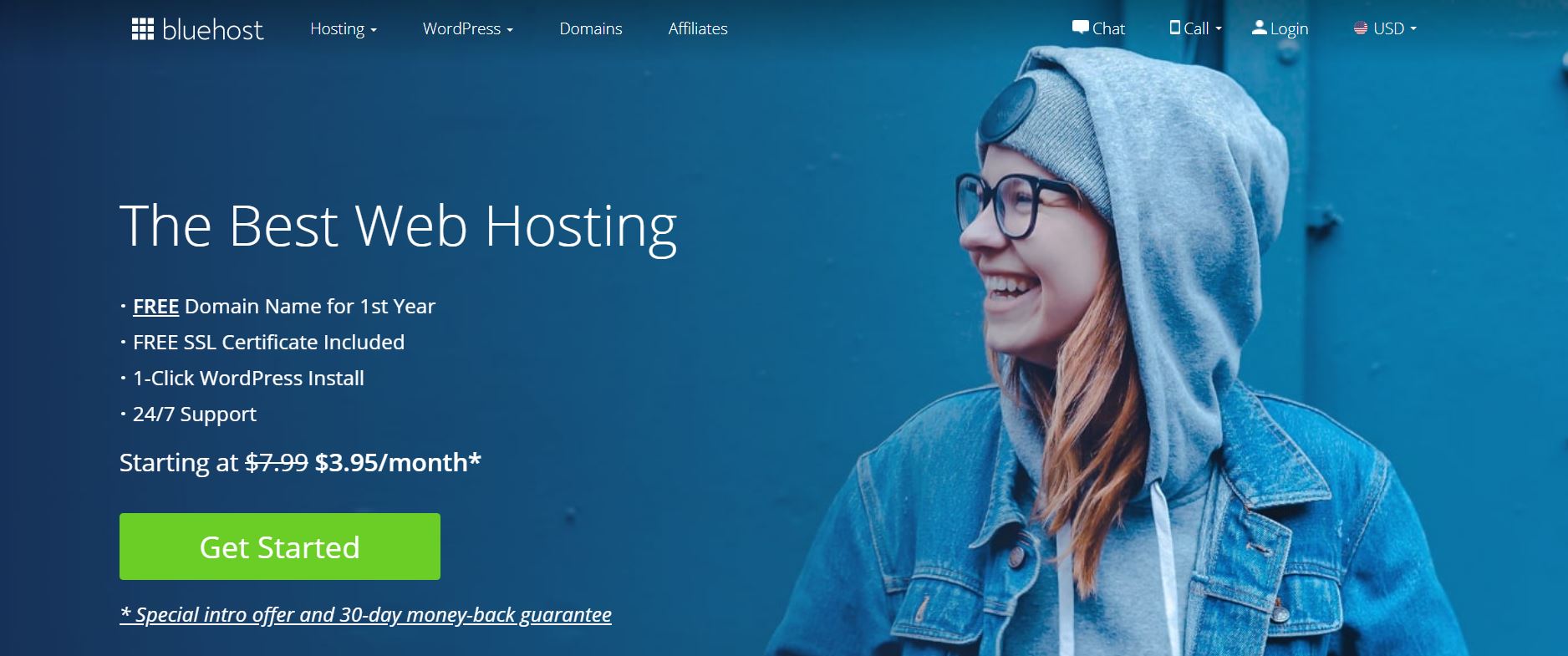 What Redditors say about it
u/shalevrais- "Bluehost's customer support, strong uptime, and affordable beginners plan make it a very dependable hosting provider. If you are looking for some old-fashioned reliability, then it is a great choice. This is why it is rated as one of the best hosting providers in the market".
u/chucktownDan-  I am a Bluehost customer for over 3 years now. Their reliability has been just fine, with no issues to speak of. However, compared to some other providers, the price of their plans is what keeps me there.
u/throwyoworkaway- "Bluehost has performed pretty well these days. They have managed to improve their quality over the recent years".
Pricing
Bluehost offers a range of hosting solutions to get you started. It comes with a free trial but has a 30-day money-back policy across all its plans. The rates on the platform increase after renewal. The plans start at $2.75 per month.
Pros
Well-suited for beginners as it is easy to setup and use
Affordable pricing
The user interface is very impressive
Good support team
Unmetered bandwidth
A free domain name, CDN, and SSL certificate
High-performance servers
Outstanding security
Excellent customizability
Generous storage allowance
Good flexibility
24/7 support
Cons
Higher renewal rates
No free site migration
No daily backups
6. A2 Hosting – Fast and Optimized Web Hosting
A2 Hosting is a popular web hosting provider founded in 2003 by Bryan Muthig. The platform proudly calls itself a Green Web Hosting company as it commits to the environment. This is an appreciable attempt by the web hosting platform. Its interface is quite old with an outdated design specification. The cPanel is easy to use, but in terms of colors, it requires a makeover. It can be easily customized with its website builder to suit all your requirements.
The platform has excellent speed with an uptime of 99.5% in India. It has data centers in the USA, Europe, Asia, and Singapore. It comes with different hosting plans and bolsters outstanding security. The security features include free SSL certifications, SSH access, IP blocker, SFA, ModSecurity, Imunify360, HackScan, Hotlink protection, and Patchman enhanced security or purchase the $3 per month Barracuda spam firewall. It has excellent Cloudflare CDN and is powered by Litespeed servers with unlimited email support.
A2 Hosting allows for a free migration across all its plans, but only 1 free migration is available on the Shared Hosting plans. It also offers good customer support and comes with 24/7 call support and live chat. Apart from this, you can get email support or access its knowledgeable base to solve any issues.
Click Here To Activate The Deal
A2 Hosting Coupon Code: Not Needed
What Redditors say about it
u/Kickitrootdown- "A2 is IMHo and one of the best traditional web hosting services around. I am still using a VPS account with them, and I use it mainly for staging sites, non-production projects, and a few legacy static HTML sites that I still host. I am on a great rate and don't feel the need to cancel it. If you are using WooCommerce, you should use their VPS plans. Its pricing is higher, but its performance is much better. Stay away from shared hosting, and it all depends on the volume and how well-optimized the site is. Overall, A2 is the best choice for traditional web hosts. They are very reliable and offer good support when needed".
u/perrij3- "I have been using A2 for about 10 years, and I have been happy with them".
u/shanethp- "I have been running 10+ sites, including a few WordPress sites using the hosting plans of A2 with no complaints. I have Cloudflare, which helps with the load since most of the sites are pretty static".
Pricing
A2 Hosting has a hosting plan that is suited to meet all your requirements, whether you are a beginner or an expert. It also comes with a 30-day money-back guarantee across all its plans, no questions asked. Their plans start at $2.99 per month.
Pros
Reliable speed and has tools to boost speed
Advanced features
Strong uptime
Unmetered storage and bandwidth
cPanel interface
Hackspan for perpetual security
Free daily backups and Cloudflare CDN
Unlimited storage and data transfer
Software optimized for WordPress, Drupal, etc
Website staging included
Attractive SEO tools
Cons
Premium pricing
No free domain and site migration
Only the higher-end turbo plan gives 20x faster speed with the site accelerator
7. WP Engine – A WordPress Optimized Web Host
WP Engine is a VIP-managed WordPress hosting platform that was launched in 2010 by Jason Cohen. With this, you can build faster, protect your brand and grow your business to give a remarkable online experience. It is specialized to host WordPress due to its rising popularity. They make use of a customizable panel to enhance customer experience, and their interface is clean and efficient. The platform comes with an array of hosting plans to get you going and also has a staging feature.
Get 4 Months Free Of WPEngine WordPress Hosting

WP Engine has superior speed with 99.95% uptime ensuring that your website is always online throughout the year. Its staging environment lets you see what's working for you before publishing it on the internet. The provider has advanced security features to keep your data secure. They thoroughly test any major updates before updating them for your customers. It has a proprietary intrusion detection, DDoS attacks, block prevention system, brute force attacks, JavaScript, SQL injection, malware detection, and more. They also partner with several third-party firms to conduct regular code reviews or security audits.
The platform has both manual and automatic backups to protect your data as well as remove bulky third-party applications. Backups occur in the production, staging, and development stages by default. You can easily migrate your old website to the platform without any downtime. It has a dedicated support team that meets all customer satisfaction. Their support comes with 24/7 live chat, phone, or internal support tickets.
What Redditors say about it
u/cbz3000- "I have had nothing but good experiences with WP Engine. I am willing to pay an extra for its amazing customer service and support. It also has a really well-made back end which is super easy to use".
u/bluesix- "WP Engine is very solid and has reliable service. They are great if you are not very technical. You have to pay extra for their brilliant support.
u/jonhenshaw- "I have been using WP Engine for several years now, and I'm happy with their service. They automatically help make backups and restore points, and their restore feature has been a lifesaver when I've don't something stupid. It is fast, reliable, and they make it easy to do important things, like the ability to add free SSL certificates and auto-renew them".
Pricing
WP Engine has excellent pricing plans that can meet requirements for different applications. They also have a 60-day money-back policy guarantee across all its plans. Its 4 plans include:
Startup plan- $25 per month
Growth plan- $95 per month
Scale plan- $241 per month
Custom plan- customized pricing
Pros
WordPress managed hosting
Superior speed with impressive loading time
Free website backup and restoring
Staging and production support
Free SSL and CDN
Excellent uptime
Advanced security tools
Transferable installs and billing transfer
Good customer support
A 60-day trial period
WP solution center
Cons
No domain registration
Certain plugins and themes are not supported
No free domain
Only hosts WordPress
Limited monthly visitors
8. Kinsta – Fast and Reliable Hosting Solution
Kinsta is a WordPress hosting for sites that mean business. It was founded in 2013 by Mark Gavalda for optimizing WordPress and other platforms. They have an innovative interface with a customized panel to manage your servers. It has a good staging property that allows you to see any changes before you publish on the internet.
Click Here to Get Kinsta Managed Hosting
The premium hosting experience is slightly expensive but offers exceptional speed and has an uptime of 99.99% with good bandwidth. It has data centers across 30+ regions of the world. They bolster good security features that ensure that your and your customer's data is secure. The platform has a dedicated malware team with free SSH access and a one-click SSL certificat, while having wildcard support. It ensures that daily backups happen for your website, but their entry-level plans backup only for 14 days, and higher-end plans have a longer backup time. It is optimized to ensure that your website stays updated and stands out.
Powered by the Google Cloud platform, they have server-level caching using its caching plugin. It has unlimited free migrations across all its plans, regardless of how many sites you have. The platform offers 24/7 support via chat, or you can open a support ticket. The premium plan customers get better support services than other standard plans.
What Redditors say about it
u/rintintim- "Kinsta has great customer service and is awesome as well. I am currently running 2 WooCommerce stores with them and love it".
u/sevilla88- "I don't have much experience with other managed WordPress hosting services, but I have used Kinsta, and it is pretty great. It offers magnitude better than other shared hosting services and installs WordPress on it".
u/lefty121- "I am migrating my own sites to Kinsta as it is just a cut above, and they have been amazing so far. Kinsta's support is crazy fast, and they are WP experts and are not techs that don't know what they are doing".
Pricing
Kinsta is a powerful platform that has flexible pricing to suit all your needs. It comes with different plans and has a 30-day money-back guarantee. The plans start at $35 per month.
Pros
Excellent performance and speed
Good Cloudflare enterprise infrastructure
A user-friendly dashboard with a simple interface
99.99% uptime guaranteed
Flexible staging pushes
Free Migration
Quality support
Optimized for e-commerce with great traffic spikes
Several pricing plans
Multilingual support
Value-added tools for advanced users
Cons
No email hosting and phone support
Expensive hosting service
Only support WordPress
Charges per page view
Which is the best Hosting Provider in India?
There is not a single hosting provider today that is best in all aspects, but it all comes down to your requirements. If you are starting out, then you can choose the Shared Hosting offered by the platforms in the list, but as and when you will grow, you will have to shift to a higher plan as it will compromise some features of your website. Here are my top picks if you have still not managed to crack it
Cloudways – Top Hosting Provider in India
WPX – Best Managed WordPress Hosting Provider in India
Hostinger – Best Budget-Friendly Hosting Solution
Rocket.net – The Newest Hosting Provider in the Market
Bluehost – Fastest Shared WordPress Hosting Provider in India
Before making the final decision on the foundation of your website, have a look at your business or blog and see what you want in the host before making the choice that fulfills all your needs.
Best Hosting in India FAQs
1. What is the cheapest web hosting in India?
Shared hosting is the cheapest solution available in the market for small websites. It is an ideal option for those planning to start out. If you are on a budget, then the option is the way to go. But it is important to note that you don't have exclusive access to the server. It is most likely that you are sharing space with dozens of other websites. There may be a chance your website's loading speed is compromised due to this.
2. Can you move your website from one company to the other?
Yes, you can easily migrate your website to another host. It isn't tricky and can be done within a few steps. You can also get in touch with the tech team of the platform, who will sort you out.
3. Can I host multiple websites on a single hosting plan?
It depends on the hosting plan that you have selected. Generally, most starter plans can handle only one website, but you can opt for an update to add multiple websites on the same hosting plan.
4. How to connect a domain name with web hosting?
The best and most common way of connecting your domain name is by pointing it to the web hosting provider's name servers.
Read Next: