MailChimp is without a doubt the most popular email marketing tool in the entire world.
In fact, MailChimp gets searched for 280x more than "email marketing software".
And it was the first email marketing software that I ever used.
However….
Being an 800-pound gorilla in the industry means that they're so many other competitors that are cheaper and offer a lot more features and are just objectively better to use. MailChimp is honestly not worth it for most of you reading this. I'll list down why (they're many reasons).
Let's dive into the Best Mailchimp Alternatives in 2023!!
Why reconsider using Mailchimp?
In all honesty, I can't recommend MailChimp to most people and here's why!
1. Expensive
MailChimp got popular for the simple fact that they offer a free plan that allows you to have an email list of up to 2000 people.
However, the moment you leave the free plan and start paying for MailChimp either because you need more features or your email list has grown you'll quickly realize that MailChimp is pretty fucking expensive.
For example, my #1 alternative Mailerlite has a free plan that only allows 1000 people.
So while MailChimp may beat it at the number of people on the "free plan" when it comes to bigger lists Mailerlite is a clear winner.
u/diamondgoal- "MailerLite is excellent. We've been using Mailchimp for 10 years, and over the past 2-3 years, it has become bloated, confusing and they have lost focus. MailerLite offers a breath of fresh air".
Click Here To Try MailerLite For Free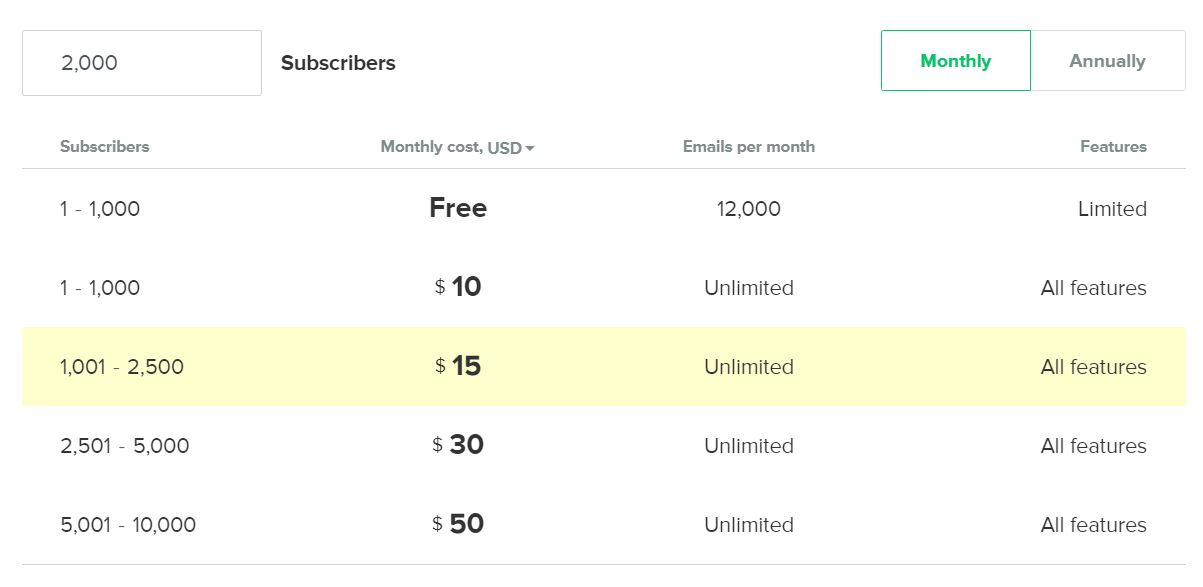 For a list of 5000 people:
MailChimp Standard costs $75/month
Mailerlite costs $21/month
That's a massive difference! The moment you start paying MailChimp is actually 3x more expensive than Mailerlite and most of the other MailChimp Alternatives in this article!
So, if you're going to have less than 2000 people on your list and never paying for Mailchimp then it might be an alright choice.
But if you're someone like me who is always thinking about growth and scale, then I'd recommend staying away.
Cheap Alternatives to MailChimp: Mailerlite, Sendinblue
2. Automation
While MailChimp was one of the first people in the email marketing to have basic automation even for free users, their more complex automation isn't as good or even as easy to use as their competitors like GetResponse or ActiveCampaign.
If you are growing startup you may find Mailchimp limiting in its automation features.
3. List Management
MailChimp makes it super hard to deal with duplicate subscribers that may exist on multiple lists. MailChimp is a "list-based" email marketing tool where everything is based around the list which can get a little complicated as your business grows.
ConvertKit, for example, is subscriber-based that allows you to look at your subscribers as a while and segments then into lists as well as tags and interact with them through them all.
This takes care of duplicate subscribers (eg. If someone signs up for your email newsletter and later signs up for an opt-in course as well)
4. Shopify Integration
Since early 2021, the Mailchimp for Shopify app is no longer available, but we have several third-party integrations that can help you connect your accounts to Shopify.
While their workaround with third-party integration like ShopSync, Zapier, and Automate.io, they obviously don't work as good as having a native integration.
Every single alternative on this list has native support for Shopify!
Best MailChimp Alternatives Reddit
To save you the time I have decided to only pick the top MailChimp Alternatives, it would've been easy for me to make this a "top 10" listicle but let's be honest, most of the other alternatives aren't worth your time, so here's just the best of the best according to Reddit!
1. MailerLite – Best MailChimp Alternative According To Reddit
According to me, MailerLite is without a doubt the best budget email marketing tool out there!
Click Here To Try MailerLite For Free

For a few projects, I prefer tools like Convert Kit, however, if someone is tight on a budget I would recommend MailerLite in a heartbeat.
What Redditors say about it:
u/selfstatr- "I used MailerLite because it was affordable, and it is super easy to use with its great templates. Lots of other platforms are feeling their age now, which are clunky and ugly looking, and that is not the case with MailerLite. Big fan- great customer service too".
u/diamondgoal- "MailerLite is excellent. We've been using Mailchimp for 10 years, and over the past 2-3 years, it has become bloated, confusing and they have lost focus. MailerLite offers a breath of fresh air".
MailerLite vs Mailchimp
When I compare MailChimp vs MailerLite and MailerLite was the clear winner!
Mailerlite is built with the idea of keeping things easy and simple. They have a simple Drag & Drop editor that allows you to build professional and beautiful newsletters on your own without having to ever touch a piece of code.
Mailerlite has A/B Testing on all plans (including FREE) that allows you to test variables like email subject, sender details, email content or even your design.
You can get even more advanced features like, Advanced Segmentation, Interest Groups (Tagging), Auto Resend, Deliver by Time Zone on all paid plans. MailChimp, on the other hand, has 3 pricing plans, wherein you always have to pay more if you want more features.
MailerLite has 2 different plans (Simple!)
Free – Up to 1k subscribers and you can send up to 12k emails/ months (12 email/person)
Paid – Starts at $10 every month for 1000 subscribers. You get all the features no matter how much you pay!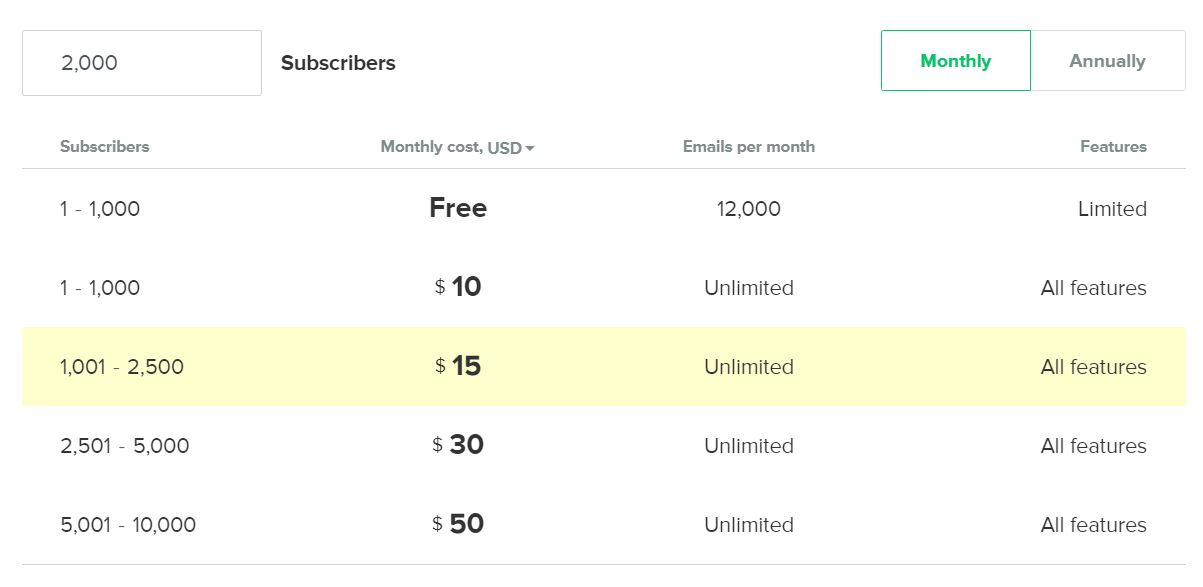 The "Per subscriber" cost goes down as your list grows which means that MailerLite grows and scales with you and your business needs.
For example, an email list of 100k costs $350/month (ie $3.5/1000 subscribers vs $10/1000 at the base plan)!
In comparison, an email list of 100k with MailChimp Premium costs $700/month!
Click Here To Try MailerLite For Free
Pros
Solid landing page and website builder
A cheap email marketing software
Advanced automation tools
Simple and clean interface
Lots of email templates to select from
Life-long free plan
Affordable pricing
Time zone-based sending
Cons
Low CRM functionality
Limited integrations
Need to provide a lot of information to the company to set up your account
2. Sendinblue – Great MailChimp Alternative for Large Lists
Sendinblue is very different from the other email marketing tools for one major reason: Sendinblue doesn't charge you based on the size of your email list.
You basically pay for the number of emails you send. So it doesn't matter if you have a list of 10k people sending 1 email a month or a list of 1k people sending 10 emails a month.
Sendinblue also has a free plan that allows unlimited contracts (but you can only send 300 email/day, which is kinda limiting, but hey! it's free)
Click Here To Try Sendinblue For Free
SendInBlue vs Mailchimp
Sendinblue doesn't believe you should have to pay more just because your business is growing and their pricing is pretty amazing.
Sendinblue has 5 different plans (all allow unlimited contracts)
Free (up to 300 emails/day) – $0
Lite (up to 40k emails/month) – $25/month
Essential (up to 60k emails/month) – $39/month
Premium (up to 120k emails/month) – $66/month
Premium (up to 360k emails/month) – $173/month
Enterprise – Custom
If you are growing a large email list that you don't plan on emailing often (eg like a weekly/monthly newsletter) Sendinblue is bound to be the most affordable tool out there.
Sendinblue ends up usually being about 4x the price MailChimp.
eg. To Send 3 emails to 20,000 people each month
Sendinblue costs only $39/month
MailChimp costs $159/month (that's in their basic plan with limited features)
3. Omnisend – Best Multi Channel Mailchimp Alternative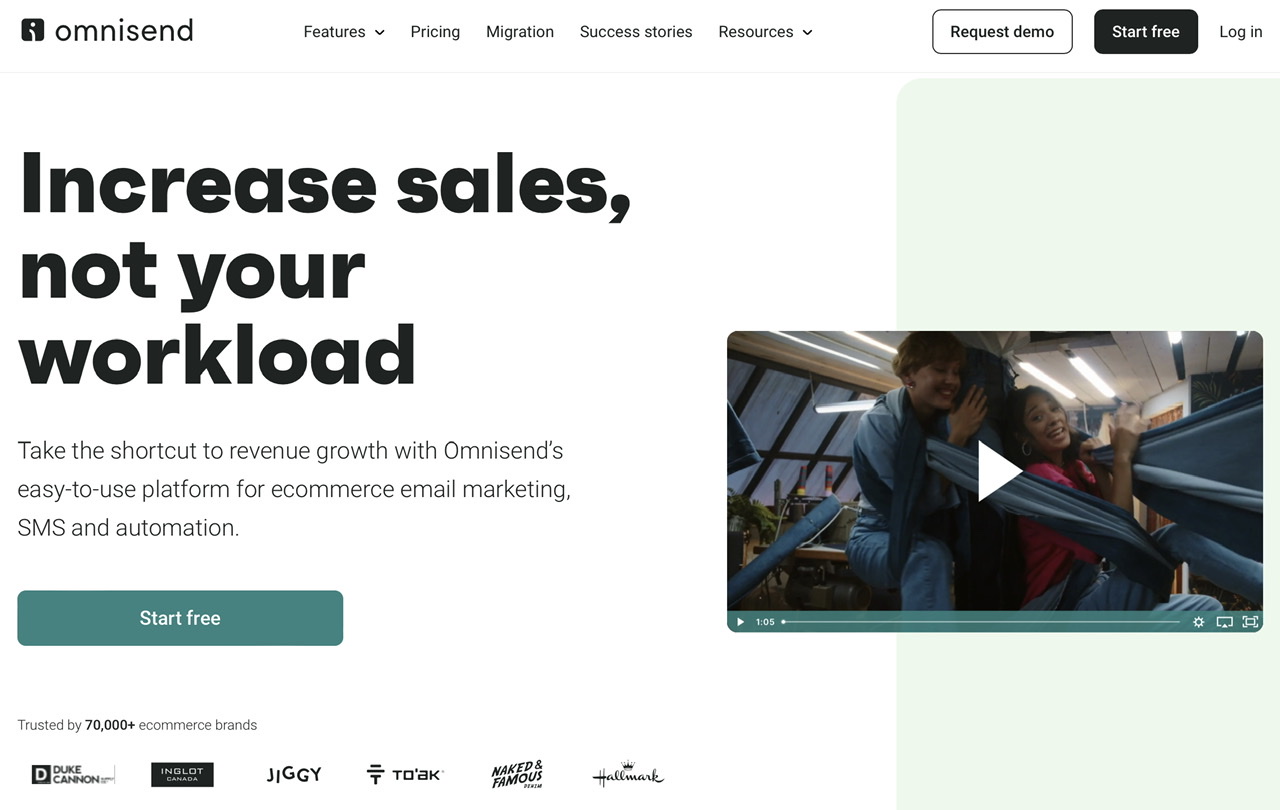 While Mailchimp is mainly focused on email Marketing, Omnisend is a great alternative that caters to multiple channels making the extremely popular for e-commerce store.
Omnisend channels include, email, SMS, Facebook messenger, Google & Facebook Custom Audience, Web Push Notifications and WhatsApp Marketing in one single platform.
It's overboard for most bloggers but for someone running a large e-commerce store, Omnisend has the best Omnichannel Marketing Automation across a wide variety of networks.
Given the trend Mailchimp has been going with e-commerce (with dropping Shopify support etc) Omnisend is a great Mailchimp alternative for E-commerce & Shopify stores.
Click Here To Check Out All Of Omnisend Features
4. ActiveCampaign – Industry Leading Automation
ActiveCampaign is often described as an all in one marketing platform (like the Hubspot's of the world), is without the doubt the Industry leader in automation.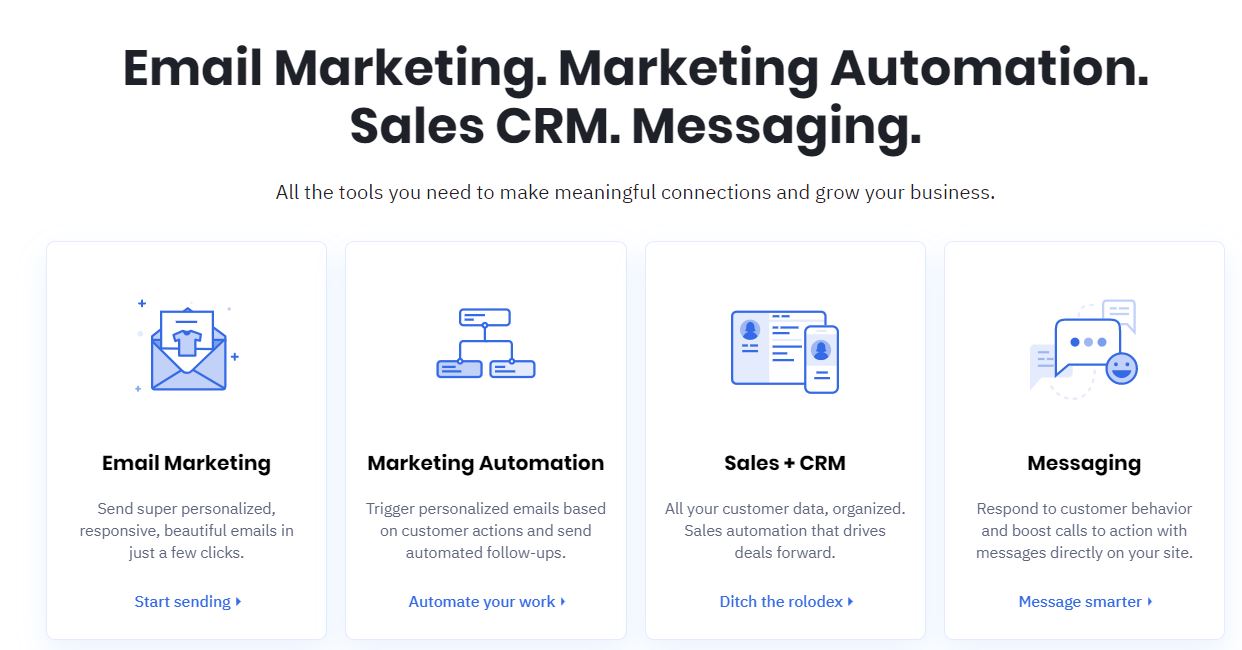 I would only recommend Active Campaign to people running 10-100+ automated marketing campaigns at a single time as it's a really powerful tool and suited mostly for big companies that have an "email marketing guy".
What Redditors say about it:
u/Lukinzz- "We use ActiveCampaign for all our clients. It is our favorite marketing automation tool, plus their CRM is easy to use and is fully customizable".
u/arahmed1216- "I use it for drip campaigns for my clients. It's been 2 years, and ActiveCampaign works great for my needs. Their support is excellent as well, and they've always gotten back to me within a few hours".
For a small-time blogger, Active Campaign is a little overboard!
ActiveCampaign is around double the price of Mailchimp in most of the cases, so it's definitely not the option for a budget-conscious person.
In terms of automation, ActiveCampaign is always launching new features like the ability to show a particular message to people based on the fact that they came from your email or complex timed automation.
Click Here To Check Out All Of ActiveCampaign Features
5. GetResponse – Great Email Marketing + Sale Funnel Builder
GetResponse is a great option if you want a sale funnel builder + landing page builder + webinar funnel that just in one single email marketing tool.
If you've ever tried combining software like WebinarJam + Leadpages + Clickfunnels + Hubspot you will want to shoot yourself.
GetResponse is great as an all in one marketing suite for funnels and email marketing collection in one single place. It's also great for collaboration as their Plus plan and above let's multiple users use the same account.
GetResponse for an email list of 500 starts at
$15/month for the email marketing + landing page plan
$49/month for the sales funnel + email marketing + Webinar
Click Here To Try GetResponse For 30 Days
6. Convert Kit – Best MailChimp Alternative For Bloggers
Convert Kit is one of the newer email marketing software has been around since 2013 while many of the other guys on this list have been around since the 90s.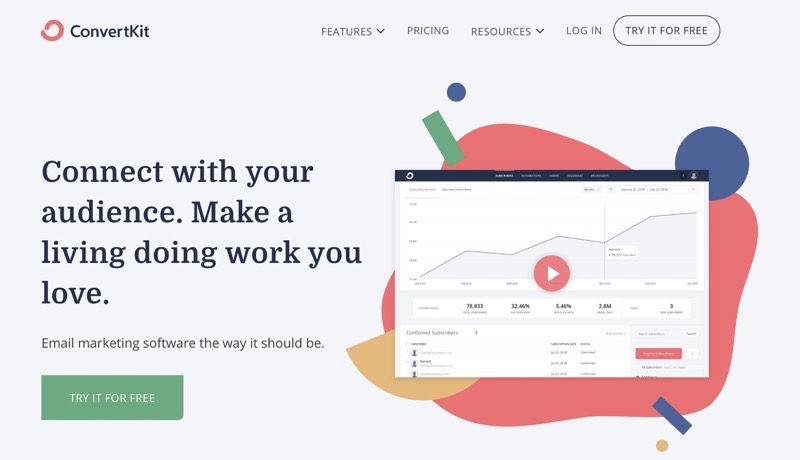 However, Convert Kit is built for creators ie. Bloggers, YouTubers, course creator, podcasters and if you a "creator" it's honestly the best alternative out there to MailChimp if you run a blog or any kind of content business! It's super easy to use interface makes it easy to launch a marketing campaign.
ConvertKit vs Mailchimp
Convert Kit doesn't have the email marketing automation features a fortune 500 company may need, however, it fits perfectly for small business owners and bloggers.
In terms of UI, it's one of the easiest to use and makes it super easy to organize your email marketing campaigns.
Best MailChimp Alternatives
So there you have it, those are my top picks when it comes to the best MailChimp Alternatives in 2021
As a recap, here are my recommendations and what they're best used for:
Mailerlite: If you're looking for a budget option to MailChimp that scales and is worth it!
Sendinblue: If you don't send emails often but want a large list.
Omnisend: If you want a great multichannel marketing tool for e-commerce stores.
GetResponse: If you want an all in one marketing suite.
ActiveCampaign: If you want the best Automation and features money can buy!
Convert Kit: If you want an easy to use email marketing tool for your online business.
Thanks for reading, let me know your thoughts in the comments below!
Read Next:
Best Autoresponders for affiliate marketing