Email marketing has been an important part of digital marketing strategies for a long time now. It provides a really high ROI and there are not really many other ways of reaching your target audience in such a personalized manner.
There are a number of email marketing tools out there today like MailChimp, ConvertKit, GetResponse, Mad Mini, and many more. If you're looking to get started with email marketing, it can be a tough decision to find a tool that is exactly right for your needs.
In this review, I'll cover an email marketing tool that has been around for a really long time and is still widely used around the world today, especially by small businesses and entrepreneurs – AWeber.
Click Here To Try AWeber For Free
AWeber Review
Being in the email marketing industry for more than 20 years, AWeber is definitely not a new player. They were the first email marketing tool to come up with autoresponders and while automation is a part of most of the email marketing tools these days, they were definitely ahead of the curve.
You might be inclined to think that being an "old" tool, AWeber might not have the latest features and technology. However, it is definitely not stuck in the past and comes with an impressive set of features that are in line with most email marketing tools in 2021. Some of their features, such as AMP support for emails are actually pretty cutting-edge.
AWeber is one of the best email marketing tools for small businesses and entrepreneurs and currently has more than 100,000 small businesses and entrepreneurs using it. Some of the most useful features of AWeber include email design and typography, split testing, and AMP supported emails.
Another standout feature of AWeber is the "smart" email designer that lets you quickly create email designs that are in line with your brand with just a few clicks.
Click Here To Try AWeber For Free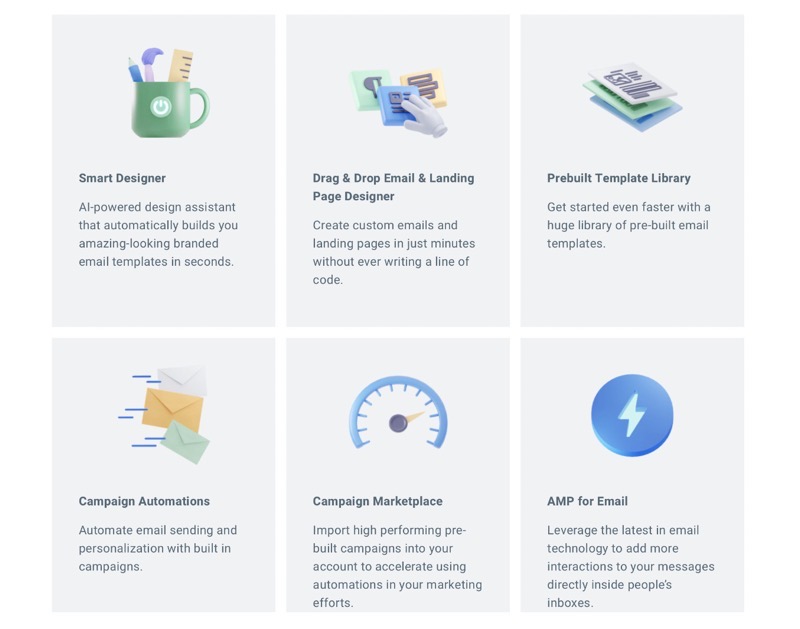 I've covered the most important features of AWeber more in-depth below.
AWeber Review: Most Important Features
AWeber is a full-fledged email marketing tool that comes with a number of powerful features. Now that we have a basic idea of what AWeber is, let's take a look at some of its most important features.
1. Importing mailing lists
If you're already using another email marketing tool and want to migrate to AWeber, you will want to import your mailing lists. Fortunately, AWeber makes it really easy when it comes to importing your mailing lists. You can import lists in the following formats – CSV, TXT, XLS, XLSX, and TSV.
You can also add your individual subscribers manually or by copy-pasting the rows of data. One particular thing that is great about importing lists in AWeber is that you can add subscribers to autoresponders and tag them while you're importing them which saves a lot of time.

2. Templates
When it comes to templates, AWeber offers more than 700 templates that you can use for your emails and newsletters! Even though some of the templates are dated design-wise, the sheer number of templates available is definitely something that is unique to AWeber as many of the other email marketing tools provide a lot fewer templates for you to play with.
Customizing the templates is pretty easy and given the number of options you have, you can definitely find one that is perfect for your needs and customizing it is only a matter of a few clicks which saves a lot of time when it comes to creating an attractive design for your emails and newsletters.
Click Here To Try AWeber For Free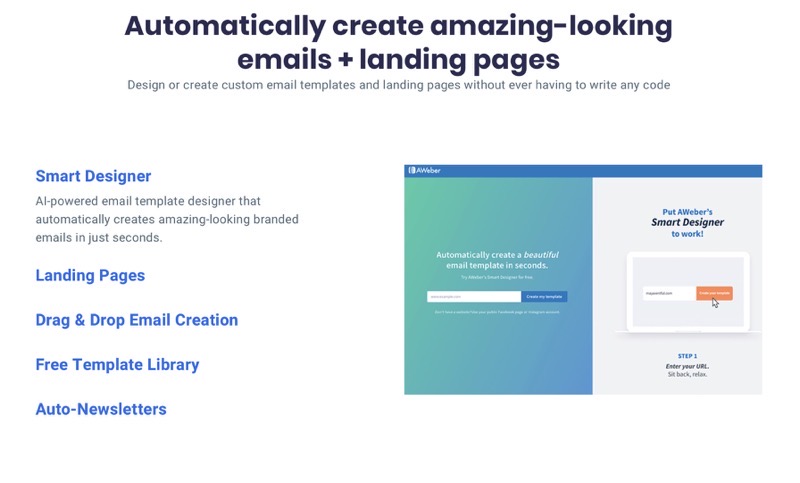 3. Email design and typography
Every single of AWeber's templates is responsive which means they look great on all devices as they automatically resize themselves. A lot of your subscribers will be viewing your emails on smartphones so it's definitely a positive that they look great on all sorts of devices.
Another interesting thing about AWeber when it comes to design and typography is that it allows you to use "web fonts" which can definitely help in making your email look better. Most email marketing tools force you to use safe fonts such as Arial and Times New Roman but being able to use "web fonts" allows you to splash some personality in your emails and make a better impression on your subscribers.
Web fonts can also be useful when it comes to ensuring your emails and your website have a similar look which helps in branding. This might be a minor point for a lot of users but it is definitely a valuable feature.

4. Blog Broadcasts
The "Blog Broadcasts" feature allows you to create automated e-newsletters by taking your site's RSS feed and then sending it out to your subscribers on a predetermined schedule. This is not an exclusive feature as many other email marketing tools have similar features but it can be really useful for bloggers to create automated newsletters for their blog.
However, with AWeber, you cannot use the default templates for blog broadcasts but you'll have to choose from a separate library of templates that are specifically made for blog broadcasts. To be honest, a lot of these themes are not really that great looking. You'll also have to use a different editor which is not as user-friendly as the default drag-and-drop editor when you're creating blog broadcasts.Overall, while "blog broadcasts" is definitely a feature that has value but there's a lot that AWeber can do to improve it.

Click Here To Try AWeber For Free
5. Autoresponder
The idea of autoresponders is pretty simple. It's basically a series of emails that are sent automatically based on different triggers such as an interval of time passing or some action by the user. Essentially, you can create sequences of emails for your subscribers in your list based on certain triggers using autoresponders.
For example, with autoresponders, you can ensure every subscriber will get a "welcome" email when they subscribe to your list which will then be followed by a promo code email in 4 days and so on. By automating the process, you save a lot of time and effort.
AWeber was one of the first email marketing tools to have the autoresponder feature but to be honest, their autoresponder feature today is just okay. You can easily set up basic features like sending emails at different time intervals but setting up advanced autoresponders in AWeber is not really a smooth experience.
A lot of user actions and triggers provided in AWeber are pretty limited which can limit you when it comes to creating advanced automations.

6. AWeber Campaigns
While auto-responding is a basic feature that can be used to automate your email marketing to a certain degree, you can take your automation to the next level with "AWeber Campaigns". It is a feature that is more like the current marketing automation that is offered by other email marketing tools currently in the market.
The AWeber Campaigns feature, like most marketing automation tools, allow you to create an automated flow for your email marketing. For example, you can create automations that get triggered by user actions like opens and click-throughs, tag users based on what pages visit, and then send specific emails based on all that data.
To be honest, the automation feature in AWeber isn't really on par with what you get in other email marketing tools in 2021 like GetResponse and MailChimp. The other tools allow you to create much more sophisticated automations which is just not possible with AWeber currently.

7. AMP support for emails
One of the most important features that come with AWeber is that it supports AMP for email! AMP stands for Accelerated Mobile Pages and is a framework developed by Google that combines HTML, CSS, and JS.
With AMP powered emails, your subscribers can take action and interact with the email such as making a booking, reserving a ticket, or getting dynamic content without leaving their inbox at all!
AMP for email is a pretty new feature and it opens up a lot of opportunities that were just not possible before. Instead of sending static newsletters that readers couldn't interact with, now you can create dynamic newsletters. This is definitely a feature that has a lot of potential if used correctly.Overall, this is where AWeber has a slight edge over almost every other email marketing tool out there currently in 2021.
Click Here To Try AWeber For Free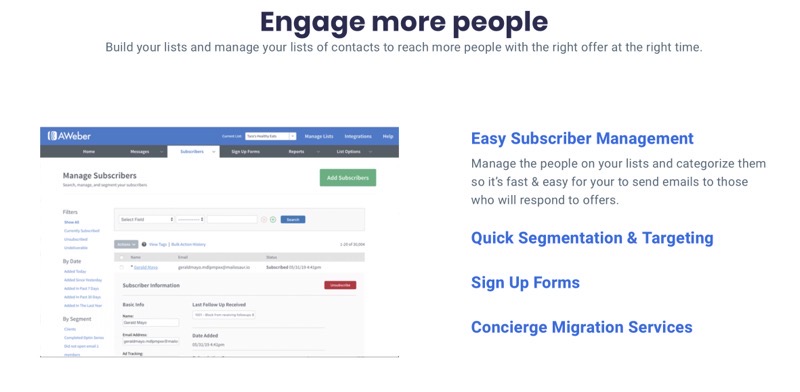 8. Flexible Opt-ins
When it comes to opt-ins, AWeber provides a decent amount of flexibility in handling the process. With AWeber, people can opt-in either using a single opt-in where the user is subscribed instantly or a double opt-in where the user has to click on a link sent via a confirmation email to opt-in.
There's a debate as to which opt-in process is best for you and it really depends on a lot of factors but having some flexibility in the process is definitely a good thing and some email marketing tools like Zoho do not provide a lot of flexibility.

Click Here To Try AWeber For Free
9. A/B Testing
A/B testing, also known as split testing, basically means sending different variants of your emails and newsletters to different people in your mailing list so you can find the one that performs the best. With AWeber, you can send up to three different versions of your emails and newsletters to different subscribers on your list.
Split testing is a powerful way of optimizing your emails and newsletters and AWeber is definitely one of the better email marketing tools when it comes to split testing emails and newsletters. Some tools like Mad Mini do not allow split testing at all while other tools like MailChimp only allow you to send up to two different versions.

10. Reporting and analytics
When it comes to email marketing, reporting and analytics are naturally important in order to ensure the best performance and optimize your process. AWeber ranks pretty well when it comes to providing analytics for your email marketing campaigns.
Other than providing the core stats like the open rate, clickthrough rate, and bounce rates, it also provides other valuable statistics. For example, you can find analytics on the different kinds of sign-up methods that are working, the location of your subscribers, how your lists are growing, etc.
There are other email marketing tools that provide better analytics dashboards like MailChimp and GetResponse but AWeber is working on developing a new dashboard that simplifies the analytics and reporting section of the tool.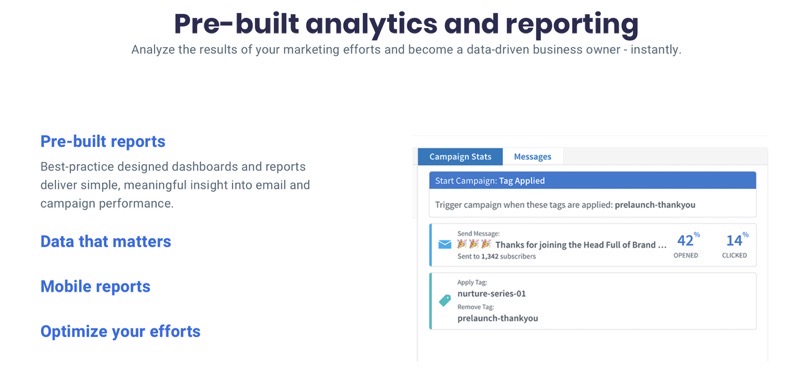 11. Segmenting Data
While segmenting data is pretty easy with AWeber, there are some issues when it comes to segmenting your mailing lists. Let's talk about the positive side first – you can easily create different segments of your lists by both – fields on your database and also with any user activity.
This means you can create different segments easily based on fields like location and age but also based on actions taken by the user such as the web pages they visited, the emails they opened, the links they clicked, etc.
In order to create a segment, you'll go to the "manage subscribers" section, make a search, and then save that search as a segment. This can seem a bit convoluted but other marketing tools like GetResponse use a similar approach.
The main problem with AWeber's segmentation is that you cannot send emails to multiple segments at once. For example, if you have four segments on your list – A, B, C, D and you want to send an email that is relevant to B, C, and D, you cannot send them to those three segments in one go. Instead, you'll have to create a new segment if you want to do that.
Other email marketing tools like Campaign Monitor handle the segmentation much better and AWeber can definitely improve a lot in this aspect.

Click Here To Try AWeber For Free
12. Landing Pages
Landing pages are web pages that are created with a single objective – to get the visitor to go through with the CTA like making a purchase, or signing up for a webinar, or signing up for a newsletter, etc. Landing pages usually provide a better conversion rate as there are no distractions for the visitor.
AWeber comes with an in-built landing page builder that allows you to create decent landing pages within the platform itself. The landing page builder is very easy to use and comes with a decent collection of stock images that you can use on your page.
However, AWeber doesn't support split testing when it comes to landing pages which is definitely a negative point. In addition, while you can use Facebook Pixel or Google Analytics tracking to ascertain the performance of your pages, the landing pages are not GDPR compliant which can be a problem if a significant amount of your traffic comes from the EU.Overall, the landing page builder is a decent addition but again, there's room for a lot of improvement.

13. Integrations
You'll probably use AWeber with a number of other digital marketing tools in your system. Fortunately, AWeber can integrate with a number of third-party solutions such as WordPress, SalesForce, InstaPage, etc.
Some of the integrations are natively done and come with dedicated widgets but for some of them, you might have to use tools like Pie Sync, Zapier, or use code snippets to get them working. Overall, while AWeber offers decent integrations, it is nowhere near as seamless as other tools like MailChimp.
Click Here To Try AWeber For Free
AWeber Customer Support
When it comes to providing customer support, AWeber definitely has an edge over most of the other email marketing tools. You can get support via email, live chat, and also over the phone. It's very easy to find customer support details on their website.
Additionally, AWeber has also won a number of Stevie Awards for providing exceptional customer care support which is a clear indication of how much they focus on ensuring you get the best customer care at all times.
If you're just getting started with email marketing and would require assistance frequently, AWeber is definitely one of the best email marketing tools you can use. While the live chat and email support are available 24/7, you can get phone support from 8 am to 8 pm (ET) on all weekdays.
Click Here To Try AWeber For Free
AWeber Pricing
AWeber has a pretty straightforward pricing model – you're charged based on the number of subscribers on your list. A lot of email marketing tools usually have a tiered pricing system where some features are not available in some plans but with AWeber, you get all the features once you start using the service. All users get features like:
Unlimited email sending.
Visual drag-and-drop editor for emails and templates.
Access to the huge template library.
Automation and campaigns.
Smart Designer.
Access to AWeber Certified Experts.
Access to award-winning customer care.
And much more!
AWeber is available in 6 different pricing plans based on the size of the list:
Up to 500 subscribers: $19/month
Up to 2.5k subscribers: $29/month
Up to 5k subscribers: $49/month
Up to 10k subscribers: $69/month
Up to 25k subscribers: $149/month
Bigger Lists: Depends on size
The "Per subscriber" cost goes down as your list grows. For example, a list of 25k costs $149/month (ie $2.98 for 500 subscribers vs $19/500 on the base plan)!
If your subscribers exceed 25,000, you can get a custom quote by getting in touch with AWeber support.
Additionally, AWeber also offers a free trial for an entire month which is definitely one of the longest free trials offered by any email marketing tool. You can use the free trial to get a feel for the tool and experiment with all the features they have to offer!
Click Here To Try AWeber For Free
AWeber Review: Pros and Cons
Now that we've covered the most important features of AWeber, let's take a look at some pros and cons of AWeber:
Pros
It's very straightforward and easy to use.
700+ responsive templates for you to play with.
The pricing is reasonable.
Supports AMP for email.
Has a built-in landing page builder.
Flexible opt-in processes.
Good email design and typography features.
Exceptional customer care.
30-days free trial with all features.
Cons
You cannot send emails to multiple segments in one go.
Quite a few templates have out-dated designs.
No split-testing for landing pages.
You have to use a different editor for the blog broadcasts feature.
Click Here To Try AWeber For Free
AWeber Discount
They're many websites on the internet making misleading offers such as:
AWeber Coupon
AWeber Discount Coupon
AWeber Discount Code
AWeber Coupon Code
AWeber Coupons
AWeber Code
AWeber Promo Codes
However, the truth is that AWeber does not offer any coupons!
You can get a discount on AWeber if you decide to pay Annually or Quarterly instead of Monthly! If you decide to pay yearly instead of monthly you will save 14.9% & 14% if you pay Quarterly.
Click Here To Try AWeber For Free
AWeber Free Trial
If you click on this link you can get a free 30-days trial of AWeber! This a great opportunity to give AWeber a whirl without having to commit.
Get one month of free access to all AWeber power features including:
Access to our email experts who are here 7 days a week to help you grow.
Easy-to-use tools to help you create emails, sign up forms and more to engage your subscribers.
Industry-leading deliverability to help make sure your emails make it to the inbox.
Simple email automation to get the right message to the right person at the right time.
Connect to social media, landing pages, shopping carts and many more integrations to get the most out of your email marketing campaign.
Click Here To Try AWeber For Free
No risk, no obligations, no strings attached.
AWeber Alternatives
Email marketing is a competitive market and there are a number of tools available to choose from. While AWeber is a pretty good option for small businesses and entrepreneurs, you might be looking for something that AWeber cannot offer or you might want functionality like split testing or advanced automations.
So how does AWeber compare with other email marketing tools?
If you're looking for something that falls within a similar pricing point as AWeber but has a few extra features, GetResponse can be a decent option for you. MailChimp is another email marketing tool that offers a more comprehensive set of features but their pricing is not really great and in the end, you don't get a lot of value for money.
In case you want to go for something cheaper, Mad Mini can be a good option but its set of features are very basic and cannot compete with what AWeber has to offer. Lastly, if money isn't a concern and you want to use a tool that comes with amazing features, you can try taking a look at Campaign Monitor.
AWeber Review Verdict
In general, AWeber is a pretty decent email marketing tool. While it might not have the best features and there's a lot of improvement, its core features are pretty decent for its target audience of small businesses and entrepreneurs. There are also features that are really worth it such as AMP for email.
If customer support is important for you then AWeber becomes a more obvious choice as their customer support is one of the best available on the market today. The pricing structure is also pretty great for the features offered and you definitely get decent value for you. The only downside to AWeber is the lack of advanced automations and some pet peeves such as not being able to send emails to multiple segments at once.
Click Here To Try AWeber For Free
Read Next: