Every kind of online business you can imagine can benefit from webinars. Whether you're a SaaS platform or an e-commerce store that sells handcrafted trinkets, you can build your brand and generate revenue if you use webinars strategically. But before you can do all that, you need a webinar software to set up, market, and host your webinars. And when it comes to webinar software, EasyWebinar is among the best out there.
Click Here To Try EasyWebinar For FREE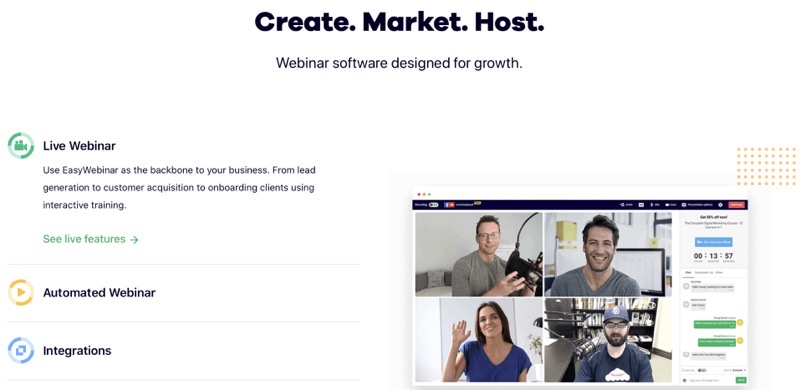 EasyWebinar Review
About EasyWebinar
EasyWebinar is a platform that makes it easy to organize webinars and use them to generate leads and customers. Let's break down those two aspects of the software individually.
Firstly, there is actually organizing the webinar. EasyWebinar provides the technology that you need to broadcast video out to your target audience easily. That can be a video stream of yourself in front of a camera, a PowerPoint slideshow, just your laptop screen, or any combination of those options.
Can't you just use YouTube or Facebook Live to run webinars? You could, but you wouldn't be tapping into the full power of webinars if you just used a video streaming platform.
When you use Youtube or Facebook, you create a video and hope people watch it. Some may go a step forward and email the video to their prospects. But with EasyWebinar you can create registration pages, engage with your audience in multiple ways during the webinar, sell products during the webinar, and so on. So using this webinar software is a lot more effective than something like Facebook Live.
The other aspect of running webinars is that you want them to turn into vehicles for business growth. Now business growth means different things to different people. For some that may mean selling physical products while for others it could be generating leads. Here are some of the things you can achieve with EasyWebinar:
Create product and software demos
Create onboarding and training material for employees
Grow your email subscriber list
Run recruitment procedures for your company
Sell products
As you can see, there's a lot that you can achieve with a well-planned webinar sequence. Businesses that haven't made webinars a part of their sales funnels are missing out. They can be a great tool to spur growth in every stage of the customer lifecycle.
The list of customers that EasyWebinar has garnered over time is a testament to the effectiveness of this piece of software. EasyWebinar counts well-known companies like OptimizePress, Drip, and AWeber among its list of customers. All in all the service has over 11,000 paying customers.
Each of those customers uses EasyWebinar to achieve different business results. Some have used it to grow their online training business to seven figures. Others have used it to create evergreen funnel material to generate sales for a masterclass.
These testimonials show just how much is possible if you use EasyWebinar the right way. But what makes this webinar software such a home run? Let's start by looking at its different webinar formats and see if we can find some clues there.
Click Here To Try EasyWebinar For FREE
Types of Webinars in EasyWebinar
There are two main types of webinars that you can create on EasyWebinar. Here's what they are.
1. Live Webinars
A live webinar, as you've probably guessed, is one that plays out in front of your audience in real-time. The video stream that goes out to your audience is live and so are the chat messages and other engagement tools that you employ.
EasyWebinar uses a piece of technology that it calls Live Engine to power its live webinars. This technology ensures that these webinars can carry on without interruption or glitches, which you don't want if you're broadcasting to an audience in real-time. Running into technical issues during a live webinar could lead to losing a portion of your audience.
The way EasyWebinar prevents such a situation is firstly by delivering high-quality video. Your viewers see your broadcast in pixel-perfect video that doesn't stutter to delay in any other way. So you don't have to worry about losing their attention over the course of a webinar because of lagging video.
You can also share your screen in high definition during a live webinar. You can have your browser window, presentation, or something else running during the broadcast. EasyWebinar lets you screenshare in fullscreen or have your own video stream included in the display as a thumbnail.
The software has native features in case you want to share a presentation with your audience. You can upload your slides straight to EasyWebinar so you don't have to worry about firing up some other software to display them. This also ensures that your camera stream and chat continue to run smoothly while you take your webinar attendees through a presentation.
The best part about creating a live webinar is the ability that it gives you to engage with your audience. EasyWebinar has a built-in chat feature in case you want to use text messages in combination with your live video stream to engage with your audience. You can chat with your attendees in general or respond to specific messages.
EasyWebinar offers a more immersive way to make your attendees a part of your live webinars. Webinar organizers can allow as many as four attendees at a time to become co-hosts with them during the broadcast. That means that those you allow will be able to get on screen with you as a simultaneous presenter. This could be great if you want to do a Q&A after a presentation or are doing a group call.
If you want to sell something during a live webinar, you can do so using EasyWeinar's native features. The software lets you create offer buttons that you can link to a registration form or sales page. The Offer Button Builder software lets you design the calls to action and buttons you use to push out these offers. You can create a sense of urgency among your audience by using EasyWebinar's Scarcity Timer, which puts expiration times on your offers.
2. Automated Webinar
The other kind of webinar that you can put on using EasyWebinar is the automated webinar. These are webinars that are pre-recorded and are not scheduled to go live on any specific date. The purpose of automated webinars is different from live webinars, which focus on engagement. Let's take a look at an example to better understand why automated webinars are useful.
Let's say you have a sales funnel for a SaaS product that you have created. Your website lies at the very top of the funnel. Website visitors can sign up to your email list, which is the next stage of the funnel. Now you could just send your subscribers emails to push them along the funnel. The other option you have at this stage is to send them a webinar.
This webinar could serve as a product demo. You can show off different aspects of your SaaS product and explain the interface. But the thing about this webinar is that you would have to schedule it at different times for different people since they sign up for your email list at different times. Instead of taking on that very tough undertaking, you could just set an automated webinar.
Now when your website visitors sign up for your email list, they're sent a link to a webinar. They can access this webinar on demand at any time they want. You could create a sense of urgency by creating a link that expires at any time. As you can see, automated webinars help you put on webinars at scale without having to do individual ones for different batches of customers.
EasyWebinar lets you use your live webinars as a starting point to create automated webinars. You can take an existing webinar and with a few simple clicks turn it into an automated one. You have a number of different scheduling options, such as making it a recurring event or playing it at a certain time based on the attendee's local timezone. The latter lets you reach out to an international audience with your webinars.
When your registrants actually access your webinar, it will play out like a live event. The video streams in real time and the look and feel of the broadcast remains the same. So the same sense of urgency that you can create with a live webinar persists without you having to be around to put it on.
You can use different methods to create demand for your automated webinars and keep them evergreen. For example, you can require that registrants to block dates in advance even for webinars that are actually available on demand. The software can be set so that the list of available dates is updated constantly. You don't have to worry about previous events showing up.
The live webinar is a means to engage deeply with the audience. On the other hand, the automated webinar is a way to scale the power of your webinars. They let you use the same format and insert it into your sales funnels to reach your marketing goals.
Click Here To Try EasyWebinar For FREE
EasyWebinar Features
So now we understand the different kinds of webinars that EasyWebinar supports. Let's take a look at some of the features that support those broadcasts and what they make possible.
1. Audience Engagement & Collaboration
One of the main reasons entrepreneurs use webinars is to get live feedback from audiences. Other parts of your marketing funnel, like a website or email campaign, don't allow that. So it's essential that you choose a webinar software like EasyWebinar, which has built-in features to engage with attendees.
Before you can engage with your audience, you need a way to ensure that those who have registered actually show up. You can do that by taking advantage of EasyWebinar's native email notification system. This makes it possible to automatically send reminders to registrants when a webinar is drawing close.
That's not all you can do with the email notification software. You can also use it to send out messages to attendees after a webinar has been completed. This is a useful way to thank those who showed up and to gather valuable feedback. The email system can be used to store evergreen emails that are sent out to your audience at relevant times.
Apart from that, EasyWebinar has a whole range of features to engage with your audience in different ways. That includes:
Polls: You can create polls using the polling feature on EasyWebinar. This lets you ask your audience questions and have them send in their votes. You can see their answers at the end of the poll, which makes it a great way to collect quantitative data.
Answer questions: Your attendees can ask questions to you using the chat feature during a webinar. You can either answer these questions on the video stream or respond within the chat.
Create offers: A webinar can be a great time to create offers for your audience. These offers are easily clickable and reduce the friction involved in buying your products. You also get insights into how many people clicked on your offer buttons.
Add presenters: The ultimate way to engage with your audience in EasyWebinar is by making them presenters in your webinar. You can add up to three additional hosts on the broadcast. The software lets you control whether they can activate their camera, audio, or screensharing capabilities.
2. Branding
Branding is an important part of growing a business. When you put on a webinar, you want to ensure that your audience knows exactly which business you're representing and that they connect with your brand identity. EasyWebinar lets you emphasize your brand in different ways during the actual webinar and leading up to it.
If you want to make your webinar activity a part of your website, you can do so by embedding registrations forms in it. This is also possible when you use landing page builders such as OptimizePress, LeadPages, ThriveThemes, and more.
The registration page itself can be designed in such a way that it reflects your brand identity. Elements such as the colors, logo, font, and text can all be modified to your liking. You can also have your webinars scheduled to replay right from the registration page.
Following up with your audience once a webinar has played is an important part of the process. We've already seen how EasyWebinar has its own email notification system. But you can also do something a lot simpler with a thank you page post registration. You can also redirect registrants to a custom URL once they have completed the registration process.
3. Analytics
Like any other marketing tactic, webinars need to be reviewed and optimized over time. You can take the guesswork out of that process by using EasyWebinar's very own built in reporting tool. This tool gives you performance reports and insights that you can use to put on better webinars in the future.
The reports dashboard gives you a few different categories of data. The first is statistics that give you a bird's eye view of a particular webinar. So you can get data on things like number of registrations, number of attendees, how many attendees left before the webinar was over and so on.
You also get specific insights into the behavior of individual attendees during a webinar. For example, you can pick one attendee and see all the chat messages they sent over the course of a broadcast. You can also see if they clicked on any offers and so on. This is a useful feature if you're doing low-volume webinars where you are trying to gauge the interest of prospects.
All of the analytics in your EasyWebinar dashboard can be imported in the form of a CSV. The CSV contains even more specific insights represented in an easy-to-read format. You can also do things like exporting your contacts, analyze attendee behaviors, and get time-stamped reports.
Click Here To Try EasyWebinar For FREE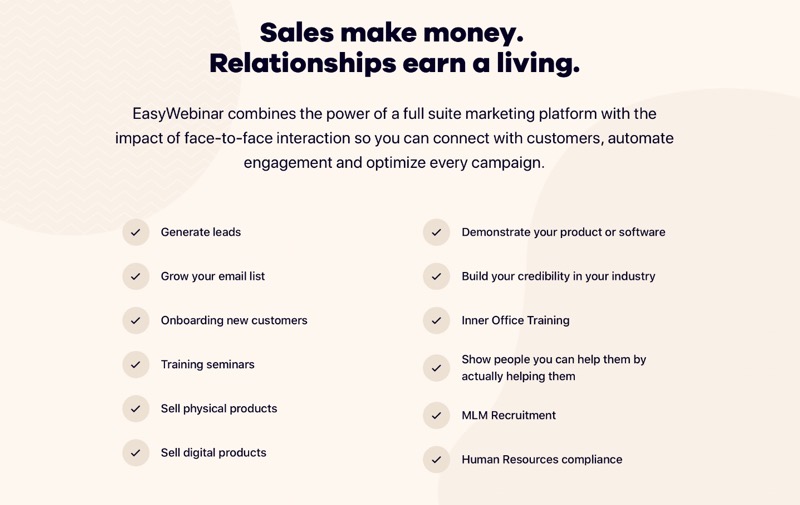 EasyWebinar Integrations
EasyWebinar takes its capabilities even further by integrating with a diverse set of tools. The bulk of these tools are email service providers. You can share data back and forth between EasyWebinar and your email marketing tools so that it becomes easy to create email marketing campaigns.
Another advantage of using these integrations is that you can send out emails based on certain user behaviors. For example, you can trigger emails for registrants who didn't attend, attendees who clicked on an offer but didn't make a purchase, attendees who left halfway, and so on.
The following are some of the softwares that you can integrate with EasyWebinar:
MailChimp
GetReponse
Drip
Keap
AWeber
ConvertKit
ConstantContact
Click Here To Try EasyWebinar For FREE
EasyWebinar Pricing
EasyWebinar starts at $78 per month. That lets you create webinars with 100 live attendees and 100 simultaneous attendees in your automated webinars. You also get EasyWebinar's EasyCast streaming tool to go straight to YouTube Live and FaceBook Live.
If you expect to have 500 attendees in your live webinars and need a 500 attendee limit for your automated webinars, you'll have to pay for EasyWebinar's Pro package. This package costs $129 per month.
If you're an established business with a large audience, you can consider EasyWebinar's Enterprise plan. It gives you the ability to host 2,000 live attendees at a time. You can also have unlimited attendees in your automated webinars if you pay for the annual version of the Enterprise package, which costs $349 per month.
Click Here To Try EasyWebinar For FREE
EasyWebinar Discount
They're many blogs making false claims of:
EasyWebinar Discount Code 2023
EasyWebinar Discount Code
EasyWebinar Discount
EasyWebinar Discount Coupon
EasyWebinar Coupon Code 2023
EasyWebinar Coupon
EasyWebinar Promo Code 2023
EasyWebinar Promo Code
EasyWebinar Promo
However, the truth is that EasyWebinar does not offer any coupons! You can get 3 months (25% OFF) free of EasyWebinar by signing up for an annual plan!

EasyWebinar Review Reddit
u/sukmeoffnekstation – I just started using webinarjam for live and everwebinar for replays. Webinarjam is the cheapest in the game from what I found, only run a few webinars with it but so far it's great.
EasyWebinar Review – Final Thoughts
EasyWebinar is a comprehensive tool to create webinars that help you achieve quantifiable business growth. It gives you everything you require to engage your audience during live broadcasts and achieve scale with automated webinars.
If you look at the webinar software landscape as a whole, EasyWebinar is among the top players. We still have a bit of a soft spot for WebinarJam. This is mainly due to the more affordable pricing. WebinarJam starts at $499 per year, which comes out to just over $40 per month. That's significantly lower than EasyWebinar's cheapest monthly package.
That said, EasyWebinar does have a potent arsenal of features. The software is easy to set up and powerful at the same time.
Click Here To Try EasyWebinar For FREE
Read Next:
Best Screen Recording Software Reddit
Cheapest Webinar Software Reddit