Webinars offer a simple method for product marketing in today's marketplace. If you have the right tools for marketing, then you can host an excellent webinar to win you the right audience. Demio is an evergreen webinar platform that makes it easier to register, attend and revisit a webinar. Founded in 2014, it promises a solution for a user-friendly world of webinar tech. Best of all, attendees no longer have to download any software for the live webinar as it is available in a browser. This helps efficiently ease the burden on the part of your audience.
Click Here To Try Demio For Free
Demio has all the webinar tools for the SaaS marketplace that help organizers make every event their own. You can not only insert your branding but have the ability to customize every section so all the events are optimized for business growth. The platform is built for marketers to host engaging events to create a real relationship with their leads, prospects, and customers at scale.
Who is Demio Designed for?
Demio is the ultimate webinar tool designed for marketing teams in an organization. The platform is a great tool to host webinars for virtual events. I would recommend it to marketers that are planning to make an impact in the world today.
It is an ideal solution for small enterprises that are planning to create webinars for their business. The platform offers a long and short-term webinar strategy with comprehensive features to help them achieve it.
Demio allows users to organize small as well as large online events, online courses, and training seminars having a maximum of 3,000 webinar attendees. If you are somebody looking to expand outside blogs, videos, and common social posts, then this is the best way to enhance your brand authority.
Demio doesn't require you to download an application, and it can be accessed directly on the browser. It works on all devices with high-resolution video content for your users. Here, you can create viral SaaS product growth, making it a great tool in the webinar market today.
Demio Review Reddit
U/debmk- "The simplest and most reliable webinar software that I have used is Demio".
U/redurbandream- "Demio lets you schedule multiple webinar rooms and multiple single time or recurring times per room as well demand room automation. Look into it".
U/QueenBeeCassi- "Maybe Demio? I have enjoyed using their platform any time I need to do a webinar".
Click Here To Try Demio For Free
Demio Review
1. Ease of Use
Demio is a fuss-free option when it comes to its installation. So, from the start, the journey with the tool seems like a breeze. When you sign in to the platform, you are greeted with a user-friendly dashboard with an intuitive interface. Here, you have access to the complete list of all your scheduled sessions.
The dashboard has two tabs- Schedule and Events. You can easily scroll through upcoming events efficiently. The Events tab helps in the creation of a new session, so you don't have to exist in one tab.
The setup of webinars, may it be a live webinar or live replay, takes just a few seconds. You just have to set the title, and the webinar is created. Once you are done that, you will have to schedule it, and you're done. The rest of the things are configured by default to get you going.
One of the biggest advantages of Demio from tools like Zoom is that all events can be customized as per your requirements. Demio gives users complete control over their webinars. Its layout is simple, with the speaker's videos taking up the left and center while the chat tab is on the right side. Conducting and managing your attendees on it is hassle-free. Demio is a great tool that allows you to scale sales and revenue based on real-time analytics and performance. We'll check more about the features below.
2. Live Events
Demio allows you to launch live training videos, workshops, courses, and other forms of live webinars. But what sets Demio apart from other webinar software is that you can easily set multiple events within minutes. You can host an end number of webinars for the end number of days.
Demio allows you to schedule sessions to run an event once or multiple times. You can easily secure these events at regular intervals. Guests can access the webinar through HD streaming, and you don't have to install anything. The high video quality allows you to discuss and interact with your audience.
The platform has several means to get creative during your presentation. To start off, you can use a multi-camera setup that allows you to share up to three videos at a time. So, you can really be creative and interactive with webinars. Two or three partners to host the webinar makes the audience be engaged and get more insights into the subject.
If you are doing tutorials, you can have a camera focused on the webinar host and have an overhead camera to capture other actions.
If you want something more than just sharing your camera feed, then don't be worried. Demio allows you to share your screen containing pre-recorded slides and videos in just a few clicks. For the ultimate webinar experience, you can get your guests to join you on stage.
Click Here To Try Demio For Free
3. Attendee Management
Management of your attendees is important during or after the webinar on Demio. The platform allows you to create process automation, attendee management, and handle different other processes to make it more efficient. Managing up to 3,000 people without breaking a sweat is possible using the versatile platform.
Demio lets you easily send messages to your attendees by sending invites, managing secure gateways, and other features. This lets you have complete control to ensure that all your customers are satisfied. To moderate and present the webinar on the platform, you can invite up to 15 Presenters and Moderators for each event.
4. Live Chat
A live chat is a great tool to interact with your attendees to make it engaging and lively. The chat option in Demio lives up to its expectation, which is a great engagement tool. By default, these chats will be public, but you can send a private message to the host during the live webinar.
All the chat messages may it private or public; they will appear in the chat window, so you'll get everything in one chat stream. Attendees also have the ability to tag other participants directly in the chat. To allow attendees multiple ways to interact, the platform has the Gesture feature. These Gestures are fun, 1-click interactions that will show love, give thanks, raise hands, and much more.
You can chat with your attendees during the automated webinar sessions. However, you cannot really engage with them in person. Here, you can see their chats after the end of the automated webinar session to reach out to them.
If anyone asks a question in the chat, you can mark it as a question. The chat message will be converted into a question, and you can start answering it. After you are done answering the question, you can just click Finish answering.
You can also launch all engagement tools that are pre-configured during the webinar setup. It is possible to launch it during the live webinar, but it is not recommended as it can disengage your audience. Here, the platform allows you to set up a role of a moderator to moderate the chat.
The moderator can do everything that a host does, which includes:
Launch polls and featured actions
Send messages only to the admin/host
Chat with attendees and mark questions
Share file handouts
Moderate public chat and ban attendees
However, they can't personally join with their video in the webinar.
5. Recording and Replay Pages
Demio automatically records each and every webinar section that you host. The platform starts capturing your webinar from the very moment you go live with your audience. It will automatically finish after the session comes to the end. This also includes all the audio and video shared during the event, alongside shared screens and presentation material. These recordings can be easily stored on your account as long as your account is active. It has no limit on the number of recording you can store in your account.
The platform has several marketing actions taking place in the chat sidebar in live events, like polls, CTAs, and much more; however, these can't be played with the replays. Here you can share what doesn't appear in the replay, and there is no simulated live chat replay. However, you can work around this by creating an automated webinar based on the recording of the live event. In this auto-webinar, you will be able to create polls, handouts, and CTAs that can be popped up at specific times. But this has to be done manually, so is slightly tricky.
To access the Recordings of your webinar, you will want to jump into the Summary section of your event. From here, you can locate the Session section from the Past Sessions tabs, where you'll get access to the recordings of a specific session. If a recording exists from the Past Session, you can also see an active Recording icon with a few Recording-related options from the dropdown.
Select the Share Reply button, which will trigger a modal window that includes:
A direct link on the Replay page
Edit Page button where you can customize the Replay page
You are able to download the recording as an MP4 file, and if you don't want it in your saved section, then you can delete the recording without any hassle.
The replays that you have saved can be shared as part of an email campaign using your CRM. You can craft the strategy for your post-webinar email campaign and include a link to the replay page. Utilize this to keep things simple, and use the dedicated replay page generated by your webinar platform to grab more control in your niche.
6. Scheduling Events
Demio helps you run webinars when you need them. It has a great deal of flexibility and performance that make it very in demand in the market. The flexible scheduling options allow you to add a new session at any time that includes:
After customizing the event
All previously scheduled sessions are finished
Use different schedule types
Once you are ready to start a new session, you can jump into the Summary area of the event. From there, you will find the summary table to view and manage your Upcoming and Past sessions.
If you want to add a session, you will have to select the Schedule Sessions tab. A modal will appear with two options to select from:
Single date and time- Perfect for sessions that occur on a specific date
Recurring times- It allows you to set sessions that occur on a repeating schedule. The feature is great for scheduling events that you want to run daily, weekly, or monthly.
Just select the date, estimated time, and you will be ready to continue. Once you are done confirming your choice, select Add to Event Schedule to lock it in.
You can create events in three types of sections which include:
Standard events- The event is probably picture doing when you use a webinar service. Here, you can create a standalone webinar or series, which people can sign up to and attend at scheduled times.
Series events- The event differs from standard events in that people are auto-registered for every session. People can select which events they want to attend and join. Series helps create an ongoing list, which makes it a perfect choice for internal conferences.
Automated events- These events work the same way as standard events; however, the sessions are pre-recorded and available on demand. Uploading any pre-recorded content and having it play passively is a great way to drive up more engagement.
7. Campaign Management
Demio allows you to manage webinar campaigns like a pro for live room management, customizability, analytics, and much more. You can get access to marketing capabilities to improve your sales and always keep you a step ahead.
The platform allows you to host live webinars having flexible scheduling to make things easier. You can easily send reminders invites or reminders to your attendees about your upcoming webinars.
All the pages on Demio can be customized with desired features to enhance your brand identity. Further, they allow users to run product offers, CTAs, polls, and other features to better influence how your attendees interact with your webinars.
8. Unlimited Sessions
Demio allows you to host unlimited sessions without any issues. You can easily store multiple files and have up to 3,000 users on it without any issues. The sessions on the platform can be conducted anytime across different time zones. From these sessions, you can draw valuable insights and export data to analyze what is working for you.
9. Webinar Funnel Pages
Landing pages are important marketing tools that influence webinars. A slick funnel or highly optimized landing page allows you to get more signups and attendees. It comes with 3 different landing page styles, which are minimal and intuitive.
Click Here To Try Demio For Free
The templates are cosmetical and allow you to add your own logo and choose the color to match your brand identity. You can also add a few optional segments to the registration page, like a video, a description, and much more. All in all, the customization is fast and easy. However, if you want more customization options, you can embed the registration to your own website.
10. Intuitive Registration Options
The registration options on Demio are simple and highly efficient. Users don't have to download or install any software, as they can use a browser to access the webinar. Your attendees can easily join a webinar in just one click without going through any issues.
You can send them a link through email or social media and give them a frictionless one-click joining process with ease of use. They just need a device and good internet connectivity to get going.
11. Interactive Polls or Exercises
To drive interaction, polls, and exercises offer a great way to drive your engagement with your audience. Polls are a great way to message your users to convey messages using your webinar. If you show the poll results, then it will encourage your attendees to participate in these polls. Demio is a great tool to help determine the most relevant areas to focus on a topic or get an idea of pre-existing knowledge levels of your users.
It is recommended that you can click on configuration during the setup process. Here, you can create a poll before the initiation of the webinar and air it whenever you want it. But you can also set it up during the webinar, but it is slightly complicated and can distract the audience. Once the poll is finished, you can easily share it with your audience.
Exercises are a great way to challenge and engage with your audience to make the webinar interactive and interesting. This helps activate the brains of your attendees to increase the value of your webinar. You can turn in short quizzes and write down things to meet your presentation goals and ideas. It is a great feature to take immediate action on your material and performance.
12. Bring Attendees to the Stage
You can make your webinar extremely interactive by giving your audience the chance to become a presenter. Demio allows you to invite your attendees to screen share, have microphone access in the front, and speak with other members. Once they are done, you can easily switch them out as attendees.
Demio lets you accept or deny a request if an attendee asks to be able to speak. They can share their views and put your points in front of your audience. You can also invite somebody on the stage if you consider that they will provide valuable information. This is a great way to keep your audience engaged and give them a stage to share their insights, experiences, etc.
13. Real-time HD Streaming
Demio allows users to stream their video and audio in HD quality. This is a great experience for your customers and attendees. You don't have to worry about pixelated media or choppy frame rates to make the entire process smooth as silk. All in all, they have superb high-definition video capability. The best way to increase the quality of the presentation is by freeing up internal space and don't run games and downloads to slow your internet connection.
14. Multi-platform and Device Support
Demio provides support to different platforms and devices. This means that your attendees can join your webinars, no matter whether it is a mobile device or desktop. All you need is a good internet connection to broadcast the signal, and you are good to go.
With the platform, you can be assured that you don't have to worry about any compatibility issues. It works with any browser from Google Chrome, Mozilla Firefox, Internet Explorer, and much more. You can be assured that it is compatible with a platform like Windows, Mac, and Linux.
15. Automated Events
Automated events are a great feature for those who don't have time to tune into your live webinars. With Demio, you can provide customer education with an automated webinar.
An automated webinar uses pre-recorded videos to keep your leads and customers engaged. If you have saved a webinar on any platform, then Demio can find a new use for it. Here, you upload it for others to enjoy and get valuable insights.
You can easily swap out content at any time, so whenever you have an improved version, then you can upload better video and audio quality. Just like your normal live webinars, you can easily schedule these sessions at a given time. Here, a recurring session is also an option and can be available in daily, weekly, or monthly time. However, you can also get your attendees to access pre-recorded webinars instantly on demand.
In the automated webinars, you can create your polls if you want to get feedback from your community. Here, you can send chat messages as an audience and answer their queries. It is a great way to connect with your audience even after the webinar is recorded.
16. Launch Offers and CTA's
The Featured Actions on Demio allow you to link your audience with an add-on to enhance the performance of the platform. You can offer a freebie to generate more insights into it. Here, you can also give coupon codes or sign-up pages, or any other URL to give your users valuable offers to make the course engaging. You can send your users these offers so that they can take further action on the CTAs.
17. Share Handouts and Gifts
Demio allows you to share PDF files, eBooks, whitepapers, and other information to your webinars during the live webinar. This is a great tool to give homework, distribute important notes, applications, brochures, and other downloadable content. It is a great way to supplement the information that you are talking about in your webinar.
18. Thank You Page
Saying thank you to a user who signs to your webinar is a great way to welcome new customers. Demio has a clean and nice Thank You Page set by default. Its features have all the essentials, which include:
Webinar date and time in the attendee time zone
Add to your calendar button
Link to join a webinar
Click Here To Try Demio For Free
You have the option to add a custom URL that will redirect your attendees after they register. Demio has kept this page simple by eliminating distractions with visuals and other aspects.
19. Branding on Slides
Demio allows you to convey your brand image to enhance your presence in the market. Here, you can add your brand logo, colors, and other features to impose your brand identity on the webinar across all slides.
The platform is simple to customize across all the material- slides, registration pages, replay pages, landing pages, and much more. Make your brand memorable when users access it.
20. Custom Domains and Code
Demio lets you use a custom domain or subdomain directly for your webinar pages. You can add custom code options to allow you to add any scripting code to the head of the page code to add pixels or tracking tools to your event.
Different codes can be added to a range of pages to track a contact's progression through different stages. You can add custom code snippets to the following pages.
Registration page- The code is embedded directly in the default registration page.
Thank You page- A custom code can be added directly to the thank you page, which is shown to contacts after a successful registration.
Replay page- The code is added to the replay page, which will house the recordings.
Webinar room- Code is added to the webinar room itself.
To start off, you will hop to the additional options tab and click Customize. From there, you can find an integration card where you'll be able to add a custom code to the event pages. Just select the settings options, and a pop-over will appear. Simply paste the custom code here, and you are good to go.
21. Engagement Analytics
If you are curious about how people participated in your events, then you would be happy to hear there is a reporting feature on Demio that shows everything you need to know about an event. The platform allows you to create quality experiences, which is easy to engage your customers and see what is working for you on the webinars.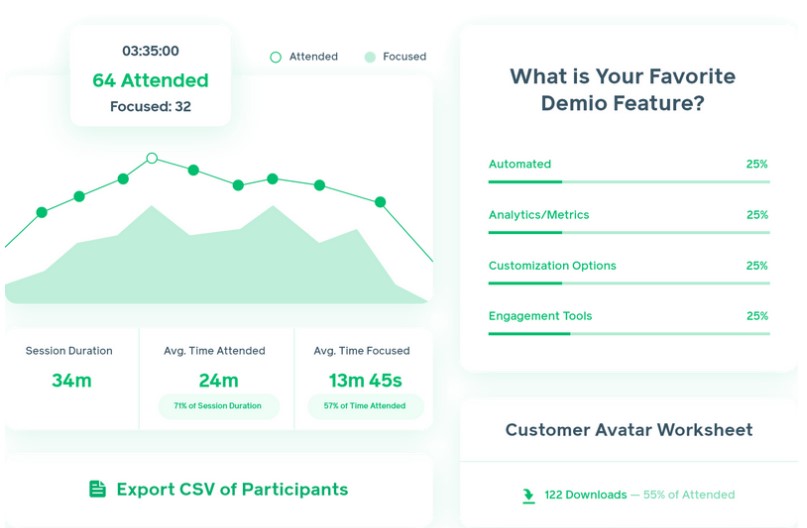 Demio lets you track exactly who downloaded your handouts, participated in your polls, or taken a featured action that has driven your conversation in your chat. Use these insights to identify the attendees who are most engaged during your session.
The reports section allows you to learn who is most focused during your session to help you understand what your attendees prioritize after your post-webinar campaigns. You can export all the information as a CSV file and check what is working.
22. Integrations
Integrations of Demio help add more functionality to your webinar campaigns. You can utilize the integrations to capture leads, save registration data, update contact information, and much more.
Demio allows you to integrate with an array of third-party tools. Some of the common integrations are Zapier, Marketo, ActiveCampaign, MailChimp, ConvertKit, and Salesforce.
23. Customer Support
Demio has excellent and delightful customer support. They have a good chat option available at all times. The platform can reply to any queries you have within a short time frame. It takes a maximum of 20 minutes to answer and solve your issues. You can reach the team via chat and email support. However, if you want priority support, then you will require to select the highest level of support.
Demio Pricing
Demio offers 3 plans that allow you to host webinars for your business ventures. All the plans have good flexibility and enhanced performance to get you going. You can choose to pay the subscription on a monthly or yearly basis. The yearly plan offers a 30% discount compared to the monthly plans. All the plans come with a 14-day trial period where you can check their features. Further, if you don't like what they are offering, then the platform has a 30-day money-back to sort you out. The plans in detail are:
Click Here To Try Demio For Free
1. Starter Plan
The Starter Plan is a perfect choice for small businesses and solo entrepreneurs that are getting started with webinars. The plan is priced at $59 per month, and its features include
Single host
Standard features
Accommodate 50 attendees per webinar
3-hour session limit
Live and event series
Standard support
2. Growth Plan
The Growth plan is designed for growing companies requiring more brand control with bigger rooms and multiple hosts. On this plan, you can select the capacity of the room you'd want. You can select from 150, 500, and 1,000 attendees. The price point for 150 attendees starts at $109 per month, while for 1,000 attendees, it goes up to $399 per month. The plan has all the features of the Starter plan plus:
Maximum 5 hosts per account
Automated events
8-hour session limit
Custom room and email branding
Custom form fields
Registration source tracking
3. Premium Plan
The Premium plan is the top and highest plan available on Demio. The plan has a white-glove experience for hosting engaging webinars having dedicated account support. It doesn't have a monthly payment plan, as only yearly payment is available. Like the Growth plan, you can select the capacity of the room you'd want. You can select from 500, 1,000, 1,500, and 3,000 attendees. The price point for 500 attendees starts at $3,300 per year, while for 3,000 attendees, it goes up to $8,800 per year. The plan has all the features of the Growth plan plus:
No limit on the hosts
Custom domain
10-hour session limit
Premium integrations with HubSpot, Salesforce, etc
Dedicated account manager
Top Beta features
Priority support
Demio Free Trial
You can try Demio for free for 14 days, without a credit card by clicking the link below.
Click Here To Try Demio For Free
Demio Free Trial – Auto Applied
Demio Pros and Cons
Pros
Quick and easy setup
Works on any browser
HD live presentation
User-friendly interface
No streaming delays
Private chat
Custom branding options
Automated events
Evergreen webinars
Good customer service
Cons
Email customization is limited
Limited reporting features
Lack of different event types
Click Here To Try Demio For Free
Is Demio Worth the Hype?
Demio is a great platform if you want to create engaging webinar content in a single place. It is simple and intuitive as it gets and comes with some unique features that set it apart from its competition. The platform is a browser-based application that doesn't require any downloads and works well on any device having a stable internet connection.
As of now, Demio is a market leader in the webinar market, which clearly indicates that it is doing something right. Give it a try today and witness these features and be amazed yourself.
Demio Review FAQs
1. What is Boost on Demio?
Boost is the newest feature of Demio that allows your registrants to increase signups by promoting your webinar or event to social networks. Users can join this with a free trial up to April 30th.
2. Can I upgrade or downgrade my plans at any time?
You can easily upgrade immediately to get better performance and precision. Downgrades can be done at the end of the billing cycle.
3. Is Demio free to use?
Demio is free as well as not. You can start for free with limited features. However, if you want premium features, then you will require to subscribe to the paid plans.
4. What is the difference between a host, presenter, and moderator?
Hosts are individuals that can start, run and stop sessions while having all the permissions of a presenter. To host multiple sessions simultaneously, you will require multiple hosts for your account.
Presenters are primarily people who will present the webinar to the audience. They can share any media, while moderators are only able to moderate the chat and the attendees of the webinar. You can invite 15 presenters and moderators for each event on Demio.
Click Here To Try Demio For Free
Demio Alternatives
1. WebinarJam
WebinarJam is an all-in-one cloud webinar platform that is easy to set up and run. It has some exceptional webinar hosting tools with excellent attendee management features. Its user-friendly interface, coupled with its powerful features, makes it difficult for marketers to look elsewhere.
Click Here To Try WebinarJam for Free
The platform offers a flexible payment and pricing structure. It has four plans and is suitable for both beginners and advanced users. The plans start at $39 per month and can go up to $379 per month on its Enterprise plan.
2. EasyWebinar
EasyWebinar is a cloud-based platform that supports live streaming, real-time chat, and event schedule for your webinars. All the videos are streamed in HD quality with no latency streaming. It has some powerful features to get you going efficiently.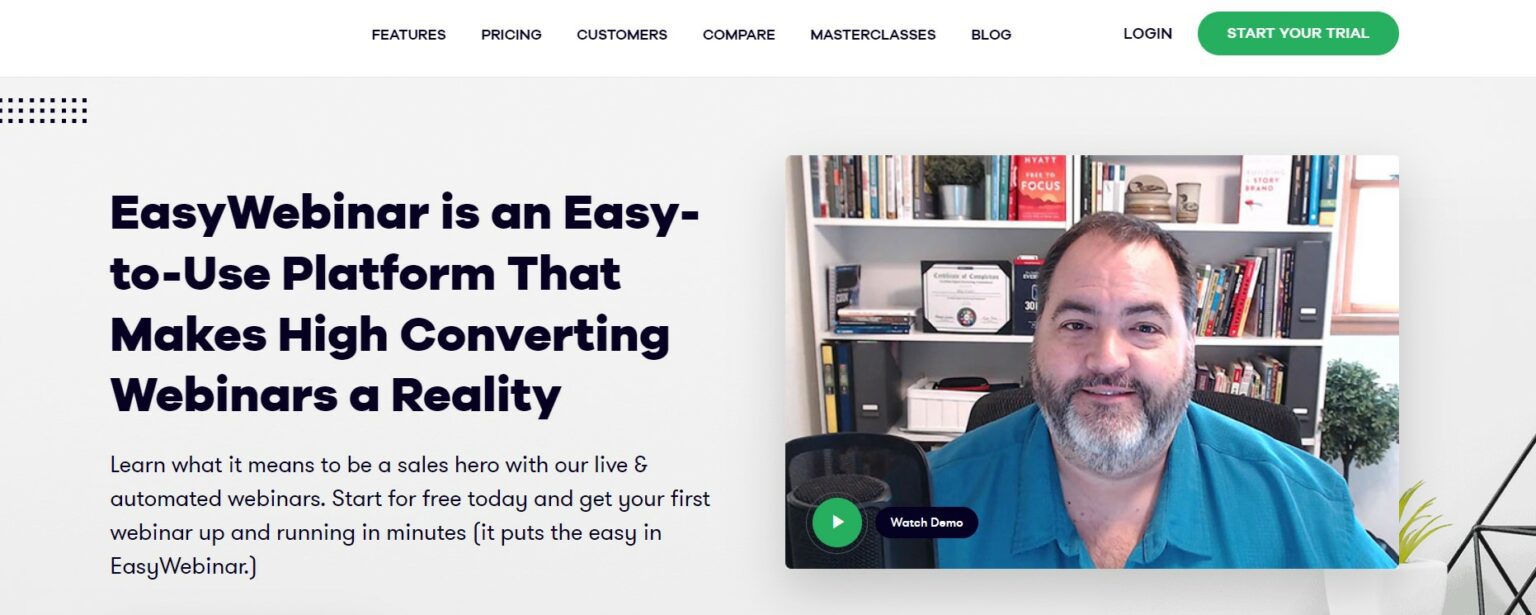 The platform is priced starting at $99 per month and can go up to $499 per month. If you want more functionality, then you can contact the team to get enterprise-level features for your webinar hosting.
Read Next: