Online webinars have become normal to connect with your colleagues, students, and clients on the Internet. Webinars help users build a relationship and engage with their audience to enhance their marketing prospects in today's marketplace. Hosting and managing webinars is not easy as it seems, as they have their own technical know-how and hurdles required to host a webinar.
Click Here To Try GoToWebinar For Free
Glitches and interruptions in the webinar hosting journey can be frustrating for you as well as your attendees. To navigate and manage your webinar better GoToWebinar is a great platform having over 2.7+ webinars hosted every year. Founded in 2006, the platform is one of the pioneers of online webinars and meetings. Apart from the webinar service, it also has some sister companies to give you enhanced functionality. In this article, I will cover various features offered by GoToWebinar that make it stand out in the market today.
How to Setup GoToWebinar Quick and Easy?
GoToWebinar is a powerful platform to get you started. To use the platform, you just have to download the software. If you don't want to bother your customers, then you can use its GoToWebcast to stream the content there without downloading the software.
To organize a live web conference, the initial step is to send an invite to participants through social media or direct email. To join the meeting, the end-user has to validate certain items, and you can join it without any issues.
GoToWebinar lets you make a simple audio call or conduct a video conference. When the conference starts, you can share screens, start polls, give handouts, and much more. We will know more about this below.
Who is GoToWebinar Designed for?
GoToWebinar is a platform that allows users to host webinars with a large number of participants. Here they can engage with their attendees in online discussions and training events by sharing video, audio, documents, and other slides.
If you are looking to expand outside running normal social media posts or marketing, then webinars are one of the best choices out there. The platform is ideal for small and medium-sized organizations that are looking to get robust marketing tools and complete control of branding for their webinars. However, it is also suited for individuals planning to run enterprise-level businesses. It has comprehensive features to get you going to achieve it.
GoToWebinar Review
1. Ease of Use
GoToWebinar is a versatile platform that is simple to use and very straightforward. The platform is equipped with interactive tools to ensure that your webinar is running smoothly, ensuring all the attendees are inclined to stay and hear you out.
After downloading the software, the signing-up process is very simple and gets you going efficiently. The control panel has an interactive interface that comes with timer and performance data with six webcams that help share the winning smile and inspiring atmosphere for your viewers. In addition to it, you have several interactive tools that allow you to get up and personal with your attendees.
2. Live Event
GoToWebinar is a tool that is best suited for seminar meetings, webinars, and presentations. The platform makes your work simple and allows you to host webinars quickly and easily. You can host a live event and onboard several attendees to get you going without any hassle.
The tool lets participants hear everything that the organizer is saying using a single device. When a customer is onboard, you no longer have to use individual headphones. The platform allows you to host scheduled webinars once or multiple times. The attendees can view the video using HD streaming on different devices. You just have to install the software, and you are good to go.
GoToWebinar offers a versatile webinar solution that can accommodate up to 3,000 people, and each of the participants can join the conversation. It is a popular solution for experienced as well as amateur businesses.
Once you are ready to launch your webinar, you can check how the live stream will look before you go live with your attendees. To check how the audio will look, you can see a box pop up to determine which microphone and speakers you want to utilize. Usually, it is good to just hit okay, as the default setup has been done automatically.
During the webinar, you can interact with your users and make the entire process wholesome. Screen sharing is one of the powerful features that comes with the platform. Organizers can show their PowerPoint slides efficiently to the webinar attendees. Here, you can decide to stop sharing the screen once you are done.
The best presentation feature that comes with GoToWebinar is its drawing tools. The 4 types of drawing tools are
Pen- A pen is a great tool to write and add other features to your presentation. The pen comes with different colors that help users understand the context of the webinar better.
Highlighter- A highlighter is a text marker that helps users highlight phrases and extracts of different sections of the webinar or points you want to put forth.
Arrow- Insert an arrow to your presentation to explain a certain picture, the direction of the webinar, and various other aspects of the live webinar.
Spotlight- A spotlight is basically a laser pointer that helps you point to a specific position and item you want to go in-depth on a particular subject.
If you want to create an up-and-personal experience, you can use the webcam feature to show your surroundings to the audience by turning your camera on or off on your computer. This feature is not necessarily helpful for presenting if you are utilizing a PowerPoint presentation. To get a better experience, you can allow your guests to join and share their insights on the stage. Further, you can record your webinar and post it elsewhere if your attendees are not able to join at the designated time. This helps you efficiently reach a wider audience in the market.
3. Audience Interaction Tools
Interaction with your audience is crucial to make a webinar engaging and interesting for your attendees. There are 2 main ways to interact with your audience on the platform- polls, and Q&A.
Polls are a great way to engage and learn more about your attendees. You can launch polls pre-configured before the webinar or any time during the webinar. As you launch the polls, the screen sharing will be stopped to display the polls in the full-screen view. It is a great way to increase the engagement with your audience.
After a certain period, you can choose to share the results with the attendees. The poll results will help encourage your attendees to participate and offer insights through them. You can create and edit polls directly from the control panel to manage the polls directly from the dashboard.
The second important way to interact with the audience is through Q&A. These questions will appear in a non-readable list for you as a host. There are three ways users can ask questions to the organizer.
Raising a digital hand- Attendees can raise their digital hand to ask questions if the organizer has enabled this feature.
Typing in the chat box- This is the most common way to ask questions in a webinar, which the organizer can answer.
Asking out loud- Organizer can unmute and give you the opportunity to ask the question out loud and get answers to your issue.
In the questions pane on the control panel, you can select the question you want to answer. You can use the drop-down menu to respond to any questions and send the answer privately to the attendee. Once you've answered it, a check mark will appear near it. Further, you can assign questions directly to other organizers or panelists in the session.
There is also an option to launch a survey to see what is offered to the end user. You can add up to 25 questions that can be launched or sent to all your attendees after the webinar to get the desired feedback.
4. Attendee Management
Proper management of your attendees is crucial during and after any webinar. GoToWebinar allows you to handle your attendees of up to 3,000 like a pro without breaking a sweat.
The Attendees pane in the control panel shows you all your webinar attendees. Here, you can see who is present in the webinar and have the ability to mute or unmute them so they can speak or put their insights forward. You can also remove an attendee from the webinar for misconduct by just right-clicking on their name and selecting the dismiss option.
Another feature that you can access with the platform is the Attentiveness rating. It displays the percentage of session participants that have the GoToWebinar Viewer on all the applications compared to the GoToWebinar Viewer in the background in real-time. This allows you to know if you are losing your audience's attention. It is a crucial feature to keep an eye on where your attendees are losing focus. When you see the attentiveness ratings dropping, you know it's time to spice things up in your presentation.
5. Webinar Replay Recording
All webinars on the platform are recorded automatically by default. The recording stops once the webinar is concluded. These recorded webinars are a great choice for marketing your brand and webinars to a wider audience. The recorded section can be saved online or downloaded directly from the platform for optimum efficiency.
The webinar follow-up email that goes to every individual that attended the webinar receives a link to the same. They can view or share it with others and watch it anytime they want. A great thing about these replays is that they accommodate the polls also and play it during the same period as done originally.
The recording is saved in the video library of the GoToWebinar platform. These recordings are useful for webinar replays and can be easily downloaded, shared, and edited.
6. Reliability
GoToWebinar is one of the best webinar hosting platforms today. From downloading the software to branding on it is very simple. The platform allows users to efficiently send surveys, polls, and other post-sessions. The panel is intuitive and makes it convenient to view all the scheduled sessions, attendee analytics, and track various attendance trends. There are little to no technical glitches which makes it highly reliable, and the platform works efficiently without crashing or crumbling at any point.
7. Chat
Chat is a great tool to interact with your team members and attendees. The chat option in GoToWebinar is slightly limited compared to its competitors, but it has just enough to help connect with your audience. The chat feature allows you to chat with your organizers, panelists, and attendees using the Chat pane in the control panel.
As an organizer, you can send messages to the following individuals:
Entire audience- All the people taking part in the webinar will see the message.
Organizer and Panelists- Panelists and organizers can only get the message in their chat box.
Presenter- The presenter can see the message, and you can instruct the individual to present and offer more or fewer insights during the webinar.
Individual staff member- The presenter or panelists you are sending the message will have access to see it.
Question to the staff- The message is sent to all staff members, including organizers, panelists, and presenters. Here, you can see the message in the questions section rather than the chat box.
8. Flexible Scheduling
GoToWebinar allows you to run webinars whenever you need them. This gives you a great deal of performance and flexibility in the ever-changing market. Once you are ready to start a new session, you can click on the Schedule tab, followed by entering a title and description. The description can include the topic, a couple of sentences about the topic, the name of the presenter, and some questions users might have that the webinar will answer.
The platform allows users to pick as many sessions as they want. You can send the options in one session, weekly, monthly, or custom schedule. A custom schedule is great if the dates and time will change.
You can start by setting the date of the webinar and check the time zone you are in. As an organizer, you should schedule the webinar based on your time zone, regardless of the location of your attendees. When your attendees receive the invitation email, they will see the time and date as per your time zone. However, once they click on the registration link, it will automatically detect the time zone they are based on and adjust the date and time accordingly. If multiple time zones are an issue, then a pre-recorded event is a great choice to get your message through.
GoToWebinar allows you to select the language you want to base your webinar on and also edit a few other things. It currently supports English, Spanish, German, French, Chinese, Italian, Korean, and Brazilian Portuguese.
Once you have scheduled your webinar, you will be taken to the Manage Webinar page. Here, you will get information on the basics of your webinar and get access to more options.
9. Custom Branding
To become more attractive and competitive, you will need to use the magic of your brand to attract more people to join your webinars. Custom branding helps underline and add your brand identity. An intelligent function selection is available with GoToWebinar, which makes your presentation exciting to stand out from others. The drawing tools allow you to create your own custom webinar background that will represent your company logo, brand colors, and much more.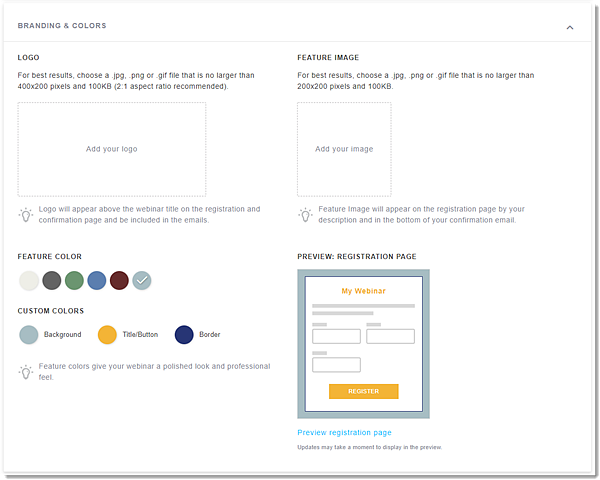 You can customize every aspect of a scheduled webinar, the way it looks, and what options you'll have available to the attendees. The Event Details page in the customization allows you to customize your webinar to your liking. The page can be accessed in the following ways:
Access the Event Details page in the Dashboard section.
Be automatically directed to the Events Details page each time you create a new webinar.
In the About section, you can edit the event's title, description and add organizers or panelists. Here, you can edit audio modes, chat pane, presenters information, and add your own branding or colors to suit your brand identity.
10. Account Roles
GoToWebinar allows you to allocate roles to different individuals on its platform. If you are a multi-user (an account with more than one organizer), you can hold one or more of the listed roles. The roles are listed below:
Organizer- A organizer is the basic user role for an account that conducts the event. They have a GoToWebinar account that helps them manage and host sessions so attendees can join them. Organizers have full control of the features, including recording, creation of polls, ending of webinars, and much more. When scheduling a session, an organizer can designate other attendees to be organizers or panelists. In a session, the scheduling organizer is the default presenter and can choose to begin presenting or give control to another panelist or organizer.
Co-organizer- The co-organizer is part of the staff, and organizers can add co-organizers before or during the webinar. This allows them to give access to their organizer tools to get help managing the webinar sessions. Co-organizers can have all the same in-session features as the organizer. This includes post-session reporting tools. However, these individuals don't have access to other post-session features like archiving recordings or follow-up emails.
Panelist- A panelist is the guest speaker in a webinar called to give their insights. They present their screen if given presenter rights to the organizer. The panelists are able to speak to the conference by default, and they don't require to have a GoToWebinar account to participate in web events.
Presenter- A presenter is a person who will share their screen with the audience. The organizer is a default presenter; however, they can assign it to another person to host the panel. The presenter controls the flow of the webinar and conducts the process. They don't require GoToWebinar accounts to participate in web events.
Attendee- An attendee is an individual who will attend the webinar. Attendees don't require an account with the webinar to join the organizer's session. They just need a piece of login information and have limited control once in a session. The attendees can become a speaker and present their views to other attendees. The attendees can ask questions, download handouts, participate in polls and other activities during the webinar.
11. Bring Attendees to the Stage
GoToWebinar gives you the opportunity to onboard your attendees to become a presenter and share their views. Generally, the attendees on your webinar are muted by default, and you can turn on their audio anytime during the session by sending them an audio pin. The pin is sent by the organizer of the webinar by clicking on the phone icon in the Attendees pane. You can mute and unmute their audio except for certain issues
If an attendee mutes themselves, then the organizer cannot unmute them.
If an attendee has not entered their audio PIN, then they will be automatically muted and can't be unmuted unless they enter their audio PIN.
The platform allows users to share their experiences and insights with the users. They can share their microphone, face cam, and other features like the host. Once you think they are done, you can mute them back and turn them back into attendees.
12. Landing Page Builder
Landing pages are important to maximize the registration of your webinars. Professionally designed pages play a pivotal role in getting the best results and performance for your webinar program. The platform doesn't have premade templates, but it gives you the option to jazz up the registration page. Here, you can add your logo, featured colors, and images to make it attractive and fit your brand identity.
These settings are nothing compared to the dedicated landing page builder that is offered by Leadpages, which may allow you to switch for better branding, multiple templates, full customization, split testing, etc. However, GoToWebinar lets you integrate Leadpages and a few other landing page builders to make the entire process more efficient and straightforward.
13. Email Tools
The GoToWebinar app has a personalized and smart email invitation that allows you to send automatic alerts about upcoming events. This provides customers with useful information and promotional material email and interactive tracking of emails.
To join a webinar on the platform, attendees will have to register for the session using the registration URL. After this, you'll receive a confirmation email with information about joining the webinar and its scheduled time. As an organizer, you can invite attendees to join your session before or during the session. Attendees who haven't registered must first fill out the required registered fields and submit them before they join the session, which is already in progress.
Once you have registered for the webinar, your attendees will get an email confirming their registration. If an organizer has automatic approval enabled, you'll immediately receive a confirmation email. It will contain information on how to join the session. However, if the organizer has manual approval enabled, then they must first approve your registration before you receive a confirmation email.
The registration confirmation email includes:
A custom message by the organizer
Links to add the webinar to your calendar
Join the webinar button
How to join a webinar using your phone
A button to cancel the registration to free up a seat.
A few points to make your webinar experience as smooth as possible.
You can add the GoToWebinar appointment to join the session at the specified time and date.
Run a system check to ensure that your system supports the software.
Clear space on your device and have a good internet connection for optimum performance.
When it is time for the session, you should select the join URL in the confirmation email. You shouldn't join the URL with anyone, and it is unique to you. The links are different for a series of webinar, which you'll receive for each session once you register for it.
As with this, you can see that the emphasis falls on how to join the webinar, and the custom message is a bit lost.
GoToWebinar allows you to send reminders that carry all the same information as the registration confirmation email. You can send 3 email reminders; however, the scheduling is a bit limited. The schedule can be sent to them:
1 hour before the webinar
2 hours before the webinar
3 hours before the webinar
It doesn't send it 15 or 30 minutes before a webinar which makes customization low.
You shouldn't limit your communication just before or during a webinar. Just like standard marketing, you should reach out and extend communication to engage with your attendees once a webinar is done. This makes the whole webinar process more successful. Post-webinar communication helps encourage your customers to take action and increase your overall conversion rate.
Audience segmentation is available on the GoToWebinar follow-up emails. That means you should send different follow-up emails to your attendees and no-show (people who registered and didn't show up). You can also include a certificate of attendance in the follow-up email.
14. Maximum Comfort for the Participants
GoToWebinar is designed to ensure that participants are comfortable and enjoy all presentations of quality products. They can easily download the GoToWebinar application from any browser. Here, you can realize in real time that the transfer of data or information is not delayed. Each participant can activate the microphone and webcam to voice their opinions and ask questions to the end-user.
15. Certificate of Attendance
A certificate is an assurance or proof that attendees joined the webinar. If an organizer has enabled certificates, a link to the digital certificate will automatically be included in the follow-up email. This is pretty neat if you are conducting educational webinars; otherwise, you would have to make use of a certificate maker to give your attendees credit for their work. The certificate will be emailed with a follow-up email to the attendees.
The look of the certificate and the language will be based on the customization of the webinar. You can add a logo or a selected color to the certificate. If you don't add it, then by default, a gray color scheme will appear on the certificate with GoToWebinar's logo.
To include a certificate, you can follow these steps:
Open the Manage Webinar page section
Under Share your webinar > Emails, select Edit by "Follow-up Email"
Check the include a certificate box and save it
Note- Non-attendees cannot receive the certificate, and if an attendee doesn't receive their certificate, there is no way to organize or send another one.
If attendees didn't receive their certificate, you can follow some troubleshooting tips.
Check the spam/junk folder- The spam and filtering system in their email client might have misidentified the Thank you for attending training as spam. Here, the company's servers might have blocked the email through a security firewall. You can check the spam or junk folder to find the certificate.
Check your email address- Make sure your attendees are checking the registered email they used to join the training session
16. GoToStage
GoToStage is a webinar hosting platform that helps you discover potential clients to deliver engaging content. It is a personal online hub where you can instantly publish a webinar recording to your audiences all around. For businesses, it is an opportunity to reach over 60 million professionals who join the GoToWebinar session each year. This platform can be your new favorite to generate more leads and awareness.
GoToStage helps collect organizer's content from their respective channel pages into a singular page hub for on-demand webinars, making it discoverable to your viewers. GoToStage prompts its viewers to register via email, Google, Facebook, or LinkedIn. The registration information is available to the organizer via a recording report. This makes it easy to track the number of views you have on a specific video. You can tag your webinars with relevant keywords to make them appear in the search engine results to enhance the SEO of your video hosting platform.
When you create a GoToStage channel, you will be given your very own channel link that can be shared easily with your attendees and viewers. Any videos that are published on your channel will be visible to the video platform unless you change your privacy setting.
The personal online hub allows you to instantly publish webinar recordings and group them together for better organization and navigation. To group the videos to the GoToStage, you can follow these steps:
Open the desired channel.
Create a new group and click the Plus icon at the bottom of the channel page.
Enter your new group title and save.
Drag and drop the desired video into different groups.
If you want to delete a group, just drag and drop all videos out of the box. Click the X button in the upper right corner to the empty group field.
17. Webcast Mode
Webcast puts everything you require for webcasting services into your own hands so you are able to get up professional events in minutes without the hassle or expense of traditional webcast production. The feature allows you to add up to 10,000 attendees to join your live stream. Custom webcast events for large-scale industry conferences can even increase the number of attendees.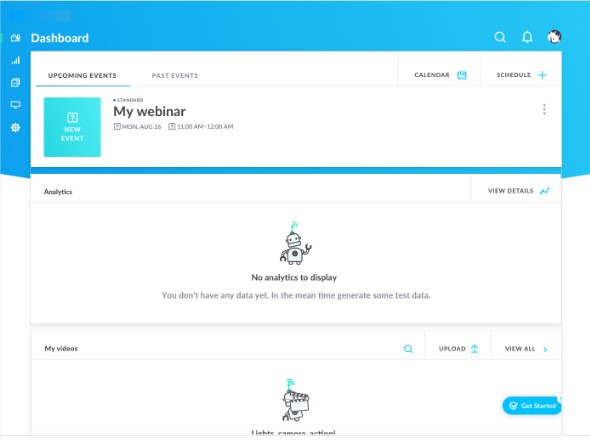 The platform is designed for self-service video webcasts that don't require any training to pull off a successful live event. Within no time, you'll be up and running to produce enterprise-quality webcasts.
GoToWebcast allows your attendees to access the webinar on a browser without requiring them to download the software. You can easily switch from a standard webinar to a webcast. However, if you switch over, you'll no longer get to switch over to the standard webinar hosting experience. You can join a webcast with a single link, so attendees can log in on any device- no downloads needed.
A webcast allows you to communicate your message more productively with high-quality video and audio slideshow presentations, document downloads, live chat, polling, etc. This helps bring your attendees together without having to worry about higher costs with travel, lodging, and conferences. All you require is a good internet to join and get you going.
18. Handouts and Videos
GoToWebinar allows users to upload handouts like PDF files or spreadsheets to share with their audience. These handouts allow you to share additional data, homework, or brochure with your audiences. This can supplement the information that you are talking about in the webinar.
The platform allows users to upload these documents in file formats of PDF, DOC, DOCS XLS, XLSX, PPT, PPTX, WMV, MOV, MP3, MP4, JPEG, GIF, and PNG files. These handouts can be uploaded before or during the webinar. However, it is recommended to upload them before as they won't cause any disturbance to the end-user during the webinar. The handouts are automatically listed at the bottom of the window. If you want to delete a handout, you can click on the trash icon. The handouts that are posted before the webinar are listed in the handout pane for attendees and organizers.
If an organizer has uploaded handouts for attendees to access, they can see them through the handouts pane in the toolbar. After you click on the handout, you can easily open it, and the download will begin automatically.
The GoToWebinar platform allows you to share YouTube videos during a webinar. The video runs smoothly for attendees and allows you to pause/resume the video. However, you cannot seek forward or backward. The video will play in a separate undocked window for the attendee.
19. Edit Webinar Recordings with GoToWebinar
If you have invested a lot of effort into a live webinar to build relationships with your users, then GoToWebinar is a perfect multi-video resource that you can use endless times. If you want to edit the webinar you've saved, then I have listed three exciting new post-production GoToWebinar tools to help you with that.
1. Video Editor
GoToWebinar has a simple video editing tool that helps edit and remove certain unwanted snippets from the different sections of a recorded webinar. Now you will no longer have to export your webinar and utilize an external video editing tool to trim or remove unwanted space. This optimizes your workflow and makes it easy to create fast and lasting video assets. All this makes the creation of evergreen video assets simple and efficient.
The edited webinar will replace the original webinar recording in the video library. This means that any links that are shared for the webinar will be automatically replaced and updated. To have access to the original webinar video, you will have to simply download the file before editing it.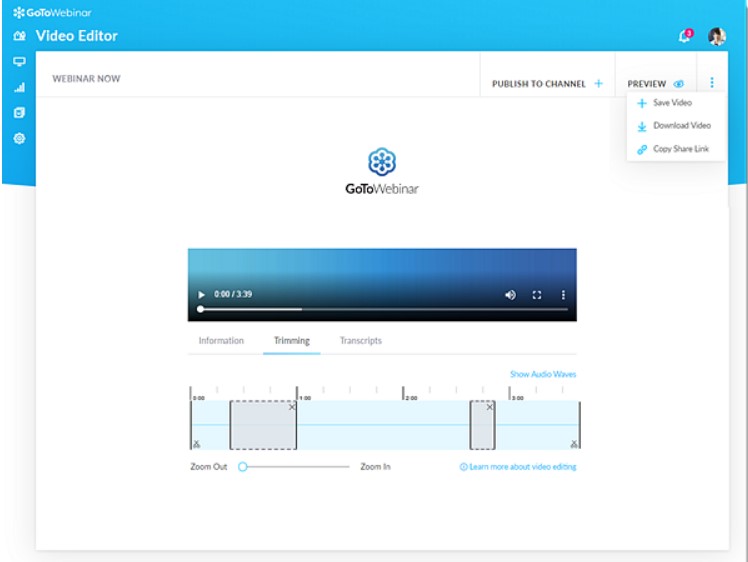 2. Transcripts
Transcripts are text representations of your video. GoToWebinar allows you to automatically transcribe your webinar event recording and see it better. The feature helps you to:
Meet compliance requirements and improve accessibility
Better SEO ranking as it boosts discoverability and viewership with content indexing. This is a perfect feature for marketing webinars.
Create a better user experience with downloadable and searchable transcripts that allow users to skim through webinars to find specific content.
You can also edit the transcripts that you have generated for better customer satisfaction and offers.
3. Video Embedding
GoToWebinar allows you to embed the code of videos from the video library so that you can host webinars directly on your website, support site, resource center, blog, and much more. You no longer have to use third-party tools to be able to host and play your recorded webinars. This allows your audience to view your webinars whenever or wherever they want.
20. Device Compatibility
GoToWebinar allows you to download and use the service on several devices. May it be a desktop or your phone or tablet, the platform has you covered. The platform is compatible with different operating systems, including Windows, Mac, and Linux, which makes it very reliable. Now all you need is a stable internet connection to get a signal, and you are good to go.
21. Event Services
GoToWebinar gives you peace of mind to know your event is successful by locking in a producer to handle behind-the-scenes logistics to allow you to shine in the marketplace. The event production is available for all sizes, whether it is for a single hour or for a week. Producers can moderate and assist with Q&A, deliver a technical dry run, and a pre-webinar tech check to ensure success.
22. Analytics
GoToWebinar allows you to see what went through your webinar and see where you can improve. The platform has a great reporting feature that shows you everything you need to know about the webinar event.
The analytics section of the platform allows you to explore comprehensive reports on who has attended to discover your most loyal audience. The duration they lasted on the webinar and find metrics on how you can improve that.
GoToWebinar lets you see how guests or attendees interact with key metrics and downloadable reports. These insights will help you drive conversation better in the future. Apart from this, you can also check which channels help drive the most webinar signups that you will target for future promotions.
The common and desired report type includes
Sessions overview report- Get a high-level summary of the webinar.
Registration report- See when a person registers for a session and get answers to the registered questions.
Attendee report- Get a detailed overview, including registration information and how long they attend the session.
Multi-session attendee report- Get the information across multiple sessions and compare it.
Q$A report- Shows details about the question and answers asked during each session.
Engagement report- Show an insight about the questions asked by attendees, contact information, and get engagement details.
Survey report- Get a review of a session's survey questions and see the attendee's answers.
Recording report- Show details about how viewers react and see when the recording was downloaded.
Performance report- Get a high-level statical representation of registration, attendance, and feedback.
You can easily filter your report data and select the desired sessions and proceed to see the selected sessions. Further, you can get the report of the sections through email report or download it directly.
23. Integrations
Integrations on tthe he GoToWebinar platform allow you to improve and add the functionality to your webinar campaigns. These integrations help users catch more leads, update contact information, register data, and much more.
The GoTo Marketplace is integrated into app teams, so you will have everything you need to collaborate and win together. GoToWebinar allows you to integrate with different third-party tools. The common integrations available with the platform are Zendesk, Salesforce Pardot, Miro, ActiveDemand, Hubspot, Marketo, Zoho, and much more.
24. Customer Support
GoToWebinar has a customer care team to help you out. The platform offers 24×7 support to resolve all issues within a short time frame. The live chatbot helps you through any issues that you may get struck at. This chatbot guides you to an article in the Help section. There is also a frequently asked questions page, where most issues and procedures to run certain programs are available.
The platform has a community space to crowdsource your question and add relevant posts from product experts. You can join the community to post your questions and reply to any issues you have. The Citrix community space is great to register for live training sessions.
If you want to route the most knowledgeable agent, be sure to use the most correct contact options having relevant help articles. Prefer to be placed in the general support queue. If you want direct contact get a ticket number through the contact flow and get your issues resolved for troubleshooting purposes. GoToWebinar has recently removed email as a source of customer support in some countries.
25. End or Leave a Webinar
You can easily end or leave a webinar any time you want. Ending the webinar allows you to close it for everybody on the call. If you leave the webinar, you can exit the webinar while the webinar continues under the guidance of other co-organizers.
If you want to leave or end a webinar, you just click on the file at the top of the Control Panel and select Exit, and the webinar will end.
What is the Difference Between GoToWebinar and GoToMeeting
GoToMeeting and GoToWebinar are part of the GoTo line of technology products. GoToWebinar is a tool to host webinars for a large crowd of up to 3,000 people. It has speakers/audience the chance to put forth their presentations and insights.
GoToMeeting is a tool for frequent presentation meetings or conference calls. It can accommodate a maximum of 100 people and is best suited to discuss marketing and sales plans. This doesn't require any registration like webinars and can be started on the spur of the moment.
GoToWebinar Pricing
GoToWebinar offers flexible pricing plans with reasonable offerings. You can either decide to pay the subscription on a monthly or yearly basis. The yearly plans give you a 20% off compared to the latter. If you want to try the platform, you get a free trial for 7 days, no credit card is required. Currently, the platform offers 4 plans; we'll talk about them below:
1. Lite Plan
The Lite plan is designed for beginners or solo entrepreneurs that want to get started with webinars. The plan is priced at $49 per month, and its features include
Maximum 250 attendees
Reporting and analytical feature
Full-service registration
Automated emails
Supports mobile App
Polls, handouts, and Q&As to engage your audience
2. Standard Plan
The Standard plan is well-versed for growing businesses giving more brand control. The plan is priced at $99 per month and has all the features of the Lite plan plus:
Maximum 500 attendees
1 GoTo Meeting license
Accept payments
Online and local recording
Custom branding
Audio VoIP and phone support
5 channel pages
GoTo Stage
Custom URL
3. Pro Plan
The Pro plan is designed for users looking out to host professional webinars. The plan is priced at $199 per month and has all the features of the Standard plan plus:
Maximum 1,000 participants
Unlimited cloud storage
Source tracking
Recorded events
Integrate with CRM and other lead-generation tools
Live streaming
Video sharing
Video Embedding
Video Editor
No download
10 channel pages
Certificates on completion of the course
Virtual events
4. Enterprise Plan
The Enterprise plan is the highest and premium subscription plan offered by the platform. It has some excellent features and is priced at $399 per month. Here, you get all the features of the Pro plan plus:
Maximum 3,000 attendees
30 channel pages
GoToWebinar Pros and Cons
Pros
Quick and easy virtual event management
Good engagement features
Automated events
Compatible with multiple CRMs and marketing tools
Excellent scalability to handle a large number of attendees
Online and local recording
Time zone tracking feature
Mobile-friendly interface
Comprehensive analytics
Give webinars more credibility by giving out certificates
Cons
It has a slight learning curve
Limited features for the free version
May be expensive for some users
Is GoToWebinar Worth the Hype?
GoToWebinar is a great webinar tool that is designed for beginners and professionals to create engaging webinars in a single place. It has a simple interface, and the process of setting up is very straightforward. It has several features that helps boost its overall performance.
The platform has great interactive tools that help you run polls, answer questions and surveys to get a better understanding of your webinar. It is highly reliable and can get your attendees on stage to put forth their views and insights. Further, its analytics and integrations allow it to enhance its functionality better. To top it off, their customer support is top-notch and can resolve any of your issues within a short time frame.
GoToWebinar FAQs
1. How do I monitor my attendees during a session?
The GoToWebinar dashboard can help you easily check attendance patterns and monitor attentiveness at the top. Green bars indicate 100% session attentiveness, yellow bars indicate mediocre attentiveness and red bars indicate lack of attentiveness. Here, you will also see the number of open questions and hands raised during the session.
2. What is the procedure for canceling the paid subscription plan?
You can log in and go to the Billing information section and select Cancel your paid subscription plan and click save changes. Your service will continue till the end of the current subscription period. After the end of the plan, the subscription will be canceled.
3. Is it Safe to use GoToWebinar?
All the webinars, online meetings, and training sessions on GoToWebinar are secure. It has end-to-end SSL security with 128-bit Advanced Encryption Standard encryption included in all the systems. In the system, no encrypted data is ever saved.
4. Can I upload a PowerPoint presentation to your webinar with GoToWebinar?
You can easily upload a presentation to your webinar. There is no need to upload the presentation before the event as you can post it during the event, and it can be easily downloaded by your attendees.
GoToWebinar Alternatives
1. WebinarJam
WebinarJam is a webinar hosting platform that is the best alternative to GoToWebinar and Zoom. The platform has exceptional webinar hosting and management system that has the best landing, sales, funnel, and email marketing, making it very powerful. It has a user-friendly interface that is fit for both beginners and advanced marketers.
Click Here To Try WebinarJam For Free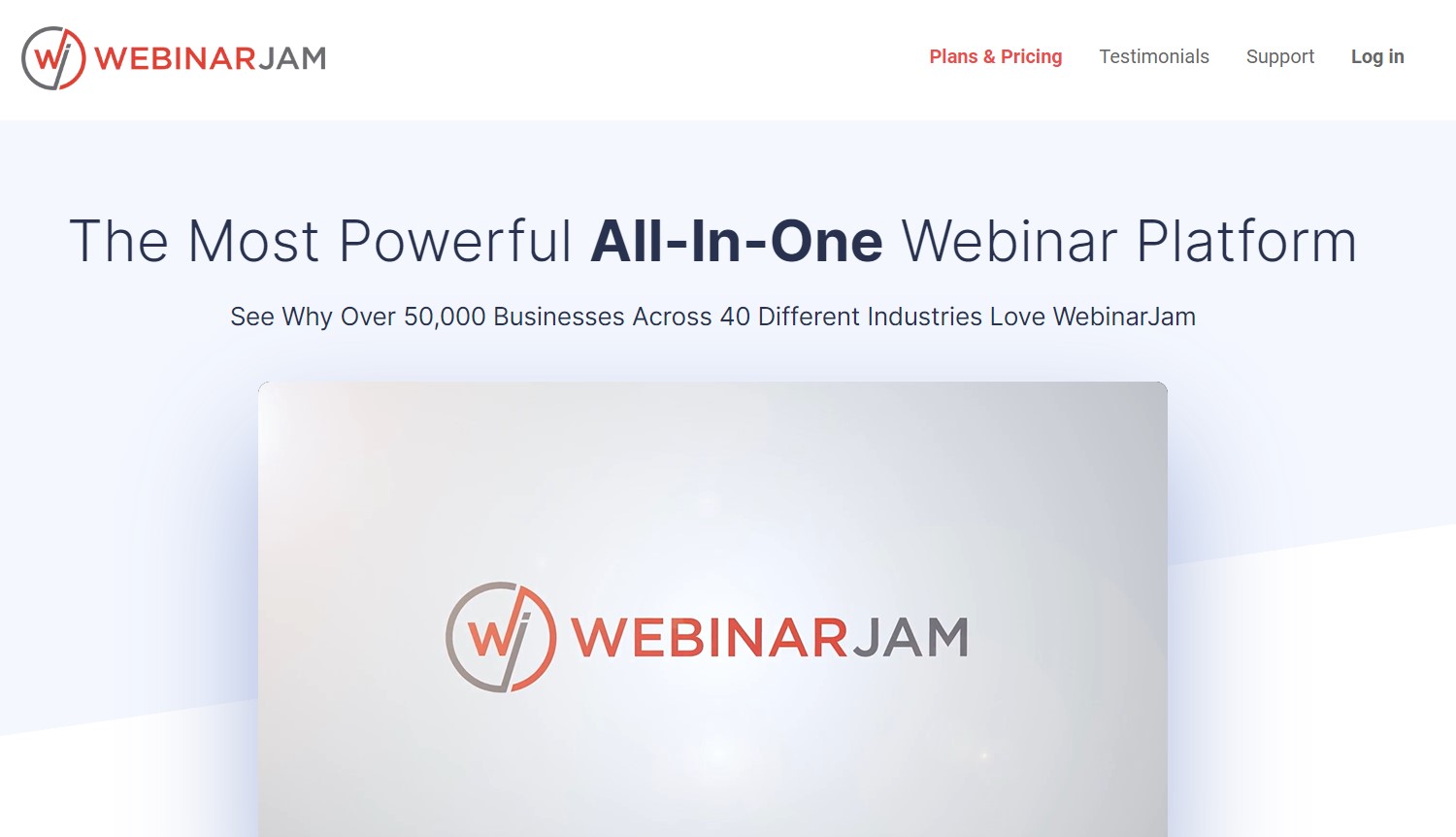 The platform has four premium plans that are flexible and affordable for anybody to get going. Its subscription plan starts at $39 per month, and the highest plan is priced at $379 per month.
2. Demio
Demio is the ultimate webinar tool for marketing teams to host webinars and online meetings. The platform offers a simple solution to register, attend and revisit a webinar. Its no-download webinar experience makes them a reliable choice for users to access the webinar. Users just require a browser, a device, and a stable internet connection to get them going. Demio has a plethora of tools to offer great results.
Click Here To Try Demio For Free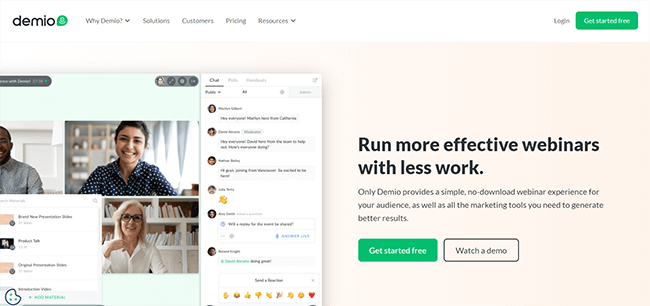 The platform charges based on the number of attendees that can enter the webinar room. The initial plan is priced at $59 per month and plans can be priced as high as $3,300 per year for its Premium plan.
Read Next: