Scalenut is an AI-powered organic marketing platform that is designed to help manage your entire search optimization and AI assistant tools. Founded in 2020 by Gaurav Goyal and Mayank Jain, the platform has helped over 200 businesses to improve their organic traffic, and to date, it has over 100k+ users.
Click Here To Try Scalenut For Free
The platform makes use of advanced technologies like artificial intelligence and deep learning to efficiently create content that is of good quality and helps rank it on search engines. It has dozen of AI templates that help in the creation of content. A great feature that allows Scalenut to stand out is its powerful SEO content research and reporting tools. When it comes to SERP analysis and keyword clustering, there is no other AI writing tool that it can be compared to.
Scalenut Review Reddit
U/xavierpenn- "Scalenut is really good. I have tried Jasper (trial), Rytr (owned), and Writesonic (Trial), but Scalenut's features are phenomenal, and they require less editing. Also has an unlimited plan which makes life so easy".

U/SEOPub- "Scalenut is the best I've used, but you won't be just hitting a few buttons and pushing out 30 posts per day. You will need to do a lot of editing and feeding them information to get the most out of them".

U/CrimsonCitadel- "Scalenut is a content research and writing platform, and it is AI-powered. So, what you can do is generate content after putting in some keywords and writing a sentence or two about the topic that you want the content to be about. You can generate product descriptions, social media blogs, answers to questions, and even generate entire blogs. You can then choose your favorite variation and edit it according to your wish. You can also do keyword research and competitor analysis. It is free for the first 7 days, so you can give it a try".
Click Here To Try Scalenut For Free
Scalenut Review
1. User Interface
Scalenut has a modern and visually appealing interface, which is great for beginners looking to try AI writers.
After you sign up to the platform, the left panel will display all the major features and functions alongside your account settings and help center. All the main features can be accessed in a single click. Overall, it has a pleasing design with an intuitive interface.
2. AI Templates
Scalenut has over 40 AI templates that can help users easily create content across an array of use cases. In the AI Copywriter tab, when you find the templates, they'll be classified into the following categories:
Product Descriptions
Social Media Posts
Advertisement Copies
Copywriting (Frameworks)
Q&A Content
Article Copywriting
Website Copy
Video Content
Email Copywriting
Most of these templates are similar to that found in other AI writing tools; however, it has some handy templates like
First Person to Third Person Converter
Active to Passive Converter
Passive to Active Converter
In the AI Copywriter tab, select a template, and you'll have to input some information. Follow this by pressing the generate button, and it'll create several outputs for your content. Choose the output that is the most relevant and copy-paste it into the editor. If you are not happy with the generated content, then you can ask Scalenut to create more. This will allow you to be quite creative with the input and get the best output using this AI.
3. Content Creation
If you want to use Scalenut to create content for your blog posts, then its Cruise mode feature is great to get you going. This is one of the best assets that is offered by the platform. It is great, especially if you want to generate long-form SEO content.
The workflow tool will streamline the process of crafting the blog, researching, creating brief writing, and optimizing the entire thing within a short time.
Once you click on the create blog in 5 minutes from the dashboard area, you'll be directed to enter a keyword and the country you want to target. After this, Scalenut will get to work and prepare an SEO report for target keywords, related key terms, FAQs, a complete overview of the SERP competition, and other metrics.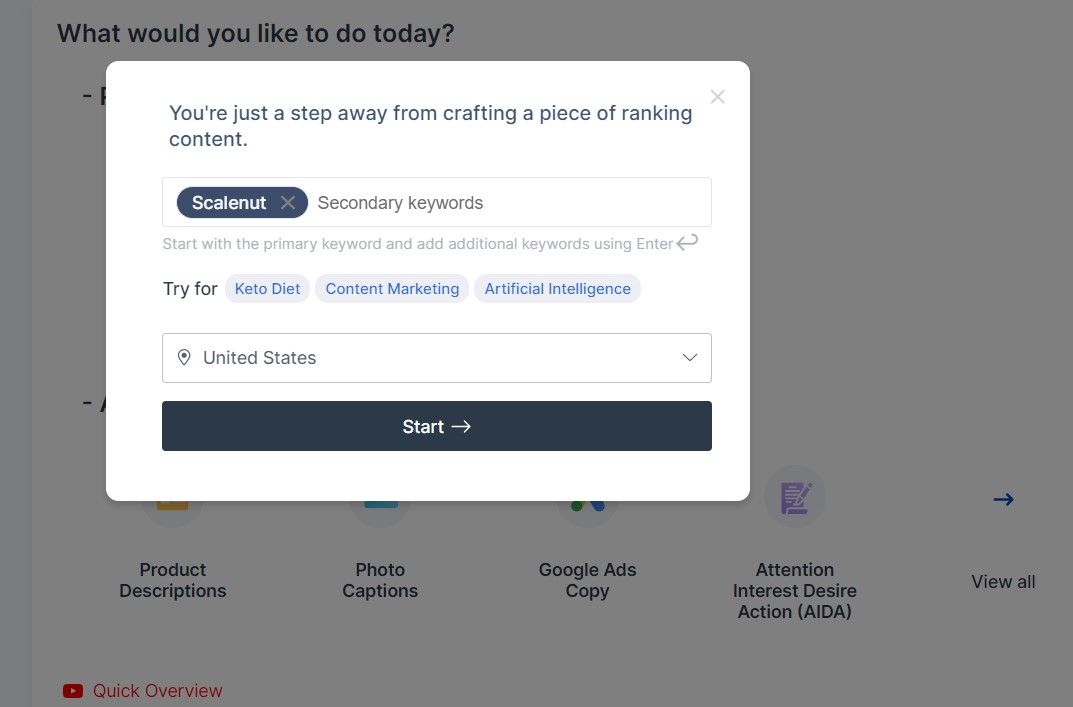 In the next window, you'll have to enter a small description of the topic that you want to write in its AI writer and offer some context to work with. Enter a short description of the topic you want to write to give the AI writer some context to work with. You can also add other keywords that you'd want to target alongside the primary keyword.
Before you move ahead to Create Title, I would recommend turning you're Prioritize key terms. This will instruct the AI writer to include more NLP-powered keywords and phrases which are related to the primary target keyword with the content it generates. All this will help grade your content better and increase your chances of ranking higher.
Follow this by selecting the Create Title and heading over to the next step. Here, you'll be prompted to add a blog title to generate some options for you. You can also look at some Top Ranked Titles in the list of the 30 articles that are already ranking on Google for the target keyword. Follow this by selecting the Create Outline to proceed.
You will be then directed to Scalenut's Outline Builder. Here, you can add some headings and questions that you'd like to include in the title. Again, you can write your own or select from some suggestions on the right.
The Questions tab on Scalenut will give you a list of related questions that are extracted from the web and in forums like Reddit or Quora. You can drag any of these questions into the outline. Once your outline is ready, you can click Generate Writing points.
Scalenut will then build and flesh it out automatically to generate relevant writing points for each section. You can tweak these to ensure they'll cover what you want for your article. After that, select the Generate Content section, and the platform will write the first draft for you.
The first draft generated from Scalenut was good; however, it requires some editing work. You can easily download or export the output to the Content Editor without any hassle.
4. Topical Clusters
The best way to approach a task is by creating content for a blog or website through its specialist SEO, called the Topical Clusters model. This allows you to select a central hub, which acts as the source of your main content pillar. Using these clusters, you can write articles based on the site's topics. All this is done utilizing related keywords in each piece of writing to enhance your search engine visitors and rank.
The topic clusters are great and allow your users to seek information about your specialization or area of expertise to ensure they are loyal to you. Even though they are not aware of it, they can come back to you because they'll see themselves as regulars. Since the people are already familiar with your work, revise and hone existing work that will allow you to increase user loyalty.
5. Content Optimizer
Scalenut has launched its content-optimized tools that allow you to streamline your published posts as per the keywords of your choice. It was originally called Content Editor; however, they have rolled out improvements and changed the name.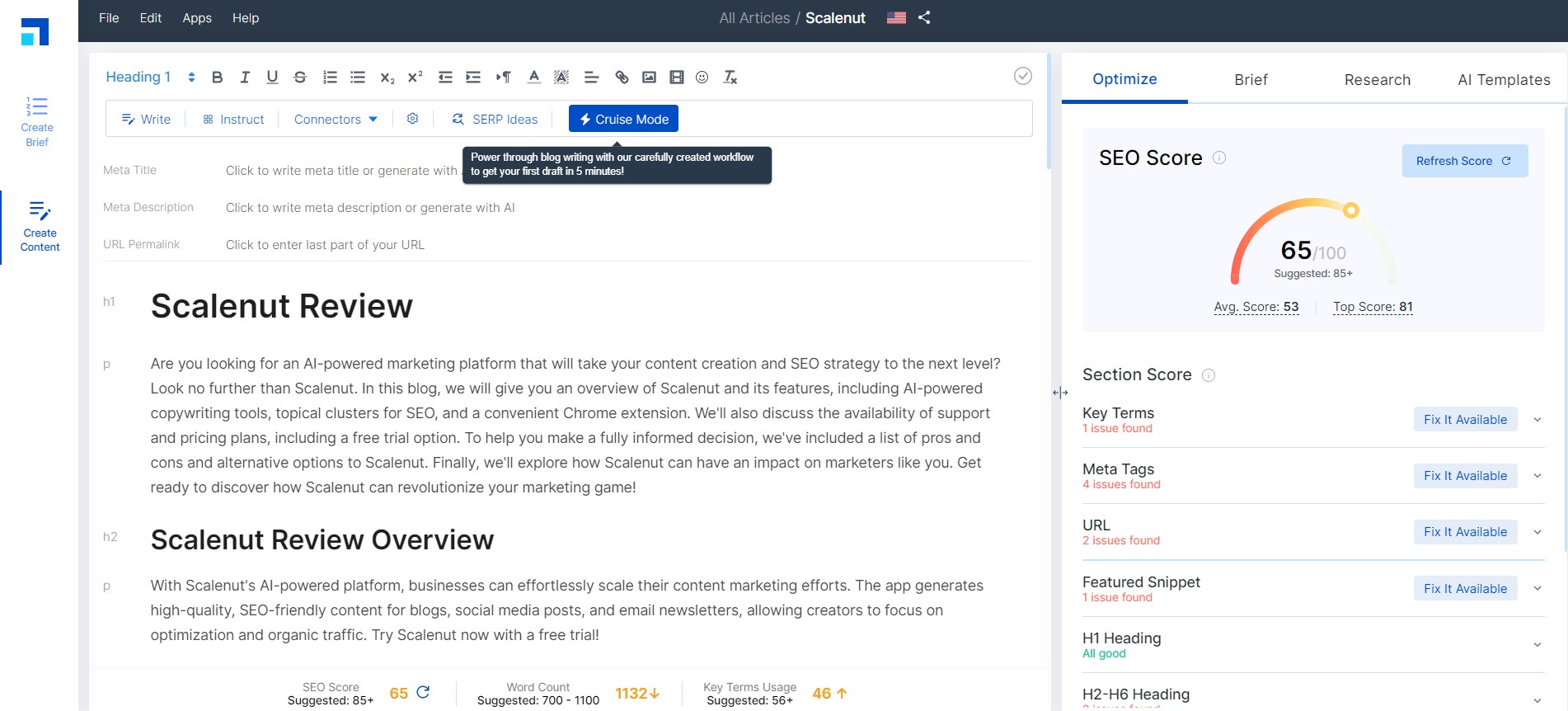 The Content Optimizer tool is just like any other word processor, but its powerful editing, research, and optimization tools help take it to the next level. A blog post generated inside the tool looks like this.
Click Here To Try Scalenut For Free
In the content Optimizer, there is a lot to unpack, and we'll look at the different features below.
6. AI-Powered Editing Tools
Scalenut has several AI-powered editing tools that appear once you highlight the text in the editor. Simply right-click the content, and some useful AI editing tools will appear on it. Its three powerful editing tools include
Expand tool- The expand tool allows you to expand the text and increase the overall text. This is great for writers if they have writer's block but want to generate more content.
Shorten tool- The shorten tool helps to efficiently cut down the words and make it sweet and swift so it can easily reach a broader audience that doesn't have the time to read long texts.
Rephrase tool- The rephrase option will automatically rewrite your content from the selected text and completely generate an original output. This is an efficient and super useful tool offered by Scalenut.
7. Content Briefs and Research
The sidebar inside the content editor has a Brief tab where you can get a quick overview of the AI-generated content. This overview has general guidelines that will talk about the optimal word count and the number of headings or images that need to be included in it.
Scalenut generates the brief by providing it with suggestions to perform a comprehensive analysis of the top-ranking pages in the SERPs for your target keywords. It also helps extract data on the content on those pages and much more.
If you want to open the full SERP analysis, then Scalenut is used to generate the brief, just head over to the left-hand side of the editor- Create Brief tab, and you are good to go. Here, you will get a detailed breakdown of the number of words, images, H tags, and so on in all the top-ranked pages, alongside the SEO score. Another good tool is the Research tab, where you'll get a quick overview of the above-mentioned tools in its content editor.
8. Keyword Planner
Scalenut has a powerful keyword planner that allows you to identify search terms and topics that you would want to target in your content marketing strategy. To use this feature, you need to enter a seed keyword, and the AI will generate a report having tons of related keywords.
The report has keywords grouped together into related keyword clusters. This is great for building authority and helps you plan your SEO strategy better. Here, the idea is instead of targeting an individual long-string keyword in each blog post; you can efficiently target the whole cluster. In this way, a single article can potentially tank you for multiple keywords and increase your reach.
Each of these keyword clusters shows you the estimated search volume of the content. If you go a little further, you can see the search volume of individual keywords and other useful metrics. In case you find a keyword cluster, you can write a blog post about it by selecting the Create SEO Article to start working. You can also export it and download the keyword report as a CSV file.
9. Integrations
Scalenut has popular integrations with some of the best apps, including WordPress, Semrush, and Copyscape. These integrations help to enhance the overall functionality of the writing tools.
Once you connect to your WordPress account, you can easily publish the content that is created using Scalenut directly to the CMS in a few clicks. All this can be done without having to copy-paste everything, making it very neat.
Its Copyscape integration has a powerful plagiarism checker. This helps you scan your content to ensure it is free from plagiarism. It is great for users working with AI writers and robots. Even though Scalenut claims the content generated with it is 100% original; however, you never know what it may bring up. It is important to edit content generated by AI and run it through a plagiarism checker before you publish it.
The Semrush integration on the platform gives you the ability to discover and analyze everything that you need to know about trending keywords. Further, you can use it to analyze topic clusters to level up your content planning game.
10. Chrome Extension
The Chrome extension offered by Scalenut is a powerful tool that helps you save time and effort when you are writing your content. Once you install it, then you'll be able to use these AI writing tools right in the browser.
The Chrome extension helps trigger the copywriter to make it easy to post content on LinkedIn, Twitter, and Facebook. Here, you can generate versatile social media posts, blog posts, advertising copy, and much more. Just push a button, and your content creation issues are over.
11. Scalenut Talent Network
Technically this feature is not part of the Scalenut software, but it is worth mentioning to say that the platform has its own Talent Network.
If you don't prefer your content to be written by a real human compared to an AI tool, you can pay to get high-quality content using its Talent Network. To do so, you'll have to log in to this section and choose the type of content you are looking for. There are set rates for each content type you want. Further, select the number of words you want to write and enter the request and fill in the requirement form based on instructions and process to payment.
The assignment will be added to the request queue, and once it is finished or approved, you can get access to the Delivered tab.
12. Customer Support
Scalenut's customer support team will help you succeed with the process of content creation. You can schedule a call with the team to solve any issues you are having, including onboarding, queries, feedback, and anything else. Contact them via email, live chat, or book a live call with them. Their knowledge base is a bit limited; however, they have a Facebook community with over 2.7k members at the time of writing. Here, you can interact with other Scalenut users and get all your issues resolved.
Scalenut Pricing
Scalenut has three pricing plans that are available on monthly and yearly subscription plans. All the plans come with an SEO score, 40+ AI templates, content brief, social listening, competitive research, and access to the Cruise mode. If you want to try it, you can check its free trial for 7 days to get to know what it offers. We'll look at the plans in detail below.
Click Here To Try Scalenut For Free
1. Essential Plan
The Essential plan is great for individuals or consultants that want access to an AI writer. It is priced at $39 per month, and it comes with an array of features
Access to 100,000 AI words
Create 5 SEO articles per month
40+ AI templates
SERP analysis
SEO editor
NLP key terms
Document sharing
Email support
Chrome extension
Live chat support
2. Growth Plan
The Growth plan is the most popular plan offered by the platform. It is ideal for budding startups and growing businesses. The plan is priced at $79 per month and has all the features of the Essential plan plus
Unlimited AI words
Create 30 SEO articles per month
Built 30 keyword clusters per month
Audit and optimize 30 pages per month
Integrations
One-click WordPress publish
3. Pro Plan
The Pro plan is the premier subscription that is available with Scalenut. It is ideal for those looking for large teams, businesses, and agencies. It is priced at $149 per month and has all the features of the Growth plan plus
Create 75 SEO articles per month
Built 75 keyword clusters per month
Audit and optimize 75 pages per month
Dedicated CS manager
1 user; however, you can add more for $49 per user
Pros and Cons
Pros
Well-designed user interface
Excellent optimization features
Good selection of AI templates
Powerful long-form editor
Swift speed and performance
High-quality content outputs
Great cruise mode
Handy Chrome extension
Integrations to various platforms
24×7 support
Cons
Limited use cases
No tones supported
Doesn't have a custom template builder
Supports a few languages
Is Scalenut Worth It?
Scalenut is an AI-powered writer that is used to generate high-quality SEO-optimized and long-form content. The platform allows you to generate articles, blog posts, product descriptions, and so on and optimize them for search engines. It is easy to get going for beginners and is a valuable addition to a copywriter's workflow once you set the language and tone features. As of now, the price point is value for money and is ideal for anybody who's starting out.
Click Here To Try Scalenut For Free
Scalenut FAQs
1. How does Scalenut make use of NLP?
Scalenut makes use of advanced NLP algorithms to find key terms that are used in a content piece. The NLP term tables will give you a list of all the words that have to be included in the content to make it better and help understand the search results. Here, the key metrics of the term, alongside occurrence frequency and its importance, are mentioned in the heading.
2. Who should use Scalenut?
Scalenut is a great tool that is designed for content writers, copywriters, ad agencies, social media, email marketers, SEO analysts, small business owners, and others that require to generate text content.
3. What are the data sources for reports on Scalenut?
Scalenut calculates the data traffic that comes in it by analyzing the positions of SERPs, CTR distribution, and keyword search volume, which will happen in real-time.
4. Does Scalenut have a refund policy?
Scalenut doesn't have a refund policy across all its plans. Once you have paid for the subscription, it is non-refundable. Only select a premium subscription if you want it to get more features and functionality.
Scalenut Alternatives
1. Surfer SEO
Surfer is a powerful AI writer that helps users create SEO content for their blogs, articles, product descriptions, and much more. The cloud-based platform compares content from top-ranking articles using over 500 tracking factors. It gives SEO analysis and provides keyword suggestions to easily plan your content strategy. Surfer's plan starts at $59 per month and offers great customer support.
2. Jasper
Jasper is one of the most powerful AI writing tools in the market and one of the best alternatives to Scalenut in the market. It has some powerful features and can create copies for social media, blog posts, articles, and more. With this platform, you can generate original content by giving AI prompts, and the AI will generate the content in a short time frame. If you want access to these powerful features, you can subscribe to its paid plans starting at $49 per month.
Use my exclusive Jasper AI Discount Link below to get a free trial and a 10,000 word for FREE!
3. Sudowrite
Sudowrite is another great AI writing tool that allows you to generate content or rewrite existing content or brainstorm ideas. It has some excellent features, and its user-friendly interface makes it a great choice for beginners that are starting out. Sudowrite is priced starting at $19 per month and is available on monthly or yearly subscription plans.
Click Here To Try Sudowrite For Free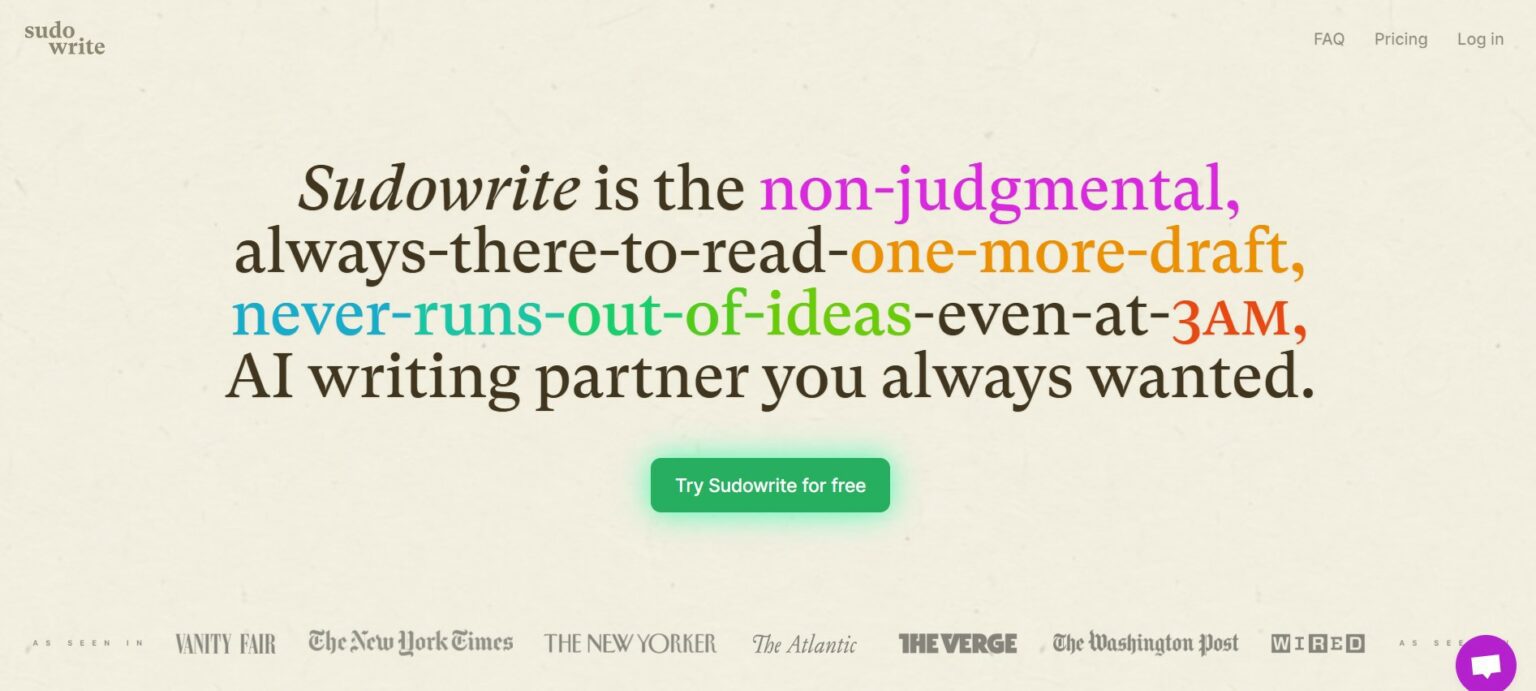 Read Next: