Today we live in the digital era. Everything we touch, see is powered by the internet in some way or the other. Much of the work we do is also on the internet. Let's face it the internet is our lifeline! So if we're not connected to in on-the-go we feel like we're missing out. Previously I've spent a countless number of hours without internet but fortunately with the innovation of standalone Wi-Fi mobile hotspots I do not face this problem anymore which are basically Wi-Fi hotspots that can be used remotely without a SIM card. Today everywhere I go I am connected to Wifi and more importantly to a fast one. Also, another major issue is getting an international SIM card! The hassle and time spent is painful and spoils the trip!
However, a mobile hotspot isn't something you would just buy off the shelf. There are hidden costs involved that can easily add up if they don't suit your lifestyle. This is why it is absolutely important you make the most rational decision when getting yourself a mobile Wi-Fi hotspot.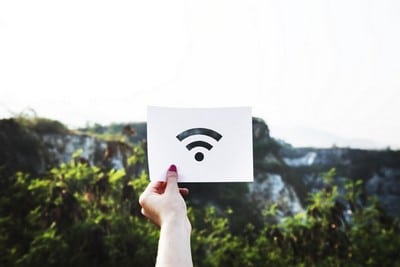 So how do you know which mobile Wi-Fi hotspot is the best? Which one is cheap to use or which one suits your needs? Fear not we've done all the hard work and narrowed down the top-rated mobile hotspot choices for any and all who might find themselves looking out for a mobile Wi-Fi hotspot. We've created the most comprehensive guide on mobile wi-fi hotspots that cover absolutely everything you need to know before you get one yourself so that you make the most rational decision.
To make this guide easy to read and follow we've broken down the article into important distinct sections. If you feel like you don't have the time please skip through our review of the top Wi-Fi mobile hotspots. We highly recommend you read through the article as easy and not skip through the sections as every single word is important and will help you make the most rational decision. Without further ado the contents are as follows:
Best Mobile Wi-Fi Hotspot for International Travel
Reason to buy: You travel often and don't want to get a cellular plan. You may also not travel for long and are looking for a good rental option to meet your Wi-Fi needs and also charge your devices.
Top Features:
Virtual SIM card technology

120+ countries connectivity

Connects up to 5 gadgets at once

Ability to be used as a power back

Battery life of up to 16 hours

Pricing plans include on rent basic
The Skyroam Solis is basically a plug-n-play wifi LTE hotspot. However what's different about this company is it was made specially keeping in mind travelers.
If you're going on trip wherever in the world and don't have a SIM card then this is probably your best option. The Skyroam Solis uses virtual SIM technology that taps into the local carrier network connecting you to Wi-Fi without having to create and register one under your name!
What's even better is the pricing plan which allows you to even rent the device if you are taking short trips and don't plan on using the device a lot.  It is a really smart device for it solves the major issue of the time-consuming and hassle-filled task of getting and registering a sim card. If that is something you want to avoid but still opt for good Wi-FI then this is the device for you!
Pricing plan: Unlimited data plans at 9$ per day or $99 per month with rentals starting at $9.95 per day
Drawbacks, not dealbreakers:
The Device is expensive to purchase and use however for the hassle of not having to register and use an International SIM card this cost is justified.

The Data plans have a limit per day so are not actually unlimited this is to support FUP. 
---
Reason to buy: You are looking for a more liberal Wi-Fi option that will work with almost any local SIM card and aren't interested in super-fast Wi-Fi speeds.
Top Features:
Connectivity in more than 100 countries

Upload Speed of over 50 Mbps and 150 Mbps download speed.

Ability to connect to up to 5 devices at a time.

Ability to use with ant local SIM Card

15  hours of total battery life
GlocalMe G3 4G LTE Mobile Hotspot is probably the most "remotely compatible hotspot on the market. What instantly stood out is the ability to work with any local SIM card giving it's user the ability to travel anywhere in the world and not keep switching SIM cards as it's inconvenient. What we didn't like as much is the $150 price tag. However, for the freedom of using any sim card, it is well worth it.
---
Reason to buy: You are looking for a feature-rich device and plan to travel to Asia a lot. Overall you need a bit of everything.
Top Features:
Connectivity up to 15 devices at once

works with any data SIM card worldwide

IP65 rating to help protect against light water intrusion and dust.

Ability to charge with USB 3.0 support

Nearly 22 hours of battery life

LTE and 3g frequency

Connectivity in most places including Europe and most of Asia
Instantly we noticed the brand behind this hotspot Netgear which suggested a high-quality product and it is. With the Netgear Unite Explore 815S 4G LTE, you can connect to the internet even in places like Europe and much of Asia. You will share most of the features a mobile hotspot has the ability to charge and what's more important you aren't tied up to a single plan like AT&T and Verizon and can use this device regardless of the SIM carrier.
There's also OpenDNS support for content filtering, VPN services and location extender of about 70 to 80 feet
You buy it for:  You are looking for good customer support with good battery life and also if you travel in Europe as you can pick it off from most airports. Be sure to pre-order for a cheaper deal.
Top Features:
Good customer service

Rental Program with cheaper options for long-term plans

Good Europe/France connectivity
Travel Wifi has been in the market since 2013 started by a group of five entrepreneurs in France. They provide really good customer service and primarily cater to France and Europe. You can simply order one at home before traveling and pick it up from the airport! They also offer worldwide connectivity with good pricing plans for longer periods.
Pricing Plans: The charges vary differently depending on if you're traveling through France only or Europe or worldwide. It is less expensive if you rent the device for a longer period. The starter plan starts at which includes 500MB/day their premium plan starts at 30€/day($35 USD) includes 1GB/day but this price drops to a low of 8€/day for 30 days! So it can be very economical if you choose to rent it for a good whole month. We recommend you to visit the website for better pricing
Drawbacks not dealbreakers: The pricing can be complex with expensive rates for shorter periods. Also, the shipping rates can add up to the cost. The FUP speed is also reduced to 265kbps which is slow if you need the internet for your work.
Reason to buy: You are looking out for the best connectivity on the market and see yourself traveling to the most remote locations with difficult cellular connectivity.
Top Features:
Standalone premium with worldwide coverage.

VOIP services offered

Rental Program

SMS based emergency service for safe traveling
If you are looking for the device standalone 4G wifi Hotspot the TEP Wireless is a good option for you. Apart from the good connectivity the device has attractive plans even supporting rental with accessibility in almost any major country.
It also checks on your travels through SMS and sends your contacts an alert message if you do not reply. There is also an app to ask for recommended things to do whilst traveling
Drawbacks, not dealbreakers: Apart from the short battery life the 4g option does not increase beyond 1GB which may seem insufficient if you rely on the internet for work that takes up a lot of data or simply need more data.
You buy it for:  You need to rent a standalone wifi router with good connectivity and excellent power support with decent plans. As you cannot buy this device but only rent it.
Top Features:
Rental Options with flat pricing

Also a charger for your smart-phone which powers up-to 5 devices at one

Connectivity in more than 100 countries

LTE 4G Support
This is simply overall a device that has it all with connectivity from world class carrier Verizon in over 200 countries and affordable pricing plans it's hard not to pick this one off the shelf. This is also the first Verizon hotspot to support LTE advanced basically a much faster version of LTE.
I would note this speed would vary greatly depending on the geographical area and the compatibility with Verizon signals. There's not much we found wrong with this device so Roaming Man could be the best mobile hotspot on the market.
Data plans: Rental service costs $9.95/day plus an extra for shipping.
Drawbacks, not dealbreakers:  4G speed limited to 500Mb per day so not something you would go for if you are going to exceed that. Also available only to rent make it expensive.
---
What is a mobile Wi-Fi hotspot?
A mobile Wifi hotspot or a portable hotspot is a physical device typically like a Wi-Fi router/modem that is very small in size that lets out a Wifi signal anywhere you go without a sim card.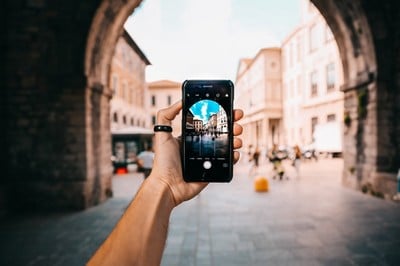 It is like a go-to wifi solution for people that don't stay in one place and don't want to deal with the hassles of getting a SIM card. It is simply a tiny, battery-powered Wi-Fi base station that's small enough to literally hold in your hand. The idea is to have something mobile and standalone to offer you Wifi without restricting you to be in one location or carrier network. The mobile Wi-Fi hotspot works by tapping into the 3G or 4G cellular networks through an inbuilt SIM card called a virtual sim card.
Do I really need a mobile Wi-FI Hotspot?
This one is a personal choice. However, if you are not sure just think about this;
Do you travel often?
If yes how often do you use the Internet?
Do you use it for work?
Do you see yourself working on your laptop on the road?
Do you have an international SIM card? 
Do you want to get a SIM card every time you travel?
If No, a mobile hotspot is a great solution for you.
Honestly, a mobile hotspot is worth it because it gives you so much freedom and control over your travel because Wi-Fi is such a huge deal. Imagine traveling to a place without worrying about getting a SIM card or Wi-Fi or even power! It will connect your laptop to the internet without having to hunt around for good data or a good SIM card and also power your devices! Moreover, the costs and hassle saved with a mobile Wi-Fi hotspot would be worth getting one right away.
What to look for before getting a mobile Wi-Fi hotspot?
So now that you know you need a mobile wi-fi hotspot it is important to know what to look for in a good mobile wi-fi hotspot. We already know the internet is a lifesaver and there's a lot of junk in the market and it is our job to make sure we tell you how to be able to pick away from the junk and get your hands on something life-changing. What's best for us will not necessarily be best for you and it is our job to tell you what you need to know before you make that decision of getting a mobile hotspot. After all, you want to make sure you get the purchase right off the first time rather than having to spend more on another mobile wi-fi hotspot.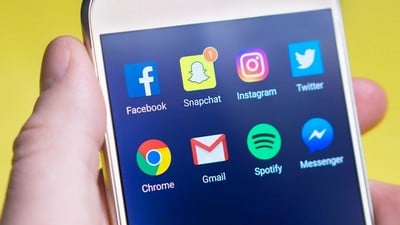 Battery life: Remember you are getting a Wi-Fi hotspot to solve your problem of not have remote access to Wi-Fi. There's no point if you have to keep spending your valuable charge juice keep your Wi-Fi on because let's face it living on the go every bit of charge is important especially those from charging banks. In my experience, a stand-alone mobile hotspot is a good option but this will also vary depending on the wireless signal (the weaker the signal, the more power it takes to lock onto it), Also watch out for your usage as the charge can drain fairly quickly for high bandwidth streaming like YouTube videos etc.
Data Pricing: Wi-Fi doesn't come cheap especially remote Wi-Fi! If cost is something that concerns you then the pricing plan is something you need to analyze quite Diligently. Some stand-alone options will vary as per the location others based on your SIM card plan. It all depends on your hotspot. This isn't something always advertised so I'd pay close attention to this.
Accessibility: Some Wi-Fi hotspots are not as remote as they say they are. A standalone hotspot will give you access in most major cities however a mobile hotspot dependent on your sim card would restrict you to the digital parameters the carrier network is accessible to.
Cost of getting one: Some Wi-Fi hotspots may be expensive but if rented are an excellent wifi-replacement option for short trips. If you see yourself no traveling more than twice I would simply opt for renting the device rather than purchasing the device on the whole.
Important FAQs Standalone Mobile Wi-Fi Hotspots
Does the Standalone Wi-Fi hotspot work in multiple countries?
Yes, On standalone devices, the Virtual SIM technology automatically switches to appropriate country networks whilst traveling during the same day. If a carrier-based device, it should work as per the compatibility of the network with the cellular carrier company.
Do I need a SIM to use a Standalone Wi-Fi hotspot?
No the whole point of a Standalone Wi-Fi is to give you ultimate freedom from the hassle of getting a SIM. The hotspots work on virtual SIM technology that can tap into any major network based on your location.
How fast is the connection?
This would vary based on the congestion in the city areas and other factors like is there cellular network. Also, most standalone Wi-Fi hotspots being independent off having a SIM follow net neutrality FUP rules and limit the speeds after a certain usage. I would check this before investing in one
Does a Wi-Fi hotspot work with VPN?
Yes, some devices come in with inbuilt VPN like the Netgear Unite Explore 815S 4G LTE for other you will have to manually use a proxy. However, this would slow down speeds.
How do I connect to Wifi?
Most devices have a portal to connect to their Wi-Fi. Some devices that rely on carrier networks would require your phone to have data.
Do mobile hotspots really work?
Yes with much advancements we finally have good mobile Wi-Fi hotspots that can actually connect to the Wi-Fi without hassle. Most of the devices have a simple interface to allow for easy usability.
Read Next: