Exploring long-term travel WiFi solutions? Caught between Skyroam Solis and GlocalMe devices? In the ultimate showdown of GlocalMe vs. Solis, we've got you covered with a quick pros and cons summary if you're short on time!
GlocalMe
Can Use Local Sim card
Pick between using GlocalMe's Internet or Local SIM card
Mifi + Wifi Hotspot
Cheap Daily Plans
Works in 107 Countries
Works as a power bank
Cheaper than Solis
Can't be rented
"unlimited" plan throttles at 2 GB/month.
Skyroam Solis
Available in more countries than GlocalMe
Can use a Local SIM Card with the Solis 5G Hotspot Model
As low as $6/GB
Connect up to 16 devices
Can't Use Local SIM card
"unlimited" plan throttles at 500MB/day
If you are a person who keeps traveling internationally, there may often be times where you are constantly nagged with one challenge. You are always jostling to get a free-flowing Internet connection at all times. It's a well-known fact that there are many data roaming pack devices that are made available in the market.
The primary problem faced while using such packs is that either they are very expensive or even If you buy them, the premium is not justified because the network providers are unable to provide justifiable services.
Click Here to Get The Discount Now
Solis Discount Code: THINKTRAVELLIFTGROW
Secondly, there may be times when your use may not be much, yet you end up paying the full price for a roaming data pack. The worst being tied around for places where you can avail free Wi-Fi. So does that mean that your communication will always be hampered? No, do not jump to conclusions early. There is one solution that can save your day.
Introducing two major Wi-Fi hotspot devices Glocalme and Solis that promises you quality unlimited Wi-Fi anywhere you travel around the globe and allows connectivity of up to five devices (devices can range from smartphones, tablets, laptops).
The pertinent question that exists is that which of the hotspot device is better? Is the Glocalme or the Skyroam Solis worth your money? Usually, it has always been the case where the grass is greener on the other side. Through this article, we have attempted to get into a detailed review of both the WiFi-Hostspot devices and leave it up to you to decide which one of the devices is good based on the features it presents.
GlocalMe Vs Skyroam Solis
Glocalme
A relatively new company in Hong Kong. The company objective was to provide a device that could constantly provide connectivity. Through a gamut of product research, we were able to discover this unique product that works well when it comes to staying connected at all times, all around the world and at very reasonably priced packages.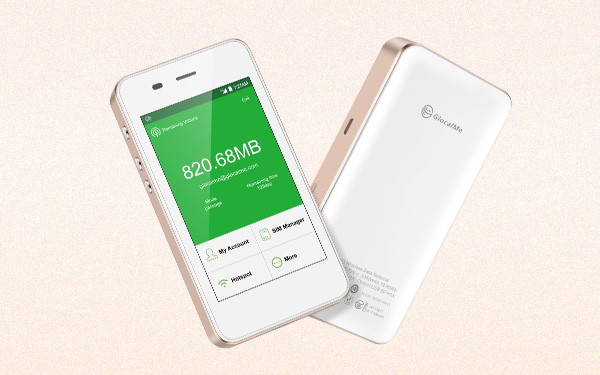 What makes it better from the competitors?
One of the major competitors of Glocalme is the Skyroam Solis 5G Hotspot. In the case of Solis, one needs to use Solis's service as the device is not unlocked. What makes the device Solis less interesting is the fact that no other SIM card can be used in the device. So, if you invest in the device, you are trapped with only a single service provider, and that is Solis. One of the other ways of keeping Solis active is through pairing KeepGo, KnowRoaming, and Gigsky by using the international service or possibly going local.
Glocalme, on the other hand, is a unique device that gives to the power to connect at the same time by using the two SIM slots that ensures that you do not face the hassle of juggling with various SIM cards and misplacing some in the process.
Use A Local SIM Card With The Device
Here's the exciting part about Glocalme; it uses its global network to give coverage. This coverage is given in a whopping 140+ countries for reasonable amounts. What takes the cake is the fact that if you are not interested in taking their package for connectivity, you can walk in a country and take a local SIM, insert it in the device and start using it. One of the popular examples is a place like Thailand, where you can purchase a SIM card and get a month's worth of data for less than $20.
A local SIM Card always works out more reasonable than any international SIM card. But in some cases, some countries do not allow you to purchase a SIM card or if your are visiting for a shorter term its not really worth it. In such cases, it is preferred that you have the ability to sign up for a day pass with Glocalme for less than $1.5.
Data is given out on a Monthly and Annual basis
Glocalme provides data credit on a monthly and annual basis and recently even on a daily basis. This ensures that you can have a healthy amount of connectivity that will last a while. There are other competitors, such as KeepGo and KnowRoaming, that also provide similar packages to Glocalme. But when it comes to price provisions of the packages, Glocalme wins hands down.
Manage and monitor your Data Use with Ease
The model is available in two types, Glocalme G3 and Glocalme U2. If you own the G3, there is a screen present on the device; you can manage and operate all the functions from the device itself. On the other hand, if you do use the Glocalme U2, the device is devoid of a screen. Hence one needs to install an app on the phone that will connect to the device, and the tasks can be managed from your phone screen.
This process works better than its competitors as many do not have an app to work on. KnowRoaming is one that has an app provision. Still, Glocalme has managed to beat KnowRoaming with its user-friendly app and competitive pricing.
Surprise Surprise! It doubles up as a PowerBank!
Glocalme stands out when it comes to battery life. The U3 and G3 versions can pull in up to 15 hours working time, in case of the U2 version, the battery life is around 13 hours. The device is also used as a powerbank as it can store surplus energy that can be shared with other devices simply by plugging the power source device via a USB.
Along with the positives come the negative. Let us see where the Glocalme falls short when it comes to performance.
Unlimited status does come with conditions
Though the Glocalme is promoted as unlimited data access, there are cutoffs until which the data can be free-flowing. Once the threshold point is reached, the data speed is significantly slowed down.
Click Here To Get 15% OFF All GlocalMe Devices!
Glocalme Discount Code: GLM15
Skyroam Solis
Skyroam Solis 5G Hotspot is a hotspot device that can be used internationally to access the Internet in more than 80 countries. It can connect five devices so that you can connect tablets to laptops, to androids when you are on the go. The device does possess the capability of sourcing Internet from proxy SIM cards that are infused with genuine accounts around the world. This makes it easier for users to tap into foreign cellphone towers without using the local SIMs. This feature serves as a great benefit for travelers who travel with locked phones and refuse to unlock their devices.
What makes it better from the competitors?
Compared to competitors such as GeeFi device, the Solis device cost $399.99 and pays $9 per day for unlimited Internet data.This is probably one of the devices that have an option of renting out rather than purchasing it. Here is another unique thing that has not been done by any other Mi-Fi devices. The airport in San Francisco has put up a Solis vending machine!
USP of Solis
The biggest relief for AT&T and iPhone users, as well as another android user, is that the phone need not be unlocked.
You can now use the Solis for road trips to access Google Maps. Now navigation through city and street of any country is made easy.
Solis is a relatively secure network. The device uses an encrypted connection to keep your data safe while you access the Wi-Fi.
The device serves to be cost effective when you travel through multiple countries. When you cross across borders, the device does not reboot, rather it automatically changes frequencies and automatically switches to the local service.
Summarizing the Pros of Solis
It has a powerful charging system that is embedded with 6000mAh power bank and has the C- type connector that makes it convenient for any android phones to be connected.
It is a compact global smart hub that keeps your laptop, phone and IoT device active and online all the times.
There is no SIM card needed. It has one-touch access to unlimited Wi-Fi in over 100 countries.
Now you can stay powered for more than 16 hours. Thanks to the powerful battery been provided with the device.
Click Here to Get The Best Deal On The Solis
To summarize the overall Skyroam Solis device, it proves to be a simple yet effective alternative to SIM cards and monthly data plans for travelers whose basic necessity is to communicate and stay constantly connected but not necessarily through blitzkrieg Internet speeds. Creating an option to rent the device, it is a great way to initially test the device and then possibly bespoke pay for the use of the device. This is a great way of deciding on whether it is worth investing in the device or not.
So the looming question remains as to which of the device is genuinely better than the other. To be honest, the answer lies with you. It is your needs and requirements that make one device better than the other. We, on the other hand, have given the pros and cons of the devices. For people who can splurge and want to use some quality service can opt for Solis, which is fairly popular with most of the travelers.
Whereas if you are looking for a cheap, reliable and efficient device, you could choose the relatively new Glocalme that is gaining fast recognition. On an overall basis, both to provide the requirements to fulfill the essential need of constantly providing Internet source when hopping from country to country without loss of connectivity. It's time that you make the right choice. What's your take on this?
Solis Discount Code: THINKTRAVELLIFTGROW
Skyroam Solis vs Glocalme Reddit
u/RussetWolf – I'm not a vehicle dweller yet but I bought the Glocalme for traveling internationally. Love it for that. I've also used it with a local sim card to connect extra phones for playing Pokemon Go. It's a solid device, and the battery lasts upwards of 8 hours. I would reccomend it in general
u/DowCanup – I love my GLocalMe hotspot. Used it it for about three years all over Asia including Vietnam. Buy the package in advance. If connecting laptop. Stop all the things that drain data. Dropbox. Auto updates and such.
u/flare499 – I've used it (Skyroam) in about 15 countries in Asia, Europe, and Africa and have always had pretty great coverage and speed. I recommend the service as it's a good alternative to most regular international roaming plans from U.S. carriers, especially when traveling with other people ($10 day/total beats $5-10/each)
Pokefi vs Glocalme
About Pokefi
Pokefi is a type of MiFi hotspot device. The price is of the devices ranges from US$125-200 and the plans are around $3/day or $3/gb based on the location. It is compatible in 60 countries
Pokefi vs Glocalme vs Skyroam Solis
GlocalMe battery life is 13 hours vs Pokefi which is up to 12 hours. Also Pokefi is a bit of a newer company and hasn't been around for a long time. While it's cheap, the service is a big inconsistent. As a long term device we recommend going with Solis or Glocalme (if you want to use a local sim)
Solis Coupon Code: THINKTRAVELLIFTGROW