TLDR: If you're in a hurry, the GlocalMe is a no brainer if you're planning on traveling. With cloudsim, long lasting battery life and 5G. You can't find a better Wifi Hotspot in 2023
Click Here To Get 15% OFF All GlocalMe Devices!
Glocalme Discount Code: GLM15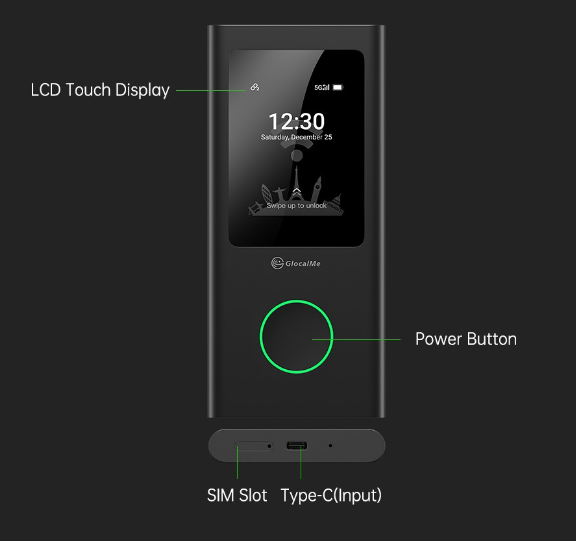 If you travel at all outside the comfort of home- a park, or a mall, and especially deserted areas, we find the need for internet connectivity. We use our phones and tablets for maps and routes, to find food or a cab and even friends and dates. Being able to connect to the internet provides us with safety and security, knowing that you can contact help if needed. It also just allows for incredible convenience and comfort.
With the increased necessity of internet connectivity, the need for internet friendly environments has increased. Most places have that now. But not all. And why leave your safety up to fate. Especially internationally, you never know the kind of services available at a new place at a given time.
With today's remote work opportunities, a digital nomad or traveler often has work demands that need them to be online and have reliable internet access. Having control over your internet connectivity and having access to high speed internet at any given time is of invaluable use.
GlocalMe devices allow for international hassle-free internet connectivity at all times of the day. This bypasses the friction of getting a new SIM card and dealing with frustrating customer service. It is a budget friendly alternative to accessing the internet without going through the hassle of expensive charges, language barriers and legality of getting internet access in a new area.
Let's look at the latest GlocalMe product- the Numen Air. It provides the convenience of 24/7 5g internet connectivity in a large number of countries while never burning a hole in your pocket. This is an honest review. We have aimed to answer most of the burning questions related to this product- the good, the bad and the ugly, have provided transparent comparisons with other products and made your buying decision a whole lot easier.
GlocalMe Review
What is the GlocalMe? How does it Work?
GlocalMe products are small mobile hotspot devices that function like little portable routers that fit in your pocket. This allows you the convenience of having a WiFi internet connection while you travel locally and abroad. It's a borderless solution for all your internet needs. Eliminate roaming charges, unstable public WiFi, and unsafe connections that put your data and devices at risk. GlocalMe provides immediate secure internet to over 140 countries using CloudSIM technology. It connects your hotspot devices to a global internet network, so you no longer require local SIM cards.
GlocalMe products provide 5g and 4g networks, depending on the device and the area you are using it in. Another wonderful feature is the 'pay as you go' feature which allows you the flexibility of paying only for the data you consume. The price points are standard and don't vary with change in geography.
Click Here To Get 15% OFF All GlocalMe Devices!
Glocalme Discount Code: GLM15
Once you buy your device, you download the GlocalMe app on your phone and create your account online. The app is available on both Android and iOS. Once you activate your account, you can make online transactions and buy the data package that best suits you. It's really simple.
CloudSIM Technology
CloudSIM technology allows flexibility that enables different formations.
CloudSIM optimizes by choosing the best signal from multiple operators' networks, without the need to prepay, change physical SIM card, sign a contract or incur roaming charges when you cross borders. The agility of this patented technology gives you the best defense as you are nimble to shift and make best use of your valuable resources anytime.
GlocalMe Numen Air Review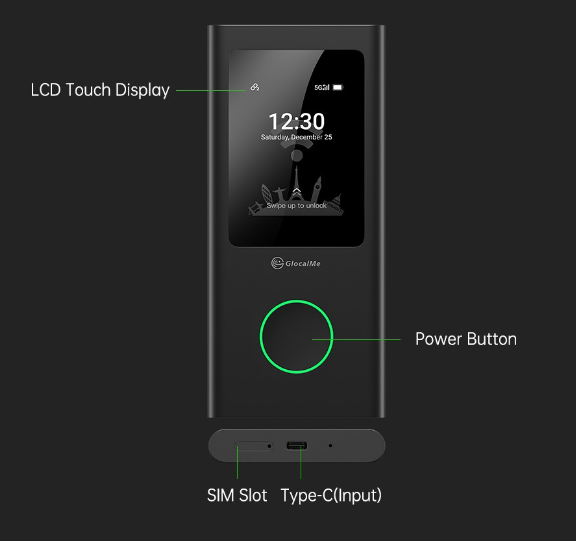 Get 15% OFF GlocalMe Numen Air
Glocalme Coupon Code: GLM15
The GlocalMe Numen Air is a futuristic one-of-a-kind portable WiFi device. It is the only 5G global band portable WiFi in the world. Its 2.4" touch screen is easy to operate, its size makes it easily portable and mobile. The sleek design and comfortable interface makes it a user friendly and convenient alternative to relying on SIMcards and other WiFi. Personally, I love that you can just slip it into your pocket, allowing you to have access to the internet wherever you go. The most functional feature that sells you on this device is that it doesn't require a SIM card. Accessing the internet without having to get yourself a SIM card makes things extremely easy whilst traveling, especially to other countries. Of course, it also allows you to insert your existing SIM card should you buy one or use the device in your existing country. Another cool feature is that the hotspot device also doubles down as a power bank. It has a USB-C charging port that when connected to your phone will charge it as well.
An overlooked consequence of such a device is that it provides a huge amount of safety whilst traveling, especially in areas where network connectivity is low or WiFi is unavailable. Not to mention the threat to cyber attacks while using public WiFi is eliminated. If you're working with sensitive data or you're a stickler about protecting your private data, having secure internet connectivity is integral, and GlocalMe provides this.
I've had friends that travel a lot, and often in remote areas with terribly unreliable internet service. This is a literal life saver. Just knowing that even though you're in a remote cabin in the middle of nowhere, or in a country where you don't speak the language, having access to the internet and having control over your internet provides such relief and security. Just knowing that you don't have to rely on public WiFi or that you don't have to be extra conscious about the data roaming charges on your regular phone to have access to the internet is very reassuring and reduces your travel anxiety significantly.
The Numen Air is your solid, reliable companion on every road trip, hiking trail, countryside getaway and overseas adventure. It is super handy and a most suitable addition to your travel backpack.
Features of the GlocalMe Numen Air
5G high speed internet that provides upto 2.5Gbps. This is 15 times faster than the 4G alternative.
Low Latency. There is no lag and Streaming doesn't buffer.
No SIM card required to access data.
Flexible plans for data packages.
Connects to multiple devices.
Portable and User friendly.
Reverse Charging. Functions as a Powerbank.
Fairly long battery life (~ 11-15hrs)
Click Here To Get 15% OFF All GlocalMe Devices!
Glocalme Coupon Code: GLM15
GlocalMe Pricing
Pricing works on a pay-as-you-go basis. It is very flexible. This means you can pay for exactly how much data you need. Pre-paid models allow you to customize the amount of your data in whatever your preferred time period is- a day pass, or a monthly subscription or a yearly subscription. The pricing fluctuates a little based on region. People from different countries pay different prices. It depends on where you are registered. Don't freak out though, you can move from country to country without losing the data packages you have already purchased. While traveling between countries it is advisable to use the pay–as-you-go option, and just pay for what you use.
You can learn more and customize your packages here
GlocalMe Coupon Code
If you're looking for a GlocalMe Discount Code or GlocalMe Coupon Code, then you've come to the right place! The Glocalme Numen Air is one of the best WiFi hotspot option for people who travel often who don't have a good cellular plan like T-Mobile or Google Fi and especially if you have multiple devices you'd like to connect & you can get a 15% Discount On GlocalMe.
Click Here To Get 15% OFF All GlocalMe Devices!
Glocalme Discount Code: GLM15
GlocalMe Discount Code
During the Black Friday and Christmas holiday sale you don't need to use a GlocalMe coupon to get a discount. Just visit GlocalMe using this link and the discount is automatically added.
During normal times You can get up to 15% Discount on all of GlocalMe Devices. Simply click the link below and use the discount code "GLM15"
Click Here To Get 15% OFF All GlocalMe Devices!
GlocalMe Devices Comparison
| NUMEN AIR | G4 PRO | DUO TURBO | U3 |
| --- | --- | --- | --- |
| Price: $350 | Price: $170 | Price: $180 | Price: $120 |
| | | | |
| Your own SIM card: YES | Your own SIM card: YES | Your own SIM card: YES | Your own SIM card: YES |
| CloudSIM: YES | CloudSIM: YES | CloudSIM: YES | CloudSIM: YES |
| Power Bank: YES | Power Bank: YES | Power Bank: NO | Power Bank: NO |
| Touch Screen: YES | Touch Screen: YES | Touch Screen: YES | Touch Screen: NO |
| Stability: 5/5 | Stability: 4/5 | Stability: 5/5 | Stability: 5/5 |
| Portability: 3/5 | Portability: 4/5 | Portability: 4/5 | Portability: 5/5 |
| Dimensions: 6" x 2.7" x 0.6" | Dimensions: 5.34" x 2.84" x 0.47" | Dimensions: 4.96" x 2.60" x 0.5" | Dimensions: 4.96" x 2.60" x 0.4" |
| Weight: 6.87oz | Weight: 6.63oz | Weight: 5.2oz | Weight: 4.4oz |
| Battery Life: 15hr(4g) / 11hr(5g) | Battery Life: 12hr | Battery Life: 12hr | Battery Life: 12hr |
| Release Date: May 2023 | Release Date: June 2020 | Release Date: February 2021 | Release Date: August 2020 |
Glocalme G3 vs G4
The G4 came out as a sequel to the G3 but just more on the "usability" factor. Don't think we are trying to confuse you, but both devices are pretty good and can deliver the best output. They have more similarities than differences. Like we mentioned above, G4 is like the upgrade we wished when G3 launched. Both models have more than one day of battery life! Imagine, in this age, when we continuously use our devices, there's Glocalme that can survive more than 24 hours!
Click Here To Get 15% OFF GlocalMe G4 Pro
Glocalme Discount Code: GLM15
Here are some of the differences between the G3 & G4:
Weight-wise, the G3 (235 grams) is almost 50 grams more than the G4 (187 grams). While it doesn't sound that bad, users will find a difference.
Battery wise the G3 houses a 5350 MAH sitter while the G4 settles with a 3900 MAH. While the difference might seem contrasting, we assure you that both perform like beasts and survive more than a day of use!
The UI also called the user interface, is where G4 beats G3. Many users consider this to be more vibrant and appealing than the G3.
There are multiple applications like Google Maps, currency conversion that can be found on G4. This is a good sign as we can expect more improvements in terms of downloading android apps in the future.
Glocalme G4 Pro vs Glocalme U2
The U2 is one of the unique offerings by "Glocalme." This is considered to be the most stylish product in Glocalme's entire product list. All you need to do is download the app and then use this 2 in 1 "Wi-Fi cum portable power bank." You can then enjoy 4G LTE high-speed internet in more than 100+ countries with more than 13+ hours of battery life. Most of their features are similar. We could only find a few differences that we will list below:
No products found.
No products found.
No products found.
The main difference in the U2 and G4 is that there is no display (screen) on the U2. Hence you will need to consistently check the app on your smartphone to get updates on battery life, network, etc.
Next, software-wise, the G4 being Glocalme's latest addition, is better when it comes to performance, and U2 is decent.
Size-wise, the U2 minus the display weighs at 150 grams that's lesser than G4 that stands at 187 grams. The U2 does get the better of G4 in this factor. But let's not forget the absence of a screen that helps U2 be lighter than everyone.
Coverage wise, U2 is available in more than 100+ countries that are lesser than G4 that goes up to 140+ countries.
What countries does Glocalme cover?
5G Services:
CloudSIM card method: USA, Canada, Mexico, UK, France, Germany, Italy, Netherlands, Poland, Portugal, Spain, Sweden, Croatia, Austria, Bulgaria, Denmark, Ireland, Australia, Japan, Malaysia, Philippines, Singapore, Thailand, Vietnam, UAE, China, Taiwan, China, Hong Kong, China
5G SIM card: USA, Germany, France, Italy, Canada, Spain, Mexico, UK, Switzerland, Sweden, Chile, Argentina, Peru, Singapore, Brazil, Colombia, United Arab Emirates, Thailand, Dominican Republic, Ecuador, Panama, Mainland China, Hong Kong China, Taiwan China and Japan.
4G Services:
Both CloudSIM method as well as personal 4G SIM:
Asia: Japan, South Korea, China, Singapore, India, Malaysia, Cambodia, Thailand, Vietnam, Hong Kong (China), Macau (China), Indonesia, Taiwan (China), Philippines, United Arab Emirates, Qatar, etc.
Europe: United Kingdom, France, Italy, Spain, Switzerland, Germany, Greece, Norway, Finland, Luxembourg, Monaco, Turkey, Slovakia, etc.
North America: Canada, Costa Rica, Dominican Republic, El Salvador, Guadeloupe, Guatemala, Mexico, Nicaragua, Panama, Puerto Rico, USA.
South America: Antigua & Barbuda, Argentina, Aruba, Bolivia, Brazil, British Virgin Islands, Cayman Islands, Chile, Colombia, Curacao, Ecuador, Grenada, Guyana, Haiti, Jamaica, Martinique, Paraguay, Peru, St Vincent and the Grenadines, Suriname, Tahiti, Trinidad and Tobago, Turks and Caicos Islands, Uruguay, Venezuela.
Oceania: Australia, Fiji, New Zealand, Northern Mariana Islands.
Africa: Algeria, Angola, Egypt, Ghana, Kenya, Madagascar, Mauritius, Morocco, Nigeria, Reunion, Seychelles, South Africa, Tanzania, Tunisia, Western Sahara, Zambia.
Benefits of GlocalMe 5G LTE Hotspot Devices
INTERNATIONAL COVERAGE
CONVENIENT
FLEXIBLE DATA PLANS
SAFE AND SECURE
Red Flags:
Apart from the occasional faulty product anomaly and the technologically challenged angry person, most of the negative reviews about this product complain about a suboptimal customer service experience. Although they seem to be working on it (and they have the reviews to prove it), that is something to be expected and taken in your stride. Just a heads up.
Tel: +1 (877) 402-7626
(Monday – Friday 10 AM – 5 PM EST)
Purchase Inquiry: supportus@ucloudlink.com
Skype ID: uCloudlink Hong Kong
Green Flags:
The reviews seem to show that a particular Mike and Elaine are super helpful and an absolute delight to talk to.
Network Speed Limitation Disclaimer:
(Taken straight from glocalme.com )
GlocalMe follows the Fair Usage Policy to ensure that everyone can have the best experience using the internet service. This policy ensures that everyone uses mobile data in moderation. If many users use large amounts of mobile data without any control, other users on the same network can be adversely affected. In order to prevent those few mass-data consumers from eating into the bandwidth of the other users, the provider will cap for data speed. GlocalMe offers different data packages including Duration (Daypass, monthly and yearly pass), Fixed GB (1GB, 3GB, 10GB), Pay-as-you- go (charge per kb consumed), and Local plans (available only in selected locations. Only the data packages purchased by Duration will be affected by the Fair Usage Policy, upon reaching this capacity, your usage will be slowed down.
Terms of Guarantee
GlocalMe provides a one year guarantee on their appliances, if purchased from their website. If required, you can contact customer service. You will have to pay for shipping if you are returning a product that is unsatisfactory.
It's easier to have an amazing purchasing experience when you're a US citizen, all functions within the United States run smoothly and seamlessly. While shipping internationally though, you might face a few hiccups in customer service, which is only natural.
GlocalMe Numen Air FAQs
Which devices can I connect my GlocalMe Hotspot to?
Smartphones
Tablets
Cameras
Laptops
Watches
Other Computers
It is necessary to note that with the increase in devices connected to one hotspot device, the bandwidth available to each device reduces. This is an understandable drawback.
Does the Numen Air have maritime coverage, i.e. work on planes and while out at sea?
The Numen Air will not work if you're in the middle of nowhere at sea. The closer you are to land, the better. Your WiFi device picks up terrestrial signals. Definitely not advisable if you need internet while on open water.
If I change my GlocalMe device do I lose my purchased data plan of my old device?
No, of course not. Your purchased data plan is linked to your GlocalMe account. You can log in to your account from any mobile device- just download the app and get on your way.
Does GlocalMe Work with a VPN?
Yes :)
How can you avoid consuming unintentional/extra internet data?
If you're being charged by the amount of data you use, you're probably going to want to eliminate all possibilities of data being used unintentionally. Reducing your unintentional data consumption can help you avoid hitting your daily data limit.
See that no apps are running in the background. Log out of the apps once you're done using them.
If you can avoid watching videos in 4k/1080p, that would help as well. Turning off autoplay is another safe move.
Download all the maps you need offline and turn off location services and GPS maps.
Try not to scroll too much. Doom Scrolling isn't just a dopamine and energy sink, it's a money, time and internet data sink too.
Turn off unnecessary downloads, turn off background app refresh.
What do I do if the WiFi speed is slow?
Your WiFi could be slow for multiple reasons. Understand that even with the promise of amazing internet connectivity in 140 countries, without needing a SIM card etc etc, this technology isn't perfect. Also, there are external factors that can affect connectivity that have nothing to do with GlocalMe, the service providers.
Here are a few Reasons your Internet Connectivity might be weak:
It was coddled as a child. (An attempt at Humor, forgive me. Ignore me. I jest. Moving on.)
Bad luck, you're just in an area where connectivity is terrible. Or you're in a non eligible country.
You're in an enclosed area. Wireless signals are blocked off if you're in an enclosed area.
Too many devices are connected to your hotspot.
Temperature is too high in the environment. This includes if you're sitting on your GlocalMe device and it's suffocating. Or it's under a pile of laundry that hasn't smelt soap in weeks.
What happens to the connectivity as I move from Country to Country ?
Connectivity might be affected whilst crossing borders as the device needs to connect to a new network, but it is almost unnoticeable and the switch is seamless.
Today, whether you visit a park, a mall, or even a deserted area, you will find people glued to their gadgets. These gadgets can be anything from smart-phones, tablets, laptops. All credit goes to the internet.
Intending to provide everyone with free information via the internet, most areas have become internet friendly with the fastest connection speeds available. But like we said, most cities are connected and not all of them. When you move to international spots, there is no guarantee if the internet will work for you.
GlocalMe Review Reddit
u/RussetWolf – I'm not a vehicle dweller yet but I bought the Glocalme for traveling internationally. Love it for that. I've also used it with a local sim card to connect extra phones for playing Pokemon Go. It's a solid device, and the battery lasts upwards of 8 hours. I would reccomend it in general
u/DowCanup – I love my GLocalMe hotspot. Used it it for about three years all over Asia including Vietnam. Buy the package in advance. If connecting laptop. Stop all the things that drain data. Dropbox. Auto updates and such.
Glocalme G4 Pro review
In today's time, a digital nomad or a traveler has work demands that need him/her to be online. For this, having a 24*7 fast internet connectivity is a need and not a want. Yes, there are solutions where you can get internet connectivity abroad. Still, the charges are expensive and not customer friendly at all. Those who can afford can try it out but those who cannot have a difficult time.
They will end up trying to find the cheapest SIM card or an area that provides low-cost or free Wi-Fi. Hence our article today aims at giving you the best solution to this problem. You can get the best 4G LTE connectivity right in your palms and carry it with you at any corner of the world. And guess what? It won't burn a hole in your pocket and is very reasonable.
The solution we have found for domestic and international Wi-Fi connectivity issues is the GlocalMe G4 Pro.
This multi-purpose product is one of the best 4G LTE Enabled WI-FI hotspot. It also can be utilized as a power bank. You can use it to recharge your battery & connect to the internet no matter where you travel!
Through this article, we aim to give you a detailed review of Glocalme G4 Pro. Reading this will help you understand if this is the right fit for you. We have created sections, compared with few products, so you get a fair and transparent understanding. We hope that after reading this article, you will be clear on your buying decision!
What is the GlocalMe G4 Pro Device?
Glocalme G4 Pro is a Wi-Fi mobile hotspot that works both; like a hotspot and also like a backup power-bank. With this, you can quickly get high-speed access up to 150 Mbps speed across 140+ regions and countries in the world. You don't every time need a SIM card or bear outrageous data roaming costs. This is because you have the G4 that offers the best service with or without a SIM card. (At least they claim to!)
Here are some of its top features that make Glocalme stand out from the competition.
Top Features of Glocalme G4 Pro:
The pay-as-you-go option is available here. (No fixed seven predetermined pricing)
Control and manage data plans on their user-friendly application.
Get coverage in more than 140 countries with free-roaming.
You can connect up to 5 devices like laptops, smartphones, pads, etc.
Speed – 4G LTE with 150 Mbps download & 50 Mbps upload speed.
Finding places became easier with Trip-visor.
The GlocalMe G4 Pro is an updated version of their famous G3 model.
The Device: The device weighs 136mm x 71mm x 12mm and weights up to 187 grams. It houses a 3900 MAH battery and is considered to be a lightweight champion. Now, isn't that like a traveler's dream? A lightweight, portable Wi-Fi hotspot and a power bank!
User interface: Unlike the older model, the G4 houses one of the best interfaces. Yes, we say this because there's a larger screen, users have reported that colors seem to be more vibrant. The G4 also offers better contrast, and it also has additional apps like Google maps, currency conversion. As a user, you can get all of these features. Along with the usual information, you also get signal depiction, battery level, etc. that are found on a Wi-Fi hotspot.
Glocalme G4 Pro Pricing
Buying the Devices: You can purchase this fantastic device via Amazon.com at around $150. If you're considering comparing with the older model, it is available on Amazon for around the same price.
Data Plans: We appreciate Glocalme for their data plan options that aren't like your standard fixed pricing method. They have a "Pay as you go" option that's flexible. Their pricing is different for countries, and they also have a "Global" package. Rates start from $9 onward for a 7-day plan and go up to $ 98 for a 180-day plan.
FYI – We must tell you that when you purchase this, you will get 1GB of data FREE! Isn't that great?
Is GlocalMe G4 PRO worth it in 2023?
In 2023, time is money! No one wishes to waste time if it isn't giving them an addition. At such times, when there is no internet in your area or if you're traveling abroad, you might end up being frustrated. Hence companies like Glocalme and Skyroam ensure that you have faster internet connectivity anytime and anywhere. We have created a list of 5 reasons why we feel why the G4 is worth it in 2023.
Glocalme gives you a product that works in more than 100+ countries. Not only that, but you also get a device that accepts LOCAL SIM CARDS. Yes, the device has a slot where you can insert a local SIM card that costs less and can deliver high output for you. This is helpful only in countries that allow you to purchase a SIM card without being a local. This is better than most competitors. Here you can use any SIM card and not compulsorily use the product's SIM card only.
Glocalme is very famous with the crowd as it gives them what they want. And what do they want? A connection that has flexible and reasonable costing. Yes, this brand offers a variety of costs right from Daily, weekly, and packs that last up to 6 months. What makes them different from every other competitor is their reasonable costing in multiple countries. They make data roaming look too simple and affordable.
Now we all wish to have an application that shows us precisely what we want to see without any complexity. That's exactly what this brand provides. Their app helps you manage your account balance, internet speeds, battery life, and top-up options. What makes Glocalme better than the competition is the fact that many of them don't have apps at all. And the ones that do cannot match up to Glocalme's app usability!
Finally, Glocalme beats everyone when their product is not only lightweight but also does more than you expect. The G4 can provide you high internet speeds and also work as a power bank! Yes, they manage to pull off launching a device that can do so many things and still not be a burden on your pocket! What makes this brand a trustworthy seller is that they offer you protection up to 1 year through warranty, a portable Wi-Fi hotspot & power bank!
Glocalme Review Reddit FAQs
What's a day pass?
A one-day pass allows you to use prepaid internet for a period that lasts for just 24 hours. This data can be limited or unlimited as per your purchase! The G4 allows you to purchase one-day passes at very reasonable costs.
Does Glocalme charge extra for shipping?
If you belong to the home country i.e., the USA, then it becomes easier for you to purchase the G4. This is because there will be little or no costs for shipping. But if you reside in any other international country, then shipping costs will apply as per your region. Return costs, too, will bear shipping charges and shall be borne by you.
Do Glocalme hotspots work fine?
Now, this is a question that showcases Glocalme's USP! Users all over the world have utilized this product in multiple countries, and almost every customer has shared a positive result. This shows how Glocalme has not only created the right product but also helped users get the best data experience ever.
Will the Glocalme G4 work in two countries in a single day?
Glocalme works in as many countries that you can visit in one day. Their technology will detect the location you are in and will automatically find a suitable Wi-Fi zone for you. So you can visit 2,3 or 4 countries and still experience a seamless internet experience.
How do I connect to Wi-Fi?
Glocalme allows you to connect to their Wi-Fi in the same way you would log in on an internet login portal. You will be provided with a username and password that you must use to be securely connected to the portal.
Does Glocalme G4 have a maximum cap for its users?
Please note that you can use data depending on the data pack you have subscribed to. Once that is replenished, you must opt for a top-up or refill a new pack to continue using data.
How fast is the connection?
As mentioned above, Glocalme G4 provides a seamless internet experience, no matter which country you visit. Expect download speed up to a maximum of 150 Mbps and 50 Mbps of upload speed.
Will Glocalme G4 work in my country?
Unless you are planning to live underground where no one can find you, Glocalme has got your back. We say this because they have network coverage in more than 140+ countries!
Where does the Glocalme G4 not work?
Glocalme cannot provide service at places that do not have any kind of cell reception. Also, remote areas that are away from urban & city population might experience discomfort and mild coverage.
Does the Glocalme G4 work with VPN?
Yes. Glocalme G4 does work world-wide in countries through VPN
Read Next:
Google Fi For International Travel
Last update on 2023-05-30 / Affiliate links / Images from Amazon Product Advertising API