TLDR; If you already run a WordPress blog, LearnDash is pretty good, else Teachable is a better option for online courses.
So you want to build an online course. Perfect. This is a great time to be an educator making the move online. But before you can start enrolling students, you need to decide which tool you'll use to create and host your lessons. That's where Teachable and LearnDash come into the picture.
Most people who have spent any time researching learning management systems have heard of Teachable and LearnDash. These are learning management systems used to create content for online courses and deliver them to students at scale. They're both among the top products in their industry and consistently used by many to build their online courses.
Since both of these products do so much so well, it can be hard to pick between them. So here's a comparison between Teachable and LearnDash. But before we can get down to seeing how they stack up against each other, let's find out what these products do individually.
Teachable vs LearnDash
About Teachable
Teachable is a learning management system that offers most key features right out of the box. There are over 124,000 instructors using the software to create their online courses, so they're clearly doing something right. These instructors together have been able to reach more than 28 million students, showing just what's possible on the platform.
Teachable's core offering is pretty simple: you get to create engaging online courses delivered through a user-friendly interface. Setting up a Teachable course is an effortless experience. If you really wanted to, you could have an online school set up using just a few clicks. But you can, of course, take more time creating content and customizing the platform to perform how you want it to.
The main idea here is to allow educators to focus on what they do best: create lessons and engage with students. Putting together courses on Teachable is a breeze. The platform supports different kinds of content. You can easily upload videos, text, audio and other formats to put together engaging online courses.
While Teachable focuses on letting you do what you're good at, it also equips you to become more. Running an online school takes more than just creating course content. You have to be able to market your courses, oversee enrollments, collect payments, track progress, and more. Teachable puts tools that do those things in course creators' hands.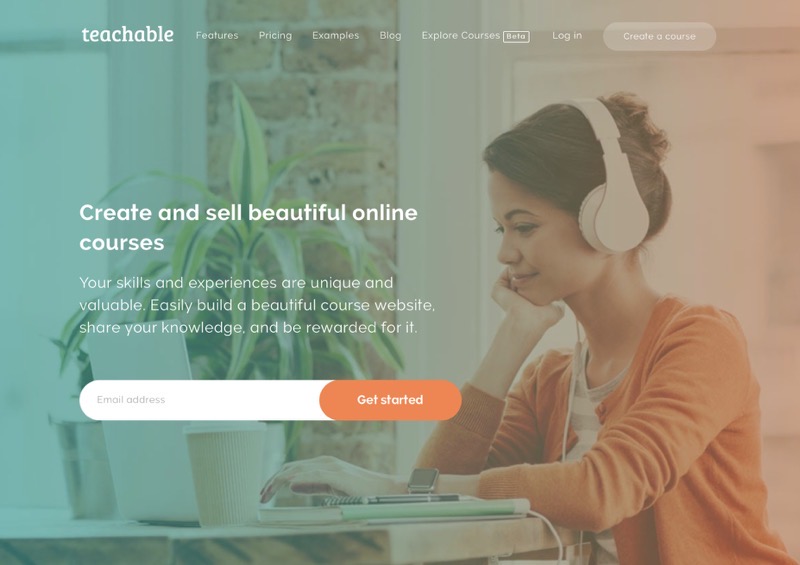 Let's find out the specifics of the features that Teachable offers.
Teachable Course Builder
Teachable's course creation software works a lot like a content management system. You don't have to worry about writing or editing any code. Instead, all you need to focus on is uploading the content of your online courses. Teachable will take care of the rest.
The courses that you put up on Teachable can take many different forms. The platform has a native video player, so you can upload video courses if you like. You can also create lessons as PDFs, audio, and text. All these formats can be combined in a single lesson to give students access to a multimedia experience.
The courses you create on Teachable will have to live on a website, of course. Course creators can use the software exclusively to host lessons and use their existing website. But if you don't already have a website, you can build one with Teachable.
Much like the course creator, Teachable's website builder uses a no-code approach. You can build your entire website using a drag-and-drop interface. If you do want to write code to alter your website, you can do so with the platform's Power Editor.
Once you have your Teachable website ready, you can host it in a few different places. If you want to host it for free, you can do so by using a Teachable subdomain. Users who have their own website can use their own domain name. If your online school is only one part of your business, you can host your Teachable website on a subdomain of your main website.
The websites created using Teachable's drag-and-drop builder are fully responsive. That means you can access students no matter what device they're on. The website builder also supports international languages, a feature that you can use to further increase your reach.
Click Here To Get Teachable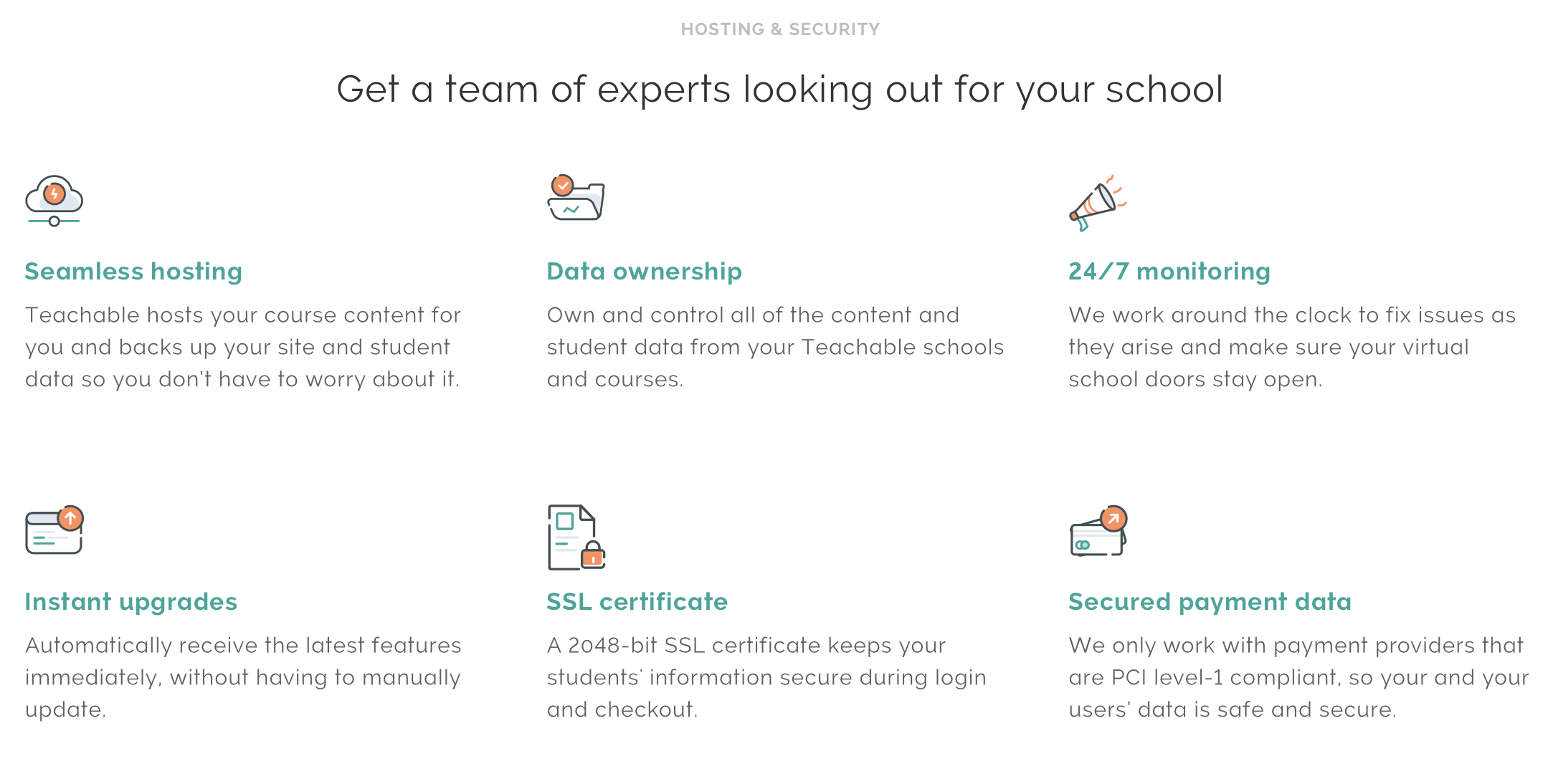 Teachable Learning Features
So far we've seen the features that help you create courses on Teachable. Apart from basic course creation, Teachable also has tools to help make courses more engaging for students.
Teachable has built-in features for course creators to insert quizzes into their lessons. These quizzes can be used simply for students to assess where they are or as a requirement to move ahead in the course. Administrators can view students' scores on quizzes, which helps them get an idea of the effectiveness of lessons and can guide future decisions.
Completing quizzes is just one way for course creators to enforce compliance in their courses. There are a few other rules that you can enforce as students make their way through your course. That includes:
Requiring that students go through lessons in a particular order
Setting a minimum score required on a quiz before moving forward
Setting a maximum number of attempts on a quiz
Creating an alert for when a student hits the maximum number of attempts on a quiz
Reset quiz scores if you want a student to be able to take a quiz again from scratch
These compliance features are a great way to ensure that students actually learn something from going through your course. When students feel a sense of achievement, they keep coming back to courses and enroll in future ones.
One of the ways to reward students for their progress is by handing out certificates. Teachable has a native feature for course administrators to create branded certificates and set requirements for students to receive them.
Creating a certificate on Teachable is simple. There are three pre-designed templates available on the platform. You can choose one of these designs and then make edits to it, such as modifying the copy, adding your logo, changing the colors, etc.
Being able to hand out certificates does two things. First, it serves as encouragement for students. This can contribute to your retention efforts and lead to higher course completion rates. Secondly, certificates can be seen as the sign of a value of a course. When students and organizations see your course as being valuable, you can increase prices and grow your education business over time.

Teachable Administration Features
The Teachable dashboard centralizes all the key data pertaining to your students and revenue. These analytics are all available to users and can be viewed for particular time periods. You can also view course completion data based on the kind of account students have.
The Teachable dashboard allows you to export the data on your dashboard at any point. This is useful if you want to run your own analysis on it.
For those who have online schools that are growing quickly, running the show on your own may be too much work. Teachable allows you to add other administrators to your account to solve that problem. Those you add as admins can be allowed to modify courses and run operations. You can pay these individuals out through your Teachable account.
Another important aspect of administrating an online school is overseeing enrollments. The platform automatically enrolls students but also allows customers to manually do enrollments if required. The payment software allows you to process full and partial refunds if the need arises.
About LearnDash
LearnDash is similar to Teachable in what it offers, but the way it delivers its features is different. LearnDash is a learning management system that's exclusive to WordPress. It is packaged in the form of a plugin, so you need to have a WordPress website in order to use LearnDash.
LearnDash was co-founded by Justin Ferriman and Kloe Ferriman. The project was conceived when the former was in a client meeting looking at open source learning management tools. And that's when he chanced on the idea of an LMS built for WordPress.
That was back in 2012. Fortunately for LearnDash, WordPress has since really popped as a content management system. A massive number of websites on the Internet are built using WordPress. As a result, there is huge demand for learning management software that caters specifically to that market.
LearnDash has grown leaps and bounds, both due to its own quality and the WordPress boom. The product is consistently featured on best-of lists by publications like Capterra and G2 Crowd. ELearning! Magazine nominated LearnDash for its Best of ELearning awards, making it the only WordPress solution to be nominated that year.
Many different kinds of organizations use the LearnDash LMS. That includes:
Universities and other institutions of higher education that want to complement their in-person classes with online lessons and assignments
Continuing education programs that want to give employees a way to upskill themselves
WordPress development shops with clients who want to build online schools on their WordPress websites
LearnDash Course Builder
Much like Teachable, LearnDash boasts a drag-and-drop course builder. The builder makes it simple to create multi-layered courses online. That means that you can start by creating individual lessons, group them into modules, and then combine them to create the larger offering of your online school program.
You can give students access to all those lessons all at once. But you can also have them work through your course on a fixed schedule. This is called drip-feeding content and LearnDash has in-built features that make that possible. You can set whether you want students to get access to certain lessons on a specific date or a specific number of days after their enrollment. Once you set that, the content will be delivered automatically on that schedule.
LearnDash Learning Features
LearnDash is chock full of features that you can use to aid students in achieving their learning goals.
The software's Focus Mode is a learning environment created for virtual learners. This feature eliminates all distractions and lets your students focus only on their lessons. This is a great way to keep students engaged and increase completion rates on your courses. You can add your own logo and colors to design Focus Mode to match your brand style.
LearnDash's quiz features are advanced compared to some of its competitors. You can choose between eight different kinds of quiz questions, including single answer, essay, fill in the blank, multiple choice, and free text. Both the questions and answers can contain different kinds of media. You can write custom messages to display to students based on their performance in a quiz.
You can use LearnDash's gamification features to spur students on as they navigate your course. Students can be given points for completing particular modules and lessons. They can then be given access to parts of the course using the point they've accrued.
Another way to keep students engaged is by handing out badges and certificates within LearnDash. The software lets you add dynamic data to personalize the certificates you give out. So along with a student's name, you can also have their course or quiz name, quiz score, average score, and other such data go on certificates.
LearnDash Administration Features
LearnDash has a reporting tool using which you can get all the data you need about course enrollment and progress. The following are some of the data points that you can see in your LearnDash reports:
The amount of time a learner has spent on a course
Number of attempts on a quiz, quiz score, and pass/fail status
Courses that individual learners are enrolled in and how far through each one they are
An activity stream which shows how your customers are interacting with your courses in real time
Managing assignments is an important part of administrating a course. With LearnDash you can have students submit assignments for different lessons and topics. Once you receive the assignments, you can have them approved automatically or grade them manually and then approve them.
As your online school grows, you will want help managing students. LearnDash makes that easy by letting users put students into groups. These groups can be assigned a group leader who will manage the students in a group. The software's reporting tool provides data by group once you create them.
The user profile given to each student is helpful to both them and administrators. Students can see all their courses, assignments, etc on their profile. Administrators can use the profiles to enroll/un-enroll students, put them in groups, manage points and scores, etc.
Teachable vs LearnDash Course Builder
Both Teachable and LearnDash have very similar course building software. They both use a simple content management style to let users create individual lessons. You can use multimedia content within lessons to keep things fun for students.
Both Teachable and LearnDash make it easy to compile lessons into modules and classes. The softwares use an intuitive approach to string lessons together quickly.
The major difference between these course builders is where they live. Teachable works well right out of the box, giving you everything you need to get your online school up. And that doesn't include only the course builder. Teachable also lets you build your own website using its visual website builder. So this learning management system takes you from 0 to having an online school and website set up.
LearnDash, on the other hand, is a premium WordPress plugin. In order to use a WordPress plugin you need to have a WordPress website first. It's up to LearnDash customers to build their WordPress website before they can build their online school using LearnDash.
Teachable vs LearnDash – Marketing Capabilities
In this department, too, both products have plenty to offer.
LearnDash offers most of its marketing features in the form of third-party integrations. The LMS has a wide range of integrations covering email marketing software, membership plugins, payment gateways, visual customization, and more. In most cases you will have to download additional plugins to make these integrations work.
Teachable offers several marketing features that are native to the platform. Here are some of them:
Create coupons to incentivize enrollments. These coupons can subsidize a specific dollar amount or a percentage off your courses.
Offer students the ability to choose from a range of pricing structures. You can sell courses with a one-time fee subscription payment, as a bundle, etc.
A built-in affiliate program lets you onboard affiliate partners and track their commissions.
Teachable has its own landing page builder with conversion-tested sales pages. So apart from your website, you can build landing pages to promote individual products.
Teachable uses Zapier as a way to make integrations possible with their software. There are a massive number of integrations possible once you know how to combine Teachable with Zapier. ZenDesk, Intercom, AWeber and MixPanel are some of the tools you can combine with Teachable in that way.
When it comes to marketing feature, Teachable's big advantage are its native tools. If you run an online school, you want to spend as little time as possible doing grunt work. With Teachable you can rely on in-built and not have to worry about installing various other plugins.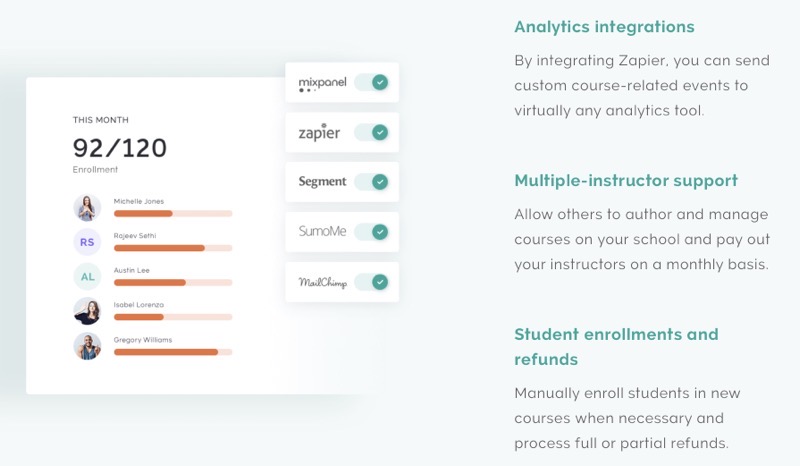 Teachable vs LearnDash Pricing
Teachable has several base features that are available to customers across all tiers. That includes:
Unlimited courses
Unlimited videos
Unlimited hosting
Basic quizzes
Payment processing
The features each package are in addition to the base features.
The Teachable Basic plan costs $39 per month. With that you get the ability to add two admins, coupon codes, drip-feeding features, and email marketing.
Next we have the Professional plan, priced $99 per month. Advanced reports, an unbranded website, course compliance, affiliate marketing, and graded quizzes are some of the additional features that come with this plan.
Teachable's business plan is aimed at large organizations and established online schools. It lets you add 20 admins to your account. You also get bulk student enrollment, priority support, group coaching calls with a customer success manager, and advanced customization features. This plan costs $249 per month.
LearnDash offers the same features across all its pricing plans. The following are some of the features included:
Unlimited courses
Drip-fed lessons
Certificates & badges
Free integrations
Advanced quizzes
Content protection
Course forums
The difference between the different packages is the number of sites on which you can use LearnDash. Here's the breakdown:
$159 for one website
$189 for up to ten websites
$329 for up to 25 websites
Only the two higher priced packages come with ProPanel. That's an add-on to LearnDash that offers several additional administrative features. With ProPanel you can view learner data visually, consolidate reports, manage essays and assignments quickly, and use emailing features. This feature is an important distinction between LearnDash's starter package and the other ones.
Learndash vs Teachable Reddit
What Reddit has to say about Teachable:
u/drewches: I have a client who hosts all of their courses on Teachable. I think that Teachable is a great platform since it handles a lot of the back end of things for you so you can focus on creating content.
u/connectsnk – "A good membership option is to opt for a fully managed online platform like Teachable".
u/bigoldfeet – "Teachable is a platform for creating an online platform, but you can add in features to give your teachable site a community aspect, effectively making it a membership website.".
What Reddit has to say about Learndash:
u/Incederion – I've used LearnDash for more than 5 years now, and of all the LMSs I have used, personally and professionally, I find it is the most versatile.
Essentially an LMS is just a place to put stuff you've developed using different tools (Storyline, Lectora, etc), but compared to a lot of other low to no cost LMS options out there, LearnDash looks much nicer (It takes work to make Moodle not look ugly), and with the built in xAPI support, and H5P integrations, you actually don't need to use any mainstream content development software. Between Google Docs (Forms, Slides, YouTube, etc), and H5P, you pretty much have all you need, in addition to the built in question types in LearnDash.
Yes you pay an upfront cost for LearnDash, but that's a one-time capital cost. Other than that, I pay a $5-a-month hosting fee for my WordPress installation that I installed LearnDash in, and since 2013 I have paid about $300 in hosting fees, an whatever I paid for LearnDash when I bought it. In that time I have enrolled thousands of students in my LearnDash LMS, where I run courses for English and IELTS instruction.
u/christyinsdesign – I've been using LearnDash with a nonprofit client for about a year, and I'm currently procrastinating writing a proposal for another client where I'm recommending LearnDash. I really like LearnDash, especially for very small organizations or consultants who are selling a handful of courses.
LearnDash gives you quite a bit of control. You can add plugins and customize your experience. Need forums? There's a plugin for that. If you do get into Storyline or interactive media sometime down the road, you can add that in LearnDash and even track everything via xAPI. It's on your domain, with your URL
Teachable vs LearnDash – Conclusion
Teachable and LearnDash both are great products. This is evidenced both by what they look like on paper and the testimony of their many happy customers.
Teachable has an edge because of how well it works right out of the box. The platform serves up all the tools you need to get your online education business up and running. The platform is easy to use and powerful at the same time.
Another advantage of using Teachable is the native marketing features. You can build your own landing pages and affiliate program on the platform. It also has first and last touch attribution, which means you can find out exactly where your leads entered your sales funnel.
Your choice of learning management system may ultimately come down to your hosting choice. If you're already a WordPress user, you'll probably like that LearnDash is a solution that's native to that environment. But if you're looking to get a website and online school running from scratch, you'll probably prefer Teachable.